Shopify, Magento or WooCommerce? An Introduction to the Best Three Online eCommerce Solutions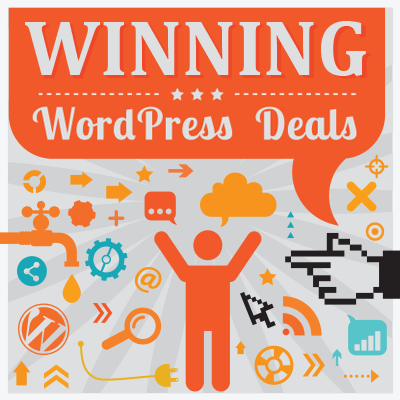 If you've ever considered packing in your job and launching an online business, there's arguably never been a better time. For those with the necessary entrepreneurial spirit, there are a heap of different business types/models to choose from — one of the most obvious being, of course: eCommerce (i.e. running an online shop).
In addition to being simple enough for just about anyone to get their head around, the eCommerce business model has already stood the test of time — and with the global eCommerce industry expected to be worth $1.5 trillion in 2015, there's currently plenty of opportunities to make a living in the sector: in all kinds of different niches.
When launching an online store, there are two fundamental questions to ask yourself: what should I sell and what eCommerce solution should I use? In this post, as you've probably guessed, we'll be concerning ourselves with the latter.
With online shopping's popularity going through the roof, it's little surprise that there are plenty of eCommerce solutions available to today's sellers. To make your life easier, I'll be looking at the three most popular platforms: Shopify, Magento, and WooCommerce.
Which of the three should you choose? Well, there really is no best platform, because it depends on a number of variables. We will, however, cover each platform's strengths and weaknesses — and discuss what type of store each platform is best suited to — in order to help you try and decide.
Let's get started.
Shopify
Founded in 2004, Shopify powers 175,000 online storefronts and has processed more than $10 billion in sales for its users. In May 2015, it filed for an IPO and was floated on the New York Stock Exchange for the first time, with the company valued at more than $1 billion.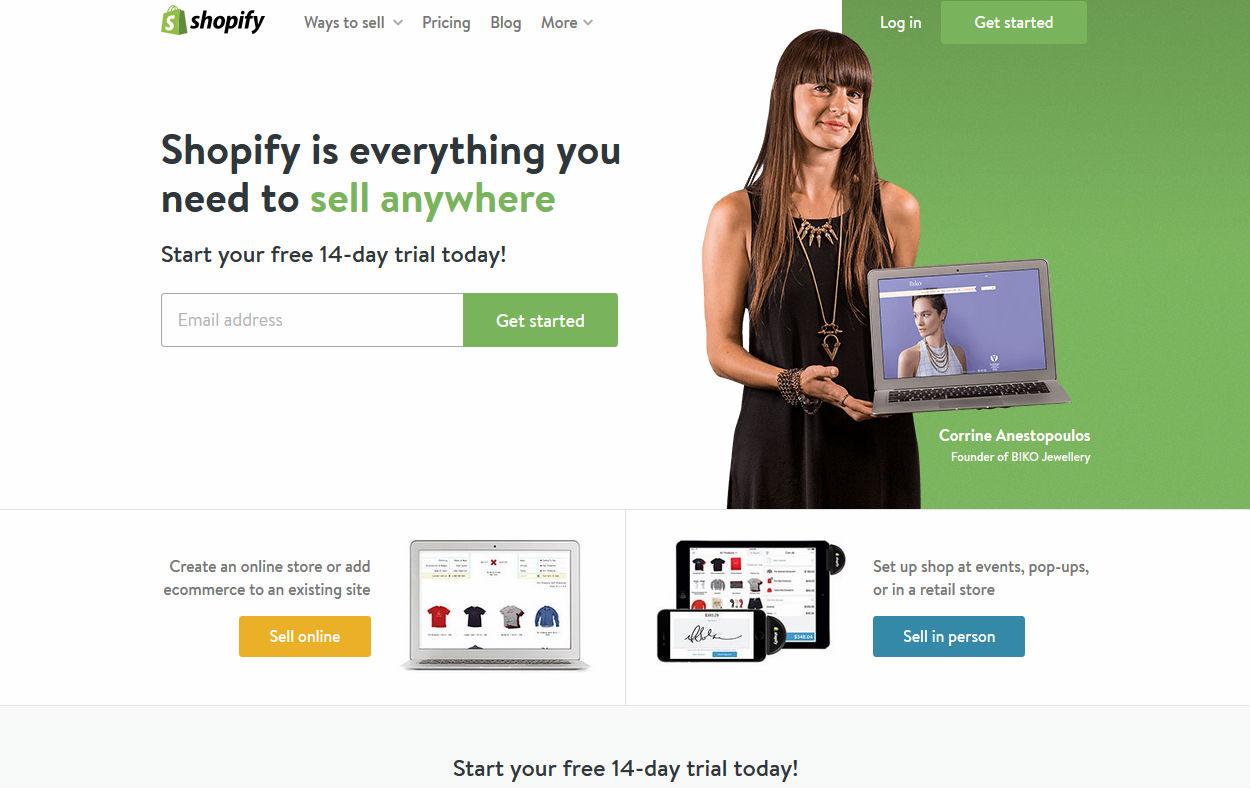 Shopify bills itself as "the complete eCommerce solution", and it isn't hard to see why, as it offers the most streamlined approach to setting up an online store.
In fact, you don't even have to worry about finding a hosting provider — it's all included. Shopify's hosting service is high quality and includes unlimited bandwidth, a built-in CDN, and automatic site backups.
That means all you need to do is sign up, choose a theme and start adding products — though you can add a custom domain, should you wish (recommended).
All of the necessary eCommerce functionality is supported out of the box, so you won't need to give a moment's thought to setting up a secure shopping cart, creating a system for tracking orders, or implementing a payment gateway (Shopify payments are handled by Stripe).
This brings me to the next point: your shop's design, which is determined by your choice of theme. These professionally designed themes work very much like WordPress themes: they provide a template for the design and aesthetics of your site, as well as some base functionalities.
The Shopify themes are split between free and premium. There are currently 121 official premium themes available — priced between $100 and $180 (so a little pricier than your average WordPress theme) — and 21 free themes. The themes are also divided into categories, with specialist options for toy, electronic, and furniture shops, to name a few.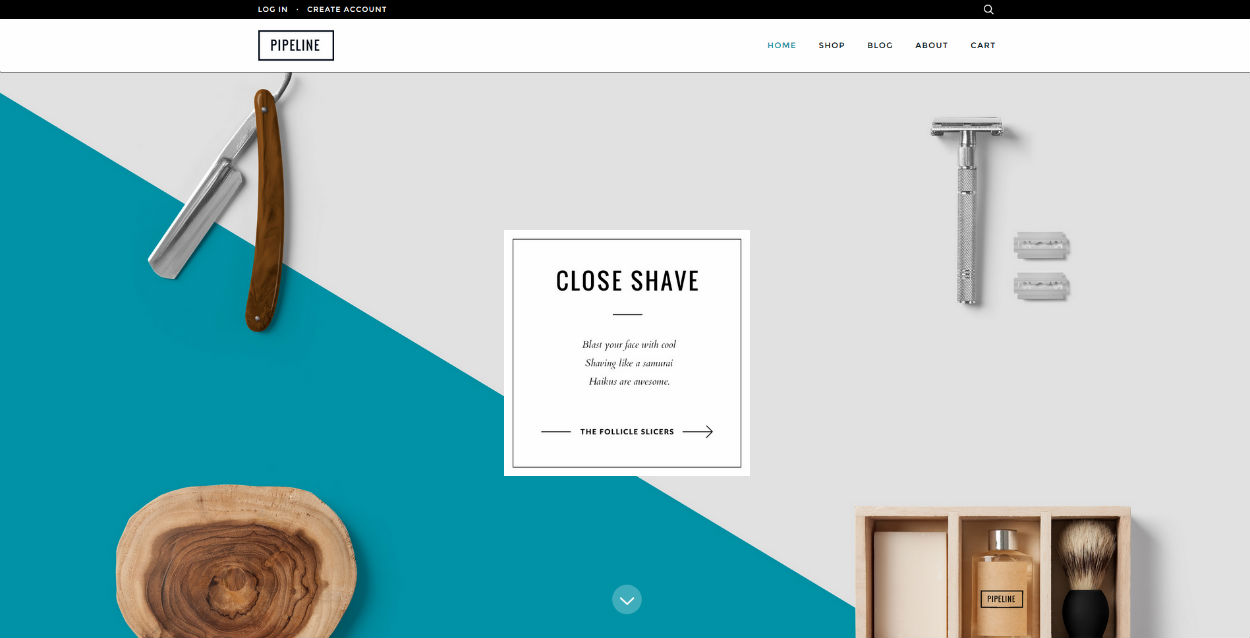 Most themes come with lots of options, and you can customise your site's design using Shopify's intuitive User Interface. This means there's no need to ever touch a line of code — although developers are free to make custom tweaks by editing the HTML and CSS directly.
It's also worth pointing out that, although the themes are primarily built for eCommerce, they do also support blogging capabilities for those looking to dabble in content marketing.
As with WordPress, a theme's core functionality can be extended — Shopify calls these extensions apps. There are free and premium options, though premium apps come with a recurring monthly charge.
There are some great apps available, covering a range of functionalities an online store owner would find useful, including live chat, drop-shipping, automatic currency conversion, variable shipping rates and accounting software.
To use Shopify, you'll need to sign up for one of its three plans:
Basic, $29 a month — this is the no-frills option, with online transaction fees fixed at 2.9% + 30c.
Pro, $79 a month — this plan includes support for gift cards, professional reports, and abandoned cart recovery, with the online transaction fee dropping to 2.6% + 30c.
Unlimited, $179 a month — all the features of the Pro plan, plus advanced report builder functionality and real-time carrier shipping. Online transaction fees drop again to 2.4% + 30c.
It's worth checking out the transaction fees in your location, as they vary from country to country.
Summary
Shopify is a very accomplished eCommerce platform: its interface is easy enough for a beginner to get to grips with, but powerful enough for more experienced users and larger eCommerce stores as well.
The back end has everything you need to run your eCommerce store — this includes uploading and categorizing products (with support for unlimited products), specifying attributes, and managing orders. Shopify also supports powerful SEO functionality, and has advanced analytics built in.
With your hosting, security, and maintenance covered, you're free to spend your time focusing on growing your store, and, because of Shopify's ease of use, you can be up and running in hours, not days.
Magento
Next, we have Magento. Founded in 2008, and owned by eBay Inc, Magento powers 240,000 storefronts to date. Users face a considerably steeper learning curve than with Shopify — if you're a skilled developer, this won't be a problem, but if your technical skills are way below par you're probably better off looking elsewhere.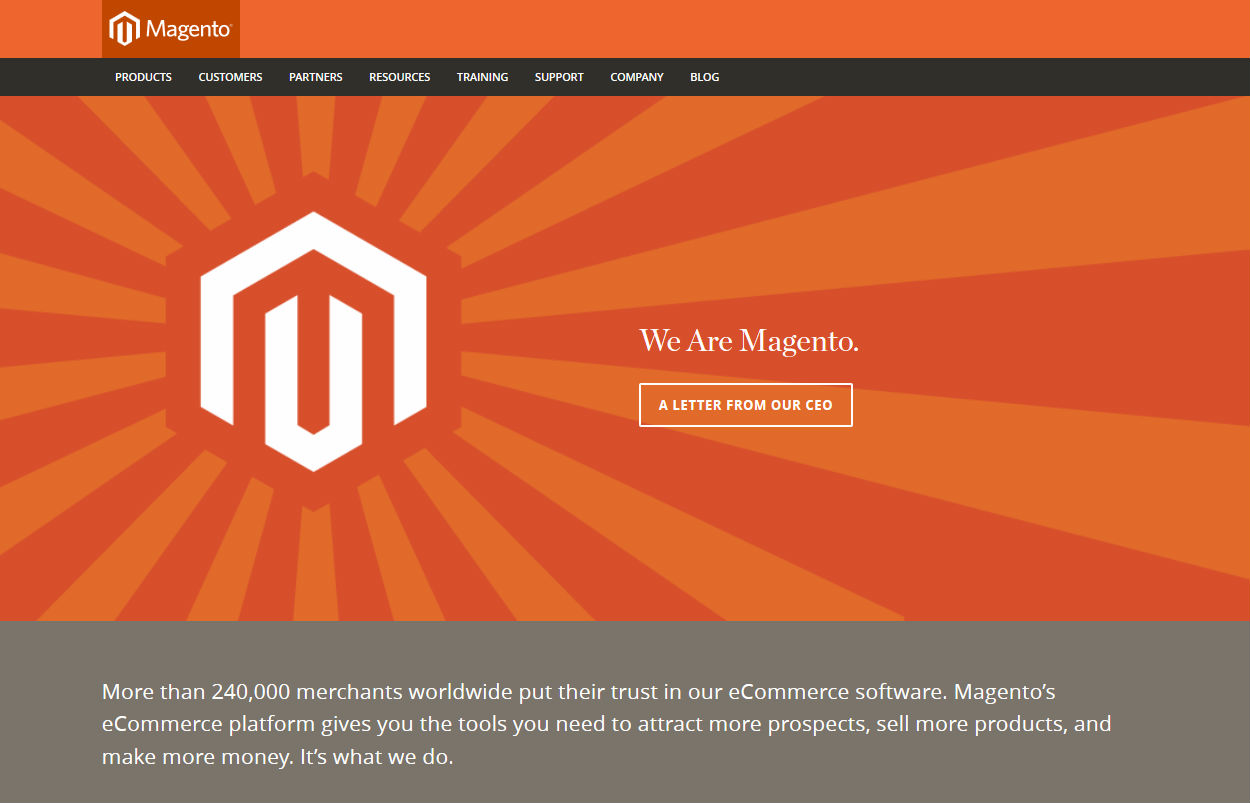 The Magento architecture is actually similar to that of WordPress. The Magento core (called the Community Edition) can be downloaded for free, and, because it's open source (like WordPress), developers are free to edit it.
To install Magento, you need to find your own hosting account — preferably a specialist that can cater to the resource-heavy needs of a Magento website.
Users must install themes to determine their site's design, and extensions to enhance the functionality (the Magento equivalent of WordPress plugins). The official store offers a good selection of themes and extensions, or you can buy from third-party marketplaces.
A quick word of warning: themes and extensions can be expensive, especially if you're used to WordPress product prices.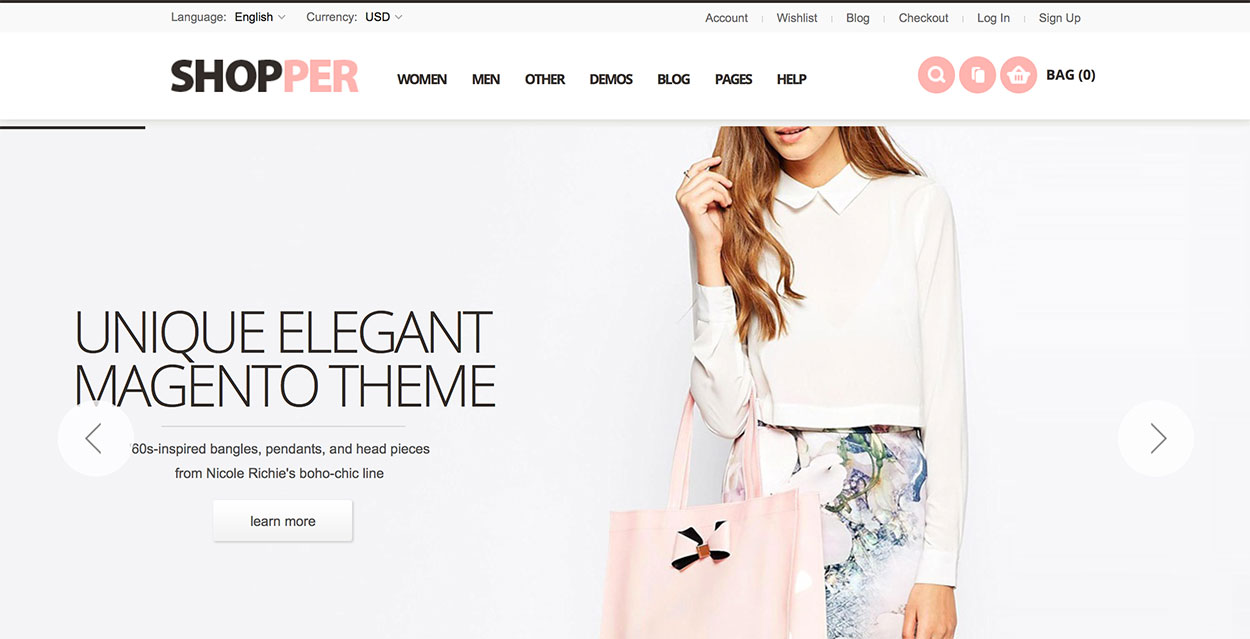 This is where the similarities between Magento and WordPress end. The one major difference between the two is obvious: Magento is exclusively an eCommerce platform. Magento is also quite complex — it's likely you'll need to hire a developer to perform even simple tasks, such as installing extensions.
The Magento core, however, is the most powerful eCommerce platform there is, and boasts an impressive list of features. There are too many to list in full here (if you want to see them all, take a look at this page), but here are some of the things you can do with my favourites:
Up-sell and cross-sell related products, and create product bundles.
Build dedicated landing pages for each category of products.
Have flexible coupon codes and pricing rules.
Manage all Magento stores from one admin panel.
Show unlimited product attributes — size, colour, style, etc.
Have an account dashboard for registered customers.
Have one-page checkout.
Have built-in wish list functionality.
This is in addition to all the other core eCommerce functionality — product pages, shopping carts, payment gateways, order management, and so on — that is essential for online stores. By default, the PayPal gateway is built-in, but you can integrate plenty of others using extensions.
There is one more significant difference between Magento and WordPress. Unlike WordPress, Magento offers a premium version of its software. This is called the Enterprise Edition, and costs an eye-watering $18,000 a year — well outside the budget of the average eCommerce store.
What does this extra money get you? Well, here are a few cool premium features, for a start:
Customer segmentation and targeted promotions.
Automatic abandoned cart emails.
Loyalty schemes.
Automated website backups.
A fully fledged Content Management System.
Summary
Without a doubt, Magento is the most powerful eCommerce platform featured in this list. It's pretty complex to use, but this is more than made up for by the sheer quantity of features it supports.
Although the core is free to use, many non-developers will struggle to get their store up and running without assistance. This could add significant development costs to the price, which would rule Magento out for low-budget operations.
Still, if you have the money, Magento offers all the functionality an eCommerce store could possibly need. With support for unlimited products (and variables), Magento is arguably one of the most flexible and scalable eCommerce solutions around.
WooCommerce
Finally, we have an eCommerce solution that all WordPress users should be familiar with: WooCommerce. Acquired by Automattic in May 2015 — in a deal worth a reported $30 million — WooCommerce now powers over 30% of all online eCommerce sites!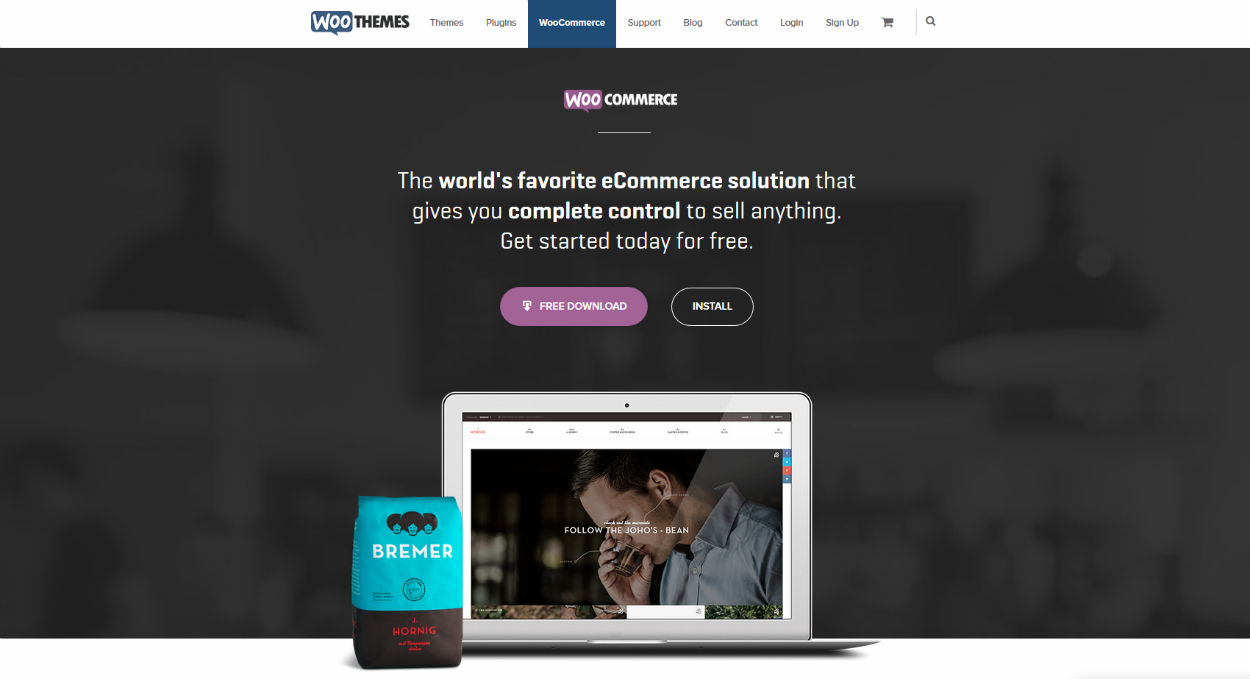 Rather than being an all-in-one-solution (like the two dedicated eCommerce platforms featured so far), WooCommerce is actually just a WordPress plugin: meaning you'll need website powered by WordPress to run it.
WooCommerce can actually be installed (for free) on just about any WordPress-powered website. And, because the vast majority of WordPress themes are compatible with WooCommerce, this means that any capable WordPress owner/webmaster can go ahead and add eCommerce functionality to their existing website with relative ease.
WooCommerce gives your website eCommerce functionality out of the box. After installation, you'll be able to upload products to your website — including images, descriptions, prices, variable attributes, and specifications — and visitors will be able to add them to their cart, then head to the checkout to pay for them.
By default, WooCommerce comes with a pre-installed PayPal payment gateway, with plenty more gateways available via extensions — including Stripe, Authorize.net, and Amazon Payments.
You can also add variable shipping charges, visitors can pay in their preferred currency, and WooCommerce will automatically handle taxation based on your local rates. If that weren't enough, WooCommerce also supports built-in coupon code functionality.
It's also one of the most intuitive eCommerce platforms; WordPress users will feel right at home, as all order management is handled from the familiar WordPress back end. To enhance usability, WooCommerce displays an optional Wizard after installation, to walk first-time users through its many features.
Of course, one of the most important factors when launching a store is your site's design. As we've already touched on, even a non-dedicated WooCommerce theme is likely to be compatible with it.
However, if you're looking to launch an eCommerce store from scratch, a wide variety of WooCommerce themes is available.
This includes those built by WooCommerce developers, WooThemes (update – 16th July 2016: WooThemes.com is now under the umbrella of WooCommerce.com), and also third-party themes. Official WooCommerce themes cost between $39 and $99, and you can extend the core plugin with the official and many third-party extensions.
These WooCommerce themes feature stylish product pages, giving you the perfect platform to showcase your goods, as well as clean and functional storefronts that allow visitors to browse your top-level product pages with ease. This makes WooCommerce easy for you to configure and use, and easy for your visitors, too.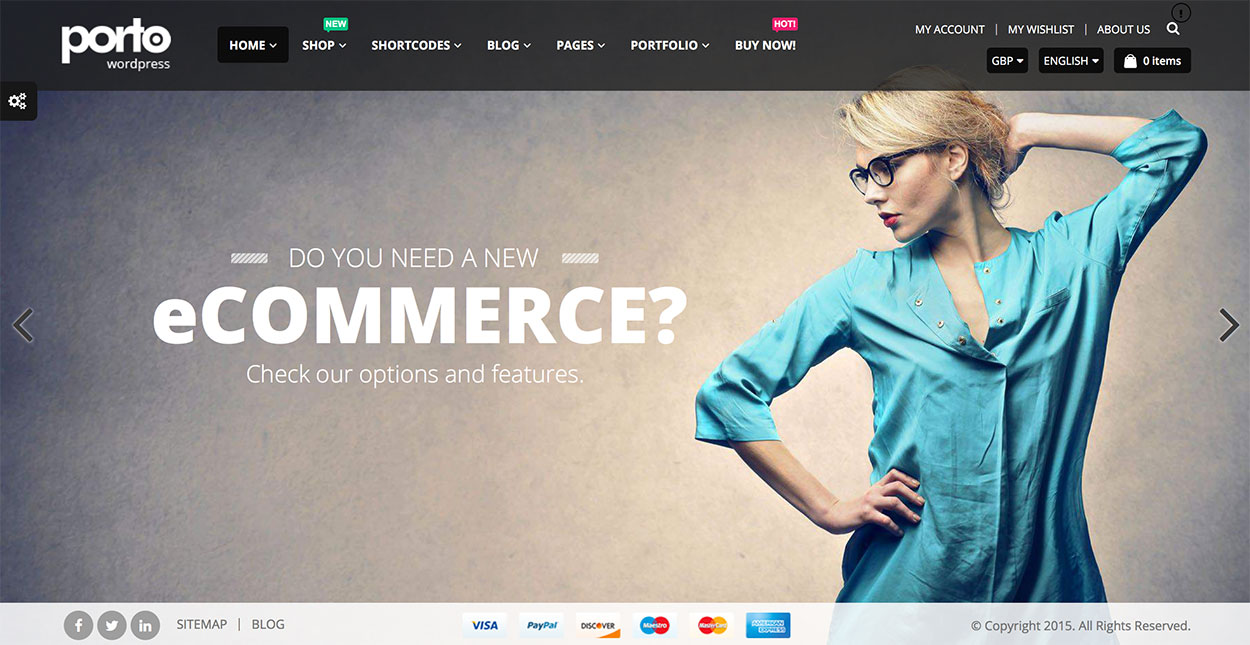 If you want more from WooCommerce than the core offers, there are plenty of extensions available to download — including a good number of free ones on the WordPress repository.
There are 351 official extensions to date — including some free ones — that let you do all manner of cool things with your store. Some of my favourites include:
Want to see what a good WooCommerce store looks like? Here's some great examples.
Summary
WooCommerce is already the most popular eCommerce solution, and it's certainly one of the best. Boosted by the phenomenal success of WordPress, WooCommerce gives webmasters the opportunity to bolt an eCommerce store on to any WordPress-powered website.
If you're a WordPress user, you should be able to adapt to WooCommerce seamlessly, as everything is controlled from within the standard WordPress dashboard — from building and customizing your store to adding products and handling orders.
The core perhaps lacks the absolute power of Magento but makes up for it with its impressive usability. And, should you want to add more features to bring it more in line with Magento, there are plenty of extensions that allow you to do so.
Final Thoughts
Having examined Shopify, Magento, and WooCommerce, the big question is: which should you choose?
As is often the case with these types of questions, the honest answer is: it depends. There are a lot of factors at play when deciding which eCommerce platform to use — your technical skills, budget, size of store, and the features required, to name just a few. However, there are three scenarios where the answer is clear cut.
You have limited technical skills, and you're simply looking for the quickest way to launch your store with minimal fuss — go with Shopify.
You have a large budget to play with, and you're looking for the most powerful solution to launch an enterprise-sized store — go with Magento.
You aren't afraid to learn how to do things for yourself and want a solution that will grow with your business without limiting its potential — go with WooCommerce.
But what if you don't fall neatly into one of those three categories? Well, perhaps I'm biased writing for a WordPress blog, but I feel that WooCommerce is hands-down the best option.
Why? Because the WordPress/WooCommerce combo is a lot more powerful, and potentially more cost-effective, than Shopify, and much more user-friendly than Magento, it occupies a happy middle ground — making it the most obvious option for the majority of eCommerce stores.
Anyone who's used WordPress should have no problem figuring out WooCommerce and launching an online store. And anyone who hasn't? Well, WordPress is intuitive to use, and there are far more helpful WordPress resources out there (including WinningWP, of course) than for Shopify or Magento.
With plenty of awesome features (and plenty more available via extensions), a low cost, and a small learning curve — if in doubt, go with WooCommerce.
So, Shopify, Magento, or WooCommerce? Thoughts?
All comments are held for moderation. We'll only publish comments that are on topic and adhere to our Commenting Policy.
Our commenting form also supports the use of Markdown.