WinningWP content is free to all. If you make a purchase through referral links on our site, we earn a commission (
learn more
).
Pressidium Hosting Review: An Excellent Reputation – But Are They Worth The Money?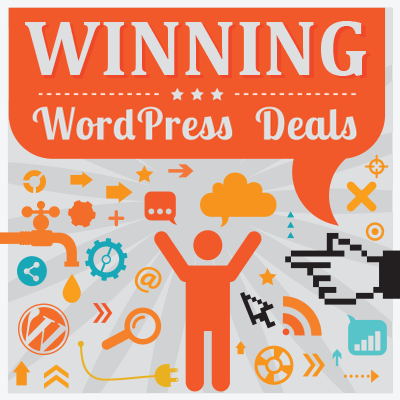 Considering using Pressidium to host your WordPress site?
Pressidium don't generally get nearly as much coverage as some of the most popular managed WordPress hosts, such as WP Engine, Kinsta or Flywheel. However, they still boast some big-name clients, including LearnDash (read our LearnDash Review here), Backlinko, and a variety of universities.
In this Pressidium review, I'll put them through their paces and help you to decide whether or not you should join those other clients.
I'll start by going over Pressidium's features and how they differentiate themselves from most other managed WordPress hosts with their high-availability architecture. Then, I'll go more hands-on and test their performance, take you on a tour of their dashboard and WordPress plugin, and test their support responses as well.
Overall, I was impressed with Pressidium and think they offer an excellent hosting product. However, they're also a little more expensive than other hosts, so you'll need to decide if that investment is worth it. The goal of this review is to help you make that decision.
Let's dig in..
Pressidium Features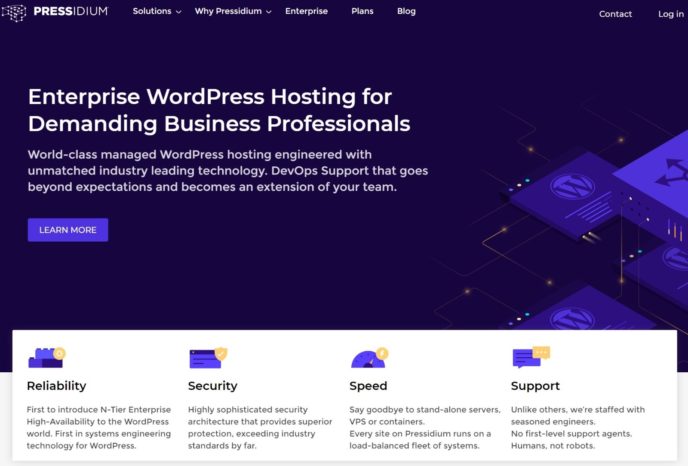 In this first section, I'm not really telling you anything you couldn't learn from the marketing copy. However, I think it's important to go over these details, because Pressidium do things a little differently when it comes to server architecture (though you'll still get all of the managed WordPress hosting features you'd expect).
Pressidium Are High-Availability WordPress Hosting — What Is That?
The most unique thing about Pressidium is all of their plans use high-availability architecture. If you go to their landing page, you'll see this brought up a lot because it's one of the biggest differentiating features. So, what does that mean?
With 'regular' hosting, there's only one copy of your site/database running at a time. If this single copy goes down, your site goes down because it's the only copy running.
High-availability hosting changes that by running multiple identical versions of your site (called nodes). If one version of your site has problems, the high-availability architecture can seamlessly redirect visitors to the other copy so there's zero downtime. Basically, it adds reliability and redundancy, which is why high-availability is an important thing for most large organizations.
Beyond reduced downtime, there are also some other potential benefits to this approach:
Load balancing — you can distribute visitors between different nodes, which helps your site to perform well under stress.
Horizontal scaling — you can also add more nodes if needed, which is called horizontal scaling. If you only have a single version of your site, your only option to scale is to add more resources to that single version, which is called vertical scaling.
All of Pressidium's plans, even the cheapest ones, use this high-availability architecture. If you want to learn more, you can check out this blog post or Pressidium's ebook on high-availability hosting
All the Performance and Security Features You'd Expect
Beyond the high-availability infrastructure I shared above, Pressidium offer all of the performance and security features you'd expect from a managed WordPress host.
On the performance side, you get five different caching mechanisms to speed things up. The caching system itself uses Varnish as the building block, and also employs a custom 'adaptive caching engine, which profiles your site's traffic to enforce the most efficient caching rules'. I asked their support about this caching engine and my understanding is that it basically means Pressidium will automatically exclude logged-in users from seeing cached content, while still serving cached content to anonymous visitors. This helps to eliminate caching issues if you're, say, running a membership site.
You'll also get some other performance-boosting features:
Built-in CDN
Dynamic load balancing for better performance under scale (as mentioned above)
HTTP/2 support
Built-in image optimization service (no need for an image optimization plugin)
On the security side, you get the following features:
Managed web application firewall (WAF)
Free SSL certificates from Let's Encrypt
Proactive malware scans/monitoring as well as free malware removal if needed
Bad bot filtering
If you want to learn more about the tech stack, you can find all of the details here. Be warned — they go very in-depth. If you're a developer, you'll probably be geeking out at all of the tech stuff. If you're not, you're probably just going to read a lot of concepts that go over your head.
Plenty of Convenient Management Features, Too
While a lot of the focus so far has been on Pressidium's advanced infrastructure and features that developers will appreciate, their management features and dashboard are much more human-focused (not to say developers aren't humans!).
Put simply, Pressidium have a lot of tools that will make your life easier regardless of whether you're a newbie or a developer:
Automatic daily backups — you can also manually take backups from the Pressidium dashboard or inside your WordPress dashboard (the latter is unique and useful).
Staging sites — you can create staging sites with one-click and use custom deployments to copy some or all of your site between staging/live according to your needs.
Managed updates — Pressidium will safely apply WordPress updates for you.
Pressidium Performance Tests — They're Fast
Now, let's get into the hands-on section of our review.
Prior to writing this review, I'd read good things about Pressidium's performance, which you'd expect based on their infrastructure. For example, in Review Signal's exhaustive hosting performance benchmarks, Pressidium's entry-level plan earned Top Tier status and a glowing summary:
One error, nearly perfect uptime. Hard to really expect a better performance. Pressidium's entry-level plan remains in the top tier for another year.
Pressidium haven't participated in those benchmarks since 2016, but I was hoping to see similar results when I tested them.
To assess their performance, I used two testing tools:
WebPageTest — this is a one-off test that gives results for overall load time and specific metrics such as time to first byte (TTFB — a general measure of how responsive a server is).
BlazeMeter — this tests if Pressidium can perform under scale by sending multiple visitors in a short time span.
For reference, my test site is a full website using the popular Astra theme (our review) and the equally popular Elementor page builder (our review). This is the exact Astra starter site that I'm testing.
WebPageTest Results
To get accurate results from WebPageTest and eliminate single-test variability, I used a service called MachMetrics. MachMetrics uses WebPageTest as its testing engine, but it lets you set up automatic performance monitoring.
I set it up to run a performance test every six hours. So, rather than just seeing how Pressidium performs at one specific time on one specific day, this lets us see how it performs at different times of day and across different days of the week.
As for the WebPageTest configuration itself, I used the following:
Native connection (no traffic shaping).
US-East testing server (which is very near my Pressidium data center).
Desktop device.
In this test, Pressidium performed very well. The average speed across all data points was under one second — 0.95 s to be exact. The time to first byte (TTFB) hovered around 0.10 s in all of the tests, which is excellent. You can't get much faster.
You can see some of the most recent tests below to get a pretty good idea of the different metrics: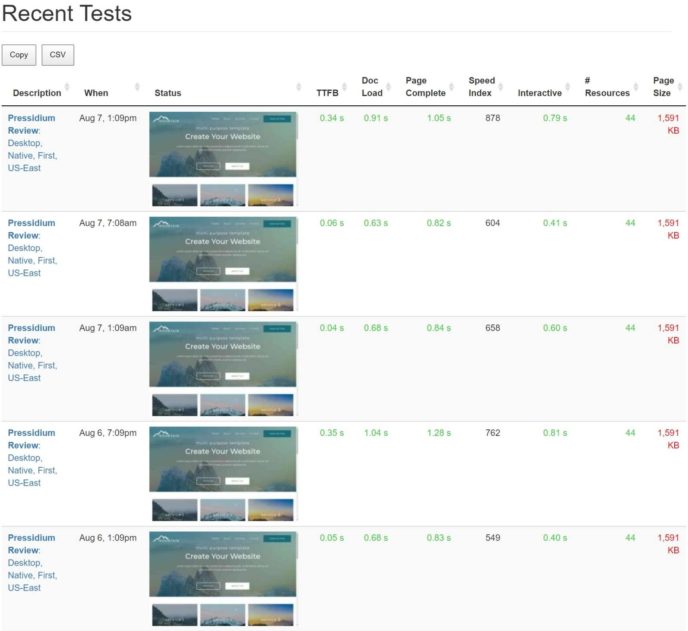 Another nice thing MachMetrics lets us see is the best and worst performance from the test period:
The best performance was 0.76 s with a TTFB of 0.05 s
The worst performance was 1.33 s with a TTFB of 0.51 s
Here are the three best results versus the three worst results: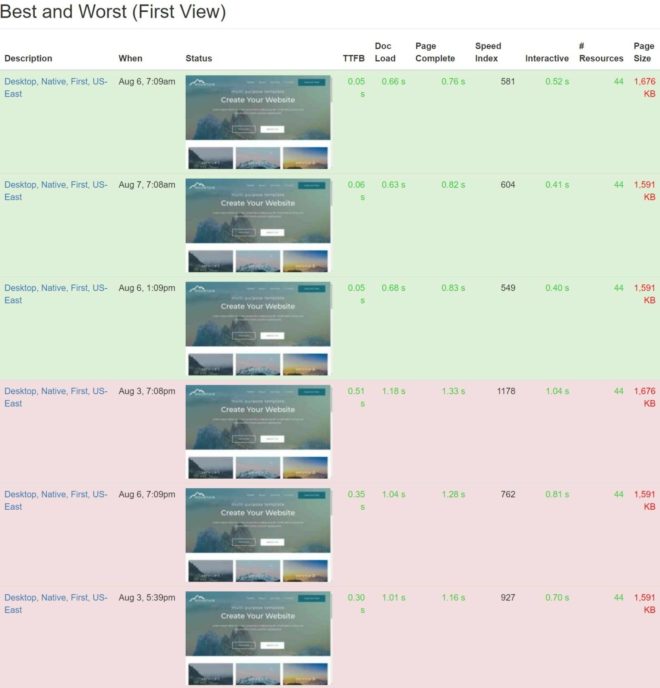 Even at their worst, Pressidium were still pretty speedy.
BlazeMeter Results
Pressidium performed exceptionally in the one-off tests. However, on a real WordPress site, you're probably not going to have a single visitor at a time. So, the important question is, can Pressidium keep up its stellar performance under scale?
Everything about Pressidium's tech stack and positioning says the answer should be yes. Again, they use load balanced clusters and horizontal scaling which should mean your site performs very well even when the heat is on. However, it wouldn't be much of a review if we just trusted the marketing copy, so BlazeMeter lets us put that to the test by simulating 50 active visitors over five minutes.
In the test, Pressidium had an average response time of just 83.52 ms. The 90% response time was also just 115 ms. The 90% number means 90% of visits were faster than 115 ms. That is, the 90% number is the slowest speed of the 90th percentile.
In the chart, you can see that the response time (orange line) looks like it's going up as the number of visitors (blue line) increases. And it does a bit — but it's important to note that the difference between the beginning and the end is less than 100ms, so the upward trend you see is more representative of the compressed y-axis on the chart than any huge difference in performance.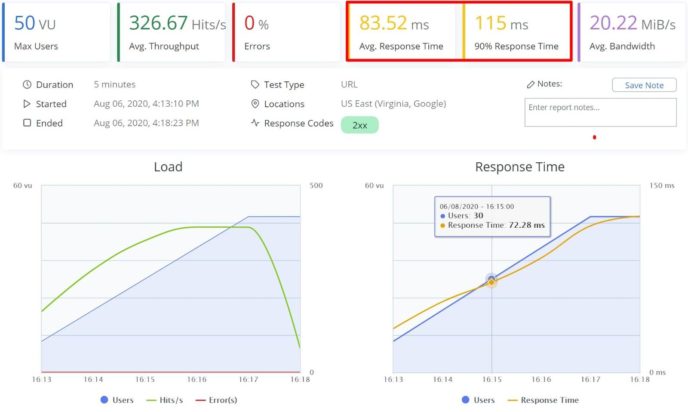 User Experience
Next, let's get into the user experience of what it's like to host a WordPress site at Pressidium.
Site Setup Process
Once you create your Pressidium account, Pressidium will give you some welcome selections the first time you log in.
First, you'll choose your datacenter from a list of four options:
North America (East)
North America (West)
Europe
Oceania and Asia Pacific
Once you make that choice, Pressidium will work on provisioning your account. Then, you'll see a prompt to create your first website. The installer is pretty standard — you just choose your PHP version, enter your credentials, and that's basically it: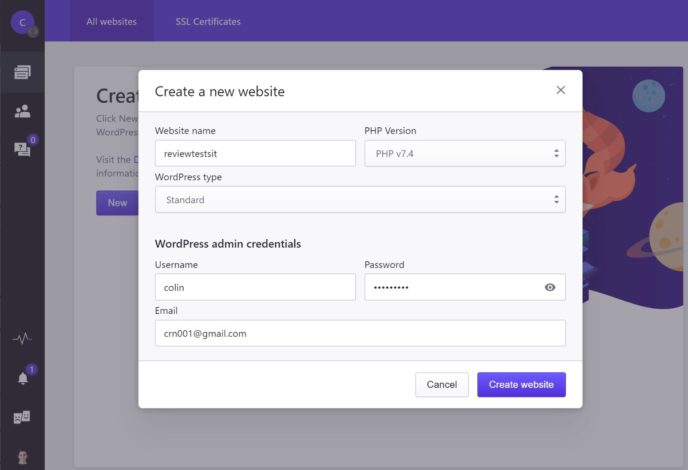 Pressidium will take a couple of minutes to process your request. Then, you should have a brand spanking new WordPress site. To finish things off, all you need to do is set up and connect your site's domain name. However, Pressidium give you a temporary subdomain while you're doing that, so you can actually start using your WordPress site right away.
Pressidium Dashboard
The Pressidium dashboard is pretty simple and streamlined. In the 'Main' dashboard area, you'll see a list of all of your websites, as well as some other options in the sidebar.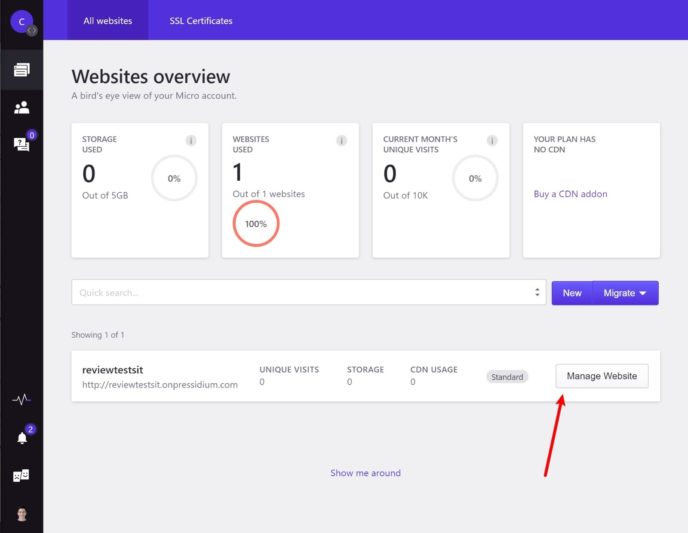 However, you'll probably spend most of your time in the dashboard for a single website, which you can access by clicking the Manage Website button.
Exploring the Site Tools
When you open the dashboard for an individual site, you'll be able to see all of the features I mentioned earlier, including:
backups
staging sites
SSL certificates/HTTPS usage
etc.
There's a good bit here, so I can't cover every single feature. Instead, I'll just highlight some of the most notable areas.
First off, the main site dashboard is pretty useful by itself. You can quickly see if any parts of WordPress are out of date. You can also view basic analytics (such as usage and storage) and also see some other relevant details, such as whether or not you have the WP Debug tool enabled:
To access other tools, you'll use the menu at the top, which gives you seven options:
Overview — what you saw above.
Domains — manage the domains associated with this site (including an option to set up a reverse proxy).
Backups — view the automatic backups and create manual backups if needed.
SFTP — view SFTP connection details and manage SFTP users.
Database — manage your database with phpMyAdmin. There's also an option to import a MySQL dump or run a search.
Logs — view logs in your browser or download them for more analysis.
Settings — a catch-all for managing PHP version and using some tools (such as enabling WP Debug mode).
The Backups tab is the most interesting here because Pressidium let you make two different types of backups:
Full Backups — automatically created every day and stored off-site for 30 days. As the name says, it's a full backup of literally every part of your site.
Instant Backup — also created daily or manually on-demand. Backs up everything except your media uploads, cache and other non-standard folders.
You can view all of these backups from the Backups tab. You can also download or restore any backup by clicking a button: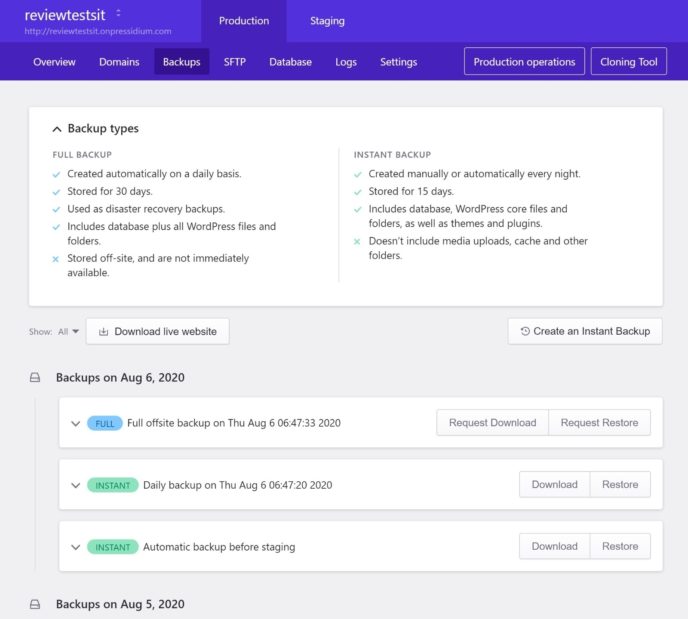 When you go to restore a backup, you can choose between restoring just your files or your files and your database. And, before Pressidium restores the backup, it will also take an instant backup of your current site just in case you change your mind and want to revert: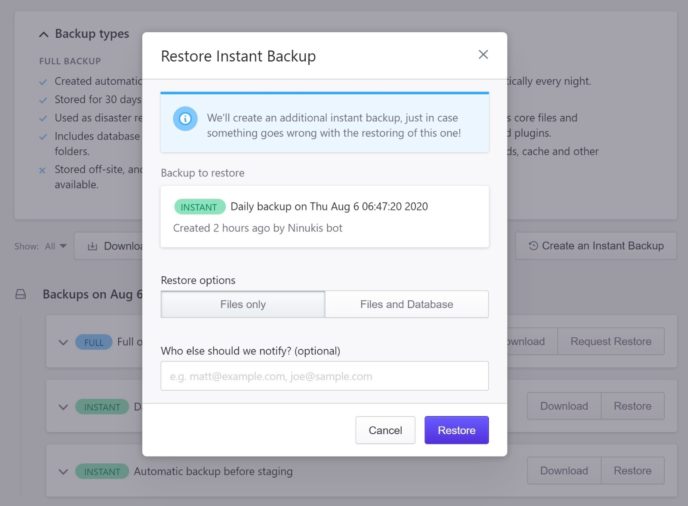 Overall, I'm pretty impressed by the number of tools Pressidium gives you and have found the dashboard to be very intuitive (even for non-technical users).
Staging Sites
In all of the examples above, I've been showing you the Production tab of the site tools area.
If you want to create a staging site, you go to the Staging tab. Here, you'll get pretty much an identical clone of the Production tools… just for the staging version of your site.
If you want to move your staging site back to production, you can expand the Staging Operations drop-down. When you move your site, you can choose whether or not to overwrite the database on your production server or just move the files: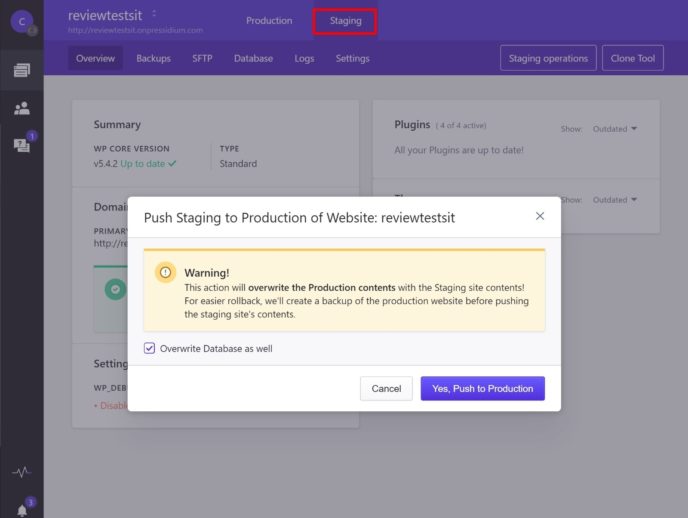 Pressidium Utility Plugin
Let's hop out of the Pressidium dashboard for a second because I want to show you another cool feature that helps you to manage your WordPress site — the Pressidium plugin, which they install by default when you set up a new site.
While it's fairly common for managed WordPress hosts to install a helper plugin that lets you purge the server-level caching, Pressidium's plugin does more than that. First, it does perform two basic functions:
You can indeed purge the cache, as well as the CDN cache if you're using the built-in CDN.
You can enable the built-in image optimization service, which eliminates the need to use a third-party image optimization plugin.
But then there are two features I think are really cool…
First off, you can create a backup from inside your WordPress dashboard. All you do is go to Pressidium → Backup service. Then, you just enter a comment to help you to remember it, and click Perform Instant Backup.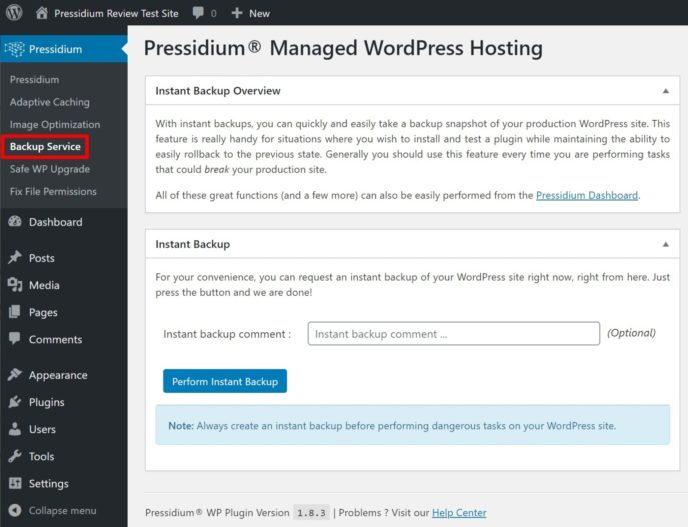 This feature is great because it eliminates the need to open your hosting dashboard to create a backup before making a change. After all, most of the scenarios where you'd want to take a manual backup probably involve you changing something inside your WordPress dashboard, so this makes it a lot easier to create that backup without breaking your workflow.
Second, Pressidium include a Safe WP Upgrade feature that lets you automatically trigger a backup before applying a WordPress update. Now, Pressidium do apply updates for you, but this may come in useful if you're in a hurry and want to upgrade your site before Pressidium do. By default, Pressidium apply minor updates within 24 hours but wait two weeks to apply major updates. So, the Safe WP Upgrade feature would let you safely apply major updates right away.
All in all, this plugin is quite useful and goes beyond the helper plugins most other managed WordPress hosts offer.
Creating Teams
Back to the hosting dashboard for one more feature!
If you're working as part of a team, Pressidium have some useful features to help you to control who has access to various parts of your hosting account. When you invite a user, you'll be able to choose from different roles: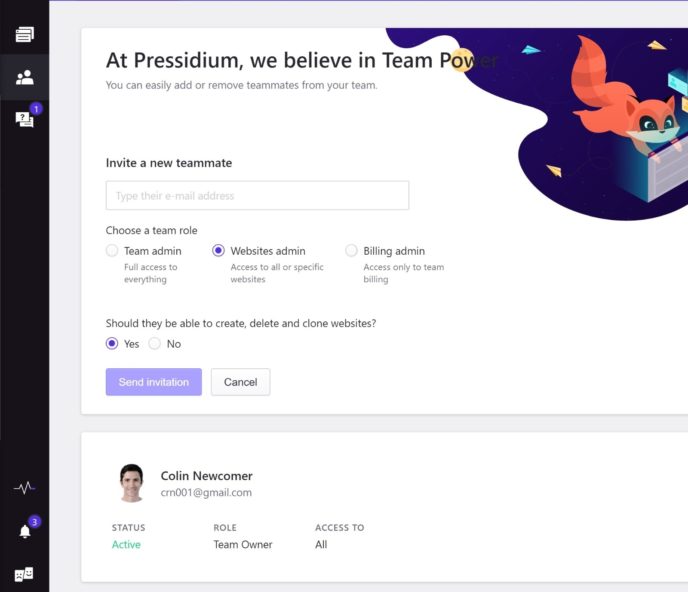 Pressidium Support
Pressidium offer 24/7/365 expert support on all of their plans. They advertise their support staff as DevOps engineers, which should mean they have a deeper technical knowledge than the frontline staff at many hosts.
In fact, Pressidium don't believe in having different tiers of support staff. There are no tiered levels and there's no need to 'escalate' issues because you get support directly from the engineers. You can learn more by reading Pressidium's support ethos.
One thing to note here is you only get support via ticket or email. There's no option for live chat or phone support, though higher-tier plans do get a dedicated account manager.
With that being said, Pressidium's interface for submitting a ticket is quite smart. When you submit your ticket, you'll be able to:
choose the specific site with a problem
choose the priority of your issue
add other email addresses that should receive notifications for ticket updates (super convenient if you're working as part of an organization)
describe your problem.
Pressidium claim that their average response times are:
five minutes for Enterprise plans
30 minutes for Standard plans (which is what I'm using).
To see how that holds up, I decided to submit one high-priority ticket and one low-priority ticket:
High-priority — four-minute response time — submitted at 3:48 AM EST and received a response at 3:52 AM EST.
Low-priority — one hour and 20 minutes response time — submitted at 5:55 AM EST and received response at 7:20 AM EST. Note: They apologized for a delayed response in the ticket, suggesting this isn't normal.
Overall, it seems that, for high-priority issues at least, you can expect quick response times.
The ticket response interface is also well-designed and looks and feels kind of like a live chat (though it's not):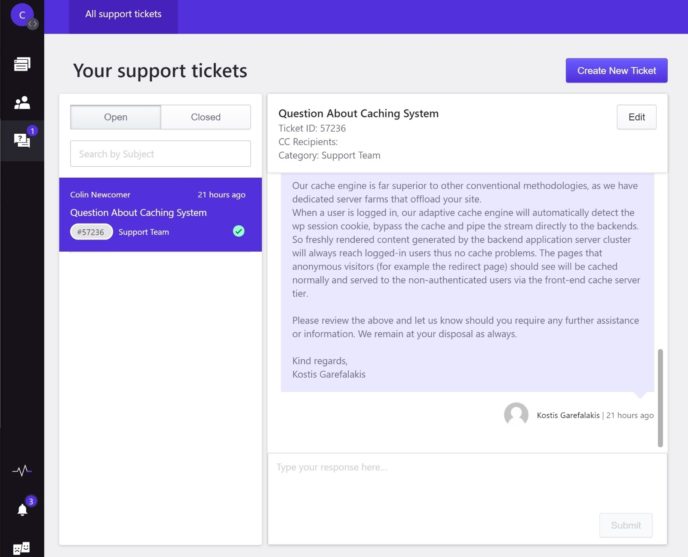 Pressidium Pricing
When you consider the limits on your plan, Pressidium are a little bit more expensive than most other quality managed WordPress hosts. This is the premium you pay for Pressidium's high-availability approach to hosting.
Plans start at just $21 a month with annual billing or $24.90 with month-to-month billing. So, if you just look at the top-line prices, Pressidium actually look like they're a little cheaper than competitors such as Kinsta or WP Engine. However, you need to dig into the resources, where you'll see that Pressidium's entry-level plan doesn't support nearly as many visitors as those other options.
Here's a quick comparison of the month-to-month prices for Pressidium's Micro (entry-level) and Personal (next-tier up) plans versus Kinsta and WP Engine:
| | | | | |
| --- | --- | --- | --- | --- |
| | Press. Micro | Kinsta | WP Engine | Press. Personal |
| Price/mo. | $25 | $30 | $30 | $50 |
| Websites | 1 | 1 | 1 | 3 |
| Visitors | 10,000 | 25,000 | 25,000 | 30,000 |
| Storage | 5 GB | 10 GB | 10 GB | 10 GB |
Basically — unless you fit under that 10,000 visitor limit on the Micro plan, you should probably expect to pay a little bit more.
Here's another comparison just with Kinsta to give you a broader picture of how the different tiers stack up:
| | | | | | | |
| --- | --- | --- | --- | --- | --- | --- |
| | Press. 1 | Kinsta 1 | Press. 2 | Kinsta 2 | Press. 3 | Kinsta 3 |
| Price/mo. | $25 | $30 | $50 | $60 | $150 | $100 |
| Websites | 1 | 1 | 3 | 2 | 10 | 5 |
| Visitors | 10,000 | 20,000 | 30,000 | 40,000 | 100,000 | 100,000 |
| Storage | 5 GB | 10 GB | 10 GB | 20 GB | 20 GB | 30 GB |
As you can see, Pressidium's plans let you host more sites than Kinsta's plans, but all of the other resources are lower for the same money. For example, to support 100,000 visitors, you're paying 50% more to Pressidium vs Kinsta.
One nice thing about Pressidium, though, is that they don't charge overage fees if you exceed your limits, which all of the other managed WordPress hosts do. They also don't limit your site — it just keeps running like normal. However, if you're regularly exceeding your traffic limits, they'll ask you to upgrade to the next tier. Still, this is very generous for one-time traffic spikes (e.g. going viral).
You can see a more detailed look at all of the plans in the screenshot below — they have identical features with a few exceptions:
The Micro plan has an optional $10 a month upcharge to use the CDN. The CDN is included in the price for all other plans.
You need at least the Professional plan to use WordPress multisite.
You only get a dedicated account manager on the Business plan or above.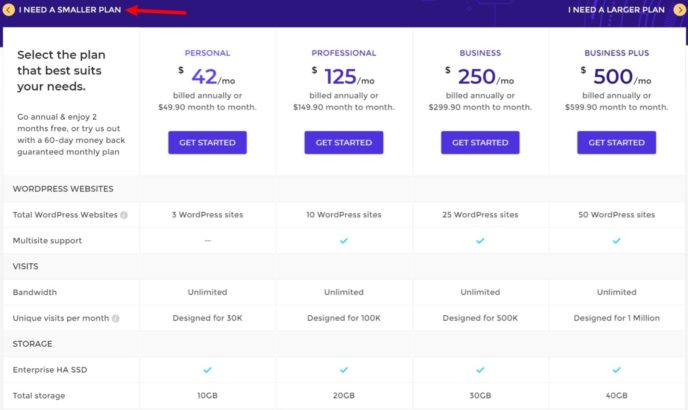 If you need more than the preset plans can offer, Pressidium also offer customized Enterprise plans starting at $790 a month.
* Note: Pressidum hide their entry-level Micro plan on the pricing page. You need to click the 'I Need A Smaller Plan' option to see the Micro plan. When you first load the pricing page, it's easy to miss that and assume that the cheapest plan is $42 a month.
Final Thoughts
Before writing this review, I wasn't very familiar with Pressidium. However, after using and testing them, I was quite impressed by their product.
The performance was excellent — they're definitely in the top tier of any managed WordPress host I've tested. Additionally, the high-availability infrastructure and horizontal scaling should mean your site can easily stand up to heavy traffic.
It's not just the underlying infrastructure, though, Pressidium have also built a very user-friendly dashboard and suite of tools. One of my favorite features is the Pressidium plugin — being able to create an instant backup from inside your WordPress dashboard is really useful, and something I'd love to see other hosts implement.
The biggest downside is that Pressidium are a slight step up in price even when compared with other managed WordPress hosts. While the entry-level plan is only ~$25 a month, remember that the visitor limit is only 40% to 50% of what you'd get with the $30 plans at Kinsta or WP Engine.
Additionally, you don't get access to live support, which may or may not be a dealbreaker. It just depends on how you feel about ticket support. However, remember that, in exchange for not getting live chat support, you do get directly to developers for help — there are no 'support tiers' to work your way through, which you'd have at most other hosts. That's definitely a big advantage and something that may make giving up live chat worth it.
Should You Use Pressidium?
Now for the important question — should you use Pressidium? That depends.
If you have a low-traffic, 'regular' WordPress site (such as a small blog or brochure website), I think you can probably find better hosting providers for your money. That's by no means a criticism of their features or performance, it's just the realities of the pricing system. For a basic site, you don't really need high-availability architecture or direct access to engineers via support, so you're paying extra for stuff you don't really need.
For a site with fewer than 20,000 visitors per month, I'd say you can get better value from Kinsta (you could still use Kinsta's entry-level plan) or SiteGround (a solid budget option, though they're not as good as either Pressidium or Kinsta).
Where I think Pressidium make more sense is what I would call 'mission-critical' WordPress sites. For example, a WooCommerce store, a high-revenue/traffic blog, an enterprise website and so on. When it comes to these types of sites, I think you do get value from paying for Pressidium's architecture, the direct support access to engineers, and so on.
For example, if you have a blog with 150,000 monthly visitors and that blog is your entire life's income, then you may want that peace of mind of Pressidium's high-availability architecture. Or, if you have a WooCommerce store, you'll definitely want that peace of mind.
Overall, my conclusion is that Pressidium are an excellent host, but they're also an expensive host. For mission-critical sites, I think paying that premium can be a good investment. For 'casual' sites, you can probably find cheaper options that can still handle everything you need.
Used/using Pressidium? Thoughts?
Related Posts:
All comments are held for moderation. We'll only publish comments that are on topic and adhere to our Commenting Policy.