WinningWP content is free to all. If you make a purchase through referral links on our site, we earn a commission (
learn more
).
The Top 5 Best WP Courseware Alternatives
If you're planning to build courses on your WordPress site, you've probably heard of WP Courseware. The plugin is quite popular, but that doesn't mean it's the best option for the job. This guide will compare five of the best WP Courseware alternatives to help you find the best learning management system (LMS) for your needs.
But first, let's take a look at some of the reasons why you might want to consider WP Courseware alternatives:
Access to advanced functionality. WP Courseware lacks advanced course building features, such as the ability to create and accept assignments. The plugin also lacks complementary features like the ability to create a membership program.
Complex sales capability. WP Courseware doesn't offer the ability to create an upgrade/downgrade path or prorated subscriptions.
More built-in integrations. WP Courseware offers integrations with many popular tools for ecommerce, marketing, and membership programs, but they must all be installed as separate plugins. Many also require separate purchase, raising the overall cost of the plugin.
Compatibility with specific tools. If you already work with a specific email marketing service or CRM tool that isn't compatible with WP Courseware, you might want to find a plugin that is compatible with those tools.
At $124/year, the base cost of WP Courseware is reasonable for many business owners but inaccessible to others. Some of the alternatives are more affordable or even free for the base plugin.
All of these are valid reasons to look for WP Courseware alternatives. By the end of this guide, you'll know what the best learning management system is for your needs.
What to look for in a learning management system
What you'll need from an LMS depends on the type of courses you want to build. If your courses are meant for casual self-improvement, the only things you need are a code-free course builder with the option to price your work.
On the other hand, if your courses are aimed at building professional skills, you might want to use quizzes and certificates to establish the legitimacy of your students' achievements.
Here's a quick overview of features to consider when you're looking for an LMS.
Platform
Most of the learning management systems explored in this article are WordPress plugins, but that isn't the only option. There are many third party options for course building software, including learning networks with an established audience like Udemy.
Progress control
You should be able to choose whether students gain access to all of your content at once or if they must complete one lesson before moving on to the next.
Content dripping
This is the option to release content to students on a predetermined schedule. For example, you might want to send out lessons every seven days after someone purchases a course.
Content expiration
This option allows you to limit the length of time someone has access to specific content. Most learning management systems with this option let you specify it by number of days or by a specific date.
Quiz builder
Some learning management systems don't feature quiz builders, and the quiz builders available don't always have the same features. For example, many LMS's only let you create multiple choice questions. Others might not have full grading capabilities.
Assignments
The ability to accept assignments is a great way to assess how well students understand what they're being taught. Unfortunately, this is a pretty rare feature among LMS's, and when it does exist, it's often a paid add-on. Consider this a major bonus if you find an LMS you like that has this feature built-in.
Community
Most learning management systems give students the ability to comment on lesson content. Some offer advanced community options, such as forums. This can be a great way to get students more involved in the learning process.
Account dashboard
This is an area where customers can view all of the course content available to them and change their basic information.
Payment systems
Most LMS's are only compatible with one or two payment systems, with the most popular options being PayPal and Stripe. Make sure the LMS you're considering is compatible with a payment system you have access to.
Additional features
Many course building tools offer additional functionality, such as the ability to create membership programs or coaching programs.
Ease of use
The interface of your chosen learning management system should be code-free and intuitive. You don't want to be dealing with convoluted processes at every turn.
Support and documentation
The best course building tools offer support and documentation not just for technical use of the tool itself, but also for building successful courses. Look for a program that makes this information easily accessible.
Cost
In an ideal world cost would be the last concern, but many businesses start with a shoestring budget. Many course building tools also run on annual subscriptions, so you'll need to think of it as a long-term cost rather than a one-time payment. Know what you're willing to spend going in.
The best WP Courseware alternatives
1. LearnDash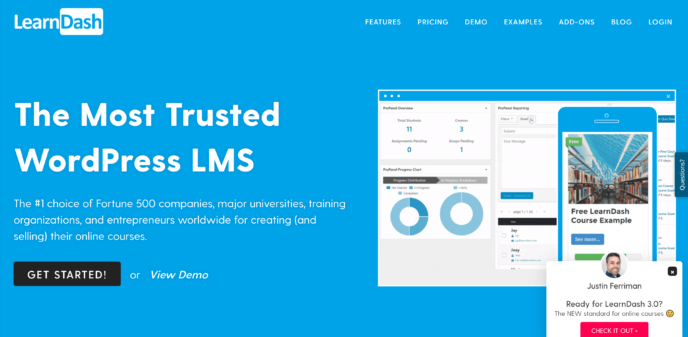 Notable features
Multimedia lessons
Content dripping
Advanced quiz builder
Grading and academic reports
Certificates and badges
Course content protection
Membership program creation
Integrations with many popular tools including bbPress, BuddyPress, and more
Overview
LearnDash is a powerful course building plugin with all of the advanced tools you need to build a professional certification program. The visual course builder is compatible with a variety of media types and requires no knowledge of code.
One thing about LearnDash that stood out to me right away was the documentation. When you load the plugin on your site, you'll have the option to go through the LearnDash Bootcamp. This is a step-by-step resource that shows you precisely how to build your first course and start selling it.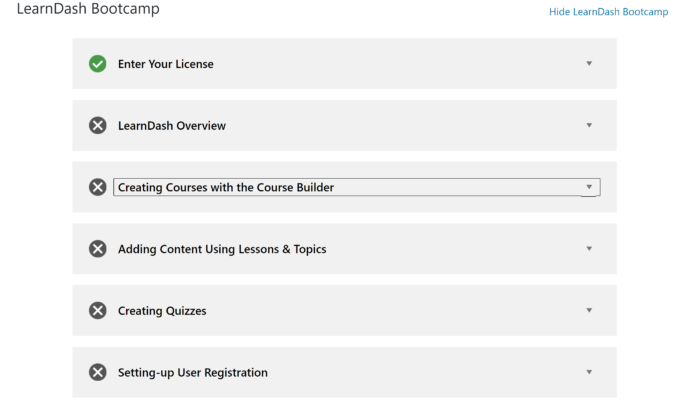 Another reason LearnDash stands out in this list of WP Courseware alternatives is the quiz builder. The base plugin lets you configure several question types including multiple choice, true/false, and essay questions. You can also specify the grade required for students to pass the quiz.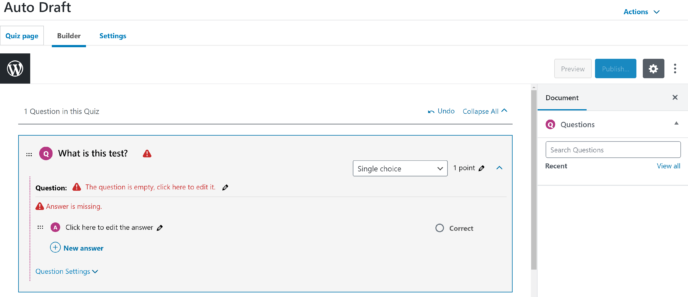 The final feature of the base LearnDash plugin that impressed me was the ability to create badges and certificates. Most LMS's only offer these tools as add-ons, if they're offered at all. LearnDash including this in the base plugin makes it an excellent choice for teachers who want to offer professional certification.
Not seeing the feature you want in the base LearnDash plugin? There's probably an integration for it. LearnDash offers both built-in integration with tools like bbPress and add-ons for integration with tools like WooCommerce. There are also several proprietary LearnDash add-ons that allow you to do things like having multiple instructors.
Price range: LearnDash plans range from $159 (regular $199) – $329 (regular $369)
Who this tool is best for: WordPress site owners who want to create interactive courses with the opportunity to earn certifications.
2. LifterLMS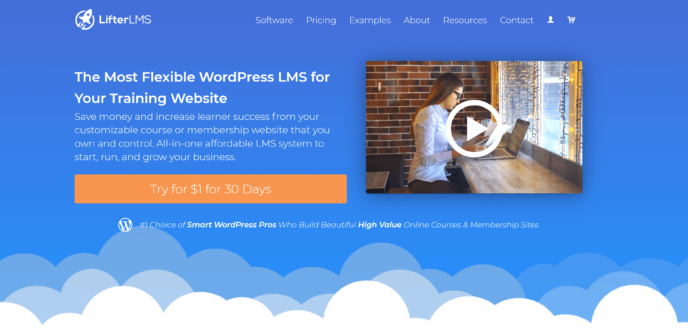 Notable features
Multi-tier course builder with course tracks
Multimedia lessons
Content dripping
Quiz builder
Student dashboard
Capacity for multiple instructors
Optimized course review collection
Quick course export (ideal for backups or moving content to a new site)
Overview
LifterLMS is a simple course building plugin that offers an interesting mix of features. The most interesting of these are the multi-tiered course builder and course track tools. You can use these to create layered certification programs or even degree programs.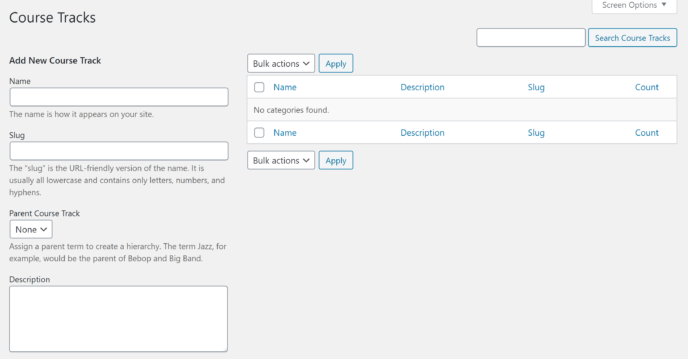 The course builder itself is intuitive and seamlessly integrated with WordPress technology to make everything fully customizable. I particularly enjoyed the built-in module for instructor bios on course pages.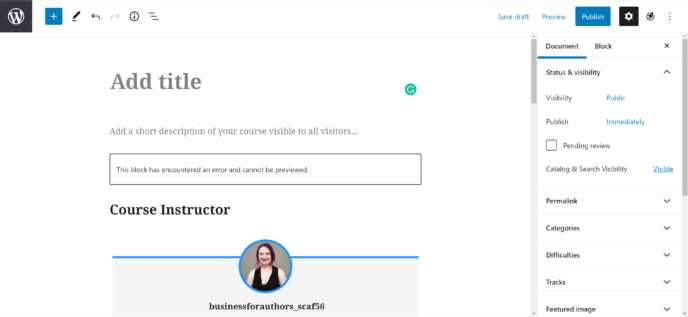 The quiz builder lets you create multiple choice and true/false questions. You can also set a time limit and restrict the number of times students are allowed to retake the quiz.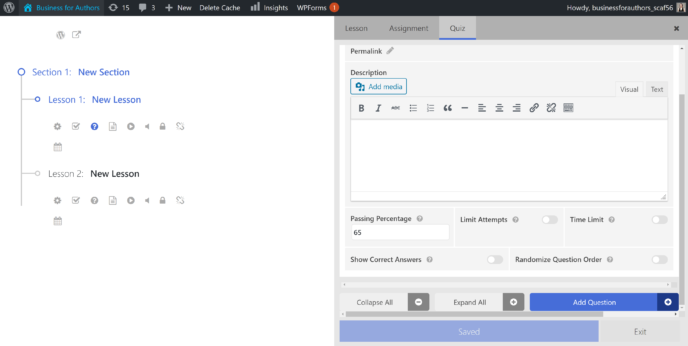 Technically, LifterLMS is also free. However, the free version of the plugin can't be connected to any payment gateway. You'll need to purchase an add-on for $99/year or sign up for one of the LifterLMS bundles.
This pricing system is, for me, where LifterLMS falls flat. The need to pay in order to sell your courses undermines the plugin being free. Purchased on their own, add-ons are $99/year apiece. The most affordable bundle is $299/year, and it mostly includes integrations with other marketing tools, rather than advanced functionality for the plugin itself.
Considering that LifterLMS seems targeted at companies creating advanced professional certifications, this seems predatory. The features required for an academically rigorous course, such as advanced quiz building and assignments, must be purchased separately or as part of the most expensive package. At $329/year (regular $369/year), this is still affordable for many businesses, but in my opinion, this pricing structure borders on unethical.
All in all, I think LifterLMS is an excellent course building plugin, but I have some concerns about the business practices of the company behind it.
Price range: The core LifterLMS plugin is free. Paid plans are priced at $99, $299, and $329.
Who this tool is best for: Businesses with a decent budget and an interest in creating academically rigorous courses on their WordPress sites.
3. LearnPress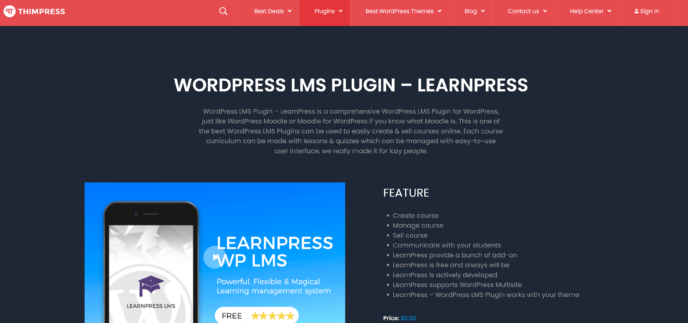 Notable features
Easy-to-use Setup Wizard
Visual course builder with numerous assessment options
Multimedia lessons
Quiz builder
Question bank
Advanced reporting
Ability to reset progress for individual students, specific groups, or all students enrolled in a course
Payment processing through PayPal, Stripe, and Authorize.net
Overview
LearnPress is a free, easy-to-use course building plugin that gives you all of the tools you need to sell simple online courses.
I was immediately impressed by the LearnPress Setup Wizard, which walks you through connecting LearnPress with a payment processing system. You'll also get the opportunity to customize the pages people see at a specific point of the customer journey, like the checkout page.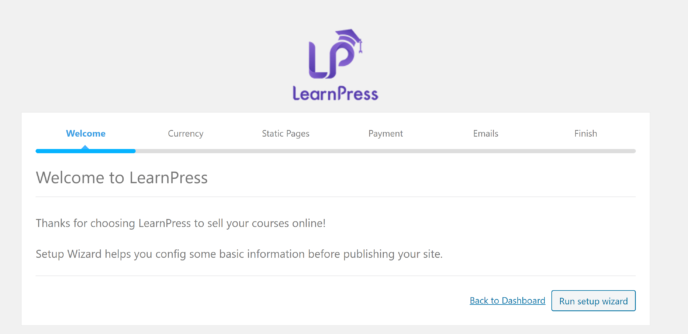 Another thing that makes LearnPress stand out in this list of WP Courseware alternatives is the ability to store individual questions separately from their quizzes. This makes it easy to add a question you've already created to a new quiz. LearnPress also allows for three question types: true/false, multiple choice, and single choice.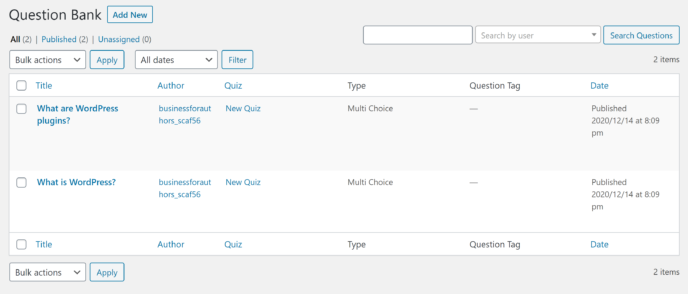 All in all, the core LearnPress plugin is a fantastic tool for building and selling simple online courses, especially for businesses on a tight budget. The only major feature I wish was included in the main plugin is content dripping. However, LearnPress offers add-ons for content dripping and numerous other features, and most add-ons for this plugin cost under $50.
Price range: Free. Premium add-ons range in cost from $29.99 – $249.99
Who this tool is best for: WordPress site owners with a small budget and no immediate need for advanced features.
4. Teachable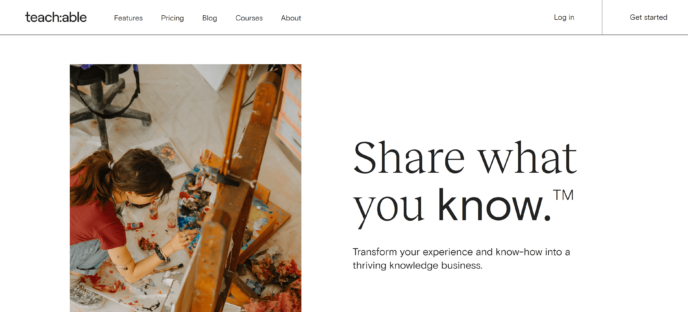 Notable features
The ability to create multiple schools with one account (each school requires a separate plan)
Multimedia lessons
Content dripping
Quiz editor
Coaching program creation
Members-only community
High quality student dashboard
Two admin-level users
Custom domain support
Access to specialized training for course creators
Integrated email marketing
Instant payment system for instructors in the US, UK, and Canada
Overview
Teachable is an off-site learning management system with an excellent visual course builder and a members-only community where students can discuss your courses.
One thing that makes Teachable stand out from the other WP Courseware alternatives on this list is the account dashboard. All Teachable courses are connected, so users will be able to view courses from every school they're enrolled in on this page. They'll also have the opportunity to add a custom avatar.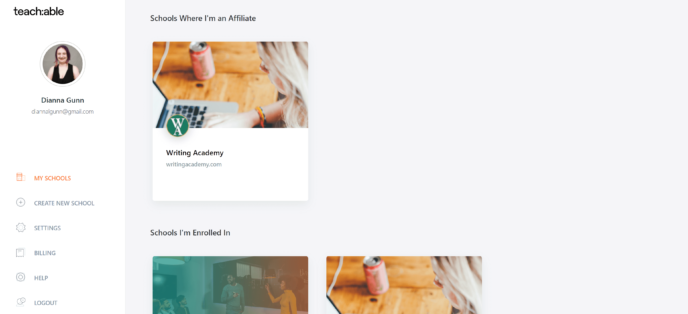 Instructors can use this page to access both schools they're enrolled in and schools where they teach. This was great for me, since I'm already enrolled in three Teachable schools; I didn't have to create yet another account.
Teachable is also easy to use as an instructor. There's no need to use code and the site provides access to extensive resources, like the checklist on the main page:
This makes Teachable less intimidating for people who have never created an online course before.
My big problem with Teachable is the cost. The most affordable plan is $29/month when purchased annually, which makes the yearly cost $348. This may be reasonable for some businesses, but it's significantly more than you'll pay for any other tool on this list. This means I can only recommend Teachable for people who intend to create coaching programs as well as online courses.
Price range: Teachable plans start at $29/month when purchased annually. The most expensive plan is $249/month when purchased annually.
Who this tool is best for: Instructors who also want to create a coaching program.
5. Udemy

Notable features
Quiz builder
Assignment creation
Specialized code exercise editor
Payment through Payoneer or PayPal
Access to a community of over 35 million learners
Overview
Udemy is a little bit different from the other WP Courseware Alternatives on this list. Instead of keeping schools and instructors separate, which puts all of the marketing responsibility on you, Udemy incorporates all courses into its digital marketplace.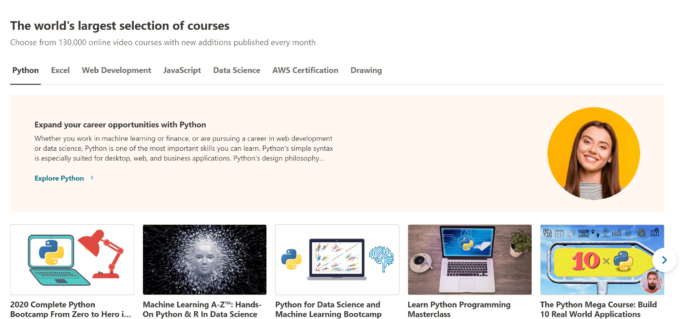 Udemy is also free for instructors. However, the site has two instructor levels. Anyone can sign up and start building a free course within minutes. If you want the ability to sell courses on Udemy, you'll need to apply for the site's premium instructor program.
As for the course builder, I had mixed feelings about using this one. The first several sections are mostly resources for planning courses and recording course lessons. While this information is useful, including it within the actual builder made the experience feel unnecessarily long.
On the other hand, the "Curriculum" area provides a high-quality visual course builder.

What really impressed me about the course setup is the ability to create assignments. This option is often an add-on even for premium learning management systems, so having it included in a free tool is excellent.
Udemy also offers specialized lesson and assignment options for coding exercises in several programming languages: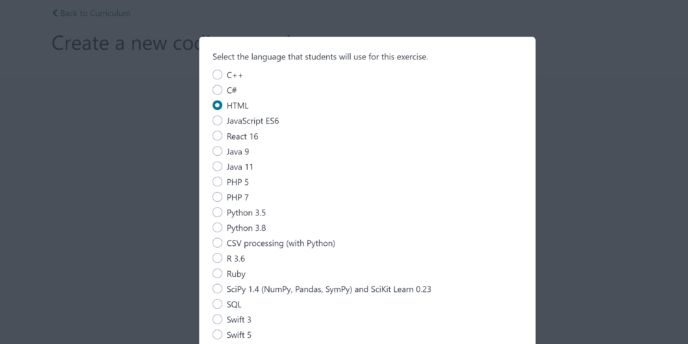 Overall, Udemy is an excellent place to create and sell online courses, especially in technology-related fields.
Price: Free.
Who this tool is best for: Instructors who teach professional skills like programming, graphic design, and marketing, especially those who only have a small audience.
Best WP Courseware Alternatives: The right choice for you
The learning management systems we've discussed in these tools are all quite distinct, so the best tool for you depends on your goals.
Used/using any of the above? Thoughts and experiences?
Related Posts:
All comments are held for moderation. We'll only publish comments that are on topic and adhere to our Commenting Policy.