WinningWP content is free to all. If you make a purchase through referral links on our site, we earn a commission (
learn more
).
Nexcess WooCommerce Hosting Review: Affordable, But How Good Is It?
Since the merger with Liquid Web, Nexcess has become one of the premiere providers of optimized hosting for WordPress websites of all types. In this review, I'll look at how capable Nexcess' new platform is at running online stores built on everyone's favorite website platform: WooCommerce!
Read on for an in-depth look at what Nexcess' managed WooCommerce hosting has to offer, its performance and load times, ease of use and pricing, as well as who should get it and why.
🐣 The Backstory of Nexcess Managed WooCommerce Hosting
What's now known as Nexcess managed WooCommerce hosting was Liquid Web's WooCommerce hosting not that long ago.
In 2019, both companies joined forces to give their product lines a bit more clarity, so each could focus on its own specialized niche within the web hosting industry. Liquid Web became all about VPS and dedicated servers, while Nexcess moved in the direction of small to mid-size websites running popular CMSs, such as WordPress (and WooCommerce).
The main goal of Nexcess' offering is to provide users with performant servers, while also making them easy to use from an administrative point of view. Another key detail is Nexcess has lowered its entry-level pricing a lot compared with the previous lineup of WooCommerce hosting under Liquid Web's branding.
🧰 The Features You Get With Nexcess WooCommerce Hosting
As with most hosting setups on the market, the exact lineup of features you get will depend on the tier you choose on signup. I'll cover the specifics of that in the next section of this review, but, for now, let's focus on the overall offering and the features.
Right out of the gate, these setups start looking quite attractive! First off, you get everything you'd expect from 'managed' WordPress hosting (or managed WooCommerce):
Your WordPress core and plugins will be kept up to date automatically.
There are free SSL certificates, automatic daily backups and Nexcess' own CDN included.
However, these features are just the tip of the iceberg. ⛰️
Nexcess offers a lot more, particularly if you're a developer looking for tools to make your workflows easier or more efficient. You'll get:
The usual must-haves: One-click staging sites, compatibility with PHP 7 and 8, lazy loading, and image compression.
Nexcess' tool for visual regression testing: This lets you compare two versions of your website and focus on the visual differences between them, rather than on the differences that can be found at the code level. Visual regression testing often proves to be faster at identifying visual bugs or other similar issues.
Staff accounts: This is exactly what it sounds like — you can create accounts for your team and let them access the Nexcess panel.
Astra Pro included: Astra is one of the most popular WordPress themes, and Astra Pro is the paid version, giving you more advanced features for customization and additional website elements.
Beaver Builder included: Beaver Builder is one of the leading page builder solutions for WordPress, and you may have heard of Beaver's main competition, Elementor and Divi.
Ultimate Addons for Beaver Builder Pro included: This plugin extends Beaver Builder and gives it even more custom blocks and new features.
Astra Pro and Beaver Builder alone already add up to ~$150 in value, but there's more to come:
Next, let's talk security and performance features. Here's what you get in this category:
The aforementioned daily backups and free SSL certificates.
Nexcess' 'Instant Auto Scaling': This means you don't have to worry about your site going down if it gets hit by a sudden spike in traffic. As we all know, a spike in traffic is every WooCommerce store owner's dream, so you really don't want to hit any availability problems when that happens.
iThemes Security Pro included: This is another addition to Nexcess' lineup of pro plugins that you get bundled in at no extra cost. iThemes Security is one of the most popular security plugins for WordPress. It helps your site to fend off attackers, protects you from common bugs, and helps to detect potential problems and malware. If you want to learn more about this plugin, read this.
Nexcess CDN Included: A CDN — or Content Delivery Network — is a setup in which your site uses a worldwide network of servers to deliver its content to visitors (instead of your one main server). Nexcess has its own such network (20+ locations with advanced caching). Learn more about CDNs for WordPress here.
Elasticsearch integration: While not a solution for everyone, Elasticsearch allows you to run search queries much faster than the native search feature in WordPress is able to. This can be valuable for large WooCommerce stores with lots of user searches.
Nexcess' Plugin Performance Monitor: This one's really good. It's Nexcess' own plugin that monitors all of the other plugins you have on your site, then lets you know when any of those plugins start slowing your site down. Issues with plugin performance are otherwise very difficult to find using normal means — read: By hand.
Okay, so all things aside, what makes this particular hosting setup one that's optimized for WooCommerce specifically? Glad you asked!
To be frank, everything I've listed above already makes Nexcess a highly attractive setup for 90% of WooCommerce sites. However, if you're feeling a bit more adventurous and want to run some more advanced functionalities, Nexcess has something for you, too:
WP Custom Order Tables integrated: By default, WooCommerce keeps all order data as custom post types, and every piece of that data gets stored in post meta. This isn't the most efficient approach from a database optimization perspective. Granted, this is not an issue for small sites that are only getting a couple of orders each day. However, with scale, this can create serious performance issues. Having all order data being moved to custom tables improves this significantly. In fact, Nexcess claims that it reduces query loads by 95% and increases capacity by 75%+.
Sales Performance Monitor: As the name suggests, this module gives you better insights into your store's sales. Notably, it helps you to notice any fluctuations that may be worrisome (such as your sales slowing down at an abnormal rate).
WooCommerce Automated Testing: There's a lot of moving parts in every WooCommerce site and this means there's a lot of testing to be done as well. Things such as your shopping cart, the checkout procedure, payment modules, and so on, all need to be tested thoroughly whenever you perform an update or add a new feature to the site. This becomes problematic on an everyday basis — who has the time to test all of that, right? This is where Nexcess' WooCommerce Automated Testing comes in. It'll detect all payment, cart, checkout and login problems for you (and supposedly fix them too).
Glew.io analytics: Glew.io provides advanced analytics for ecommerce. It has cool features for data visualization, 200+ built-in KPIs that most stores find relevant, alerts, performance analytics, and much more. In short, this is the ultimate analytics tool for the advanced WooCommerce store owner.
One-click fast checkout: Great for shortening the path from product listing to sale.
ConvertPro included: One more plugin you're getting for free. This one gives you effective email opt-ins and lead generation forms.
Dokan Pro included: This plugin is a bit niche, but it's good to know Nexcess has got you covered here as well. In short, Dokan lets you build a multivendor marketplace on WooCommerce.
I have to admit, the list above is pretty impressive, and I didn't expect to get this much when I started writing this review! Overall, it's great to see Nexcess hasn't just put the 'WooCommerce hosting' label on top of a random hosting setup as some companies do, but, instead, has gone out of its way to build in custom optimizations and security features, as well as a lineup of useful plugins that have been bundled in without any additional cost.
This makes Nexcess managed WooCommerce hosting not only live up to its name, but also one of the leading solutions in this niche.
💰 Pricing
In the previous section, we've learned what features the Nexcess platform has for us overall. Now, let's clarify what you'll have to pay to get them, and how Nexcess separates them into individual hosting plans and pricing tiers.
Here's the current pricing table of Nexcess managed WooCommerce hosting:
I'm not sure what your expectations are in seeing the above list of features, but it turns out Nexcess is not only one of the more functional, but also one of the more affordable managed WooCommerce hosting solutions on the market.
The entry-level price of $190 a year comes down to $15.83 a month. Or, if you want to pay monthly, then the first three months are $13.30 a month and then it's $19 a month.
Even the cheapest plan can handle 500 orders an hour, and gives you 30GB of storage. This should be more than enough for any WooCommerce site that's starting out — and even some that have been around for years.
For comparison, the original WooCommerce hosting offering of Liquid Web only allowed 150 orders a month — a month! And it was basically twice as expensive in its first iteration.
It's also good to see some enterprise-level hosting options in a hosting firm's catalog. This means they're ready to grow with your site and will be able to handle any level of traffic you may experience in the future.
Nexcess is also surprisingly generous when it comes to giving you access to the individual features of its hosting platform. Most of them are available on all plans, including the entry-level one.
The only features you'll need to upgrade to get are: WP Custom Order Tables, ElasticSearch, Glew and Dokan Pro.
Something I need to emphasize once again is the presence of all of those bundled in plugins and the pro version of Astra. These add up to hundreds of dollars in value on their own. Frankly, if you've planned to use, say, Beaver Builder and Astra anyway, then doing so on Nexcess hosting is almost a no-brainer.
Oh, and did I mention email hosting is included in all Nexcess plans? This is something that's rarely offered by Nexcess' competition, which makes it a great bonus.
👐 Ease of Use
Everything I've listed above can sound a bit intimidating from an ease-of-use perspective. After all, all of these features have to have some learning curve to them, right?
Let's check that by hand.
To really test how getting started with Nexcess works, I bought the Starter plan and went through the entire process of launching a WooCommerce site on that setup.
Buying Nexcess Managed WooCommerce hosting
The signup process is basically exactly what you'd find with other web hosts, or even most online services. Just provide your personal data and payment info, and you're done.
Als, during signup you get to choose from five data center locations around the globe. It's important to note that Nexcess maintains its own data centers — it doesn't rely on Google Cloud or any other third-party provider.
As soon as you get through the initial signup and log in to your user account, you'll be notified that your plan will take a few more minutes to get set up. In the meantime, you're invited to check out the knowledge base.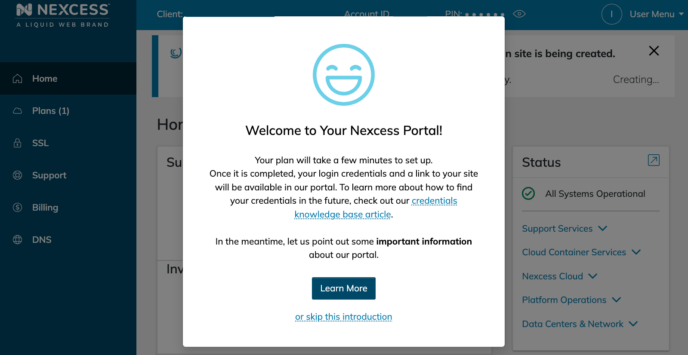 Installing WordPress and WooCommerce
The good news is you don't have to install WordPress and WooCommerce by hand, Nexcess will take care of that for you. However, you'll need to give it ten minutes or so before the entire hosting setup procedure finishes.
Once everything's done, you'll get the login info for your fresh, pre-installed WordPress site (WooCommerce will already be there too).

Nexcess Site Dashboard
Let's check out your site's main dashboard in the Nexcess' panel. To access it, you can click on the Site Dashboard button (visible in the screenshot above).
That site administration area is quite large and gives you access to basically any hosting administration operation imaginable.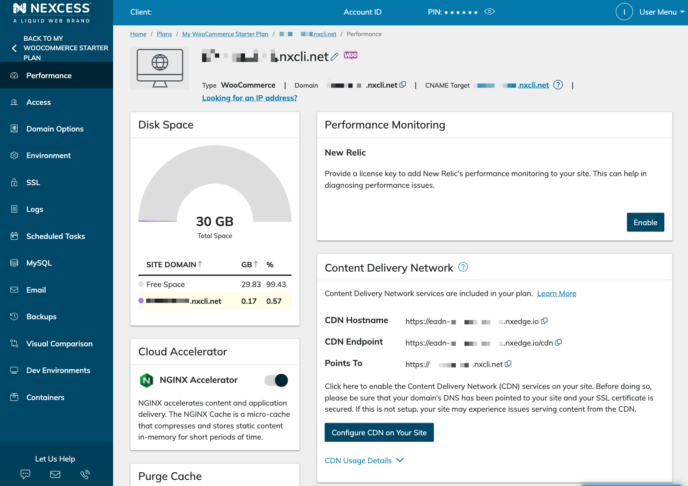 That being said, you're not being assisted very much in getting through those settings. Overall, this is the type of admin panel that's going to be an advanced user's dream, but doesn't do much for the beginners among us or the business owners who'd like to administer their sites without a professional's help.
For instance, right after setup, I stumbled upon some issues with my site where it wasn't accessible at all due to what looked like an error with the DNS. In the end, and after contacting support, all that was needed were five extra minutes for Nexcess to finalize its automatic server setup procedure.
While something such as this won't be particularly stressful for users who've interacted with server software before, it can be a challenge for someone who's less savvy.
Logging in to WordPress
As I mentioned, Nexcess creates a new instance of WordPress for you. Not only that, but you get WooCommerce preinstalled as well, along with a couple of the other extras Nexcess throws in.
Upon your first login to the WordPress admin panel, you'll see the classic welcome message plus a couple of extras: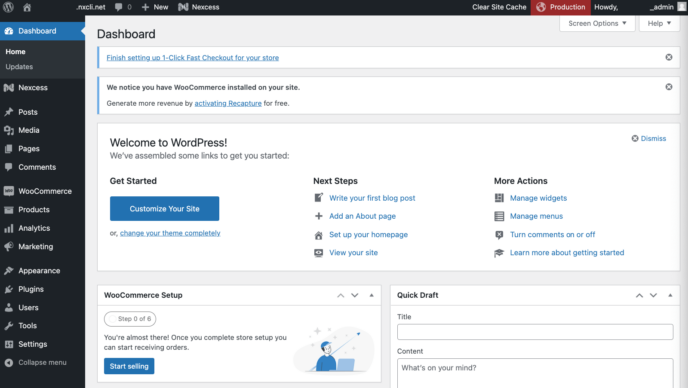 At this stage, you can follow the hints given in the dashboard or you can go through your own store launch procedure.
One thing worth mentioning is not everything from Nexcess' lineup of bundled-in plugins is installed from the get-go. Since there are so many extras, Nexcess has opted to leave it up to you to pick and choose the exact plugins you want. You can install them by going to Nexcess → Install Plugins.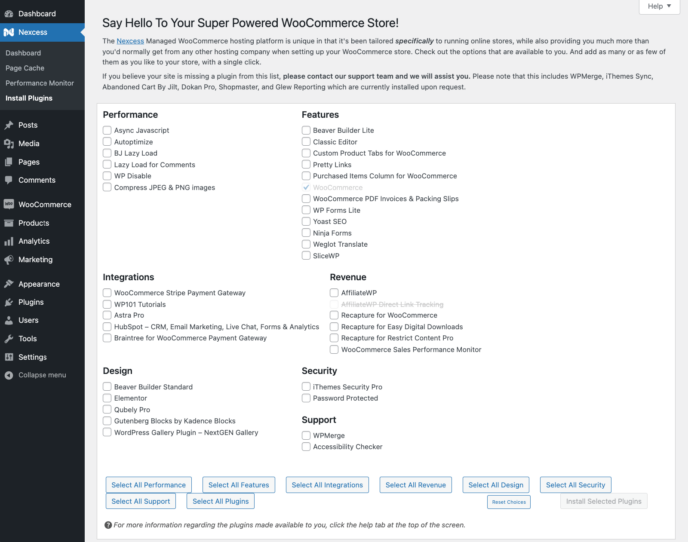 To make your choice easier, Nexcess has some presets at the bottom, allowing to pick all performance plugins, for example, or all revenue-related ones, and so on.
Nexcess also adds one more useful section to the dashboard, where you can work with the WordPress and WooCommerce-specific features of your hosting setup.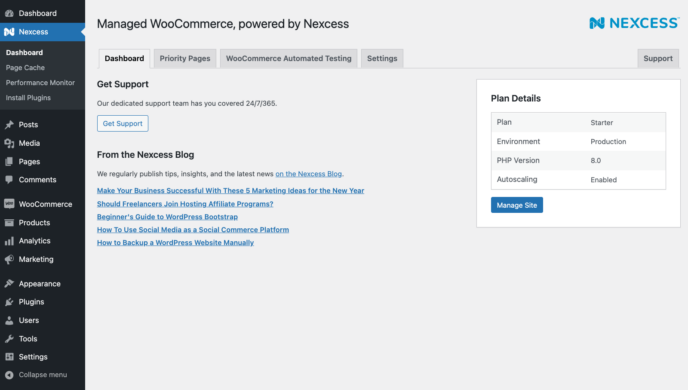 One quite original feature available here is Priority Pages. You can pick a handful of pages on your site that you deem to be more important than the others. These can be your top products or homepage, for example, or whatever you like. Nexcess will monitor their performance and make visual comparisons during plugin updates.
The Page Cache section and its appearance is a nice refreshment compared with what some of the caching plugins have got us used to. It focuses only on the most basic settings and leaves everything else to Nexcess' system to figure out.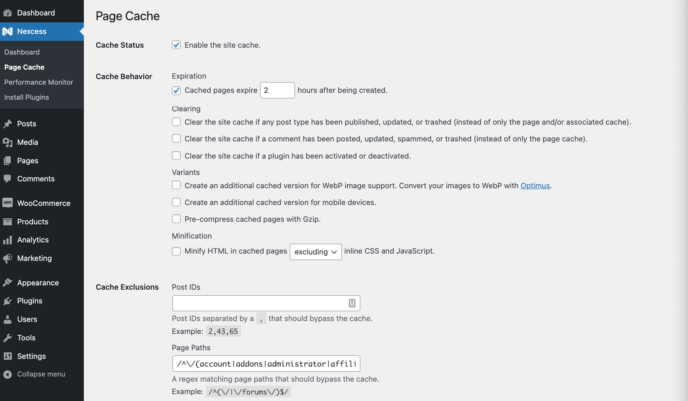 The Performance Monitor section is where you can check your site's ongoing load times, performance score and other metrics that are worth keeping an eye on.
And, of course, the size of your WordPress dashboard and the number of sections you see there will depend on the exact lineup of plugins you'll enable from Nexcess' catalog, but I'm not going to get into that here.
To conclude, Nexcess is easy enough to use. While the main client dashboard at Nexcess.net isn't the most beginner-friendly, the WordPress dashboard and the Nexcess features available there are much more approachable.
📈 Performance
You've all been waiting for this! Let's test how this new WooCommerce website of ours performs when put through one of the web's speed testing tools.
To do this test, I bought the Nexcess' entry-level WooCommerce hosting plan called Starter and picked a server in the Midwest of the US. I ran through Nexcess' setup procedure and then imported a handful of example products. Since Nexcess WooCommerce setups come with Astra preinstalled and active, I left it intact for testing.
I'm also running a non-accelerated setup without a CDN or any of Nexcess' other performance-optimization solutions.
The test itself consisted of a handful of runs from multiple locations. Here's what I found:
| Location | Loading Time | TTFB | First Paint | Interactive |
| --- | --- | --- | --- | --- |
| N. Virginia | 0.94 s | 262 ms | 1.25 s | 1.27 s |
| California | 1.03 s | 328 ms | 1.14 s | 1.01 s |
| London | 1.69 s | 520 ms | 2.15 s | 2.15 s |
| Paris | 1.71 s | 487 ms | 2.20 s | 2.21 s |
| Mumbai | 2.59 s | 952 ms | 2.46 s | 2.43 s |
| Tokyo | 1.95 s | 676 ms | 2.08 s | 2.04 s |
As you can see, the loading times are very good, particularly from the US where my data center is located. But the numbers from the other locations are also not half-bad. Hooking the site up to a CDN and enabling other optimizations would certainly improve and even out the performance across all locations.
🏁 Conclusion
Overall, I have to admit that Nexcess' is one of the few truly WordPress and WooCommerce-optimized managed hosting setups I've seen. In an industry where every host is quick to call a random setup 'managed WordPress hosting', Nexcess truly delivers on this promise!
The features, the performance, the customization options — it's all there. Not to mention the attractive price that's nearly half what you'd pay with hosts such as Kinsta (read our review of Kinsta here) or WP Engine (read our review of WP Engine here — or our comparison of both of these hosts here).
In the end, if you're thinking of launching a new WooCommerce store or you're looking for a new home for your existing store, then Nexcess might just be it! Check it out.
What do you think of Nexcess managed WooCommerce hosting? Let us know in the comments below.
Related Posts:
All comments are held for moderation. We'll only publish comments that are on topic and adhere to our Commenting Policy.