iThemes Review: A One Stop Shop for the Best WordPress Themes and Plugins?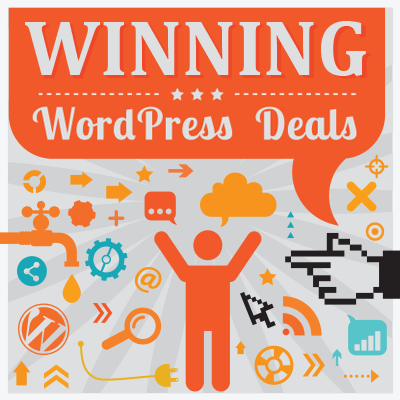 One of the biggest names in the WordPress themes space over the years has undoubtedly been iThemes. In fact, when they launched back in 2008, they were one of the first premium theme companies to emerge.
Since then, iThemes have changed their focus from themes to WordPress plugins, and, as a result, they now boast some of the leading WordPress security, backup, and maintenance plugins available. We'll be taking a detailed look at the best iThemes have to offer — themes and plugins included.
Whether you're looking for a new theme for your site or a powerful plugin to enhance its feature and functionality, by the end of this iThemes review you should have a much better idea of whether or not this well-established company is the one to choose.
Let's get cracking.
About iThemes
The company was founded by Cory Miller in Oklahoma City in 2008 — back when WordPress was at version two and Barack Obama was first elected US President. Since then, the iThemes team has grown, with employees working in a range of departments and across a range of disciplines.
Aiming to provide all the tools you need to create awesome websites, iThemes' portfolio contains WordPress themes and plugins, as well as training content in the form of on-demand videos and live webinars.
iThemes WordPress Themes

Most of iThemes' newer WordPress themes are powered by the Builder framework (see below), which features an integrated layout editor that makes it easy to create custom websites for WordPress.
iThemes Builder

Builder is iThemes' flagship WordPress theme and framework. While it can be used on its own to create a full-featured WordPress website, more than a hundred Builder child themes have been produced so far to make it easier to create specific types of websites.
However, before we take a look at a few of the best Builder child themes, let's explore its main features. These include: The Editor tool, which can be used to create custom page layouts; the Style Manager and its customization controls; and the optional Builder Blocks, which can be enabled to upgrade your website.
Builder Layout Editor
With Builder's editor, you can create custom layouts for your website, all through an intuitive back-end interface.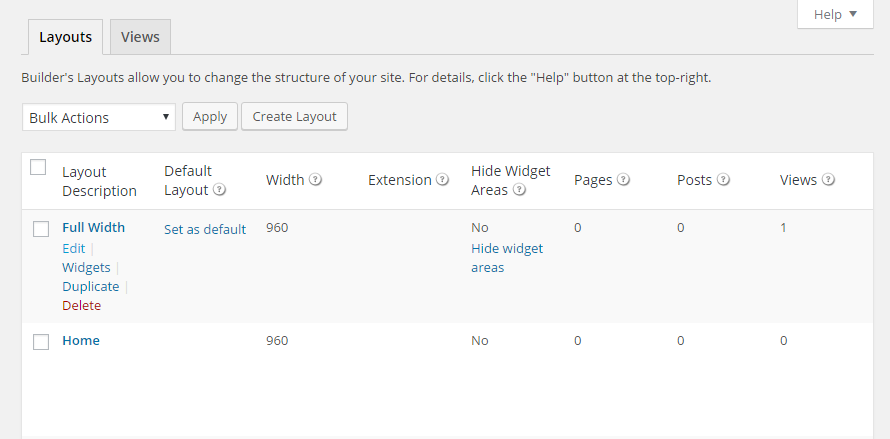 The Builder Layouts allow you to give your WordPress website a custom look. Builder and its child themes include a number of layouts, each of which can be customized through the Builder Layout Editor interface. You're also free to create as many additional layouts as you need, which can then be applied to individual posts and pages on your site.
Through the Builder Layout Editor, you can set the width of the layout, decide whether or not to display the widget area, and choose an extension. The optional extensions can be used to add elements or features to your layout, including a featured image grid, portfolio content, or a magazine layout, among others.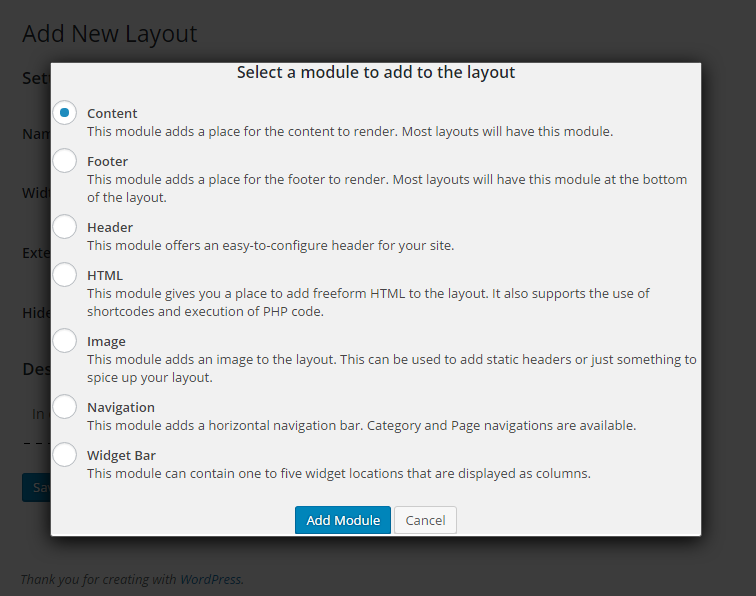 When working on the layouts through the Builder editor, you can customize the design by adding and removing modules. These Builder modules include:
a module for adding content
a footer area module
a header module
a module for adding free form HTML to the layout
an image module
a horizontal navigational bar module
a module for displaying WordPress widgets.
Depending on the module type, you can access a range of different customization controls and options, such as setting the header text for your site, adding custom HTML or setting column widths.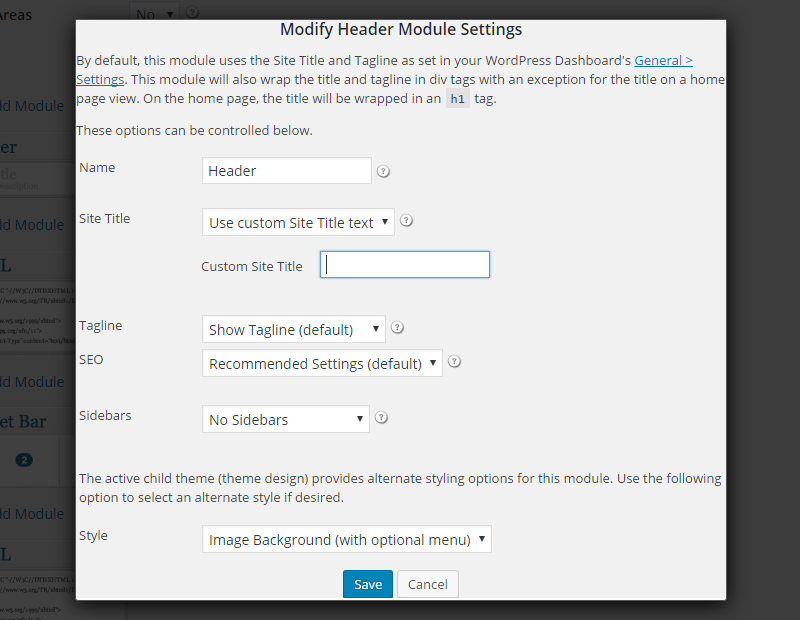 The Builder Layout Editor is certainly less flexible than the types of drag-and-drop page builders you'll find in themes such as Avada or Divi. However, this simplicity does make the Builder Layout Editor very easy to use.
Builder Views
As well as being able to apply layouts to content at the individual post and page level, you can also use the handy Views feature of Builder. The Views manager gives you an easy way to assign layouts to different views, such as the home page view, the post archives view and the 404 archive, to name just a few.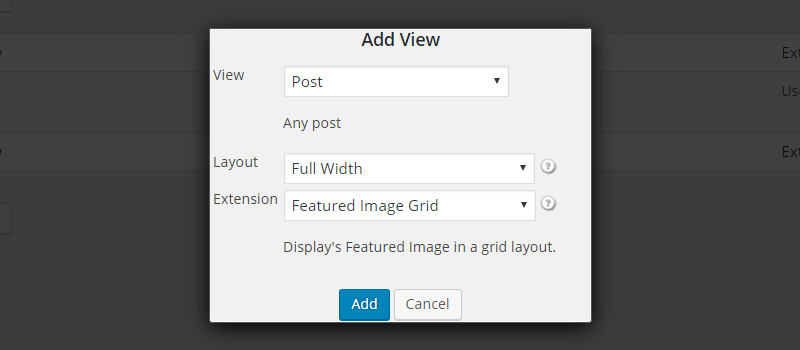 After selecting a view, you can then assign a layout to that view. The result of this is that each view — for example, individual posts — will use a specific layout throughout your site. You can create as many views as you need for your website, giving you a quick and easy way of defining which parts of your site will use specific layouts.
Builder Style Manager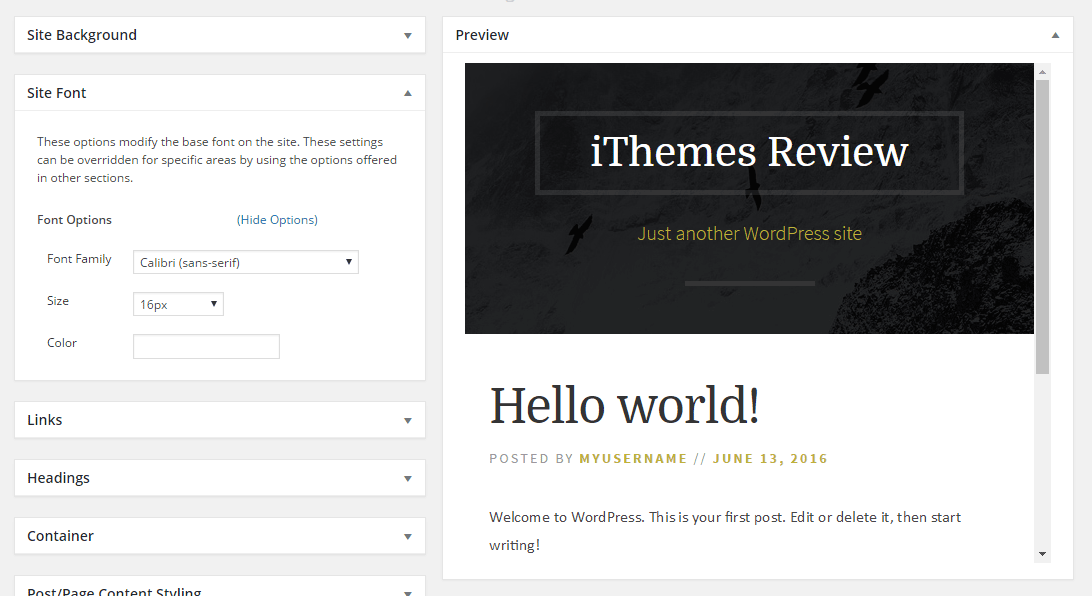 By activating an optional plugin, you can enable the Builder Style Manager feature on your website. Through the Style Manager, you can customize many aspects of your website including:
site background settings
header formatting
link appearance
comment styling
container settings
navigation elements.
The Style Manger lets you apply custom settings to your entire website, or to individual posts and pages. While you work, its interface displays a live preview of your changes, giving you a good idea of how your finished website will look to visitors.

The Style Manager also gives you a live preview of the CSS used to create your choices, and you can add your own custom CSS to the layouts through the appropriate panel. Thanks to this handy feature, you get a quick and easy way to use CSS to customize the layouts even further.
Builder Blocks
Four Builder Blocks can be used to add extra functionality to your site:
Restaurant Block
Church Block
Events Block
Audio Block
Using WordPress custom post types, the Restaurant Block gives you two new types of content that can be added to your website: Menu items and locations. Custom post types is a great feature of WordPress that can make it easy to organize and publish the items on your restaurant's menu, and also publish the address of one or more restaurants.
The Church Block adds staff and sermons custom post types to your WordPress website, making it easier for your visitors to find this information on your church website. The Events Block gives you the ability to publish events and venues on your WordPress website, while the Audio Blocks make it easy to add audio files to your site.
Other highlights of the iThemes Builder WordPress theme:
Fully responsive for creating mobile-friendly websites.
More than 100 Builder child themes to choose from.
Multiple packages and pricing plans available.
Builder is a user-friendly theme that will help you create a range of different websites with WordPress. Thanks to the many child themes available for Builder, you can quickly give your WordPress website a look and feel that matches the needs of your project.
Builder Child Themes
With more than 100 Builder child themes, you're spoiled for choice. Here are some of the best options:
Anderson Builder Child Theme
Anderson is one of the most recently released child themes for Builder, featuring a classic homepage layout that makes it a good choice for promoting your freelance services or business online.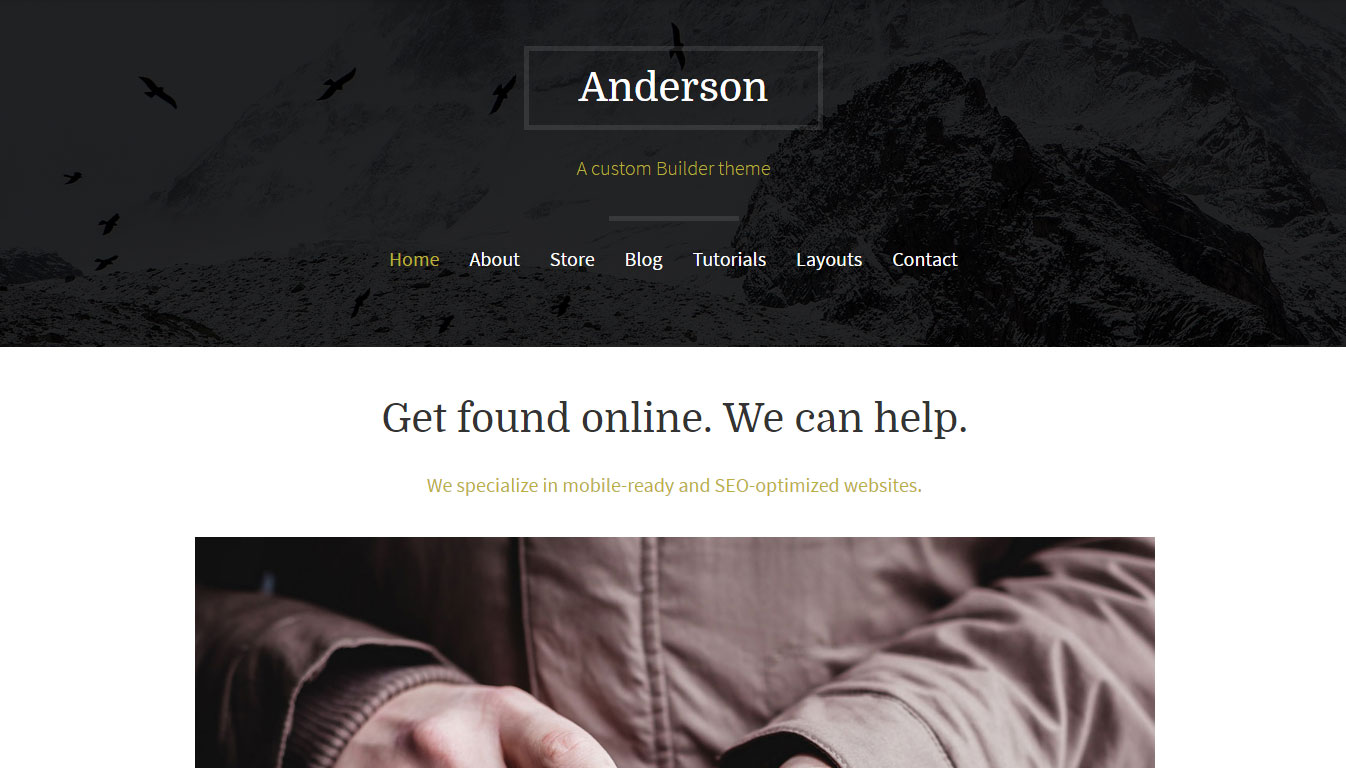 Anderson includes full support for the iThemes Exchange plugin, making it suitable for building an online shop. By using the appropriate Exchange add-ons, you can also use Anderson to create a membership site or online course website.
Noise Builder Child Theme
The Noise theme has been created to help you build a band or other type of music-related website with WordPress.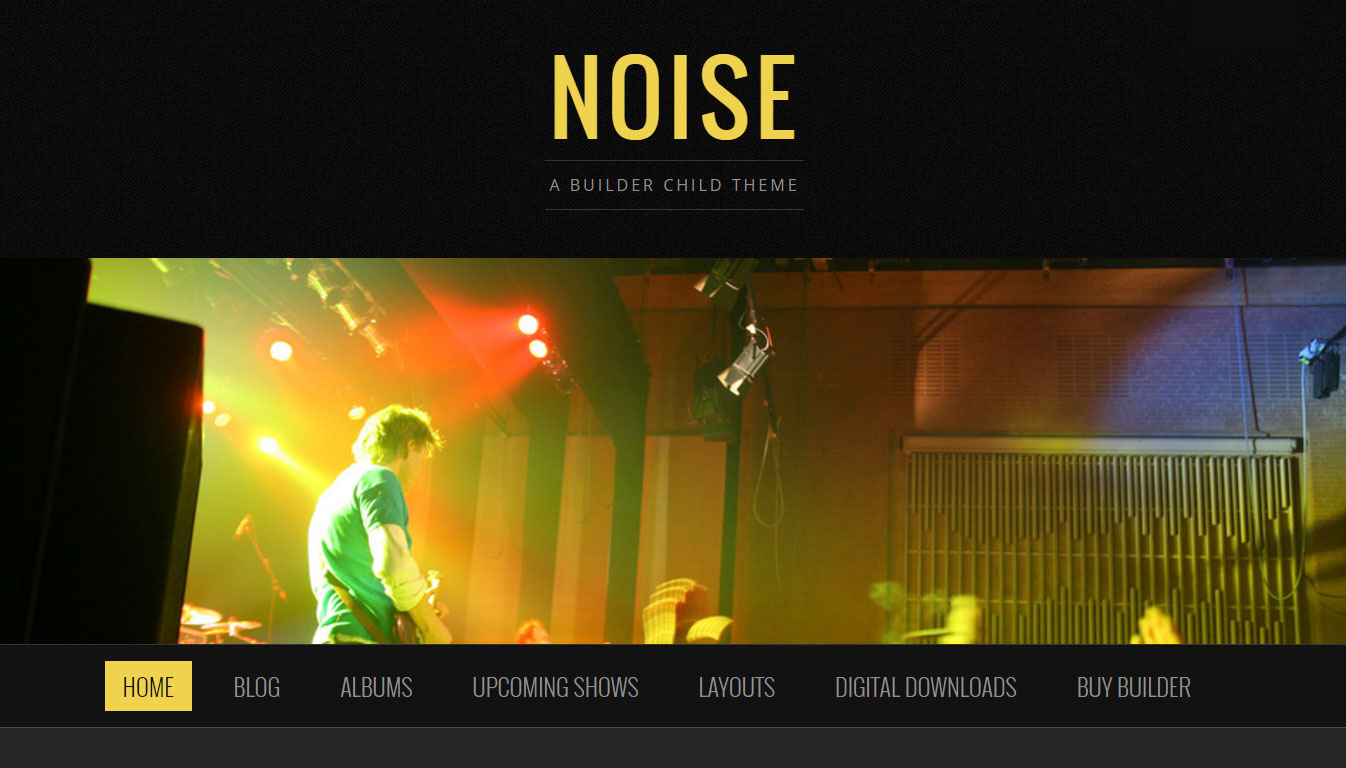 By using Noise alongside the Audio Block, you can easily publish audio files to help promote your music, while the Events Block can be used to promote upcoming gigs. The Noise music theme also has a feature for publishing your discography online, and, if you install a suitable ecommerce plugin such as iThemes Exchange, you can also sell digital downloads directly from your site.
Herschel Builder Child Theme
Herschel is a great-looking theme that's perfect for photographers; its clean, minimalist design will do a great job of letting your work take center stage.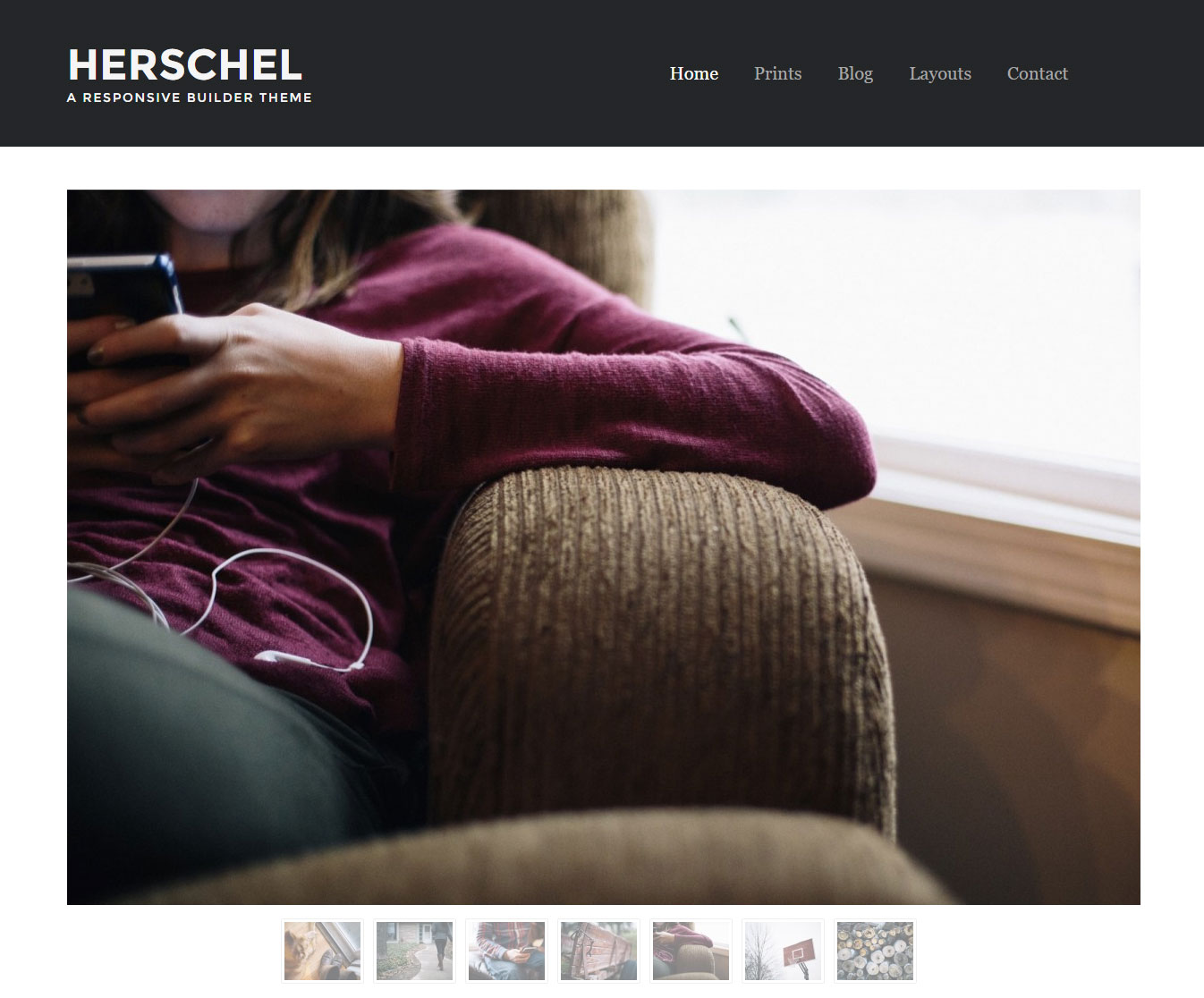 Herschel includes full support for the iThemes Exchange plugin, making it a good choice for anyone who wants to sell images online. There's also a number of purpose-built layouts to choose from, each of which can be customized through the Builder Layout Editor.
Gallery Church Builder Child Theme
Although the demo is set up for a church, Gallery Church is equally well-suited to creating a website for non-profit organizations.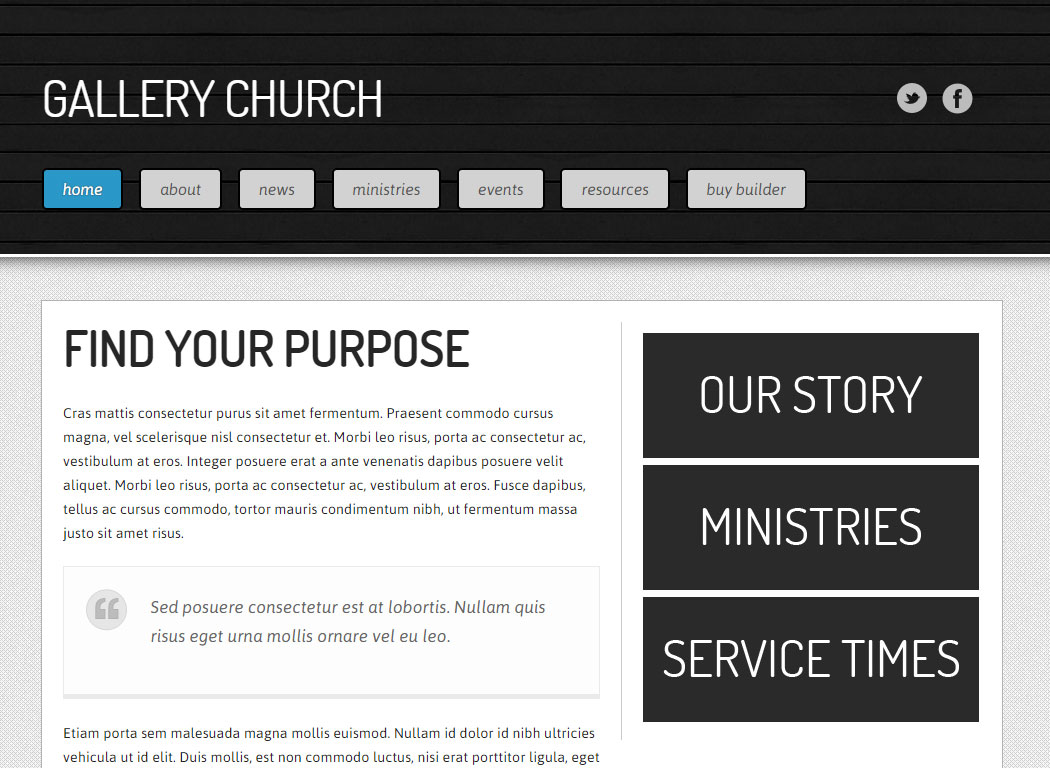 The bold navigation section will make it easy for your visitors to find their way around the site, while the Church Builder Block will help you publish staff details, for example.
If you're looking for a new WordPress theme from iThemes, Builder and its child themes are the best options. There are a number of non-Builder, classic WordPress themes in the iThemes portfolio, but these are now looking rather dated, and it's clear that Builder themes and WordPress plugins are now the main focus.
iThemes WordPress Plugins
As mentioned earlier, the company have adjusted their focus to WordPress plugins in recent years. The result of this is they now have some of the most popular and powerful WordPress plugins in a range of categories.
BackupBuddy
BackupBuddy has protected half a million WordPress websites since its launch in 2010. Starting at $80, the plugin gives you full control of how backups are taken, managed, and restored on your WordPress website.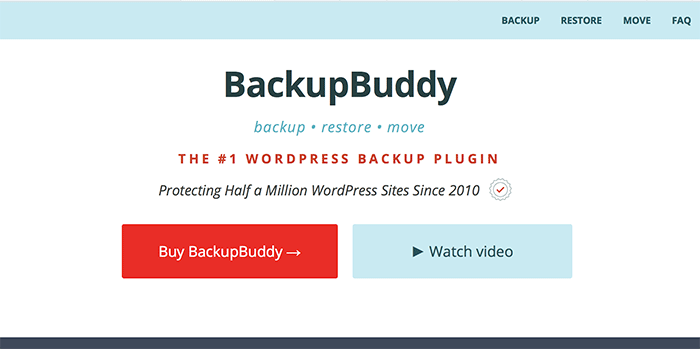 Because of some of its more advanced features, BackupBuddy has become popular with web designers and developers looking for a solution that makes it easy to clone, migrate, and manage multiple version of a website.
Other highlights include:
backup and restoration of entire websites or individual files and components
database rollbacks to restore lost content and settings
the ability to schedule automated backups
off-site backup storage for increased resilience
support for popular cloud services for remote storage
greater control over restorations and migrations of backups with ImportBuddy
the ability to create a WordPress staging site, and to clone and transfer sites between web hosts
email notifications of successful and unsuccessful backups
many developer features for more advanced backup and migration procedures
1GB of BackupBuddy Stash cloud storage.
BackupBuddy is packed with features and is easy to use, making it one of the most comprehensive WordPress backup solutions available.
iThemes Security Pro
The maintenance of the popular Better WP Security plugin was taken over by iThemes, which then launched the premium iThemes Security Pro plugin alongside the rebranded and updated lite version, which is available from the WordPress Plugin Directory.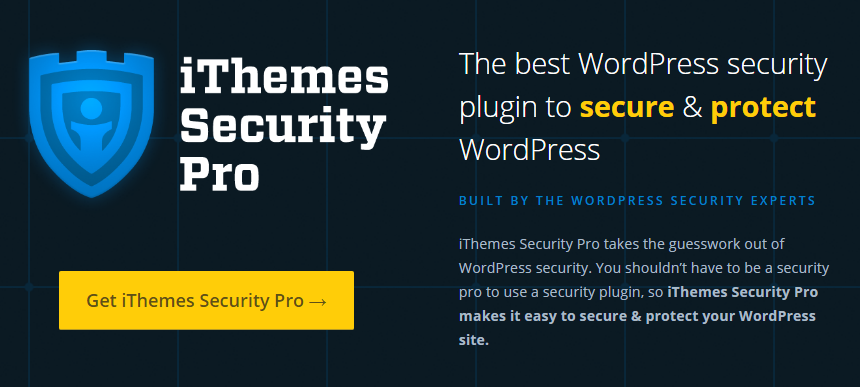 Like all of the best WordPress security plugins, the aim of iThemes Security Pro is to secure and protect your website from random and focused attacks. It will also prompt you to do all you can to harden the security of your site, including using strong passwords and suitable usernames.
Other highlights of iThemes Security Pro include:
brute force detection to protect against password guessing
WordPress site malware scanning
file change monitoring and detection
ability to lock out bad users attempting to access your site
an away mode to prevent any admin access for set periods of time
the ability to hide the login and admin pages and URLs to minimize access
action logging to see what logged-in users are doing
scheduled database backups
email notifications and alerts of potential breaches and issues.
iThemes Security Pro can lock down your WordPress website from $80 per year.
Sync
If you manage more than one WordPress website, then Sync can make keeping them up to date much less time consuming. With Sync, you can manage up to 10 sites for free, allowing you to update plugins, themes, and the WordPress software through a single dashboard.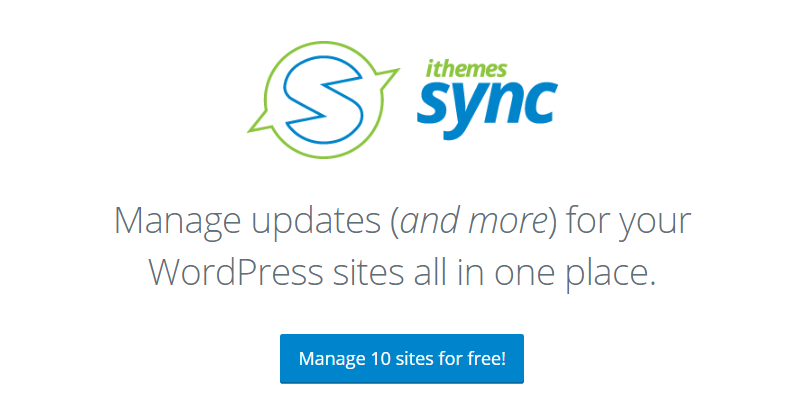 Other highlights of Sync include:
daily email notifications of available updates
the ability to ignore updates for specific themes and plugins
the installation of updates en masse or selectively
bulk installation of themes and plugins on multiple sites
the ability to manage comments and users on multiple sites
the ability to hide Sync on sites you manage for clients
custom client dashboards to restrict access to WordPress features
a mobile app to manage multiple WordPress sites on the go
integration with other iThemes products for improved security and smoother backups
site uptime, downtime, and performance monitoring and reporting (pro feature)
instant email notifications if something goes wrong (pro feature).
The free version of Sync will let you manage up to 10 sites, while the premium version includes additional pro features and support for more sites.
Exchange
Exchange aims to be the simple WordPress ecommerce plugin. Whether you want to sell physical products or digital downloads, the free version of Exchange will help you get up and running easily, while the pro add-ons provide the features you need to grow your online store.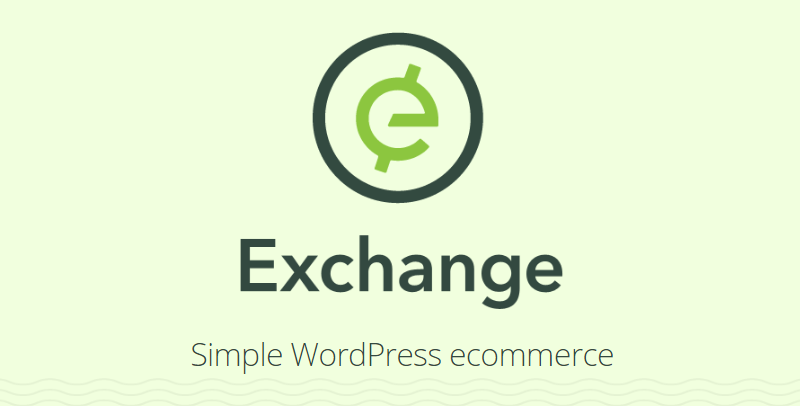 Other highlights of Exchange include:
a free, easy-to-use core version with add-ons providing more advanced features when you need them
a buy now option for express purchases
free support for accepting payments with PayPal and Stripe
optional add-ons covering membership features, recurring payments, and much more
If you only want your online store to have the features you need, then Exchange and its library of add-ons will give you plenty of flexibility when it comes to creating a custom ecommerce platform.
Pricing Details
The WordPress themes from iThemes are available on three main pricing plans:
Single Theme: $80 for any Builder theme.
Developer Pack: $150 for all 100-plus Builder themes.
All Access Pass: $197 for all 80 iThemes Classic themes and all 100-plus Builder themes.
All pricing options include access to support and product updates for one year.
Other iThemes Packages and Products
As well as purchasing the iThemes plugins individually, you can also gain access to all of the plugins as well as other iThemes products through various packages:
Final Thoughts
It's clear that iThemes have begun to shift their focus more towards plugins. There are still some very good themes in their collection, but, if you're looking for a great value theme club with a large and growing selection of modern and feature-packed themes, there are some other great options to consider too.
However, the iThemes WordPress plugins, such as BackupBuddy, Sync, and iThemes Security Pro, are undoubtedly some of the very best around. If you're looking for a professional solution to cover the backup, security, and maintenance aspects of your website, the iThemes plugin portfolio is hard to beat!
Thoughts on iThemes? Using/used any of their products?
All comments are held for moderation. We'll only publish comments that are on topic and adhere to our Commenting Policy.