iThemes Review: A One Stop Shop for the Best WordPress Themes and Plugins?
One of the biggest names in the WordPress themes space over the years has undoubtedly been iThemes. In fact, when it launched way back in 2008, it was one of the first premium theme companies to emerge.
Since then, iThemes has changed its focus from WordPress themes to plugins, and, as a result, now boasts some of the leading WordPress security, backup and maintenance plugins available today.
It also offers web hosting, and has recently acquired the popular Kadence Theme. This broad range of products makes it a viable all-in-one solution for anyone starting and managing a WordPress website.
Items are available individually, as well as in bundles, so this review covers the different iThemes products to help you to decide which ones, if any, are right for you.
Whether you're looking for a new theme for your site or a powerful plugin to enhance its features and functionality, by the end of this iThemes review you should have a much better idea of whether or not this well-established company can help you with your project.
Let's get started…
About iThemes
iThemes was founded by Cory Miller in Oklahoma City in 2008 — back when WordPress was at version two and Barack Obama was first elected US President. Since then, the iThemes empire has grown considerably, with employees working in a range of departments and across multiple disciplines.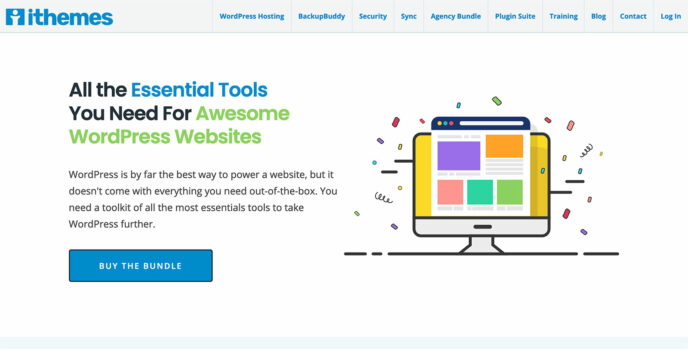 Over time, with its focus shifting from themes to plugins, iThemes announced it would be retiring its portfolio of themes at the end of 2021. However, iThemes now offers customers Kadence Theme (and Kadence Blocks plugin), which it acquired when it purchased the Kadence WP company.
The addition of a hosting service has made iThemes a potential option for anyone looking for a single company that can provide them with most of what's needed to build and manage a successful WordPress website. You can get help with creating your website and running your business through the training content that's available via the on-demand videos and live webinars.
In this iThemes review, I'll cover Kadence Theme and Blocks plugin, explore the other tools available from iThemes, and check out its hosting service.
iThemes WordPress Themes
With iThemes' older themes being retired, the newly acquired Kadence Theme is now the only theme it has available.
Thankfully, it's a highly customizable multipurpose theme that can be used to create almost any type of website with WordPress.
So, while there's only one WordPress theme available from iThemes, the flexible nature of Kadence Theme means there's a high chance it's a good option for your website.
There's a free version of Kadence Theme, but there's also a more feature-rich premium version that can be purchased separately via its own website, or as part of the iThemes Agency bundle.
So, with that in mind, let's start this review by checking out this theme.
Kadence Theme
As mentioned, Kadence Theme is a multipurpose option for creating a wide range of custom or unique WordPress websites. Its selection of well-designed templates and almost endless customization possibilities make it a genuinely appealing theme.
Kadence Theme Templates
Kadence Theme does offer lots of scope for customization. However, thanks to its small but high-quality selection of editable website demos, it should be an attractive option for anyone who doesn't want to invest time in carrying out a lot of editing work to produce a unique site.
With pre-built demos for freelancers, agencies, online course publishers and eCommerce stores, to name just a few, there's a good chance you could find one that's right for your project.
As mentioned, it's easy to tweak the templates. Therefore, if you see one that's a close match for what you're looking for, it shouldn't take much work to repurpose it so it's a better fit for your project.
Each of these template packs or demos contains multiple pre-built pages. The individual templates you get access to vary from pack to pack, but some common options include pre-built homepage, about and contact page templates.
When you import a template, you can choose to either import just a single pre-built page or perform a full import to add all of the pages of the demo to your site. So, whether you want to add a single new page to your website using the Kadence templates or quickly set up an entire website by importing the full template pack, both options are available.
Before you complete the import, you can change the template color scheme by choosing from the predefined options. You can edit the colors on an individual basis later on, but being able to quickly choose a color scheme is a really nice feature. You can also change the font family used by the demo in one click before running the import.
If you do decide to import a full demo site, the header menus and other navigation areas will be set up to link to the other pages from the demo. As setting up the navigation areas can be a tedious task, this is another time-saving aspect of the demo import process that's really appreciated.
Editable Page Sections
As well as the full-page templates, there are also lots of editable sections that you can insert into your pages. These sections are divided into a few categories, including feature displays, hero sections, forms and pricing tables.
There are also pre-built testimonial sections and tabbed areas. Whether you just add one section to your page or combine multiple sections to create your own custom designs, this is another useful feature of Kadence Theme.
There is one big drawback when it comes to the Kadence Theme templates. Compared with the most popular multipurpose WordPress themes out there, you get far fewer demos and templates with Kadence Theme. The content sections go some way to overcome this, but, in terms of numbers, you can easily find themes with more pre-built content.
However, if you see a Kadence Theme template that's a good match for your project, it shouldn't matter how many templates you get access to.
Those creating sites for others, such as clients, may want to look elsewhere, though. Themes such as Divi, which come with hundreds of demos covering almost any type of site you may need to build, could be a better option.
Customization Options and Experience
With Kadence Theme, not only can you mix and match the individual templates from the different demos to build your own custom site, you can also edit the templates extensively, too.
One impressive feature of Kadence Theme is that its templates have been built to be editable with the default WordPress editor.
Often with themes that are this customizable, you have to use a third-party editor to personalize your content. With Kadence Theme, though, you can just use the default WordPress editor and avoid having to learn a new tool or risk slowing down your site by installing another plugin.
However, for those of you who'd rather customize your site with a tool that's more feature-rich than the default WordPress editor, you'll be pleased to learn that the Kadence Theme templates are also compatible with the popular freemium Elementor page builder plugin.
Because of this, you can use Elementor to get total creative control over the design of the Kadence Theme templates and the rest of your site.
Header and Footer Editing
Whether you decide to use Elementor or the default WordPress editor, it's possible to edit the header and footer of your website with Kadence Theme, even if you're using the free version.
To keep things simple, the header and footer can be edited through the WordPress Customizer interface, so you can drag and drop a range of elements into these areas of your site. You can then edit how they look, instantly seeing what effect your changes have via the Customizer interface.
To keep your smartphone-using visitors happy, you can create two custom header layouts, each with its own content. One will be shown to tablet and mobile users, while the other is displayed to those using devices with larger screens. If you want to display a more minimal header design to smartphone users, this feature makes that possible.
As intuitive header and footer editing such as this isn't widely available with most WordPress themes, it's great to see it so well implemented here.
There are other highlights too:
Element Hooks for creating custom elements that are automatically inserted into your content.
Global color, typography and formatting settings that are applied throughout your site.
Custom layouts, including multiple sidebar positions and page widths.
The ability to create sticky and transparent headers.
Highly accessible interface to accommodate all users.
The ability to display fixed elements, such as banners, throughout your site.
Support for creating custom WooCommerce content.
The ability to create mega-menus to enhance navigation areas.
Although there's now only one theme available from iThemes, the fact that it's highly flexible, very well designed and fully up to date means it's more than a worthy replacement for the older themes that have now been retired.
Whether you use the free version of Kadence Theme, purchase the pro version on its own for $69 or get access to it as part of the iThemes Agency bundle, I doubt you'll be disappointed.
iThemes WordPress Plugins
As mentioned earlier, the company has adjusted its focus to WordPress plugins in recent years. The result of this is it now has some of the most popular and powerful WordPress plugins in a range of categories.
Kadence Blocks
Along with Kadence Theme, the Kadence Blocks plugin moved to iThemes with the acquisition of Kadence WP.
Like the theme, there are free and paid versions of the Kadence Blocks plugin, with the paid version available for purchase on its own for $59, or as part of the $749 iThemes Agency bundle.
As the Kadence Blocks plugin works with any modern theme — and not just Kadence Theme — it's an effective way to add a good selection of well-designed blocks to your site. The plugin also comes with more than 20 pre-built content sections using those blocks, which you can drop into your pages.
These blocks and sections can then be inserted into your posts, pages, and other parts of your site through the default WordPress editor and customizer interface. Upgrading to the paid version unlocks more blocks, making the plugin even more useful.
One way to look at Kadence Blocks is as an alternative to drag-and-drop page builder plugins. Rather than using one of those plugins to replace the default WordPress Editor, you can use Kadence Blocks to enhance it. One of the benefits of this is that you don't have to learn a new interface or install a heavyweight plugin to create advanced custom designs for your content.
With Kadence Blocks installed, you can either add the blocks and sections directly to your content or first insert one of the custom row layouts to your pages.
If you decide to use row layouts, you can then populate the layout with any of the blocks that are active on your site, including the original WordPress blocks, blocks that this plugin adds, and any other blocks you've added via other plugins.
Some examples of the blocks you get access to with Kadence Blocks include:
You can view the full list of blocks and see how they work on the Kadence Blocks website.
As mentioned, Kadence Blocks also comes with a library of more than 20 pre-built page sections. Like the sections that come with Kadence Theme, you can insert one or more of these sections into your pages to build custom content designs.
All of the content you can add to your site with this plugin can be fully customized. While the pre-built blocks and sections do look very good, you're never limited to using them in their default state.
If you want to produce page designs that are more creative than what's currently possible with the default WordPress Editor, but you don't want to install a plugin that will add a new editor interface to your website, Kadence Blocks is a great solution.
While you may not get as much creative freedom or extra features with Kadence Blocks as you do with a plugin such as Elementor or Divi Builder, you don't have to learn a new interface and way of working.
BackupBuddy
BackupBuddy has protected half a million WordPress websites since its launch in 2010. Starting at $80, the plugin gives you full control of how backups are taken, managed and restored on your WordPress website.
Because of some of its more advanced features, BackupBuddy has become popular with web designers and developers looking for a solution that makes it easy to clone, migrate and manage multiple versions of a website.
Other highlights are as follows:
Backup and restoration of entire websites or individual files and components.
Database rollbacks to restore lost content and settings.
The ability to schedule automated backups.
Off-site backup storage for increased resilience.
Support for popular cloud services for remote storage.
Greater control over restorations and migrations of backups with ImportBuddy.
The ability to create a WordPress staging site, and to clone and transfer sites between web hosts.
Email notifications of successful and unsuccessful backups.
Many developer features for more advanced backup and migration procedures.
1GB of BackupBuddy Stash cloud storage (5GB on top tier Gold plan).
BackupBuddy is packed with features and is easy to use, making it one of the most comprehensive WordPress backup solutions available.
iThemes Security Pro
The maintenance of the popular Better WP Security plugin was taken over by iThemes, which then launched the premium iThemes Security Pro plugin. There's also the rebranded and updated lite version, which is available from the WordPress Plugin Directory.
Like all of the best WordPress security plugins, the aim of iThemes Security Pro is to secure and protect your website from random and focused attacks. It will also prompt you to do all you can to harden the security of your site, including using strong passwords and suitable usernames.
Other highlights of iThemes Security Pro:
Brute force detection to protect against password guessing.
WordPress site malware scanning.
File change monitoring and detection.
Ability to lock out bad users attempting to access your site.
An away mode to prevent any admin access for set periods of time.
The ability to hide the login and admin pages and URLs to minimize access.
Action logging to see what logged-in users are doing.
Scheduled database backups.
Email notifications and alerts of potential breaches and issues.
iThemes Security Pro can lock down your WordPress website from $80 a year.
Sync
If you manage more than one WordPress website, then Sync can make keeping them up to date much less time consuming. While there's no longer a free version of Sync, you can use the 30-day free trial to check out the plugin. Paid plans start at $69 a year for the ability to manage up to five sites, giving you a quick way to update plugins, themes and the WordPress software through a single dashboard.
Other highlights of Sync:
Daily email notifications of available updates.
The ability to ignore updates for specific themes and plugins.
The installation of updates en masse or selectively.
Bulk installation of themes and plugins on multiple sites.
The ability to manage comments and users on multiple sites.
The ability to hide Sync on sites you manage for clients.
Custom client dashboards to restrict access to WordPress features.
A mobile app to manage multiple WordPress sites on the go.
Integration with other iThemes products for improved security and smoother backups.
Site uptime, downtime and performance monitoring and reporting (pro feature).
Instant email notifications if something goes wrong (pro feature).
There are multiple paid plans for Sync that cover up to 100 plans, with bespoke options available for anyone managing more sites than that.
Restrict Content Pro
Another plugin that was acquired by iThemes is Restrict Content Pro, a tool for creating membership sites with WordPress. With this plugin running on your site, you get high levels of control over which users can access your content.
A flexible approach to subscriptions means you can offer your visitors multiple options for becoming members. Restrict Content Pro has good membership management functionality, too, along with the ability to import users from other membership plugins.
Other highlights:
Integration with many payment processors and gateways.
Drip-release of content on multiple schedules.
Support for discount codes for running promotions.
Detailed reports to check the performance of your membership site.
Automatic welcome, payment receipts and expiration reminder emails.
Support for multiple email marketing platforms.
Restrict Content Pro is available on a range of licenses, starting from $129 a year. To find out more, you can read our full Restrict Content Pro review.
iThemes Hosting
iThemes hosting is managed WordPress hosting with a relatively affordable entry-level plan.
As well as the comparatively low price, the main appeal of signing up with iThemes hosting is the inclusion of access to the iThemes Security Pro, BackupBuddy and Sync tools. Because of this, keeping your site secure, backed up and up to date is very quick and efficient.
Other highlights:
Multiple plans to choose from.
A focus on web designers managing sites for clients.
Monthly reports of activity to send to clients.
A program to buy you out of your current hosting contract.
The iThemes hosting plans start at $15 a month, and storage ranges from 20 to 750 GB.
Other iThemes Packages and Products
As well as purchasing the iThemes products individually, you can also gain access to them via various packages:
Plugin and theme purchases include access to support and product updates for one year.
Final Thoughts
At first glance, it may seem like replacing all of its old themes with one new theme would make iThemes a less appealing option than it once was.
However, that new theme — Kadence Theme — is very impressive. As it's a true multipurpose theme, it's suitable for creating a wide range of websites. Therefore, the decision to focus on one modern theme instead of trying to keep a library of older themes up to date makes sense.
Adding extra plugins to its portfolio, such as Kadence Blocks and Restrict Content Pro, as well as keeping popular tools such as BackupBuddy and iThemes Security Pro up to date is a good approach that keeps iThemes relevant while broadening its appeal.
Launching a hosting service is another good idea that helps to position iThemes as a one-stop solution for anyone creating and managing WordPress websites. While there are lots of hosting services out there, not many of them come with all of the extra tools you get with iThemes hosting.
Overall, the iThemes products all stand up well on their own and compare favorably to the other options out there. However, the fact you can purchase them as part of a few different packages makes iThemes a company that should appeal to anyone who prefers to keep things simple by getting all of their tools and services from one provider.
Thoughts on iThemes? Using/used any of their products?
Related Reading: