Medium vs WordPress – Choosing the Right Platform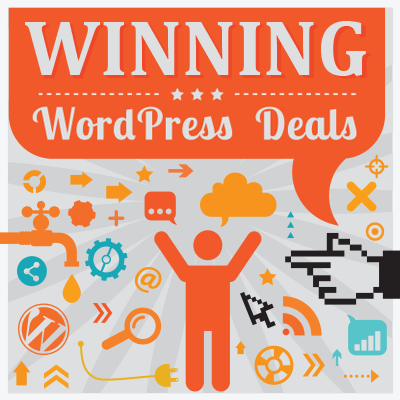 For a long time, the answer to the question of where your blog should live was definitely WordPress — one of the most popular platforms on the web.
Recently, however, a slew of new spaces on which to write have popped up — with concepts ranging from standalone applications like Ghost, to online publishing platforms like Svbtle and Medium.
In this piece, we'll be dipping our toes into the latter category and taking a look at Medium — a platform that's becoming more popular every day. I'll give you a quick tour of the service, discuss what it is, and how it compares to the WordPress experience.
What Is Medium?
Medium explains itself very well in a post about its upcoming custom domains option (more about that later), in which it asks — and answers:
Q) "So, is Medium a platform or a publisher?"
A) Yes.
Medium is a platform for writing content; but it's also a publisher promoting the best stories from around its network, giving them the potential for wide coverage. The first thing you see on Medium's about page is the following: Medium connects people, stories, and ideas that matter to you. This statement highlights Medium's extra social component, through which you can follow what interests you and share your content with people who care about your topics.
So to sum up: Medium is a platform for writing, publishing, and sharing content to a community of like-minded individuals.
How Medium Works
Anyone can browse on Medium, but if you want to write and post something, you'll need to sign up. Currently, you can only sign up with an existing Twitter or Facebook account.
Once you have an account, you'll encounter some limited setting options, but really the only two things you'll want to do are write a story or create a publication.
Creating A Story
Creating a story is the equivalent of writing a post in WordPress. As user interfaces go, it doesn't get much more minimal than this.

The editor is beautiful; it gives you plenty of breathing space to write your content. You won't find any advanced layout options like you could have with WordPress shortcodes, but it isn't really necessary. Medium wants your content to speak for itself.
The little plus icon lets you add larger block elements (images, videos, embeds, and separator lines); everything else is done inline through highlighting text.
Images are a story aspect to which Medium gives considerable flexibility. Images inside the body text can be positioned on the left in two ways and full-width; all three look excellent.
The main featured image gives you six options. Two are floated to the left, two give you large images on top, and the remaining two give you big, bold full-width images.
The result is not only a simple editing experience that makes you want to write, but a one-to-one preview that shows you exactly how your content will look.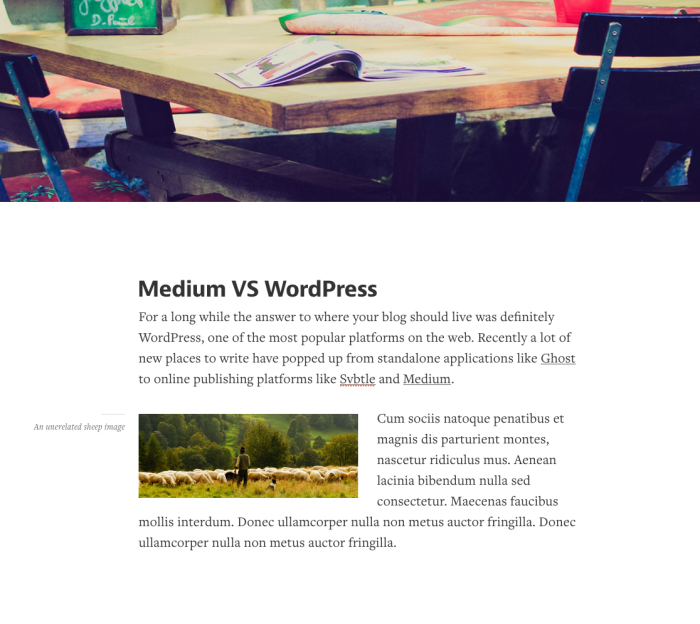 Once you're ready to publish you'll be able to modify the excerpt and the tags, and then off it goes into the wild.
Managing Content
You won't find any advanced content management on Medium. The "Your Stories" section is the place to go to view all your content; it contains a simple list of everything you've written split into some helpful categories (drafts, public, unlisted, publications).

There aren't a lot of options regarding what to do with your work; there's simply edit and delete. There are no advanced settings for SEO, sharing, or anything more involved. To me, this doesn't seem like a huge issue; the main focus of Medium is writing. Medium's view is that content should be popular because it's good, not because it contains the right keyword density.
Publications
Since Medium is trying to establish itself as a publishing platform, it offers the option of creating a publication. Much like the rest of Medium, this is exactly what it sounds like. To paraphrase their own words, "Publications are good-looking, focused destinations. They are meant to be a collection of related posts".
Just like someone would buy the New Yorker because of the quality of the articles, a reader would follow your publication because the topics covered interest them.
You can write all the content within a publication, or you can allow others to contribute easily by setting them up as editors or contributors.
WordPress Vs Medium
First of all, the difference between WordPress the software and WordPress.com, a hosted WordPress environment needs to be addressed.
If you use WordPress on your website (i.e. without using WordPress.com) you can do almost anything and everything Medium does if you find the right theme and plugins. However, just because WordPress is theoretically capable of producing a result comparable to Medium doesn't mean it's better. And it certainly doesn't mean it's necessarily the right solution for you.
When you use WordPress.com, you're essentially getting the WordPress environment without having to worry about installing and maintaining it.
In the comparisons below I'll be talking about WordPress as software and as the hosted service (which has some publishing aspects) as a whole.
The Writing Experience
The writing experience on Medium is miles beyond what WordPress offers. There really are no distractions; it's just you and your content. What makes this even more impressive is that you're actually editing content the way it will look when it's published.
WordPress does have a visual editor, but more often than not theme makers don't bother to add the special CSS necessary for it to look like the final content. Even if they do, it'll most likely differ since the editor isn't in the same environment as the rest of the website.
Medium also excels at image handling. Positioning images is very easy (although the fact that images can't be right-aligned is a bit perplexing) — all the built in options look great, and the previews all match the final product, of course.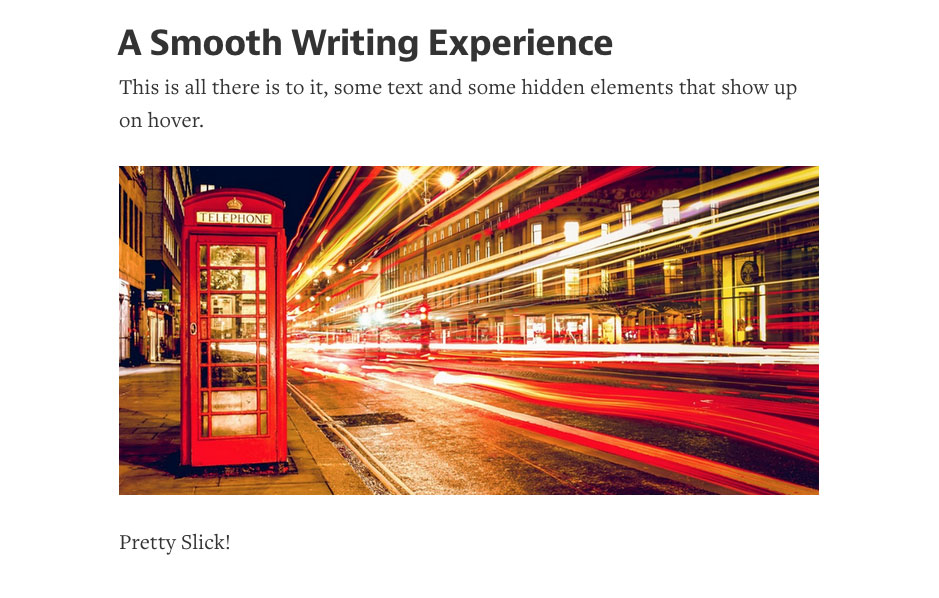 In WordPress, you get fewer out-of-the-box image positioning options. Themes can add more options for you, but this is a factor related to theme quality. What's more, the previews will most likely not match up with the published articles due to the difference in editor width and the content-width of your theme.
The bottom line is that while WordPress can be more flexible, it usually is more complex to boot, and the more complex it gets, the less accurate the preview can be. This can definitely make writing a hassle. On the other hand, although Medium may have a limited, pre-set number of options — but what is there is pixel-perfect.
Ease Of Use
When it comes to how easy to use either of these platforms is, Medium comes out on top for the most part. WordPress is a behemoth, and it shows. Countless post options, editor buttons, site settings, plugins, themes and all the bells and whistles give you a lot of power but at the cost of usability.
WordPress is by no means complex to the point of being impossible. That said, it does have a much steeper learning curve than Medium. Medium has a smaller feature set, so consequently they can implement it with much more attention to detail.
Managing Content
If you like to tweak and tune little things like custom fields, excerpts, and SEO options, then you're out of luck with Medium. WordPress brings with it a multitude of plugins that will let you optimize your content for Facebook, Google, SEO in general and much more.
While I don't think the above-mentioned plugins are essential for personal publications, it is a good idea to have these tools at your disposal for business websites or business blogs. As such, this makes Medium perfect for personal blogs or proper publications, but probably not a viable solution for business-related sites.
Your Writing Portfolio
One thing that became apparent to me is that Medium is better for authors who want to create a portfolio of their written material. The problem with such a portfolio within a WordPress website is that you can't easily separate your writing the way you want to, unless you have some coding chops to go with your writing skills.
Medium allows you to create publications for your thematically similar pieces, contribute to other publications, and you can create regular stories for anything else.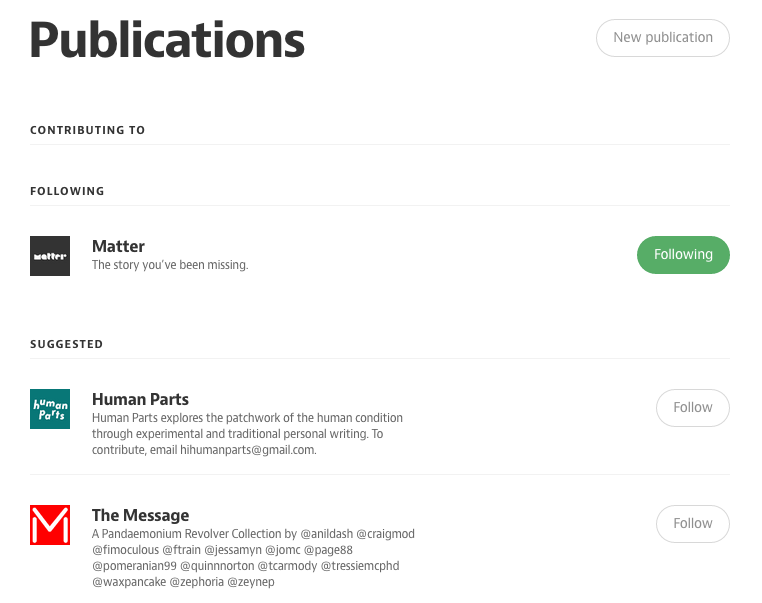 Sure, you can create categories and tags in WordPress — but it's not quite the same. Medium gives you a sense of "belonging" (I'll talk about this later) which gives your material more power.
Contributing And Contributions
This one is getting into the social aspect of things, which I'll talk about more when comparing the publishing side, but it deserves a mention here, too. If you operate a WordPress website, you either write the content yourself or register a user as an author to contribute.
The author's contribution is very much integrated into your website. While you can give the author rights to the published material, it still seems very much like the site owner's.
With the way Medium is angled as a platform, it seems much more author-focused — which in the end feels like a big difference. Even when contributing an article to a publication, it still feels like "yours". The specifics of why are the sum of many smaller user experience and platform design decisions, so perhaps the best way to describe it is like this:
Contributing an article on Medium it feels like a publication picked up your article and gave it more exposure. Contributing to a WordPress-based website feels like you're copywriting for someone.
Pricing
WordPress "the software" is open-source and free. You can download it from WordPress.org and install it (with the correct hosting) on your own website. Most hosts have one-click WordPress installs available, which makes WordPress both particularly easy to install and get up-and-running with.
WordPress.com allows you to use a WordPress subdomain (i.e. something like yourwebsitename.wordpress.com) as your blog's web address. This is free to do, however, with a free WordPress.com account, you won't be able to access a lot of WordPress's functionality. Unless you upgrade your account, you'll only be able to use basic customization options — and plugins aren't available for use at all.
A premium plan costs $99/year, or you can just get a domain name that you can use instead of the WordPress.com name for $13/year.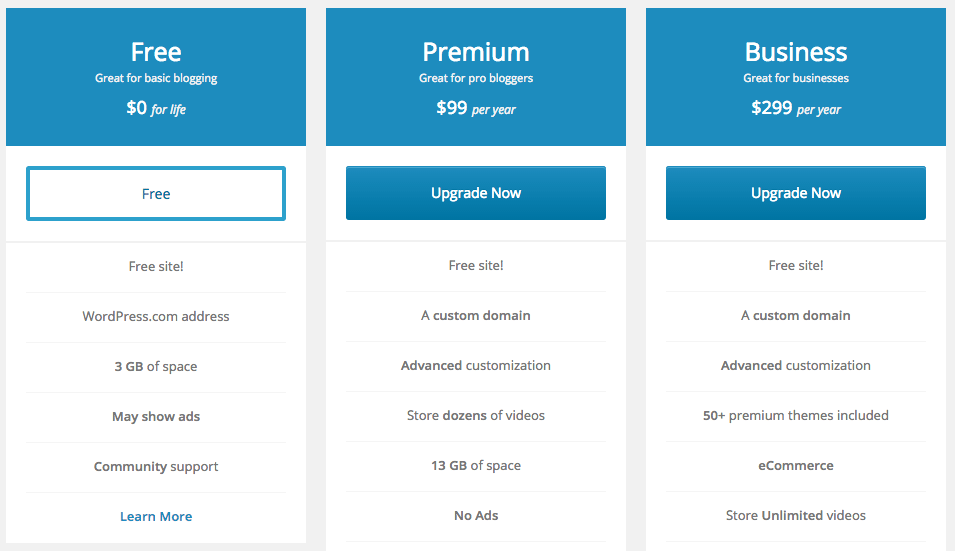 Medium, on the other hand, is completely free. While it doesn't sport all the features WordPress does, and you can't get a custom domain (for now), everything that is there is free.
Community
While WordPress the software has a huge online community, there isn't a "writer's community" per se. WordPress.com does not position itself as a publisher at all. There are loose ties between websites, and once you have an account you can follow other blogs, but the functionality is limited and not too prominent.
Medium, on the other hand, feels more like a band of talented writers. There are so many WordPress sites with a wide variety of content and quality that you don't really know what to expect when you arrive at a site. However, when you arrive at a publication or article on Medium, you feel that it's probably going to be good.
The focus on following, contributing, and promoting articles all add to this feeling and it makes Medium all the better for it. These types of community features are completely absent from WordPress.
Flexibility
WordPress.com and Medium are mainly for writing-focused websites. On WordPress.com, there's a great deal more room for flexibility since there are simply more options to choose from.
If you run your own installation of WordPress, that's when things really start opening up. Whether you want a chat application, or a website to sell your music or handmade bottle openers — you can do it all.
In this regard, WordPress is a superior product because it's meant to be a framework, not just a writing platform.
Should I Use Medium?
In comparing Medium vs WordPress, it's obvious that these are tools used for very different purposes. WordPress is capable of doing almost everything Medium can do and then some, but this means that the focus of WordPress is elsewhere — or at least the scope is much wider than just writing.
What this boils down to is that Medium is far better than WordPress at creating an environment for writers; but, you're stuck with the features that come with it out-of-the-box. Content creation may not be as joyous with WordPress, but the end result can look and feel the same — and you can always add more and more features if you need to.
To be able to decide which one you want, I think you should consider the following:
Medium is for writing only.
WordPress allows you to do much more than just writing.
Medium feels like a professional community.
By thinking about the above, you can pretty much arrive at the answer through elimination and some simple decisions.
"If you're indeed going to create a writing-focused website, you need to figure out if you need any advanced functionality"
Foremost, do you want to create a website focused on writing? If you're indeed going to create a writing-focused website, you need to figure out if you need any advanced functionality. For example — are you creating a movie review site with referral links, cross-references, and other features which require specialized navigation? If the answer is yes, Medium is probably not the best choice for you.
Before we move on, I would urge everyone to consider the answer to the above question once more. Just because you may at some point, need extra features, and you want to keep your options open, you probably shouldn't choose WordPress solely on that basis.
Are you sure adding complexity will add more depth and create a better experience? Are you sure that you must have quotes shown within a background image to have a good website? Adding complexity is not always a good path; being aware of this will doubtless help you make a better decision.
If you're creating a writing-focused website, and Medium's feature set seems just fine, then you need to make a somewhat more subjective decision. At this stage — end-result-wise — you can achieve the same thing with both platforms, so how do you choose? Let's break this one down further:
Custom Domains
One factor is the custom domain. Medium is only rolling out custom domains for select publications, so right now you can't have your own. All your posts will all be displayed on your medium page (e.g. https://medium.com/@yourtwitterhandle/story) or a Medium publication (e.g. https://medium.com/publication-name/story). If this is a dealbreaker for you, then WordPress it is.
Another factor could be the time needed to get things going. If you have a pre-written story and no domain, it'll take you about one minute to get up and running with Medium. After a quick registration, you create a story, paste it in, add a featured image — and off you go.
Setup Time
If you've already written a story but don't have anywhere to put it, you can sign up and publish it with Medium in about two minutes. It'll look great, although the visuals won't be customizable.
On WordPress.com, it'll only take a couple of minutes, too, although the post editor is a bit clunkier and due to the size of WordPress it may be a tiny bit slower. The editor and the environment itself, however, give you more options, so you may find yourself getting lost in the woods.
This is even more true if you're running WordPress yourself. Setting it up takes about 5-6 minutes if you know what you're doing and 15-20 minutes if you've never done it before. The standalone version gives you so many themes and plugins; a complex theme may give you so many design elements to tweak that you could easily spend hours on it.
The Professional Touch
Presentation does matter, and Medium is excellently presented. WordPress can be just as great, but not every theme does its job well, and the potential for distraction is much greater with all those sidebars, navigation, meta and other elements that can clutter the page.
Medium looks and feels like a proper publication from the get-go — this can add a lot of gravitas to your work. With the burden of making things look good taken off your shoulders, you can concentrate on the writing.
The Bottom Line
I would recommend Medium over WordPress to 9/10 professional writers. Perhaps the rule of thumb should be that if you make a living from writing publication-worthy articles — ones you could potentially see in Time, Newsweek or The New Yorker — Medium is probably the place for you.
That said, in addition to your home on Medium, I might also recommend creating a personal site (in WordPress) that tells the world both who you are and what you've done, with the actual articles you've written potentially published online over on Medium.
If you need a more elaborate website, or the nature of your writing demands any of the additional features that Medium doesn't offer, then WordPress will, of course, be the better option. And of course, if you're looking to create a fully-featured eCommerce, membership or directory site (for example), then Medium is really a non-starter, whereas a self-hosted WordPress site with the right plugins will take any or all of those things in its stride!
Do you have experiences with WordPress and Medium you'd like to share? Did we miss anything?
All comments are held for moderation. We'll only publish comments that are on topic and adhere to our Commenting Policy.
Our commenting form also supports the use of Markdown.