WinningWP content is free to all. If you make a purchase through referral links on our site, we earn a commission (
learn more
).
Substack or Medium: Which Is Better for Writers? Honest Thoughts (2023)
Trying to choose between Substack and Medium to start writing online?
While both platforms make it easy to get up and running, there are some very important differences between the two.
In general, Substack is a better option if you want to build your own audience and monetize with subscriptions, while Medium can be a nice option if you just want to write, and like the idea of accessing Medium's built-in audience (rather than building your own standalone audience).
I'll start with a quick summary of each service and a comparison table of key features. Then, I'll dig deeper into three important aspects — how you get started, how you reach and grow your audience, and how you can monetize your work.
At the end, I'll also make some recommendations.
Substack vs Medium Explained in a Few Paragraphs
While both Substack and Medium let you share your writing with the world, they have very different approaches.
---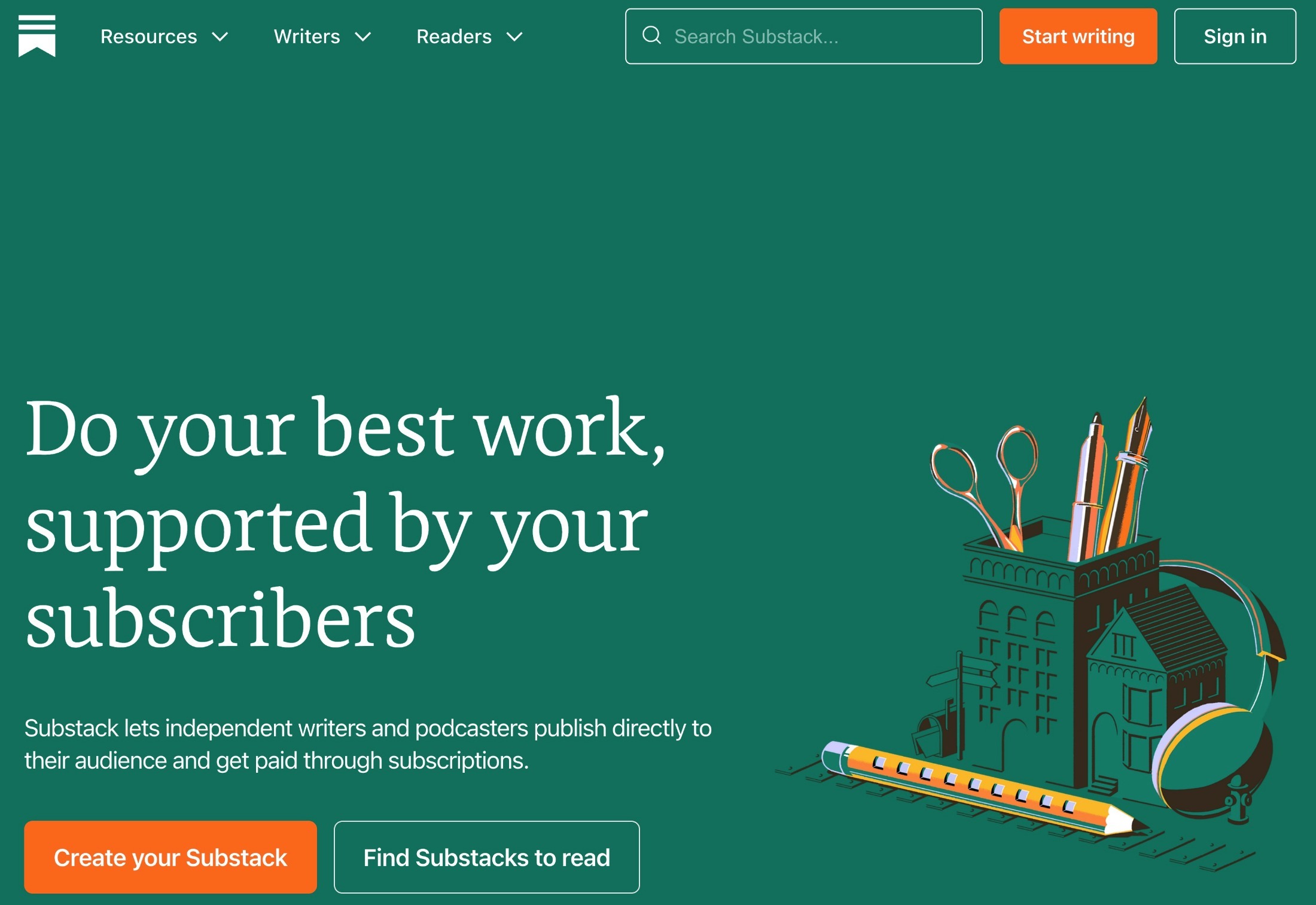 Substack helps you to build your own audience of subscribers that you can connect with via the built-in email newsletter functionality or your Substack website. Substack calls itself a 'newsletter', but it's really just a blog with a built-in email newsletter.
You can either share your content for free or you can monetize with paid subscriptions. You can also do a mix of both, with some free content to attract readers and some paid content to monetize your work.
Substack also offers a range of media other than the written word, such as podcasts and video, for its creators, which Medium currently lacks.
And Substack claims to be 'the only podcasting host where free listeners can convert to paid subscribers in one space, and truly own their relationship with their subscribers'.
It also offers text-to-speech for those who'd rather listen to their favorite writer than read their latest content.
Its video option is still in the private-beta stage but will be rolled out soon for all users.
One major advantage Medium had over Substack was community, but, never the slacker, Substack has recently released Substack Chat . In the company's own words, 'Chat is a community space reimagined specifically for writers and creators — it's like having your own private social network where you make the rules. Writers set the topic and the tone for every discussion, and can turn the feature on or off at any time.'
In general, you need to build your audience from scratch when you use Substack, and that's the kicker (though Substack does have some features to help). However, once you do this, Substack's relational model makes it very easy to stay in contact with your audience, because you have an email list of your subscribers and you own your relationship with them.
If you have a Twitter account, you can connect it to your Substack, and Substack will 'suggest your Substack to people who follow you on Twitter when they sign up and send them an email notification after you publish your first post'.
---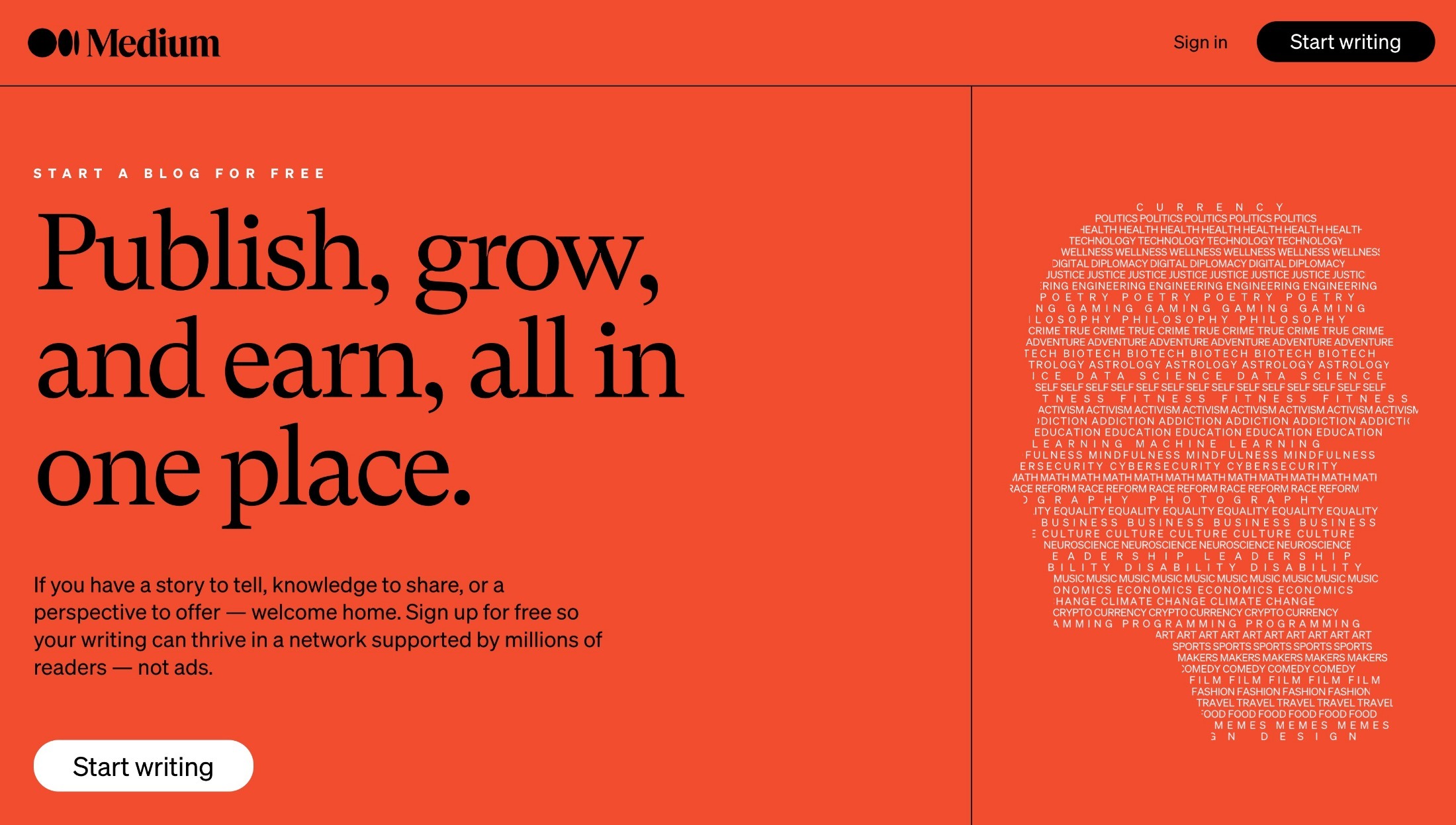 Medium is more of a social community that lets you publish content that taps into the built-in Medium audience. The large community of Medium users, 750,000 paying members, can discover your content via the platform's recommendations.
As with Substack, Medium has a text-to-speak function. It acquired the company Knowable, 'an audio-based learning platform featuring podcast-like courses', in late 2021, so the possibility of a podcast feature could be on the horizon.
Your readers also have the option to subscribe to your content, which gives you access to their email address and sends notification to their inbox each time you post something new. To add to this, Medium has an export function that lets you consolidate your subscribers' email addresses and take them off the platform to notify them of other ventures you have that may align with their interests.
To help you to earn money, instead of having you directly monetize your own audience as Substack does, Medium offers a Partners Program. Your pay is calculated by reading time, which is broken into two categories: Internal and external. At the time of writing, internal read time was the only metric by which you could get paid (apart from referred members, but we will get to that).
Internal read time occurs when members with a monthly or yearly membership subscription to Medium read your content. There are also certain criteria you need to fulfill before you can qualify for the Medium Partner Programme (MPP) and get paid: You need to have at least a hundred followers and live in a country that allows Stripe's payment system.
While you can earn some side hustle money if your articles go viral, the earning potential with Medium is generally lower than Substack.
Substack vs Medium Comparison Table
Substack
Medium
Cost to start
Free
Free
Monetization methods
Paid subscriptions
Medium Partner Program, plus referred memberships
Any fees?
No fixed fees and no charge for free content; 10% commission on any paid subscriptions you generate.
Always free for writers. Need a Medium membership ($5 a month) to use a custom domain and earn money through the MPP, though.
Free domain structure
Subdomain (your-site.substack.com)
Subfolder (medium.com/your-site) OR
subdomain (your-site.medium.com)
Use a custom domain? (yoursite.com)
✅
✅
Fee for custom domain use
$50 one time
Requires active Medium membership ($5 a month)
Built-in audience?
❌✅*
✅
Own your relationship with your audience?
✅
❌
Email newsletter functionality
✅
❌✅**
Search engine optimization
✅
❌✅***
Podcast feature
✅
❌
Video feature
✅
❌
Text-to-speak audio
✅
❌
*Substack does have some network-wide recommendations, but not like Medium.
**Medium does let you send emails to your followers when you publish a story, but this feature is very limited in comparison to Substack.
***Medium does not allow all posts to be indexed in Google — more on this below.
How to Get Started and Write Your First Post with Substack and Medium
Both Substack and Medium make it very easy to get started, with zero technical setup involved. Unlike many other blog platforms, you do not need to deal with purchasing your own web hosting or installing software (e.g. WordPress).
With both platforms, you can be writing your first post within minutes of signing up.
Substack Setup and Content Editor
Configure some basic settings, such as choosing a name and a subdomain. You can also use your own custom domain name.
Start writing using Substack's text editor.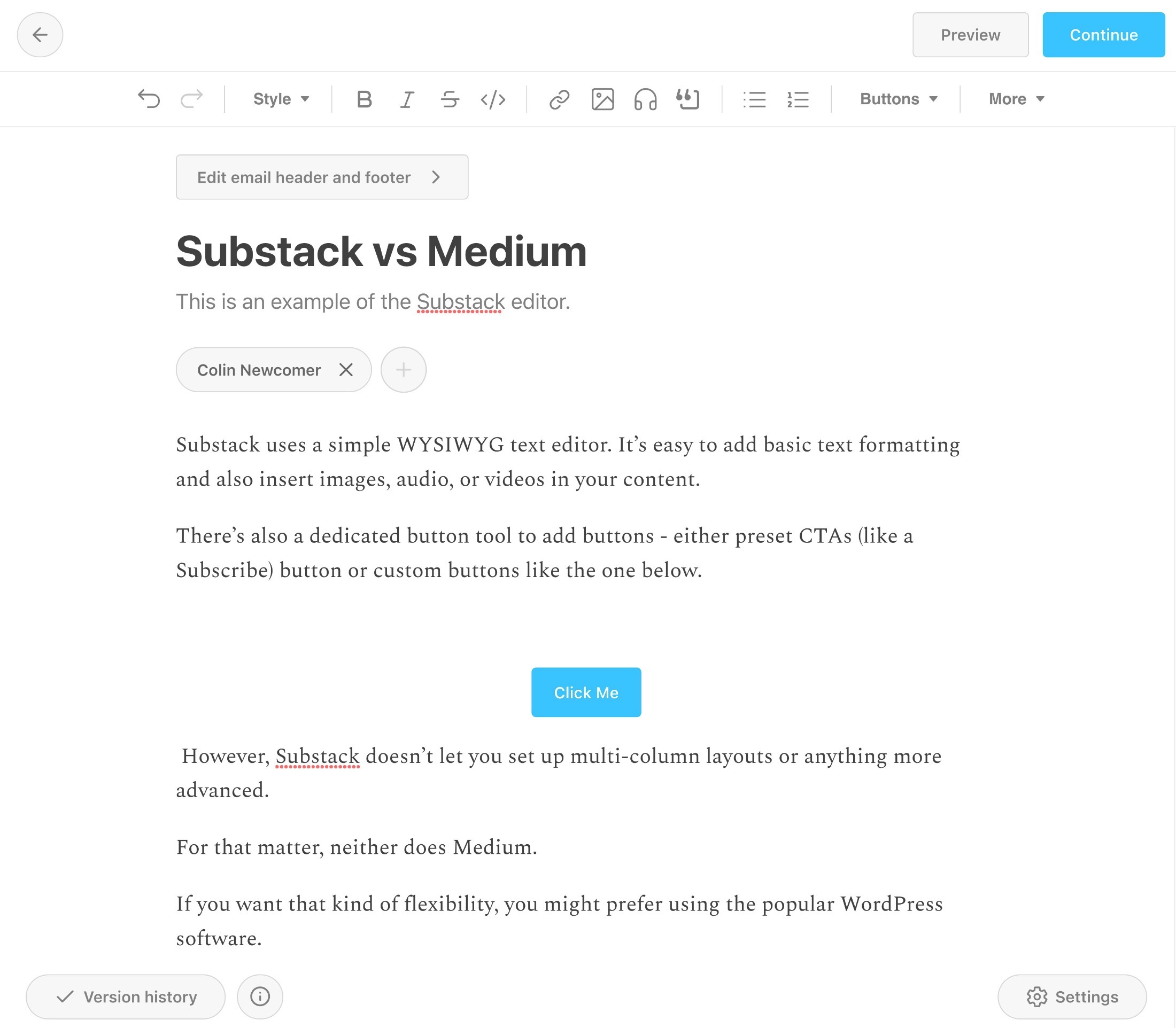 Medium Setup and Content Editor
Configure some basic details about your publication, including your URL. You can also use your own custom domain name.
Start writing using Medium's text editor.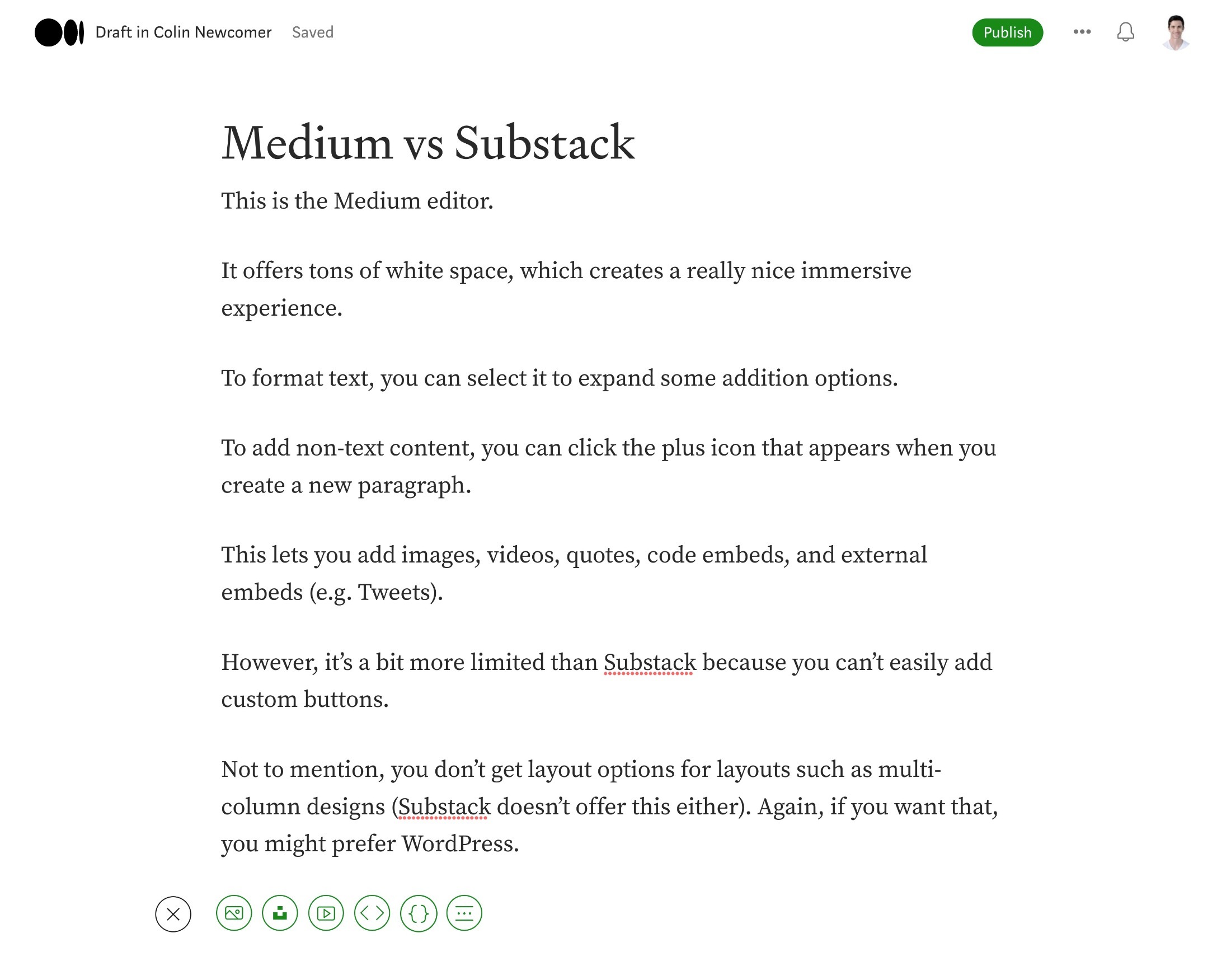 How to Reach and Grow Your Audience With Substack vs Medium
In general, Substack gives you more tools for growing your own audience, while Medium lets you tap into an existing audience.
However, neither is great from an SEO (search engine optimization) perspective, which is an important consideration if you plan to use SEO as a primary marketing strategy.
Substack
With Substack, you're mainly responsible for growing your audience from scratch.
You can use SEO and also promote your Substack on social media if you have an existing audience.
Substack doesn't really give you any strong SEO tools, but all of your posts are at least indexable by Google, and Substack automatically adds basic structured data markup.
However, it's annoying that Substack doesn't give you an option to control your content's SEO title or meta description.
You can kind of do this with your post's title (SEO title) and subtitle (meta description), but it would be easier with dedicated fields.
Beyond self-promotion, Substack does also have some network effects via its recommendation feature. Your Substack site can be recommended from other Substack sites, which can help you to grow as well. You can read about it here.
But, unless you already have a following, you need to be actively self-promoting on social media, and, as mentioned earlier, connect your Twitter account to your Substack.
Medium
With Medium, you'll primarily connect with people via its built-in audience and recommendation engine.
This is one of Medium's big advantages over Substack, because Medium has a large community of free and paid subscribers specifically interested in discovering content.
If your content gets featured by Medium, you could easily reach thousands or tens of thousands of readers.
Here's a list of the biggest writers on Medium in 2022: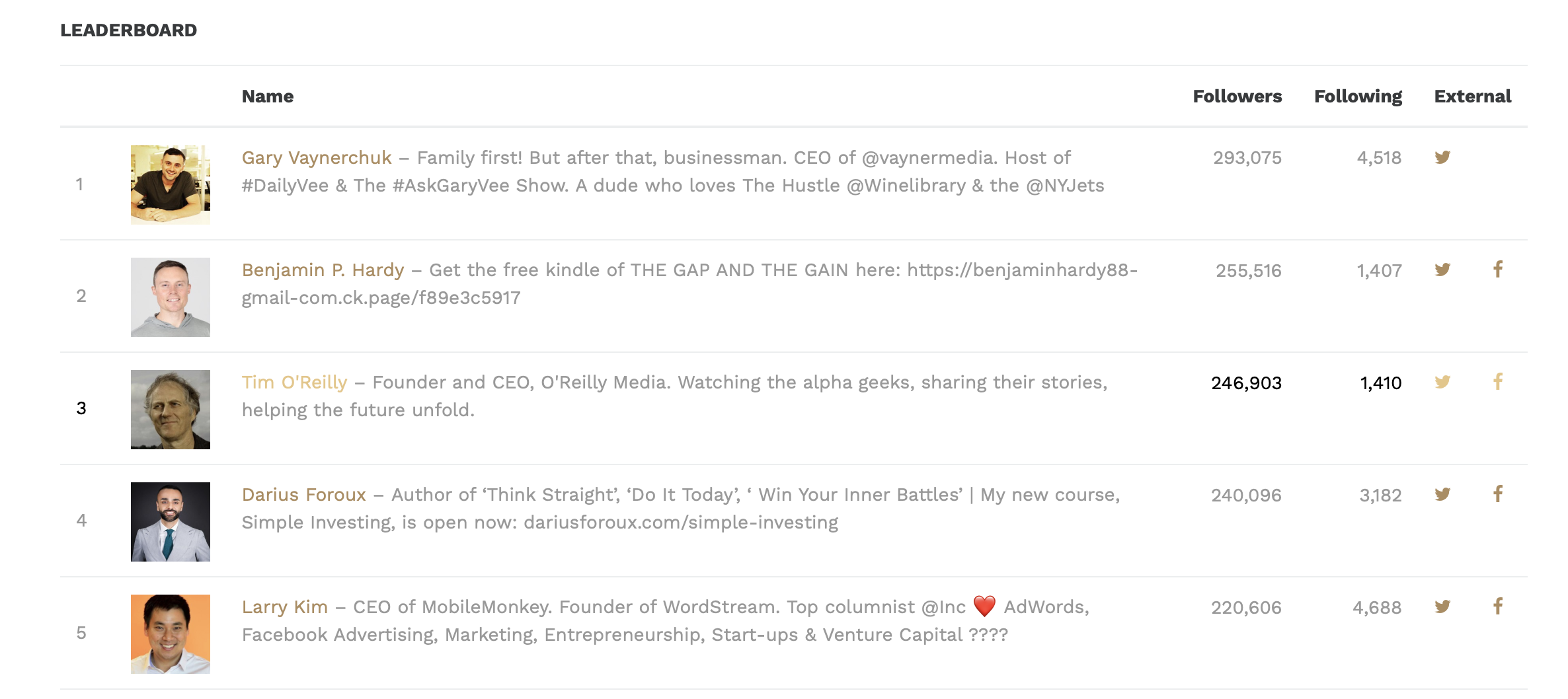 Apart from Medium recommending your posts through the tags you label your articles with, there are a number of publications you can submit to.
Typically, but not always, publications are set around a niche, and big publications equal big audiences. Providing your post is accepted by the publication, this is a better way to grow your audience when you're starting out.
Medium also has a 'staff picks' section on the main search page. Staff Picks are those posts selected by Medium staff who like and want to promote your work. As well as the flattery of being featured in Staff Picks, it can seriously increase your following and reach to thousands or even tens of thousands of readers.
And then there's Curation. Curation means your post has been recognized as content Medium wants to share in its newsletter and email suggestions. However, there have been some rumblings that this feature has been pulled for now while it tries to improve its selection process.
However, the tools for growing your own audience outside of that are limited.
While there are some SEO benefits to being published on the strength of the main Medium.com domain name (rather than a subdomain such as Substack), Medium doesn't allow all content to be indexed by Google.
If Medium does index your content, it can rank well. But, because you can't control indexing, you probably shouldn't use Medium if you plan to use SEO as your primary growth strategy.
Medium also now lets you claim your own subdomain if you'd prefer that to the subfolder approach, but you'll lose some of the SEO benefits of being on Medium's authoritative domain.
Medium also at least lets you edit your content's SEO title and meta description, though it doesn't give you many SEO tools in general.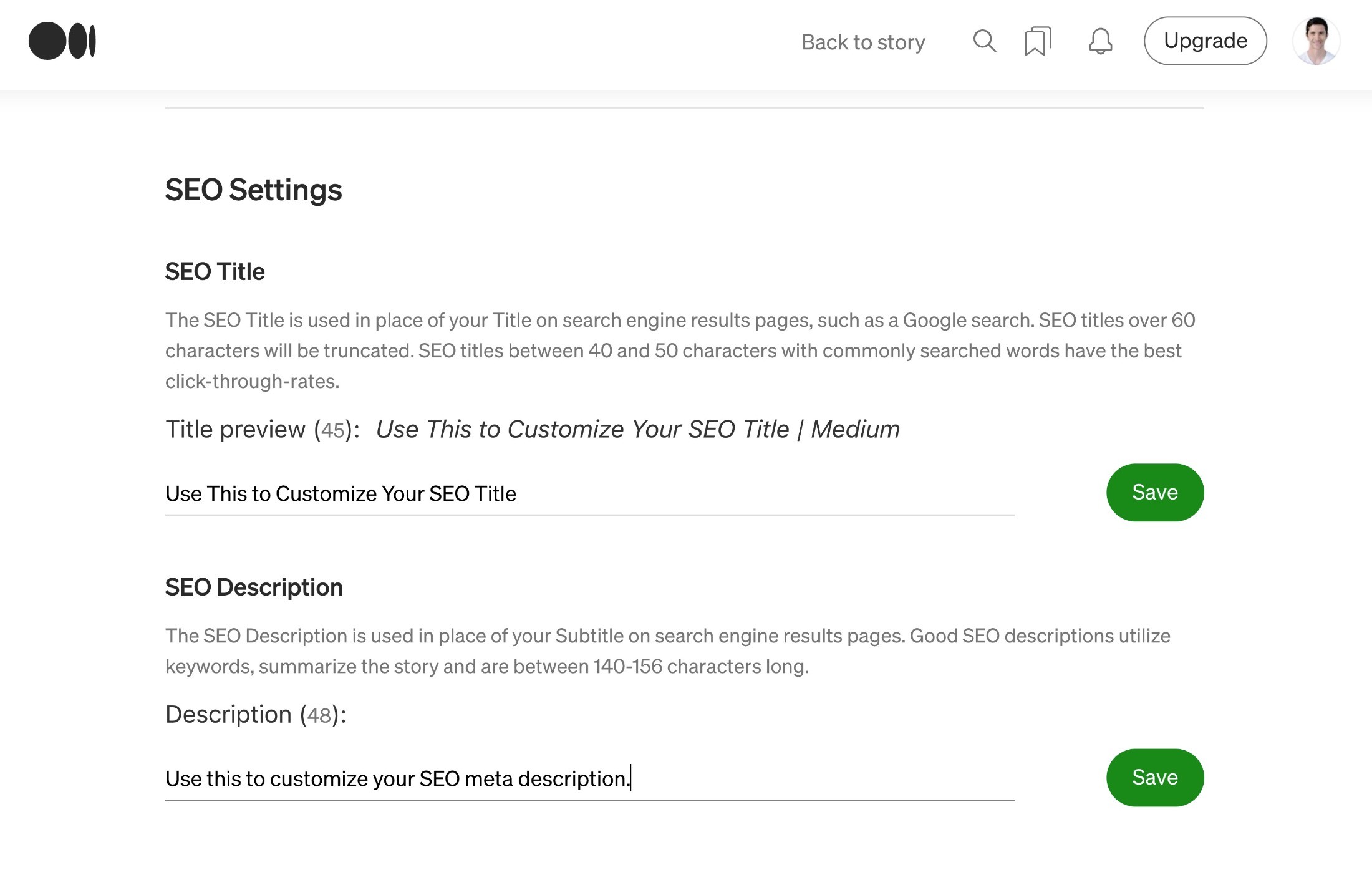 How to Monetize Your Work With Substack vs Medium
In general, Substack publications have a higher earning potential if you can build an audience, but Medium also offers ways to make money.
Substack
With Substack, you'll primarily monetize your work with paid subscriptions.
Substack includes built-in tools to convert visitors into subscribers (and then hopefully paying subscribers).
You're free to set whatever price you want, but Substack will take a 10% commission on any paid subscriptions.
The following table displays the amount of the highest earner on Substack for each period in 2020-21.
| Date | Top Ten Authors — Annual Earnings ($) |
| --- | --- |
| September 2020 | 7 million |
| December 2020 | 10 million |
| February 2021 | 15 million |
| October 2021 | 20 million |
(Note: The above table data is sourced from Backlinko.)
Substack does also let you include affiliate links, but affiliate marketing can't be the sole focus of your publication.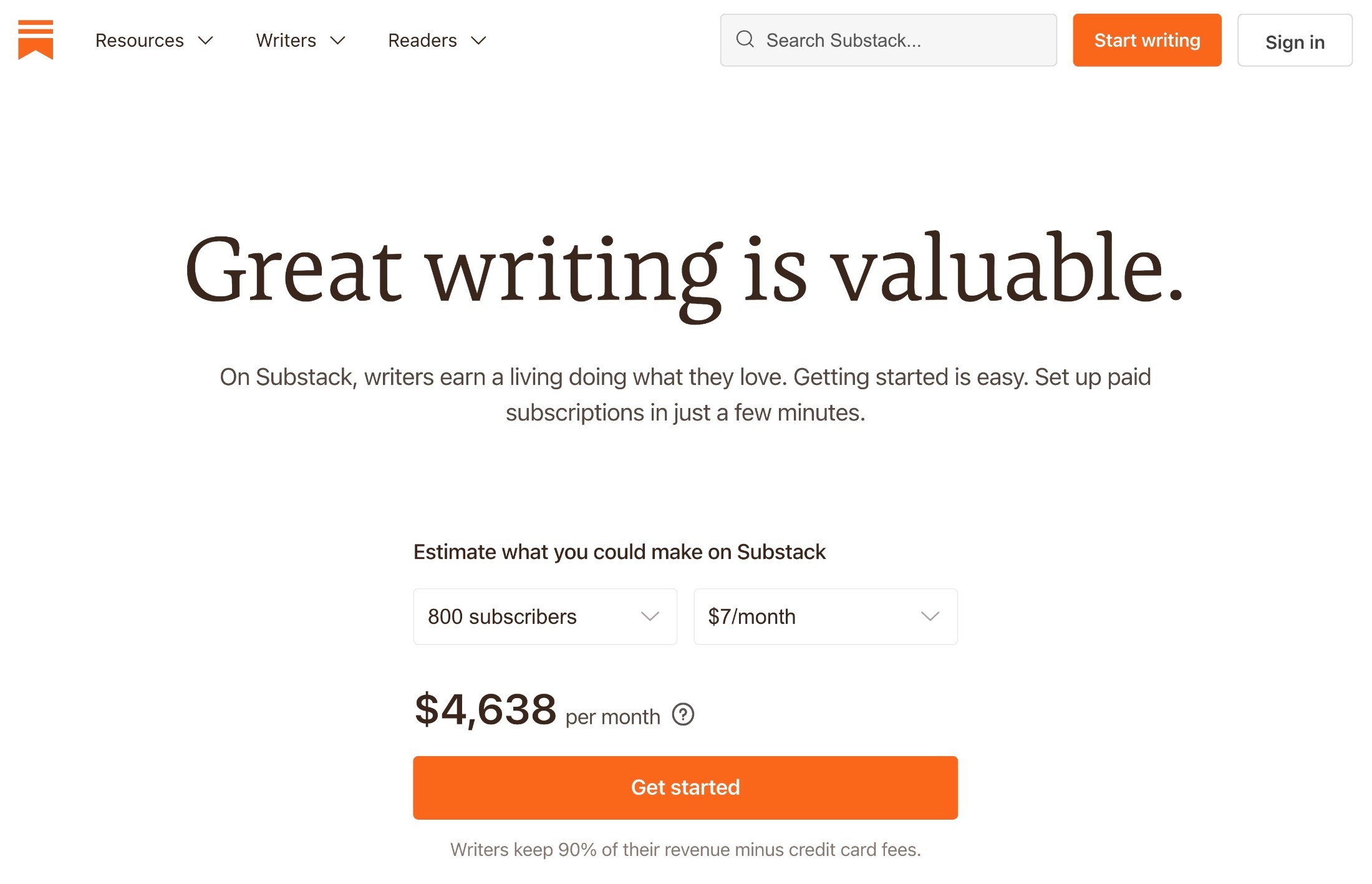 Medium
With Medium, you'll primarily earn via the Partner Program.
You now have two ways to earn via that program:
Member reading time — you earn if paying Medium members spend time reading your content.
Referred memberships (new) — you earn when you refer a reader who becomes a paying Medium member.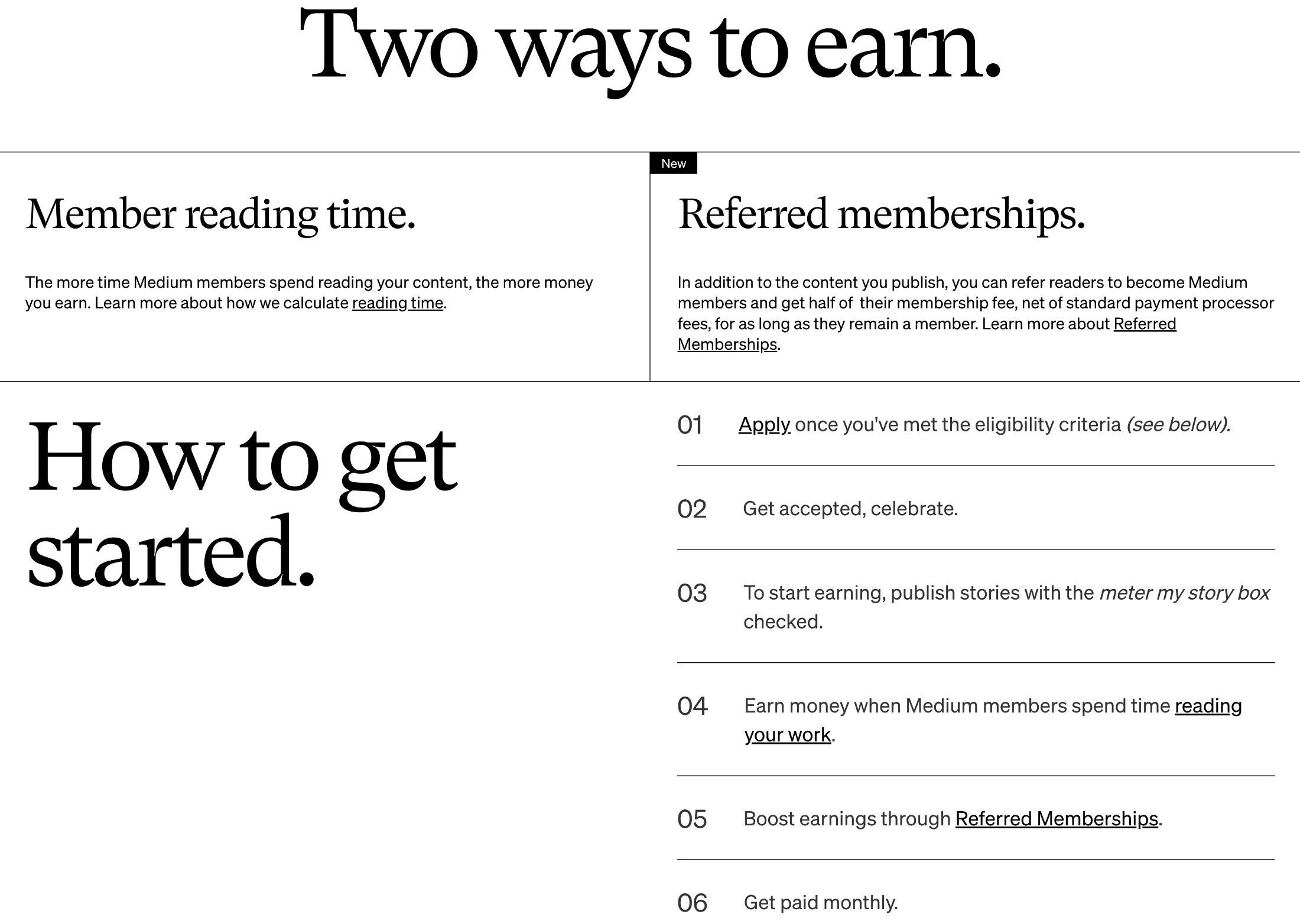 For referred memberships, you earn 50% of the net earnings, which equals around $2.27 a month per referred member. More details here.
You're also allowed to include affiliate links, as long as you disclose them.
As of a couple of months ago, Medium supports tipping, and provides a link that connects to Ko-fi or whatever platform you use for people to donate to you for your work.
Should You Use Substack or Medium?
Overall, Substack is a better option if you're a serious writer who wants to earn money, because it gives you more control over your relationship with your audience and it offers more viable options for monetization.
I'd really only recommend Medium to writers who like its social feel and would rather tap into its existing audience than build their own audience from scratch. Saying that, some writers on the platform do earn serious money through affiliate marketing and the use of Medium's high authority domain (95) to rank high on Google.
Medium's new option to earn from referred memberships does make it more competitive with Substack. However, it's still inferior to Substack because you only earn 50% of net revenue (vs 90% of gross revenue at Substack), and you're building Medium's subscriber base rather than your own subscriber base, which you're building at Substack. However, Medium's new C.E.O. is said to be reviewing the percentage writers receive from member referrals.
It's worth pointing out, though, that both of these tools are limited in terms of their customization and flexibility. While that's fine for people who just want to write and not think about technical details, users who prefer more flexibility may be happier with open-source platforms such as WordPress or Ghost.
You can learn about those options and more in our full post on the six best places to start a blog.
Related Posts:
Any questions on choosing between Substack and Medium? Share in the comments!
All comments are held for moderation. We'll only publish comments that are on topic and adhere to our Commenting Policy.