WinningWP content is free to all. If you make a purchase through referral links on our site, we earn a commission (
learn more
).
Top 5 Best Online Course Platforms/Websites For Creating Your Own Unique Online Course
Planning to launch an online course? Or maybe you're already working on one? No matter how far along you are in the process, you'll need to look into what the best online course platforms are.
After all, the place where you make your course available can have a huge impact not only on its popularity and how it's received by the community, but also on your potential earnings.
In this comparison, I'll look into the best online course platforms and how to pick the ideal one for your next project.
But before we get into the nitty-gritty, here are the main characteristics you should look at when trying to find the best platform for your needs:
What Should I Look For in My Ideal Online Course Platform?
There's no single online course platform that'll be ideal for every scenario and every type of user. However, answering the following questions will help you to narrow down the features you need to make your online course work versus what you can ignore completely.
Do you need just the platform or a marketplace as well?
There are different paths you can take when picking your platform and then building your course on it. First off, you should decide whether the thing you're looking for is just the platform itself or if you also want access to a marketplace of potential customers.
The former is straightforward: A platform on its own simply gives you the tools you need to create the course and make it available. In this scenario, it's on you to figure out how to reach your customers directly (via advertising or social media).
Taking this into consideration, why would anyone not want access to a marketplace as well, right? I mean, how can a 'tool-only offer' ever be better than 'tool + marketplace'?
The devil is in the details. Standalone tools usually give you more control over the final product — your course. Not only do you get to decide how to structure the course, but you also don't have to get validated/approved by anyone, and you're not limited in any way when it comes to the earnings your course could generate. On the other hand, marketplaces tend to be much stricter. As in, while they give you access to an audience from day one, they also retain significant control over your course.
What types of payments do you want to allow?
You should think about what you want the price tag for your courses to be and what sort of payment methods you want to make available.
'All of the payment methods to all of the people!' sounds like a reasonable strategy, but things are rarely that simple.
For one, apart from the classic credit card payments, some customers may also want to go on a payment plan — especially for high-ticket purchases.
If you indeed do plan on offering some more expensive courses, you should be ready for such a possibility. Therefore, make sure your platform will be able to accommodate this.
Another thing, do you want to offer your courses in foreign currencies and use foreign payment gateways? The simple fact is not everyone will be crazy about PayPal.
Believe it or not, PayPal isn't hugely popular in many parts of Europe, where cheap online bank transfers have been the norm for more than a decade. If you're planning on conquering the EU market, your platform should be ready to handle that.
Will your course be predominantly text or media-based?
Video courses are all the rage these days, but text-based courses haven't fallen from grace quite yet either.
No matter what your preferred type of online course may be, you have to make sure the platform you're choosing has been optimized to deal with it.
For example, Skillshare is most known for its video-based courses. Podia, on the other hand, is much more user-friendly if you want to build your course around mainly text content.
Do you want to host the course on the platform only or also integrate it with your site?
Basically, if you have other products or offer other services, you may want to list your course alongside those products on your main website, which might be separate from the platform that houses your online courses.
Or maybe your main website is a general industry publication that shares news, tutorials and other types of content. In which case, being able to enroll people in your courses directly from there makes things a lot simpler for everyone.
On the other hand, if the course is the main thing you're focusing on, then integrating it with a website you don't even have may not be on the agenda.
Check what the possibilities are with the online course platform you're choosing to make sure it will be in tune with your strategy.
Do you want to be able to customize your course a lot?
There are different ways of creating an online course. On one end of the spectrum, you can have a hand in everything from page design to layout, content presentation, and then, of course, the content itself.
Alternatively, some people just want to take their content and fill in a template — without having to worry too much about how to make it look good.
Depending on the platform you choose, you'll have greater or lesser control over what's going on. So, make sure to pick a solution that'll cater to your needs in this regard.
---
This about sums it up when it comes to the key characteristics of the best online course platforms. Now, let's look at the individual tools and what makes them great: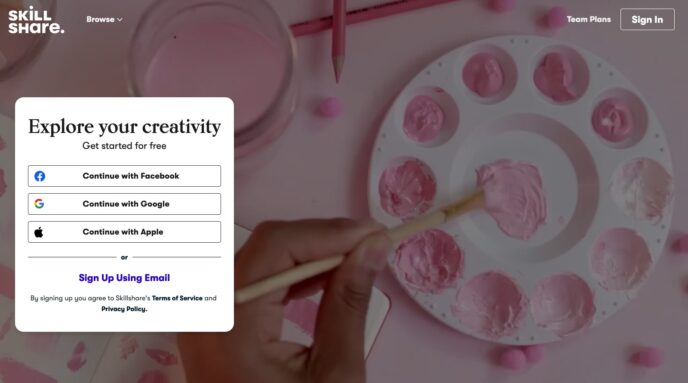 Marketplace of online courses.
Subscription-based for users; creators get a cut of the generated profits.
Popular course categories: Everything related to creative arts, including web design, animation, graphic design and photography.
Skillshare is one of the most popular online course marketplaces on the web, and you've probably seen an ad for it on YouTube or heard about it in your favorite podcast.
Skillshare has several course categories to choose from, but, while you can always find a way to categorize yours to match what's already there, you're probably going to get the best results if you publish a course related to creative arts or design.
Everybody can sign up and create a course, and the staff then pick the top courses to give them a more visible spot on the site.
How Creating a Course on Skillshare Works
Skillshare will give you the tools to create a course and a framework to build it around. More or less, you fill in a course template and decide how your lessons will flow from one to the next.
That said, the actual 'creating course content' part is all on you. Skillshare courses are video-based, meaning all lessons have to be in video form.
When you have your course ready, the whole Skillshare community will be able to find it and enroll in it. In this model, Skillshare handles basic marketing for you.
Pricing and Earning Potential with Skillshare
From the user's point of view, Skillshare is a subscription-based platform with a single fee to access the entire course catalog available on the site.
Here's how you make money as a creator, from a direct Skillshare quote:
We compensate teachers for every minute watched by Premium students in their classes and for every student they bring to Skillshare through their referral link.
How much can you earn in practice? Skillshare says its top creators make more than $100k a year, but, of course, the average amount will be much lower.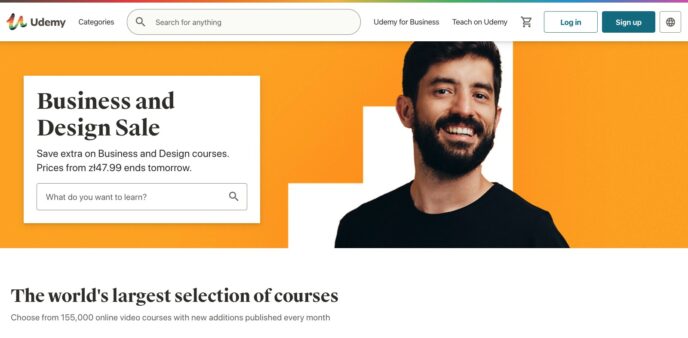 Marketplace of online courses.
Users can buy courses individually ($17 to $200 apiece); creators get a cut of the course price tag.
Popular course categories: Design, development and programming, and marketing.
Udemy is another hugely popular online course marketplace, but, unlike Skillshare, users can buy access to individual courses.
The course prices range quite heavily from as low as $17 to up to $200 apiece, and, in addition, there are frequent promotions going on, so it's quite common for regular Udemy users to hunt for the best moment to enroll in a course.
Udemy is most known for its courses on topics related to design, development, IT and software in general, as well as courses on personal development, marketing and business.
How Creating a Course on Udemy Works
Just like with Skillshare, the bulk of the workload when creating a course is on you, but that's to be expected.
However, Udemy will give you access to its experts and knowledge base, where you can find pointers on what makes a quality course and how to structure your lessons.
Udemy courses are video-based. Figuring out an attractive way to shoot your videos is, again, on you. That said, Udemy's Instructor Support Team will help you by reviewing your test videos. There's also a community of Udemy instructors who can be of help.
Pricing and Earning Potential with Udemy
As I said above, Udemy courses can be bought individually rather than as part of one subscription fee. This makes the pricing model and your potential earnings easier to predict… Or does it?
In practice, your Udemy earnings can still vary a lot from month to month because of Udemy's frequent promotions and its special promo programs.
The standard commission is 50% of the ticket price, but if you opt into Udemy's marketing and deals program you can make as much as 75%. On top of all that, if someone purchases your course through a coupon you sent them, you'll get 97% of the amount.
👉 Further reading: Udemy, Treehouse or Lynda.com — Which Is the Best Online Course Provider?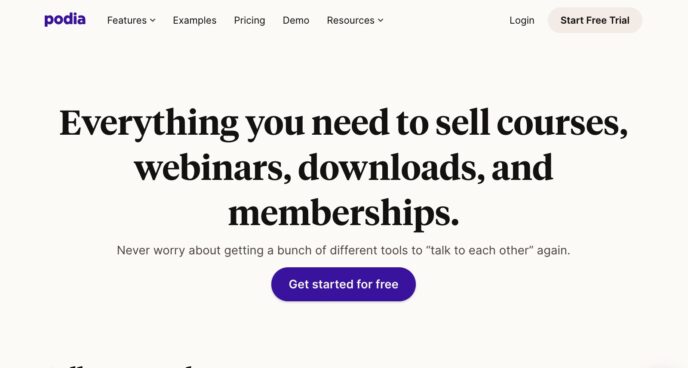 All-in-one platform where you can build your online course and also set up a website to go alongside it.
The cost for creators is from $39 a month; at that price, you can sell unlimited courses.
You can create courses of any type.
Podia is a tool that's a bit different from the two players we discussed above. It is an all-in-one platform where you can create and sell any type of digital product you may have in mind.
On Podia, you can sell online courses, digital downloads, memberships and webinars.
Podia will also give you space to create a website to house your online course and make it available for people to buy and enroll in.
How Creating a Course on Podia Works
If you ever tried building a website with a tool such as WordPress, Wix or Shopify, then you'll feel right at home with Podia.
The interface is very similar to those other website builders, and it takes you by the hand through the key elements of crafting a course.
Right enough, creating the actual contents of your course is something you have to do on your own, but Podia will help you to present it on your course page in an attractive and usable way.
With Podia, you can create standalone courses, drip-based courses (delivering lessons over time), or bundle your online courses with other digital products (such as webinars or downloadables).
Your courses can be text-based or use video and other multimedia content.
The interface is straightforward to use overall, and, at the same time, it gives you loads of options as to how you want to offer your course, set its structure, and how you want to interact with users later on.
Pricing and Earning Potential with Podia
The pricing plans start at $39 a month (for the essential features) and go all the way up to $179 a month (dedicated account manager and more advanced features).
For that $39 a month, you can set up unlimited courses and sell access to unlimited users.
You can also offer different payment options and set up upsells to other products. It's entirely up to you what price you'll set for your courses and how you'll structure your product portfolio.
Overall, Podia is a great choice for users who already have either an existing audience to whom they can market their course or have a solid marketing/business plan in place to help the course take off.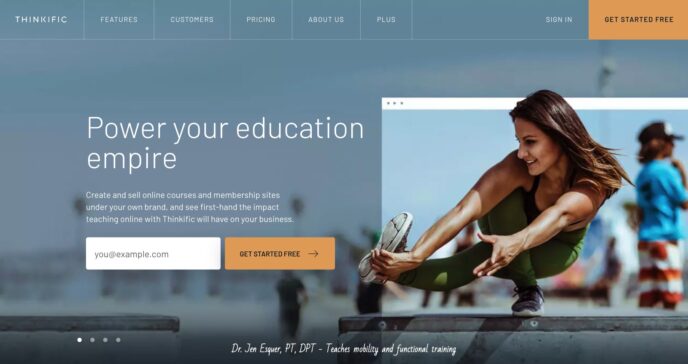 All-in-one platform where you can build your online course and also set up a website to sell the course.
There's a free plan for creators; paid plans start from $39 a month.
You can create courses of any type.
Thinkific is an online course platform that's similar to Podia — as in, it gives you a place where you can build your online course from scratch and then sell access to it.
What makes Thinkific stand out compared with the other solutions on the market is you can not only test the platform for free but even launch your online course to the public and let people enroll.
Feature-wise, Thinkific has everything you may need to build a functional course, and you don't have to settle for any specific limitations.
How Creating a Course on Thinkific Works
Thinkific lets you build courses of all shapes and types. For example, you can make your course text-based, add multimedia content and video, and also use elements such as quizzes, surveys, and more.
Then, you can set your courses to be available in full from day one, drip-deliver them, set them as private or hidden based on the user's access rights, set up prerequisite lessons, and more.
Basically, Thinkific gives you the whole package of basic as well as advanced features and lets you decide which of them you want to use and to what extent.
You can also set up a website that will house your course and serve as the main e-learning platform for your users.
Pricing and earning potential with Thinkific
As we discussed above, Thinkific comes with a free plan that's actually usable, which is a nice refreshment. You can set up a couple of courses in that plan, sell access to them, use Thinkific's drag-and-drop course builder, upsell other offers, enable discussion forums, and more.
Then, if you want unlimited courses and more features, such as coupon codes, drip content for courses, and the possibility of emailing your students, you can get that starting from $29 a month. Most importantly, it's you who gets to decide on the price tag you want to sell your courses for.
Just like Podia, Thinkific is a great solution for people who already have a pre-existing audience to sell the course to and don't need to rely as much on the online course platform's built-in audience.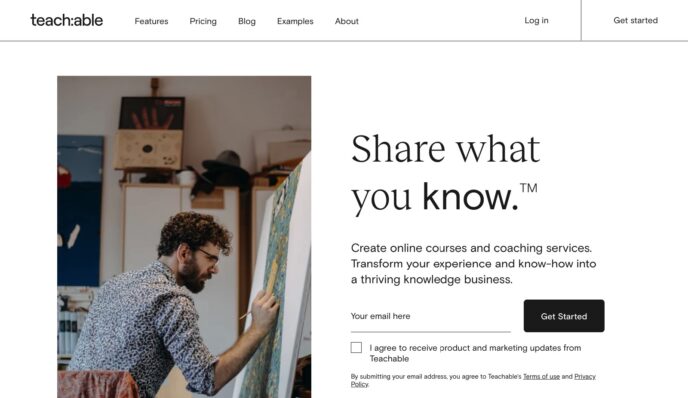 All-in-one platform where you can build your online course.
The cost for creators is from $29 a month. At that price, you can set up unlimited courses and enroll unlimited students.
You can create courses of any type.
The next platform on this list is another all-in-one solution for people who want to create an online course and then be able to enroll people in it all in one place.
Teachable is a well-known player among the best online course platforms; it's been around since 2013 and has welcomed more than 100,000 instructors into its community.
It gives you the tools to build your online course from scratch, without requiring any coding or design skills.
How Creating a Course on Teachable Works
The interface of Teachable resembles the likes of Podia and Thinkific. As in, the interfaces are all easy to use and present the key features in a clear and understandable way.
Teachable is also fairly optimized to showcase courses that are text-based, as well as those utilizing video content or other lesson elements (such as quizzes and surveys). Overall, you're not strong-armed into building a video course if you're not quite comfortable with it or don't have the equipment.
You can also benefit from Teachable's catalog of sales page templates and other site elements that will help you to present and market your course better.
Pricing and Earning Potential with Teachable
The pricing for creators starts at $29 a month. The only important limitation to keep in mind is that Teachable will also take a 5% cut from your course's price tag. If you'd like those fees to be 0%, you'll have to upgrade to the $99-a-month plan.
On the plus side, Teachable lets you launch unlimited courses and enroll unlimited students (on all plans). In addition, there's integrated payment processing, course design templates, integrated email marketing, and more.
There's also a members-only community and course creator training available to make getting started easier for you.
Just like Podia and Thinkific, pick this one if you don't need to rely on the platform itself for finding students for your course.
👉 Further reading: Teachable vs LearnDash — What Is the Best Learning Management System?
What's Next?
This about sums up my list of the best online course platforms on the market.
As you've seen, there are two main camps here:
Online course marketplaces: These come with their existing audiences, and you can rely on getting some students enrolling in your course purely because you're on the marketplace. The trade-off is you'll generally make less money from every course sale.
All-in-one tools: These will let you build a course, and then offer it to people online. After that, though, it's entirely on you to market your course and find students. One advantage is you'll earn more for each course sale.
What do you think? Have you found your ideal online course platform on this list?
All comments are held for moderation. We'll only publish comments that are on topic and adhere to our Commenting Policy.