Liquid Web WooCommerce Hosting Entry Plan Review – The Best WooCommerce Hosting on the Market?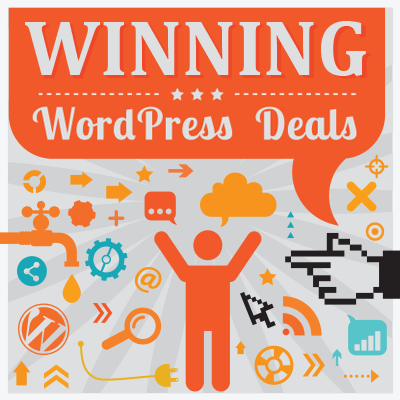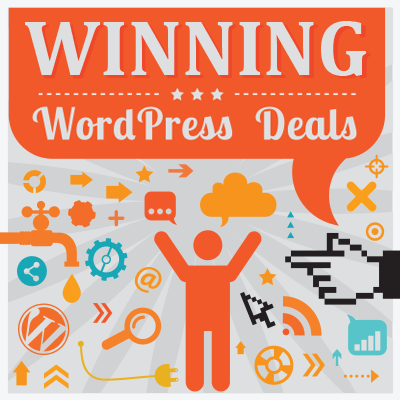 As a relative newcomer, Liquid Web are a company you may not be too familiar with if you don't pay much attention to the WordPress hosting market. But, although they're pretty new, they still have some really interesting hosting offers — one of which we'll be looking into today.
Read on for an in-depth look at what Liquid Web's Managed WooCommerce Hosting has to offer, how it compares with the competition, how easy to use it is, how much it costs and if it's all worth it.
Table of contents:
🐣 Liquid Web background | 💰 Price | 🧰 Features | 👐 Ease of use | 📈 Performance | 🤼‍♂️ Versus the competition | 🏁 Conclusion
🐣 The History of Liquid Web WooCommerce Hosting
Liquid Web introduced their WooCommerce hosting plans in early 2018. That initial package offered a handful of unexpected features, some great optimizations under the hood, and an overall thought-through approach towards the modern WooCommerce store and its needs.
It had one flaw, though.
It was $249 a month at entry level. 😈
Jeeeez! 😱
Most people weren't impressed, to say the least.
But Liquid Web have listened to the community's input, and have now come up with a more affordable plan that makes much more sense for a beginner. Or does it?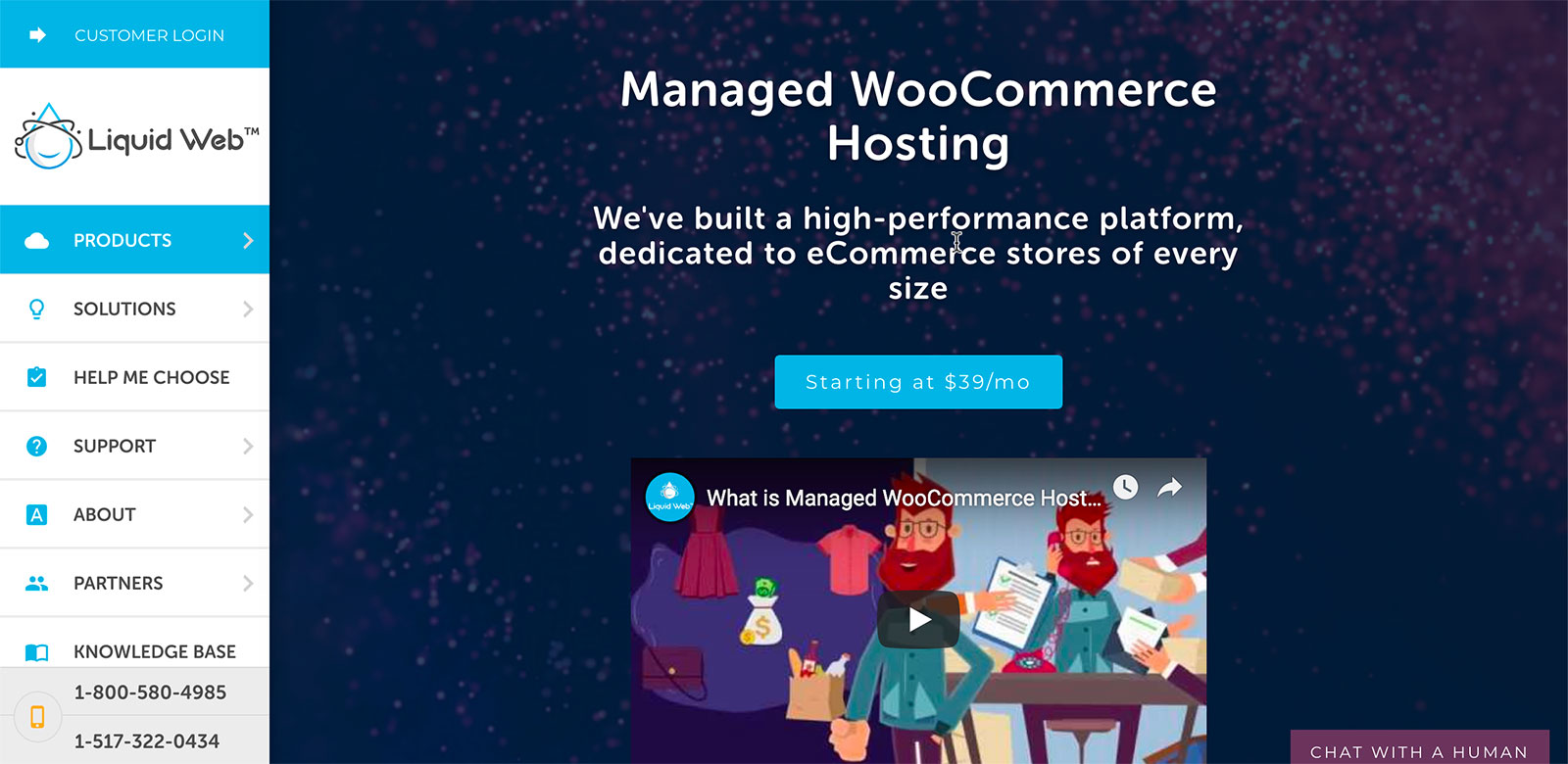 The following is a review of that Beginner plan of Liquid Web's WooCommerce hosting lineup.
💰 Price
Let's take the elephant out of the room first. 🐘
Liquid Web WooCommerce hosting is still not five-dollar cheap or even twenty-dollar cheap.
The Beginner plan is $39 (update: now $19) a month.
So, the question is: Why would you spend $39 (update: now $19) a month on WooCommerce hosting with Liquid Web when you could get a good-enough setup from SiteGround for $11.95?
And it gets worse. On that entry-level plan, Liquid Web only allow you to have 15 products*. What?! That's a whopping $2.60 per product, per month.
(* It's either 15 products and unlimited orders or 150 orders a month and unlimited products.)
Wait up, don't leave this review just yet! Hear me out! 📢
Liquid Web deliver a range of valuable features and bonuses that transform this offer into something you may actually want to consider.
🧰 The Features You Get with Liquid Web WooCommerce Hosting
First off, let's say this again since it's kind of key in this review:
As part of the Beginner plan, you must decide whether you want unlimited products or unlimited orders. You can't have both.
If you choose unlimited products, you'll only be able to handle 150 orders each month.
If you choose unlimited orders, you can only sell 15 products in total.
Now for some good news: Liquid Web deliver a lot of interesting features and optimizations that are meant to not only help you to run your store effectively, but also help you to find new sales opportunities.
Some key elements of that include:
unlimited staff accounts
reporting
live shipping rates
on-exit offers
PDF invoices
packing slips
product bundles
Beaver Builder Standard included ($99 value)
upsells and cross-sells
wishlist
abandoned cart handling (via Jilt — $29 value)
free SSL
iThemes Security Pro built in ($80 value)
Astra Pro theme included ($59 value)
All IconicWP plugins bundled in ($56 value).
As you can see, those inclusions would add up to some serious price tags if you were to get them separately. Astra Pro, IconicWP plugins, Jilt and Beaver Builder amount to $323 in total. This is great news, no doubt, and it makes the $39 (update: now $19) price tag of the hosting itself easier to swallow. That is, of course, if you were actually planning to buy all of those additional tools.
Okay, so what isn't there?
Let's not forget that this is still WooCommerce we're talking about, meaning you may need an additional payment gateway or two. They're usually $79 a pop.
Also, Liquid Web don't take care of your email as part of this plan. That has a separate price tag — $11 a month for one mailbox.
What about the server itself? This isn't a piece of info you can find on the Liquid Web website easily, but the support team tells me you get a machine that has two CPUs, 2GB of RAM, 40GB of SSD disk space, and 5TB of monthly bandwidth.
Under the hood, this Beginner plan isn't any different from Liquid Web's ten-times-more-expensive plans — it's the same environment and same hardware. It's no toned-down shared setup. Overall, this is a really thought-through package that includes a lot of great tools. Feature-wise, Liquid Web really do deliver! 👊
It's pretty much like buying an already set up blank WooCommerce store that includes all of the additional important elements right from the get-go. Kinda…
👐 Ease of Use
Since I'm serious about this Liquid Web WooCommerce hosting review, I've purchased the Beginner plan to see how easy to use it is in practice. Here's my experience:
Right after you finalize your purchase, you'll see a confirmation screen instructing you to wait for a phone call from your personal sales engineer, who will help you out and handle the initial setup.
The call never comes.
Even more interestingly, there's no email communication either (at least not right away). So, if you've just made a purchase and are wondering what's going on, Liquid Web don't do enough to inform you or even acknowledge that they've received your order.
It takes around an hour for the first emails from Liquid Web to start coming in. In them, they inform you that your site has been, in fact, fully set up — you have WordPress and WooCommerce already running!
So, just to reiterate: There's no need to install either WordPress or WooCommerce on your own. Liquid Web do that for you — and more.
You also get emails from third-party service providers that are made part of Liquid Web's offering.

Unfortunately, those emails don't help out a lot in terms of making your store setup easier. The classic welcome email from Liquid Web tells you how to log in to your account and where to find everything, but it doesn't tell you what to do next. Remember, I'm a beginner and I've bought a 'Beginner' plan.
The only place Liquid Web point you to is their knowledge base where you can allegedly find all of the info you need. However, they don't direct you straight to any sort of 'read this first' resource. Instead, they send you over to this generic search-results page.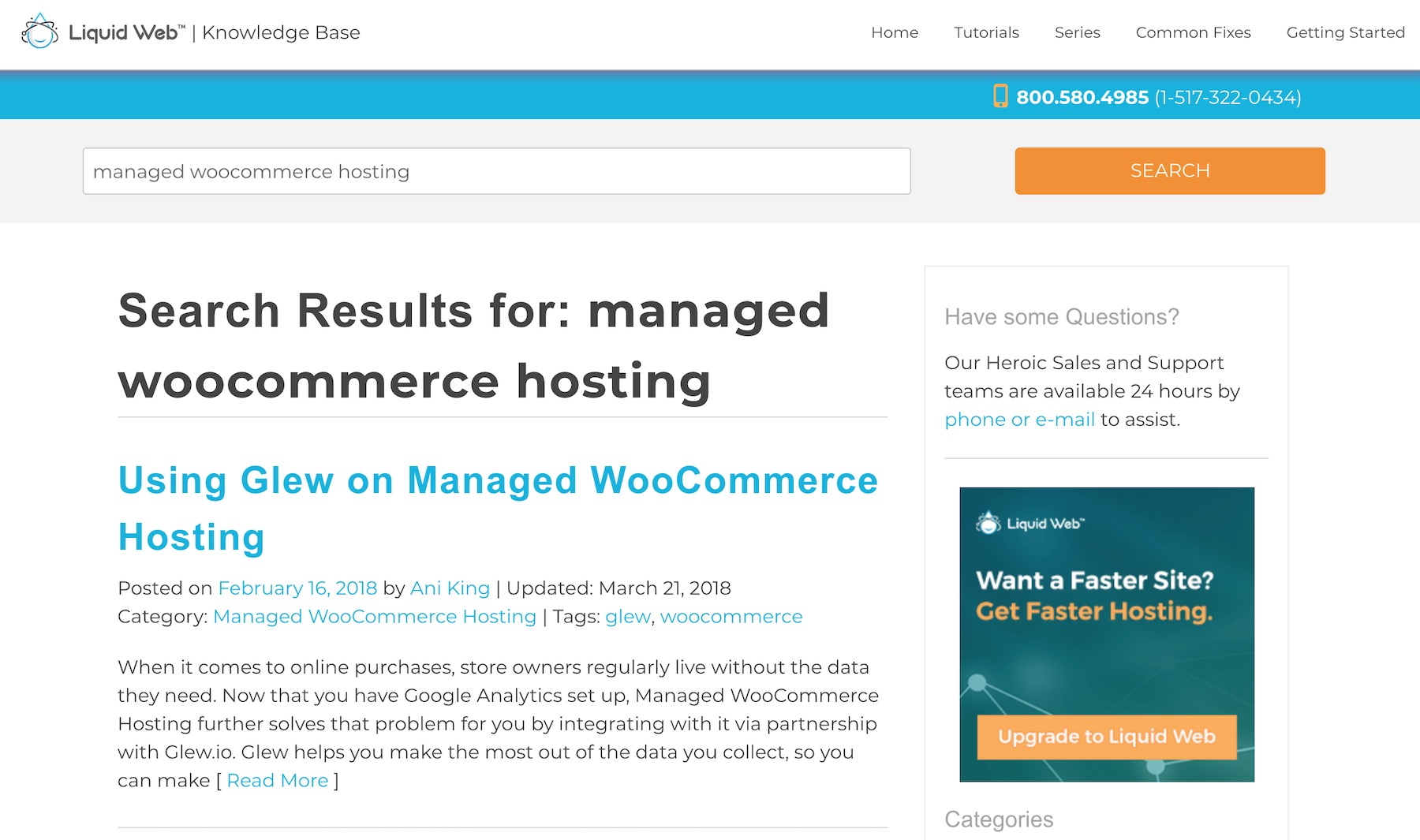 Not optimal.
Figuring out what to do is mainly on you. In one of the emails, Liquid Web also send you the login details for your wp-admin.
All fine, but because of all the plugins that come pre-installed, the actual first-login experience isn't very friendly. Instead of seeing some general welcome message, the user goes directly to the Convert Pro settings panel, as if creating some email optins is the most critical step of all.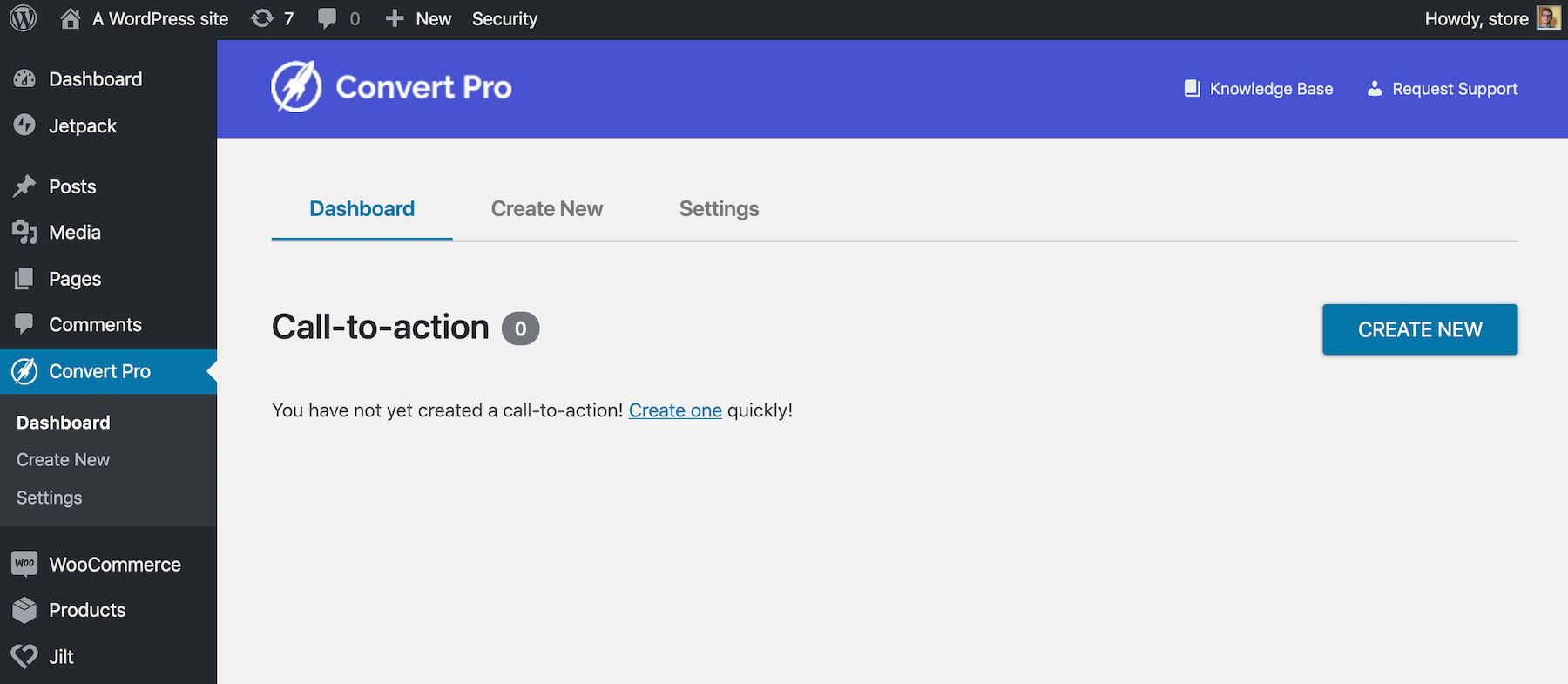 For some reason, you also find out that all of those preinstalled plugins and themes come outdated.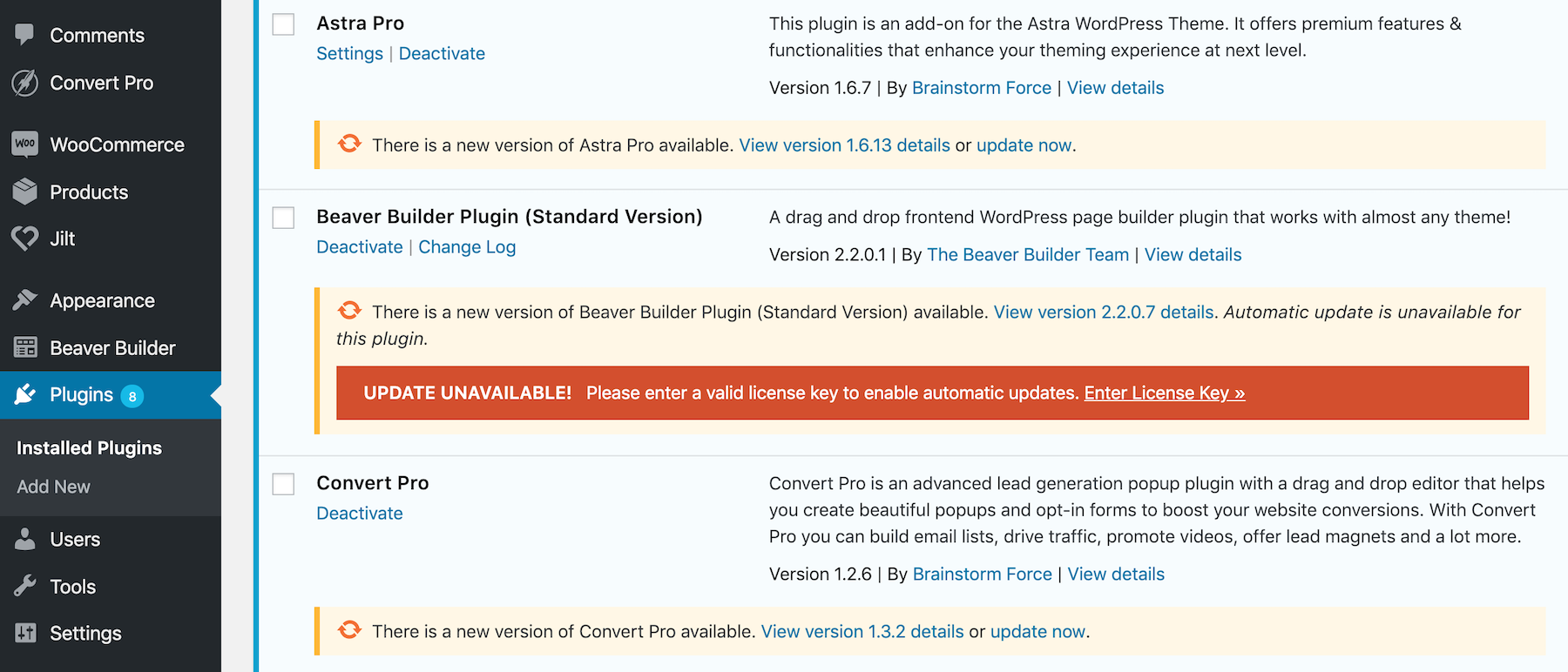 When you go over to the dashboard, you'll also find out that none of the plugins/services have been activated — Jetpack, Astra Pro, Beaver Builder, etc — so you need to do that by hand.
If you follow the third-party emails you got alongside Liquid Web's, you'll eventually integrate your site with most of those. I'm saying 'most' because I still haven't gotten my details for any of the promised IconicWP plugins, so…
This may sound like no big deal to you if you're already familiar with WordPress and WooCommerce, but for a beginner this is really confusing. For instance, when you go to the dashboard of your newly set up site, you get two-to-three plugin activation prompts on the screen (one over the other), and you have no idea what you should deal with first. And please remember that I'm a beginner who's been lured in by the promise of a managed WooCommerce experience.
Plus, some of those activations don't even go that well. This is what I saw when trying to enable Astra: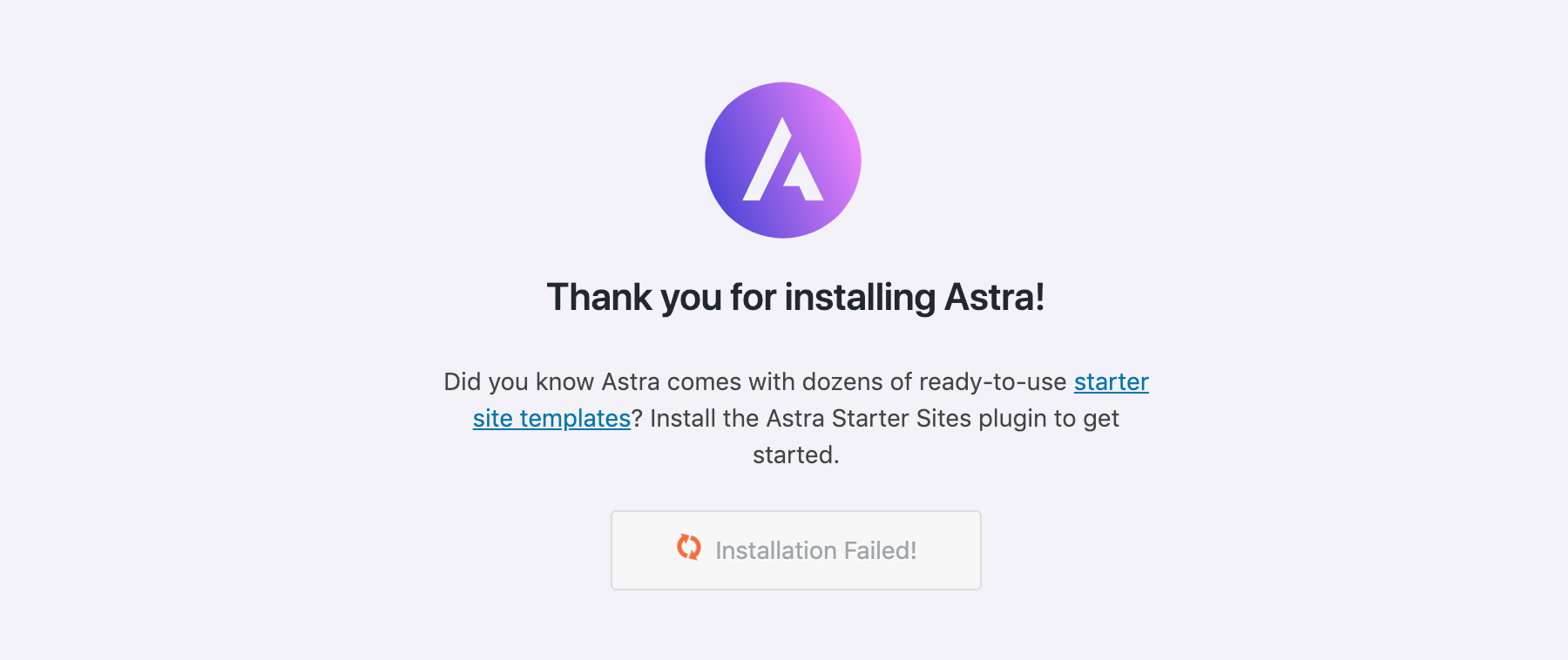 The dashboard is also where you can decide if you want to choose unlimited products or unlimited orders — the main limitation of the Beginner plan that we talked about earlier.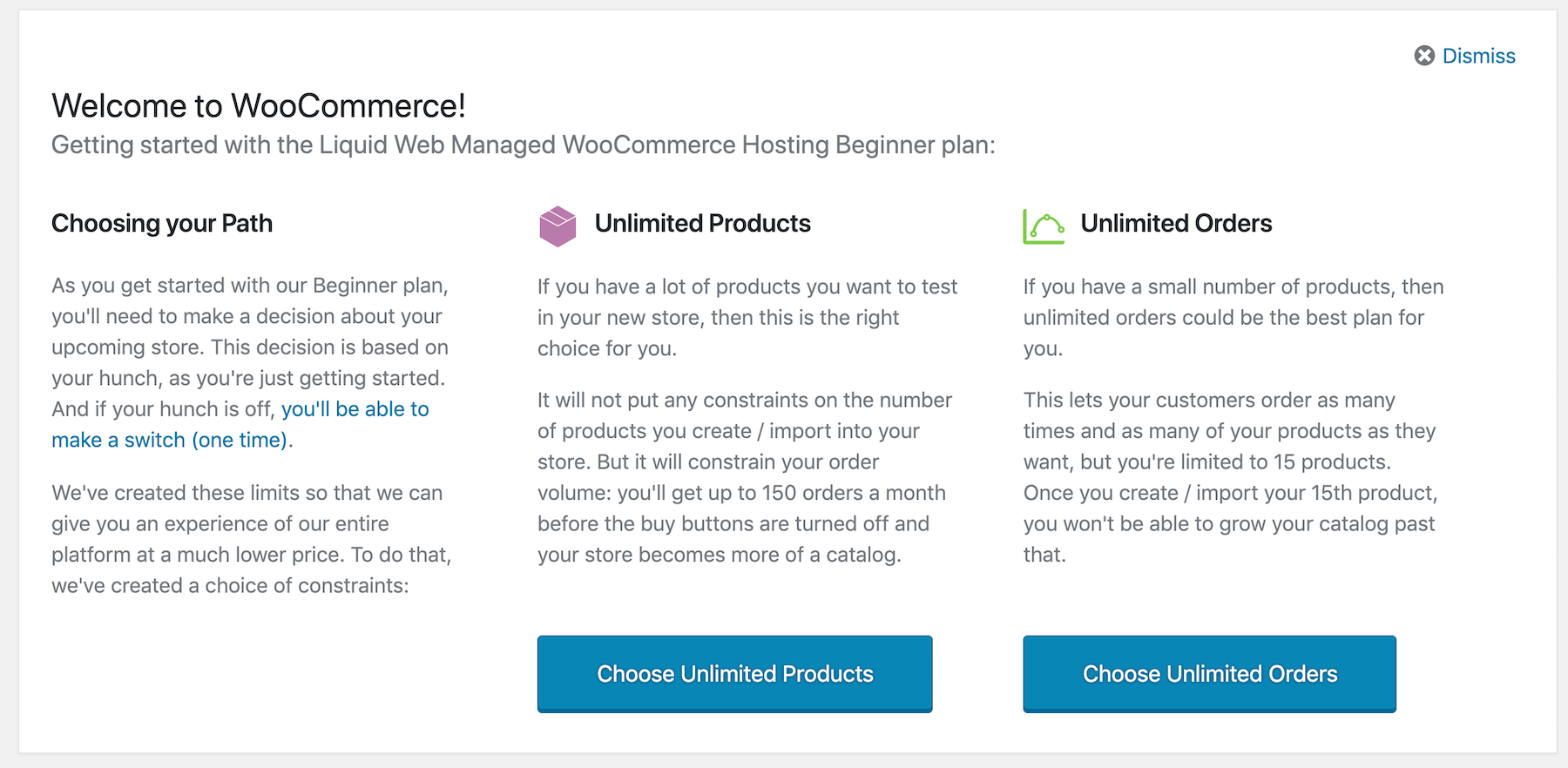 👉 A summary on the topic of ease of use:
Literally all that's done for you is getting a handful of additional plugins and services (free and paid) installed, but not configured. So it's still you who has to go through the motions and get all of this working.
The actual user panel at Liquid Web (not wp-admin) resembles WP Engine's to an extent, but with less visible options. It's surely far from what you get with Kinsta or Flywheel — the champs of beginner-friendly interfaces.
Liquid Web's panel: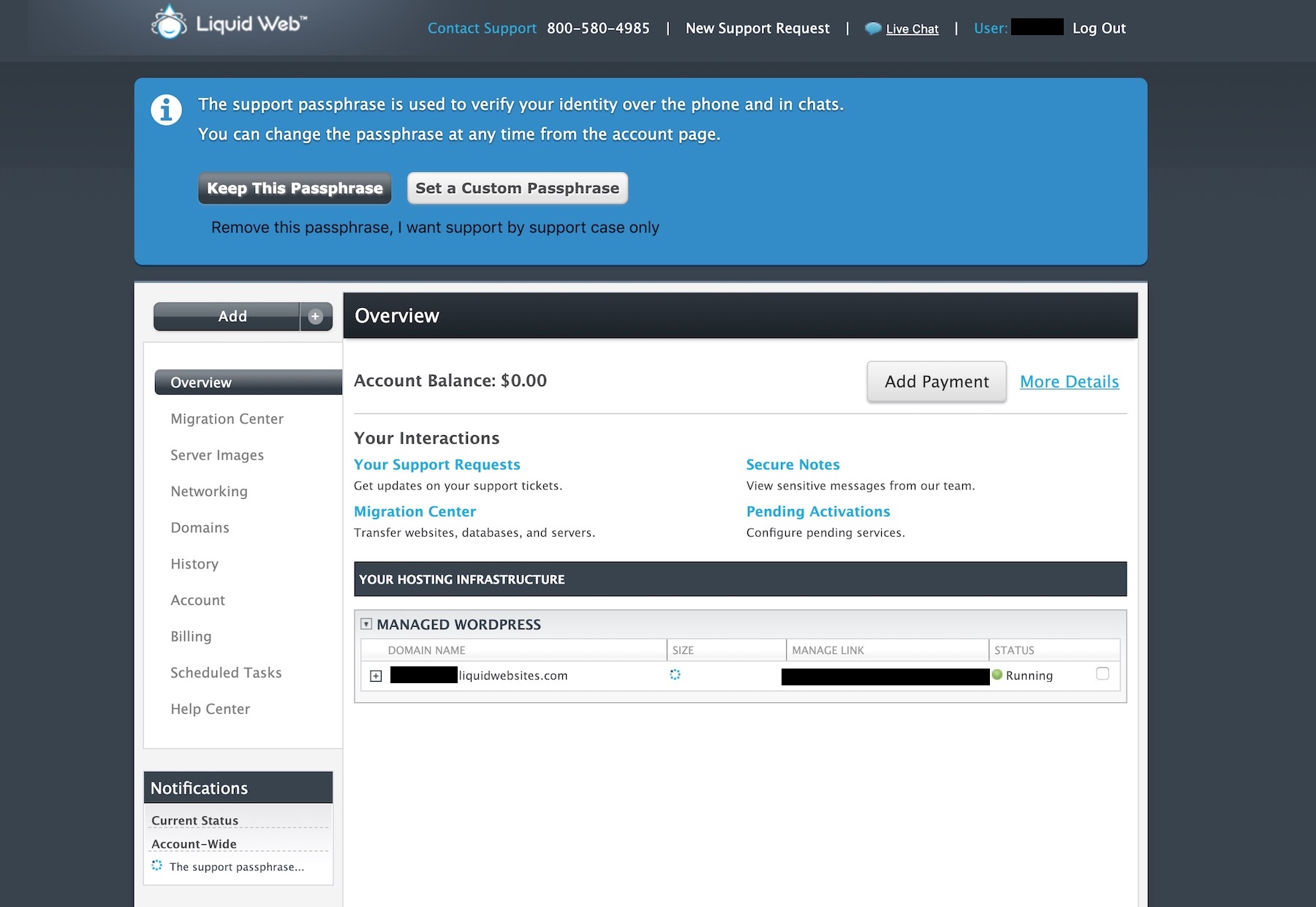 Overall, despite the name, this plan just isn't very beginner-friendly.
And before you get angry that I don't appreciate everything that Liquid Web is giving me, what's key here is that the plan is called 'Beginner'. And if you're a beginner, this just isn't a good experience. 🤕
To make it clear, all of the components included in the package will eventually work as they should. If you're not intimidated and you're okay setting them up all on your own, then you don't need to worry about the onboarding issues highlighted here.
Update. After a while, you do eventually get an email from a Partner Manager, asking if you want to get in touch and discuss your setup.
📈 Performance
I maxed out my store by adding 15 products (ha!), added a design on Astra and Beaver Builder (since Liquid Web encourages me to do so), and put the site through some Pingdom tests. Here are the results (I did three tests from each location).
Server location: Michigan, US
Washington, D.C: 1.03s, 0.93s, 0.98s; average 0.98s
San Francisco: 0.96s, 0.95s, 0.97s; average 0.96s
Frankfurt: 2.41s, 2.45s, 2.39s; average 2.42s
Sydney: 3.51s, 3.77s, 4.04s; average 3.77s
Those results are okay if you're in the US. I don't remember if Liquid Web asked me about my preferred server location, so I don't know if there's an option to have your server in Europe if that's your target market.
🤼‍♂️ Liquid Web WooCommerce Hosting Versus the Competition
This WooCommerce Beginner plan of Liquid Web's basically has two main competitors:
hosted e-commerce platforms, represented here by Shopify
cheaper WooCommerce hosts, represented by SiteGround.
Okay, hear me out. If you know anything about hosting, you probably know those aren't Liquid Web's actual competitors feature-wise.
However, I'd argue that since the plan is called 'Beginner' and it's meant to help people get their start into the world of e-commerce, then those people will indeed look into Shopify, BigCommerce, SiteGround, and even the cheap hosting options of GoDaddy… Why wouldn't they?
Therefore, is Liquid Web better than SiteGround or Shopify for someone who's walking in with just an idea for an online store and no actual work done apart from that?
This one is tough. Let's start with some raw info:
| | Liquid Web WooCommerce Beginner | SiteGround GoGeek | Shopify Basic |
| --- | --- | --- | --- |
| Websites | 1 | Unlimited | 1 |
| Bandwidth | 5TB | ~100,000 visits monthly | Unlimited * |
| Disk | 40GB SSD | 30GB SSD | Unlimited * |
| Limitations | 15 total products or 150 orders a month | None | 2 staff accounts |
| Email accounts | No | Yes | No |
| Price a month | $39 (update: now $19) | $11.95 new/$34.95 renewal | $29 |
* We all know it's only unlimited until it isn't.
Power-wise, Liquid Web's setup is surely impressive. However, it's tough to tell what's sitting under the hood at Shopify. Either way, Liquid Web are probably going to be able to handle whatever you throw at them, especially since you're only allowed to have 15 products or 150 orders…
Plus, let's not forget that you do receive a lot of extras: Astra Pro, Beaver Builder, Convert Pro, iThemes Security Pro and Jilt.
The only hold up is the price. Shopify is $10 cheaper overall. SiteGround gives you two price points — $11.95 on your first invoice and then $34.95 after that. If you're confident and want to minimize these costs, the maximum initial registration period is three years, making it $27.05 cheaper than Liquid Web.
For me, Liquid Web aren't clear winners in this lineup. Sure, they do offer a lot of power, but we simply can't ignore the price. Also, it's still beginners that we're talking about here. In short, if you're limited to 150 orders a month anyway, do you really need all that power?
🏁 Conclusion
Putting a final grade on this review is tough for me.
If I were to split it into a couple of categories, it would have to be:
Power: ⭐⭐⭐⭐⭐
Features: ⭐⭐⭐⭐⭐
Price: ⭐⭐
Suitability for beginners: ⭐
As I think on it, the kind of user who can really benefit from this offering is someone with an existing small store who's fed up with their current host and just wants to get a setup that simply works. 👈
However, apart from that, I find it hard to see the value of all those bells and whistles for a beginner.
The sole prospect of launching an online store is intimidating enough if it's your first time around the block. I just don't imagine beginners jumping straight into things like abandoned cart configuration, creating multiple optin forms, and so on as they're getting started. Adding products, designing the site, making sure it works — that's enough of a headache if you're building your very first e-commerce store.
Plus, getting started with the Liquid Web platform isn't that beginner-friendly in the first place. They kind of throw you right into the middle of a blank WooCommerce setup with a ton of pre-installed plugins that you need to figure out how to tame on your own.
Overall, Liquid Web look like they have a great platform for existing stores, bigger ones with loads of orders, those having performance problems with their current host and stores that are already married to WooCommerce, but it's hard to call those users beginners.
If I'm getting sub-150 orders a month or have less than 15 products in my catalog, I probably don't need Liquid Web.
So, should you sign up to Liquid Web WooCommerce hosting based on this review?
🏬 Established WooCommerce setups that need more juice? Yes! But those users won't go with the Beginner plan.
👫 Beginners to e-commerce with just an idea for a store? No.
Am I wrong. What do you think? Tell me why Liquid Web rocks.
All comments are held for moderation. We'll only publish comments that are on topic and adhere to our Commenting Policy.