WinningWP content is free to all. If you make a purchase through referral links on our site, we earn a commission (
learn more
).
Top 4 Best WordPress Hosting Services for Designers and Agencies (Providing Hosting for Client Websites) – Compared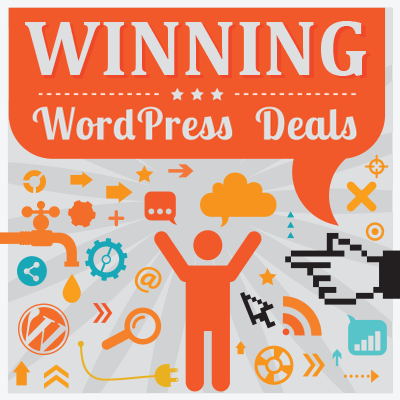 Searching for the best WordPress hosting for your clients' websites?
If you run a web design agency and want to build recurring revenue, it's a great idea to set up ongoing agreements to host your clients' sites, rather than just turning completed sites over to them and ending the relationships right there.
But that adds another important decision to your plate — how do you find the right hosting solution for your client websites?
There are some important hosting features that apply to both individuals and agencies. No matter if you're hosting your own websites or your clients' sites, you want a host that offers fast performance, reliable uptime, quality support and so on. Those are no-brainers in any hosting comparison.
But, if you're an agency, you'll also be looking for other features to make your life easier — and maybe even earn some extra money. For example, you may want easy billing transfer/management, granular site access controls to only give clients access to their own sites, a friendly billing structure for hosting lots of websites, special agency commissions, and more.
In this post, I've collected the best WordPress hosts targeted towards those needs. That is, these hosts don't just offer quality hosting products — they also offer features and options well-suited to WordPress agencies or freelancers building client sites.
For each host, I'll try to highlight what makes them uniquely well-suited to agencies who are hosting client websites.
Let's dig in…
1. Flywheel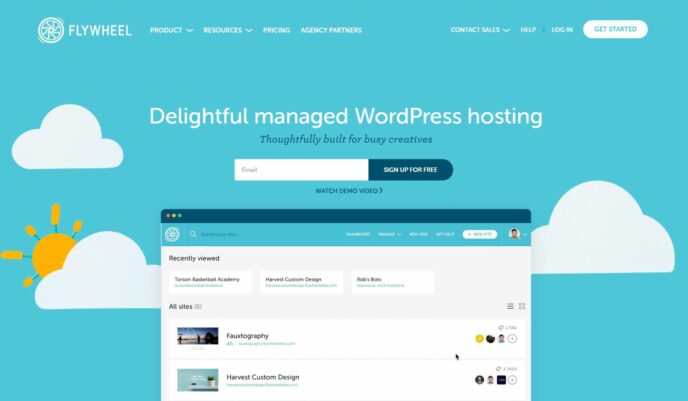 Flywheel are a popular managed WordPress host that made their name as a WordPress hosting solution for agencies and creative freelancers.
Since their launch, they've marketed themselves more towards freelancers and agencies than individual WordPress users. More important than the marketing copy, they've also built a bunch of unique features designed to make agencies' lives easier, which I'll cover below.
In a nutshell, I don't think you'll find any other managed WordPress host that offers as many agency-specific features as Flywheel, which is why they're taking the first spot on this list.
But, before I get to the features, I want to share a quick note:
Flywheel were acquired by WP Engine in 2019. Since that acquisition, their prices have become almost identical. However, Flywheel still have way more agency-focused features, which is why I'm including Flywheel on this list and skipping WP Engine.
WP Engine are still a solid option for WordPress agency hosting in their own right. I just think that, if you're looking at two companies both with identical pricing and both under the same umbrella, you may as well focus your search on the one that has a more agency-focused offering. If not for this fact, WP Engine would probably get their own spot on this list.
General Hosting Features
As a managed WordPress host, Flywheel offer all of the basic managed WordPress features you'd expect, including the following:
Agency-Specific Features
Flywheel's most unique agency feature is their Growth Suite tool, which has replaced their older white-label option.
Growth Suite is one unified interface where you can manage your client's hosting, subscription billing and client details. You can also set up other services beyond hosting and bill clients through the Stripe integration.
Clients can also register through your portal to pay bills and view their billing history. And, beyond that, you can send automated reports to clients, such as a run-down of their site's performance.
In addition to Growth Suite, Flywheel also have an Agency Partners program that offers the following perks:
Commissions on the hosting you sell to clients (3X the first month's payment).
Free hosting for your agency website.
Priority chat and ticket support.
Direct access to the account manager.
Your own listing in the Flywheel Agency Partners Directory.
Having access to both the partners program and Growth Suite gives you two ways to monetize your client hosting:
You can use Growth Suite in a more 'hosting reseller' way, where you handle billing via Growth Suite and set your own prices.
You can use the Agency Partners program in a more 'affiliate marketing' way, where you earn a commission for handing off clients to Flywheel.
Finally, Flywheel also offer their own local development tool called Local, which allows for easy deployments directly to Flywheel hosting. You can develop client sites locally using Local, and then push them live when they're ready to go.
Pricing
Flywheel offer two pre-made Growth Suite plans for agencies, as well as an option to make a custom plan by talking to sales.
The two pre-set plans are:
Freelance — $135 a month for up to ten sites.
Agency — $330 a month for up to 30 sites.
You can view the full limits for each plan below: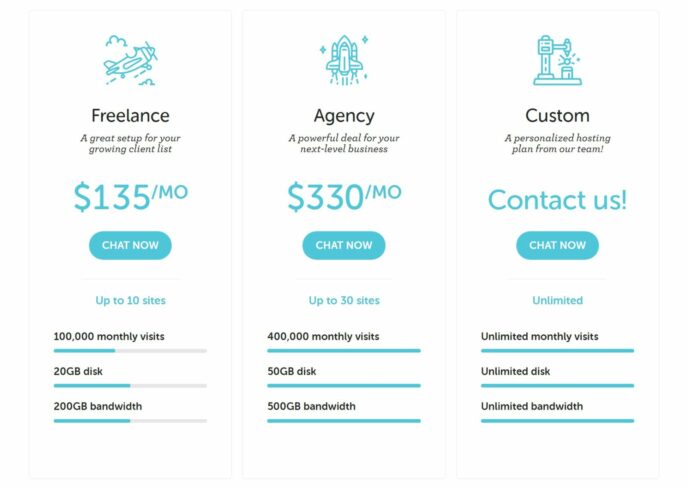 You can learn more in our full Flywheel review.
2. GridPane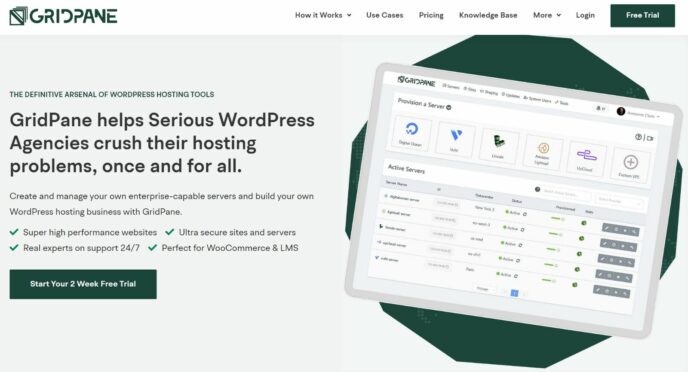 GridPane isn't WordPress hosting, per se. Instead, it's a WordPress-specific control panel designed to pair with cloud hosting from providers such as DigitalOcean, Vultr, Linode, AWS, Google Cloud, and so on.
Essentially, you start with an unmanaged VPS from your preferred cloud hosting provider, let GridPane do its thing, and then you have a performance-optimized, secure server that you can manage from a user-friendly dashboard.
It's basically taking the 'sysadmin' part out of provisioning and maintaining a cloud VPS. For example, I'm by no means a developer, but I'm still able to use a similar tool to host my own WordPress websites on cloud hosting from Vultr.
While there are other tools in this space, such as RunCloud and SpinupWP, the unique thing about GridPane is it's specifically designed to help WordPress agencies harness the power of cloud hosting for their client sites. I'll talk about some of those unique features in the next section.
Additionally, even though GridPane is a server control panel and not a host, you still get 24/7 live support.
Agency-Specific Features
One of the most unique things about GridPane is it gives you an economy of scale when it comes to your clients' hosting. With managed WordPress hosting, your cost per client is pretty much always the same. Sure, you can negotiate a better deal, but you're always going to pay roughly the same price per site. And if a site's traffic goes up, you're going to pay a lot more for that site because of visitor limits.
However, with GridPane your costs won't just start at a lower point — they'll also go down as you get more clients, which is a really attractive thing for your bottom line because it lets you build strong recurring revenue. You also don't have to deal with any arbitrary visitor limits.
Beyond that, you get some really useful tools to manage your clients' sites:
Integration with DNS Made Easy to manage DNS details for client sites.
UpdateSafely™ system to automatically apply WordPress updates in a safe manner. It automatically clones a site to staging, applies all of the updates, and then runs a visual comparison of staging vs live to catch issues. If there are no issues, it can then automatically apply the updates on the live server or wait for manual confirmation from you.
7G & ModSec 3+ WAF and malware scanning to keep your clients' sites secure.
Snapshot Failover hosting for high-availability. If your primary server goes down, GridPane can automatically send traffic to a cloned version of your site on a different server. Great for mission-critical client sites where having downtime isn't an option.
Automatic local backups. GridPane used to also offer a remote backup tool, but it's disabled it because of issues. It may come back in the future, though.
Pricing
GridPane itself has three pricing plans, starting at $50 a month: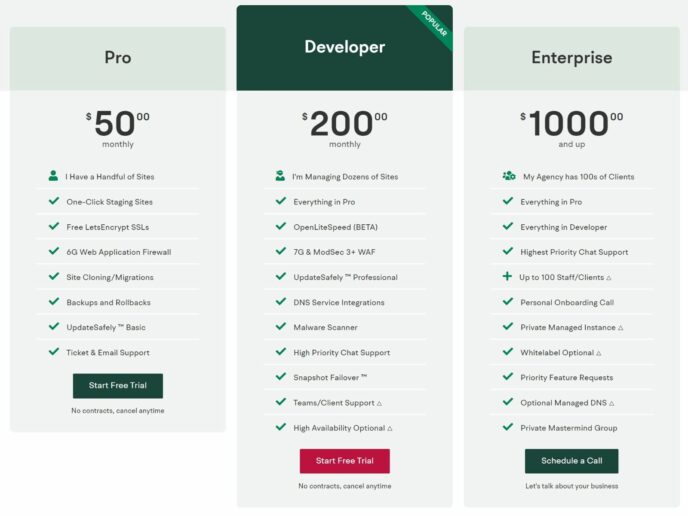 These are flat prices. There are no 'per site' fees where you need to pay more to GridPane as your client list grows. Nor do you need to pay GridPane more based on your site's monthly visit numbers, as most managed WordPress hosts charge (a billing metric that, while simple, doesn't really make sense).
However, remember you'll also need to budget for the cloud hosting itself. This will depend entirely on how many servers you need and how many resources you need for each server, which does mean your costs will slightly grow as you increase clients. However, the cost of GridPane itself never increases, so your cost per site is always going down.
If you want to get an idea of what server(s) you'd need for your current situation, I recommend reaching out to GridPane's support, as they'd be happy to recommend a setup and give you a rough budget for what you should expect to pay.
Personally, I recommend using the Vultr High Frequency Compute servers as your cloud hosting, which is what I've been using for my own sites.
You can also test it out with a two-week free trial. Most cloud hosting providers also offer free credits for your first month (including DigitalOcean and Vultr), so you can experiment with this setup for a couple of weeks to see how it works for you.
3. Kinsta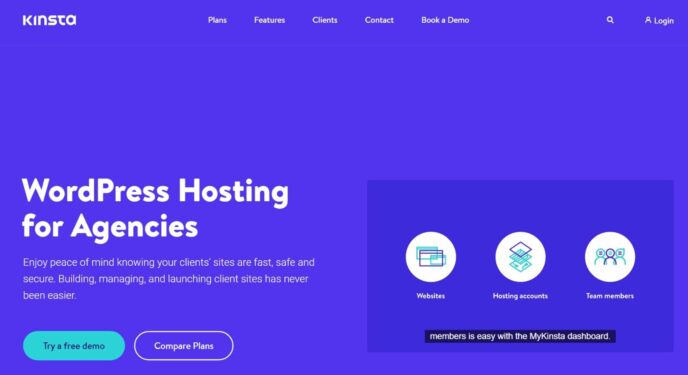 Kinsta are another popular managed WordPress host that make a great option for WordPress agencies. They offer an excellent WordPress hosting product in general and they also offer their own Agency Partner Program that builds in a lot of cool new features for agencies.
All in all, Kinsta are a solid option if you like managed WordPress hosting and you don't need the above-and-beyond agency features Flywheel offer, such as Growth Suite.
General WordPress Hosting Features
In terms of the hosting itself, you'll get a stellar list of managed WordPress features:
Automatic updates.
Automatic backups.
Google Cloud infrastructure and 24 global server locations. You can choose a different server location on a per-site basis, which is useful for agencies with clients in different locations.
Firewalls and security scans.
Server-level caching via Nginx.
Built-in content delivery network (CDN) from KeyCDN.
Staging sites.
24/7 expert WordPress support.
Agency-Specific Features
In April 2021, Kinsta launched their own Agency Partner Program that comes with a few perks for agencies:
Free hosting for your agency site — you can get free hosting on Kinsta's Pro plan.
White-labeled caching — you can white-label the cache plugin that appears in your clients' WordPress dashboards. You can replace the text with your own company and also replace the Kinsta logo with your own.
Kinsta also offer solid user access control to their custom MyKinsta dashboard. You can give clients full access to just their own site(s) and you can also control the access of collaborators on your own team (e.g. developers who may only need access to certain sites).
Kinsta currently don't offer billing transfer, which is a negative. However, you can transfer sites to other Kinsta accounts, which would let you hand off a site to a client's personal account if needed. This would also let you use the Kinsta affiliate program to refer your clients to Kinsta, which offers ongoing recurring commissions.
Finally, Kinsta just recently launched their own WordPress local development tool called DevKinsta. Like Flywheel's Local tool, DevKinsta includes a special goodie for Kinsta users that lets you push a site from your local development environment to your hosted Kinsta staging site with just a few clicks.
This offers really smooth development workflows for creating client sites with Kinsta.
Pricing
As part of Kinsta's new Agency Partner Program, they also released three dedicated pricing plans for agencies.
Each plan has different limits when it comes to the number of sites, the monthly visits and the storage you have access to. There are no bandwidth limits in general, but there is a bandwidth limit for the bundled CDN if you want to use that.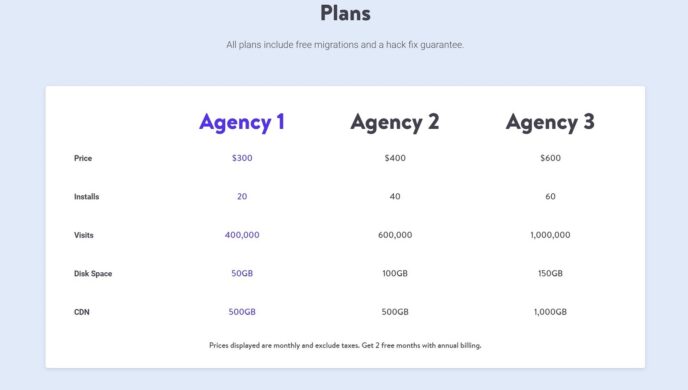 These plans are almost identical to Kinsta's existing Business 3, Business 4, and Enterprise 1 plans. However, one difference is that all of the agency plans include 30-day backup retention, whereas the consumer-focused plans only offer shorter 14 or 20-day retention. Other than that, though, the actual website and resource limits are pretty much identical.
You can learn more in our full Kinsta review.
4. SiteGround
SiteGround are a more budget-friendly WordPress host that have a much-improved agency offering thanks to their new custom Site Tools dashboard.
With the new Site Tools dashboard, you can white-label the hosting dashboard and give your clients access to individual sites. You can also add users as collaborators (e.g. a developer on your team) and choose which sites they have access to.
Overall, I wouldn't put SiteGround in the same tier as the other options on this list. However, if you have a small agency and/or you want to keep your costs down, SiteGround can be a solid option, especially if your clients' sites are mostly low-traffic.
General WordPress Hosting Features
All of SiteGround's agency-ready plans come with the following basic hosting features:
Automatic updates.
Automatic backups.
Firewalls and security scans.
Server-level caching.
Free SG Optimizer plugin to implement WordPress performance best practices.
Staging sites.
24/7 expert WordPress support.
Agency-Specific Features
As I mentioned in the intro, one of the best agency features is the ability to white-label the hosting dashboard. You can completely replace SiteGround's branding with your own to create your own custom dashboard experience for clients.
You'll also get features to add clients or collaborators and control which sites they have access to. There's even a dedicated client role. Or, with SiteGround's cloud hosting plans, you can create your own custom roles.
Or, instead of giving clients access to your own white-labeled hosting dashboard, you can also transfer sites directly to your client's own SiteGround account.
Pricing
To use all of SiteGround's agency-focused features, you'll need either the GoGeek plan or one of SiteGround's cloud hosting plans.
The GoGeek plan starts at $14.99 a month with promo pricing (your first billing cycle) and $39.99 a month after that. Make sure you factor in the full price renewal ($39.99) when making your decision.
While the GoGeek plan used to allow unlimited websites, SiteGround recently changed their pricing so that it now only supports up to five websites, along with an estimated 100,000 combined visits (this isn't a hard limit — just an estimated limit based on the plan's more technical resource limits).
If you want the option to host unlimited sites, SiteGround's cloud hosting plans start at $100 a month for:
4 CPU cores.
8 GB memory.
40 GB SSD storage.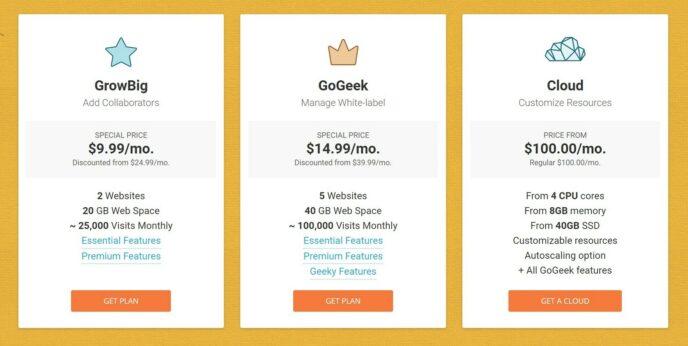 You can learn more in our full SiteGround review.
Which Is the Best WordPress Hosting for Agencies?
The best hosting for your WordPress agency depends on what you're looking for in a solution.
The main questions I see are these:
Are you looking for a client hosting solution that's 100% hands-off?
Are you looking to earn more money from your client hosting and/or get more control over the technical details?
Obviously, the ideal solution is both, and there's some overlap between the two. But the one you value most should affect your decision.
If you want to earn more money from your client hosting while also retaining control, the best option is GridPane. Simply put, you won't ever get the same economies of scale with a managed WordPress host that you can get with GridPane. GridPane will cost a lot less and still get you blazing-fast performance. Your costs will also go down the more client sites you host, which puts more money in your pocket.
What GridPane won't get you, though, is the completely hands-off nature of a managed WordPress host. While GridPane has been pretty rock-solid in my testing of it, you're still taking on more personal responsibility for your clients' sites than you would with a managed WordPress host.
With that being said, you do still get useful tools, such as that safe updates tool, high-availability options and more, so it's still a million times easier than trying to run your own stack on cloud hosting.
On the other hand, if you want a client hosting solution that's 100% hands-off, that means you probably want to go managed WordPress hosting. And, when it comes to managed WordPress hosting for agencies, Flywheel are probably your best option.
While most managed WordPress hosts cater to agencies in some respect, Flywheel built their business on this angle, which shows in their suite of agency-focused tools. It's hard to find any other host that can compete with Flywheel's Growth Suite for agencies.
Growth Suite makes it easy to handle all parts of your agency's hosting efforts. You'll get client management, easy billing, reports to see your recurring revenue, and more. Basically, it's top-notch if your goal is to simplify your hosting and create a great experience for your clients. Or, you can also just use the Agency Partner program and hand off clients to Flywheel's care, with the added bonus of a nice commission.
The other hosts all offer value as well. But, overall, I'd say:
GridPane if you want to get economies of scale and earn more money (and are willing to take on some extra responsibility).
Flywheel if you want something totally hands-off that will simplify your life enormously.
Used/using any of these hosting solutions as a WordPress agency? Thoughts?
All comments are held for moderation. We'll only publish comments that are on topic and adhere to our Commenting Policy.