WinningWP content is free to all. If you make a purchase through referral links on our site, we earn a commission (
learn more
).
Top 5 Best Cloudways Alternatives: For Cheaper/Simpler/Better WordPress Hosting
Searching for the best Cloudways alternative to host your WordPress site?
Cloudways have grown in popularity thanks to their unique cloud hosting approach. Unlike traditional WordPress hosting, Cloudways let you choose from five different cloud hosting providers for your hosting infrastructure — then they configure everything for you and let you manage your WordPress sites from a simple dashboard.
However, while there's a lot to like about this approach, Cloudways aren't for everyone. For some people, they can be too complex, while others may find them expensive for what they're offering.
In this post, I've collected five alternatives, each of which has an advantage over Cloudways in some way. However, these advantages are different — some are simpler, while others are a little bit more complex but cheaper and faster.
So, before I get to the alternatives, I want to talk about some of the disadvantages of Cloudways, as that discussion will let me redirect you to the best alternatives for your specific situation.
Why Look for an Alternative to Cloudways?
There are a few reasons why you may be searching for an alternative to Cloudways, and it's important to go over these reasons because the direction you choose will depend on the issue you're facing.
1. A Simpler Experience
One of the biggest problems with Cloudways for casual users is their comparative complexity vs 'traditional' WordPress hosts.
Because Cloudways really just offer a control panel to manage your own cloud hosting, they're definitely more complex than many other WordPress providers. Cloudways do a good job of trying to simplify cloud hosting. But, if you're a newbie, you may still feel overwhelmed by trying to configure everything.
If you do feel confused and overwhelmed by trying to figure out Cloudways, you can certainly find alternatives that make it much simpler to host a WordPress site.
If this is your issue, you'll want to go with the alternatives in the first section.
2. More Comprehensive Support
Tying with simplicity, another issue with Cloudways is support. It's not that Cloudways' support is bad per se, it's more that Cloudways support is inherently more limited than a traditional WordPress host.
By default, Cloudways' support scope is only for your hosting server itself — it does not include support for WordPress (though they do have a knowledge base with articles). If you do want support for WordPress, you'll need to upgrade to the Advanced SLA, which starts from $100 a month.
This is a big difference from a managed WordPress host, where the support staff are all WordPress experts who can step in and help you with WordPress issues.
If this is your issue, you'll also want to go with the alternatives in the first section.
3. Lower Prices
If you're using a single, low-resource server, Cloudways are actually very cheap. For example, if you're using the entry-level DigitalOcean plan, you probably won't find anything cheaper than Cloudways for the same resources. However, if you need to use multiple servers and/or high-resource servers, then Cloudways can actually be very expensive.
The reason for this is Cloudways charge basically double what the 'naked' VPS would cost if you bought it directly from the provider. For a low-resource server, this is super cheap. For that DigitalOcean box, you'd only be paying the equivalent of $5 for the Cloudways service (plus $5 to DigitalOcean — $10 total).
However, let's say you want the 8 GB DigitalOcean droplet, which costs $40 from DigitalOcean. At Cloudways, you'd pay $80 total, which means you're effectively paying $40 a month for the exact same Cloudways service you were paying $5 for before when using the cheapest DigitalOcean droplet.
This is my biggest issue with Cloudways — it just doesn't make sense to me to handle billing with this type of percentage formula. You can find much cheaper alternatives that charge a flat-rate no matter which server you're using. These flat-rate alternatives usually cost $10 to $30 a month no matter what/how many servers you have, which makes them a much cheaper option to manage multiple servers and/or high-resource servers.
If this is your issue, you'll want to go with the alternatives in the second section.
4. Better Technology Stack
Another common complaint you'll see with Cloudways from more advanced users is their tech stack isn't as fast as it could be. Don't get me wrong — Cloudways can definitely make your site load super fast — but they use a hybrid Apache/Nginx stack that some people don't like.
Some users would rather use a pure Nginx stack or have the option to use LiteSpeed server, as both are going to be a bit more performant than Cloudways' hybrid stack.
Again, if you're a casual user, this problem doesn't apply to you — but if you're a WordPress performance junkie, this is one of the most common criticisms I see.
If this is your issue, you'll also want to go with the alternatives in the second section, both of which let you use a pure Nginx stack.
Three Best Simpler Cloudways Alternatives
In this first section, I'll look at some alternatives that are a lot simpler than Cloudways. These alternatives do not use the same 'choose your cloud' approach. Instead, they're just high-quality 'traditional' WordPress hosts that offer excellent performance.
If you find Cloudways to be overly complicated, I'd definitely recommend sticking with one of these hosts. However, if you want to stick with the same cloud hosting approach Cloudways offer, you should jump to the second section.
SiteGround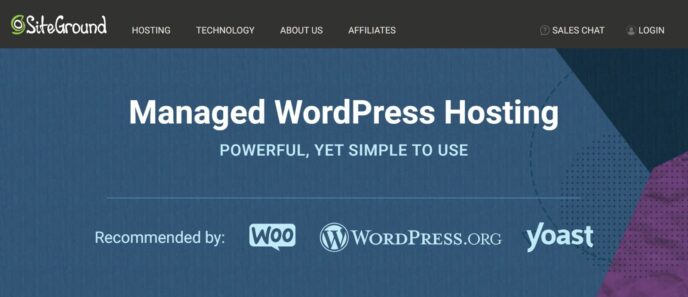 SiteGround are a popular shared WordPress host that offer excellent performance for a shared host. However, in exchange for that excellent performance, you'll pay a little bit more than you would for other popular shared WordPress hosts.
As of 2020, SiteGround use Google Cloud infrastructure for all of their plans and also offer their own custom Site Tools dashboard, which makes it easy to manage your site(s).
Overall, though, I'd say SiteGround don't perform quite as well as Cloudways. However, they will get you close to Cloudways' performance in a much simpler package. They also offer nice performance features, such as server-level caching and a companion SG Optimizer plugin that helps you to implement pretty much all WordPress performance best practices.
Other useful non-performance features include:
automatic daily backups
free one-click SSL certificates
free email hosting (which Cloudways don't offer).
SiteGround's cheapest StartUp plan begins at $6.99 a month with promo pricing. However, I'd recommend most people go with at least the $9.99-a-month (promo) GrowBig plan, because it gets you the following improvements:
Support for unlimited websites.
Server-level page caching.
Staging sites.
On-demand backups.
Note: Pay special attention to SiteGround's promo prices vs renewal prices. The cheap price you see only apply to your first year — after that, you'll need to pay a higher price (sometimes significantly higher, so make sure you factor this into your decision).
👉 Read our full SiteGround review to learn more
Kinsta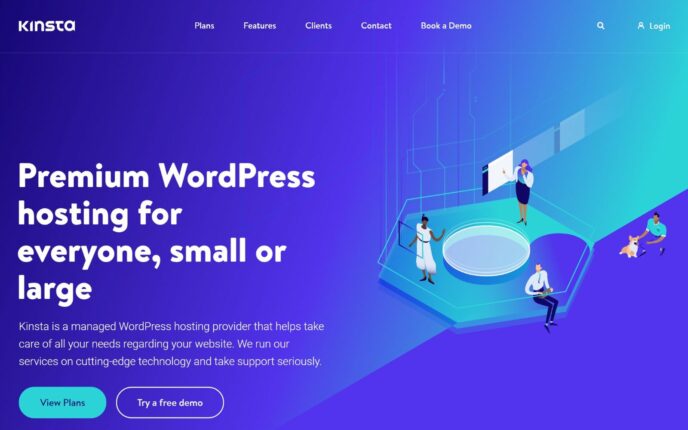 Kinsta are a performance-optimized managed WordPress host that use Google Cloud infrastructure for all of their hosting plans. Because they offer managed WordPress hosting, they're a lot simpler than Cloudways and have more comprehensive support.
You can 100% focus on growing your site instead of needing to worry about your hosting infrastructure. You'll also get access to 24/7 support whenever you need it. Beyond that, you get lots of useful features:
Automatic WordPress updates.
Automatic daily backups.
Staging sites.
Free one-click SSL certificates.
Proactive security rules, such as firewalls and malware scans. There's also a free hack fix guarantee if something happens to your site.
Uptime monitoring.
Kinsta also offer excellent performance that can certainly rival/exceed what you get from Cloudways. They use a pure Nginx stack with server-level caching, a built-in content delivery network (CDN) and other tweaks.
Kinsta's cheapest plan is $30 a month for the following resources:
One WordPress site.
25,000 monthly visits.
10 GB storage.
👉 Read our full Kinsta review to learn more
Flywheel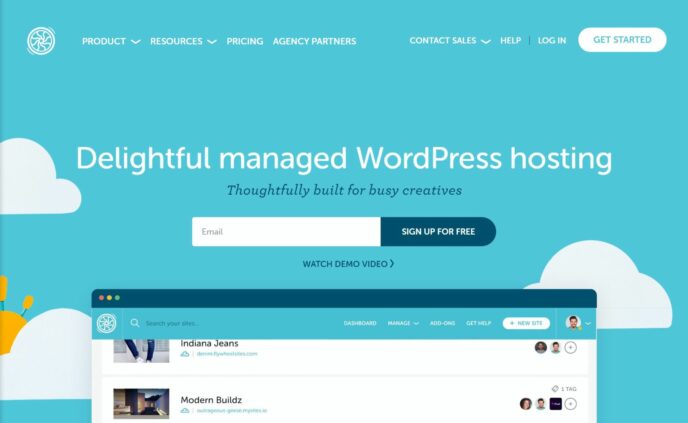 Flywheel are another popular managed WordPress host that share a lot of similarities with Kinsta in terms of their strong points.
Like Kinsta, they use Google Cloud infrastructure and offer excellent performance that can rival Cloudways thanks to server-level caching, a built-in CDN and other tweaks. You'll also get all the useful 'managed WordPress' features:
24/7 expert WordPress support.
Automatic updates.
Automatic daily backups.
Staging sites.
Proactive security rules, including firewalls, malware scans and free hacked site cleanup.
Free one-click SSL certificates.
If you have a very small site, Flywheel have a Tiny plan that supports one site with up to 5,000 visitors a month for just $15. After that, their plans start at $30 for the following resources:
1 WordPress site.
25,000 monthly visits.
10 GB storage.
👉 Read our full Flywheel review to learn more
Two Best Cloudways Alternatives That Use the Same Approach (Cheaper/Faster)
In this second section, I'm going to share two providers/tools that use the same basic approach as Cloudways, but do it with either a cheaper price and/or a faster tech stack.
That is, these tools still let you pick your own cloud hosting from providers, such as DigitalOcean, Vultr, Linode, AWS, Google Cloud, and so on. Then, they make it easy to install/manage WordPress sites.
However, both of these tools have three distinct advantages over Cloudways:
They can be a lot cheaper than Cloudways if you need multiple servers and/or high-resource servers. However, neither of them are cheaper than Cloudways for a single low-resource server.
They offer a pure Nginx stack, which will offer a bit better performance than Cloudways' Nginx/Apache hybrid.
You still get root access to your server, which advanced users will appreciate.
There's one key difference in approach between these tools and Cloudways. Cloudways 'bundle' everything together, so you just sign up and you never need to interact with the actual cloud infrastructure provider. These services don't bundle things. Instead, you'll have two accounts:
One account directly at the cloud hosting provider (e.g. DigitalOcean or Vultr). You'll pay the cloud hosting provider directly for the resources you want to use.
One account for the Cloudways alternative service — this is what lets you manage the server and your WordPress sites.
Other than that difference, these tools are virtually identical to Cloudways in approach. They're maybe a tiny bit more technical, but, overall, I'd say if you feel comfortable with Cloudways, you can probably handle these tools, too.
RunCloud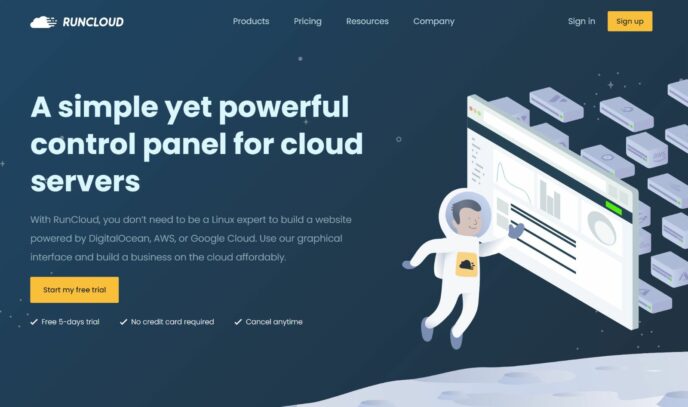 RunCloud is a popular server control panel that lets you run any PHP application on your choice of cloud hosting. However, it also has some special features for WordPress including the following:
One-click WordPress installer.
WordPress staging sites.
Server-level caching and companion WordPress plugin. You can choose between Nginx Fast_CGI caching or Redis caching.
Backups.
WordPress 6G/7G firewall or web application firewall with ModSecurity.
Free one-click SSL certificates and automatic renewals.
RunCloud will work with literally any Linux-based cloud VPS. However, it has dedicated API integrations with DigitalOcean, Vultr, Linode, UpCloud and Amazon Lightsail. These integrations make it super easy to spin up a new server for your WordPress sites.
When installing WordPress, you can also choose between using a pure Nginx stack or a hybrid Nginx/Apache stack such as what Cloudways offer. The development team is also working on offering LiteSpeed server as another option, which should be available soon.
After considering all of the Cloudways alternatives, RunCloud is the option I personally chose. As a non-developer, I find it to be just as simple as Cloudways, and it's a lot cheaper with a more optimized tech stack. I'm using RunCloud with the Vultr High-Frequency servers and have been quite happy.
RunCloud costs $8 a month for a single server (no matter the resources) or $15 a month for unlimited servers. Both plans allow unlimited WordPress sites. Keep in mind that, unlike Cloudways, you'll also need to pay your cloud infrastructure provider directly.
Overall, RunCloud is more expensive than Cloudways for a single low-resource server, but cheaper for virtually every other situation.
GridPane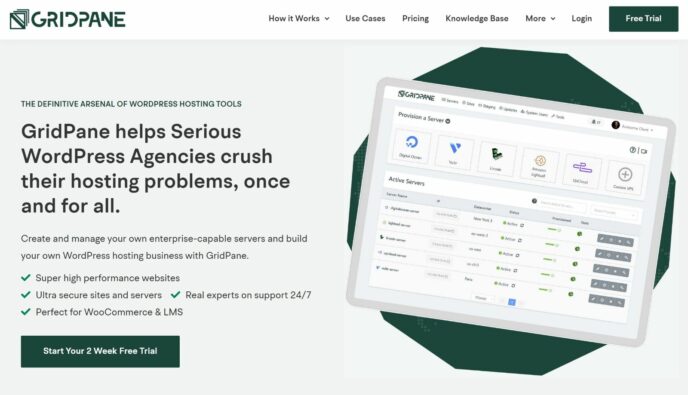 GridPane is another popular server control panel. However, unlike RunCloud, GridPane is 100% focused on WordPress sites.
Like RunCloud, GridPane lets you use any cloud hosting provider, but has dedicated integrations for the popular providers, including DigitalOcean, Vultr, Amazon Lightsail and so on.
GridPane uses a pure Nginx stack that's tuned for WordPress and offers multiple options for server-level caching, including Nginx Fast_CGI and Redis.
You'll also get tons of convenient WordPress features including:
One-click WordPress installer.
Staging sites.
Backups.
Free one-click SSL certificates and automatic renewals.
Companion cache plugin to manage the cache from inside your WordPress site.
Firewalls — 6G or ModSec 3+ depending on your plan.
Easy SMTP configuration.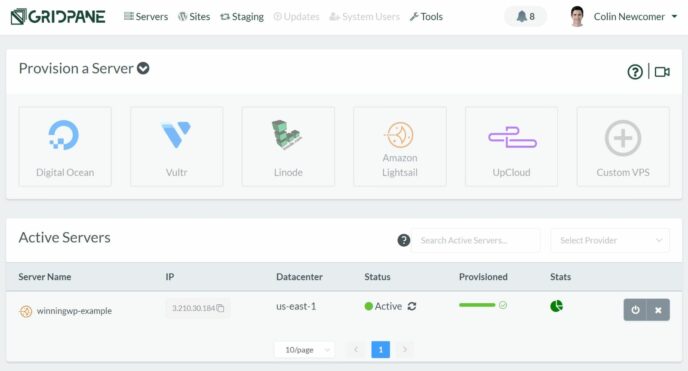 The one downside of GridPane is that its pricing is definitely geared towards people with lots of sites. Plans start at $30 a month, though that lets you manage unlimited servers/sites. However, if you only have a couple of sites/servers, you'll probably get better value from RunCloud.
Remember: You'll also need to pay the cloud provider directly for whatever server(s) you're using.
Which Is the Best Cloudways Alternative for You?
Now for the important question — which option is right for you?
Again, I think that depends entirely on why you're looking for an alternative.
If you like Cloudways' cloud hosting approach, but don't like their prices/tech stack, then I think you should choose RunCloud. RunCloud is very similar to Cloudways, but it's a lot more affordable if you need multiple and/or high-resource servers. RunCloud also lets you choose an all-Nginx stack (with LiteSpeed server on the way).
RunCloud may be a tiny bit more technical than Cloudways. However, if you can figure out Cloudways, you can probably figure out RunCloud, too. Personally, I'm nowhere near being a developer and I've still been able to host my WordPress sites on RunCloud with zero issues.
If you're an agency/freelancer with client sites, or if you just generally have lots of sites, then GridPane is also another great option here. It's a great tool — it's just a bit more expensive than RunCloud, which is why I personally chose RunCloud as my alternative of choice.
On the other hand, if your issue is you want something that's simpler than Cloudways, then you'll definitely want to stay away from the tools above. Again, while I don't think they're any more complicated than Cloudways, they're most certainly not simpler.
For a simpler alternative, I'd recommend the following:
Used/using any of these alternatives? Thoughts?
All comments are held for moderation. We'll only publish comments that are on topic and adhere to our Commenting Policy.