WinningWP content is free to all. If you make a purchase through referral links on our site, we earn a commission (
learn more
).
WP Engine vs GoDaddy for WooCommerce – Which Offers the Best WordPress eCommerce Hosting?
If you're looking for the best web host for your WordPress-powered eCommerce store, you may have noticed that a lot of popular hosting companies now provide WooCommerce-specific hosting. Two of the market leaders in this field are WP Engine and GoDaddy.
However, as they're both well-respected options with different approaches to WooCommerce hosting, it can be hard to know which one to choose.
To help you to make a decision, in this comparison I'll explore the eCommerce solutions from both of these hosting providers. Not only will I cover their features, user experience and pricing, but I'll also share the results from my load time tests to give you an idea of which host is the fastest.
By the end of this article, you should know whether WP Engine or GoDaddy have the right eCommerce hosting service for you.
Let's begin…
Quick Overview
If you're in a hurry and just want to know which is the best eCommerce host, then here's a quick summary.
If you want the best and don't mind paying extra for a faster host and a good set of useful features, then go with WP Engine.
However, if you're on a budget or don't mind a slightly slower service and you'd like to get access to nearly $6,000 worth of premium WooCommerce extensions to enhance your store, then GoDaddy could be a good option for you.
The rest of this comparison covers all of the most important aspects of each host to help you to make a fully informed decision.
Pricing
The eCommerce hosting services from WP Engine and GoDaddy are presented quite differently.
With GoDaddy, there's only one WordPress eCommerce plan to choose from, while WP Engine have four. WP Engine also give you the option of creating a custom dedicated hosting plan if your needs aren't met by their other plans.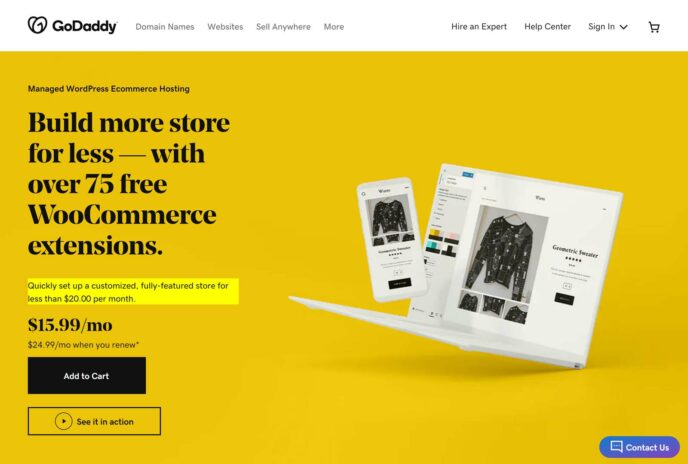 Here's a quick overview of the GoDaddy eCommerce hosting plan:
GoDaddy: From $15.99 a month for unlimited storage and visitors for one site/store.
The price listed above is for new sign-ups who are paying for 36 months of hosting upfront. You can also pay for a shorter period upfront, but the monthly equivalent rate will be higher. When you renew your plan, you'll also pay a higher rate.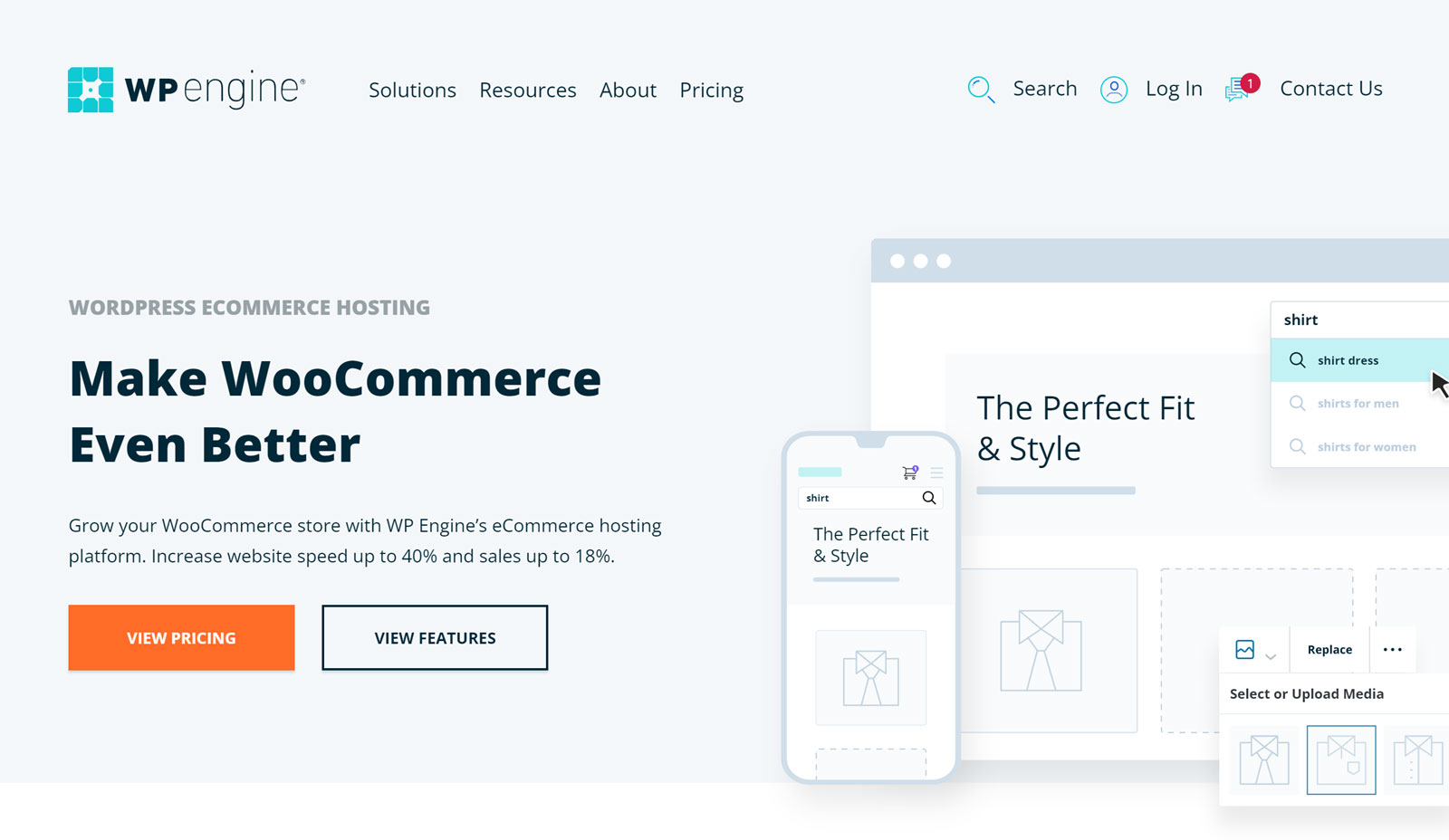 Here's an overview of the WP Engine eCommerce hosting plans:
Startup: From $30 a month for 10 GB of storage, 25,000 visits, 50 GB of bandwidth and one site/store.
Professional: From $62.50 a month for 15 GB of storage, 75,000 visits, 125 GB of bandwidth and three sites/stores.
Growth: From $116.67 a month for 20 GB of storage, 100,000 visits, 200 GB of bandwidth and ten sites/stores.
Scale: From $291.67 a month for 50 GB of storage, 400,000 visits, 500 GB of bandwidth and 30 sites/stores.
The prices listed above are available to customers paying annually; if you pay monthly, the rates are higher.
Which Is Better Value?
At first glance, the GoDaddy eCommerce hosting service looks like the better option.
The lower price combined with unlimited storage and visits is very appealing. However, after contacting GoDaddy support via live chat I found out that if your site were to become 'very busy', it could start slowing down. There are no publicly shared numbers about what 'very busy' means, but, to give you a bit more information, this excerpt from the GoDaddy hosting agreement is worth reading:
'In the event the bandwidth, number of websites or disk space usage of your website presents a risk to the stability, performance or uptime of our servers, data storage, networking or other infrastructure, you may be required to upgrade to a VPS or Dedicated Server, or we may take action to restrict the resources your website is utilizing.'
There's also some information in the hosting agreement about an inode limit and database sizes that's relevant to WordPress users.
Downsides of Unlimited Hosting
Because of the action GoDaddy may take if your site gets too big or busy, the WP Engine plans, with their stated limits, may be a better option for anyone who wants to know exactly where they stand.
That's not to say there aren't consequences if you use more resources than your plan includes with WP Engine. It's just that you can easily monitor what resources you're using, and then take action yourself, such as migrating to a higher plan or reducing bandwidth usage, before you've outgrown your current plan.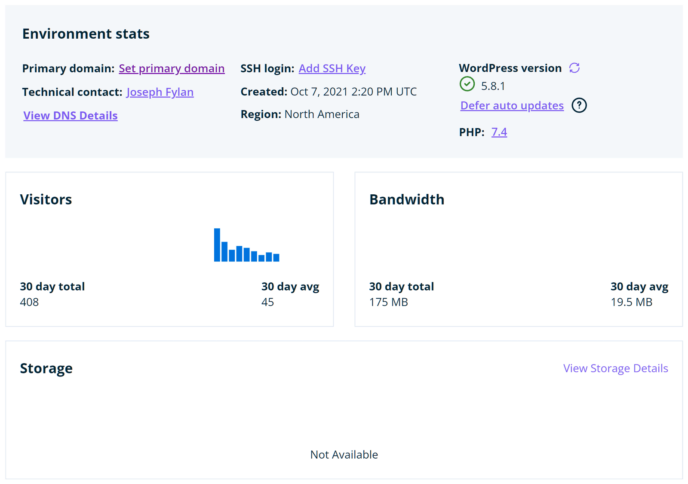 If you're creating a website for fun, then you may be happy to take a risk on unlimited hosting and the consequences that can arise when you use too much of those 'unlimited' resources. However, if you plan to build a real business around your eCommerce store, then a service that's more transparent with their storage, bandwidth and visitor limits may be a better fit.
Alternatively, if you don't envision your store getting very big or busy, then the GoDaddy unlimited plans should be fine in this regard.
Money-Back Guarantees
If you're not happy with either service, both hosts make it easy to receive your money back. With WP Engine, you get up to 60 days to request a full refund.
GoDaddy will give you a refund within 30 days if you paid for a year of hosting upfront; if you paid for a month, you only get 48 hours. Your location could affect how the GoDaddy refund and cancelation policies are implemented, so be sure to read their refund policy.
Domains and SSL Certificates
The GoDaddy service includes a free domain name registration for the life of your contract (worth around $10 a year). With WP Engine, you'll need to register a domain yourself.
Both hosts provide you with an SSL certificate to help to keep your store secure. However, with GoDaddy, you must pay for a year of hosting (or more), rather than a month, to get the SSL certificate.
Verdict: When it comes to pricing, GoDaddy win on paper, as they clearly have a cheaper service, with more generous allowances. However, it's not quite as clear-cut as that, as you may prefer to choose a service such as WP Engine that states exactly how many resources you can use on your plan, especially if you're seeking a host for a website that's a core part of your business.
Pricing, visits, storage and bandwidth allowances aren't the only thing to consider when choosing a host. In the rest of this WP Engine vs GoDaddy comparison, you'll find out exactly what else you get for your money, and which host is the fastest.
Performance Test Results
Site speed is very important for eCommerce stores. As load times have an impact on conversion rates, search engine visibility and customer satisfaction, it's vital you choose a fast host. So, with that in mind, I set up two test WordPress websites on the GoDaddy and WP Engine eCommerce plans.
I then used the paid Pingdom service to monitor the load times of both sites to see which one was the fastest. After Pingdom had monitored the load time of a basic page on both sites for seven days, the average load times were as follows:
GoDaddy eCommerce Hosting Load Time Test Results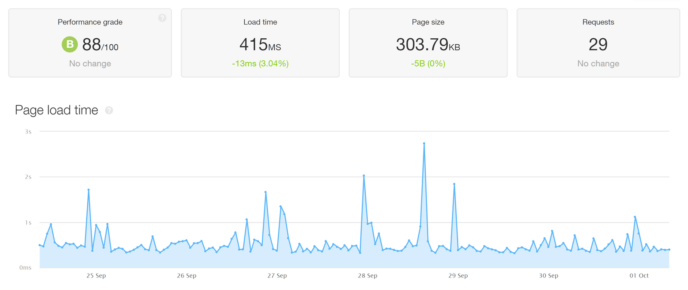 WP Engine eCommerce Hosting Load Time Test Results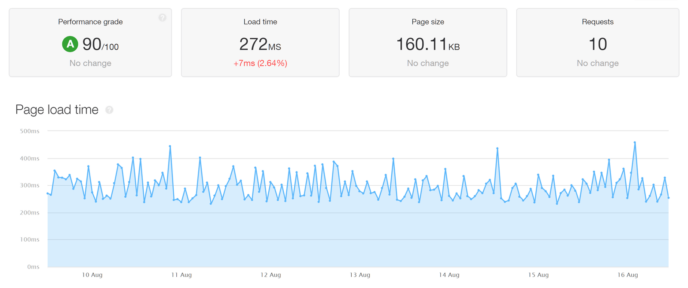 Verdict: As you can see, the page hosted by WP Engine was nearly 34 percent faster than the same content hosted by GoDaddy. GoDaddy definitely wasn't slow. However, if speed is a priority for you — which it probably should be — WP Engine are the faster host according to this Pingdom test.
About the Load Time Tests
I decided against monitoring the load times of an eCommerce store built with WordPress and WooCommerce. Because all online stores are different, with different products and configurations, it wouldn't be possible to set up an average or typical online shop to test.
While the results above give you an idea of whether WP Engine or GoDaddy are the fastest when hosting a basic WordPress website, you may get different results once you've built a sophisticated eCommerce store that's processing multiple orders per hour.
For each test, the Pingdom testing location that was closest to where the test site was hosted was chosen. The default settings for each host were used, and I made no effort to optimize the sites.
Now we know who was the fastest in our tests, let's explore the features you get with the GoDaddy and WP Engine WooCommerce-specific hosting plans.
Hosting Features
Here are the main features of the eCommerce hosting services of these two companies, including bundled WooCommerce extensions, ElasticSearch, WordPress themes, support services, and more.
WooCommerce Extensions
Installing the free WooCommerce plugin on a WordPress website gives you enough functionality to sell products and services online. However, in most cases, you'll want to install one or more WooCommerce extensions to add extra features to your store.
While some of the many WooCommerce extensions are free, lots are paid products, often with annually recurring fees. Because of this, you'll probably need to spend some money on extensions when you build your online shop with WordPress and WooCommerce (or any other WordPress eCommerce solution).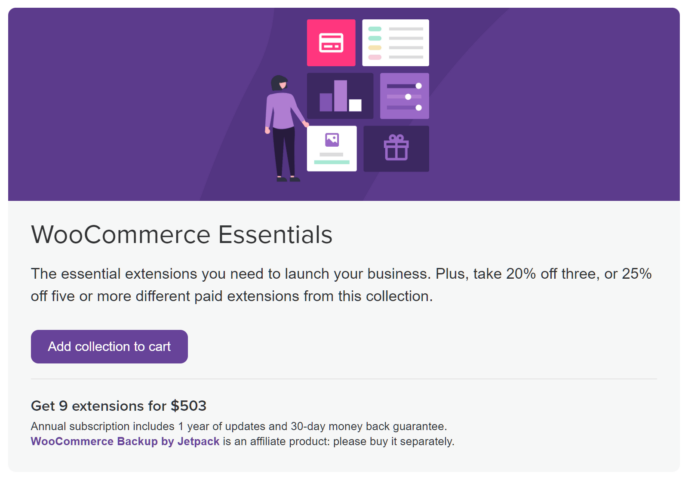 With GoDaddy eCommerce hosting, you get access to more than 75 premium WooCommerce extensions worth around $6,000. Some of these extensions were created by SkyVerge, who GoDaddy acquired in 2020. The extensions cover a range of categories, including cart and checkout, marketing, merchandising, and payments, to name just a few. You can view the full list on the GoDaddy website.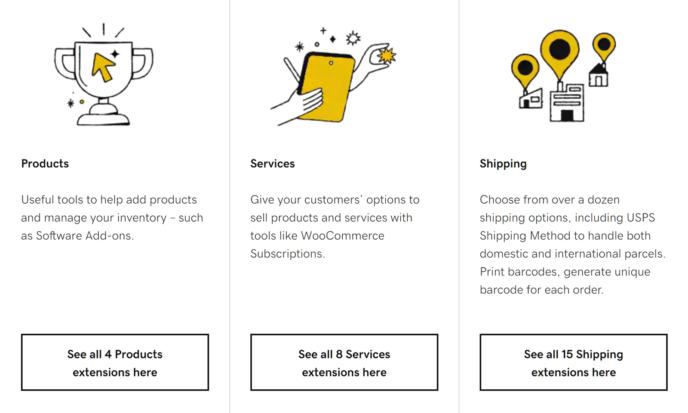 Although you probably won't use all of the extensions that come with the GoDaddy eCommerce hosting plan, the ones you do use could end up saving you a considerable amount of money each year, compared with paying for their annual licenses.
With WP Engine, you don't get access to any WooCommerce extensions. However, their plans do come with some useful extras that I'll cover in this comparison.
ElasticSearch Powered by ElasticPress.io
One of the key eCommerce-related features of the WP Engine eCommerce plans is Instant Store Search (powered by ElasticPress), although it's not available on the entry-level Startup plan.
ElasticPress.io is a service for upgrading the website and store-searching capabilities of WordPress. Part of its features include fuzzy matching, autosuggest and filtering to add a fast modern search tool to your website. Furthermore, this is a hosted service, and everything is processed offsite. Because of this, the added search functionality won't slow down your website.
The goal here is to make it easier and faster for your visitors to find what they're looking for at your store. Because this should help you to generate more sales, it's a feature that's definitely worth having. It's another reason why it's worth paying extra for WP Engine, if you can afford it.
While you can add ElasticSearch via ElasticPress.io to any WordPress website, including one hosted by GoDaddy, it's not a free service. With certain WP Engine plans, not only is it included, but it can also be enabled on your store in just a few clicks, removing the need to set up the integration yourself.
WordPress Themes
While there are thousands of free and premium themes available for WordPress and WooCommerce, both WP Engine and GoDaddy come with some themes that you can use for your eCommerce store.
With GoDaddy, you get seven online store themes to choose from, as well as themes for a range of other projects. GoDaddy also have the free CoBlocks plugin that can be used to enhance their themes and help you to produce more unique content designs.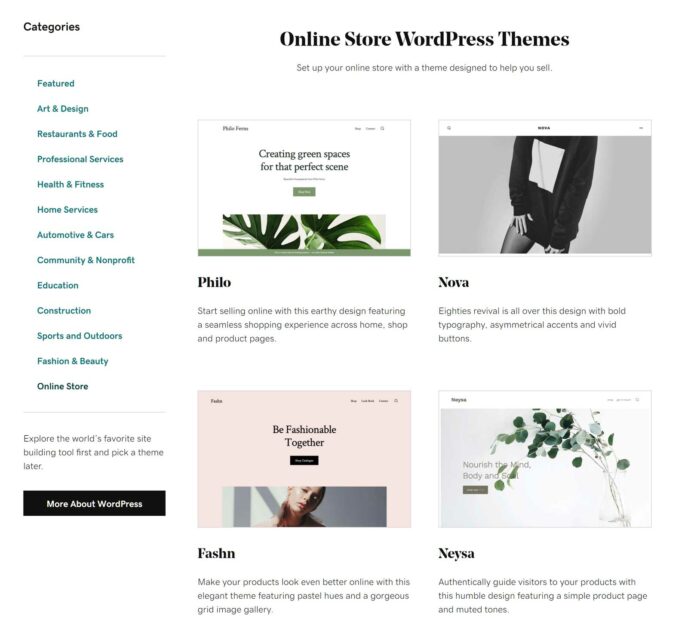 WP Engine acquired the popular WordPress theme maker StudioPress a few years ago. Now, WP Engine customers get access to the StudioPress themes as part of their hosting package. Among the options are seven eCommerce-friendly themes. They're not specifically themes for creating online stores, but they'll work well with WooCommerce.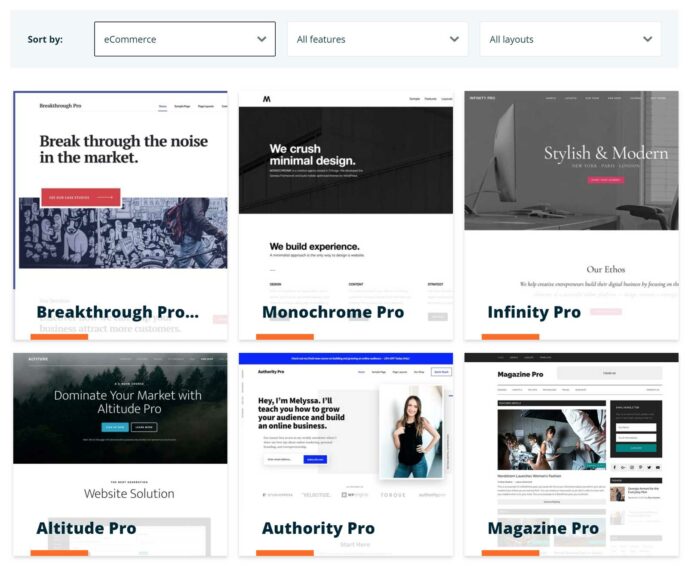 If you want to know more about the themes that come with the WP Engine hosting plans, you can read our StudioPress review to get the full details.
The WP Engine eCommerce plans include access to a premium plugin that adds more blocks, page layouts and sections to your website. You also get access to a selection of WooCommerce blocks for adding a range of dynamic content from your store to your posts and pages.
As both services come with some distinctive and well-designed WordPress themes, you won't have to buy one. However, there's still a good chance you'll want to, as the selection available from both hosts isn't very comprehensive.
WordPress Website Management
Both the GoDaddy and WP Engine eCommerce services can be considered managed WordPress hosting services. As part of this, some of the tasks involved in running a WordPress website are taken care of for you.
Both services will automatically update the WordPress software of your website. Plugins, including WooCommerce extensions, can be set to be automatically updated too, but, now this is a core feature of the WordPress software itself, this isn't much of a benefit.
However, WP Engine have a Smart Plugin Manager feature that handles automatic plugin updates. Rather than simply updating your plugins and hoping for the best, this tool 'uses machine learning and visual testing' to check your site is still working as it should after an update has been performed.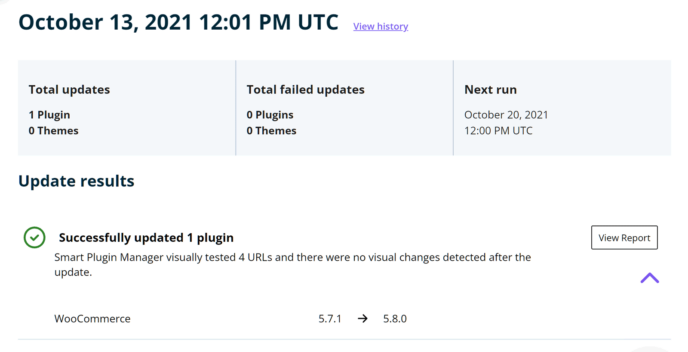 If an issue is detected, Smart Plugin Manager will roll back to the backup that was automatically taken just before your site was updated.
If you want to keep your store safe and secure by ensuring everything's up to date, without having to worry about automatic updates causing problems, the Smart Plugin Manager from WP Engine is a very valuable asset.
GoDaddy don't have a similar feature, but there are third-party tools available that can provide similar functionality.
eCommerce Store Backups
As part of their website management, both hosts will automatically back up your eCommerce store each day. Because of this, you'll be able to recover your store and any orders it's received should anything go wrong. You can also create backups on demand with both hosts and download them for safekeeping.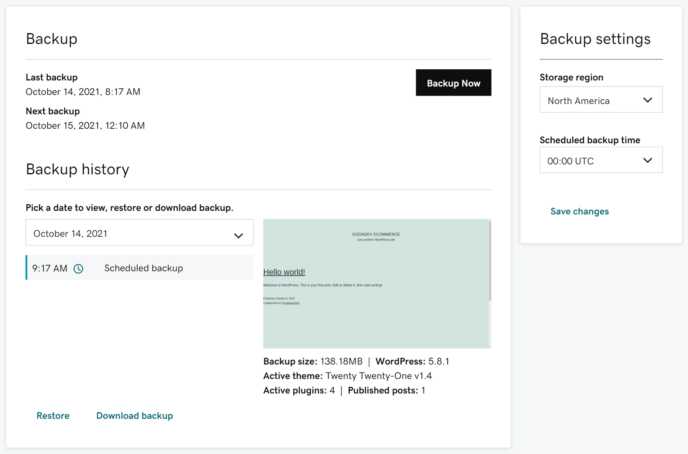 With GoDaddy, you can choose which region your backups are stored in (only North America and Europe are currently available), and at what time they're created each day.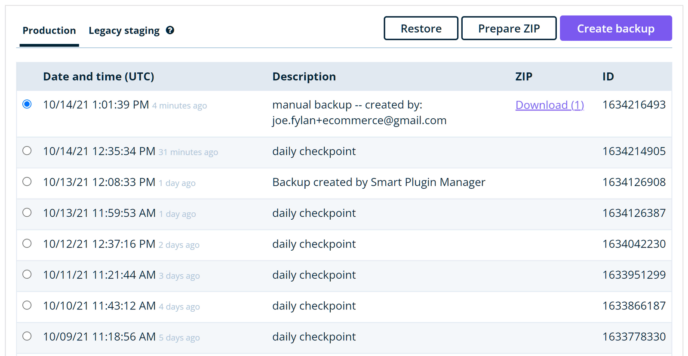 The fact that you don't often get backups, or at least not backup systems as powerful as this with cheaper shared hosting, is another reason why it's worth paying extra for managed eCommerce hosting.
Data Centers and CDN
One of the reasons why WP Engine are well-known for their high-performance hosting service is they use the Google Cloud Platform as a core part of their infrastructure. One benefit of this is you can choose to host your eCommerce store in many locations around the world if you sign up with WP Engine.
Having a website that's hosted as close as possible to your customers means they'll experience faster loading times than if it was hosted further away. As slower load times can negatively impact conversion rates and sales at your store, this is definitely something to take into consideration.
While GoDaddy don't give you as many server locations to choose from, there's still pretty good global coverage.
Both hosts also include access to a content delivery network (CDN). Because a CDN will duplicate and distribute your website files to servers around the world, this can reduce the amount of time your visitors will have to wait for your store to load, no matter where they are.
While the widely distributed data center locations of WP Engine are definitely impressive, a CDN can help to compensate for hosts such as GoDaddy that give you fewer locations to choose from.
Staging Environments
Both the GoDaddy and WP Engine eCommerce services include private test websites or environments that are sometimes known as staging sites or environments.
They also have tools for easily transferring a copy of your live website to the test environment. You can then make changes to that copy of your website, or test new plugins or software updates in private, before easily transferring the test copy to your live hosting environment.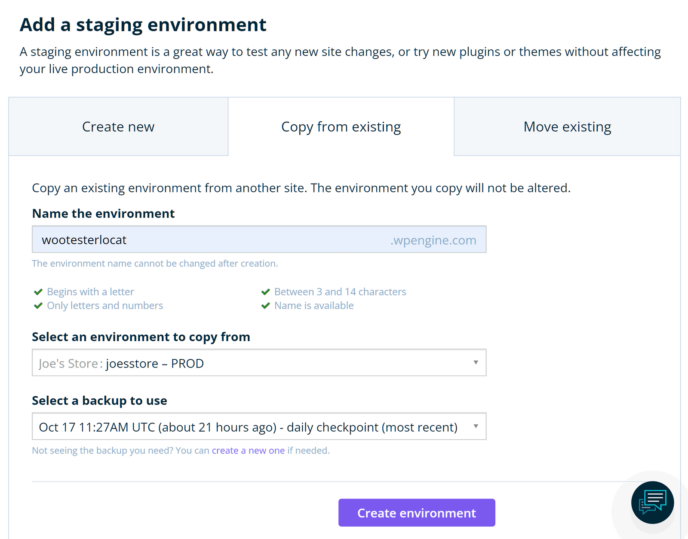 One area where WP Engine outdo GoDaddy is their Local tool, which makes it much easier to work on a version of your website that's running on your computer.
If you want to minimize disruption to your store, then having access to a staging environment where you can safely work on your site in private is vital. This is another useful feature that isn't often available with cheaper WordPress hosting.
Security
Both hosts take security very seriously. For example, GoDaddy perform daily malware scans. If anything problematic is found, you can request to have it removed and your site repaired. GoDaddy also have an additional paid Website Security service for making your store more secure.
WP Engine also monitor your site for security issues, including malware. If any issues are found, you can open a ticket with support to get it resolved.
Email
While WP Engine don't provide an email service alongside their hosting plans, GoDaddy do give you one year of access to their email service for free.
Support
Both hosts let you contact them 24/7 via live chat and telephone. WP Engine also have a ticketing system that makes it easy to keep track of any correspondence you've had with their support staff.
While 24/7 access to support is great, I didn't find the GoDaddy support staff I contacted via live chat to be very helpful.
This was true for relatively simple issues (pointing a domain to their servers or accessing the included WooCommerce extensions). Because of this, if I were serious about my eCommerce store, I'd rather pay extra for WP Engine to get access to their support staff, whom I did find helpful.
GoDaddy do have an optional paid add-on service that gives you access to their premium WordPress support service. This service goes above and beyond what's offered by their regular support service, and includes website development, administrative updates and website evaluations, to name just a few. However, I haven't tried this service, so can't vouch for its effectiveness.
While WP Engine don't have their own premium alternative, there are a few third-party WordPress support services you can sign up to. However, I found the WP Engine support staff to be helpful and responsive.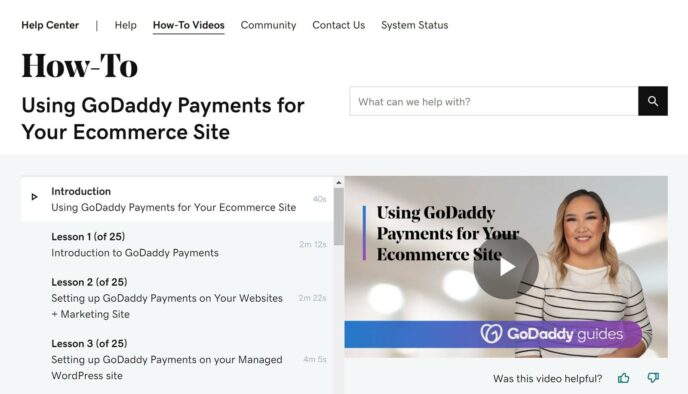 Both hosts have lots of useful documentation on their websites. GoDaddy also have a series of video guides to using WordPress, including some courses that cover eCommerce topics.
eCommerce Store Setup Process
Both hosts make it very easy to launch a WordPress-powered WooCommerce online store.
GoDaddy Store Setup Process
With GoDaddy, the site creation process lets you start with a new installation of WordPress, migrate an existing site or browse a collection of themes and choose one to have applied to your site as it's created.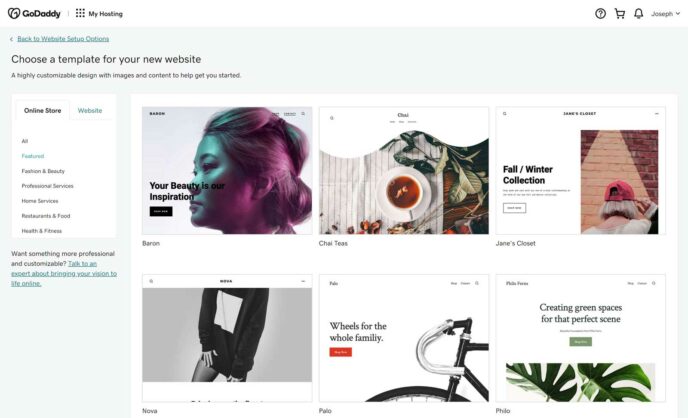 During the setup process, you can enter your physical location, and GoDaddy will set up your site in a data center that's closest to you. However, it's probably best to enter where your customers will be based, as the closer your store is to them, the faster load times they should experience.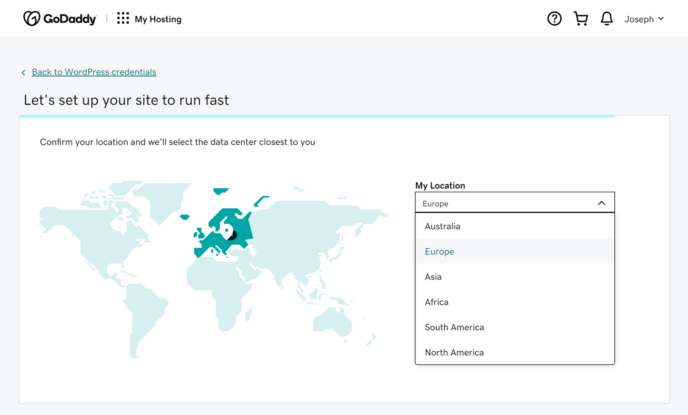 As you'd expect from eCommerce hosting, the WooCommerce plugin is installed as part of the GoDaddy WordPress website setup process. Once you have access to your WordPress admin dashboard, you can browse and install any of the 75+ premium WooCommerce extensions that come with the GoDaddy eCommerce hosting service.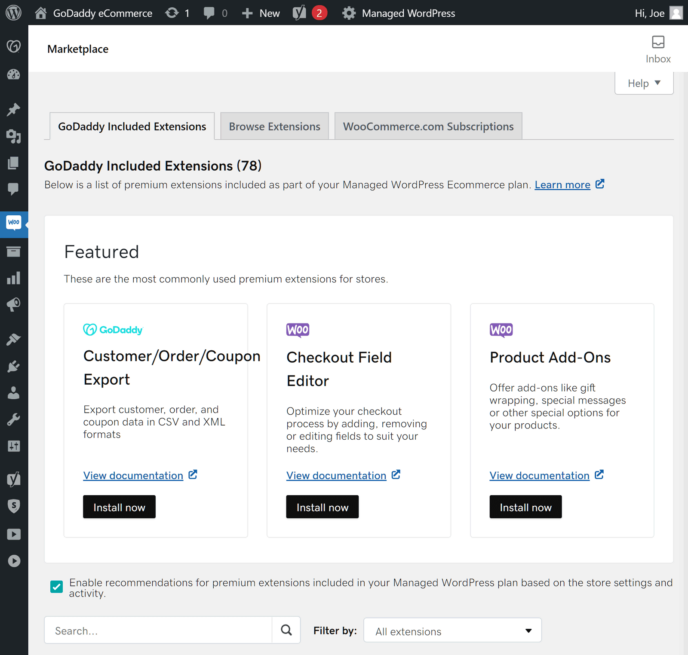 In just a few clicks, you have access to a new WordPress website with WooCommerce installed.
WP Engine Store Setup Process
WP Engine also make it very easy to get started with WordPress and WooCommerce. When creating a new site, the main options are starting with a blank WordPress website, having WooCommerce and some relevant eCommerce content applied to your site, or getting guided through the site-building process. Migrating an existing site or store is an option, too.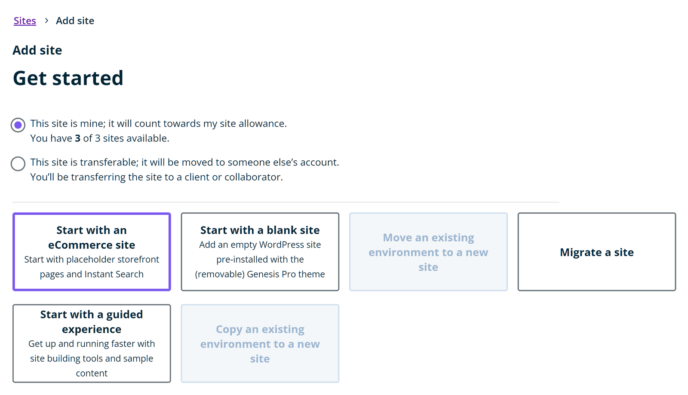 Like GoDaddy, WP Engine let you pick where your site is hosted, with lots of options to choose from.
If you opt to have an eCommerce site set up for you, the free Storefront theme created by WooCommerce is installed and activated. Dummy products are added for testing purposes and to give you an idea of how WooCommerce works.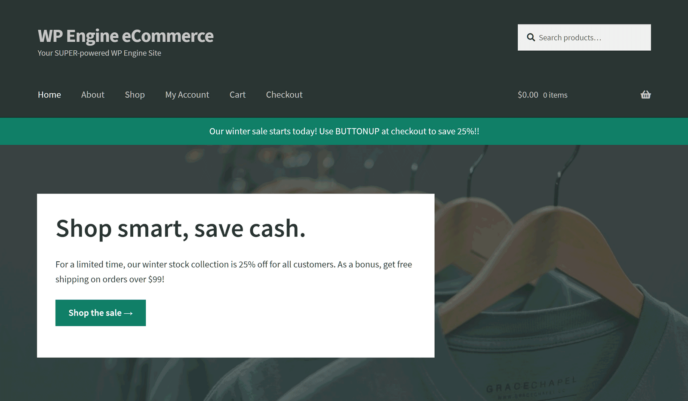 The Genesis Blocks Pro plugin is added to your site as well. This plugin includes some useful eCommerce and regular site features, such as full page layouts, page section layouts and content blocks to enhance your store.
As mentioned, if you choose any WP Engine plan above the entry-level Starter option, the ElasticPress plugin is installed to integrate your store with the premium ElasticSearch service that's powered by ElasticPress.io. If you choose to have WooCommerce pre-installed during the setup process, this will all be set up for you and ready to use.
WP Engine add a helpful section to your WordPress dashboard that makes it easy to see what you need to do to complete your store.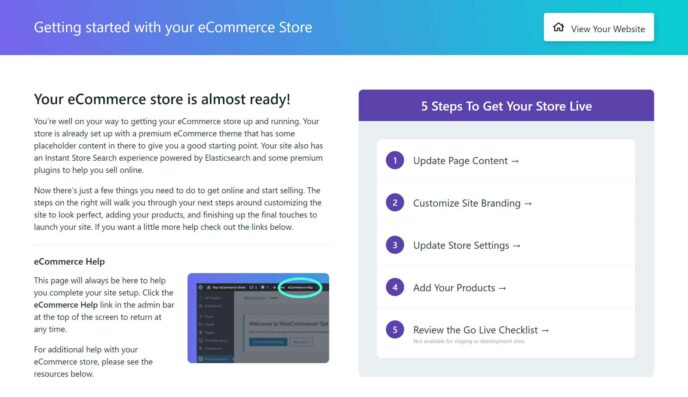 Depending on which option you choose when creating the new site, you can either let WP Engine handle some of the main tasks involved in setting up a new store, or you can take care of them yourself. Either way, it's very easy to launch an online store with the WP Engine eCommerce hosting service.
Verdict: When it comes to features, both hosts have lots of extras that make it worth paying more for their eCommerce services, compared with their regular hosting plans. The WooCommerce extensions that come with the GoDaddy service definitely can't be overlooked. However, the WP Engine plans also have some useful features, such as the powerful search functionality. Because of this, it's hard to say one host has better features than the other. It really depends on which ones you value more.
That almost brings my WP Engine vs GoDaddy eCommerce hosting comparison to an end. Here are my final thoughts…
Final Thoughts
If value is your main concern, then GoDaddy are hard to beat.
Not only is the GoDaddy WooCommerce service cheaper than the eCommerce plans from WP Engine, but the lack of limits on bandwidth, storage and visits means, in theory, you won't have to worry about upgrading your hosting in the future.
However, as mentioned, it's possible to consume too many resources with GoDaddy, although what constitutes 'too many' isn't clearly defined. If you do, access to resources could be restricted. Slower load times or reduced availability of your store could occur, which, in turn, would result in lost sales.
If you don't plan to have a big or busy store, or you're just starting out, then going with GoDaddy makes financial sense. They're cheaper, and you also get nearly $6,000 worth of premium WooCommerce extensions to build your store with.
As the best WooCommerce hosts make it as easy as possible to migrate a store to another company, you're not tied in for life. So, if your situation changes, you can change hosts.
However, if you'd rather choose a plan with clearly defined limits, then WP Engine are better than GoDaddy in this regard. As we saw earlier, the WP Engine service is also much faster than GoDaddy, although the GoDaddy eCommerce service isn't exactly slow.
The WP Engine eCommerce plans (above the entry-level option) also have the ElasticPress integration to speed up and improve searches at your store — something else that could generate more sales.
Because of this commitment to performance, choosing WP Engine is the recommended option for anyone serious about eCommerce. However, if your budget can't stretch to WP Engine, you're just starting out, or your online store is more of a side project or hobby, GoDaddy eCommerce hosting should suffice.
Used/using either of these two hosts? Thoughts and experiences?
All comments are held for moderation. We'll only publish comments that are on topic and adhere to our Commenting Policy.