WinningWP content is free to all. If you make a purchase through referral links on our site, we earn a commission (
learn more
).
LearnPress Review: What Do You Get From This Free LMS Plugin?
Building an online course on your WordPress site is easy with the right plugin. In this LearnPress review, I'll take a detailed look at the top free Learning Management System (LMS) for WordPress to determine its worth in three key areas: Ease of use, flexibility of features and monetary value.
LearnPress is a free LMS with all of the features you'll need to build and sell simple online courses. There are also dozens of paid extensions that can be used to expand the plugin's functionality.
Let's dig in…
What to Look For in a Course Building Plugin
What you need in an LMS depends on the type of course you're trying to build. However, in most instances your main concern will be the ability to organize multimedia lessons into an effective course.
Let's take a look at some of the features you'll need to accomplish this.
Basic features
Every course building plugin should come with the following features:
Visual course builder: This is a course organizer that uses drag-and-drop functionality so you can build your entire course without using a single line of code.
Quiz builder: At the bare minimum, you should be able to create multiple-choice quizzes. Some plugins also allow for other question types such as true/false.
Analytics: You want to be able to track how many copies of each course you sell and how active students and instructors are. Some course building plugins offer advanced analytics that track things such as how many people complete each course.
Payment processing: This should include the ability to customize the currency you're paid in and the cost of each course. You also want to pay close attention to how you will get paid, as most plugins are only compatible with PayPal and/or Stripe. If these payment processing systems aren't available where you live, that will limit what plugins you're able to use.
Integrations: Look for a plugin that integrates with some or all of the marketing tools you're already using. Most LMS plugins offer integrations with things such as email marketing services, WooCommerce and membership plugins.
These features make it possible to create courses, sell them and get paid. For many educators, this is plenty of functionality.
Advanced Features
The features listed above are all you need to sell simple online courses, but there are several other features you may want to look for:
Content dripping: This is the ability to release content on a specific schedule. For example, you may want to send one lesson out every Monday.
Content expiration: This is the ability to limit the amount of time certain content is accessible for.
Certification: This feature lets you offer PDF certificates to students who complete a course. Some plugins also let you create badges for completing lessons or sections of a course, using the power of gamification to encourage people to keep learning.
Prerequisites: This is the ability to restrict certain courses to students who've already completed other courses.
Community building options: These options let you create community spaces such as forums and chatrooms for your students. Most LMS plugins offer this through integration with a tool such as bbPress or BuddyPress, but some offer built-in community options.
Memberships: This is the ability to create recurring income through membership programs.
These features let you create more advanced educational programs. Some LMS plugins even have the capacity to create full degree programs.
Cost
The final thing to consider when choosing a course building plugin is cost. This includes both the cost of the plugin itself and the cost of any extensions you want, and you'll also want to note whether these costs are one-time payments or annual fees.
LearnPress Review
Features
The core LearnPress plugin includes the following features:
Setup wizard
Visual course builder
Specialized course categories
Quiz editor
Question bank
Content expiration
Advanced reporting
Email customization
Instructor registration
Review collection
Ability to accept payments through PayPal
How LearnPress Works
Setting LearnPress up on Your Website
To get started with LearnPress, go to the LearnPress home page and click 'Free Download'. This will download the plugin to your computer as a .ZIP file.
Next, open your WordPress dashboard and go to 'Plugins > Add New'. This will open a box you can drag and drop the plugin into. Click 'Install' to unpack the .ZIP file.

Once the plugin is unpacked, you'll be asked to activate it. Click the 'Activate' link, and you're ready to go!
Setup Wizard
One thing that immediately impressed me during this review was the setup wizard. This tool lets you set up key details such as what currency you'll be paid in and what page will be used for the checkout process in just a few clicks. You'll also be able to customize some of the emails your students receive.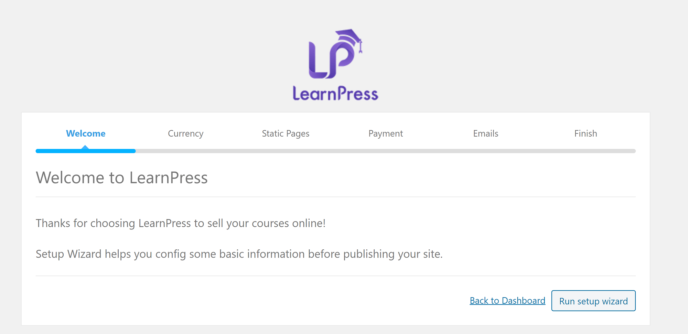 This allows you to jump right into building your first course.
Course Builder
My next step was to check out the course builder, which is done by going to the 'Courses' area of LearnPress and clicking 'Add New'. This opens the course builder, which consists of three sections: The description area, the curriculum builder and the course settings.
The description area is pretty straightforward, especially for users familiar with the WordPress Classic Editor. There's a small text block for the title and a larger text box for the description. In the description box, the 'Visual' setting enables rich text formatting and the 'Text' option lets you modify the page with code.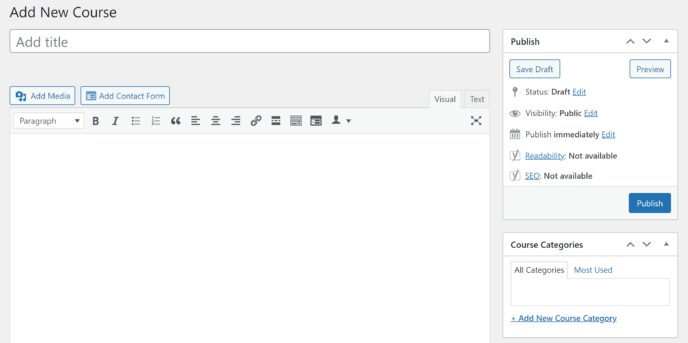 This makes it possible to include a variety of elements in your course descriptions, including images and embedded videos.
Further down, you'll find the curriculum builder. LearnPress divides courses into sections and uses drag-and-drop functionality to simplify organization.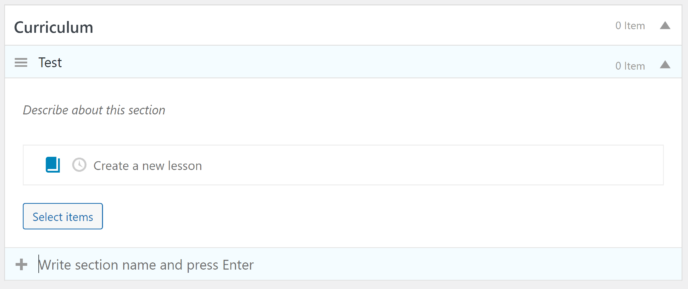 You can click on the title of any lesson to open the lesson editor in a new tab. This is a rich text editor with an HTML option, similar to the course description.
You must create quizzes separately. I'll talk more about how to do that in the next section.
For now, let's head to the third area of the course builder: Course settings. This is where you can modify several aspects of your course:
Duration: This is how long the course lasts. You can choose to disable access to course content when the duration ends.
Maximum students: The number of students you can have enrolled in this course at any given time. The default number is a thousand.
Assessment: This determines whether students are evaluated via lessons or quizzes. You can also set a passing grade here.
Price: The dollar amount you'll charge. You can also set a sale price.
Review logs: Once you start selling courses, you'll be able to see course reviews in this area.
Author: This is the WordPress user associated with the course.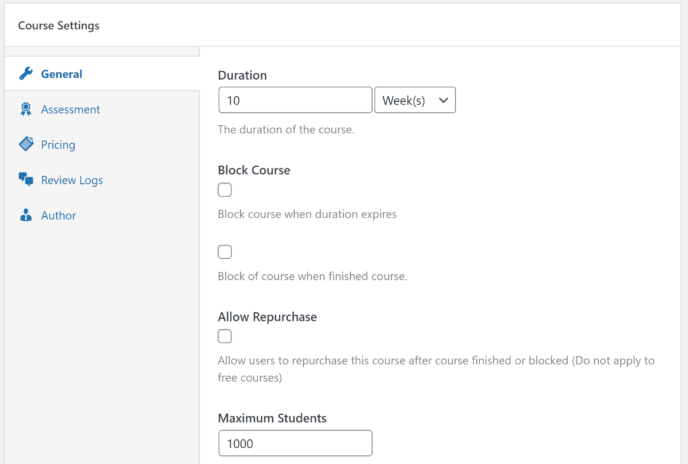 Once you're satisfied with these settings, you can scroll back up and click 'Publish' in the sidebar. If you're planning to run a variety of courses, you may want to set up course categories as well.
Quiz Editor
Next, head to the 'Quizzes' area of LearnPress and click 'New Quiz', which will open the quiz editor.
Like the course builder, the quiz editor is divided into multiple sections: The quiz description area and the questions area.
The first area looks a lot like the builders we've already covered, with text boxes for the title and description.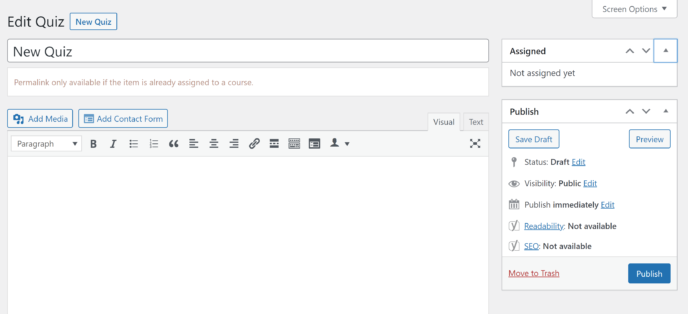 Below this is a box where you can type in your first question. You can create true/false, multiple choice and single choice questions. This is an important factor in this LearnPress review, as there are even premium LMSs that only allow for one question type.

Once a question is created, you can modify a few key settings for it:
The correct answer.
What mark this answer is worth.
The explanation that appears when students get a question wrong or click 'check answer'.
A hint to help students figure out the answer.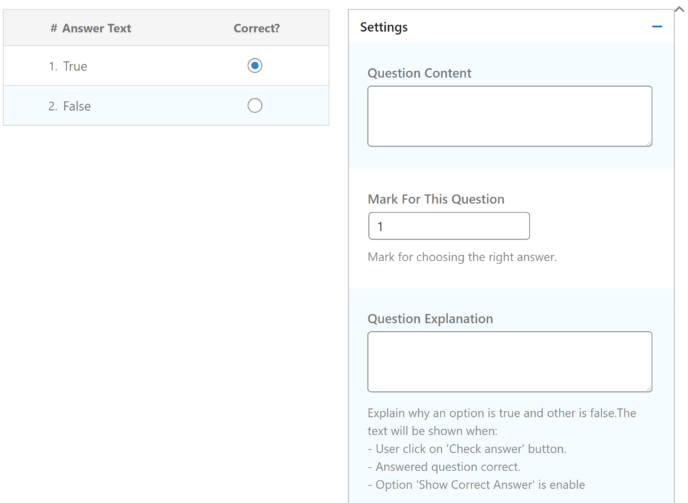 When you've finished adding questions, you can scroll back up the page and click the 'Publish' button in the sidebar. You can then go to the curriculum area of any course and select 'Add Item', which will open a box where you can view all existing quizzes. Check the box next to the one you want to use.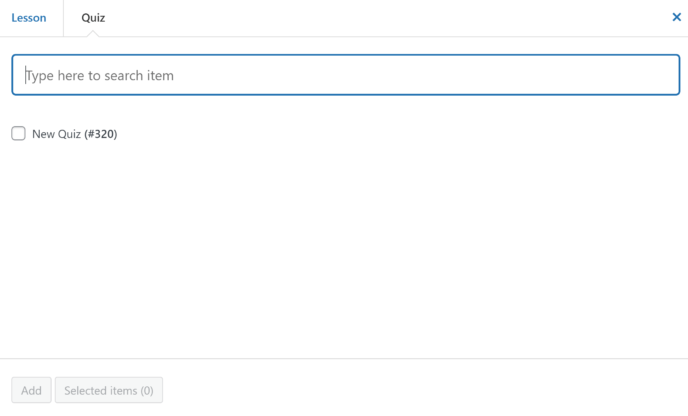 Note: A quiz must be published to appear in this area.
Question Bank
One thing I really appreciated was the question bank. This is a database containing every question from every quiz you've ever created, meaning you can include questions in multiple quizzes.

You can also use this function to edit questions without having to enter the quiz editor.
Integrations and Extensions
LearnPress doesn't come with much in the way of built-in integrations, so, to combine this plugin with tools you're already using, you'll need to do one of two things:
Find free extensions on WordPress.org: There are free plugins available to integrate LearnPress with tools such as BuddyPress and Automater.
Buy add-ons from ThimPress: LearnPress premium add-ons can connect the plugin to tools such as WooCommerce and Paid Memberships pro.
There are also a variety of extensions available for adding to the functionality of LearnPress. These include a number of free add-ons for things such as prerequisites and paid add-ons for things such as content dripping. Most of the premium add-ons cost less than $50.
If you're interested in several add-ons, consider purchasing the LearnPress Pro Bundle for a one-time purchase of $249.
The Pros and Cons of Using LearnPress
Pros
The free version contains everything you need to build a simple online course.
The plugin isn't weighted down by unnecessary features.
The setup wizard and one-page course builder make LearnPress remarkably easy to use.
Quizzes can include multiple question types.
The question bank makes it easier to build new quizzes and edit single questions.
Free extensions can be used to add more advanced academic features.
Cons
There are ads in the free version that appear at the bottom of directory pages, such as the 'Courses' page.
Even with paid add-ons, the number of integrations is quite limited and focuses mostly on themes.
The documentation for this plugin is rather sparse.
The verdict: Is LearnPress a Worthwhile Plugin?
When I review a plugin, I like to consider three main factors: Ease of use, flexibility of the features available and monetary value.
In terms of ease of use, I was quite impressed by LearnPress. The setup wizard walks you through everything you need to know and the relatively small number of features makes the plugin easy to navigate. The process for adding quizzes to your courses is a bit convoluted, but the quiz editor itself is pretty great.
Things are a little less clear cut when it comes to flexibility. The free version of LearnPress is quite generous in its features, especially when you consider the free add-ons. However, the integrations are limited, and the LearnPress Pro Bundle doesn't offer as much as other LMS plugins near the same price point.
This brings us directly to monetary value. This is what drew me to do a LearnPress review in the first place: There aren't a lot of free LMS plugins. Of the ones I've tried, LearnPress is by far the best. The features are great and the plugin is easy to use. Even with one or two premium extensions, LearnPress provides enormous value. LearnPress is an ideal choice for building high-quality courses on a tight budget.
The LearnPress Pro Bundle, on the other hand, isn't quite on the level of other premium plugins. There simply aren't enough integrations with marketing tools or membership plugins, so, if you're looking to invest or to combine your LMS with tools you're already using, you'll want to consider a different LMS plugin.
Used/using LearnPress? Thoughts and experiences?
Related Posts:
All comments are held for moderation. We'll only publish comments that are on topic and adhere to our Commenting Policy.