WinningWP content is free to all. If you make a purchase through referral links on our site, we earn a commission (
learn more
).
Why Free WordPress Hosting is Almost Always a Bad Idea!
If you're reading this post, there's a good chance you're considering hosting your site on free WordPress hosting.
If that's the case, I'd recommend pumping the brakes a little bit and finishing this post before you make your decision.
While the promise of getting something for free is always enticing, there are some hidden 'costs' with free WordPress hosting that make it almost always a bad idea.
For example, your site will load slowly, you'll have to deal with limits and unexpected shutdowns, and you'll generally have a sub-par experience, compared with purchasing paid hosting.
In this post, I'll go over nine reasons why you shouldn't use free WordPress hosting, except for a few specific situations. Then, I'll share three of the 'best' free WordPress hosts, as well as three affordable paid alternatives that make a better option for most sites.
Why Does Anyone Offer Free WordPress Hosting in the First Place?
If you're a Heinlein fan, you know that 'there ain't no such thing as a free lunch'. So, why do businesses offer free WordPress hosting in the first place? What's the catch?
Having looked at a bunch of different free WordPress hosts, the overriding commonality seems to be that they use free hosting as a marketing strategy to drive you towards their paid plans.
They use the free plan to attract you to their service, but then they apply strict limits and include lots of upsells to get you to upgrade your free service to a paid plan.
But even if you can stay within those limits and resist the siren song of aggressive upsell offers, using free WordPress hosting is not a good decision most of the time. Here's why:
Nine Reasons Why You Shouldn't Rely on Free WordPress Hosting for a Serious Website
1. Your Site Will Load Super Slowly
If you're building a serious website, it's important that your site loads quickly. There are all kinds of data and reasons to want a quick-loading website. For example:
So, how bad is it compared with a paid WordPress host?
Well, I signed up for a popular free WordPress host (Byet) to test their performance, and it was frustrating to even perform actions in the WordPress dashboard because everything was so slow.
In fact, when I tried to import a theme's demo content to test the hosting performance, the import process kept timing out because the connection was too slow.
In the end, I had to resort to testing just the default Twenty Twenty theme, which had a median load time of 2.681 s: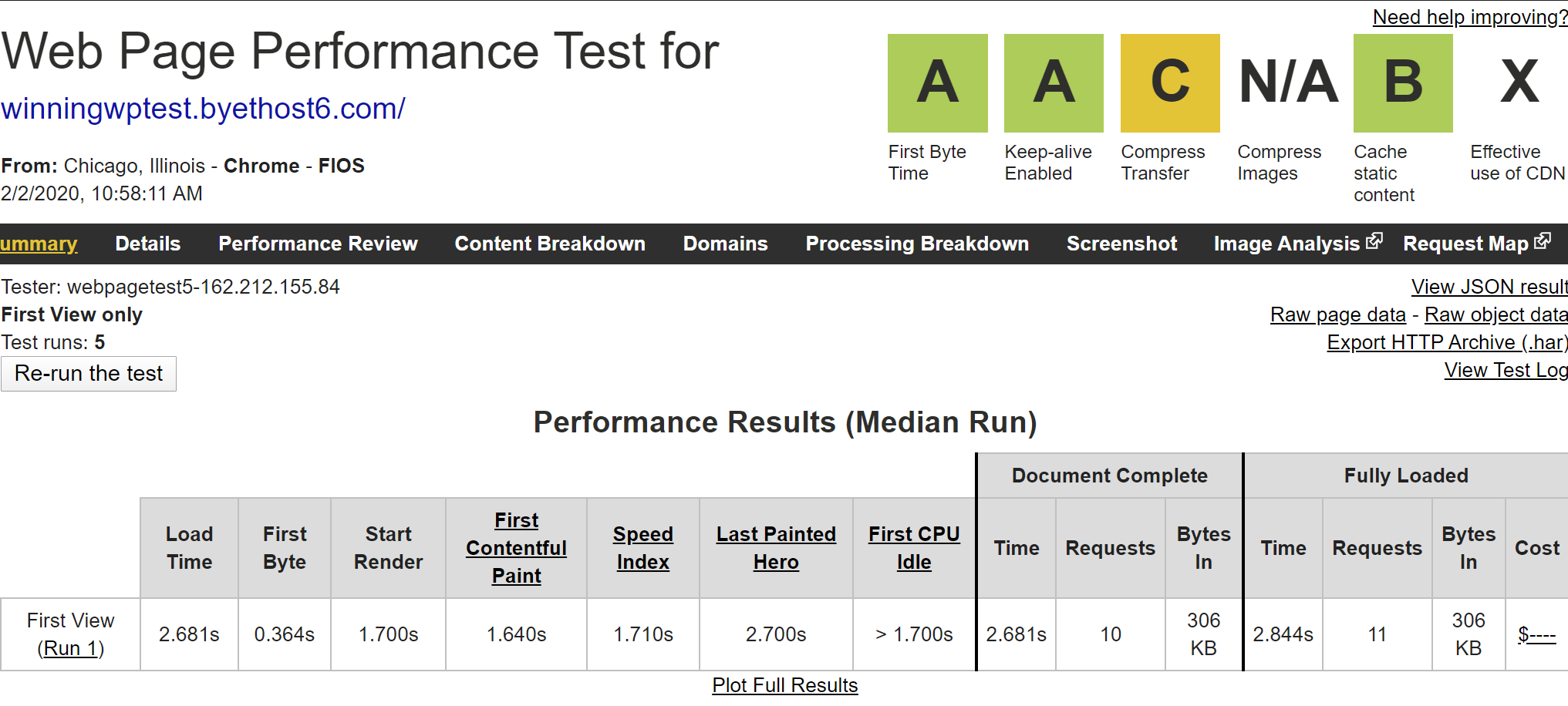 While 2.681 seconds sounds all right, remember that this is for just the default 'Hello World!' post and the default theme. Even the cheapest of cheap shared hosts can usually load this setup in ~1-1.5 seconds, so this performance really is dreadful.
Basically, your visitors will have a poor user experience on the front end, and you'll have a poor user experience on the back end, too.
2. You'll Need to Obey Strict Storage and Bandwidth Limits
With a free WordPress host, you'll typically only get 1 to 2 GB of storage with a free plan at best, which doesn't give you a lot of flexibility. Some are even lower, at 300 MB or less.
Don't get me wrong — that's enough for a simple WordPress site, but you can quickly hit that limit depending on the plugins you're using and the size of the images/videos you upload to your site.
Beyond that, you'll also have to worry about hitting your bandwidth limit if your site receives too many visitors. This is a big deal because most free hosts will aggressively shut down sites that use too much bandwidth.
In comparison, many cheap shared hosts offer unlimited storage and bandwidth, which means you don't have to worry about hitting your limits.
3. You Won't Get Access to Support
When you pay for hosting, you typically get 24/7 support via email or live chat at a minimum, while some hosts also offer phone support.
That's important because you'll almost certainly run into a situation where you need to make use of that support. I consider myself pretty experienced with managing WordPress sites, and I still occasionally have to reach out to my host's support for help.
However, when you use free WordPress hosting, you're typically going to get:
Zero support.
Very minimal support via a forum or something similar.
Your best-case scenario is limited ticket support, with most free hosts going with just a community support forum.
For example, look at the difference in support between the free and paid plans on AccuWeb's free hosting: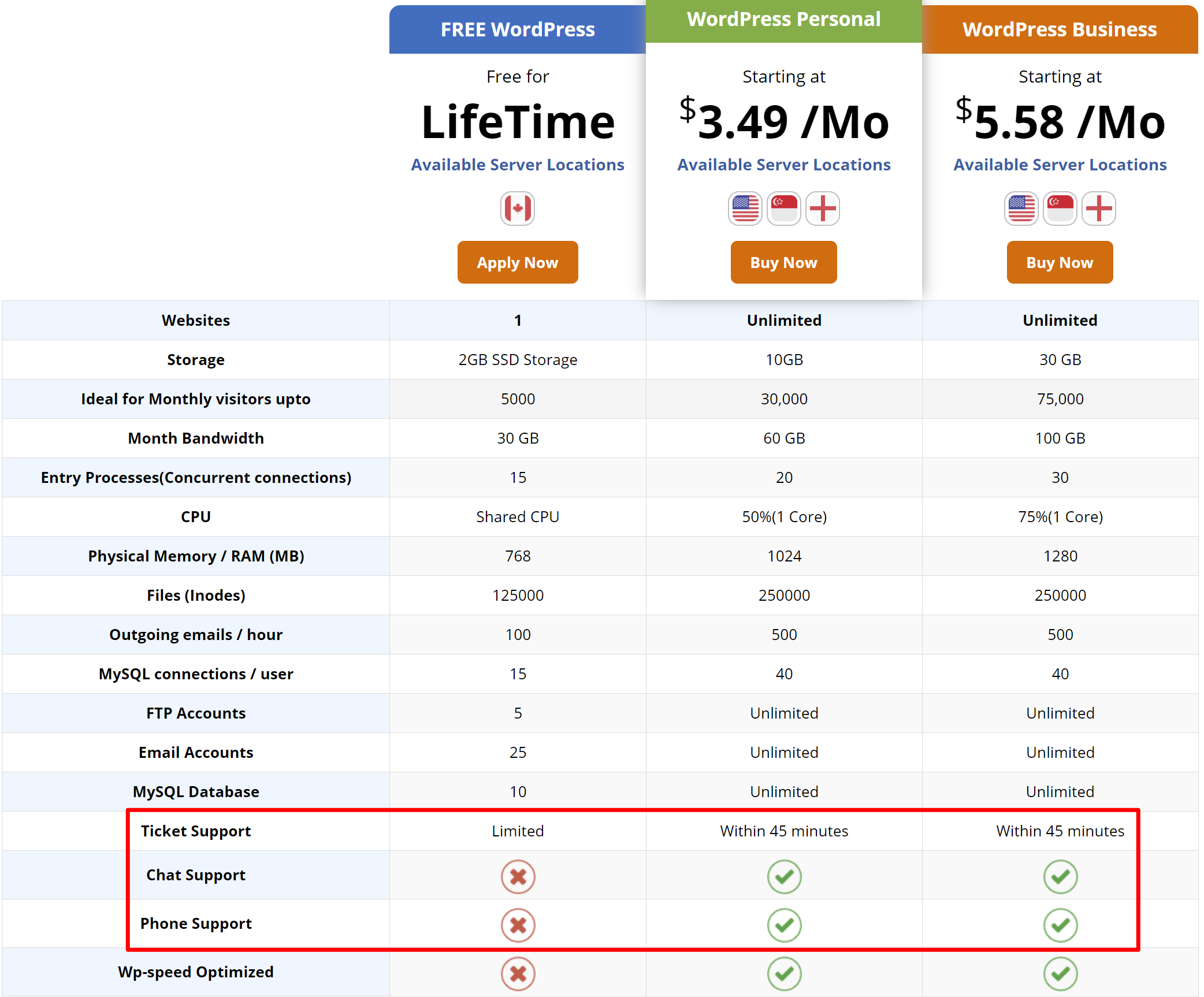 4. Your Site May Get Archived/Deleted If Inactive
Most free WordPress hosts are always trying to conserve resources, which means they periodically purge inactive sites to remove dead weight.
If your site goes through a period of inactivity, you could accidentally end up on the wrong side of one of these purges and completely lose your site.
For example, if you search the support forums at 000webhost, another of the popular free WordPress hosts, you'll see tons of instances of this happening: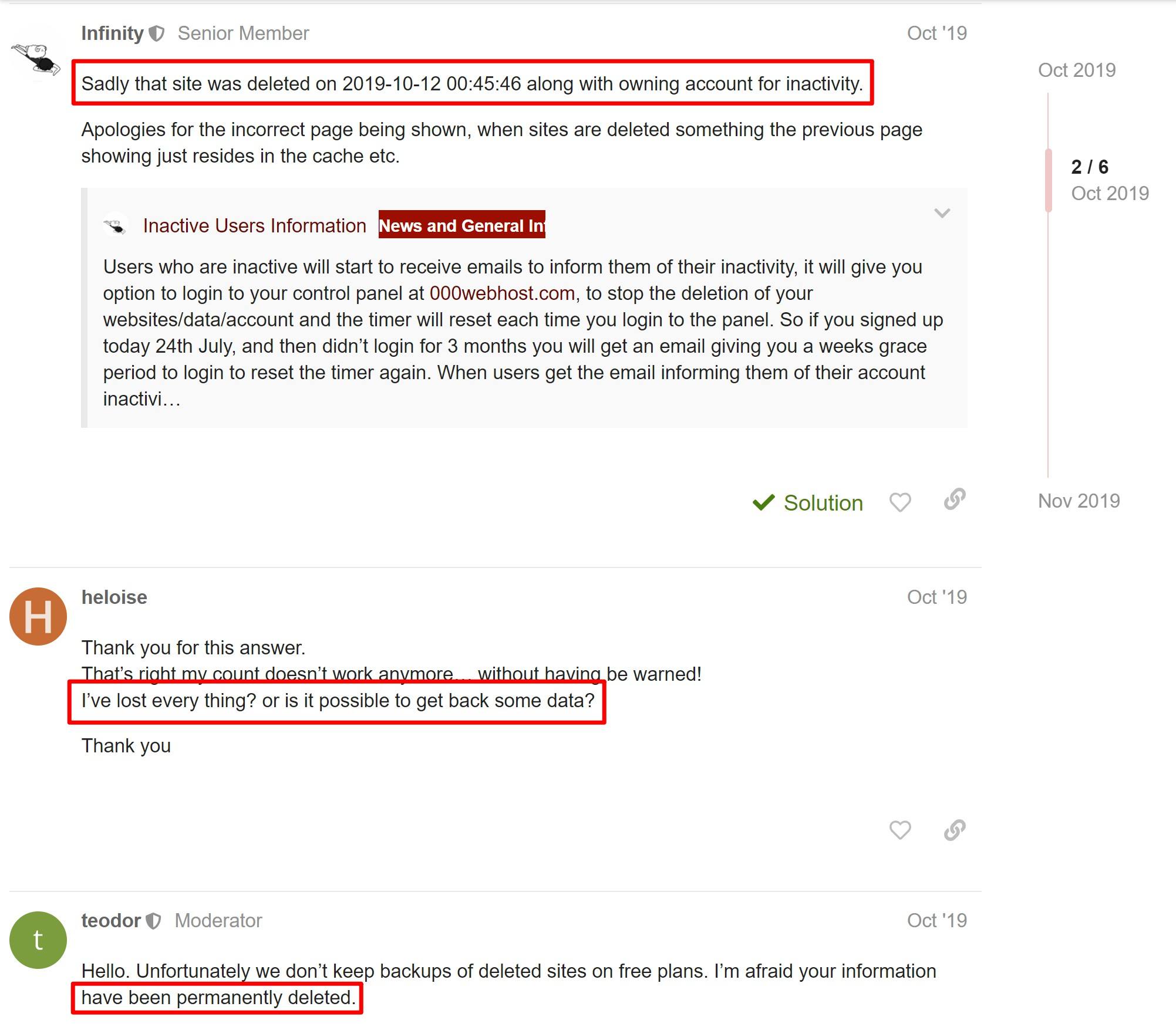 So, unless you want the pressure of remembering to log in every so often, you'll probably be better off paying for a host that won't purge you if you go inactive for too long.
5. Your Site May Get Deleted for Another Reason (and You Have No Recourse)
In addition to having a site shut down for inactivity, you're also at the whims of a free WordPress host for other types of suspensions.
For example, at 000webhost, you can be automatically suspended if you exceed limits on 'processing power, memory, hits and so on'. Your host can also suspend you if a third-party or staff member reports you.
While you can appeal a suspension, you have to do so within seven days or your data is deleted forever, with no chance to recover it: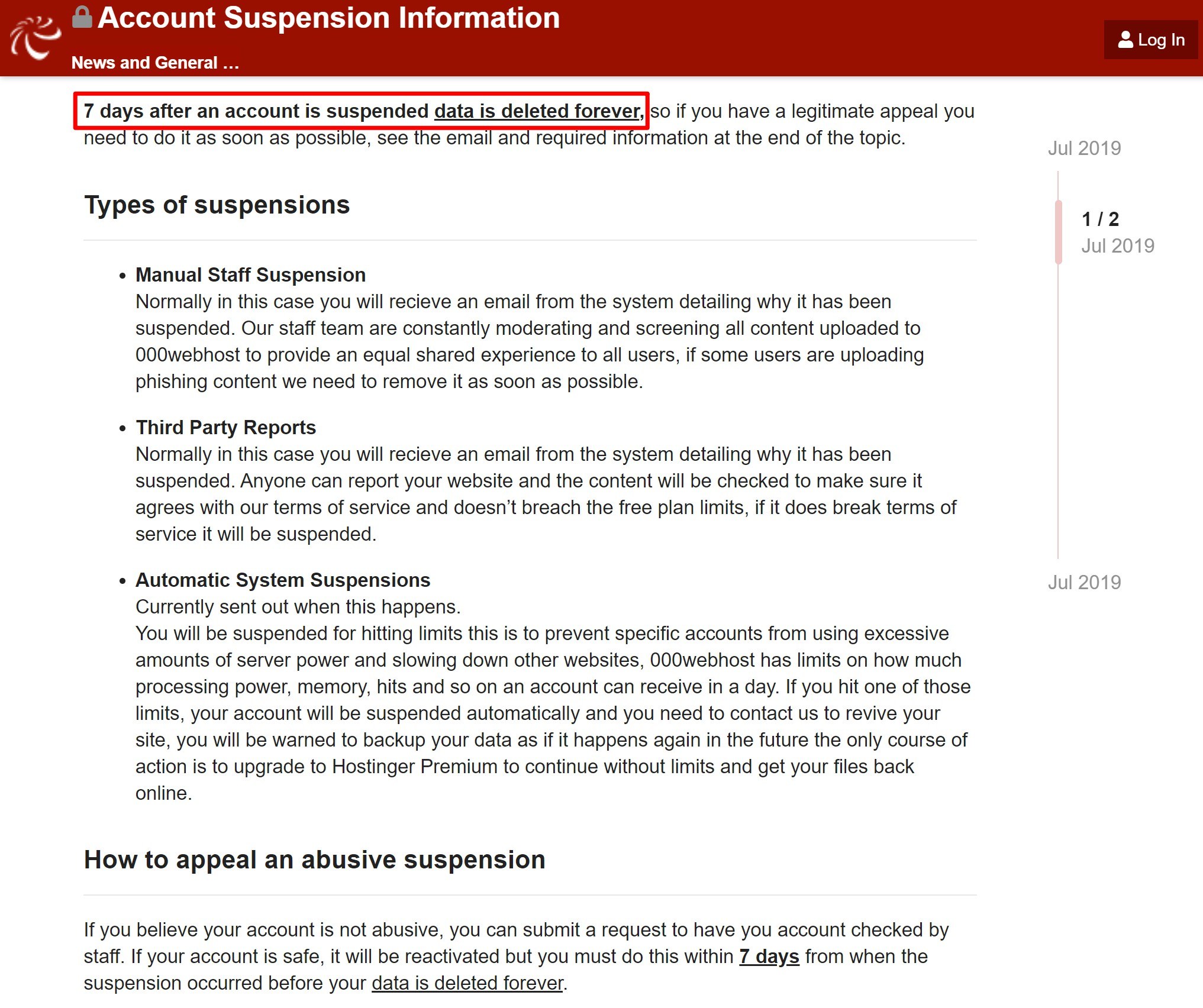 The suspension policies vary depending on the host, but they're usually pretty similar in this respect.
While paid hosts can suspend you too, they have a financial incentive not to, which makes it much less of an issue.
6. Your Host May Randomly Shut Down (and You'll Lose Your Data)
Even if your site doesn't get suspended or deleted, there's still another way you may lose access to your site.
If you google 'best free WordPress hosts' or similar, you'll notice a startling similarity between a lot of the lists you find:
They're often filled with defunct options that no longer work.
No, these bloggers aren't just being lazy, it's just kind of a hazard of the free WordPress hosting space.
Put simply, free web hosts are much more likely to shut down than paid web hosts.
So, your site might be chugging along smoothly for a bit, but there's a non-trivial chance that your host could shut down at some point in the future. Sometimes, you may not even get any notice, which could cause you to lose your data if you're not regularly backing up your site.
7. You're On Your Own With Security
Most paid web hosts implement proactive security measures and scanning because they have a financial interest in keeping your website clean and functioning.
That's not the case with most free hosts. Some do offer basic firewalls and account isolation, but it's a far cry from the kinds of proactive security measures a quality paid WordPress host implements.
Most paid WordPress hosts also offer free, easy-to-install SSL certificates nowadays. This gets you the green padlock in visitors' browsers and helps to secure the data that passes between your visitors and your website.
You won't get a free SSL certificate with free hosting, though, which leaves your data open to malicious actors while it's in transit.
8. You May Have to Deal With Outdated Technologies
If you want to keep your WordPress site secure and functioning, you need to use the latest technologies. For example, PHP 5.6, PHP 7.0 and PHP 7.1 no longer receive active support or security fixes, which means you should be using PHP 7.2 at a minimum.
Despite that, a lot of free hosts don't offer anything beyond PHP 7.0.
You'll also often notice the same with other technologies, such as HTTP/2.
This issue doesn't hold true across all free WordPress hosts, though. For example, AccuWeb's free hosting offers both PHP 7.X and HTTP/2. But it's true for most of the free WordPress hosts I looked at.
9. You'll Have to Deal With Some Annoying Things
Finally, I put this section at the end because it's sort of a catch-all for 'annoying things you'll have to deal with but have workarounds'.
For example, many free WordPress hosts don't support email hosting, which means you can't create your own email (e.g. [email protected]). There are workarounds — such as using a free Zoho Mail account — but this is something you wouldn't have to do with a decent shared host.
Similarly, the emails your WordPress site sends (such as password reset emails) will probably have horrible deliverability, which means they'll go straight to people's spam folders. Or, some free hosts just completely disable PHP mail, which means your WordPress site won't be able to send any emails at all.
Again, you could fix this by using a free SMTP service, such as SendGrid or Mailgun, but it adds some work.
Other features you'll miss out on that most paid WordPress hosts offer are:
Automatic backups
Automatic WordPress updates
Staging sites
Basically, because you're getting the bare minimum of service, you're going to have to take the initiative and deal with some things that a good paid host will handle for you.
Two Situations Where Free WordPress Hosting Makes Sense
I think there are two situations where free WordPress hosting can make sense. I still don't think it's the best solution, but it can be a good enough solution sometimes.
The first scenario would be if you just want some kind of sandbox where you can play around with WordPress themes and plugins at no risk. For example, I have tons of test WordPress sites spread around different hosts because it makes it easy for me to try out different WordPress tools.
In such scenarios, it's not really a big deal if your site loads slowly or has a security issue because there's nothing important on the site.
Another scenario where free hosting could work is a non-profit hobby site. For example, if you just want to create a website where your extended family can host pictures, maybe free WordPress hosting is all you need.
Still, I'd be careful because it's always possible that your host could shut down or suspend you, which could make you lose your site and its data.
If you value your hobby site, it may be better to move it to a cheap shared host that will be a little more reliable.
The Business Case for Why Free WordPress Hosting Is a Bad Idea
If you re-read the section above, you'll notice I didn't mention running a profit-driven business on free WordPress hosting.
There's a reason for that omission — it's a bad idea!
If you want your business to be successful, you need to invest in it. As I hopefully drove home above, there are some very real business costs to free WordPress hosting.
The biggest one is your site's load times. Slow load times negatively affect user experience and Google rankings. Plus, there's even data showing a correlation between slower load times and a decrease in conversion rates. All of those things are the opposite of what you need if you want your business to be successful.
There are also the security issues I mentioned above, and the fact that you could lose your business at any time to an unexpected shutdown.
If you're planning to create a successful business, investing in quality managed WordPress hosting, such as WP Engine or Kinsta, is a good use of your money. You'll get a partner who'll take care of optimizing and maintaining your site, so you can focus on growing your business. Learn more about how managed WordPress hosting helps you.
The Three 'Best' Free WordPress Hosts
If you still think free WordPress hosting is right for you, here are some of the better options out there, based on my research.
These options can eliminate some of the pitfalls I discussed above, but I still don't think they're a good choice for any type of serious website.
000webhost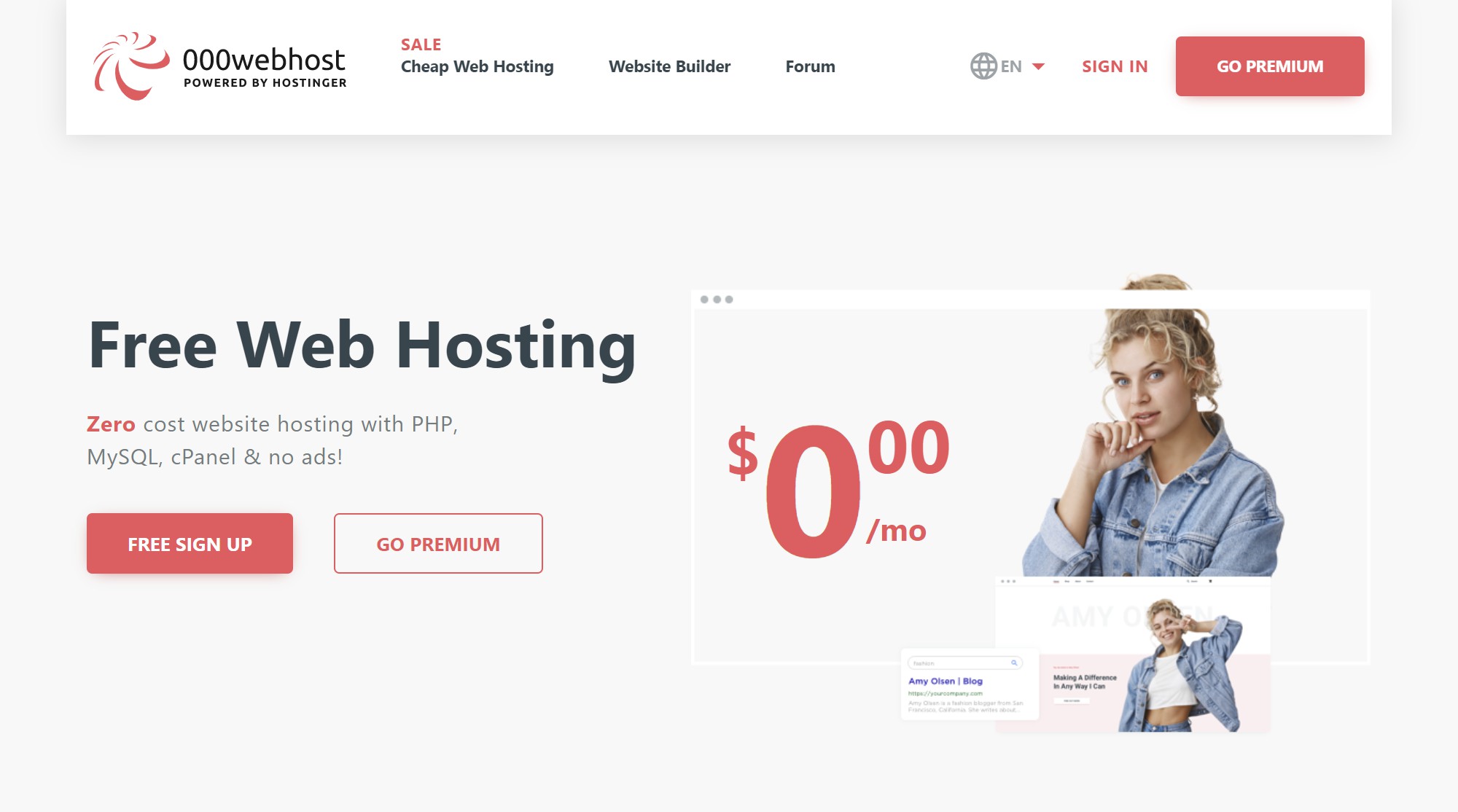 In the sections above, it may have seemed a bit like I was picking on 000webhost, but the reason I kept using them as an example was actually because they're one of the better, more popular options for free WordPress hosting.
000webhost is the free option from Hostinger, a cheap shared WordPress host.
You do have to deal with a lot of upsells pushing you to purchase paid hosting from Hostinger, but 000webhost is still a decent option. Here's what you get:
Create two websites for free.
Use your own custom domain or a free 000webhost subdomain.
Full database and FTP access.
One-click WordPress installer.
No ads.
300 MB of storage
3 GB of bandwidth
The main downside with this one is the strict limits — 300 MB is not a lot of space for a website, and you can easily eat that up with images.
Byet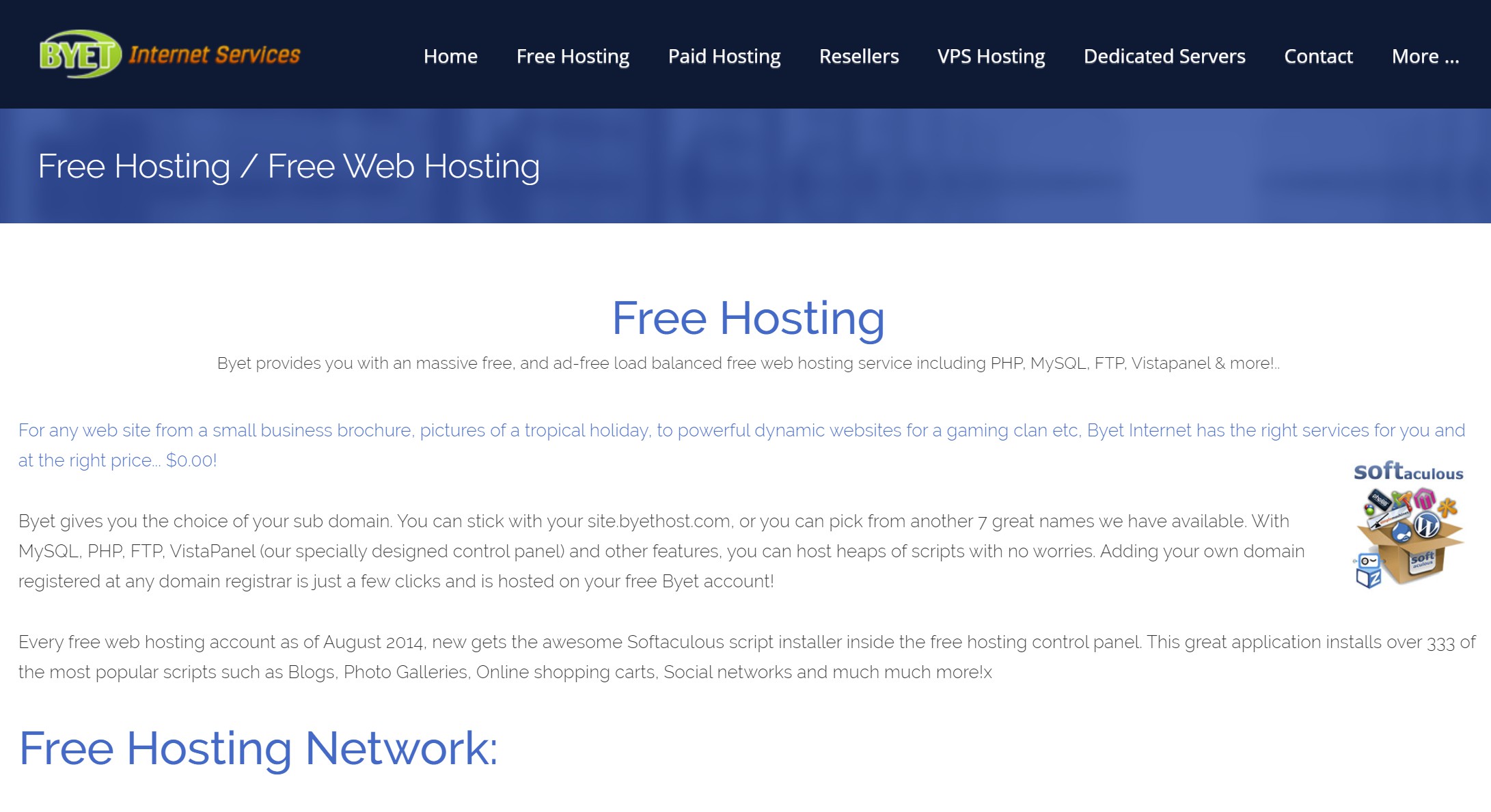 Byet are unique because they offer (or at least advertise) unlimited storage and bandwidth. There's one caveat with the unlimited storage, though — individual files can't exceed 10 MB. So, don't expect to load it up with tons of videos or anything.
Other features include:
Use your own custom domain or a free domain name.
Email hosting for up to five accounts.
One-click WordPress autoinstaller.
No ads.
Byet have been around for more than ten years, so they're also one of the more stable free WordPress hosts.
AccuWeb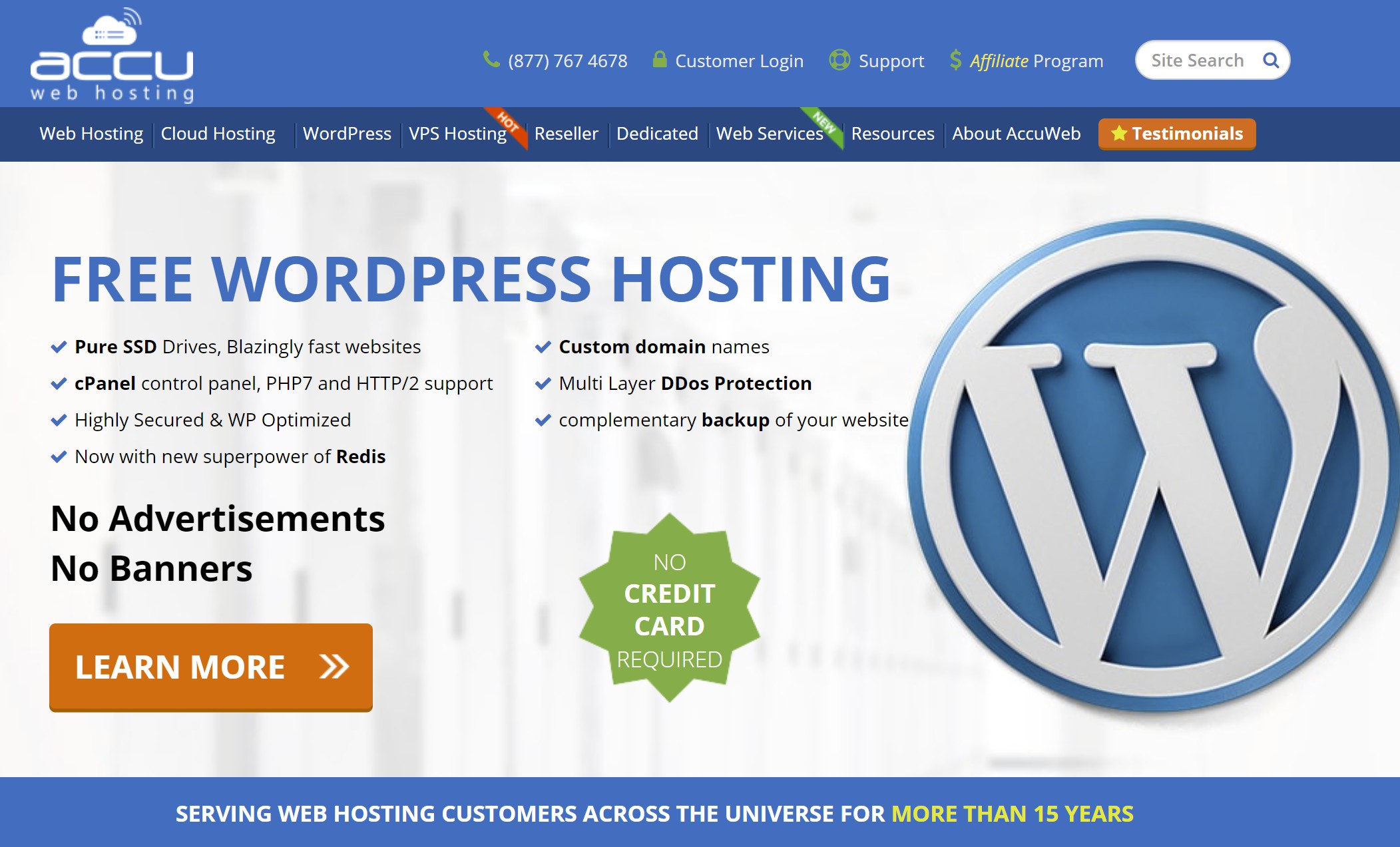 AccuWeb are another established free host — they've been around since 2003. They're a bit stricter than others about who signs up — you need to submit a government-issued ID when you register, which, in part, helps them to enforce a strict 'one website per person' rule.
Here are the other features:
2 GB SSD storage and 30 GB bandwidth.
Uses cPanel.
Full server and database access.
One-click WordPress installer.
No ads.
Use your own custom domain name. However, AccuWeb do not offer a free subdomain like the others.
Up to 25 email accounts.
AccuWeb seem to be the best free option when it comes to offering modern technologies. For example, you still get access to cPanel, the latest versions of PHP, and HTTP/2.
Three Cheap Paid Alternatives to Free WordPress Hosts
So, if you shouldn't use free WordPress hosting for a serious project, where should you host your site?
Well, if you're considering free WordPress hosting, that probably means you're on a tight budget, which means you'd be a good fit for shared WordPress hosting.
With shared WordPress hosting, your site 'shares' its resources with other sites on a server.
While this isn't ideal for high-traffic, high-performance sites, it's totally viable for small projects — and the big advantage is it keeps your costs very low.
We have an entire page dedicated to our recommended shared WordPress hosting providers, but here's a quick rundown of our recommended options…
SiteGround — our review — paid plans start at $3.95 a month (one-year minimum) with helpful features such as automatic WordPress updates, free SSL certificate, a custom dashboard and more.
DreamHost — our review — paid plans start at $2.59 a month (three-year minimum) or $4.95 a month (pay monthly) with automatic WordPress updates, free SSL certificates and automatic backups.
Bluehost — paid plans start at $2.95 a month (three-year minimum) or $4.95 a month (one-year minimum) with a user-friendly dashboard, staging, automatic WordPress updates and more.
Any of these shared hosts will offer a much better product than free WordPress hosting in several key areas:
Performance — even on cheap shared hosting, your site will load a lot faster than free WordPress hosting.
User experience — all three of those hosts offer really convenient dashboards and helpful maintenance features, such as automatic WordPress updates.
Support — you'll get access to 24/7 support whenever you need it.
We've also collected some other cheap WordPress hosts.
Conclusion
At this point, I hope I've made it clear that there are some real costs to free WordPress hosting. While you won't have to pay with money, you'll have to pay with:
slower load times and degraded user experience
more time spent managing your site because you lack the tools most paid hosts offer
the anxiety of knowing your site could be shut down at any time with little to no option for recourse.
My opinion? When you factor that in, spending ~$5 a month for a cheap shared host is actually 'cheaper' than free WordPress hosting!
Related Reading:
Used/using free WordPress hosting? Thoughts?
All comments are held for moderation. We'll only publish comments that are on topic and adhere to our Commenting Policy.