Five Superb WordPress Plugins for Building Highly-Effective Landing Pages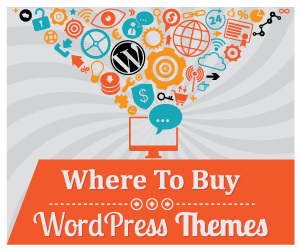 In this post, I'll be looking at the best WordPress plugins for making building landing pages not only easier, but also more effective for your business.
Have you ever tried building a landing page in a standard WordPress set up and actually gotten any usable, worthwhile results? This isn't a trick question. Really. Give yourself a minute to think about it.
Chances are, the answer's 'no'.
As great as WordPress is at many, many things, landing pages simply aren't one of them.
I mean, there are numerous requirements and traits that make up a quality landing page — and almost all of them go against WordPress's main offering in terms of website structure and navigation.
For instance, the best landing pages out there feature almost no navigation whatsoever — not even a link to the homepage. However, nearly all WordPress themes use a hard-coded menu somewhere in the header. And, yes, you can remove* it — but not without some coding chops.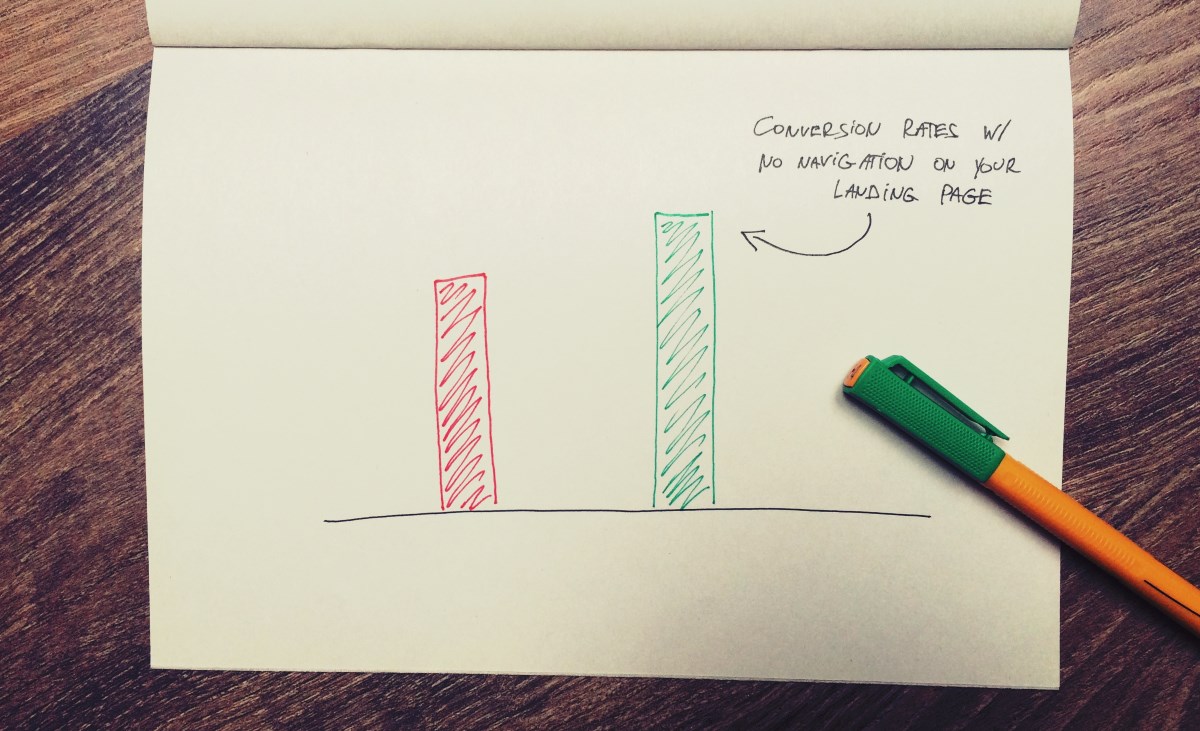 Then comes the bigger issue: The layout. Whereas standard WordPress pages have to settle for just one structure per page, landing pages should be a bit more fluent and allow you to go from a single column to a grid layout, content-sidebar, and so on, all within the same page.
Obviously, you'll need some plugins to make all of that (and more) possible — and the landing page game is worth playing. For instance, a while ago, conversion-rate-experts.com shared the results it had had when working on a single landing page experiment for Moz. It reported a 52% increase in sales (Moz PRO membership) and $1 million of additional revenue a year.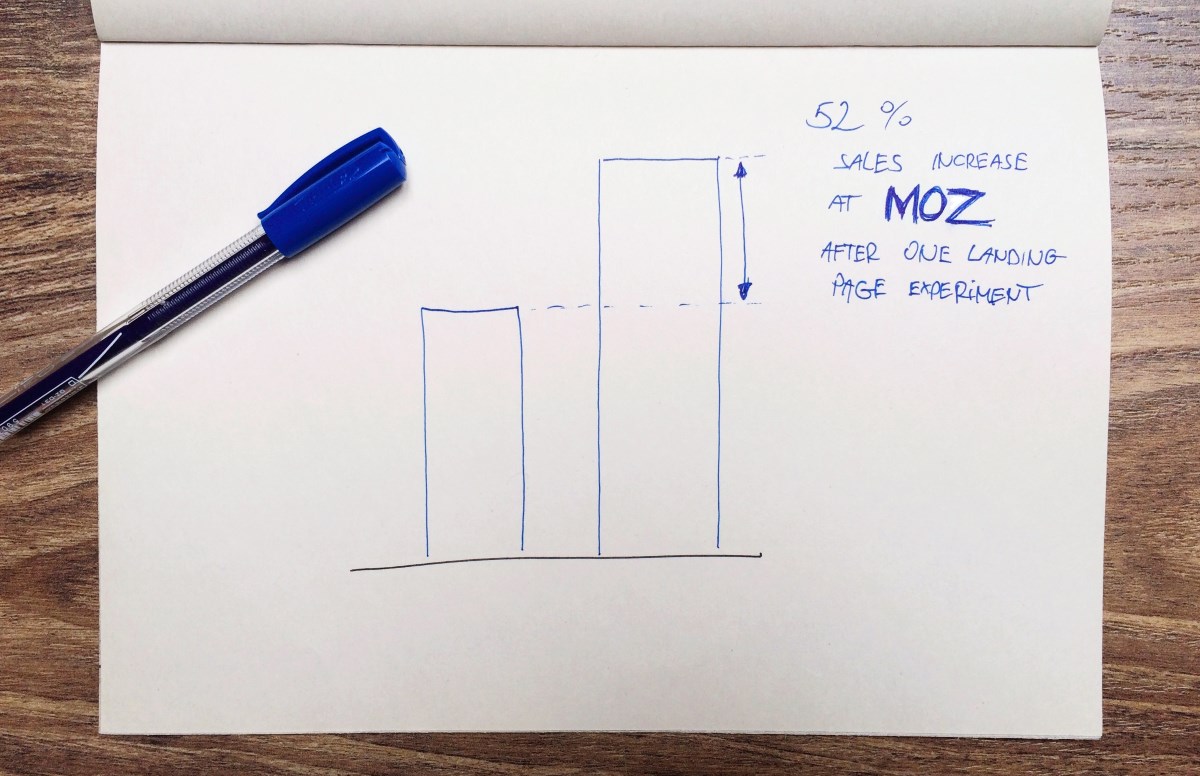 So, are you ready to get in the game with a great landing page, and grow the conversions your WordPress site is generating? Then read on.
But, before that, why are we even focusing on plugins when there are so many landing-page-friendly themes out there in the first place? Well, as great as landing page themes are, they're just scary (yes, I do mean scary) to integrate into an already functioning business site.
Think about it: You have your site, you have your theme, and you like the design. You certainly don't want to go through adjusting a new theme to your needs and making it look like your current design. You just want some landing pages enabled! So that's what we're discussing — and that's also why we're focusing on plugins (sorry, OptimizePress).
This isn't a random set of drag-and-drop builders: The plugins on this list have been carefully selected. Every plugin here allows you to take full control of each landing page and give it a completely custom design/structure that's independent of your current theme.
WordPress Landing Pages

Price: $0 (there are paid add-ons) | Official website
Let's kick off with a free solution. WordPress Landing Pages is a simple plugin that delivers some basics, as well as advanced functionality, in the landing page department.
Its main purpose is to enable site owners to build and then track the performance of their landing pages in an easy-to-grasp form, thus improving their conversion rates and getting more leads.
Features
Visual editor where you can preview changes in real time
A number of predesigned templates (single and multi-column layouts, countdown timers, and so on)
Uses your current theme as the base of new landing pages, but also allows you to start from scratch and build an entirely custom template
Conversion rate tracking
Built-in A/B testing ability
Built-in form creation wizard
(Premium features) Add-ons and integration with email newsletter software, social platforms, and other external tools
Pros
The landing page creation process is modeled after the standard page creation path in WordPress, which makes it very intuitive
The A/B test results are presented clearly, which makes work with different variations of your landing page much easier
There are a big number of add-ons, so you can extend the default functionality drastically
Cons
The default templates are not that attractive
To build a truly great-looking landing page that uses the available add-ons, you'll need to spend a fortune
Needs PHP version 5.3+ to work at all
Parallax Gravity — Landing Page Builder

Price: $0 (premium version available) | Official website
Although this WordPress plugin comes with a rather short description in the official plugin directory, it delivers a nice set of features that can be handy for those of us who are a bit more code-savvy.
The idea of this landing page plugin is to deliver a way to create a sequence of content blocks that construct a complete landing page when combined. Everything happens inside a new section in the wp-admin, and the process is similar to that of adding a standard WordPress page.
Features
The possibility to include any number of content blocks on the landing page
Each section can have its own full-width background (including single-color and image backgrounds)
Content for each section can be put together through a familiar interface that WordPress uses for posts and pages
(Premium features) Parallax blocks, Google Analytics support, shortcodes for titles, buttons and navigation between individual sections
Pros
A very straightforward plugin with a minimal learning curve
Easy to follow for users who have basic WordPress and HTML coding experience
Provides a basic landing page functionality, which may be all you need
Cons
There's just one content block type, which you have to adjust yourself to turn it into something unique
The integrations are on you. For example, connecting the landing page with your email newsletter service has to be done by hand
Qards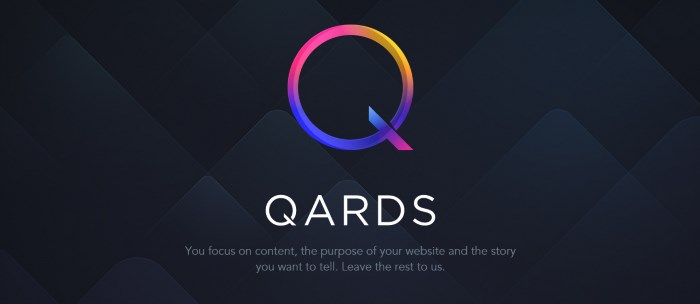 Price: $99-plus | Official website
Qards — a new creation by Designmodo — offers interesting landing page building functionality that works with most WordPress themes.
This landing page plugin gives you access to individual content cards of different types that can be put in a sequence through a drag-and-drop interface. Also, each card can be adjusted through the front-end editor.
Features
Full drag-and-drop support (including media uploads straight from your desktop)
In-line editing right on the front end
Fully responsive and mobile-friendly landing pages
No design or coding skills required to use the plugin
A big set of great-looking content cards available
Custom CSS and HTML editors for advanced users
Works with WooCommerce
Video tutorials available
Pros
So easy to use that you can get started right away without reading any docs
Every individual card looks great and needs very little in terms of customization
It lets you keep your theme running most of the site, and just use the plugin for individual landing pages
You can turn any landing page into your homepage
Cons
There's no native marketing-related landing page functionality, such as conversion tracking or split testing
It's a bit pricey — especially the agency license, which, although it's priced at $199, only allows you to use the plugin on a mere five sites
Thrive Content Builder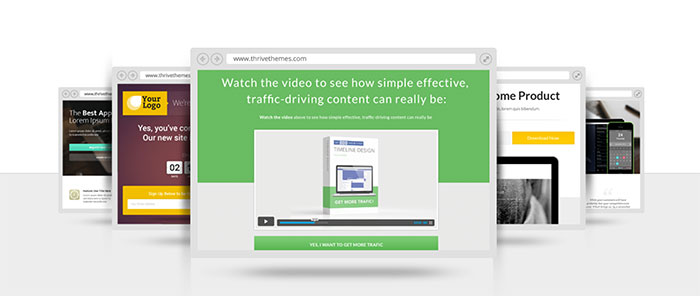 Price: $59-plus | Official website
Thrive Content Builder is an advanced front-end page builder. Although by advanced, I don't mean you need to be an advanced user to get your head around it — in fact, it's rather intuitive.
I call the builder advanced because of the features it offers. First of all, you get full front-end editing functionality, which means you see exactly what your content is going to look like after hitting the publish button. On top of that, there are a large number of predesigned blocks that look great when put together on a landing page.
Features
Full drag-and-drop support
Front-end editing
Integrates with your current theme
Predesigned content blocks and page elements, such as buttons, testimonials, guarantee forms, and more
Built in optin forms
Fully responsive and mobile-friendly
Visual HTML table builder
Ability to edit HTML and CSS manually
Pros
Its intuitive interface integrates with standard WordPress pages (the plugin's functionality can be enabled on any page)
The front-end editing functionality is a big step up in comparison with other plugins on the market
It enables you to build optin forms for capturing leads
It's got a tailor-made landing page module called Thrive Landing Pages that allows you to take full control over the page you're editing — for example, remove headings, change layouts, and so on
Cons
The main editor can be a bit intimidating when you first see it, providing a big number of options right out of the gate
LeadPages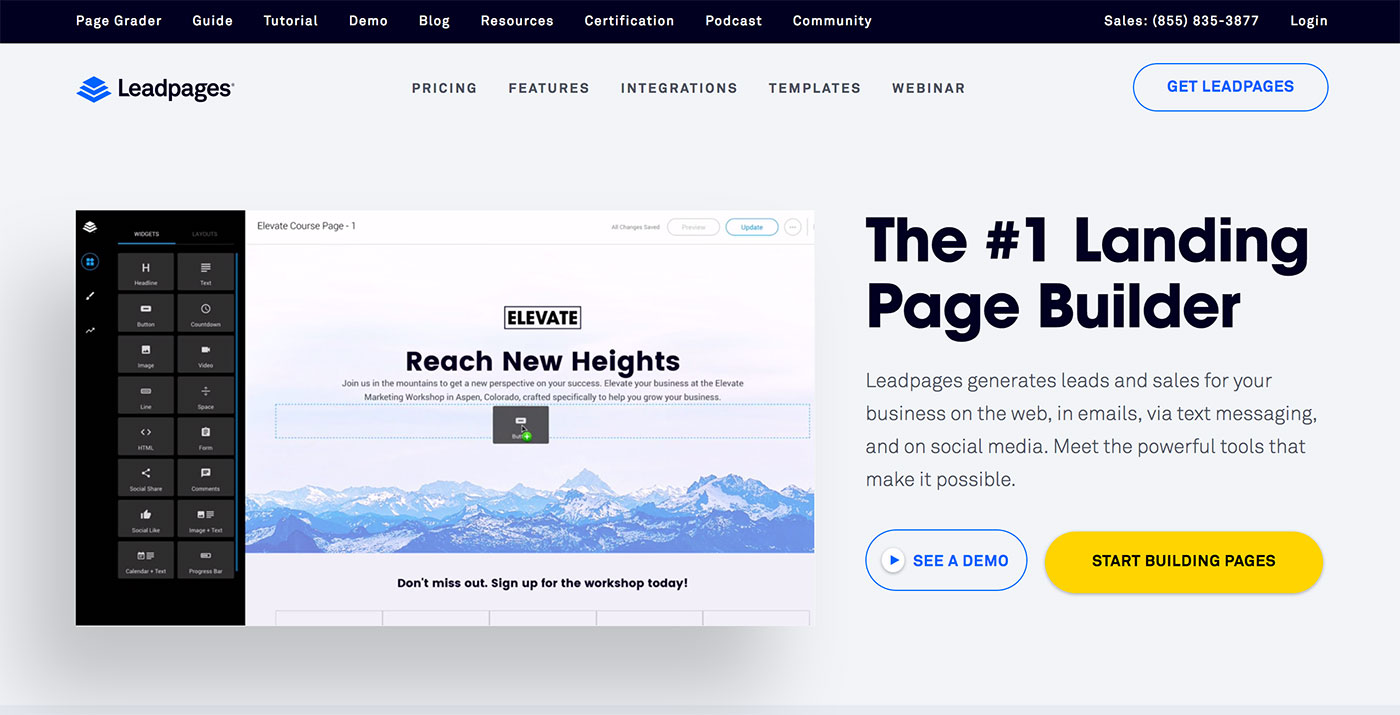 Price: $37-plus per month | Official website
LeadPages has had a huge impact on the web; it actually introduced many site owners to the concept of landing pages. At its core, LeadPages's functionality isn't contained inside a WordPress plugin — the plugin only serves as a connector between your site and your LeadPages account.
To use the whole thing, you have to first sign up to LeadPages, set up your landing pages through its interface, and then integrate them back with your site through the plugin. It's actually a lot simpler than it sounds, and launching a new landing page only takes a couple of minutes.
Features
Full drag-and-drop support and front-end editing within the LeadPages interface
Three types of license available, with three different payment plans for each
Huge library of landing page templates
Mobile-friendly and optimized designs
Possibility to import your own landing page designs
A/B testing
Various types of optin boxes (and ways of getting leads in general)
Integrated with all major email service providers
Sub-accounts for coworkers
Facebook integration for lead capture
Pros
You can use LeadPages with unlimited sites and on unlimited domains
You get access to tested landing page templates — and I really mean it. The LeadPages community is known for sharing the results they get from various landing pages, and the developers then turn those top-performing landing pages into templates for you to use
The size of the landing pages library is stunning
LeadPages is doing something no one else on the market is doing — it allows you to offer different email optin gifts from each individual subscription form
Cons
Don't let the low price fool you. This is actually the priciest solution on the list. The first year alone of using it will cost you $300-plus. And that's the cheapest license available. The pro license is $480 for the first year, and it only goes up from there
The Winner?
As always, pointing out the winner is a hard thing to do, especially since we all have different requirements and expectations regarding a quality landing page plugin for WordPress.
So, just to sum up, let's tackle this from a couple of different angles and talk about why you may want to use each specific plugin on this list.
WordPress Landing Pages. It's a good WordPress plugin for a beginner who just wants to get started working with landing pages. The setup is simple, and the available visual editor, along with the pre-made templates, makes launching a good-enough landing page possible — even if you don't have any design or coding chops. Also, you can integrate your landing page with an email delivery service or any other back-end solution. Keep in mind, though, that those additional modules come with a price tag.
Parallax Gravity — Landing Page Builder. It's a basic plugin, but it can still be very useful if your current theme doesn't support landing pages in any way. With this WordPress plugin, you'll be able to keep using your theme on most of the site, and then just use a custom design provided by the plugin on a handful of individual landing pages.
Qards. It has next to no learning curve at all — you can just jump in and begin using it. This makes it a great solution for site owners who want to get the job done fast with as high-quality results as possible. With this plugin, you effectively don't need a professional designer to build your landing pages any more.
Thrive Content Builder. It's a great solution for anyone who's building new landing pages on a regular basis, and needs a fast and easy way to get the work done. Therefore, it's a plugin that's perhaps more suited to the heavy users among us.
LeadPages. Because of the high cost of using this whole service, it'll be more useful to the heavy-hitters. It provides a ton of possibilities in terms of options, tested landing page designs, lead capture methods, and so on — in short, it's the best solution on the list if you can afford it.
Landing pages are among the top marketing tools for bringing you more business without spending any additional funds on lead acquisition. What's even more interesting is that the more landing pages you have, the better your results. (According to HubSpot, sites with 10-15 landing pages get 55% more conversions than those with fewer than 10 landing pages.)
Each of the plugins featured here has its pros and cons, so I encourage you to visit the websites and check out the official materials and tutorials before making your decision. Sniff around a bit to find out which one is most likely to work for your site and your situation — and don't forget to come back and let us know what you think about them! We're happy to update this comparison with your input.
*Note: Removing navigation is done to focus the visitor's attention on the main call to action instead of letting them wander around all over the site. An experiment done by HubSpot proves that this practice can result in a 28% increase in conversion rates.
Using/used any of the above? Which would you say is the best of the bunch?
All comments are held for moderation. We'll only publish comments that are on topic and adhere to our Commenting Policy.
Our commenting form also supports the use of Markdown.