WinningWP content is free to all. If you make a purchase through referral links on our site, we earn a commission (
learn more
).
WP Engine WooCommerce Hosting Review: The Best Managed WooCommerce Hosting?
Searching for the best WooCommerce hosting for your store?
In this WP Engine WooCommerce review, I'm going to take a hands-on look at WP Engine's new dedicated WooCommerce hosting plans, in detail, and help you to decide if they're the right choice for your WooCommerce store.
WP Engine have long been one of the top managed WordPress hosting providers. But, for most of their existence, they've only offered a generic managed WordPress plan. Sure, you could certainly host a WooCommerce store on that plan, but the experience hasn't specifically been built for it.
That changed in early 2021 when WP Engine launched new dedicated eCommerce hosting plans that offered everything in the regular WP Engine plans, plus a number of features and optimizations specifically for WooCommerce stores.
In this review, I'm going to focus on WP Engine's WooCommerce hosting plans and features.
I'll touch on some general WP Engine features as part of that, but my main goal with this review is to help you to decide whether WP Engine is a good place to host a WooCommerce store.
If you're not launching an eCommerce store, or if you just want to learn more about WP Engine in general, you may want to check out our general WP Engine review instead.
WP Engine WooCommerce Plan Features — How Is It Different?
To kick things off, I want to talk about the features that are unique to WP Engine's eCommerce plans versus their regular hosting plans.
But first, let's talk about the similarities. When you use the eCommerce plans, you're still getting access to all of the general features WP Engine offer, including:
Basically, the eCommerce plans give you access to every single feature you'd get with the normal WP Engine managed WordPress hosting plans. Again, you can learn about those in our general WP Engine review.
But then, the eCommerce plans also give you some 'extra' stuff that's specific to WooCommerce. Let's go through those additional goodies.
Tailored Dashboard and Site Setup Experiences
WP Engine have always offered a user-friendly custom hosting dashboard, along with an easy WordPress installer tool.
For the eCommerce plans, though, they make some adjustments to these to adapt them to eCommerce. You get a dedicated WooCommerce installer that sets up a fully functioning store right away, along with some unique features in the dashboard. I'll show you exactly how these work in the next section.
Optimized Caching and Performance
WP Engine offer built-in server-level caching on all of their plans to improve performance. However, caching can cause issues with WooCommerce stores, which means you can't just apply it to your entire site like you can with a blog or brochure website.
To account for this, WP Engine have built their caching and performance optimization platform specifically to work well with WooCommerce. Beyond the WooCommerce-optimized caching, WP Engine also build in a global CDN for your store.
Later in the review, I'll show you data from the performance tests I ran on my store hosted at WP Engine.
Better Product Search Powered by Elasticsearch
Excluding the cheapest tier, all of WP Engine's eCommerce plans come with built-in Elasticsearch powered by the ElasticPress plugin at no extra cost. I think this is one of the most useful features in WP Engine's eCommerce plans, especially for stores with lots of products.
If you're not familiar with Elasticsearch, it essentially offloads your site's search indexing to a separate Elasticsearch instance, which completely takes the load off your WordPress site's database. Instead, Elasticsearch will build its own search index and use that to power your store's search results. As a result, your site won't need to query your WordPress database for every single product search, which will speed up your store on both the front end and back end, and help it to perform better under scale.
But it's not just about performance — Elasticsearch also offers a better, more accurate search experience for your shoppers, which is essential for eCommerce stores. Your store's results will be more accurate out-of-the-box and then you also get the following features:
Autosuggest — suggest products as soon as a shopper starts typing.
Faceted search — let people filter by price, category, attribute, and so on.
Related content — use Elasticsearch's index to power your store's related content.
Custom search results — manually override certain search terms to showcase specific products/content. This is great for promoting high-value products.
Algorithm weighting — manually adjust the search algorithm weighting according to your preferences.
Synonyms — set up your own custom search synonyms, e.g. linking 'sneakers' with 'trainers' to account for regional variations.
You can set up your own Elasticsearch instance if you host your store somewhere else but doing that is either going to be very complicated or very expensive, so having this service bundled in at no extra cost is a big benefit.
For example, if you paid ElasticPress directly to host an Elasticsearch instance for you, the cheapest option is $79 a month, which is already more than you'd pay for the entire WP Engine Professional eCommerce hosting plan.
Dedicated eCommerce Store Optimizer Plugin
If you use WP Engine's WooCommerce installer to create your store, they'll automatically install an eCommerce Store Optimizer plugin that they say will 'boost sales on your eCommerce store with performance enhancements, beautiful page layouts and an effortless setup experience'.
I asked WP Engine support what 'performance enhancements' the plugin makes, but I didn't get a specific answer beyond 'optimizing your site for the WP Engine infrastructure'.
So, I can't prove this plugin will make a difference in your store's performance, but I do trust the WP Engine team that there are some improvements in that area.
Dedicated WooCommerce Blocks and Layouts
To help with designing your store, WP Engine bundle in the Genesis Blocks Pro plugin at no extra cost, which adds new blocks and layouts to the WordPress Editor.
It's not a huge deal, but getting access to some WooCommerce-specific block layouts is nice for designing your store.
Bundled Smart Automatic Plugin Updates
This feature isn't specific to the eCommerce hosting plans (you can also get it with the 'Plus' plan), but I think it's really useful and thus worth the mention.
In WordPress 5.5, WordPress added support for automatic plugin updates. But there's a big problem with just using the core feature: The updates are 'dumb'. That is, if an automatic update causes a problem on your site, there's nothing in the system to address that, so you'd better hope you're around to handle the issue.
WP Engine's Smart Plugin Manager feature fixes that by adding visual verification to the update process. Essentially, it will compare how your site looks before and after applying the update by testing 20 different pages. If anything looks different (which would indicate a bug of some sort), WP Engine will automatically roll your site back to the backup they take right before starting the update process.
You can view the full process below: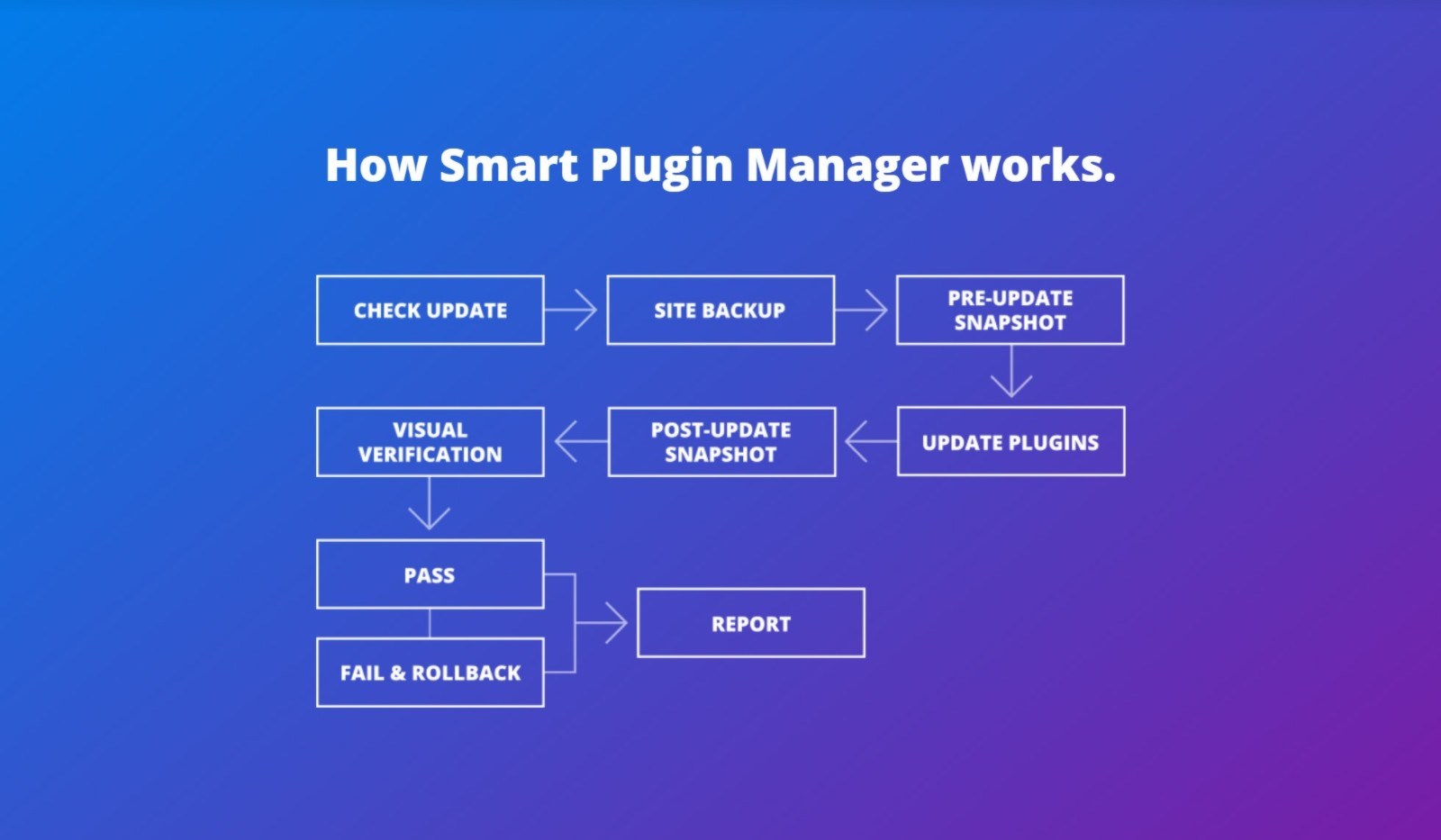 Basically, you get the convenience of automatic plugin updates without the risk. And with all of the eCommerce plans, you get this feature at no extra cost.
Creating Your eCommerce Store With WP Engine
Now, let's start looking at what it's like to use the eCommerce hosting plans.
When you log in to your WP Engine account for the first time after signing up, WP Engine will launch a guided wizard to help you to set up your eCommerce store.
With the eCommerce plan, you get an option to start with a fully functioning WooCommerce store or a blank WordPress site. Creating a blank site is the same for every host, so let's take a look at what it's like to use the dedicated eCommerce site option.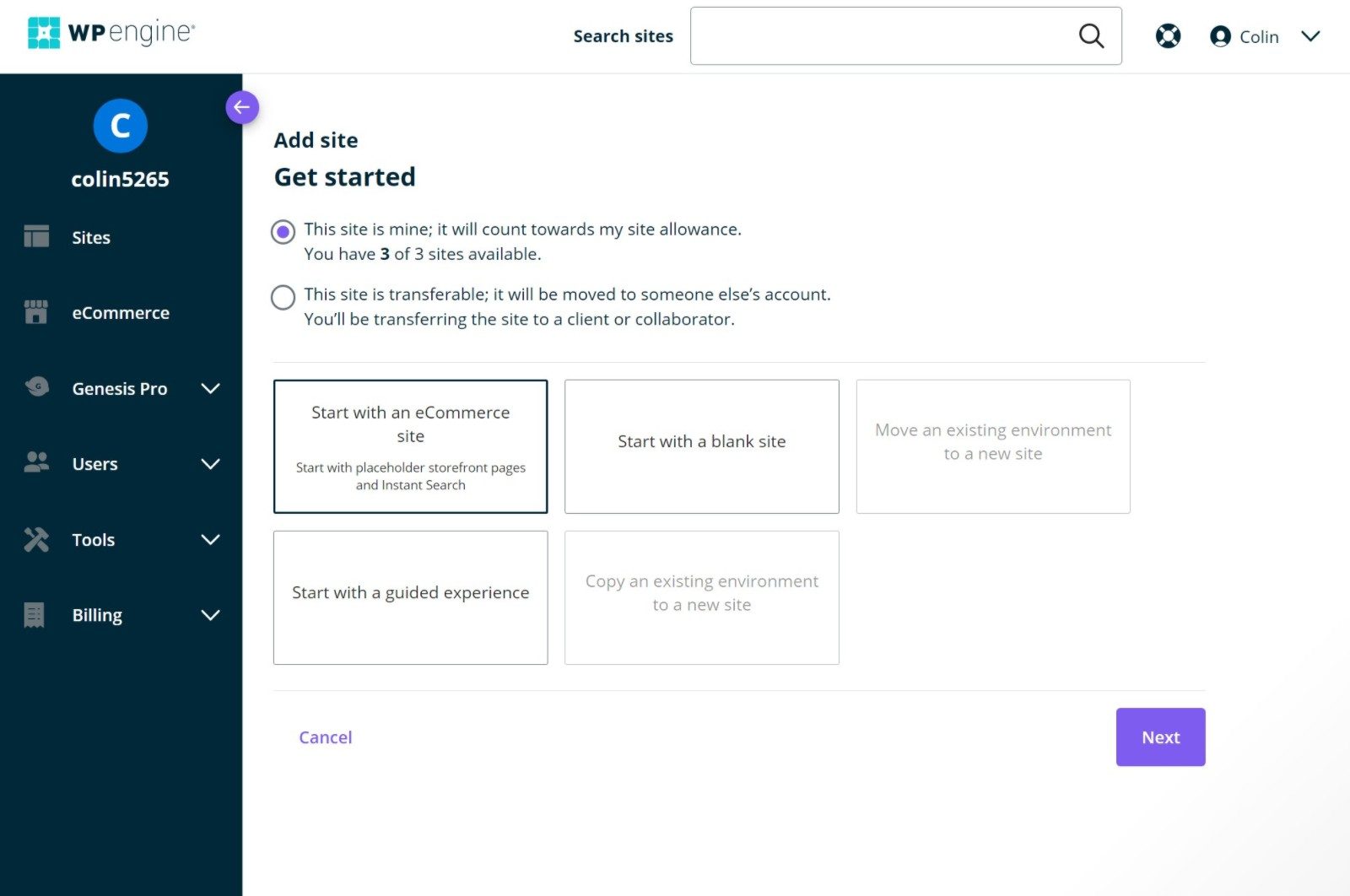 To set it up, all you need to do is enter a name and click 'add site':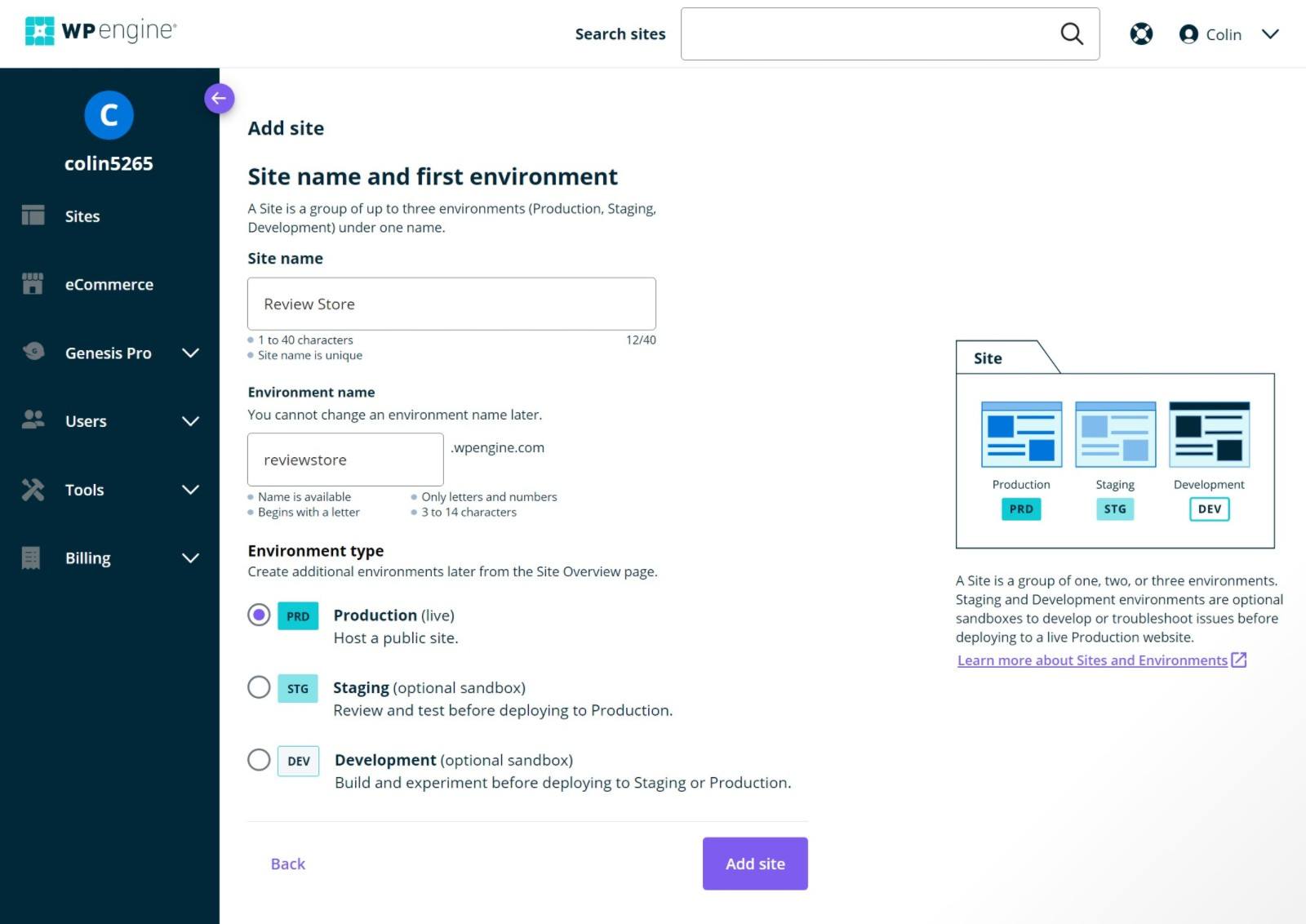 And that's it! You'll have a fully working store. Here's what the default configuration looks like: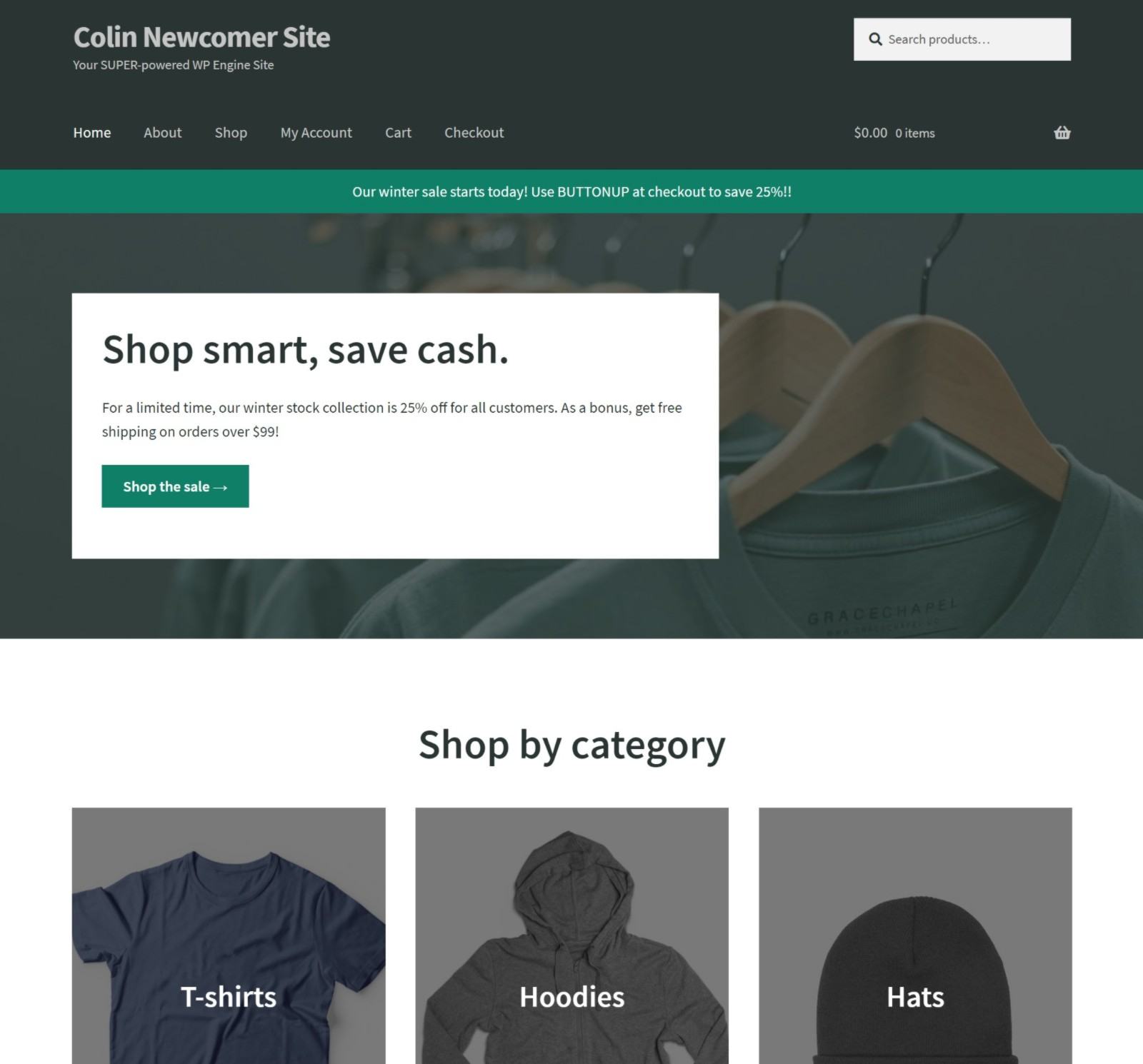 When you log in to your WordPress dashboard, WP Engine add a special WooCommerce-specific starter screen to help you to get up and running. You can access this at any time from the eCommerce Help tab in your WordPress dashboard: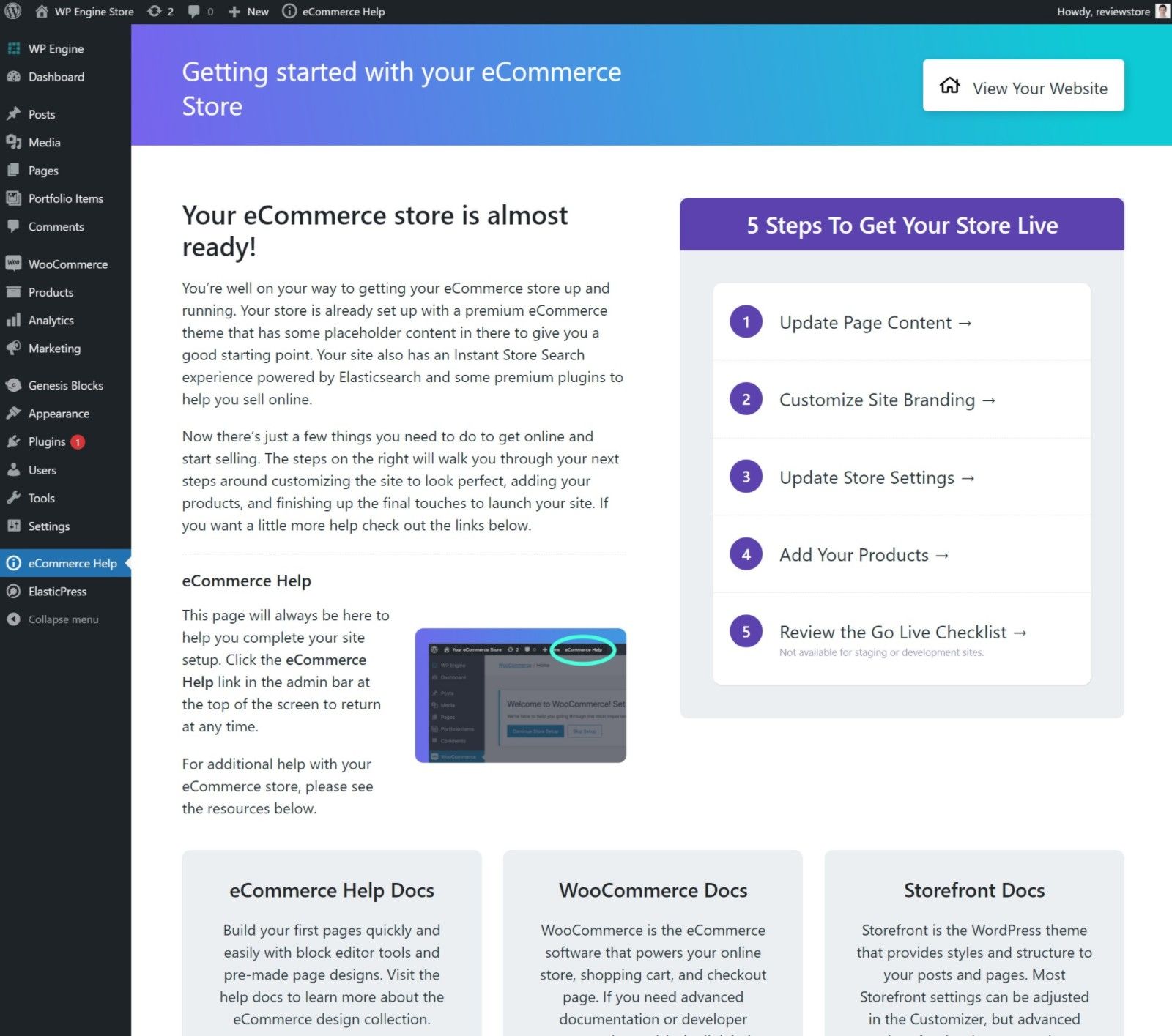 WP Engine also:
import a full set of demo content (powered by the WordPress Editor and the Storefront theme, which we've reviewed)
add demo products
install the eCommerce Store Optimizer plugin
install and configure the ElasticPress plugin
install the Genesis Blocks Pro plugin
install the Smart Plugin Manager.
Another neat user experience detail is WP Engine will clearly make the demo products they set up for you, and you can also remove all of the demo products with a single click: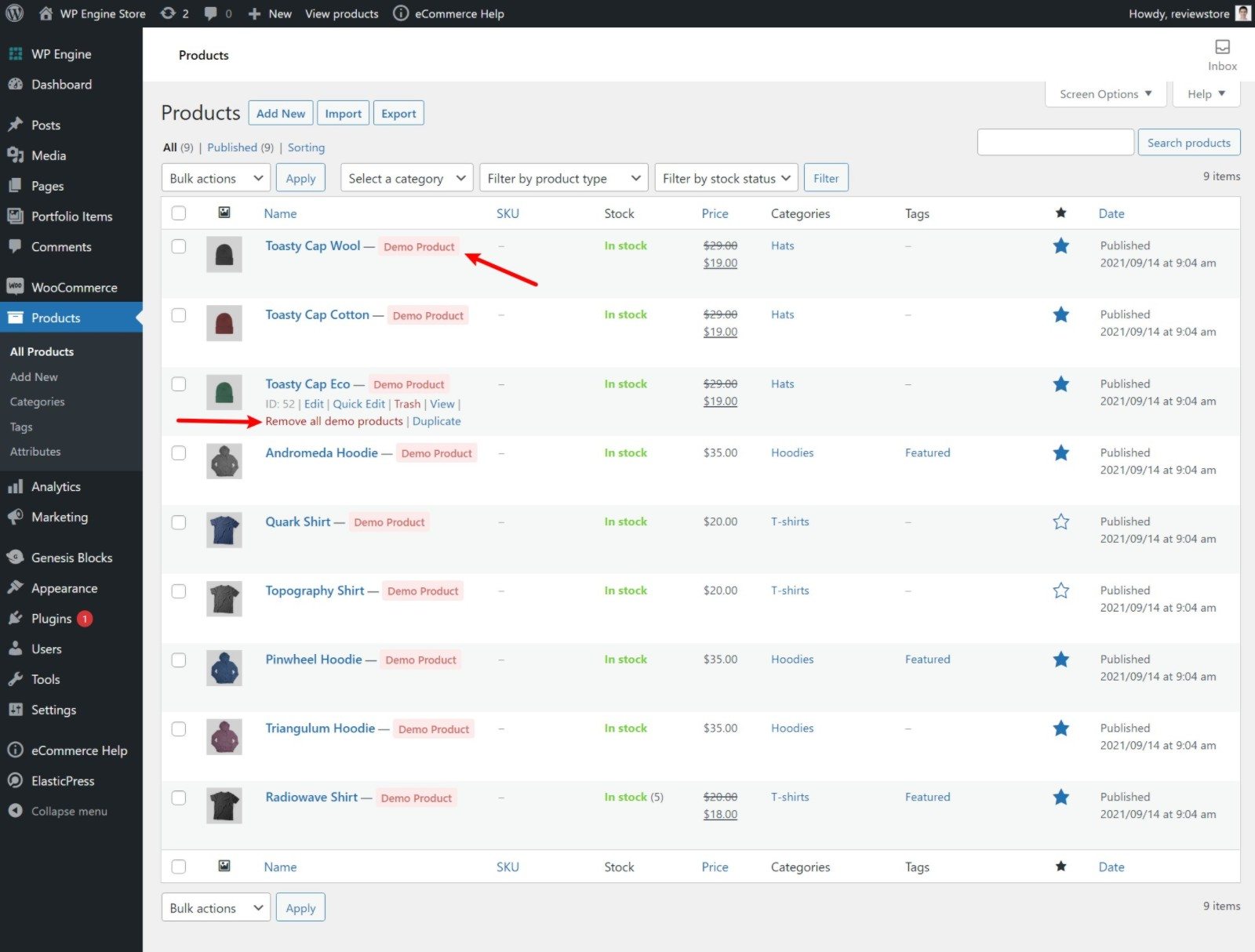 Other than that, the WordPress dashboard experience is the same as a regular WooCommerce store. However, I do want to highlight two other areas that are relevant to the WP Engine eCommerce experience.
Configuring Your Store Search (ElasticPress)
When you create your store, WP Engine do all of the hard work of setting up the technical aspects of Elasticsearch and ElasticPress. That is, they'll create the Elasticsearch instance for you and automatically configure the ElasticPress plugin to connect to that instance, so your search starts working right away.
However, you'll still want to dig in to the ElasticPress settings to control how you want your store's search to function.
Here's some of what you can set up from the ElasticPress tab in your dashboard:
Enable certain search features, such as autosuggest, WooCommerce faceted search, and more.
Adjust the weighting to control your search algorithm.
Add synonyms that are unique to your store.
Create custom results to manually override the search results for specific features.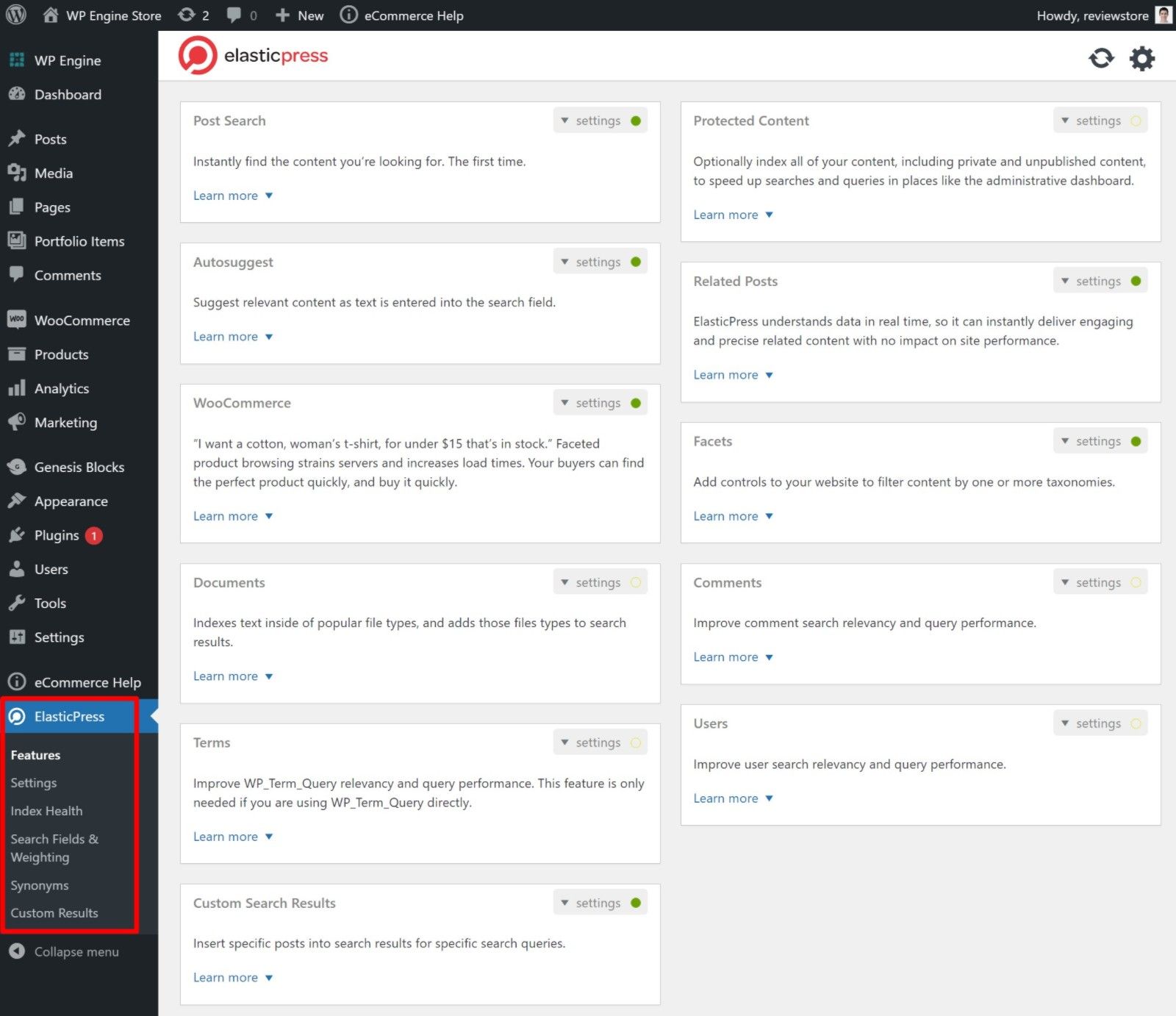 Using Block Layouts
To help you to design your store, the bundled Genesis Blocks Pro plugin includes some pre-built block layouts that match the default look of your store. You can access these by adding the Layouts block in the editor: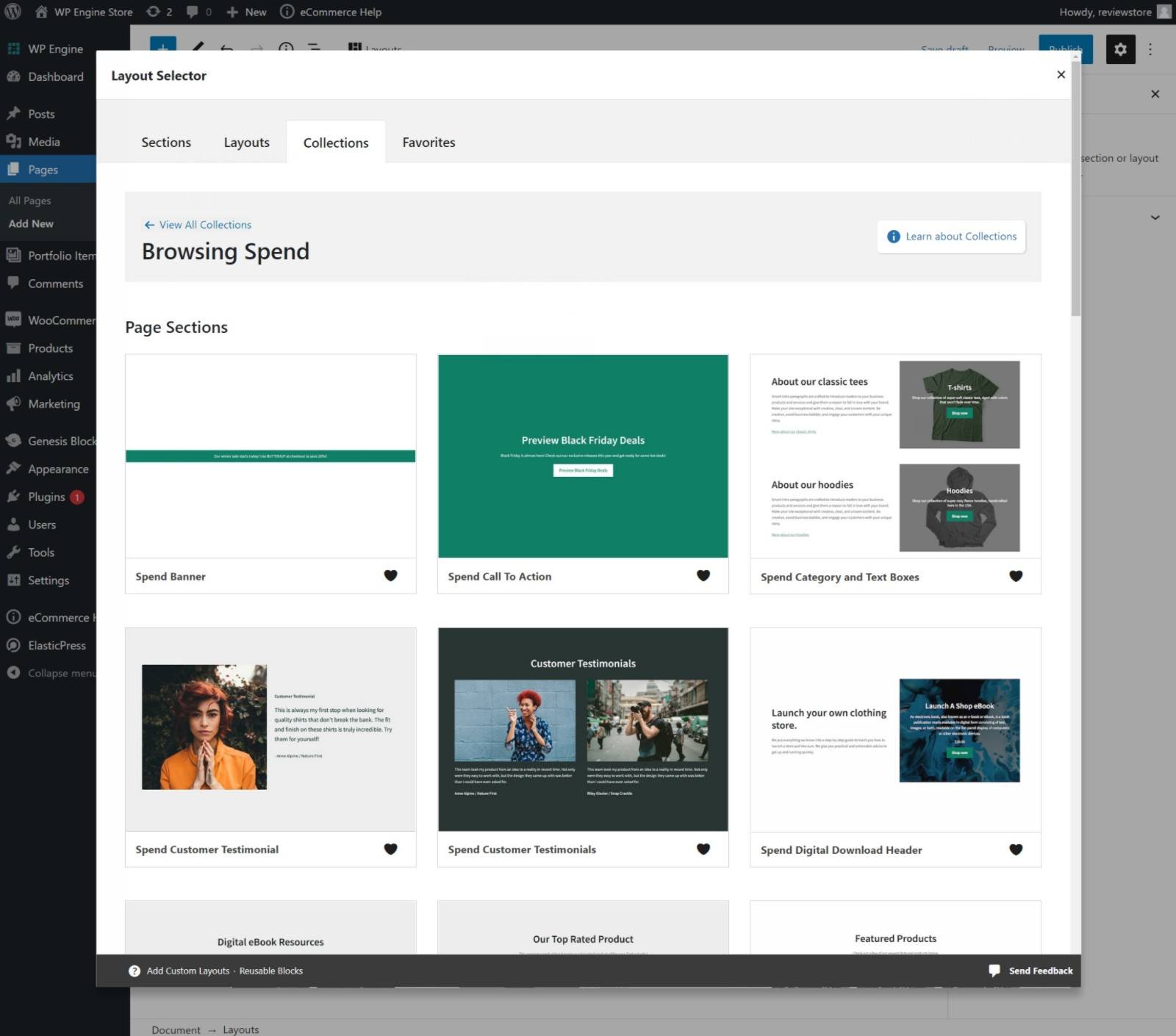 Managing Your Store in the WP Engine Dashboard
For the most part, your WP Engine hosting dashboard experience will be the same as WP Engine's regular managed WordPress hosting plans. However, they do make a few tweaks for eCommerce users.
First off, you get a new eCommerce View in your site list that gives you a direct log in link and shows your store's search status. It's not a huge deal, but it is convenient to quickly check and access your site: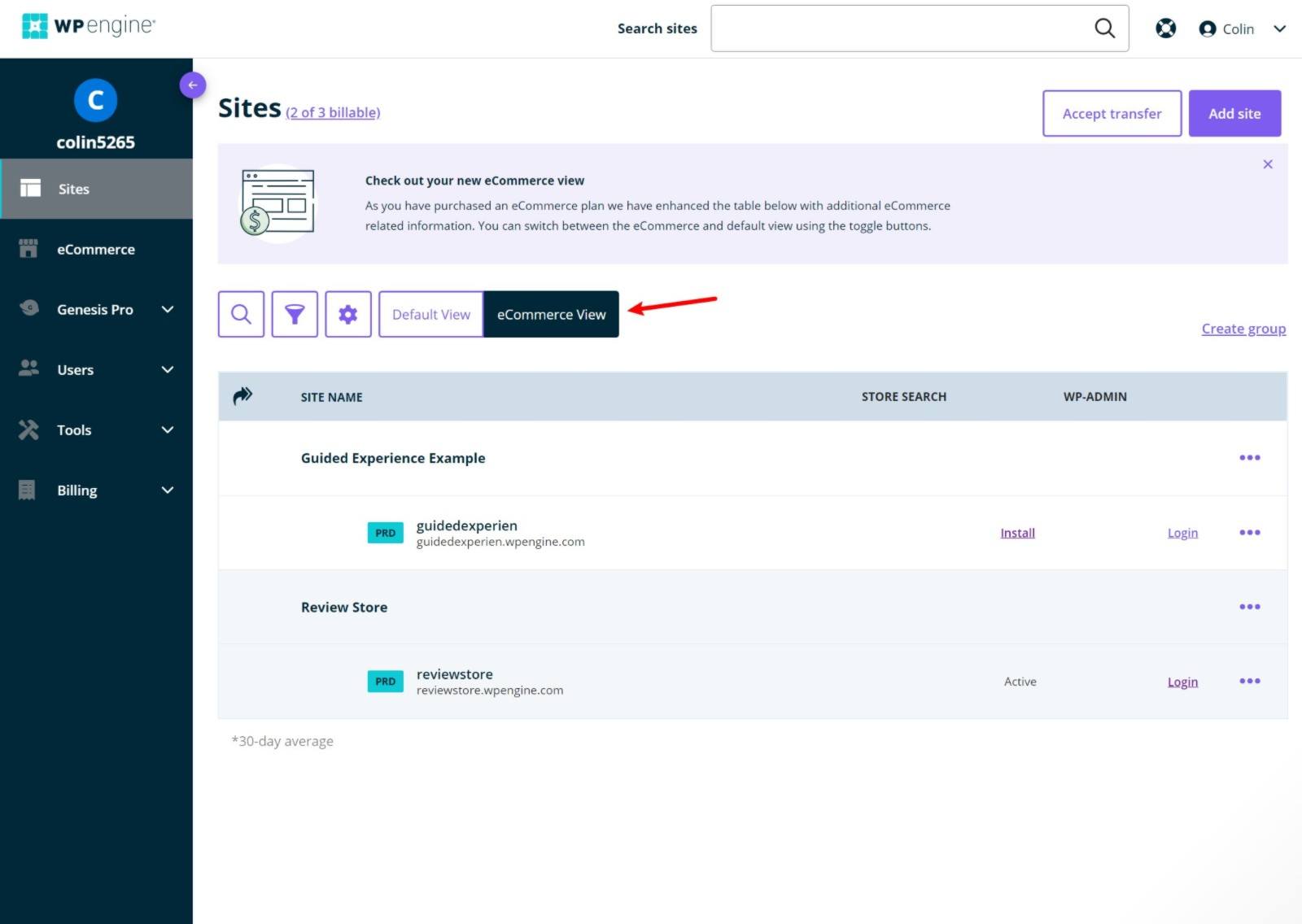 If you open a site's dashboard, you'll also get a quick summary of the eCommerce-specific features for that store: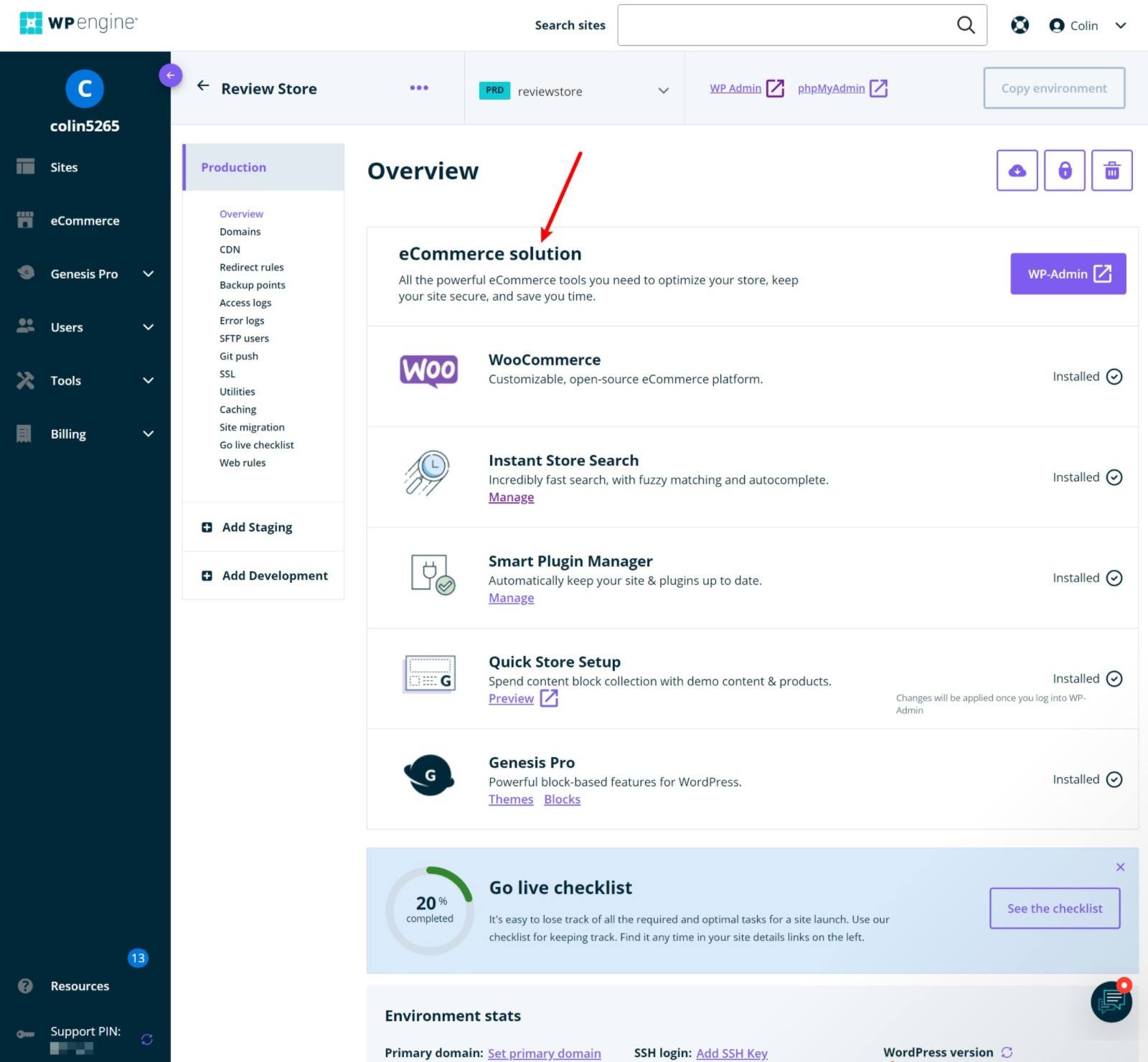 This individual site dashboard is also where you can access key details such as backups, staging sites, and so on.
Finally, you'll also get a high-level eCommerce tab in your dashboard that lets you track the usage of your account's eCommerce services: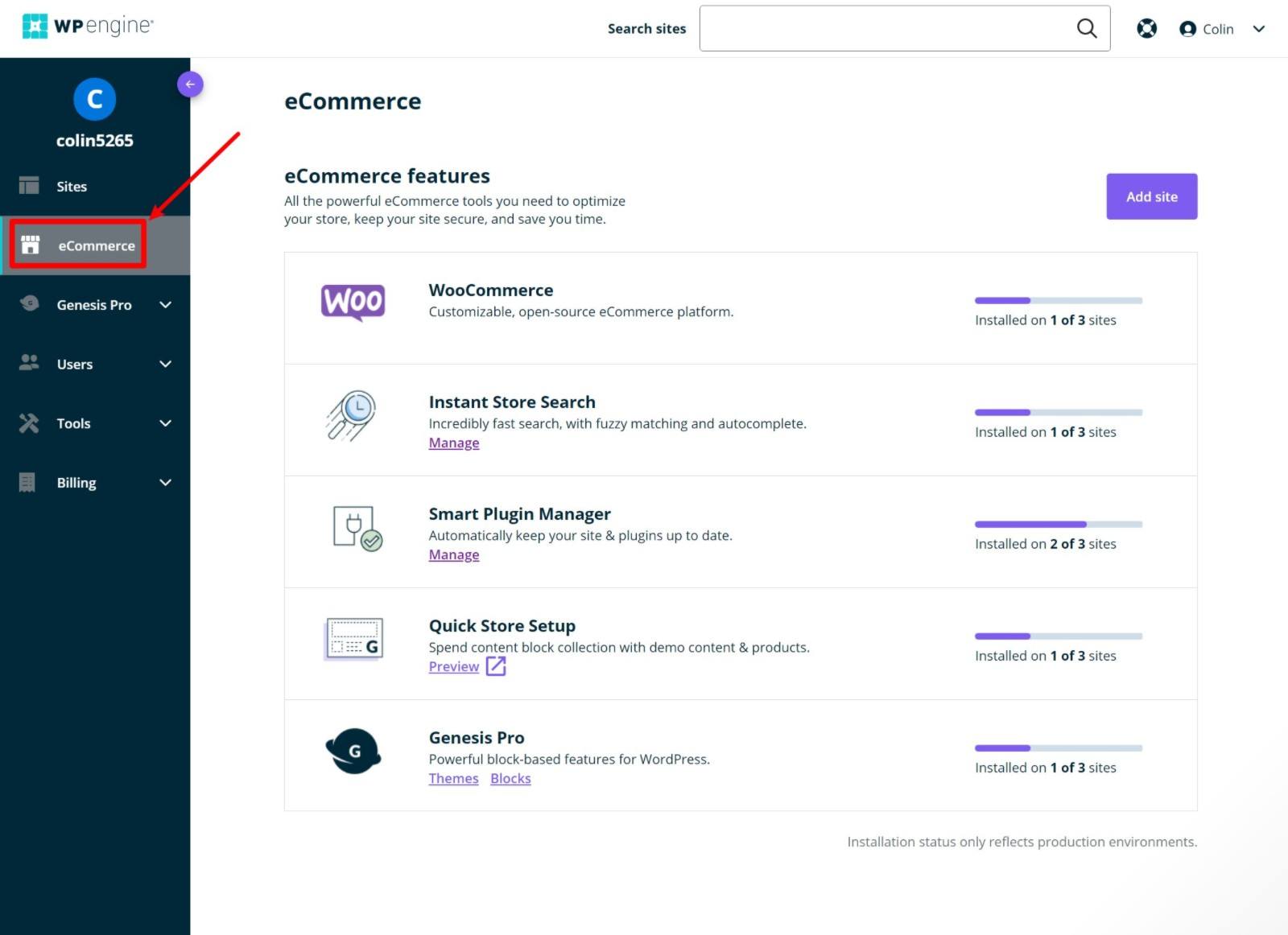 Using Smart Plugin Manager
As I mentioned earlier, WP Engine's eCommerce plans give you free access to their Smart Plugin Manager service, which is really useful for managing automatic updates.
If you go to Tools → Smart Plugin Manager in your WP Engine dashboard, you can configure how it works for each site.
First off, you can control high-level behavior here, such as whether to even enable this feature in the first place. But then, you also get some really useful granular controls.
First, you can enable/disable automatic updates for specific plugins on your site. You could automatically update smaller WooCommerce extensions but disable automatic updates for the core WooCommerce plugin.
Second, you can enter a custom sitemap to tell WP Engine to visually test specific pages before/after applying updates. This lets you tell WP Engine to test specific parts of your store, such as your shop page, single product page, cart page, and so on.
Finally, you can manually exclude certain content that changes visually (such as ads) to avoid false positives.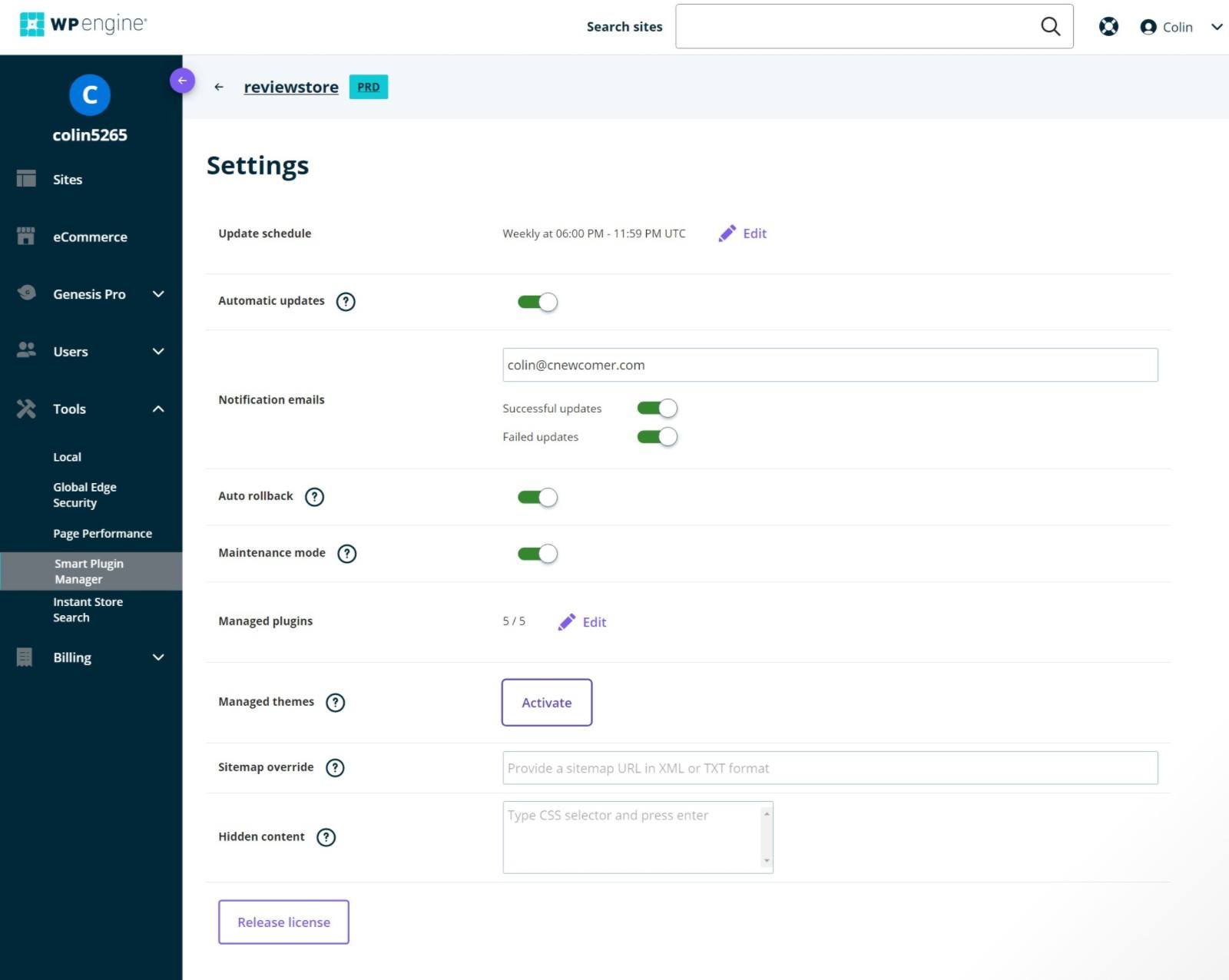 You can also see a log of all of the automatic updates that have been applied to your store.
WP Engine eCommerce Performance Tests
Ensuring fast load times is important no matter what your website is about. However, it's especially important for WooCommerce stores because there's data linking slower load times with a decrease in conversion rates, which means potential lost revenue.
With that in mind, I decided to put my store through the wringer and collect some test data.
For my test site, I used the default WP Engine WooCommerce starter site (which I showed you earlier in the review). This site uses Storefront as the base, and uses the eCommerce Store Optimizer plugin.
Beyond that, my WP Engine data center is located in the USA.
To collect performance data, I used two tools:
SpeedCurve
First, I set up automatic performance monitoring with SpeedCurve, which lets me automatically collect a bunch of different metrics. I told it to test from three locations and let it run for a week. Those locations were the US West coast, England and Singapore.
I also tested two different pages — my store's homepage and a single product page.
First, let's look at the Largest Contentful Paint (LCP) time. The median USA times were excellent, at 1.74 seconds for the homepage and 1.67 seconds for the product page.
International times were a bit slower, but still respectable, though the England time for the homepage spiked a bit: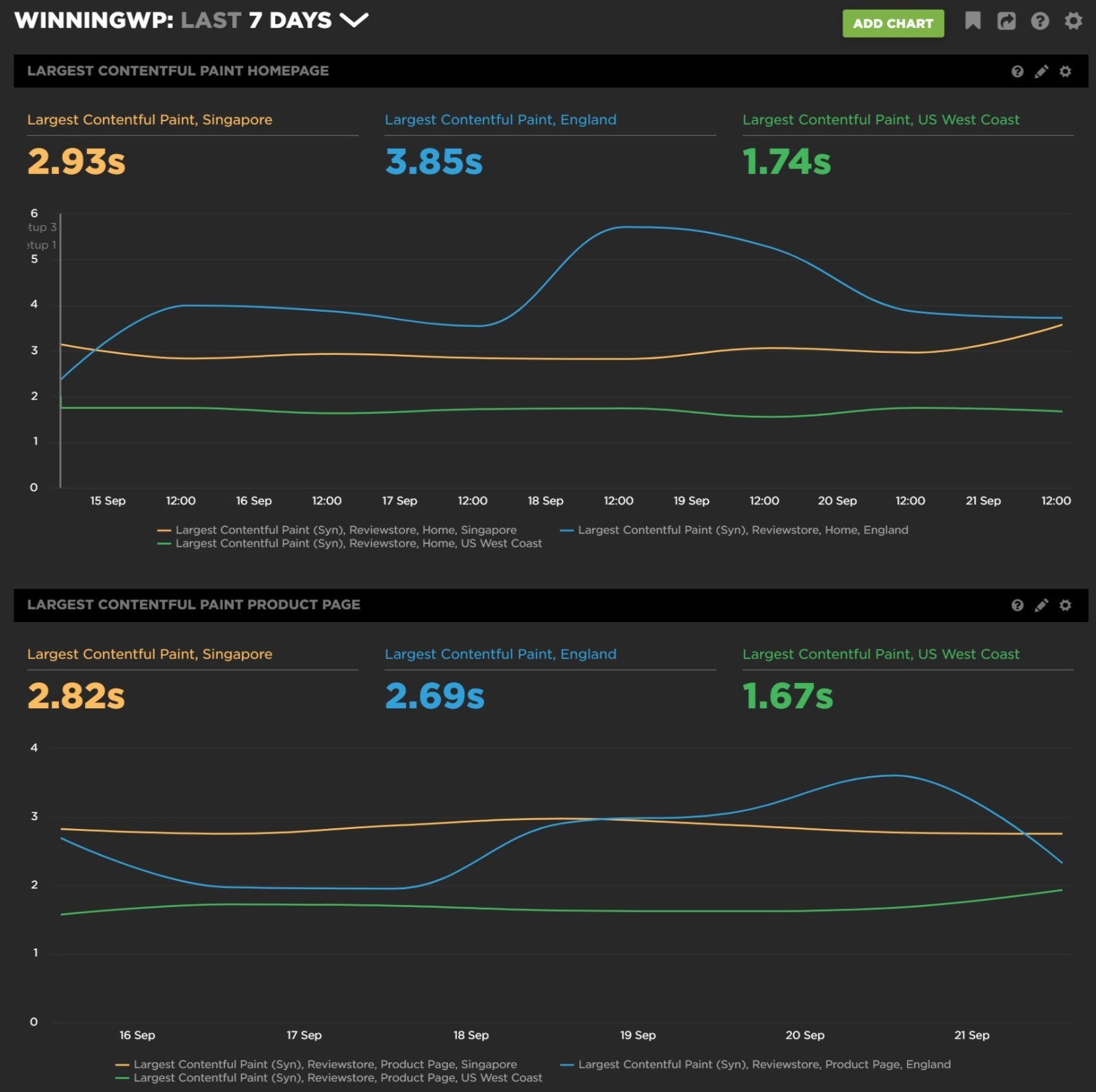 Next, let's look at the full page load time. You can see the same trends — the USA times are excellent, as are the single product load times for the international locations. The homepage times for England were a bit slow for some reason, but remember my site's data center is in the USA: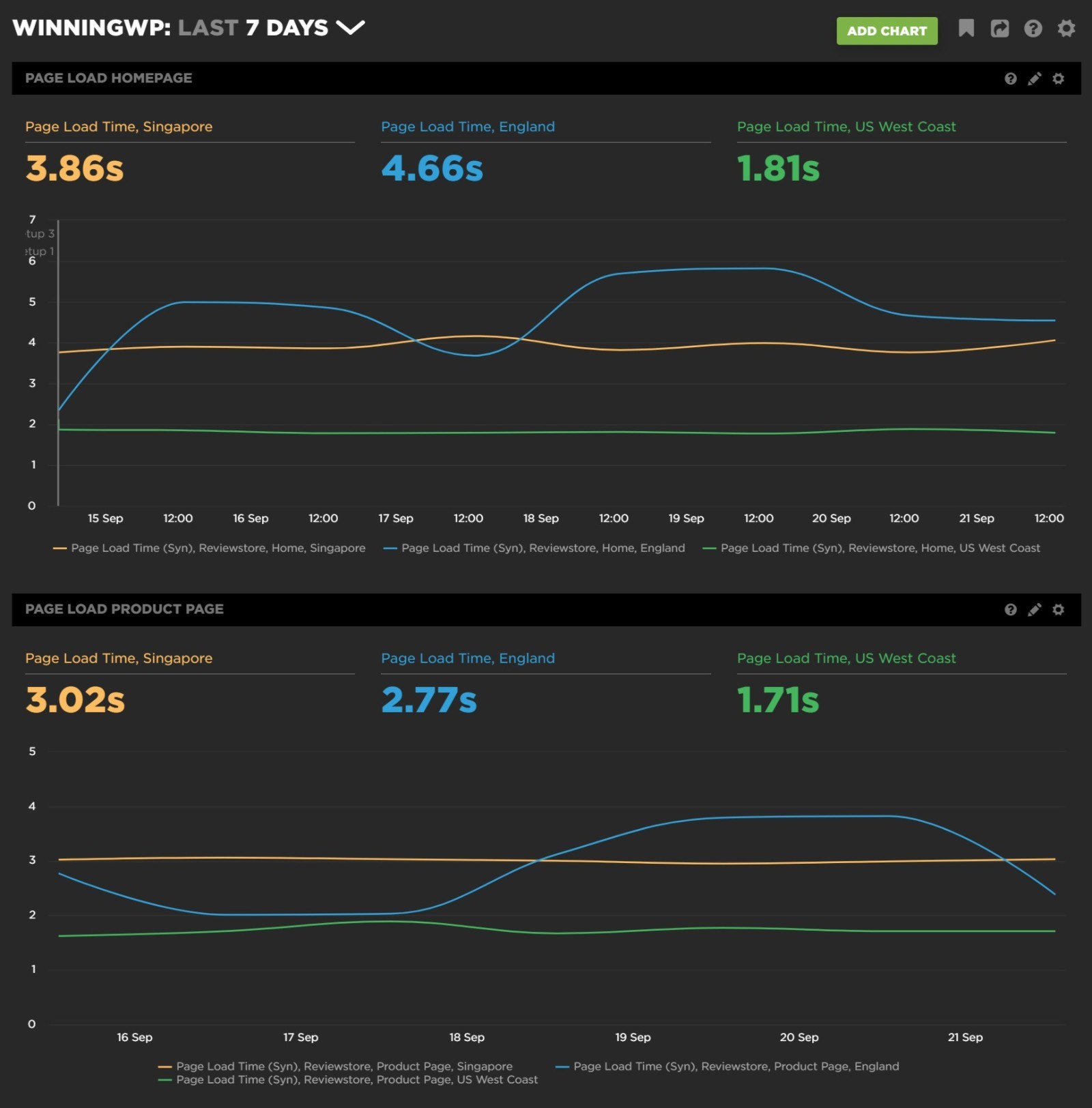 WebPageTest
Second, I ran some manual tests with WebPageTest. To mimic real-world conditions and get accurate data, I configured it with the following settings:
Test from Ashburn VA, USA.
Use a throttled FIOS connection instead of a faster unthrottled connection.
Run nine separate tests and take the median value to eliminate single-test variability.
I tested three different pages, and WP Engine did great on all three:
| | | | |
| --- | --- | --- | --- |
| | TTFB | LCP | Fully Loaded |
| Homepage | 0.187 s | 0.937 s | 1.157 s |
| Single Product Page | 0.174 s | 1.316 s | 1.150 s |
| Cart Page | 0.272 s | 0.943 s | 1.023 s |
Why No Load Testing?
Finally, I also tried to run some load tests to see how WP Engine's eCommerce plans held up under scale. However, WP Engine's automatic DDoS protection kicked in and blocked the testing (which makes sense, because load testing does look a lot like a DDoS attack). I think this is a good thing because it means your store will be protected from DDoS attacks — it just means I haven't been able to get any useful data here.
With that being said, personal experience does tell me WP Engine's plans do hold up under scale well. A big part of this is the fact that WP Engine will automatically scale up resources for your site during high-traffic periods.
Performance Conclusions
Overall, I think WP Engine's performance did quite well for an eCommerce store, especially in my site's target market (the USA).
The USA load times were consistently fast across both the homepage and individual product pages. The international load times were obviously a bit slower, but still quite good in general. For example, the product page still had a median LCP time of 2.69 seconds in England and 2.82 seconds in Singapore.
So, if you're concerned about your store's performance, WP Engine can definitely deliver.
WP Engine eCommerce Plan Pricing
While WP Engine's eCommerce plans offer excellent performance and add a lot of other useful features, there's some bad news:
You're going to pay extra for the privilege.
That is, the dedicated eCommerce hosting plans are a step up in price from the regular managed WordPress hosting plans. However, the difference isn't that much and I find the prices to be quite fair for the added value you get.
Here's what you'll pay with monthly billing:
And here's what you'll pay with annual billing: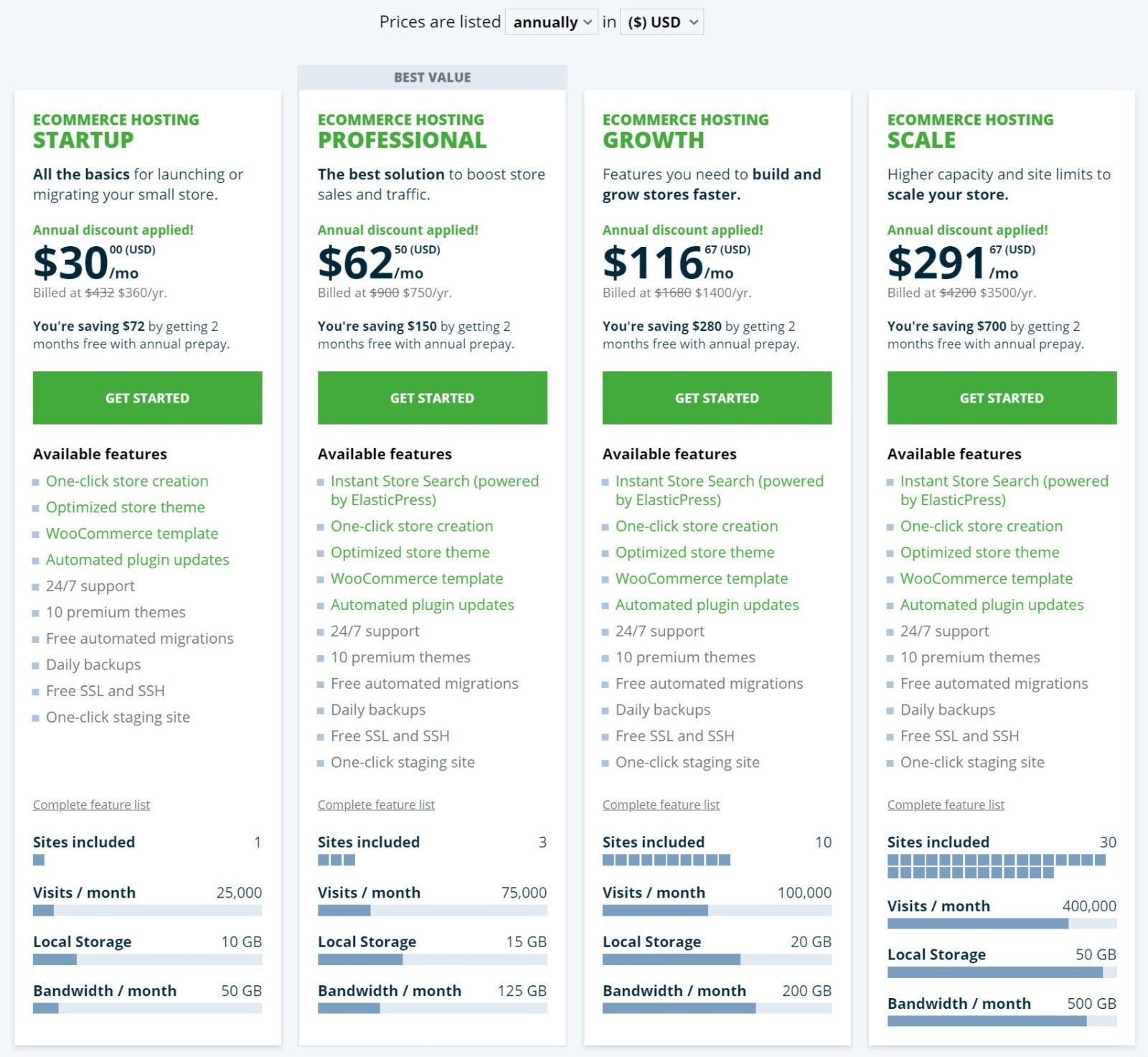 Finally, here's how those prices compare with WP Engine's regular managed WordPress hosting plans.
Monthly Billing
| | | | | |
| --- | --- | --- | --- | --- |
| | StartUp | Professional | Growth | Scale |
| eCommerce Hosting | $36 | $75 | $140 | $350 |
| Regular Managed WordPress Hosting | $30 | $59 | $115 | $290 |
Annual Billing
| | | | | |
| --- | --- | --- | --- | --- |
| | StartUp | Professional | Growth | Scale |
| eCommerce Hosting | $300 | $590 | $1,150 | $2,900 |
| Regular Managed WordPress Hosting | $360 | $750 | $1,400 | $3,500 |
Basically, you're paying a ~20% premium over the regular managed WordPress hosting plans, which I think is worth the money given the extra features the eCommerce plans give you.
Traffic Overage Fees
If your store's traffic exceeds the visit limit on your plan, WP Engine will never shut off your store, but they will charge you overage fees. Specifically, you'll pay $2 per thousand visitors over your plan's limit.
If you're regularly exceeding your plan's limits by so much that this becomes an issue, you should probably just upgrade to a higher tier.
Final Thoughts on WP Engine's eCommerce Plans
Overall, I was pretty impressed by WP Engine's dedicated eCommerce plans. A lot of WordPress hosts will just advertise 'WooCommerce hosting plans' for marketing purposes, even though those plans are often identical to their regular hosting plans.
WP Engine don't do that — they really have created an experience that's tailored for WooCommerce stores, customizing everything from the site setup process and the hosting dashboard to the tools and features that are available to you.
The optimized setup experience is great for people who are just getting started with WooCommerce, although it probably won't move the needle if you already know your way around it.
More importantly, features such as the built-in Elasticsearch can help you to create a more user-friendly, faster-loading site than you'd get with regular WordPress hosting.
Of course, you could manually set up Elasticsearch yourself, but that can be very complicated and expensive, so having it properly configured from day one at no extra cost is definitely a big advantage.
If I had to nit-pick one area, I'd say WP Engine haven't built in as many eCommerce-specific tools as some other managed WooCommerce hosting plans. You do get Genesis Blocks Pro, which includes some WooCommerce layouts and blocks. But you don't get any tools to extend WooCommerce itself (beyond the built-in Elasticsearch, of course).
For comparison, Nexcess's managed WooCommerce plans give you free access to plugins such as Iconic, Dokan multi-vendor, Glew reporting, and more. Similarly, GoDaddy's WooCommerce hosting plans bundle in tons of official premium WooCommerce extensions at no extra cost, such as WooCommerce Subscriptions and WooCommerce Memberships.
I think it would be useful for store owners if WP Engine expanded their WooCommerce plans in this same direction, maybe by acquiring some useful WooCommerce extensions or striking some partnerships. For example, GoDaddy acquired SkyVerge and Liquid Web/Nexcess acquired Iconic, among many other plugins.
However, I definitely don't think this is or should be a dealbreaker. The main benefit of bundling in those tools is that it can save you some money. But I don't think saving money should be your primary goal when you choose WooCommerce hosting.
When it comes to the hosting platform itself, WP Engine have done an excellent job.
So, I definitely recommend that you consider WP Engine's eCommerce plans if you're looking to launch a WooCommerce store or if you're on the hunt for new hosting for your existing store (they'll migrate your store for free, if so).
Of course, WP Engine aren't the only quality option in the WooCommerce hosting space. To see some other great hosts, you can browse our full roundup of the best WooCommerce hosting.
Used/using WP Engine's new WooCommerce hosting plans? Thoughts?
All comments are held for moderation. We'll only publish comments that are on topic and adhere to our Commenting Policy.