Six Best Related Post Plugins for WordPress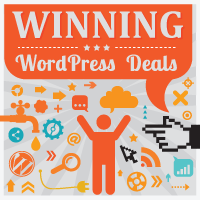 The more of your content your audience consumes, the more likely they are to become loyal fans of your work — these people will be more likely to share your articles on social media, return to your website regularly, and, ultimately, convert into paying customers.
However, this raises a bigger question: 'how do I get users to read more of my content?'
Top quality content is, of course, a big piece of the puzzle, but an easy to navigate website structure is just as important. After reading your article, a visitor will wonder what to do next — do they leave, or should they read more of your content?
I'm guessing you'd prefer the latter, right? Then it's your job to make it as easy as possible for visitors to do so.
One of the best ways to move people around your website is to include related content links at the bottom of your articles — another great method is internal linking.
Related content links are an ideal way to encourage visitors to remain on your website. In doing so, this will improve your bounce rate, page views, and time on website statistics — all metrics with a positive influence on your website's SEO performance. It's also a fantastic way to inject life into some of your older articles, which have been pushed off your front page and no longer receive the traffic they deserve.
Today, I want to introduce you to six of the best WordPress related content plugins, so that you can add the related content function to your WordPress website.
Yet Another Related Posts Plugin (FREE)
With over 3.4 million downloads, the Yet Another Related Post Plugin (YARPP) is one of the most popular related post plugins available.

The plugin allows you to link to posts relevant to the current article, either at the bottom of the post, or in the sidebar. You can also choose between a list and thumbnail view.
Despite the name, the plugin does not just support related "posts" — it works just as well with pages and custom post types, giving you plenty of flexibility.
The algorithm for determining whether a post is related is relatively sophisticated. It takes into consideration the body content, title, tags, and categories assigned to the piece.
Despite its popularity and solid range of features, YARPP is not without its drawbacks. In particular, the plugin is incredibly resource-intensive, putting significant strain on your database through inefficient queries and badly integrated caching. This is a big enough problem for a number of managed WordPress hosting services — including WP Engine and Media Temple — to add YARPP to a list of blacklisted plugins.
Jetpack (FREE)
Most of you will already be familiar with the free Jetpack WordPress plugin. It is a highly versatile plugin, including an impressive list of over 35 different modules, each adding a separate functionality — these functionalities include analytics, social sharing buttons, and a commenting system.

Despite the sheer number of functions resulting in a staggering 18 million downloads — making it one of the most downloaded WordPress plugins of all — today I want to focus on the merits of Jetpack from a related posts perspective.
If your blog has more than 10 posts, the plugin is able to analyze your content, including tags and categories, to select the most relevant articles to link to. This will have no impact on your website's load speed, as all the analysis is done at Jetpack's end — this nullifies the problems associated with YARPP, which is a distinct advantage.
There are a number of customization options when setting up your related post function. You can choose to include related posts at the top of an article, rather than at the bottom as standard, and you even have the option to include the related posts function only after inserting a shortcode into your article. You can also set the number of related articles to appear. In fact, Brin recently wrote an article on some of the customization options available to Jetpack related post users.
As well as this, Jetpack also allows you to exclude specific posts, or even entire categories, from ever appearing in a related posts section. As a final benefit, you're also able to over-rule the algorithm and include your own custom choices in the related posts section.
Interested to see how the Jetpack Related Posts module looks in action? Scroll down to see it in working below this very post — or, in fact, any of the posts on WinningWP!
Contextual Related Posts (FREE)
Contextual Related Posts is another free plugin that lets you add the related post function to your website.

The plugin allows you to place related post links at the bottom of your article — pretty standard — but also at specified points of your article, by using a simple shortcode. The plugin also supports related posts in a sidebar widget.
As well as the standard thumbnail image associated with the article, Contextual Related Posts also allows you to include a short excerpt below — you can set the number of characters you want visible. Your related posts can be fully restyled, too, courtesy of custom CSS.
Now onto the algorithm, which you may find more limited than some of the other plugins featured today. Contextual Related Posts considers only the title and body content, completely ignoring tags and categories. You can, however, select how many posts you want to appear, as well as how recent they should be — great for avoiding any ancient, completely irrelevant posts being included. To increase your control over which posts appear, the plugin allows you to select specific posts and categories to exclude them from the related posts section. And, for those of you working with pages or custom post types, you'll be pleased to hear that both are fully supported.
Unfortunately, the plugin suffers from the same problem as YARPP — it is very database-intensive, and this has led to a number of the managed WordPress hosting services blacklisting it. Make sure the plugin is permitted before you install.
Related Posts Pro for WordPress ($15)
Next up, the premium option in today's list: Related Posts Pro for WordPress, available for just $15 from CodeCanyon.

What does this plugin do to justify that premium price? Well, for a start it is incredibly user-friendly, plus it comes with a whole host of customization options giving you the flexibility to tweak the aesthetics of your related posts.
For a start, the plugin supports three unique layouts. These are:
Isotopic: adds a large related posts section (up to 20 items) in standard columns and rows.
Slick and Slide: a carousel of related posts.
Transitioning: displays a single post at any given time, before seamlessly transitioning to the next with beautiful transition animations.
All layouts look clean and stylish, plus each comes with a whopping 65 different templates. Each template is styled with different colors, buttons, typography, and design. This impressive versatility allows you to select something in keeping with the rest of your website.
A related post section is supposed to help visitors find the content of most interest to them. Related Posts Pro takes this one step further by adding an easy-use filter to the top – visitors can filter by title, relevance, taxonomy, and post type. This allows the visitor to dig deeper as they look for the good stuff, plus eye-catching animations accompany the filter.
The plugin works with posts, pages, and custom post types, which means you can use it with any content. It determines the relevance of each post via a 'smart algorithm' that extracts and compares keywords from your content.
Yuzo – Related Posts (FREE)
As you probably know by now, speed matters a lot in the online world. Because related post sections are inherently relatively slow, you might consider choosing a related posts plugin that's optimized for speed. If so, look no further than Yuzo: a free, lightweight plugin, with a built-in cache.

As well as being one of the quickest plugins around, Yuzo is also one of the more stylish, utilizing a beautiful, minimal design.
Because you'll want to craft a related post section that draws attention and really fits with the rest of your website, Yuzo supports extensive customization capabilities. For a start, you can list your related posts either vertically or horizontally. Throw in infinite colors for backgrounds, custom text, and custom thumbnail dimensions, and you have an elegant, versatile plugin on your hands.
You can add your related posts to any widget area. The plugin supports all content – posts, pages, and custom post types. Not much is known about the algorithm, though, but you can override it and manually add posts to the widget if you'd prefer.
For added social proof, Yuzo can also display a visit counter next to each post. This is also useful for you, as you can see how many extra page views Yuzo drives.
AddThis Recommended Content (FREE with paid upgrades)
Although not technically a plugin, AddThis have developed a number of cool looking related content tools to add to your websites — they're the guys behind a number of stylish social sharing buttons you've probably already seen on various popular blogs/websites.

Not much is said about how the algorithm determines the relevant content, although they do state that it includes looking at trending content.
To add this to your website, you will need to signup for a free AddThis account. From there, you can access their entire range of website tools. For free members, there are currently four related content tools, including recommended content footer, horizontal recommended content (placed below the content), and vertical recommended content (placed in the sidebar). There's also a tool that displays a small box in the bottom corner that pops up as a visitor nears the end of an article.
As with everything AddThis produce, all four options look very clean and stylish.
There are also a number of premium tools available, for those of you willing to splash out $12 per month. These include an awesome-looking content drawer, which slides when a user hovers over it, and displays the related content as giant thumbnails. There's also a mobile-specific related content tool.
Because there is no dedicated AddThis plugin, you'll be able to generate the necessary script from your AddThis account. From there, you simply paste this script on every page you want the tool to appear — a slightly more complicated process, but hopefully AddThis will rectify this soon enough with a dedicated WordPress plugin.
Final Thoughts
If you're struggling to keep users on your website, adding related content function on your website is a proven way to get people to stick around — this will result in more page views, longer visitor duration, and reduced bounce rate. Perhaps even more importantly, when a user views more of your content, they'll be better able to appreciate what your website is all about, which can also boost subscriptions, social shares, and even conversions — basically, all the good stuff!
All of the plugins featured today are capable of adding a fully-functional related content section to your website. However, they all look and work slightly different, with different strengths and weaknesses, so take your time, and pick a favorite.
Used any of these related posts plugins? Which do you think is best?