WinningWP content is free to all. If you make a purchase through referral links on our site, we earn a commission (
learn more
).
Top Six Best Related Post Plugins for WordPress
The more of your content your audience consumes, the more likely they are to become loyal fans of your work. These people will be more likely to share your articles on social media, return to your website regularly and, ultimately, convert to paying customers.
However, this raises a bigger question: How do you get users to read more of your content?
Top-quality content is, of course, a big piece of the puzzle, but an easy-to-navigate website structure is just as important. After reading your article, a visitor will wonder what to do next — should they leave or should they read more?
I'm guessing you'd prefer the latter, right? In which case, it's your job to make it as easy as possible for visitors to find more content they may be interested in on your site.
One of the best ways to move people around your website is to include related content links at the bottom of your articles — another great method is internal linking.
Related content links are an ideal way to encourage visitors to remain on your website, improving bounce rate, page views and time-on-site statistics — all metrics with a positive influence on your website's SEO performance. They're also a fantastic way to inject life into some of your older articles, which have been pushed off your front page and no longer receive the traffic they deserve.
In this article, I'll introduce you to six of the best WordPress-related content plugins, so you can add the related content function to your WordPress website.
Jetpack (FREE)
Automattic's flagship WordPress plugin, Jetpack, offers features such as performance tools, analytics, writing tools, comment enhancement and more.
The related posts tool can be found under the traffic section of Jetpack settings. The posts look great, but, from a functionality point of view, there are few customisation options.
In the settings area, you can choose to display a heading above related posts, and define whether thumbnail images are displayed.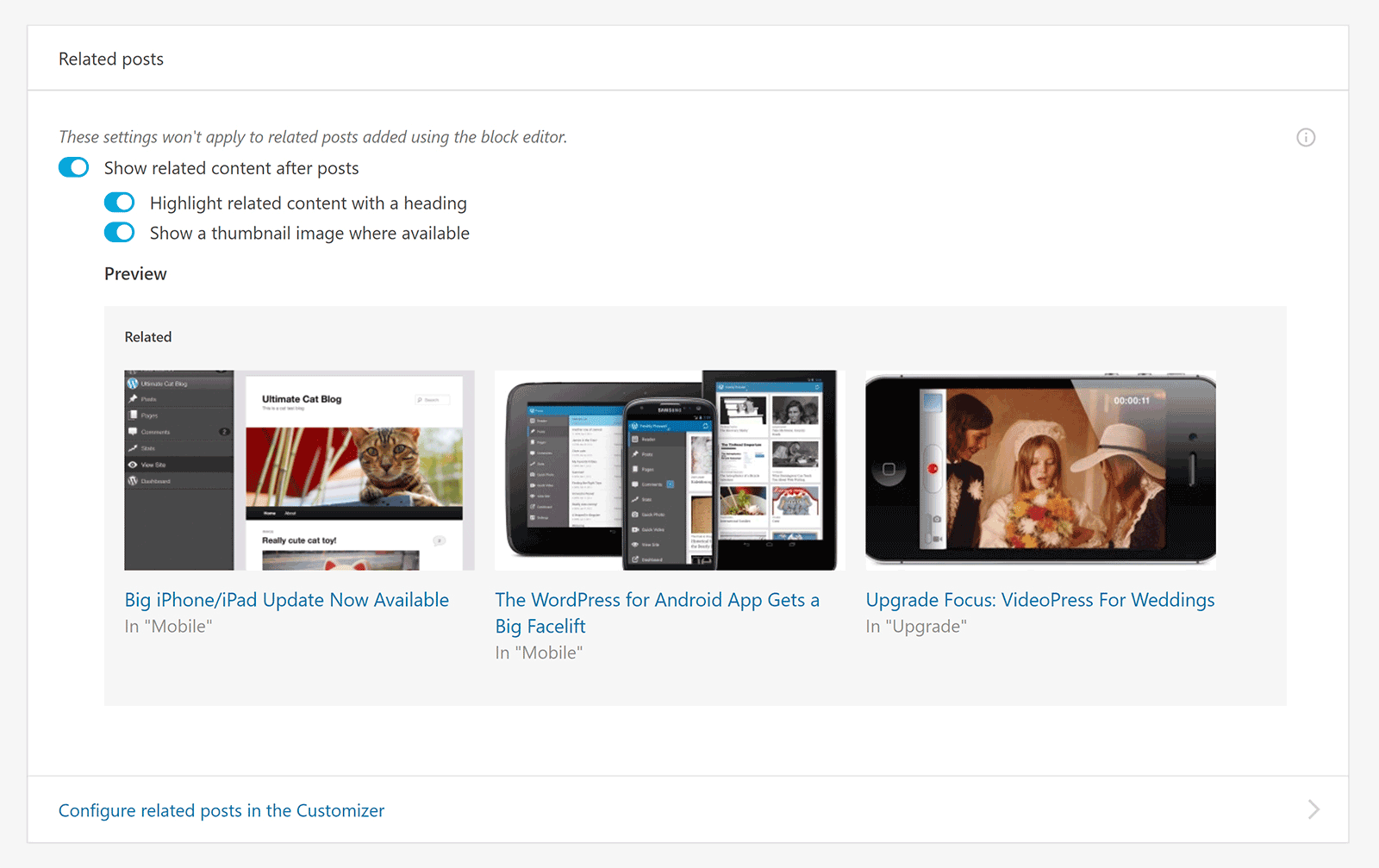 Additional options can be found within the WordPress theme customiser.
You can define the heading text and enable and disable thumbnails, dates, categories and tags. The layout can also be changed from grid (horizontal) to list (vertical).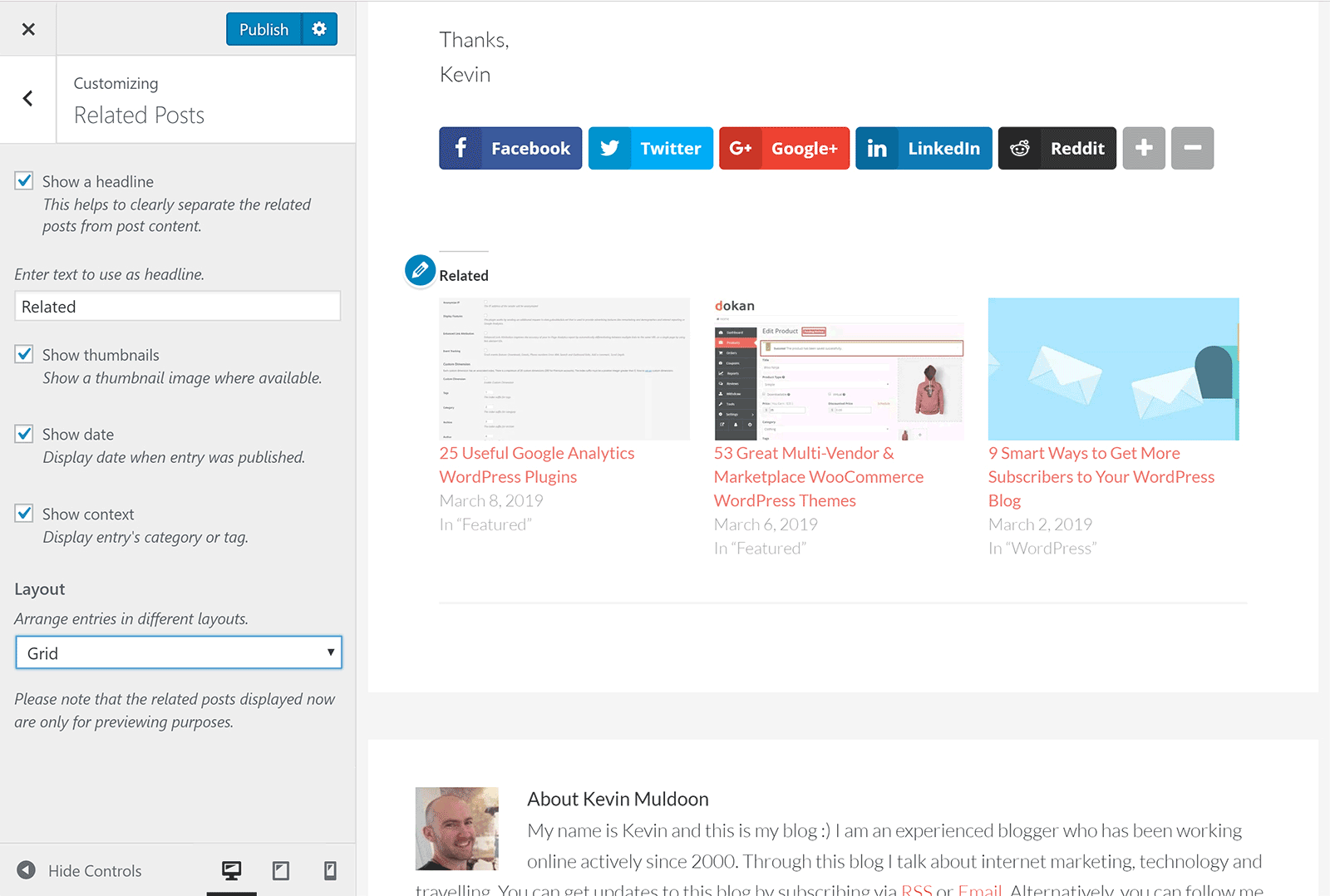 Jetpack's related posts feature looks great and is easy to use. It's a good choice if you already have Jetpack activated and want a basic related posts solution, but it is limited.
With no control over the time period in which posts are shown, related posts are frequently outdated. On my personal blog, for example, Jetpack regularly shows articles that are five years old.
Contextual Related Posts (FREE)
If you're looking for more control over related posts, Contextual Related Posts is a fantastic solution.
The plugin allows you to define a cutoff period for the related posts that are displayed. You can also randomise posts, select which post types are displayed, limit posts to the same post type and exclude categories from results.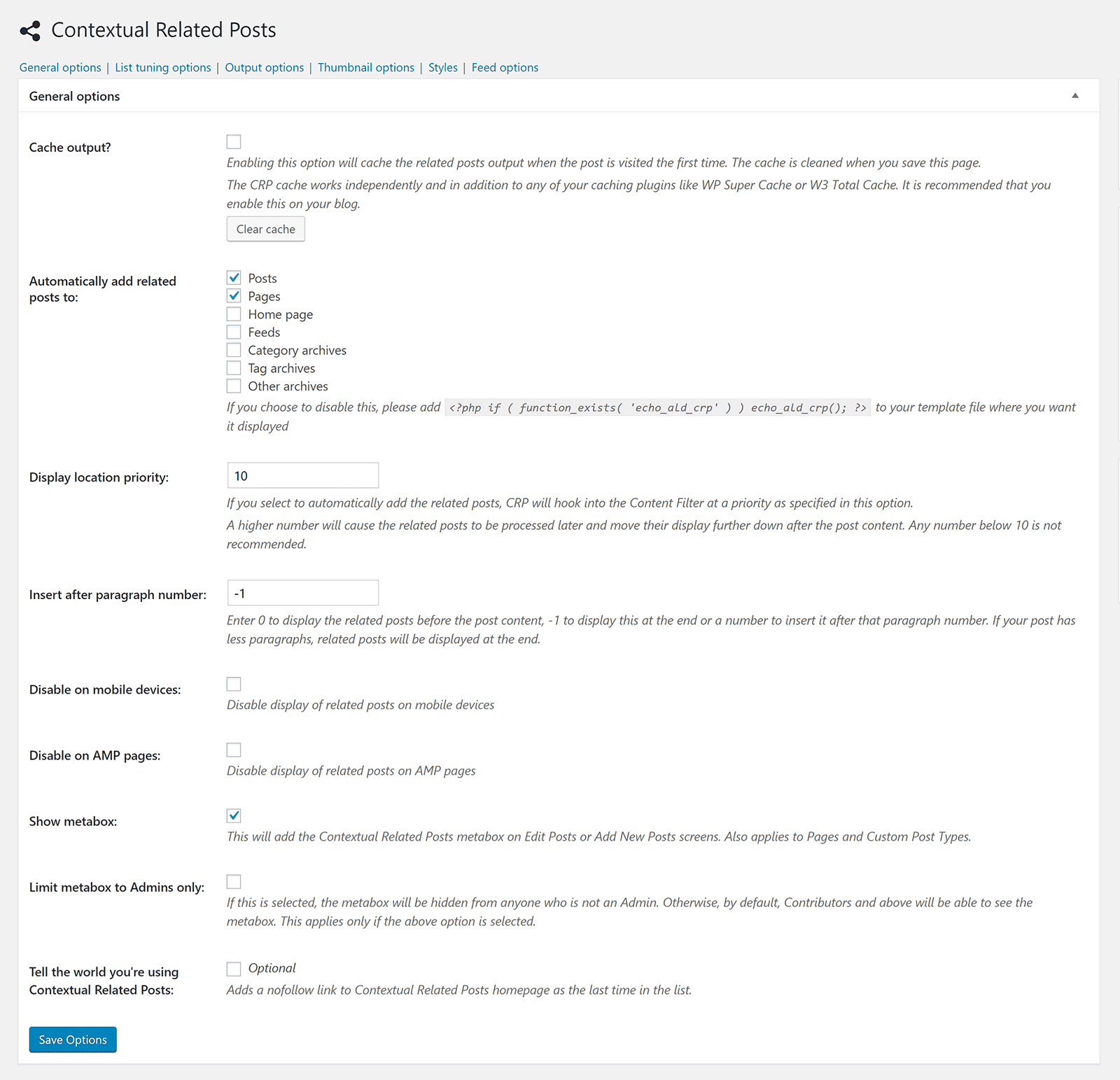 Contextual Related Posts offers many layout options too. You can customise the HTML that's used for your output, and there are around a dozen options related to thumbnails.
The plugin can also display related posts in your RSS feed. The number of posts displayed, the location of the thumbnail and the thumbnail size can all be adjusted for your feed.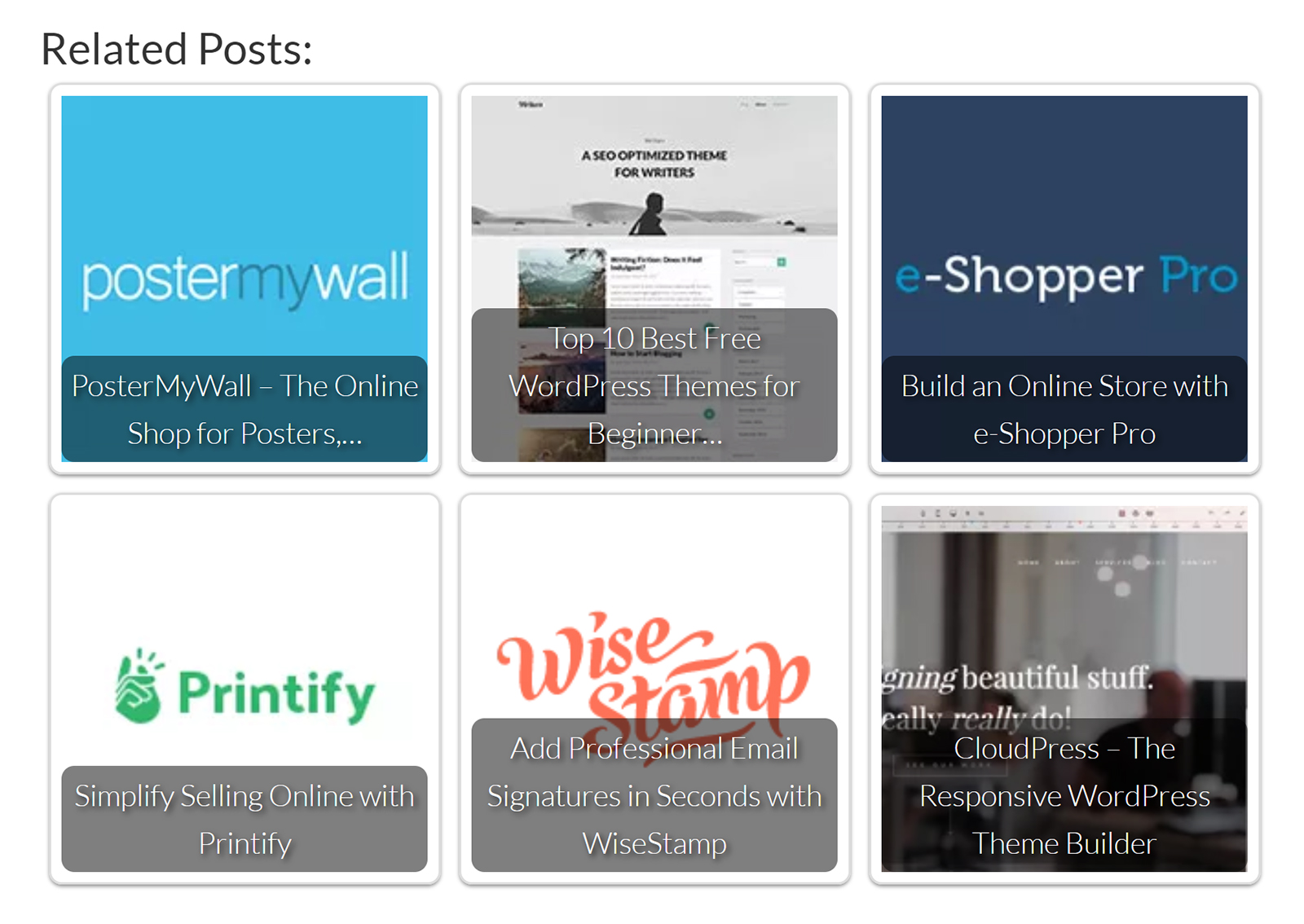 The output that Contextual Related Posts generates from the default settings looks great, but where the WordPress plugin stands out is customisation. I highly recommend checking it out if you want to filter the results that are displayed on your website.
Related Posts Thumbnails Plugin for WordPress is another good plugin to check out. Its output is similar to Contextual Related Posts, and it provides some useful filtering and styling options.
WordPress Related Posts Plugin by AddThis (FREE)
AddThis gives website owners a host of social media and engagement tools. This includes social media sharing buttons, list building and tip jars.
The related posts WordPress plugin helps you to integrate AddThis's related posts tool into your website.
In the advanced settings area, you can enable sharing and click tracking, and enter your Google Analytics ID and Twitter username. A variety of loading options are available too, such as the script location, which action hooks are used and whether asynchronous loading is enabled. Custom JSON code can be added too.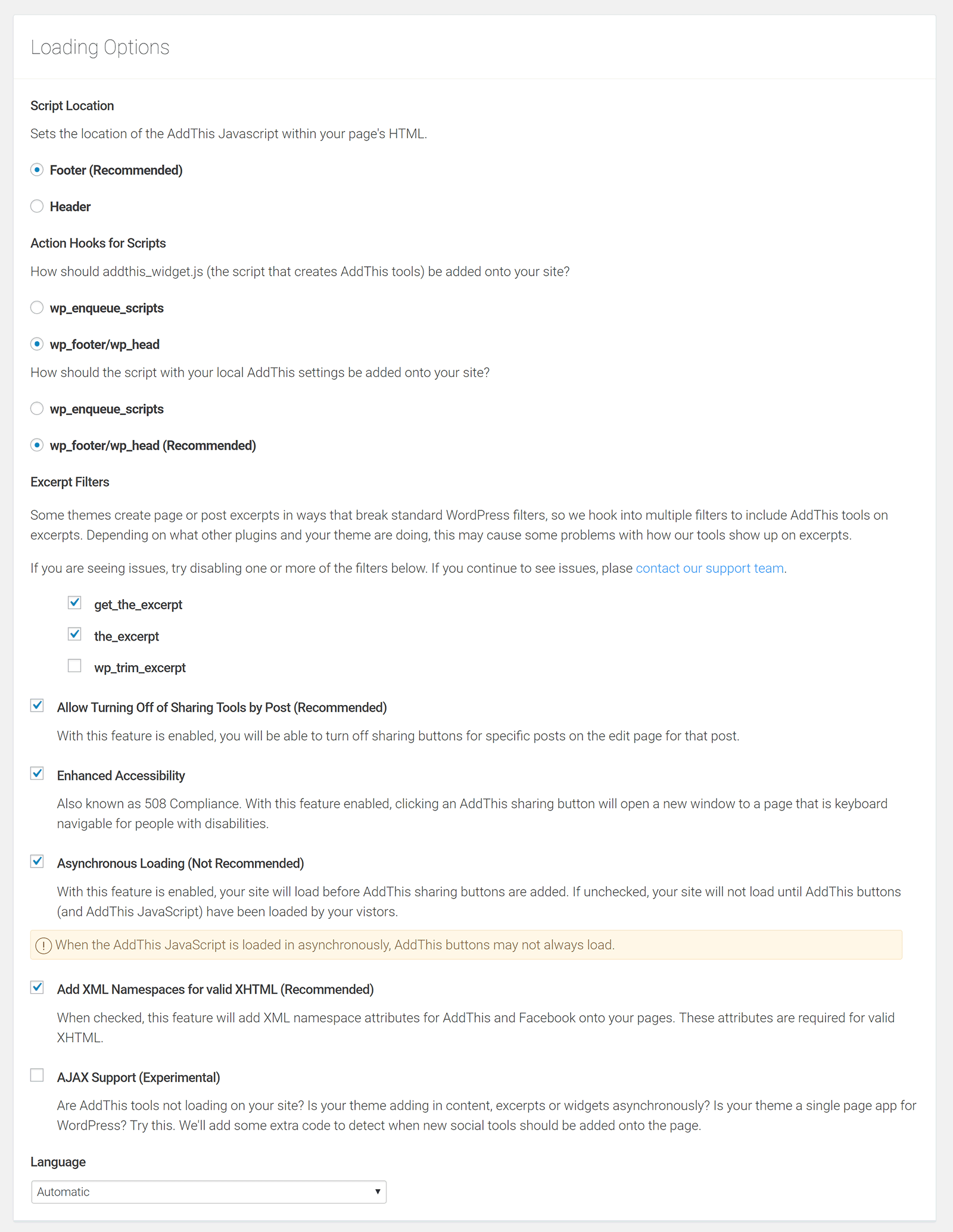 While the plugin website settings are defined in your WordPress admin area, you need to customise your related posts on the AddThis website.
Related posts can be inserted in one of three ways: You can display related posts as a slider; in the footer; or within your content area (inline).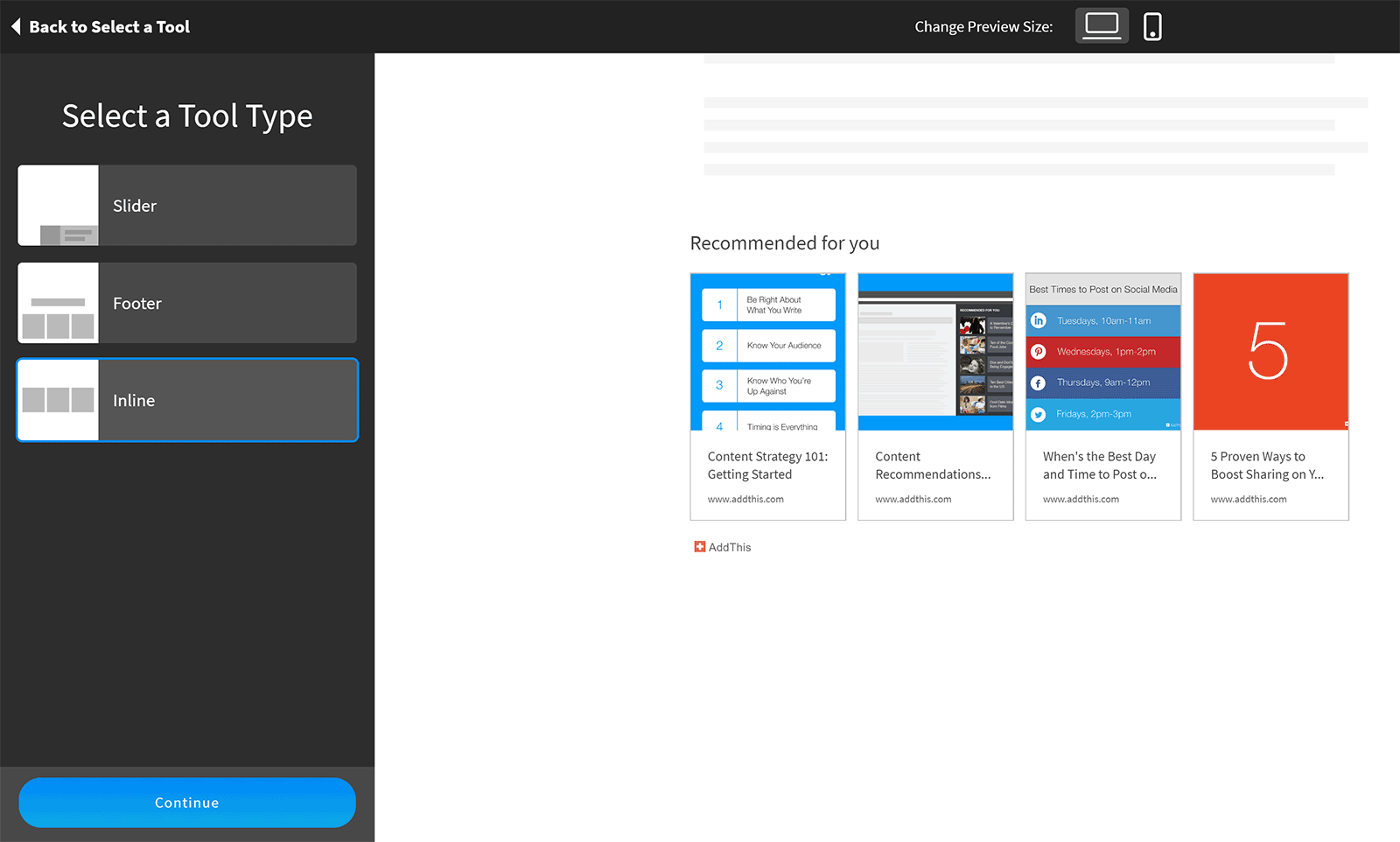 Items can be displayed horizontally or vertically, and you can define how many articles are displayed. There's an option to hide related posts on mobile or desktop, but what I love is the ability to promote a specific page on the first related post slot.
Unfortunately, there are no filtering options to only show articles from a specific category or specific time period, so related posts aren't as targeted as other related posts solutions on this list.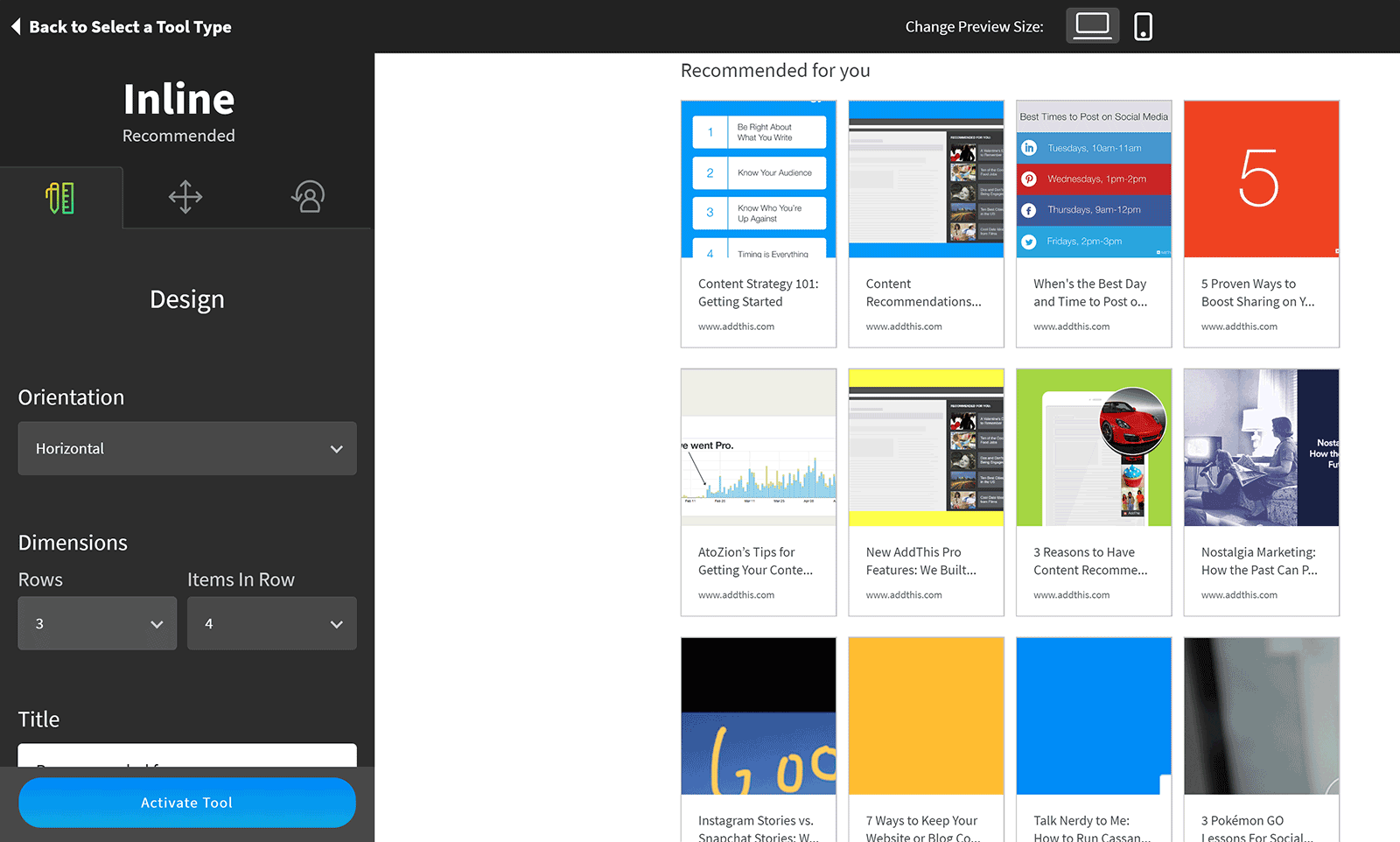 If you're looking for a simple hosted related posts alternative to Jetpack, WordPress Related Posts Plugin by AddThis fits the bill. It's easy to use, gives you multiple ways to display related posts, and the output looks great.
The main downside is that it offers no control over which posts are displayed in your related posts box.
Related Posts for WordPress by Bibblio (FREE/$19-plus)
Bibblio is a related content service that was designed to increase your website traffic. The free plan allows up to 25,000 views per month, and up to 500 articles to be stored. The cheapest premium plan costs $19 a month, and increases views to 50,000 and stored articles to 5,000.
Once you've signed up, you'll be given a client ID and client secret that will enable you to integrate the service into your website using a WordPress plugin. You'll then be asked whether you want existing posts and future posts to be recommended.
In the next tab, you'll be asked to set up your module, which you can optimise for improved page views or for relevance only. Related posts can be displayed in showcase, grid, column and row layouts.
The title and headline can be modified too, and you can change what information is displayed on the article thumbnail.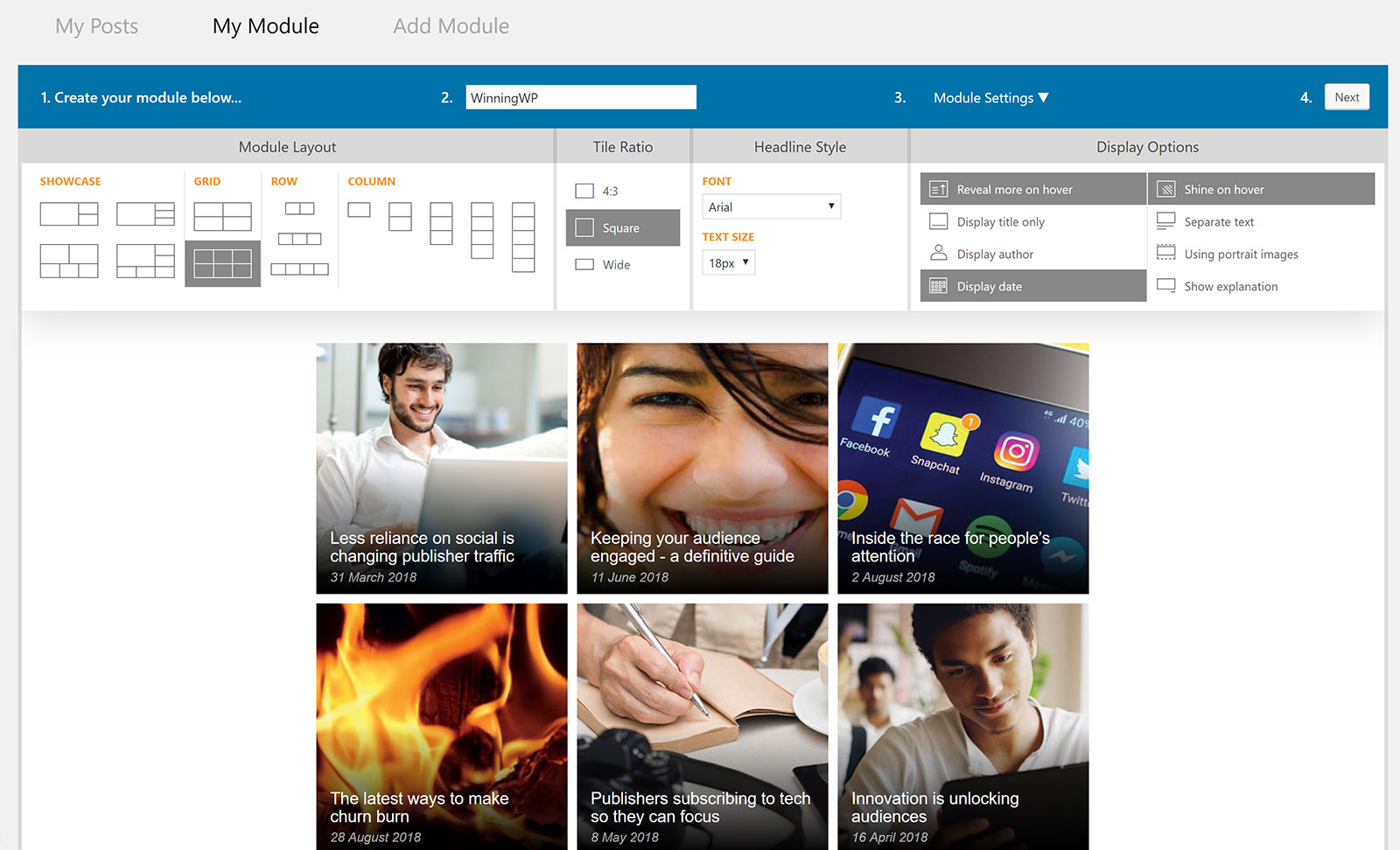 You can go back and adjust settings at any time, and one of my favourite features in this area is the ability to change the time period for post recommendations.
Analytics are displayed in the main overview page, although you have to jump over to the main Bibblio website to see all of the statistics.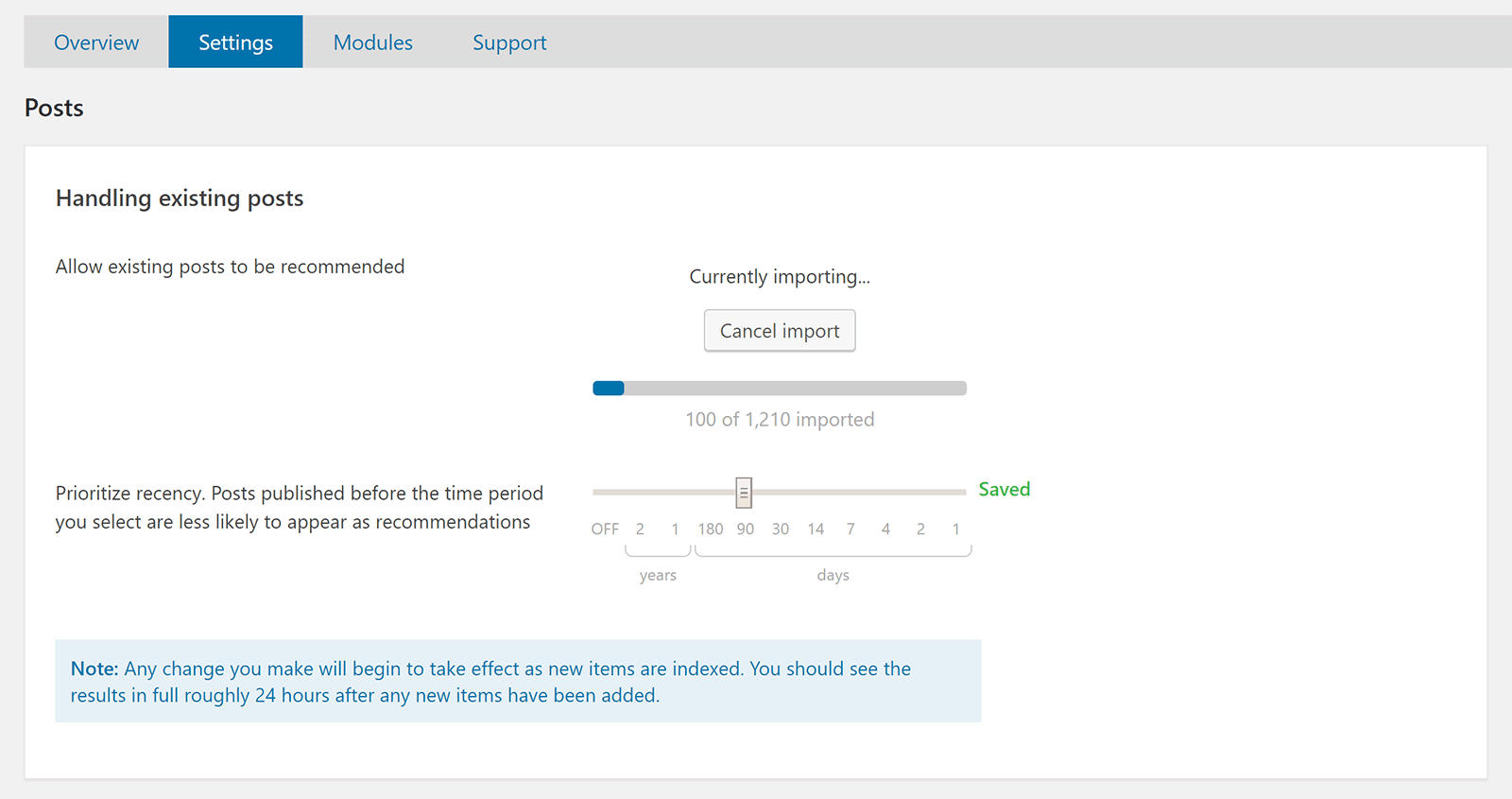 Related Posts for WordPress by Bibblio is a versatile solution that offers many unique layout options. The main downside of the plugin is that the free plan is limited to one module and 25,000 views per month. Beyond that, you'll need to sign up to one of the premium monthly plans.
Inline Related Posts (FREE/$27)
If you want to display related posts inside content, check out Inline Related Posts.
The plugin lets you insert up to three related posts boxes into your content, and an interval can be set between each box so you can space them as you see fit.
You'll be pleased to hear related posts can be restricted to a defined number of days for posts.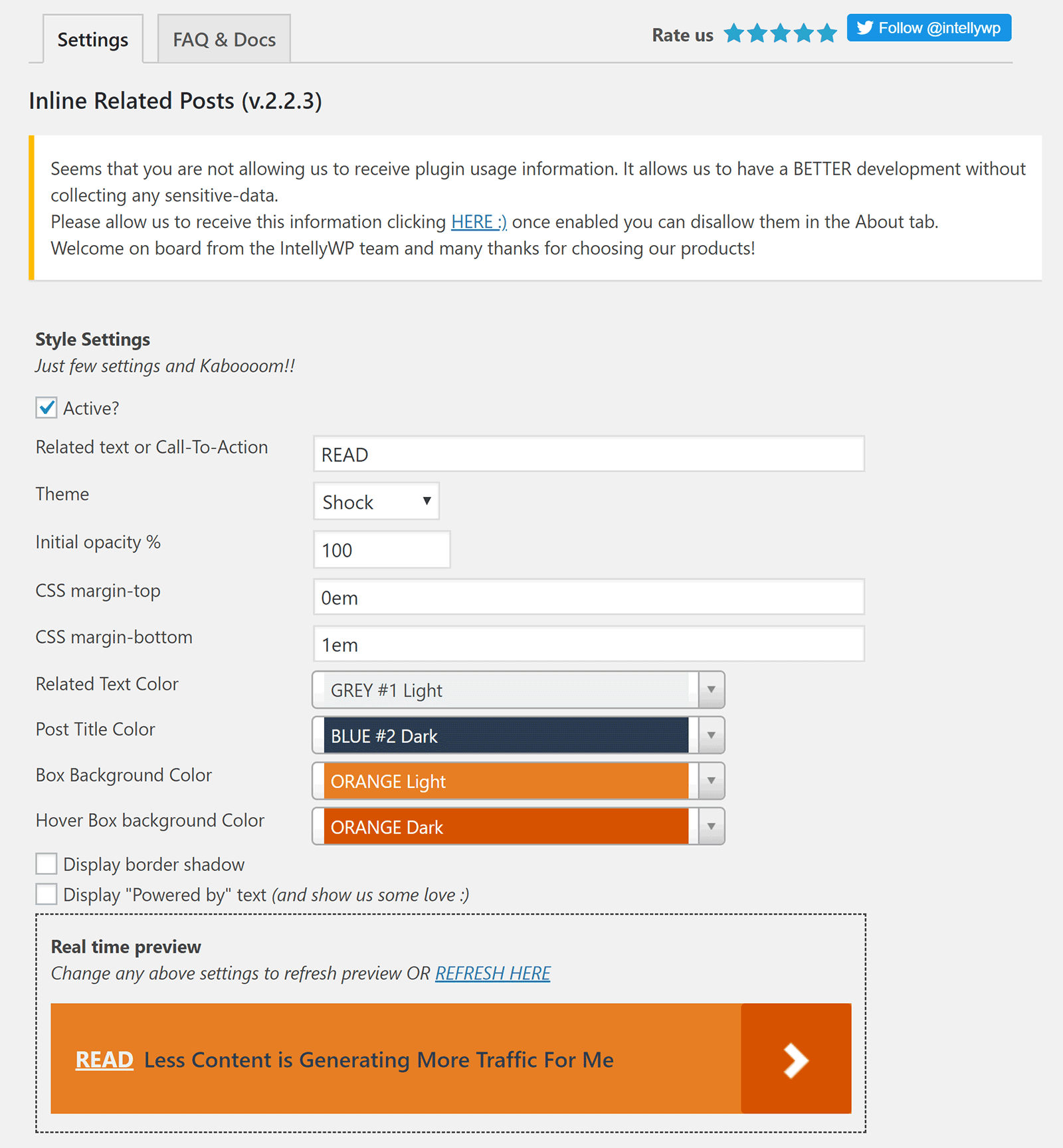 There are two basic styles available in the free version. They look good, but, unfortunately, they can't display images from your posts.
The premium version, which retails from $27, adds three additional styles that incorporate featured images. They look more professional and should increase page views.
Upgrading also lets you add an unlimited number of inline related posts to articles, but I believe most website owners will be content with three boxes.

If you feel WordPress Related Posts Plugin by AddThis isn't giving you the control you want over your inline related posts, Inline Related Posts is the plugin for you.
Related Post By PickPlugins (FREE)
Another useful related posts plugin to consider is Related Post By PickPlugins. From a functionality point of view, it sits in between a basic solution, such as Jetpack, and a feature-rich solution, such as Contextual Related Posts.
The plugin allows you to insert related posts into multiple post types via shortcodes or a PHP function. Clicks can be tracked, and you can change the headline and how many items are displayed.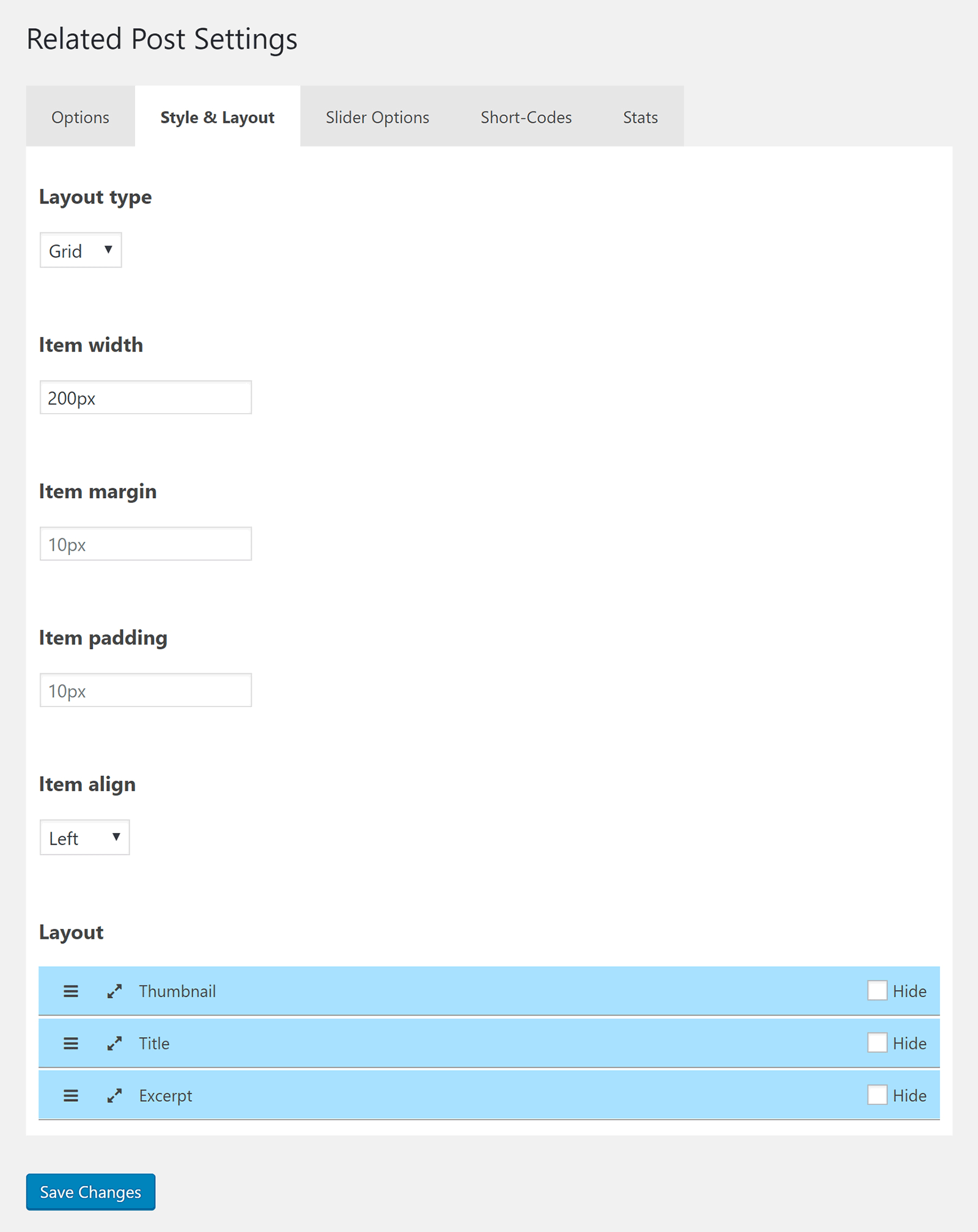 Related posts can be displayed in a grid, list or slider. For each item, you can set the width, alignment, margin and padding.
In the layout section, you can define how the thumbnail, title and excerpt look. A number of pre-defined thumbnail sizes are available, and you can select a maximum height for images.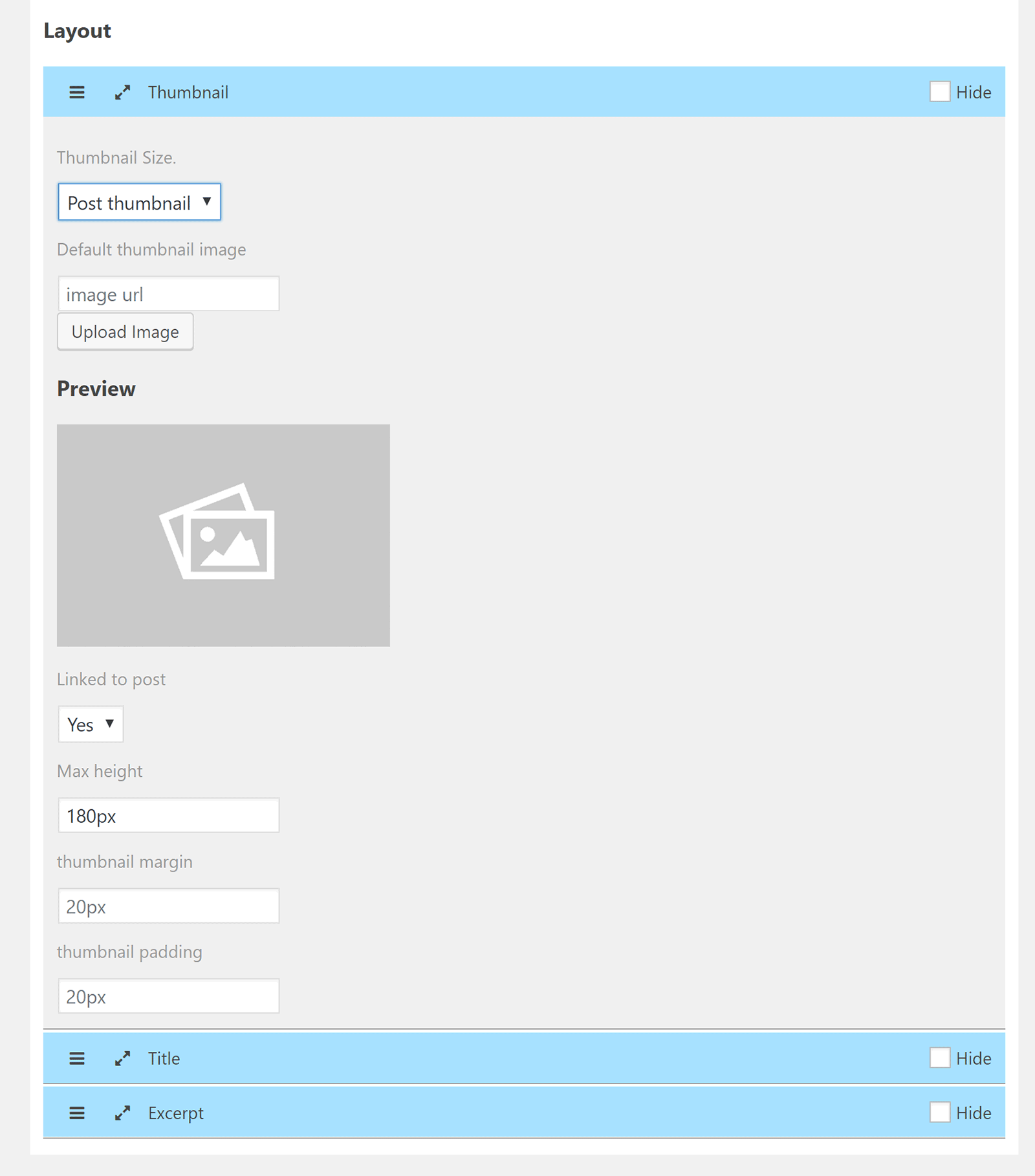 There's a dedicated page for slider settings.
The number of columns for desktops is set at four, tablets at three, and smartphones at two. You can, of course, modify these. Slider speed, pagination, navigation, background colours, and other slider options are available too.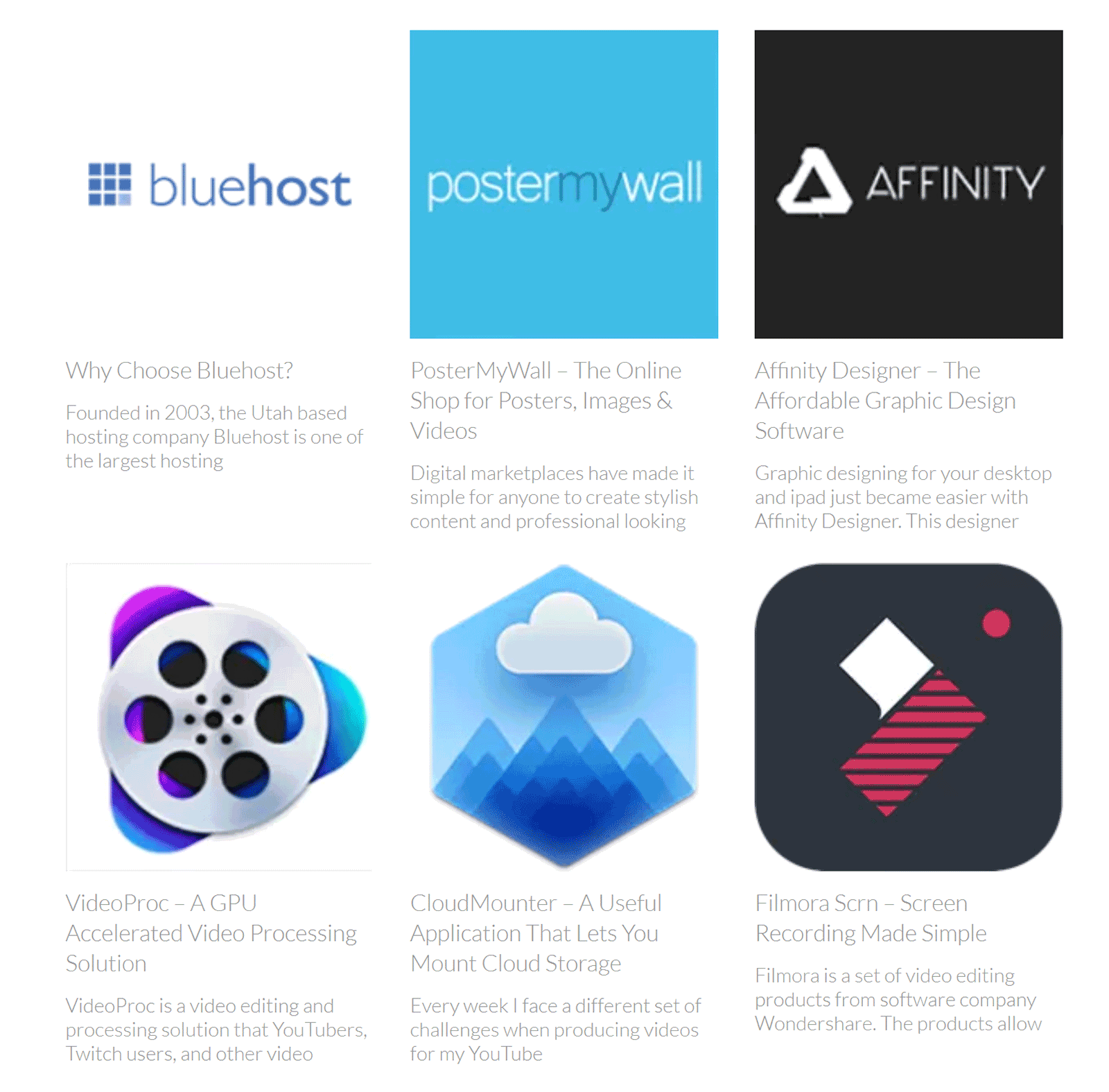 Related Post By PickPlugins doesn't give you any control over the related posts that are displayed to visitors, but, if you're looking for a simple solution with some cool styling options, it's a good choice.
Honourable Mentions
For the purpose of this article, I tested more than 20 WordPress related posts plugins on my test website and on my personal blog (i.e. a live environment). In this section, I'd like to share some great related WordPress plugins that just missed the list.
Other Related Posts WordPress Plugins to Consider
If you're looking for control over your output, you may want to check out Similar Posts, a plugin that allows you to customise the HTML in your output template. Dozens of tags are available to help you to control what posts are displayed and how everything looks. The nature of this plugin does mean that it's less user-friendly than the alternatives, but advanced users will like it.
Related Posts by Taxonomy is an interesting solution that lets you insert related posts via widget or shortcodes. You can choose to display single or multiple taxonomies, exclude or include posts, and limit what's displayed by number or date.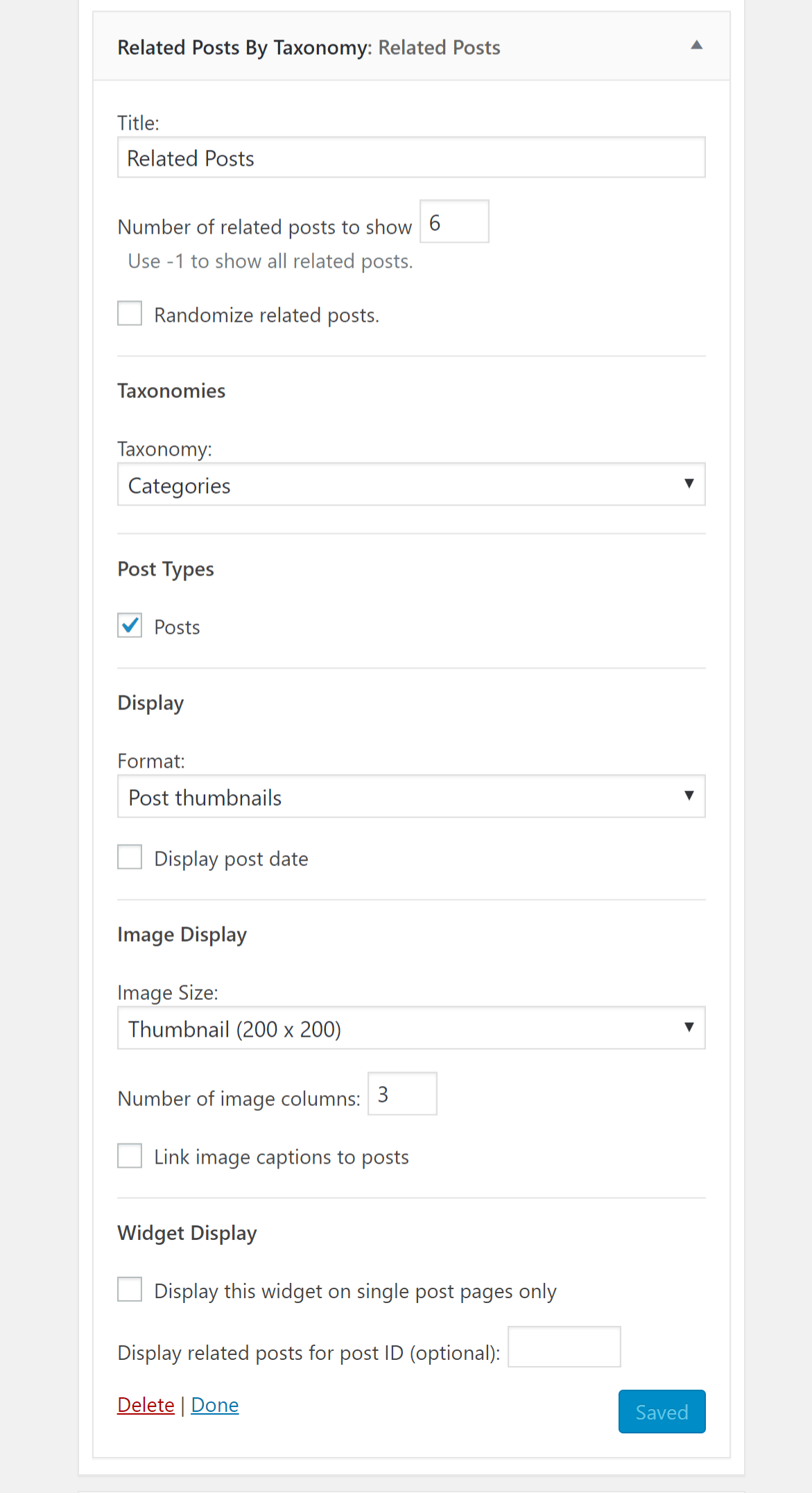 If you're looking for a premium solution, check out Related Posts for Distinct Posts. Retailing at $30, the plugin supports thumbnails of different sizes, and lets you select whether post meta information is displayed. The related posts that are displayed look professional.
Custom Related Posts is a basic related posts plugin, but it does have some cool features, such as importing relations via XML format and native support for the Gutenberg Block Editor.
Another basis solution to check out is CP Related Posts. It's quite unique in that it allows you to display how similar the related posts are using a star rating system or bar.
Final Thoughts
If you're struggling to keep users on your website, adding related content function is a proven way to get people to stick around, resulting in more page views, longer visitor duration and reduced bounce rate. Perhaps even more importantly, when a user views more of your content, they'll be better able to appreciate what your website is all about, which can also boost subscriptions, social shares and even conversions. Basically, all the good stuff!
All of the plugins featured today are capable of adding a fully functional related content section to your website. However, they all look and work slightly differently, with different strengths and weaknesses, so take your time and pick a favourite.
Used/using any of these related posts plugins? Which do you think is best?
Related Posts:
All comments are held for moderation. We'll only publish comments that are on topic and adhere to our Commenting Policy.