WinningWP content is free to all. If you make a purchase through referral links on our site, we earn a commission (
learn more
).
Thrive Architect Review – Any Good? Worth The Price Tag?
If you want to have more control over the appearance of your posts and pages than the regular Gutenberg Editor allows, then a page builder plugin could be the solution for you. In this Thrive Themes Architect review, I'll be testing one of the most popular page building plugins and giving my verdict on the following:
Ease of use.
Flexibility of features.
Cost.
How it compares to other page builders.
But first, let's cover the basics: What is Thrive Architect (from Thrive Themes) and what else does the Thrive Suite have to offer?
What Is Thrive Themes Architect?
Thrive Architect is a page builder plugin created by Thrive Themes. It uses a drag-and-drop block editor system similar to the Gutenberg Editor, but with more customization options and unique blocks.
It's sold as part of the Thrive Suite, a package of ten plugins that can help you to customize your site, market your business and sell products.
Here's a quick overview of the other plugins available in the Thrive Suite:
Thrive Theme Builder is a tool that lets you create a fully customized theme for your website, with no code required. You can view our Thrive Theme Builder review for more details.
Thrive Leads is an opt-in form management tool.
Thrive Apprentice is a learning management system that can be used to build simple online courses. You can read my review of Thrive Apprentice separately here.
Thrive Quiz Builder can be used to add quizzes to Thrive Apprentice courses or to create separate quizzes for use on your site.
Thrive Comments is a tool that gamifies comments, giving users incentive to continue the conversation.
Thrive Ultimatum makes it easy to create countdown-style marketing campaigns.
Thrive Ovation allows you to collect and display testimonials.
Thrive Optimize is an A/B testing tool specifically designed for use in combination with Thrive Architect. You can also use it with normal WordPress pages.
Thrive Automator is a new plugin that lets you automate a variety of marketing tasks.
You can find out more on the Thrive website.
How to Use Thrive Architect
Setting up Thrive Architect on Your WordPress Site
To get started with Thrive Architect, you'll need to sign up for the Thrive Suite. The process only takes a couple of minutes, after which you'll be directed to download the Product Manager. Note that you must download the Product Manager to access any Thrive plugins; they can't be installed separately.
Next, head to 'Plugins > Add New' inside the WordPress dashboard and click 'Upload plugin'. This opens a box you can drag the plugin into. Press 'Install Now' and WordPress will unpack the plugin.
When the plugin is activated, click the 'Product Manager' link now visible in your sidebar, which will open a page where you can view all of the Thrive Suite products. Choose the ones you want to install.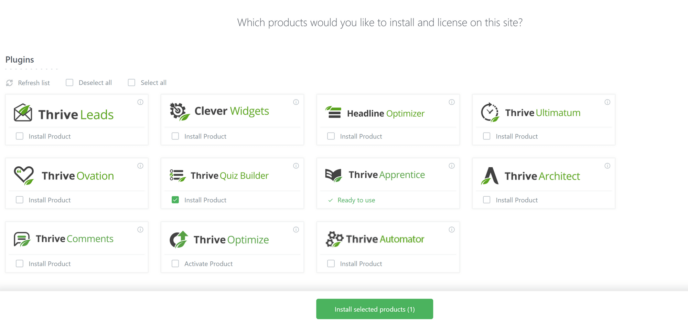 Pick your products and press the 'Install product(s)' button that appears at the bottom of the screen. WordPress will unpack the plugin, and you'll be able to start using it in a few minutes.
How to Create a Page with Thrive Architect
Thrive Architect integrates directly with the WordPress Editor. This means that when you go to edit a page or post you'll see the option to launch Thrive Architect displayed across the top of the editor. Clicking on this launches Thrive Architect in a new tab.

When the page builder launches, you'll be asked to choose between starting a page from scratch or using one of the Thrive landing page templates.
I took a quick look at the landing page library and was impressed by the quality of the nearly 300 templates. Each one also includes templates for upsell pages and thank-you pages.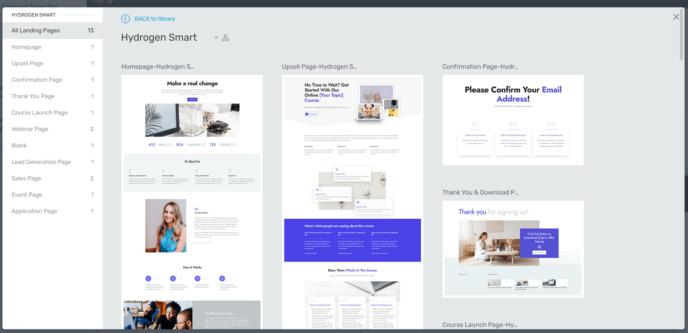 These templates are pretty great, but, for the purposes of this article, I decided to start with a blank page.
Thrive Architect is a front-end builder, so the page you make edits on appears exactly as it will appear to visitor. There's no guesswork as to how any of your formatting elements will appear.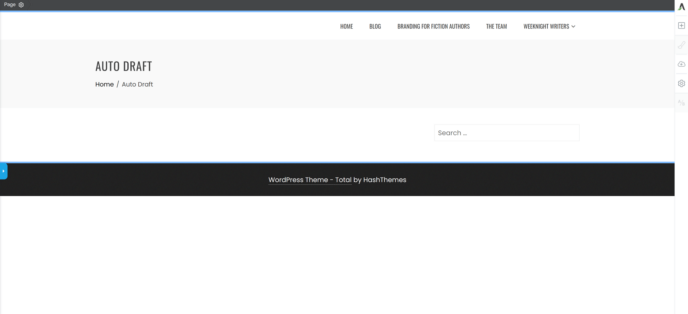 Click the green '+' in the right sidebar to open the block menu. The menu automatically displays all built-in WordPress blocks, plus several proprietary Thrive Architect blocks that can help you to more effectively market your work. These include content reveals, countdowns and lead generation blocks.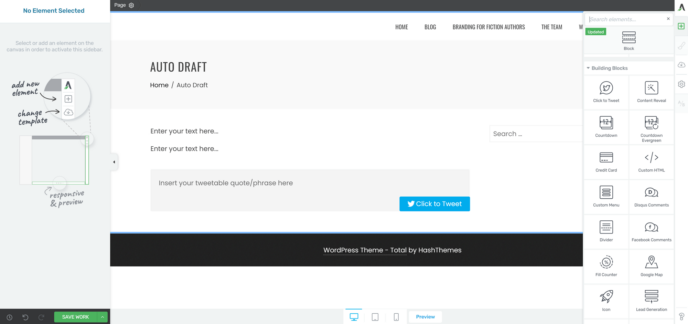 To use a specific block, click on it and drag it onto the part of the screen where you want to display it.
Next, click on the block you've just placed to view editing options. The majority of these will appear in the left sidebar. Additional options may be placed in the frame around the block or, in the case of text blocks, in a bar at the top of the page. I found it odd that the settings bar for text blocks wasn't attached to the block itself, but didn't think much of it since it didn't impact functionality.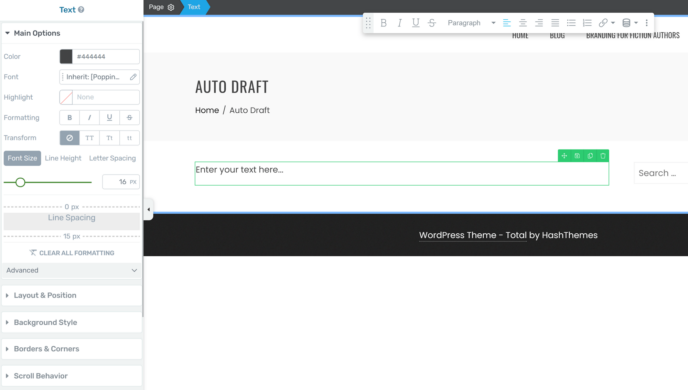 One thing that really stood out was that this plugin offered way more customization options for text blocks than the regular WordPress Editor, including advanced settings such as line height and letter spacing. These options allow skilled designers to create a truly unique feel for their web pages.
A quick look at other core blocks (image blocks, header blocks) shows Thrive Architect provides far more customization options for every kind of content than the regular WordPress Editor. You can even specify scroll behaviour for individual pieces of content, allowing important things such as signup forms to follow users as they scroll down your page.
The specialty blocks provided by Thrive Architect also come with myriad configuration options, most of which can be used without technical knowledge. In some cases, you can also alter HTML attributes related to the block you're editing.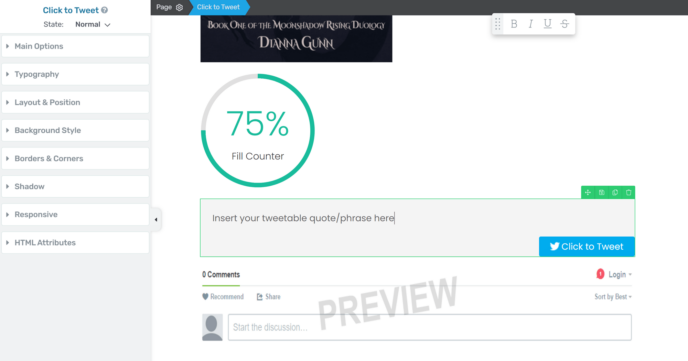 When you're satisfied with your work, click on the arrow inside the save button at the bottom of the left sidebar. This will give you the option to save your work and return to WordPress.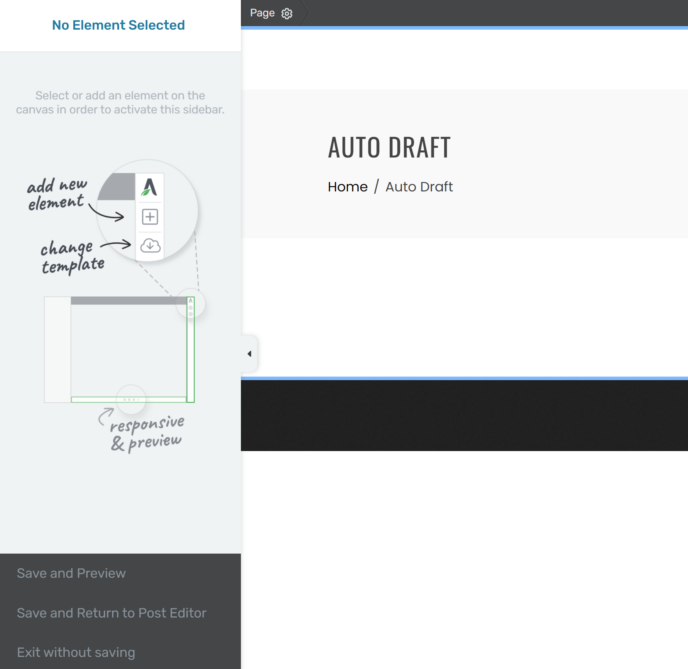 Pricing
To access Thrive Architect, you must purchase the whole Thrive Suite. There are two payment options:
Quarterly: payments can be made for $90.
Annual: payments can be made for $228.
Note that both plans come with full access to all Thrive plugins and features. The license also lets you use Thrive plugins on as many as 25 sites at once.
Pros and Cons
Pros
Front-end design model allows you to view exactly what changes will look like when they're implemented on your site.
Access to advanced customization options for core content types, including text, headers and images.
New content blocks for things such as content reveals, lead generation and progress bars.
Seamless integration with other Thrive tools.
Cons
You must download the Thrive Product Manager to access this plugin.
There's no way to purchase Thrive Themes Architect separately from the full Thrive Suite.
There's no lifetime payment option available.
How Thrive Architect Compares with Other Page Builders
The final thing to consider in this review is how well Thrive Themes Architect performs when compared with two other popular page builders: Elementor and Beaver Builder.
Elementor vs Thrive Themes Architect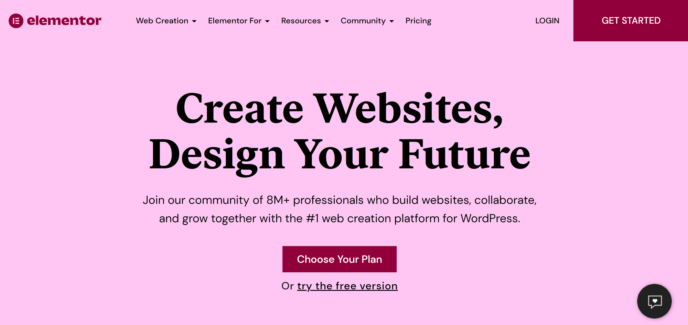 Elementor is possibly the most popular page builder plugin around, having been used to build more than 8 million sites. But is it actually better than Thrive Architect?
Functionally, the two plugins are quite similar. The core of Elementor is the front-end editor, which displays each page exactly as it will appear to your audience.
When you click on a content area, the block menu appears in a sidebar on the left side of the screen. If you're using the premium version of Elementor, you'll be able to access a variety of custom blocks (referred to in-plugin as widgets) for things such as countdowns, pricing tables and login forms. Pick a block, move it onto the desired part of the page, and you're on your way to a new web page.
Elementor also offers a pretty large template library that can be accessed by pressing the button that looks like a folder in the main builder. Free users get access to more than 30 templates; with a premium plan, that number jumps to an impressive 300.
All in all, Elementor offers roughly the same amount of functionality as Thrive Architect, trading some of the advanced customization blocks for additional widgets. However, there are a couple of places where Elementor really stands out:
Documentation: Elementor recently launched Elementor University, an online portal where you can find full video courses on how to best use the plugin.
Community: Elementor has fostered an active online community with more than 140,000 professionals, which makes it easier to find creative support. You can even hire designers who specialize in working with Elementor.
Elementor is also more affordable than Thrive Architect at $49 a year, and you can even access a free version, although it doesn't include any of the custom blocks.
The winner: Elementor is the better choice if you're just looking for a page builder. However, if you plan to use other tools in the Thrive Suite, Thrive Architect is the better option.
Beaver Builder vs Thrive Themes Architect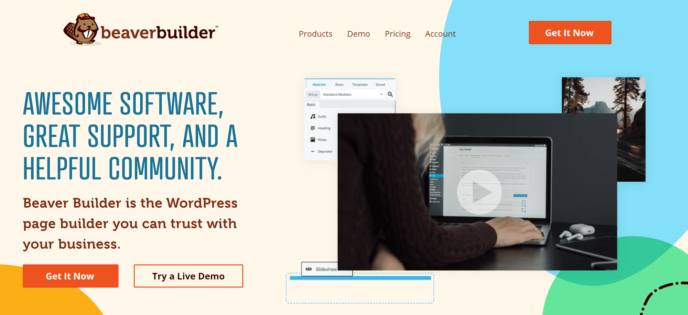 Beaver Builder is another highly popular front-end page builder with more than a million installs, and is actually the page builder plugin I used on my author website.
Using Beaver Builder is similar to using Thrive Architect: Click the blue '+' in the top right corner to open the block menu, select a block, then drag it into its proper place. You can then use the drag-and-drop functionality to move elements around the page.
The custom blocks offered by Beaver Builder Pro are also similar to what other page builder plugins offer, such as login forms and pricing tables.
The biggest difference in using this plugin is how you edit the blocks. When you click on them, a customization box pops up in the middle of the screen. Each block has 'General' settings (which are similar to the customization options in the Gutenberg Editor), 'Style' settings and 'Advanced' settings. The customization options aren't quite as robust as what you'll find in Thrive Architect, but they're significantly more advanced than what the base WordPress Editor offers.
The final interesting thing about Beaver Builder is the pricing model. The basic plan, which provides an unlimited-site license for the full Beaver Builder plugin, costs $99 for the first year but renews at a 40% discount. This brings it down to $39.60 a year starting in year two, which makes it the most affordable option in the long run.
The winner: Thrive Architect is slightly easier to use and has a larger range of customization options for core content blocks (images, text, headers), making it the winner by a narrow margin.
Thrive Themes Architect Review: The Verdict
I deeply enjoyed working with Thrive Architect for this review. Requiring the Product Manager made the setup somewhat cumbersome, but, once I started building pages with the plugin, I was impressed by how simple it was to use.
What I like even more about Thrive Architect is the sheer range of customization options it offers for every type of content. This gives designers the ability to fully control a site's appearance, building something that perfectly matches their artistic vision.
The one potential drawback of Thrive Architect is the cost. The plugin is only sold as part of the Thrive Suite, which costs $228 a year at the most affordable rate. This is significantly more than you'll spend on similar page builder plugins [update: Thrive Themes have now made it possible to purchase individual products again]. On the other hand, if you plan to use other Thrive plugins as well, the price of the Suite is quite reasonable.
All in all, I think Thrive Architect is a great page builder and one of the main appeals of the Thrive Suite.
Used/using Thrive Architect? Thoughts and experiences?
All comments are held for moderation. We'll only publish comments that are on topic and adhere to our Commenting Policy.