SiteGround Review – Everything You Need To Know + Performance Tested! (2021)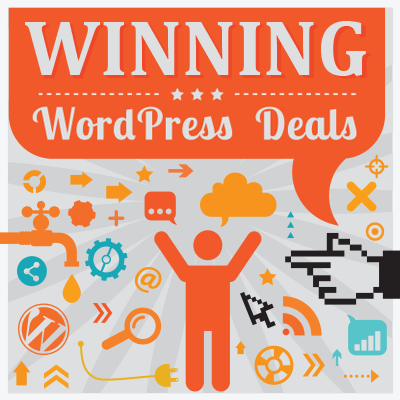 SiteGround offer some of the most affordable and feature-rich shared hosting plans on the market — and have a very positive reputation both inside and outside the WordPress community.
But is this reputation deserved? And, despite the low prices, do you get value for money when it comes to performance, features, support and user experience?
These are some of the questions we'll be looking into.
We'll explore the features you get access to on their WordPress-friendly hosting plans — while also covering the ones that are missing — and test the load speeds of websites we've set up specifically to measure SiteGround's performance (running two different themes). We'll also look at how well these sites perform when multiple visitors are accessing them at the same time, as well as their reliability (i.e. uptime) and a whole heap more.
Let's dive in…
Benefits of Choosing SiteGround
Here are some of their key features and offerings:
A wide range of hosting plans with affordable prices.
Fast loading times, impressive stability and high levels of uptime.
Use of the Google Cloud Platform to deliver scalable hosting.
A good set of features on most plans.
WordPress is installed automatically, if preferred.
An easy process for migrating existing WordPress sites to SiteGround.
A user-friendly, modern account management dashboard.
Helpful and responsive support staff available 24/7 via phone, chat and tickets.
Independently owned and not part of EIG.
As you can see, considering the relatively low price tag, they have a lot to offer!
About SiteGround
SiteGround started in Bulgaria in 2004 (one of their founders is still the CEO), and they now host more than 2 million domains — giving them a wealth of experience when it comes to keeping websites secure and running smoothly.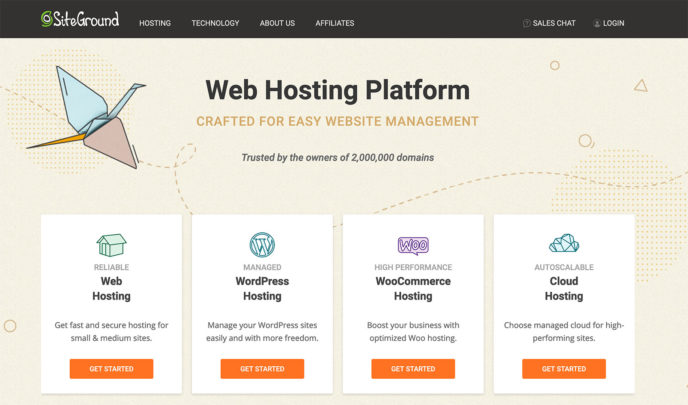 Now, with holding companies registered in the USA, UK, Bulgaria and Spain, and four offices spread around the world, they're a truly international hosting provider.
Using the Google Cloud Platform
In a recent development, SiteGround have switched to using the Google Cloud platform to host their customers' websites, so users can now get the benefits of cloud hosting for a relatively low price.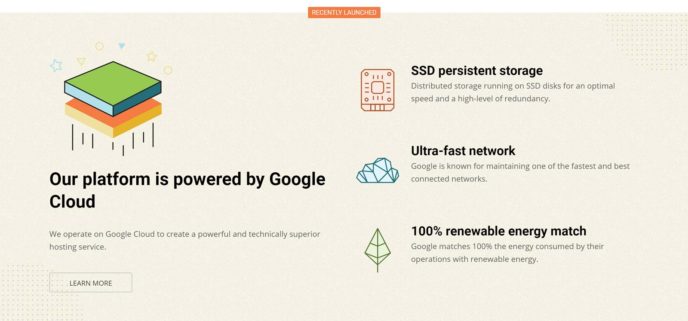 Some reasons to choose cloud hosting over regular shared hosting include:
easier scaling and resource management for fast loading times
distributed storage to reduce downtime and outages
more data center locations so you can host your site closer to your audience
increased sustainability through renewable energy projects.
With SiteGround, you not only get access to cloud hosting at an affordable price, but you can use the infrastructure of Google Cloud — one of the most advanced platforms out there.
Custom-Built Client Portal and Tools
Another change at SiteGround is that they no longer use cPanel to allow their customers to manage their websites and hosting accounts. Instead, they've moved to a new custom-built management platform. We'll take a look at this in more detail throughout this review, but it does a good job of improving on the usability of cPanel without a reduction in functionality.
Independently Owned
Unlike many web hosts, especially those offering low-cost shared hosting, such as Bluehost and HostGator, SiteGround haven't been bought out by the Endurance International Group. Therefore, if you're looking for an independent web host that hasn't been swallowed up by this sometimes controversial hosting company, SiteGround meets that criteria.
Now that you have a good overview of SiteGround and why they're so popular, here's the key information about their WordPress hosting plans.
SiteGround Plans and Pricing
Whether you're about to start a new website or you want to move an existing site to a new host, SiteGround should have a plan that's right for you.
That is, unless your existing WordPress website receives more than 100,000 visitors a month and/or uses more than 40 GB of storage. If that's the case for your site, then you may want to consider their higher-specification Managed Cloud Hosting service.
However, for everyone else, one of the following managed WordPress hosting plans will be suitable:
StartUp: Special price: $3.95 for hosting one website, 10 GB of storage, and ~ 10,000 visits monthly.
GrowBig: Special price: $5.95 for hosting unlimited websites, 20 GB of storage, and ~ 25,000 visits monthly.
GoGeek: Special price: $11.95 for hosting unlimited websites, 40 GB of storage, and ~ 100,000 visits monthly.
The pricing details above include the promotional rates that are available for your first invoice. As you can purchase up to three years of hosting at once, those promotional rates can be applied to your first 36 months of hosting. When renewing your hosting package, though, you'll pay the regular monthly rate.
Main Features and Differences Between the SiteGround WordPress Hosting Plans
Aside from the storage and visits allowances (and, of course, the prices), there are a few other differences between the SiteGround managed WordPress hosting plans. Here's a quick overview:
On-Demand Backups
Your WordPress website will be automatically backed up every day on all of the SiteGround plans, and the backups are kept for 30 days.
However, the ability to instantly create a backup on demand is only available on the GrowBig and GoGeek plans. If you're using the StartUp plan and creating backups on demand is important to you, you can overcome this by installing a WordPress backup plugin.
With plenty of good free and paid backup tools for WordPress, it's easy to implement your own system if you need to.
Caching Service
SiteGround have an in-house caching service to speed up the websites they host. While there are three levels to the SiteGround SuperCacher, sites on the entry-level StartUp plan only have access to the first level, while sites on the GrowBig and GoGeek plan can use all three levels of caching.
(click here to enlarge this image)
Because of this, websites on the StartUp plan could be slower than those on the other two managed WordPress hosting plans. The speed test results we'll show you later in this review compare the loading times of our sites hosted on the StartUp and GoGeek plans, so you can see what levels of performance you might expect.
If site speed is important to you — and it should be — then it's worth thinking about choosing either the mid-range GrowBig or the top-level GoGeek plan.
WordPress Website Migration
If you're considering moving an existing WordPress website to SiteGround, the mid-range GrowBig plan and top-tier GoGeek plan include one free site migration, carried out by the support staff.
For anyone on the entry-level StartUp plan, or those with more than one site, the free SiteGround Migrator plugin makes it easy to move your site yourself. Otherwise, you can pay SiteGround to move it for you.
Customer Support
An impressive feature of SiteGround is that all of their WordPress hosting plans include 24/7 access to phone, chat and ticket support. Many other hosts only offer two out of these three options, so it's great to see that whatever your preferred method for contacting support, it's available with SiteGround.
While the support for all plans is generally fast and helpful, issues raised by customers on the most expensive GoGeek plan are assigned with priority to their most experienced support agents.
Those are the main differences between the SiteGround WordPress hosting plans, but you can see all of the differences for yourself — including the staging features — on their website's plans comparison page.
Now, let's take a look at what impact these differences have on site performance.
Site Speed
As mentioned, site speed should be a huge factor in deciding which host to choose, so, to give you an idea of how quickly your site could load with SiteGround, we ran some speed tests.
For these tests, we created a number of WordPress websites on the SiteGround entry-level StartUp plan and the top-level GoGeek plan using two themes — a lightweight option and a heavyweight multipurpose option.
We then used Pingdom to monitor the speed of those sites over a seven-day period to find the average loading time. Here are the results…
Lightweight Theme Speed Test Results
For our first set of tests, we created a WordPress website with the default Twenty Twenty theme installed. As this is a lightweight theme, these tests will give you a good indication of how fast your website can load with SiteGround if you're creating a simple blog or website with a minimal design.
For the site that used the lightweight theme and was hosted on the entry-level StartUp plan, the average loading time was 943 milliseconds. The Pingdom test ran for seven days, and the site speed was recorded every 30 minutes to establish the average loading time.
For the same site, but hosted on the more expensive GoGeek plan, the average loading time was a faster 771 milliseconds.
As you can see, whether you sign up for the entry-level StartUp plan or the top-tier GoGeek plan, your website could load in less than a second if you choose a lightweight theme.
However, choosing the more expensive GoGeek plan should deliver faster loading times than the entry-level StartUp plan. The loading times of our sites using the lightweight theme also compared favorably with some other hosts we've tested, such as DreamHost, GoDaddy, and HostGator and Bluehost.
Heavyweight Theme Speed Test Results
If you want to create a website that's packed with features, such as video backgrounds, sliders and animations, then you may choose a multipurpose theme such as Avada. Doing so will increase the size of your website — and so potentially increase its loading times.
So, to give you an idea of how fast your site might load if you use a heavyweight theme, we set up two websites on the StartUp and GoGeek plans, using Avada with its Agency demo imported.
With Pingdom recording the speed of the site every 30 minutes over a seven-day period, the average loading time for the site on the StartUp plan was 2.72 seconds.
A site configured in the same way but hosted on the more expensive GoGeek plan had a faster average loading time of 2.29 seconds.
Again, the site hosted on the more expensive and higher-performance GoGeek plan was faster than the site on the entry-level StartUp plan.
These tests show that whatever type of site you have or plan to build, it will load faster if you choose the more expensive GrowBig and GoGeek plans over the entry-level StartUp plan.
Site Speed Test Summary
As you can see, the more expensive SiteGround plan delivers faster loading times than the cheaper alternative.
If you can afford it, it's probably worth investing in the higher-priced GoGeek plan for this benefit alone. This is especially true if you plan to use a heavyweight theme or build a big website, as doing all you can to reduce the potentially slow loading times of this type of configuration is recommended.
As mentioned earlier, though, there are other reasons to choose the GoGeek plan over the StartUp plan, such as on-demand backups, staging tools and priority support — not just improved speed.
Load Impact Performance Testing
To see how a SiteGround-hosted website might perform with multiple users accessing it at the same time, we also tested our sites under load.
To do this, we used the Load Impact service to send 200 virtual users to our test sites. Over a period of five minutes, the number of virtual users accessing them increased from one to 200, and Load Impact recorded the response times throughout the test to see what impact these virtual users had on site speed and performance.
For these tests, we used our sites on the StartUp and GoGeek plans that had the heavyweight Avada theme and its Agency demo installed.
The charts below show what impact the number of simultaneous virtual users accessing the site had on the response time, with the green line representing the number of virtual users accessing the site and the blue line showing the response time.
So, if you want to know how well SiteGround hosts sites that receive lots of visitors at the same time, here are the results — starting with the site hosted on the entry-level StartUp plan.
The site configured in the same way but hosted on the more expensive GoGeek plan fared much better, with no drop in response time as up to 200 virtual users were simultaneously accessing it.
Both plans did very well at accommodating multiple simultaneous visitors, although the GoGeek plan performed better in the test. It's worth mentioning that if you don't plan to use a heavyweight theme as we did for this test, you may experience even better performance than our sites.
SiteGround also performed very well in these Load Impact tests compared with the more expensive managed Bluehost WP Pro service, and as good as some other premium hosts we've reviewed, including Flywheel, Kinsta, WordPress.com Business Hosting and WP Engine.
Uptime Test Results
Finally, we looked at the uptime levels of our four test sites. Over seven days of monitoring with Pingdom, one of our four test sites experienced a minute of downtime, while the other three achieved 100 percent uptime.
Although one site did experience a short period of downtime, it didn't fall below the 99.99 percent uptime guaranteed by SiteGround. If your site does experience less than 99.99 percent uptime, you'll be compensated according to their service level agreement.
Customer Experience & Features
As mentioned, as well as moving to the Google Cloud platform, SiteGround have recently updated their account management interface.
They've stopped using the sometimes clunky cPanel, and have instead created their own versions of many of its tools and features. Thankfully, the new interface is well designed, making it more convenient and much easier to use than having to switch to cPanel to carry out tasks such as accessing backups and the server space, as was the case with the previous system.
Once you've logged in to your SiteGround client area, you can access the features of your plan. This section of our review will walk through some of those features to give you an overview of the user experience.
WordPress Website Updates
As part of the managed hosting service, your websites are automatically updated — including the WordPress software and plugins.
For extra safety, your website is automatically backed up before it's updated, giving you the ability to roll back any changes should something go wrong.
WordPress Website Backups
As well as backing up your site before an update, SiteGround will automatically back up your website each day. Because of this, if something does go wrong with your site, there'll be a restore point that's less than 24 hours old.
Backups are held for 30 days, but you're free to download them for safekeeping if you'd like access to them for longer. With SiteGround, you get a lot of control when restoring a backup, including choosing which files or database tables you'd like to restore.
In another positive development, it's now possible for users on all SiteGround WordPress hosting plans to restore backups — not just those on the GrowBig and GoGeek plans. However, it's not possible to manually create backups on demand on the StartUp plan.
Server File Management and Database Access
Unlike some managed WordPress hosting companies, SiteGround give you direct access to the files on your server space. If you want to upload files outside your WordPress website or edit theme and plugin files directly, this feature can be very useful.
Furthermore, now that SiteGround no longer use cPanel, you can access and manage these files through a more user-friendly interface.
You can access the WordPress database via phpMyAdmin, and FTP access to the server is available on all plans.
WordPress Staging Tool
A staging site gives you a safe place to test new themes, plugins and other changes to your WordPress website — so it's good to see that the GrowBig and GoGeek plans include access to a powerful yet easy-to-use staging tool.
When it comes to managing your staging sites and transferring changes between the test and live environments, SiteGround have made the entire process very straightforward.
That should give you a good idea of what it's like to use SiteGround, although there's loads more you can do via your SiteGround account area and the plugin added to the WordPress dashboard of the sites they host. Thanks to the well-designed interfaces of these tools, it's very easy to optimize your website images, configure caching, switch PHP versions and more.
Final Thoughts
Now you know how fast SiteGround are, what features you get access to and how much each plan costs, it's up to you to decide if they're the best host for your WordPress website.
The more expensive GrowBig and GoGeek plans do give you access to more features and greater performance, but even our test sites hosted on the entry-level StartUp plan loaded quickly and were very robust.
Overall, SiteGround make the process of creating, configuring and managing WordPress websites very straightforward.
The features, such as automatic backups and updates, the caching and optimization tools, and access to cloud hosting, help to make the SiteGround WordPress hosting plans very appealing.
Used/using SiteGround? Any positive (or negative) experiences?
All comments are held for moderation. We'll only publish comments that are on topic and adhere to our Commenting Policy.