Google Domains Review – What is it? How Does it Work and How Does it Compare?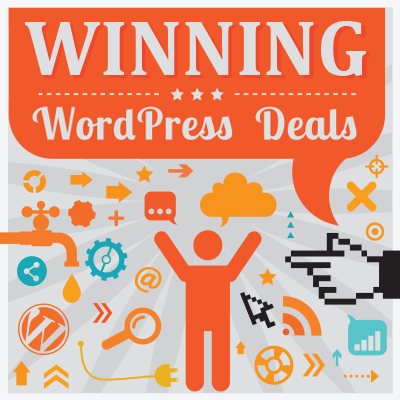 Google Domains is a relatively new addition to the company's portfolio — but a very interesting one nonetheless. It certainly has some great potential, but does it actually deliver? And will it have a significant impact on the way we go about registering domain names and building web projects?
We'll be answering these questions in this Google Domains review.
We'll discuss what Google Domains is, who should use it, how to use it, and whether the service is likely to be a game-changer in the domain names market.
What Is Google Domains?
Google Domains is a still-in-beta domain registration service offered by Google. It launched in January 2015, and has been picking up steam ever since.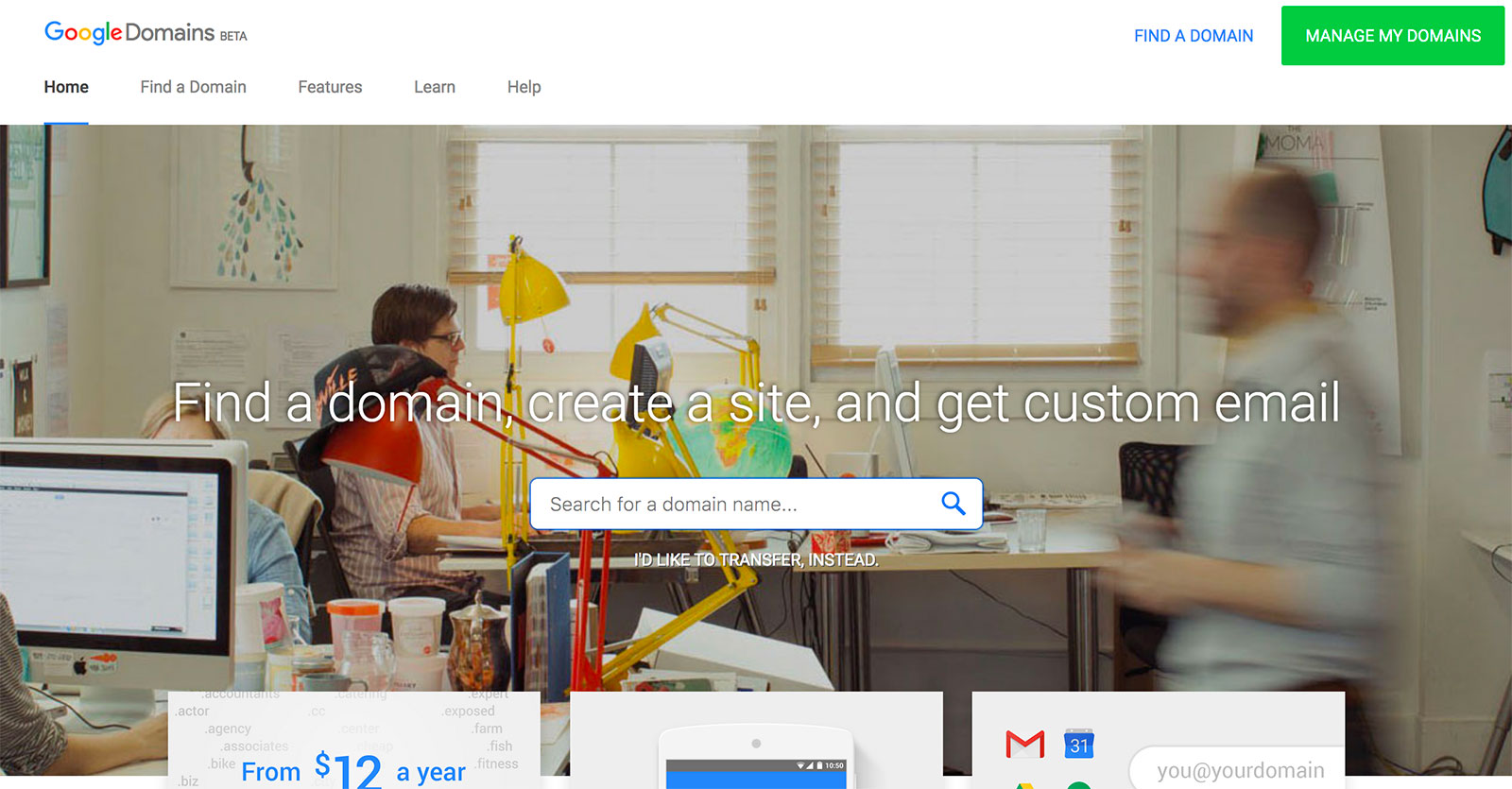 On the surface, Google Domains is similar to the other domain registrars that have been around for years — you can go to Google Domains and register a brand new domain name, which you can then use to launch a new website, create custom email accounts, and so on.
As usual, though, the devil is in the details, meaning there are some specific traits that make Google Domains unique among its competitors.
1. Google Domains Comes with WHOIS Privacy at No Additional Fee
This means your personal information won't be accessible via various WHOIS lookup tools (such as this one).
Just to give you some context, with some of the other domain registrars the price of this service can be anything from $0 to $12 annually. GoDaddy, for instance, offers it for $7.99 a year.
2. Google Domains Gives You Hassle-Free Integration with Top Website Builders
If you want to register a new domain name, chances are you want to build a website on top of it. So, to make things easier, Google Domains integrates with some of the most popular website building solutions/tools out there.
Think Squarespace, Wix, Weebly, Shopify, and some of Google's own, including Blogger, Google App Engine, and Google Sites.
Google have a really nice tutorial resource that walks you through the steps required to launch your website with any of these integrated builders.
In short: After you register your domain with Google Domains, you can go straight to your website builder of choice and continue your website setup there — with most of the hurdles removed to make life easier.
There's just one obvious question: What if you want to use WordPress? Well, the only integrated (read: Google-approved) solution available right now is to build a WordPress site at Bluehost. Once you get through the simplified signup process there, you'll have a blank WordPress site at your disposal.
Of course, if you're not interested in Google helping you out via those builder integrations, you can map your domain name with any other third-party web host. Google doesn't prevent you from doing so.
3. You Can Hook up Your Domain to G Suite
G Suite is an optional extra that gives you and your team access to integrated Docs, Drive, Calendar, and Gmail services. You can also create a range of custom email addresses for yourself and your team — all under your main domain name.
The G Suite package is $5 per user per month.
While you can buy G Suite for any domain name, not just those bought through Google Domains, the integration is more seamless this way.
4. Google Domains Lets You Create up to 100 Subdomains
Although 100 is probably overkill, it's still great to know that Google Domains will allow you to create basically as many subdomains as you want for your projects.
5. Everything Runs on Google DNS Servers
DNS servers run the domain names ecosystem, taking your domain name and translating it into an address other computers can understand. Without DNS servers, a domain name would be useless.
If you register your domain with Google Domains, that domain is going to use the same DNS servers the main Google search engine uses. Read: They're quite efficient, allegedly.
6. Google Domains Lets You Set up a Lot of Email Aliases
You can actually create up to a hundred of these.
For example, if you don't want to create a separate email address to handle customer support, but you still want to let your customers send requests at support@yoursite.com then this is where an alias comes in. An alias will grab every email people send to that support address and forward it to some other (actual) email address.
TLDs Available and Pricing at Google Domains
Apart from the classic .com or .net, Google Domains also gives you access to a really nice selection of other TLDs. However, there are still some notable local TLDs missing (such as .ru or .it). On the plus side, when it comes to custom TLDs, you'll find some really interesting options, including .accountants, .actor, .cleaning, .construction, .dental, .furniture, .investments, .shoes, .university, .wine, and many other niche TLDs.
Overall, Google Domains won't disappoint in 99% of the cases when talking TLDs. However, not all of them are that affordable.
Here's how Google Domains' offering compares with GoDaddy's and Namecheap's:
Google Domains vs GoDaddy vs Namecheap

| TLD | Google Domains | GoDaddy | Namecheap |
| --- | --- | --- | --- |
| .com | $12 | $11.99 | $10.69 |
| .net | $12 | $11.99 | $12.88 |
| .org | $12 | $7.99 | $12.48 |
| .co | $30 | $11.99 | $6.88 |
| .ru | – | $14.99 | – |
| .de | – | $7.99 | $9.85 |
| .it | – | $12.99 | – |
| .club | $13 | $9.99 | $0.88 |
| .site | $30 | $2.99 | $2.88 |
| .design | $40 | $29.99 | $6.88 |
The good thing about Google Domains is the domain renewal prices are the same as the initial registration fees, which isn't the standard in this market. With some registrars, you can find that renewing your domain name for the second year can set you back as much as twice the initial price.
Just to give you one example, GoDaddy offers a .org domain at the initial price of $7.99, but renewing it after that period costs $19.99. For a .com, it's $11.99 vs $14.99. Google Domains is much more transparent in its pricing.
Is Google Domains Better Than the Other Registrars?
Setting aside a clear pricing model — and all those additional perks that you get with Google Domains — deciding whether Google Domains is actually worth it is still not an easy call to make. For me, it comes down to a couple of things:
First, the core product with all domain registrars is always the same — it's registering a domain name on your behalf and keeping it 'live'. So, in this regard, Google's product is just like everyone else's. Their domain names aren't in any way better than what you can get elsewhere.
Secondly, as cool as those extra perks are, things such as WHOIS privacy, website builder integration, subdomains and email aliases aren't exactly game changing, and you will find other companies offering them as well. Google Domains is by no means revolutionary here.
At the end of the day, what matters most for 99% of the users is the price of a specific domain they're interested in. Therefore, getting a domain at Google Domains probably only makes sense if the TLD you want is cheaper there. Here's the full pricing table for Google Domains and here are the prices offered by the most notable competitors, so you can do your own research.
Lastly, you should also consider some risks with Google Domains that Google themselves might not be that vocal about. Mainly, even though Google Domains has the big G behind it, you can never know whether the service will stick around for the long haul. Not all of Google projects have stood the test of time, and Google is notorious for shutting things down if they fail to meet the company's expectations. For every Gmail, there are several Google Buzzs, +s, Waves and Glasses.
Now, about the hands-on stuff:
How to Register a Domain with Google Domains
Google have got us used to a certain standard when it comes to their tools and services, and most of what they give us is simple and intuitive, yet functional. Google Domains, unfortunately, is not that. At least, not yet.
First off, Google Domains isn't yet available worldwide.
To use it, you have to have a billing address in one of these countries. TL;DR: it's available in the US, UK, France, India and Mexico, alongside only a handful of other countries.
If your country is on the list, you can go to the main page at domains.google. From there, you can search for a domain name you like.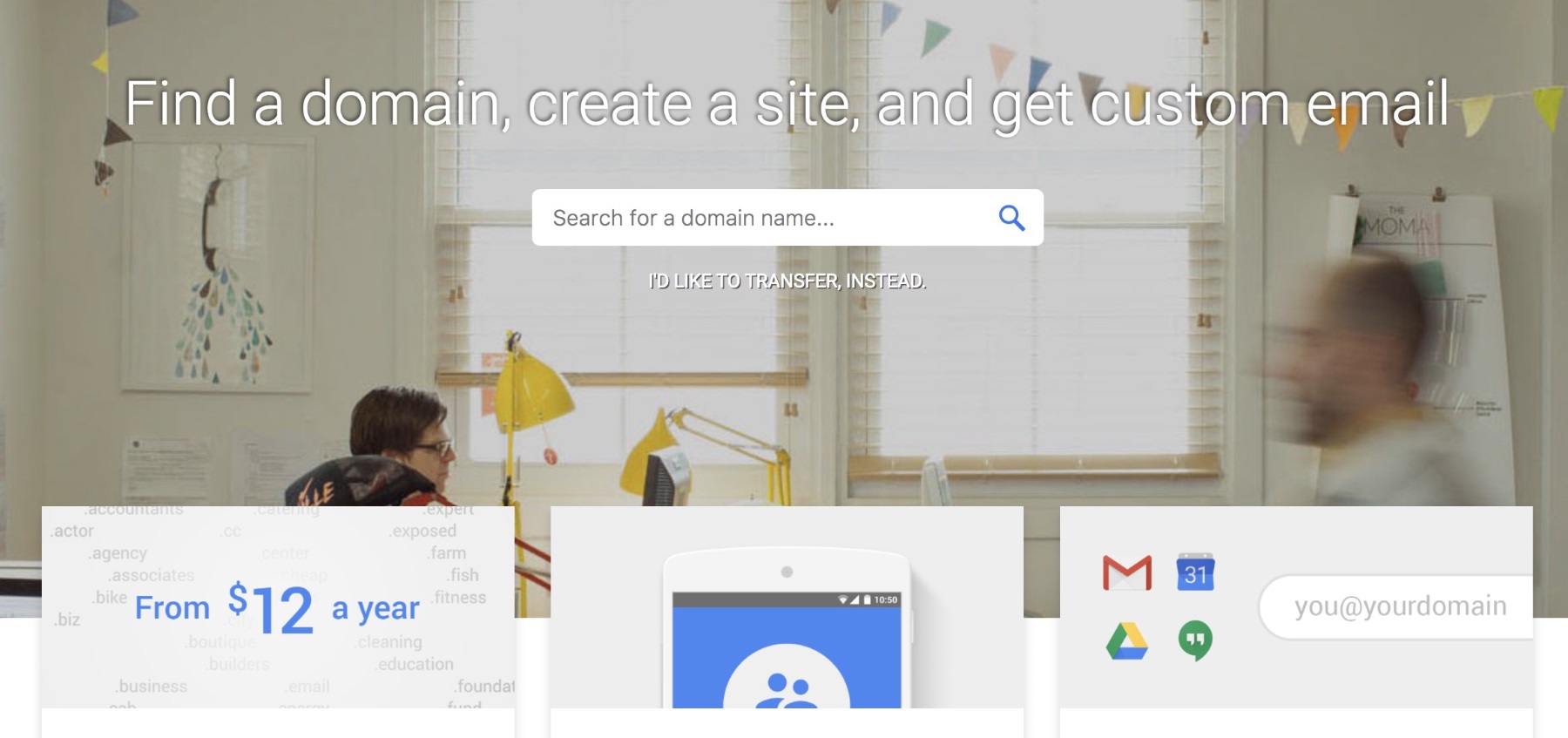 Google Domains will show you what's available, and also let you add more extensions (TLDs) in case the one you're interested in isn't on the list.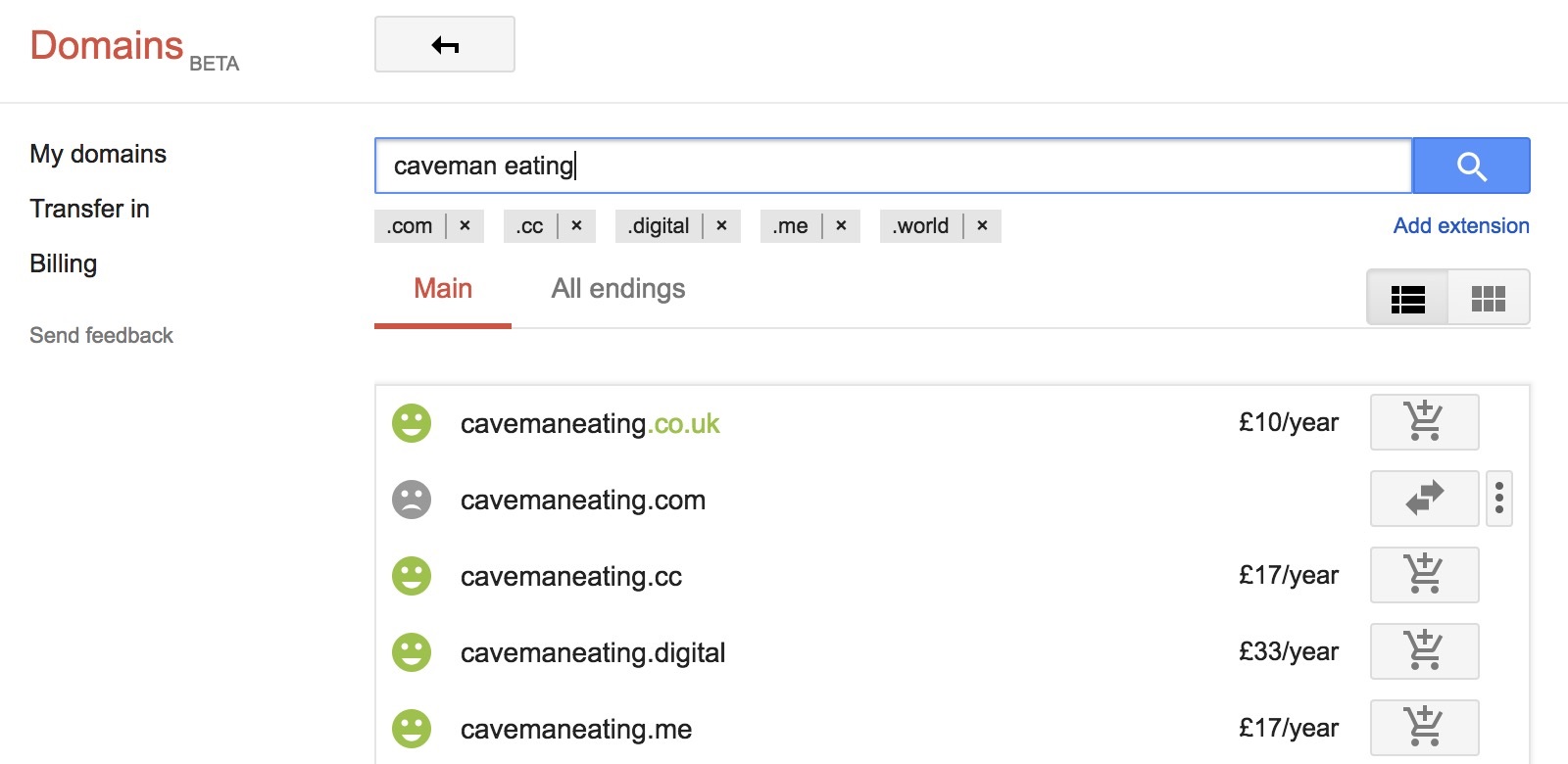 The domain names that are grayed out can still be transferred in (if you're the owner) or looked up via WHOIS tools to potentially acquire them from the current owner.
To see all available TLDs, you can click on the 'All Endings' tab (visible above). The list is alphabetical, so it may take you a while to scroll through it all. Still, you can find some gems there.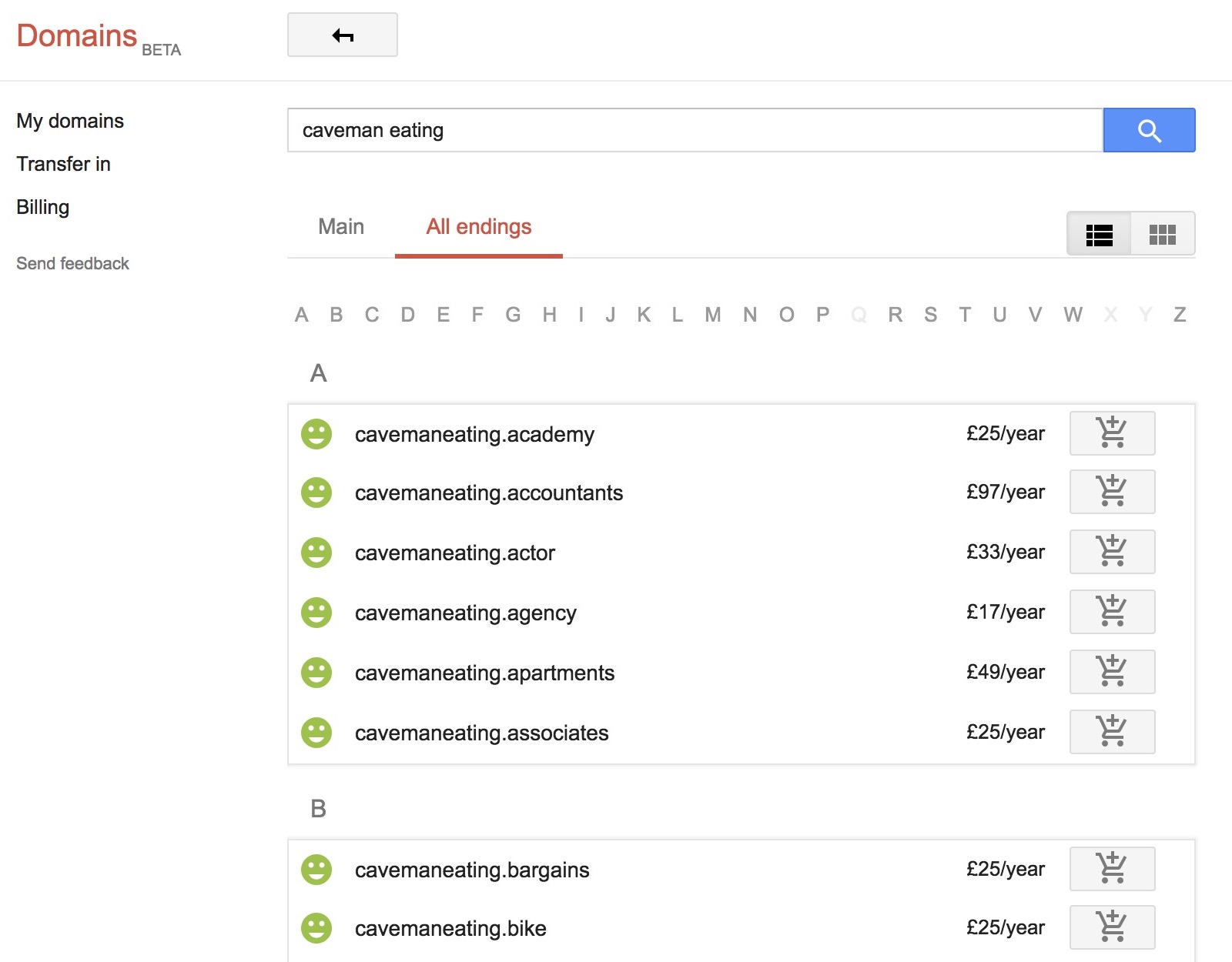 If there's anything on the list you like, you can add it to cart, and when you're done, proceed to checkout.

To complete the purchase, Google Domains will ask for some personal information that's required by ICANN (the organization overlooking the domain names market).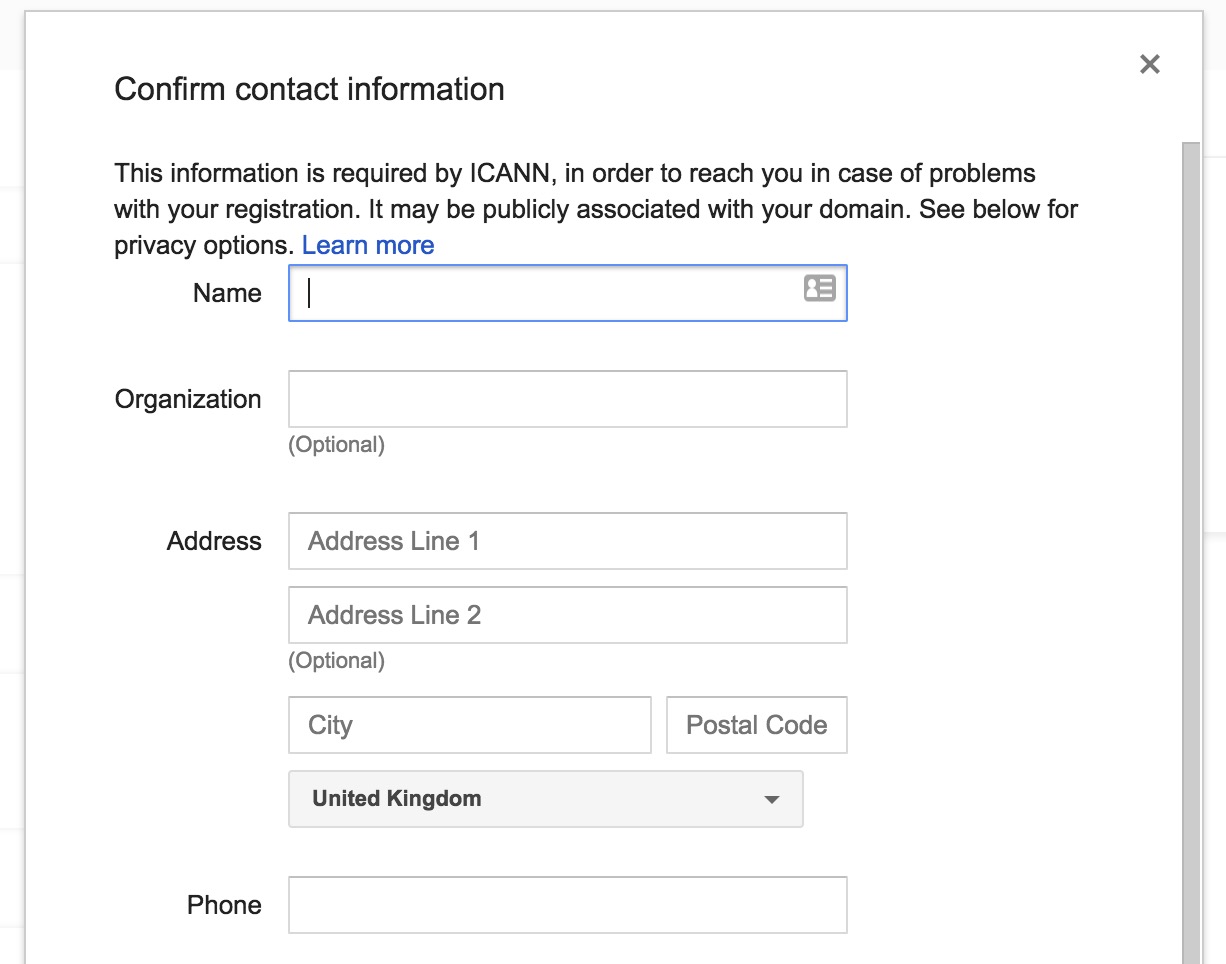 Google Domains will also suggest you enable auto-renewal for your new domain name. If you agree, Google Domains will bill you automatically every year when the domain is up for renewal.

One more thing you need to do before you can complete the purchase is provide Google with your address and billing info again, this time for tax purposes. After that, you'll be able to enter your credit card details and seal the deal.
The very last thing you need to do afterwards is confirm your email address with ICANN. This is a required step no matter where you register your domain name, and Google will let you know how to do that.
At this stage, you'll finally be able to see your domain name in the main Google Domains user panel.

This is where you can start working with the domain name by either deciding to build a website on top of it via one of the integrated tools (e.g. Squarespace, Shopify), set up email, adjust the main DNS details, or go into the more advanced settings.
The Bottom Line
Overall, Google Domains is fine. It's no game-changer yet, and it's hard to see it dominating the market anytime soon since it's only available in a handful of countries.
When it comes to the interface and the ease of use of the domain registration process, it's, again, fine. Though, in my opinion, what you get from GoDaddy or Namecheap is still more user friendly and gives you much more guidance as to what can be done next and how to take full advantage of your new domain name.
Also, if you want to install WordPress on your new domain name, Google Domains will only help you to do so with Bluehost. If you want to work with any other host, you'll need to figure things out on your own. In that case, why not just register the domain with that other host in the first place?
At the end of the day, Google Domains is still a viable solution if the specific domain name extension (TLD) you're after is cheaper than anywhere else. But if it isn't, there's really no point using Google's platform. Any of the other top registrars in the market will serve you just as well.
What do you think? Does Google Domains excite you as a new player among domain name registrars — one that can potentially disrupt the whole landscape?
All comments are held for moderation. We'll only publish comments that are on topic and adhere to our Commenting Policy.
Our commenting form also supports the use of Markdown.