WinningWP content is free to all. If you make a purchase through referral links on our site, we earn a commission (
learn more
).
How To Make a Squarespace Website from Scratch – A Beginner Guide (Video Tutorial)
Wondering how to get started with Squarespace? We've put together a complete and — if we do say so ourselves — fantastic video tutorial! This step-by-step guide will take you through the process from start to finish, getting you from zero to a beautiful, fully published Squarespace-powered website with its own domain name in less than 45 minutes!
From joining Squarespace to the basics of setting up your site, using templates, various customizations and making your site live, we've got you covered.
Take a look (below)…
(Note: There's also some additional/optional info below the video.)
How to Create a Squarespace Website
Grab a cup of coffee and let's get started:
The video tutorial is 28 minutes long, so we recommend grabbing a drink and getting settled before you start to watch.
For those who prefer to watch videos live on YouTube, here's a direct link.
Extras:
Why Use Squarespace?
The simplicity of Squarespace's user interface allows anyone to create a website using the platform — whether they're a complete beginner or an experienced webmaster.
To create a website with Squarespace, all you have to do is visit the Squarespace templates page and select a website design you like.
There's a massive collection of stylish website templates and pre-made header and footer layouts to choose from, with all designs being optimised for desktop, tablets and smartphones.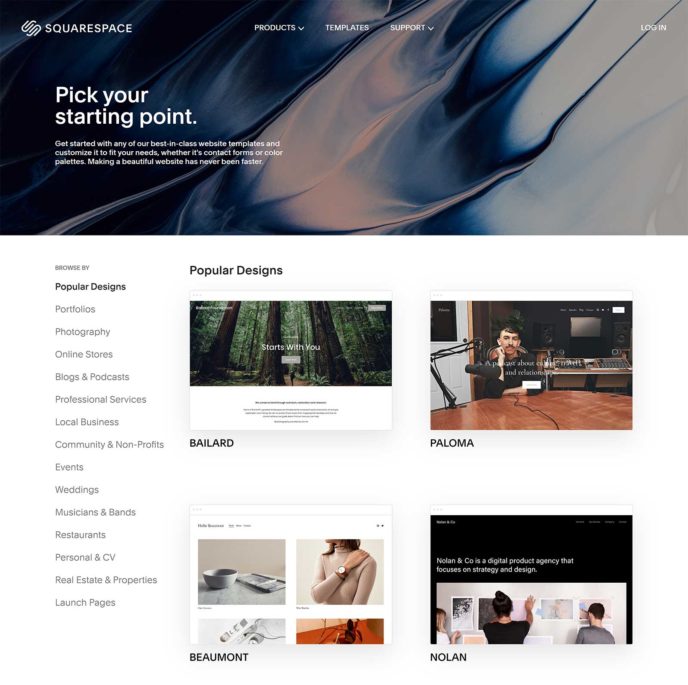 Squarespace lets you make website customisations — such as uploading images, adding text, changing colors or moving things around — at the click of a button.
Templates are populated with demo content to show what you can do with Squarespace, but you can remove any parts of the design you don't need, and customise colors and text.
New pages can be added via the pages panel, and you can arrange the structure of your custom layouts using sections.
Whether you're a beginner or an experienced website owner, you'll feel right at home in the website customisation area.
How Much Does Squarespace Cost?
Every person who creates a website on Squarespace starts off with a two-week trial.
This allows you to explore the platform and create a website using one of its high-quality website templates. During the trial, you can upload your own unique content and even share the website with friends for feedback.
If you like what you see, you can continue using Squarespace by signing up to one of four available premium plans.
The personal plan costs $16 a month, the business plan costs $26 a month, the basic commerce plan costs $30 a month and the advanced commerce plan costs $46 per plan.
Pricing is reduced to an effective rate of $12 a month, $18 a month, $26 a month and $40 a month if you choose to pay annually.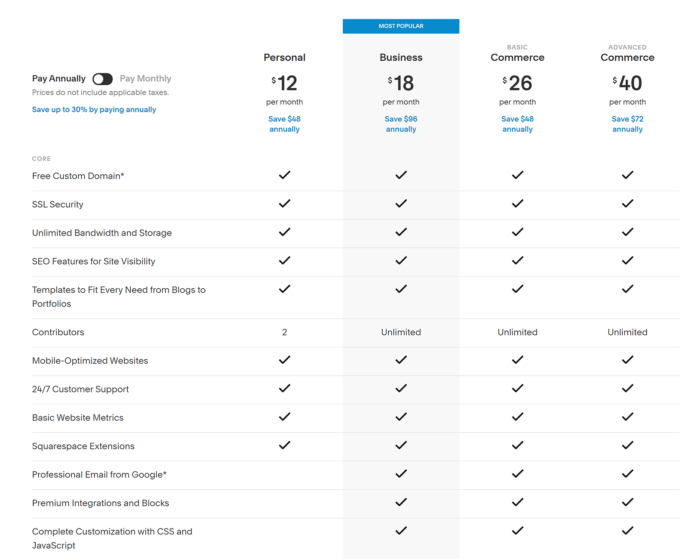 All Squarespace plans come with a free domain name, mobile optimisation, 24/7 support, and unlimited bandwidth and storage for hosting your website.
Basic eCommerce functionality is available in the business plan, but be aware that a 3% payment transaction fee is charged under this plan. You can remove this fee and add more online shopping features by upgrading to the basic or advanced eCommerce plans.
For a detailed breakdown of what features are available in each plan, check out the Squarespace pricing page.
Final Thoughts
It's easy to see why more and more people are turning to Squarespace to build websites.
The platform has a fantastic variety of beautiful website templates, and you can make customisations with ease. If you select the business plan or above, you can also use Squarespace to create a professional online shop.
To get started, all you have to do is visit Squarespace, select the template you like and start creating.
Used/using Squarespace? Thoughts and experiences?
All comments are held for moderation. We'll only publish comments that are on topic and adhere to our Commenting Policy.