WinningWP content is free to all. If you make a purchase through referral links on our site, we earn a commission (
learn more
).
Flywheel's Managed WordPress Hosting – First Impressions!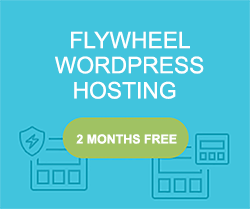 Have you heard the whispers? Rumors of a new* managed WordPress hosting service with an almost zero track record of clients with something less than good to say about them? Rumors of a managed WordPress host that goes over and above the norm in an effort to get everything right?! I know I have… and after nearly six months of watching from the sidelines to see if they'll make a misstep — and it seems they haven't by the way — I figured now's about the right time to go and see what all the fuss is about! Introducing Flywheel: a specialist WordPress hosting service doing things both a little differently and exceptionally well!
Let's take a look, create a brand new site and do a little testing…
Update (16th November 2018) – for a more recent, in-depth review of Flywheel's hosting services, take a look at our newest post on Flywheel here.
About the service
Positioning themselves as a premium WordPress hosting company built specifically for designers, freelancers and creative agencies, Flywheel has a LOT to offer that can't — at least as far as I know — be found elsewhere. We're talking stuff like the ability to create free demo sites, an array of handy tools allowing multiple designers to work on the same site before it's launched and — perhaps best of all: client billing transfer. That's right — you can create a site for someone else on your own account and then, whenever you're ready, transfer the account/billing for the site to the client!
Key Features
Tuned for WordPress (as you'd expect), with server-side caching (learn more)
A beautifully designed interface
Free migrations (learn more)
Nginx as standard (inherently faster than Apache)
All clients are on VPS — not shared — servers!
No overage charges
Client billing transfer
One-click staging sites
Free demo sites (only pay when sites go live!)
Solid security & malware monitoring
Great performance (see below)
Nightly backups stored off-site and one-click restores
Easy CDN integrations
Impressive uptime (see below)
Upgrade, downgrade plans anytime
Reimagined SFTP (learn more)
Simple collaboration tools
A single dashboard
Built in site stats (learn more)
A choice of ten server locations (learn more)
Free Let's Encrypt site security certificates (learn more)
Payable by PayPal (no credit card required)
How does it look and feel?
Flywheel's user interface is, in a word: 'beautiful'. What's more, the user experience is one of the best I've ever seen from a hosting company. It has everything you'd want, all the important settings are easily accessible, and they've even gone as far as to answer a few commonly asked questions (like what the IP address of the server is) with additional snippets of information in the sidebar! Hats off!
Screenshot of the backend control panel: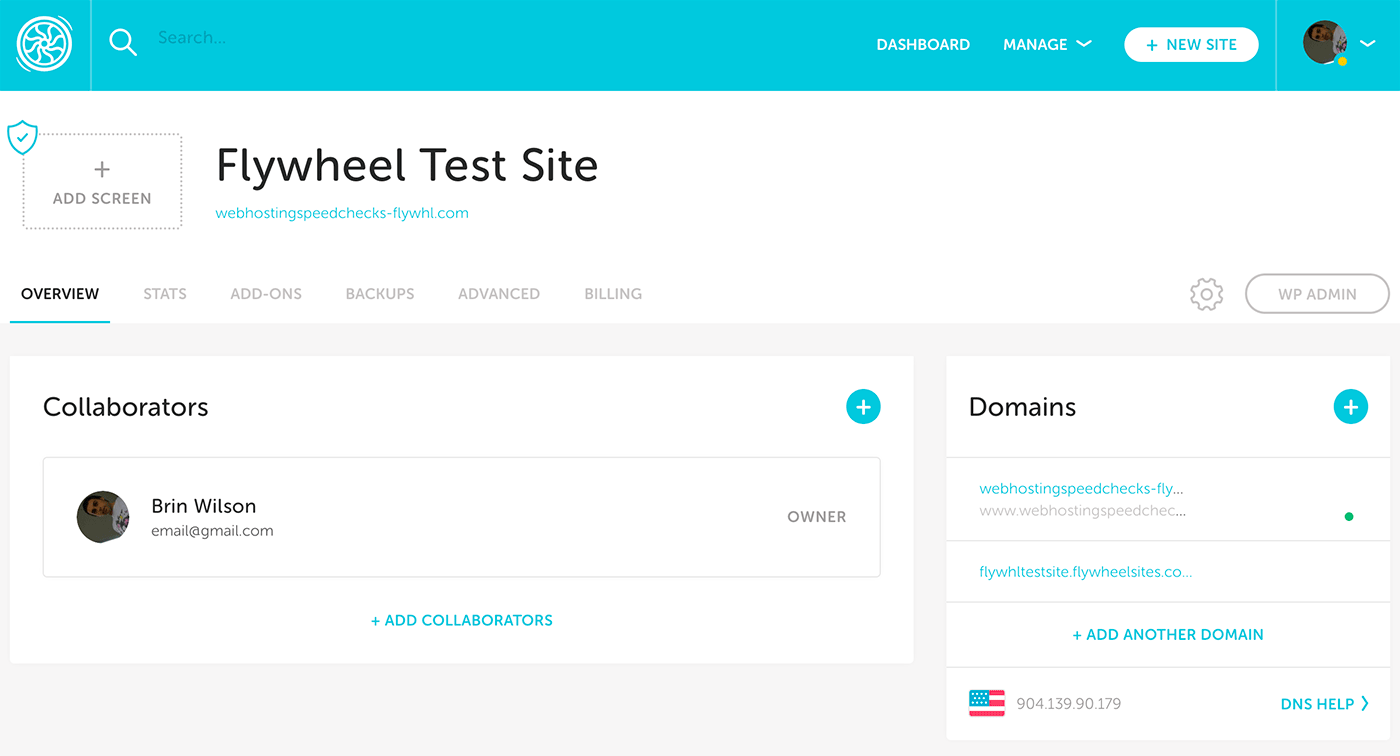 How easy is it to set up?
To put it politely, even some of the leading managed WordPress hosting providers don't make it easy when it comes to setting things up. Flywheel, however, do! I can't vouch for their free migration services (simply because I haven't used them yet), but if they're anywhere near as easy to work with as the workflow they provide for setting up a new site, then they'll be pretty darn impressive! From start to finish, I had no problems at all when it came to setting up a brand new site and getting it all up and running! Since Flywheel don't sell domain names, you'll need to have a domain name registered with another provider, for example GoDaddy or, my personal favorite, DreamHost (for registering domain names), but things are pretty straightforward. Simply add a new DNS record to your domain to ensure it points to your new Flywheel server (as you would with any other host that isn't a domain registrar) and then tell Flywheel about the domain in your new site's settings.
Speed…
By now, I'm guessing we all know the importance of speed: Speed matters! It matters for your users, your conversions and even SEO. When it comes to managed WordPress hosting, speed is often a decisive factor! After all, if you're going to pay top dollar for your hosting, you'll want — and should be getting — the best performance your money can buy!
So just how fast is it?
Running a few speed tests on an entirely as-out-of-the-box site (i.e. a brand new WordPress install with none of the settings changed, no additional plugins and nothing but the default Twenty Fifteen theme installed) load times (for the front page) are somewhere between 0.3 and 0.6 seconds***! Here's our almost-entirely-out-of-the-box**** test site, should you wish to run it through say GTMetrix or Pingdom for yourself: http://webhostingspeedchecks-flywhl.com (note this site will remain live — for the purposes of this blog post — until December 31st).
GTmetrix report: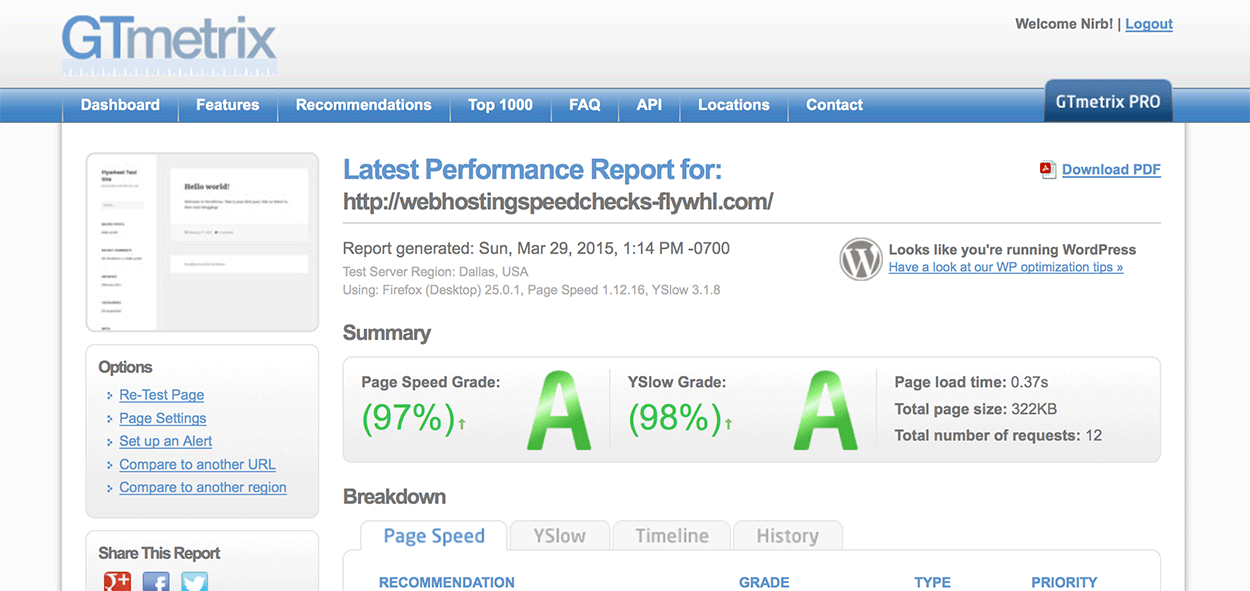 Damn that's fast; in fact, that's about the fastest result I've ever seen in a test like this — and I've done quite a few in my time!
Uptime
Although Flywheel don't actually offer any form of uptime guarantee (but OK, a lot of uptime guarantees are arguably a bit of a farce anyway), they certainly seem to be offering amazing results. We'll be keeping watch on this in future (we've got no results yet as we've only just created a site with them).
(update: nine months in – I can now confirm that our test site has been running for a full nine months with zero downtime = 100% uptime!)
Performance under load
When it comes to testing a site's performance under load, there's arguably no better tool than Load Impact. For those who aren't already aware, what this tool does is allow you to map the effect of sending an increasing number of virtual users to a site over a predefined time frame, thereby simulating how a site's performance decreases with increased load. Using this tool to send from 1 to 50 concurrent users to our test site (detailed above) over the course of 10 minutes, shows results that are a testament to how well Flywheel have set up their services. I won't bore you with the details, but suffice it to say that our test had essentially no effect on the site — with our virtual load times remaining significantly below an astonishing 50ms throughout! For those interesting in the actual results of our test, here they are (note: if you're in any doubt how good these results are, try running a similar test for yourself on just about any other site you fancy).
Conclusion
If you're a designer, a developer, or an agency setting up sites for — and working with multiple — clients (or even just someone looking for an exceptional host for your own website), this could very well be a hosting service worth its weight in gold: not only does it offer a number of superb features that no other host has, it's also astonishingly fast and boasts both outstanding reliability and rock-solid performance under load! In fact, I'll go as far as to say the next commercial site I create will almost certainly be hosted with these guys!
More Info
Visit the official Flywheel website at https://getflywheel.com/
Watch a bunch of helpful official Flywheel videos at https://getflywheel.com/design-and-wordpress-resources/videos/
*Believe it or not, although it still feels new and exciting to many, Flywheel has actually been around for nearly five years and has tens of thousands of clients!
**Using all of GTMetrix's default settings and testing from Dallas rather than the default Vancouver (since the site's server is physically located in the New York rather than Canada).
***Literally all we've done is turn all comments and pingbacks off (to avoid spam comments and keep things entirely as standard).
Note: In addition to free site migrations, Flywheel also offer a pretty fab hosting deal for those who signup/prepay for a year's hosting in advance!
Did we miss anything? Thoughts?
All comments are held for moderation. We'll only publish comments that are on topic and adhere to our Commenting Policy.