WinningWP content is free to all. If you make a purchase through referral links on our site, we earn a commission (
learn more
).
Divi Hosting Review – What Do You Get For Your Money? Is It Worth It?
If you're planning to start a new website, or you've just been following the latest developments from the world of WordPress, then you may have heard of the new Divi Hosting service from Elegant Themes.
By partnering with some of the biggest and best names in the web-hosting industry, Elegant Themes aims to make it easier than ever before to launch a new WordPress website that uses the hugely popular and powerful Divi theme.
However, the launch of Divi Hosting doesn't actually mean Elegant Themes has entered the web-hosting industry — nor that it'll be hosting your WordPress website for you. So, with that in mind, you may be wondering exactly what this service includes…
By the time you've read this review, you'll know exactly what's being offered, the benefits of signing up, and, most importantly, whether it's right for you and your website.
Let's get started…
What Is Divi Hosting?
Divi Hosting is a new provision from Elegant Themes that aims to simplify the process of getting a WordPress website online.
Typically, when starting a new website, you need to decide on a theme, find a suitable web host, and then install your chosen theme once WordPress has been installed and set up.
In some cases, you may also need to configure the hosting environment, such as changing the PHP version or the memory limit, to ensure it can handle your chosen theme.
With so many good — and not so good — hosting options out there, finding the right web host and plan can be a long and sometimes confusing process.
Get it wrong, and you could be locked into a long contract that delivers slow loading times, frequent downtime, poorly implemented features and unresponsive support staff.
Divi Hosting from Elegant Themes aims to reduce the time it takes to find the right host and plan by connecting you with its preferred partners. Not only that, but it'll also save you some time when it comes to uploading and activating a WordPress theme.
Automatic Divi Theme Installation and Activation
With this new service, once you've decided that Divi is the WordPress theme for you, your main task is to choose from one of the three main hosting options that are available (more on those in a second).
When your website is created, the Divi theme will be installed for you and connected to your Elegant Themes account, so you don't have to worry about finding and entering your license key to activate Divi.
If you're not sure if you should use Divi, here are some reasons to consider this popular theme:
It has more than 160 high-quality website packs and 1,200 individual page templates.
It's suitable for creating any type of website with WordPress.
It features an integrated drag-and-drop page builder tool.
It supports customization of all aspects of your website, including the header, footer and sidebar areas.
It has an integrated split-testing tool to help you to optimize your website.
It comes with two very useful plugins to enhance your website.
If you'd like to know more about this theme, be sure to check out our in-depth Divi review.
It's worth pointing out that, if you change your mind and no longer want to use Divi, switching to a new theme is permitted with the Divi Hosting service.
Choose from Three Recommended Web Hosts
As mentioned, another benefit of Divi Hosting is you don't have to evaluate the hundreds of hosting companies out there. Instead, you only have three options to choose from — Flywheel, Pressable and SiteGround — that have all been vetted by Elegant Themes.
This vetting process ensures you'll be signing up with a high-quality and reputable hosting company.
Not only that, but it also ensures the hosting environment meets all of the requirements of the Divi theme — such as the PHP version and maximum execution time — and that any new features that are added to Divi in the future will work without any problems, as they'll have been tested with these hosts.
Why Flywheel, Pressable and SiteGround?
Elegant Themes states that it chose Flywheel, Pressable and SiteGround because these were the three hosting companies it had had the best experiences with over the years when it came to testing and implementing new Divi features, and supporting the sites of their customers.
Recommending these hosts also makes sense from a pricing and performance perspective, as SiteGround, Flywheel and Pressable cover the full spectrum of web hosting, from entry-level, budget-friendly plans to high-end premium managed WordPress hosting — and everything in between.
To give you a quick idea of how much it costs to host your website with these companies, here are the prices of their entry-level plans:
These are all hosts we've reviewed in the past, and we've found them to deliver high levels of performance, good sets of features and helpful customer support.
If you'd like to know more about them, you can read our in-depth Flywheel, Pressable and SiteGround reviews to help you to decide which is right for your website and the plans you should choose.
How Does Divi Hosting Work?
So, now you know what the Divi Hosting service is, let's explore what it's like to use this service and how it all works.
Sign up with Elegant Themes
Divi Hosting is only available to new and existing Elegant Themes members.
Once you've purchased Divi by joining Elegant Themes — something you can do risk-free, thanks to the 30-day money-back guarantee — you can then sign up for Divi Hosting.
The cost of joining Elegant Themes currently starts at $89, and you not only get access to the Divi theme, but also the Extra theme, the Bloom email optin form plugin and the Monarch social sharing plugin.
Choose from the Available Web Hosts
Once you've decided whether to sign up with Flywheel, Pressable or SiteGround, you can click on the relevant link inside your Elegant Themes account area to join your chosen host.
Like Elegant Themes, all of these three hosts offer money-back guarantees so you can try each of them risk free.
Sign up with Your Chosen Host
For this example, we'll walk through the process of signing up with Flywheel, but both of the other two hosts also offer equally painless user experiences.
After you've signed up for a hosting plan from Flywheel, you just need to give your site a name and enter the details for your domain or website address. Flywheel provide you with a free temporary domain if you've yet to register one for your new site.
Then, you need to enter your desired WordPress admin username and password before Flywheel create your new website.
After a few minutes, you'll get an email notification with the login details of your new WordPress website.
Log in to Your WordPress Dashboard
Once your site is ready, you can log in to your WordPress dashboard. As part of the Divi Hosting service, the Divi theme will have been automatically installed and activated on your website.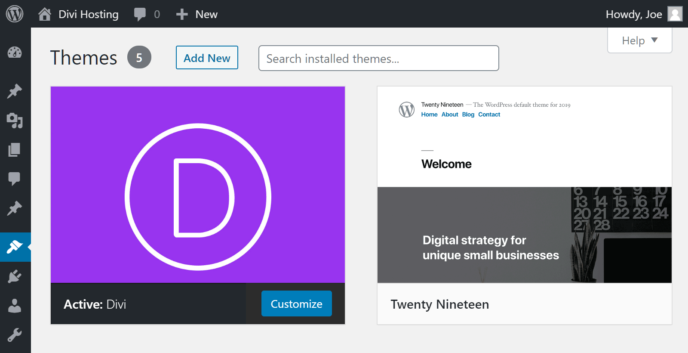 Your Elegant Themes license key will have been entered, too, enabling you to receive updates to the Divi theme as soon as they're released.
If you want to ensure your hosting environment meets the Divi theme requirements, you can check the system status in your WordPress dashboard.
Build Your New Website
You can now start building your new website by importing one of the hundreds of layout packs Divi offers, or you can create your own custom designs from scratch using the powerful Divi Builder tool.
If you have any problems using Divi, you can contact the Elegant Themes support team as usual. For any hosting issues that arise, or any questions you may have, you can contact the help desk of the web host you signed up with.
As Flywheel, Pressable and SiteGround all have 24/7 support channels, you should have no trouble getting assistance whenever you need it.
Final Thoughts
Although Elegant Themes hasn't created its own hosting service, by partnering with three of the most popular and reputable names from the web hosting industry, this service should make it easier for people to launch new sites.
With so many options out there, choosing a web host can lead to paralysis by analysis. So, for those who'd rather have this decision taken off their hands, the Divi Hosting service does provide a solution.
That being said, you still have to choose between Flywheel, Pressable and SiteGround, so, although your options have been narrowed considerably, you still need to make a final decision.
However, the price points of the plans from these hosts and your budget should help to reduce the options further. Also, as most of the plans have different storage, traffic and bandwidth limits, as well as different features, your requirements for these criteria will steer you in the direction of the right host and plan.
To be honest, the main benefit of signing up with Divi Hosting is that the flagship theme from Elegant Themes will be installed, activated and connected to your Elegant Themes account for you. There are no savings to be had on the price you'd pay for Divi if you bought it separately or signed up with the partner hosts independently.
That said, if you don't have time to research web hosts and themes, or you were planning to use Divi and sign up with Flywheel, Pressable or SiteGround anyway, you can reduce the amount of time and effort it takes to start a new website by using the Divi Hosting service.
Used/using Divi Hosting yet? Thoughts?
Related Posts:
All comments are held for moderation. We'll only publish comments that are on topic and adhere to our Commenting Policy.