Contact Form 7 Review: A Decent Free Contact Form Plugin For WordPress?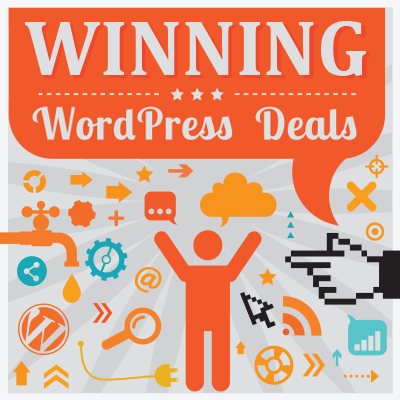 If you're looking to add a contact form to your WordPress website, Contact Form 7 is included on many lists of recommended WordPress plugins, so will likely be one of the first solutions you'll run into during your research.
However, with so many other great contact form plugins available, is Contact Form 7 the best choice for your website? Let's take a look at what this plugin can do, how it works, and how easy it is to use.
About Contact Form 7

Contact Form 7 is a free — and extremely popular — WordPress contact form plugin. According to the WordPress Plugin Directory stats, it's been actively installed on more than one million websites. As well as being the most widely used contact form solution in the official plugin directory, it also has an impressive user rating of 4.5 stars out of 5.
In short, when it comes to adding a free contact form to a WordPress website, it's about the most tried-and-tested option. But is it any good?
Let's take a look.
5 Reasons to Consider Using Contact Form 7
Before we get to the drawbacks of Contact Form 7, here are five of the best reasons to consider using this plugin to add a contact form to your WordPress website.
Quickest Way to Add a Contact Form to WordPress
Apart from being free to use — which is many people's main requirement! — and having a pretty positive overall rating from users, one of the best reasons to choose Contact Form 7 is how quickly you can get a new contact form up and running. Unlike some other popular free WordPress form plugins, a ready-made contact form is automatically added to your website (ready to be inserted into whichever page you'd like it) immediately after activation.
As you don't need to create a contact form or even add your own contact details to the form (unless you want to change the email address form entries are sent to), Contact Form 7 is one of the quickest ways to add this type of form to any site.
Once the plugin is activated, you can add the default contact form to your WordPress posts and pages by inserting the corresponding shortcode (not sure what shortcodes are?) into your content.
You can then preview your page to see how the contact form looks, and hit the publish button when you're ready for the form to go live.
Forms can also be inserted into your sidebars and other widget-friendly areas of your theme by adding the shortcode to the WordPress text widget.
For example, if your chosen WordPress theme features a widgetized footer area, using the text widget in this way makes it easy to display a contact form at the bottom of every page on your website.
The forms can also be added to theme template files to enable you to display forms in others areas of your site (aside from posts, pages, and sidebars).
Once you've published a form, by default, submissions will be sent to the email address associated with your WordPress website user account. However, this can easily be changed through the mail section of the form settings.
Some issues can arise if the email address associated with your form doesn't share the same domain name as your website. For example, if your website's domain name is WinningWP.com but the email address you want form submissions sent to uses the gmail.com domain, the form submissions may not be delivered.
If this Contact Form 7 non-delivery problem does occur, it's usually an issue with your web host, rather than the plugin itself. There are free tools that can help you overcome this issue, but the easiest option is usually to create and use an email address with the same domain as your website.
It's Easy to Create Custom Forms
If you need more than a basic contact form, adding and removing fields to the default form or creating a new form is relatively straightforward. Unlike some of the other popular free and premium form plugins, you don't get a live preview of your form. Neither is there a drag-and-drop form builder interface to simplify the process of creating your forms.
Instead, your form creation work takes place through a not-very-user-friendly interface. At first glance, the form builder may look a little bit scary, especially if you're not used to HTML and similar markup code. However, if you take a closer look, this approach is relatively easy to understand.
The form field labels reside within the angle brackets, while the form field placeholders use square brackets. Clicking on a button adds the corresponding field to the form.
Then it's up to you to add a suitable label to describe the purpose of the field to your visitors and form users.
Once you understand the system, creating custom forms is very straightforward with Contact Form 7. After you've saved a form, every instance of that form will be automatically updated on your site. Thanks to the power of shortcodes in WordPress, there's no need to republish any content that contains that form.
Useful Set of Form Fields
Compared with the most expensive and powerful WordPress multi-purpose form plugins, such as Gravity Forms, Contact Form 7 is a little lacking in form fields. However, for creating basic online forms, it should have all the fields most users will need.
The current list of Contact Form 7 form fields includes:
Text
Email
URL
Telephone number
Number
Date
Text Area
Drop-down menu
Checkboxes
Radio buttons
Acceptance
Quiz
reCAPTCHA
File attachment/upload
Submit button
As you can see, all of the basics are covered — plus a few advanced options, such as quizzes and the ability to attach and submit files. Whether you need to create a basic contact form or something a little more advanced, such as an online quote request form, Contact Form 7 should suffice.
You won't find the advanced form fields offered by commercial options, so if you need to create forms that use conditional logic to determine which fields to display based on a user's selections, or accept payments and include auto-calculating fields, you'll need to upgrade to a premium forms plugin such as Gravity Forms or Ninja Forms.
Helpful Online Documentation and User Support
One of the advantages of choosing a commercial plugin over a free option is often the promise of responsive user support. However, Contact Form 7 is supported via the WordPress Plugin Directory, and there's a good chance you'll be able to find a solution to your problem in the forum archives. If not, new topics are responded to quickly on the forum.
The online documentation has grown over the years, and covers everything from getting started to troubleshooting. The Contact Form 7 FAQ is extensive too.
Also, as this is such a popular plugin that's used by so many websites, it's highly unlikely that it will be abandoned any time soon.
Contact Form 7 Add-ons
Like many of the best WordPress plugins, a number of third-party add-ons have been created to enhance Contact Form 7.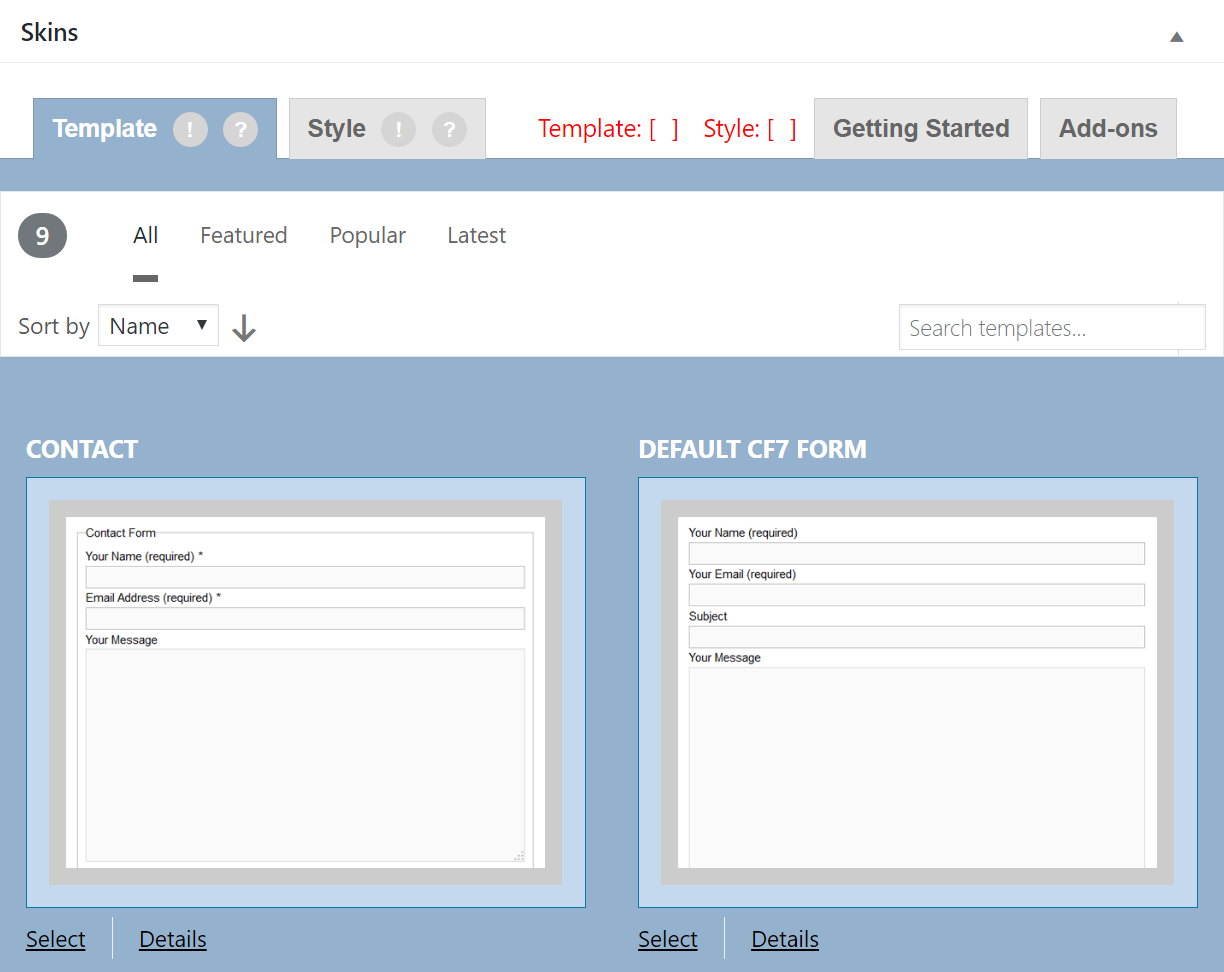 Contact Form 7 Skins add-on plugin in action
If you're not familiar with CSS, customizing the appearance of your forms can be a little tricky with Contact Form 7. While the forms do generally blend in well with most WordPress themes, there are a few add-ons that can help you change their appearance. Contact Form 7 Skins is a popular option, as is Custom Skins Contact Form 7.
Another useful add-on is the free Contact Form DB. After you enable this plugin, form entries will be stored in your WordPress database and made available through your WordPress Dashboard. If you want to reduce the risk of losing form submissions, or you'd like to create a central location where form entries can be stored and viewed, using an add-on such as Contact Form DB is highly recommended. Flamingo is another free plugin with similar functionality.
As mentioned earlier, the free Postman SMTP mailer plugin may be able to help you overcome problems that can arise from trying to send form submissions to an email address with a domain that's different from that of your website.
Other Features of Contact Form 7
Some other reasons why you may want to choose Contact Form 7 include:
AJAX-powered form submissions to avoid page reloads
Akismet and CAPTCHA anti-spam support to reduce contact form spam
the ability to display custom submission confirmation and error messages
the ability to display form field placeholder text
the ability to track form submissions with Google Analytics
the ability to allow users to select a form recipient
the ability to redirect users to another URL after form submissions.
As Contact Form 7 is currently on version 4.5.1, and is updated on a regular basis, there's a good chance new features will be added.
Drawbacks of Contact Form 7
If you just want a quick and easy way to add a contact form to your WordPress website, Contact Form 7 is hard to beat. However, it's not a perfect solution and does have some drawbacks.
One area where Contact Form 7 falls behind the competition is its form builder interface. Unlike WPForms, and some other free and commercial form plugins, there's no drag-and-drop form builder tool.
As we covered earlier, the process for adding additional fields to your forms is a little protracted. Creating custom forms isn't too complicated, but a drag-and-drop form builder with a preview window would improve things considerably. There's also no quick way to change the appearance and styling of your forms.
A minor complaint is that Contact Form 7 doesn't add a button to the WordPress Editor that gives you an easy way to add forms to your content. Instead, you must copy and paste the form shortcode into your content. This isn't a deal breaker, but, again, being able to insert forms into your posts and pages from the WordPress Editor would improve the user experience.
Undelivered form entries can be a real problem, especially if you're using your contact form to accept messages from potential clients or customers. One way to overcome this issue is to save form entries in your WordPress database and make them available through your WordPress Dashboard.
Unfortunately, out of the box, Contact Form 7 doesn't have this feature. However, as mentioned in the add-ons section, there are at least two free plugins — Flamingo and Contact Form DB — that can store your form submissions for safe keeping.
Final Thoughts
In short: Contact Form 7 is a great option for anyone who wants to quickly add a contact form to their WordPress website for free.
You won't be able to create the same kind of advanced forms that you would with tools such as Gravity Forms or WPForms Pro. You can, however, add dropdown menus, checkboxes, and file attachment fields to your forms. As such, it's probably best to think of Contact Form 7 as a contact form builder, rather than a full-on multipurpose forms solution.
There's also no commercial or premium version of Contact Form 7. On one hand, this is good: There are no upsells or disabled features. On the other hand, however, there's no option to upgrade as your requirements grow, whether you need access to more powerful features or more responsive support.
That said, if all you need is to add a straightforward contact form (for free) with the option of adding a few more fields, Contact Form 7 could very well be just what you're looking for!
Used/using Contact Form 7? Thoughts?
All comments are held for moderation. We'll only publish comments that are on topic and adhere to our Commenting Policy.
Our commenting form also supports the use of Markdown.