WinningWP content is free to all. If you make a purchase through referral links on our site, we earn a commission (
learn more
).
Contact Form 7 Review: Still A Decent Free Contact Form Plugin For WordPress?
Contact Form 7 is a regularly recommended — and widely chosen — free plugin that's used for adding contact forms to WordPress websites.
Contact Form 7 has been available since 2007, meaning its good reputation and status have been earned over a long period of time — rather than just in the past few years. Because of this, it's worth taking an up-to-date look at it to see if it's still the best free contact form plugin for WordPress.
Re-evaluating Contact Form 7 is especially worthwhile, because a number of strong alternative options have emerged over the past few years — some with very positive user ratings and an impressive number of active installations.
So, to help you to decide if Contact Form 7 is the right plugin for your website, this review highlights its best and worst aspects, while also looking at how it compares with some of the other free contact form plugins that are available for WordPress.
Let's begin…
About Contact Form 7
As mentioned, Contact Form 7 is a very popular plugin for adding online forms to WordPress websites, with more than 5 million active installations at the time of writing.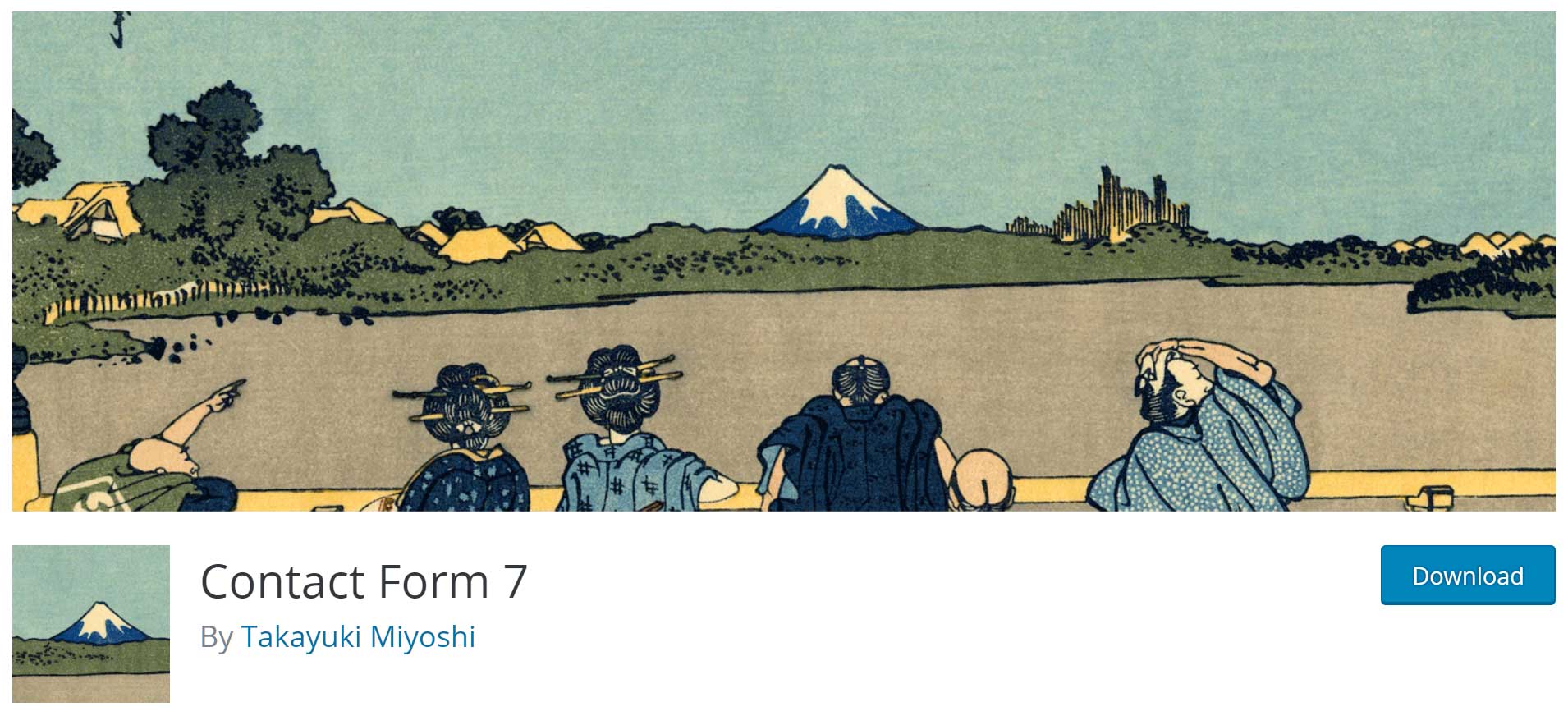 Now, though, a few freely available online form plugins that were released after Contact Form 7, such as Ninja Forms (premium version also available) and WPForms (premium version also available), are getting close to this level of usage, with more than 1 million and 3 million active installations, respectively.
Furthermore, the free versions of those plugins now have higher user ratings than Contact Form 7, whose own rating has slipped from 4.5 stars out of 5 to 4.1 in the past few years. All of this suggests that Contact Form 7 may no longer be the best free contact form plugin for WordPress.
So, should you use Contact Form 7 to add a form to your WordPress website? Or, if you're already using Contact Form 7 on your site, is it time to start thinking about switching to another plugin?
This Contact Form 7 review will help you to answer those questions by looking at the features and user experience of the plugin, before finishing with a quick evaluation of the competition.
Contact Form 7 Features
For many years, the key selling point of Contact Form 7 has been that it makes it very easy to add an online form to your WordPress website that allows your visitors to send messages directly to your email inbox.
However, for a plugin to be considered the best contact form add-on for WordPress, this level of functionality alone isn't enough anymore.
With many more impressive plugins now available that also have this functionality, other factors such as user experience, additional features and upgrade options have become increasingly important points to consider when choosing a contact form solution.
We'll be exploring those factors in this review, but, before we do, here's a quick overview of the key features of Contact Form 7:
Is easily installed via your WordPress dashboard.
Comes with a ready-made, preconfigured contact form for you to add to your posts and pages.
Has a selection of fields for expanding the basic pre-built contact form.
Should work with any modern WordPress theme.
Has Captcha support to avoid spam form submissions.
Is completely free to use with no paid upgrades necessary.
While the above points look good on paper, Contact Form 7 does have some drawbacks, especially compared with the competition, which could put its status as the most widely used WordPress contact form plugin at risk.
So, let's look at the main features of Contact Form 7 in more detail to see how they've been implemented and help you to decide if this is the right WordPress forms plugin for your website.
A Quick Way to Add a Contact Form to WordPress
Apart from being free to use — which is many people's main requirement! — and having a pretty positive overall rating from users, one of the best reasons to choose Contact Form 7 is how quickly you can get a new contact form up and running on your website.
Unlike some other popular free WordPress form plugins, such as WPForms (read our review here), a ready-made and preconfigured contact form is automatically added to your website — ready to be inserted into whichever page you'd like it — immediately after activation.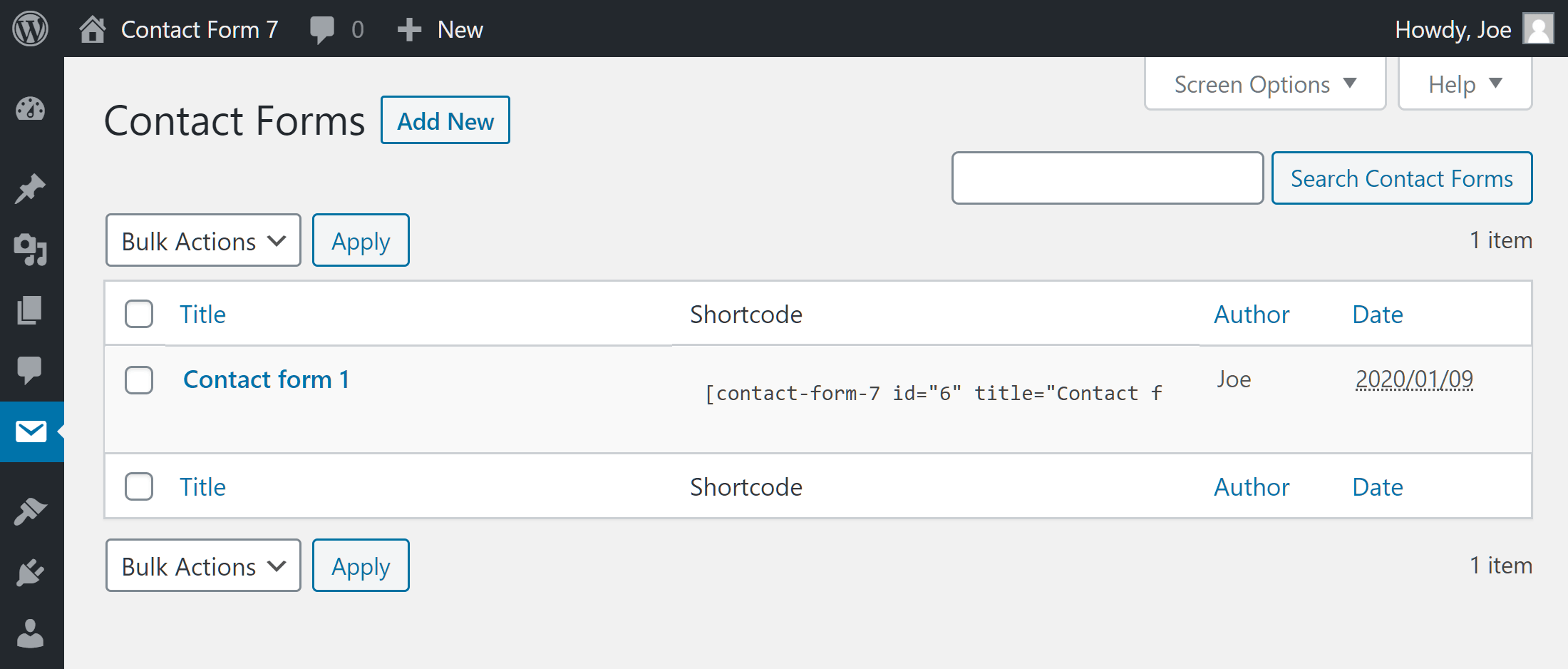 As you don't need to create a contact form or even add your own contact details to the form (unless you want to change the email address form entries are sent to), Contact Form 7 provides a quick way to add this type of form to any site.
Once the plugin is activated, you can add the default contact form to your WordPress posts and pages by inserting the corresponding shortcode (not sure what shortcodes are?) into your content.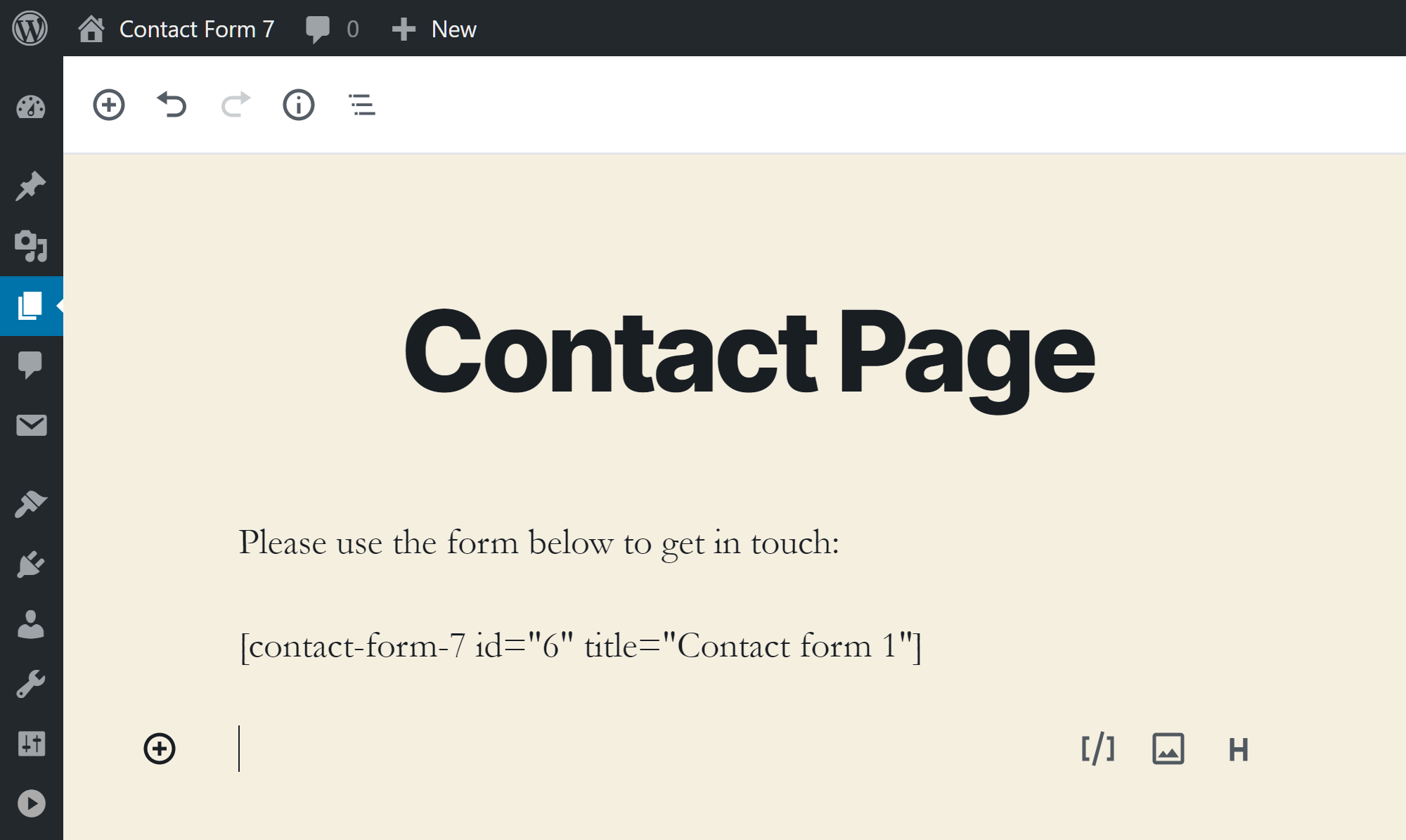 You can then preview your page to see how the contact form looks, and then hit the publish button when you're ready for the form to go live.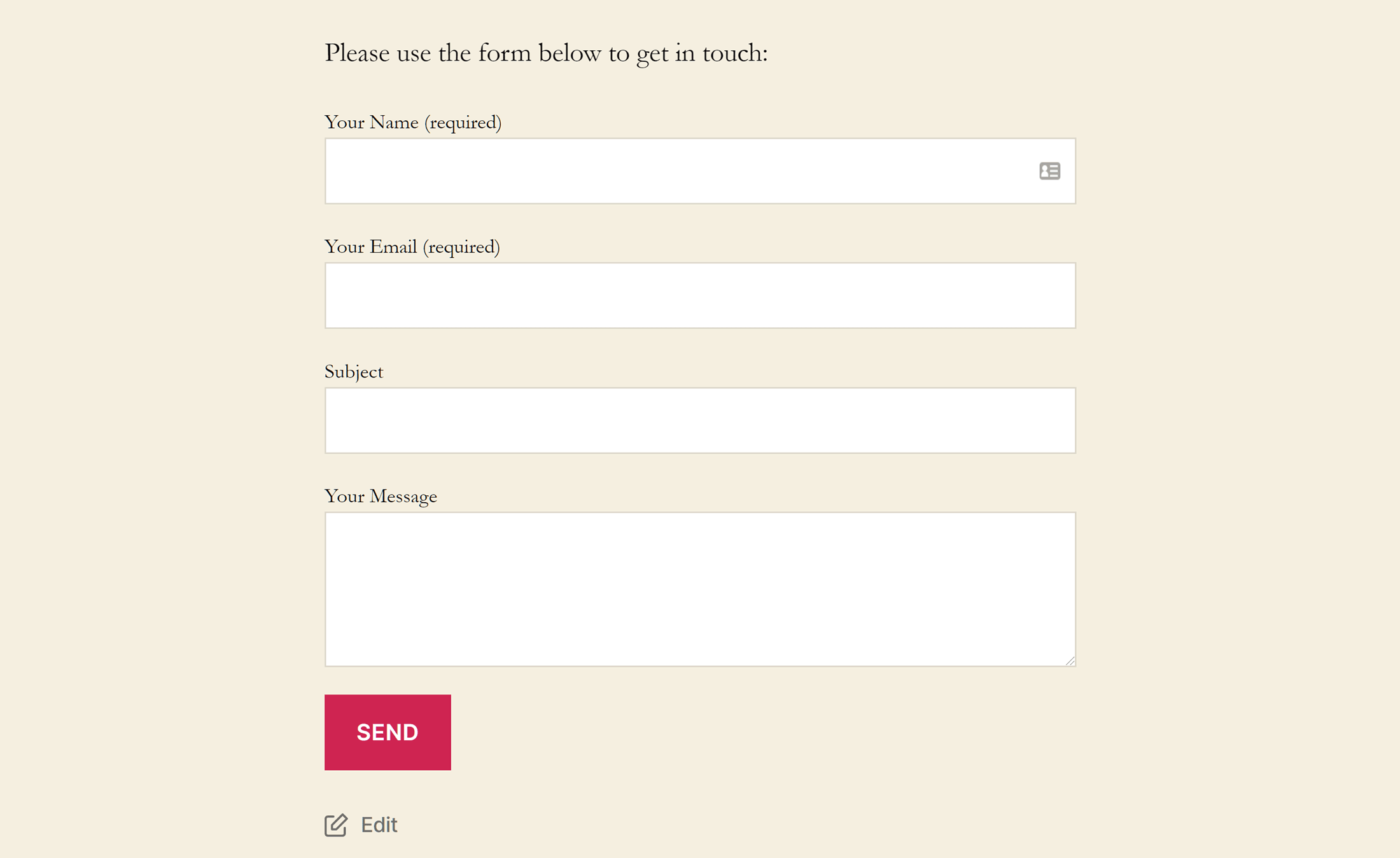 Contact Form 7 has been designed to work with any modern WordPress theme, so, regardless of which one you're using, the forms generated by this plugin should integrate seamlessly with the rest of your website.
However, unlike Ninja Forms and WPForms, Contact Form 7 doesn't add a button or block to the WordPress editor that lets you quickly insert a form into a post or page.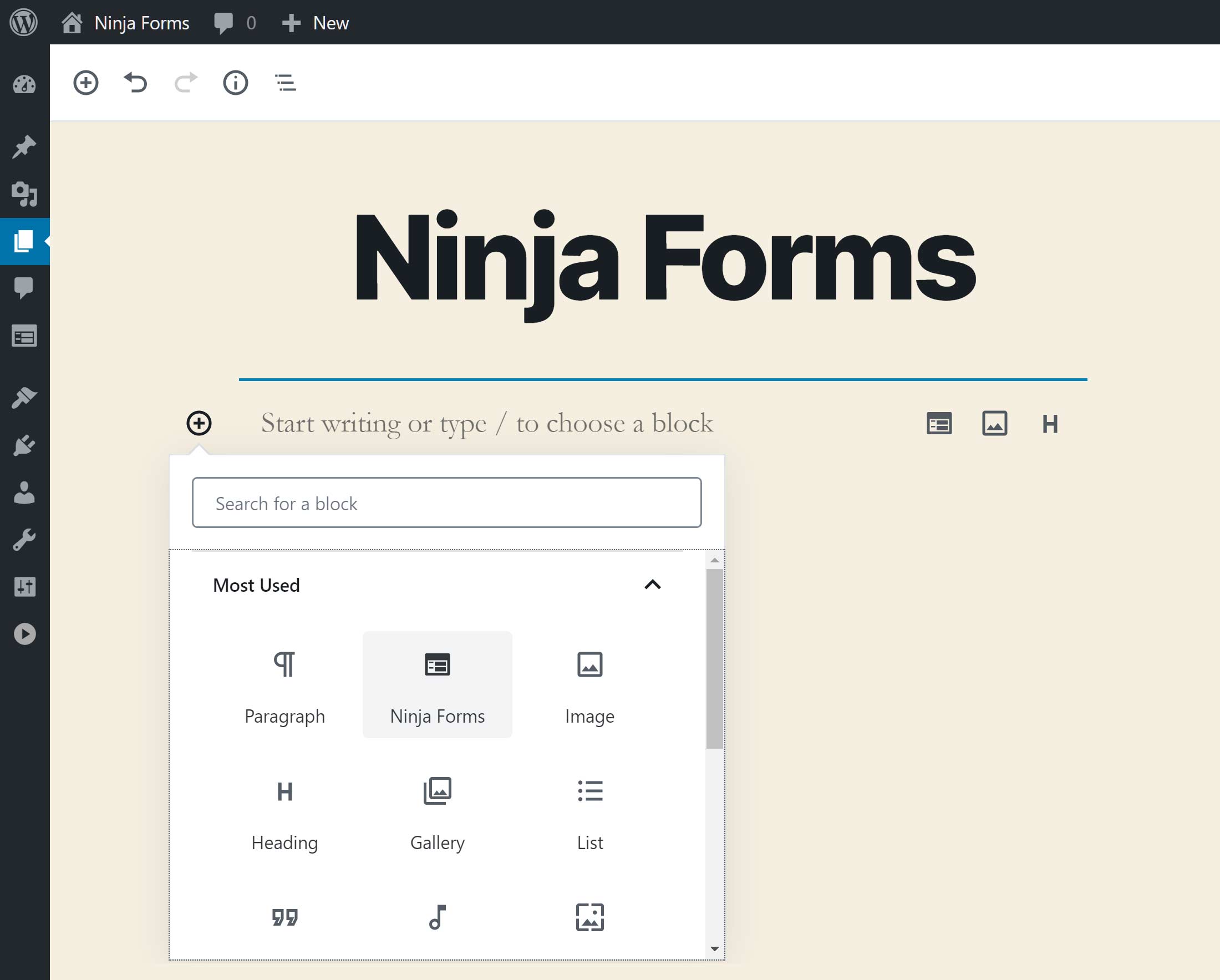 Instead of pressing a button or clicking on a block, inserting a form into your content involves copying the shortcode from the Contact section of your dashboard, and then pasting it into the post or page you're working on.
Although copying and pasting the shortcode isn't difficult, it does add a few extra steps to the process that other form plugins have managed to eliminate.
In the past, Contact Form 7 used to include a widget for displaying forms in the sidebar or footer area of your website. However, despite the absence of this widget, you can still achieve the same effect by pasting the form shortcode into a text widget.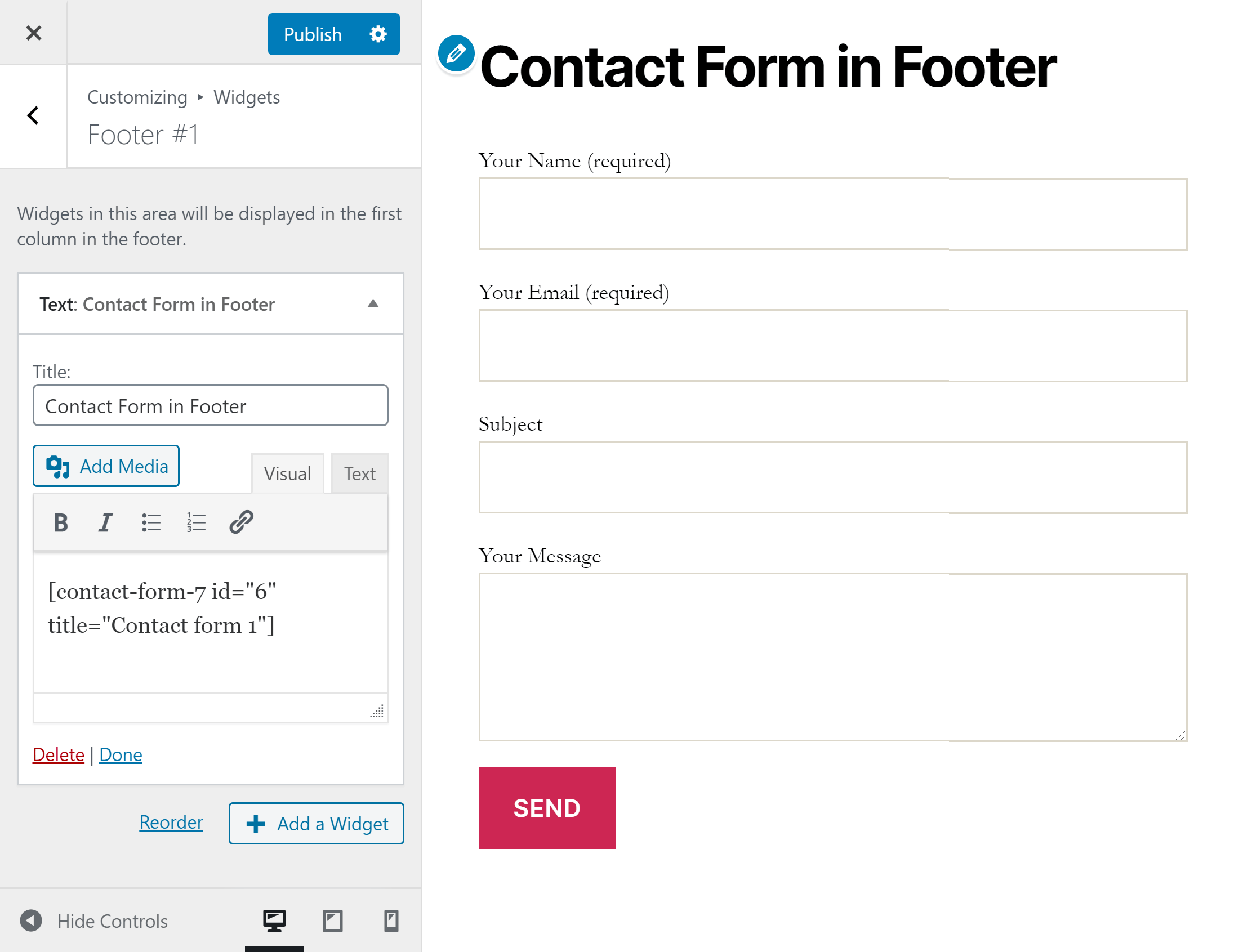 Form Editor Interface
The ease with which you can create and edit forms is a key feature of this type of plugin, and, unfortunately, this is the main area where Contact Form 7 has become outdated.
Unlike many of the other popular free and paid online form plugins, Contact Form 7 has a very basic interface for creating forms, with no live preview of your form while you work on it.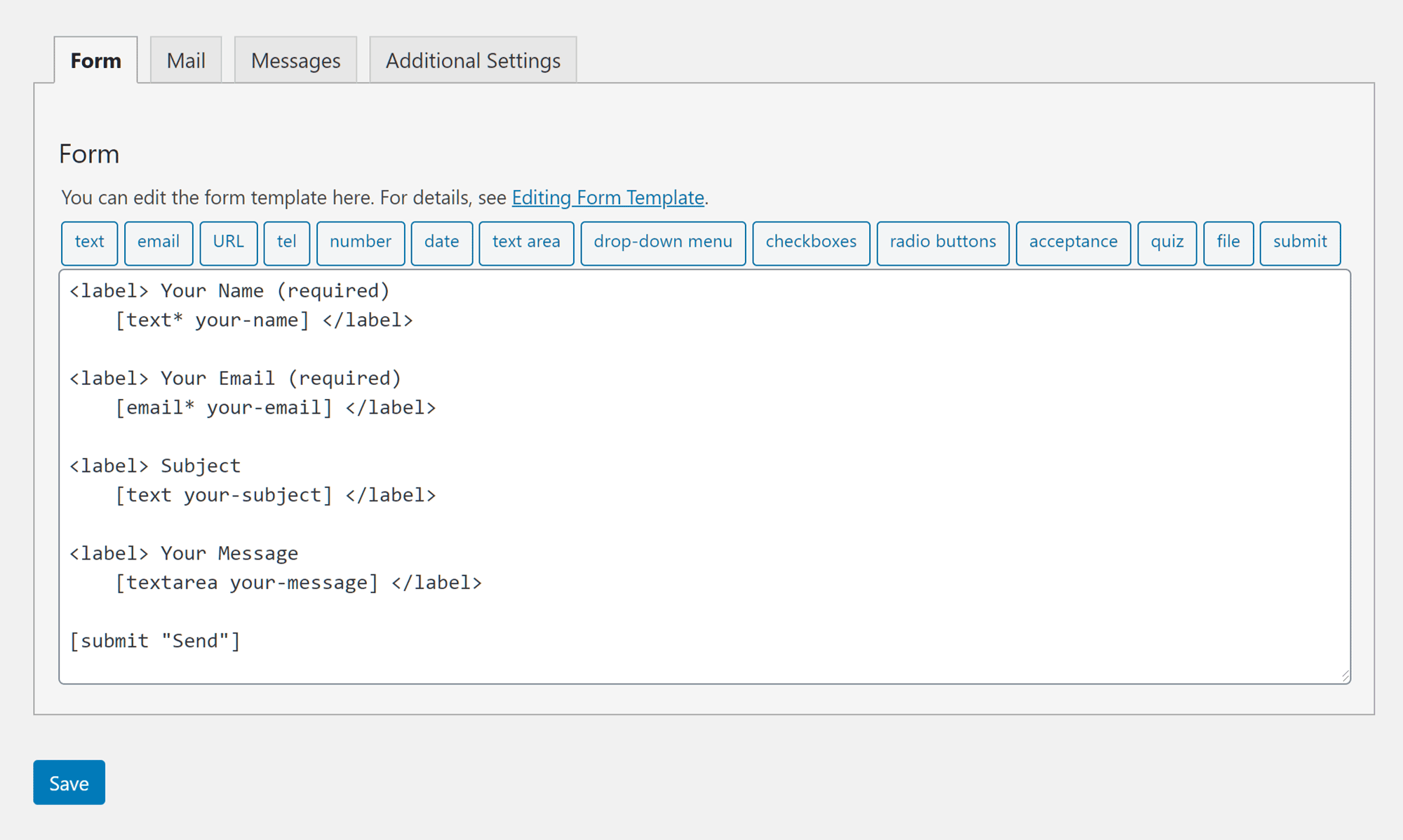 Whereas if you use the free versions of Ninja Forms or WPForms, for example, you can edit your forms through a modern and intuitive drag-and-drop editor.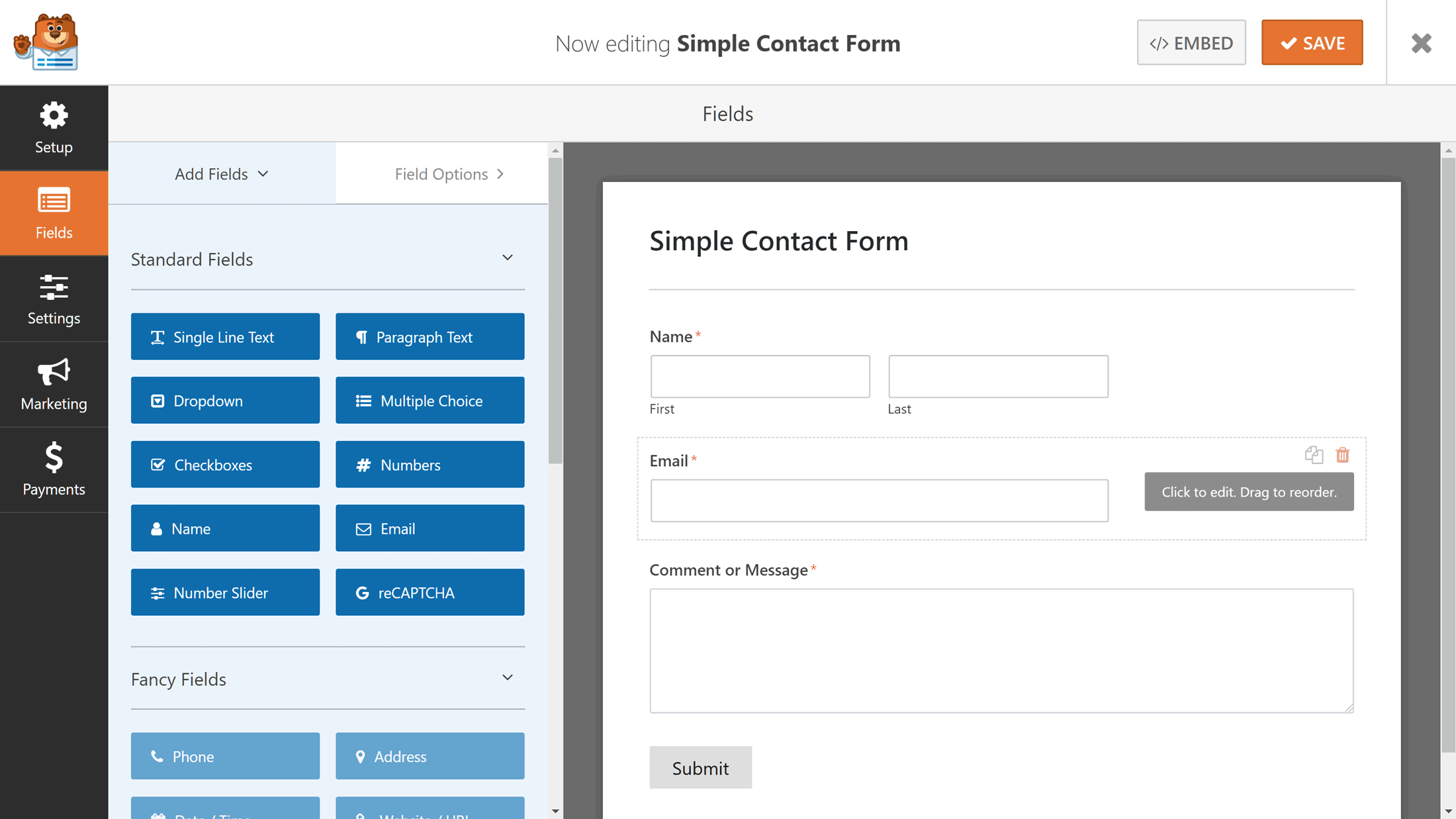 When using Contact Form 7, you must click on the button for the field you'd like to add to your form. You should then type in a label for that field in the editor, making sure you use the correct tags.
Unlike plugins with modern editors that include a form preview, you won't know how your form looks until you save it, insert the shortcode into a post or page, and then preview that piece of content.
The main downside of this approach is that, if you're editing a form that's already in use on your site, you'll need to save the changes you've made to the form before you're able to preview and test it. Saving the form means your changes will be accessible to your visitors before you've had a chance to test them. This is less than ideal because if the form doesn't look right or isn't working correctly, it could negatively affect the user experience until you've been able to rectify any issues.
That said, you do have the ability to duplicate a form with Contact Form 7. So, you could work on a copy of the form until you're ready to replace the original instance with the new version, helping to overcome some of the issues just mentioned.
However, the lack of ability to preview your form while you work on it and before you publish it does make editing existing forms with Contact Form 7 less user-friendly than it should be.
With a plugin such as WPForms or Ninja Forms, you can see how your form will look before you save it, helping you to avoid having to run the risk of publishing a form you haven't yet tested.
Useful Set of Form Fields
While the user interface of Contact Form 7 is showing its age, the plugin does have a useful set of form fields for creating basic online forms.
Although the field selection doesn't rival the options you get with a premium plugin, such as Gravity Forms (read our review), or the paid versions of Ninja Forms and WPForms, the field options do compare well with the free versions of those plugins.
The current list of Contact Form 7 form fields includes:
Text
Email
URL
Telephone number
Number
Date
Text Area
Drop-down menu
Checkboxes
Radio buttons
Acceptance
Quiz
File attachment/upload
Submit button
As you can see, all of the basics are covered — plus a few advanced options, such as quizzes and the ability to attach and submit files. Whether you need to create a basic contact form or something a little more advanced, such as an online quote request form, Contact Form 7 should suffice.
However, you won't find the advanced form fields offered by commercial options, so if you need to create forms that use conditional logic to determine which fields to display based on a user's selections, or accept payments and include auto-calculating fields, you'll need to upgrade to a premium forms plugin such as WPForms, Gravity Forms or Ninja Forms.
User Experience
As mentioned, when looking for the best contact form plugin, a very important point to take into account is user experience.
When it comes to using this plugin, Contact Form 7 definitely wins points for coming with a ready-made, preconfigured contact form. If you just want to add a basic contact form to your website, then this will save you time compared with using some other plugins — such as WPForms — that require you to create a form first. Although, as mentioned earlier, Ninja Forms does come with a pre-built contact form that's ready to go.
However, when it comes to editing forms or creating a new one, Contact Form 7 quickly falls behind the competition. As we saw in the form editor section of this review, the user interface is now very outdated, especially compared with other popular and freely available contact form plugins, such as Ninja Forms and WPForms.
With no drag-and-drop interface, adding and removing fields to forms and ensuring they're labeled correctly definitely isn't as straightforward as it could be.
So, while Contact Form 7 does make it easy to add a basic contact form to your website, if you want to edit that form, either now or at some point in the future, this plugin doesn't make doing so as easy as it should.
Helpful Online Documentation and User Support
One of the advantages of choosing a commercial plugin over a free option is access to responsive user support.
Support for Contact Form 7 is provided via the WordPress Plugin Directory, and there's a good chance you'll be able to find a solution to your problem in the forum archives. If not, new topics are responded to quickly on the forum.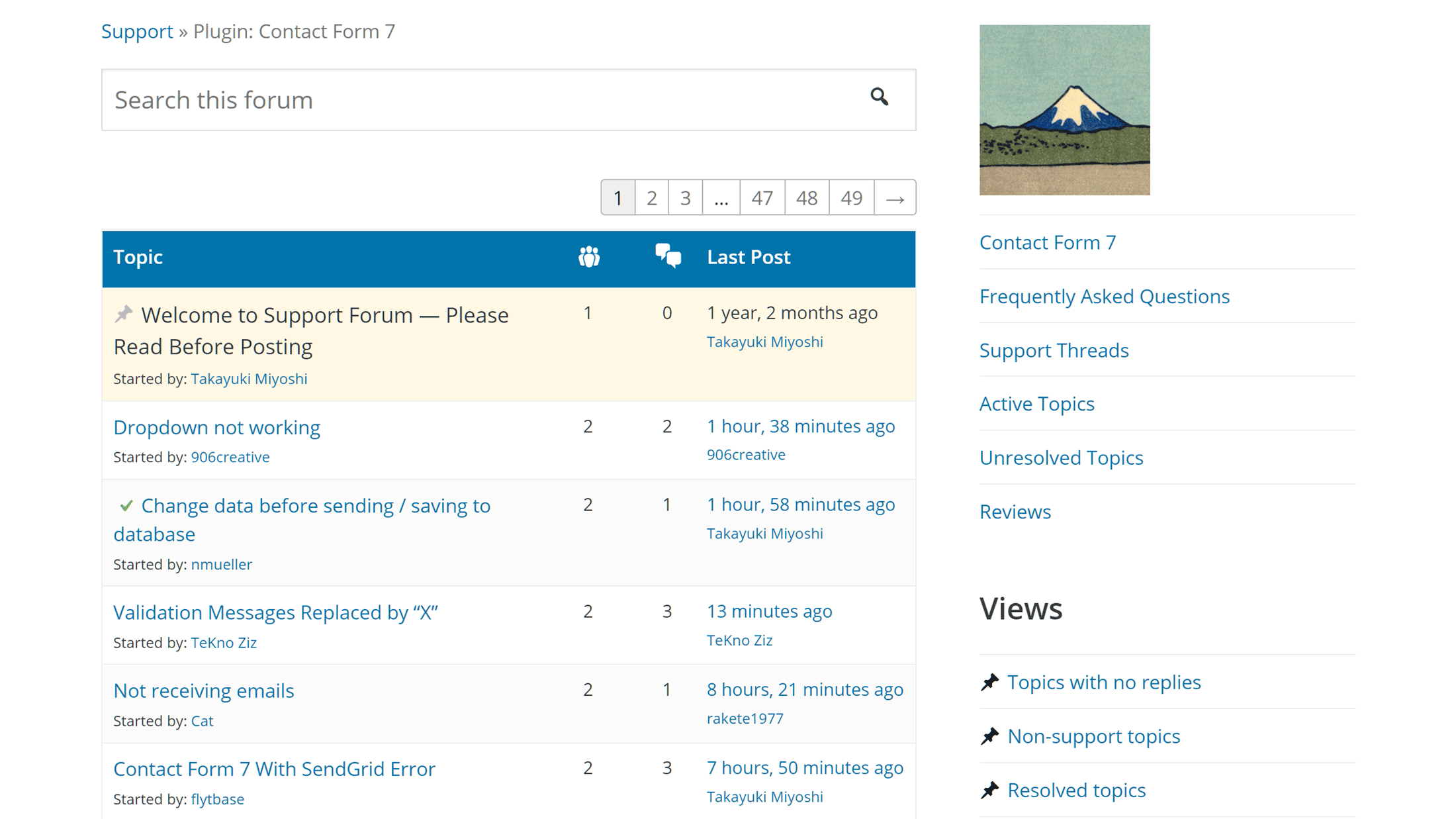 The online documentation has grown over the years and covers everything from getting started to troubleshooting. The Contact Form 7 FAQ is extensive, too.
Also, as this is such a popular plugin that's used by so many websites, it's highly unlikely it will be abandoned any time soon.
However, if you'd prefer access to premium support via email, rather than having to submit your issues to a public forum, you'll need to upgrade to one of the paid plugins, such as Gravity Forms, Ninja Forms or WPForms.
Contact Form 7 Add-ons
Like many of the best WordPress plugins, a number of third-party add-ons have been created to enhance Contact Form 7.
If you're not familiar with CSS, customizing the appearance of your forms isn't straightforward with Contact Form 7. While the forms do generally blend in well with most WordPress themes, there are a few add-ons that can help you to change their appearance, including Contact Form 7 Skins.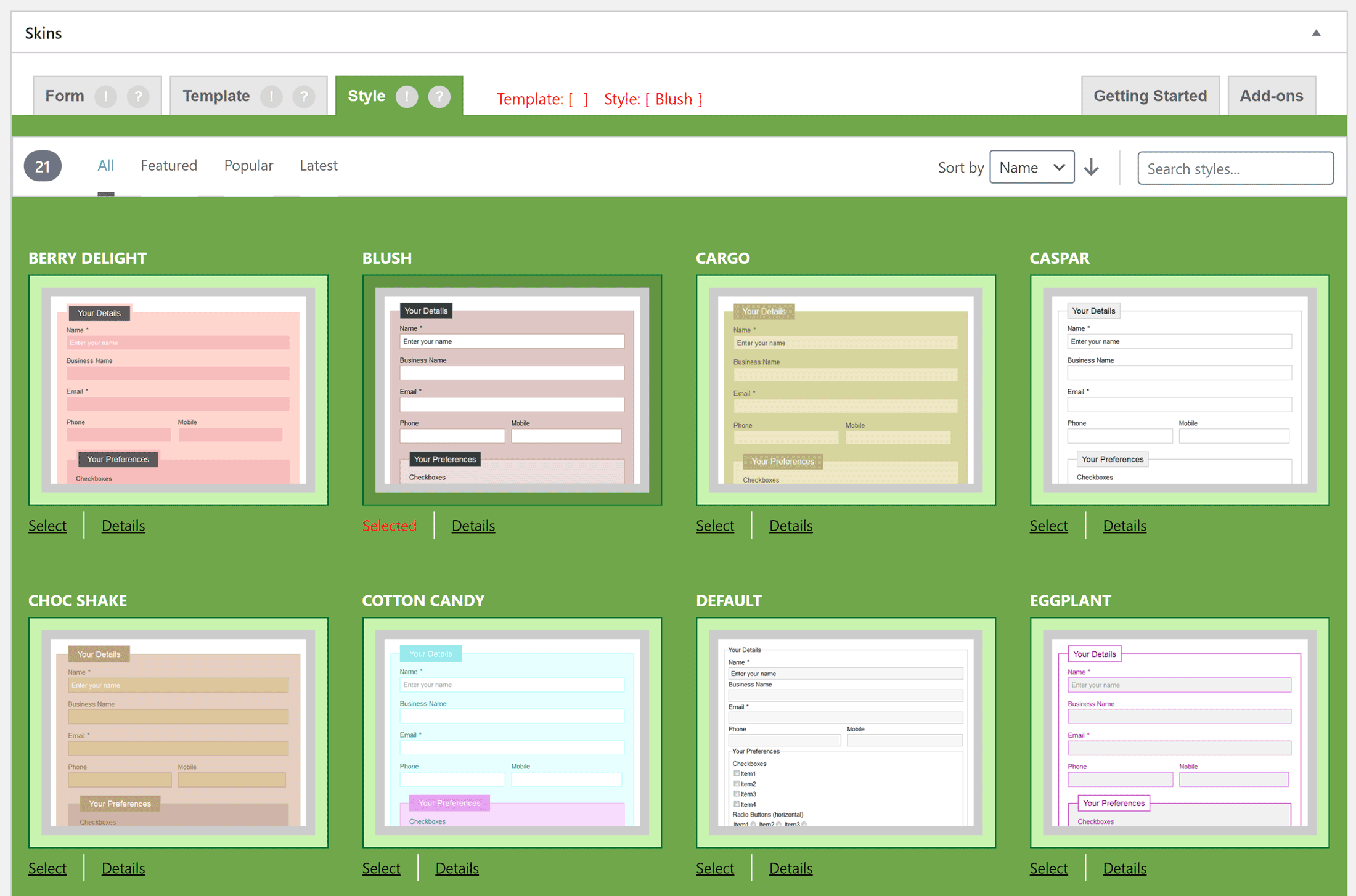 Another useful add-on is the free Contact Form 7 Database Addon — CFDB7. After you enable this plugin, form entries will be stored in your WordPress database and made available through your WordPress dashboard.

If you want to reduce the risk of losing form submissions, or you'd like a central location where form entries can be stored and viewed, using an extension such as the Contact Form 7 Database Addon is highly recommended. Flamingo is another free plugin with similar functionality.
However, while the ability to store and view form entries in your WordPress dashboard is a paid feature of WPForms, it's available with the free version of Ninja Forms, with no need to install a third-party add-on.
While you can add extra features to Contact Form 7, relying on third-party add-ons for existing plugins does carry a risk. As is already the case with some Contact Form 7 extensions, it's not uncommon for add-ons to be withdrawn or cease to be updated, leaving you without functionality you've come to depend on.
Contact Form 7 Upgrade Options
Another point to consider when deciding whether or not to use Contact Form 7 over the competition is that most of the other popular online form tools for WordPress are freemium plugins.
At first glance, this may not be a positive situation, especially if you're looking for a free way to add a contact form to your WordPress website.
However, while freemium plugins, such as Ninja Forms and WPForms, do include enough functionality to enable you to add a contact form to your website for free, many more features can be added at a range of price points.
If your online form requirements grow in the future, your options for adding more features are pretty limited with Contact Form 7, but with Ninja Forms and WPForms the form creation possibilities are much more open-ended.
Contact Form 7 vs the Competition
As mentioned in this review, the two main free alternatives to Contact Form 7 are Ninja Forms and WPForms.
The free versions of these plugins make it much easier to create online forms than Contact Form 7, while also including a few more features, such as the ability to store and view form entries in the WordPress dashboard, as is the case with Ninja Forms and the email marketing software integration functionality of WPForms.
As well as the freemium Ninja Forms and WPForms, Gravity Forms is a very popular premium-only WordPress forms plugin that's worth considering, and is an option you can find out more about in our recent Gravity Forms Review.
Final Thoughts
In the past, Contact Form 7 was definitely one of the best free WordPress form plugins. Now, though, there are better alternatives that have more modern user interfaces and a few extra features, while also being generally easier and more enjoyable to use.
One of the main things Contact Form 7 has going for it is that it comes with a ready-made form that you can insert into your pages relatively quickly.
However, now that Ninja Forms (read more about Ninja Forms Free vs Ninja Forms Premium) also comes with a pre-made contact form, while also adding a button to the WordPress editor, not to mention its drag-and-drop interface and ability to store form submissions in your WordPress dashboard, it's much easier to recommend than Contact Form 7.
So, if you want to do more than use the default form from Contact Form 7, or you think you may want to in the future, it's best to check out some of the other popular online form plugins available today.
Used/using Contact Form 7? Thoughts?
Related Posts:
All comments are held for moderation. We'll only publish comments that are on topic and adhere to our Commenting Policy.