WinningWP content is free to all. If you make a purchase through referral links on our site, we earn a commission (
learn more
).
WPForms Review: An Extremely Competitive WordPress Forms Plugin!
When it comes to adding forms to a website, WordPress users are spoilt for choice. However, many of the more powerful options are also, unfortunately, too complicated for beginners to get to grips with. That was, at least, until the release of one of the newest additions to the WordPress forms plugin space: WPForms, from the creator of WPBeginner, Syed Balkhi.
However, with so many WordPress form plugins already on the market — from free and simple options such as Form Maker to more advanced premium products such as Ninja and Gravity Forms (read on for more on the competition and how WPForms stacks up) — how can you tell if WPForms is the right choice for your site?
Let's take a look at what WPForms has to offer, and find out whether or not it's worthy of its price tag.
WPForms Versus the Competition
The aim of WPForms is to make adding forms to a WordPress website as easy as possible, while still catering to power users with more advanced needs.
The free Contact Form 7 plugin already does a great job of allowing WordPress users to add a basic contact form to their website, so WPForms is up against some well-established competition in that department.
There's also the impressive and free Form Maker plugin to consider, which includes five prebuilt form templates, a drag-and-drop form builder interface, a wealth of form fields and a library of premium add-ons. While Form Maker may not be as polished as WPForms, its list of features is hard to dismiss.
At the other end of the spectrum, you have the popular Gravity Forms plugin. This commercial plugin gives WordPress users a way to add almost any type of form to their website. Other options include the free Ninja Forms, with its commercial add-on system, and Visual Form Builder.
However, based on user experience and feedback from audience surveys, the team behind WPForms felt there was a real demand for a user-friendly form plugin that would meet the needs of new WordPress users while also offering upgrade options for more advanced projects.
WPForms Lite Versus WPForms Pro

WPForms makes use of the freemium pricing model, with the lite version freely available from the WordPress Plugin Directory.
As your needs grow, you can upgrade and choose from the four different WPForms license options, each with their own set of features. However, the free version aims to provide enough functionality to allow you to add attractive contact forms to your WordPress website in just a few clicks.
WPForms Features: Pro Versus Lite
The free version of WPForms has a number of basic form fields to choose from, along with a prebuilt contact form template. This template is ready for customization through the drag-and-drop form builder, although those seeking a standard contact form will be able to save their form and publish it on their website with no customization necessary. There are two other templates in the free version of WPForms Lite, including a 'newsletter signup' form and 'suggestions' form.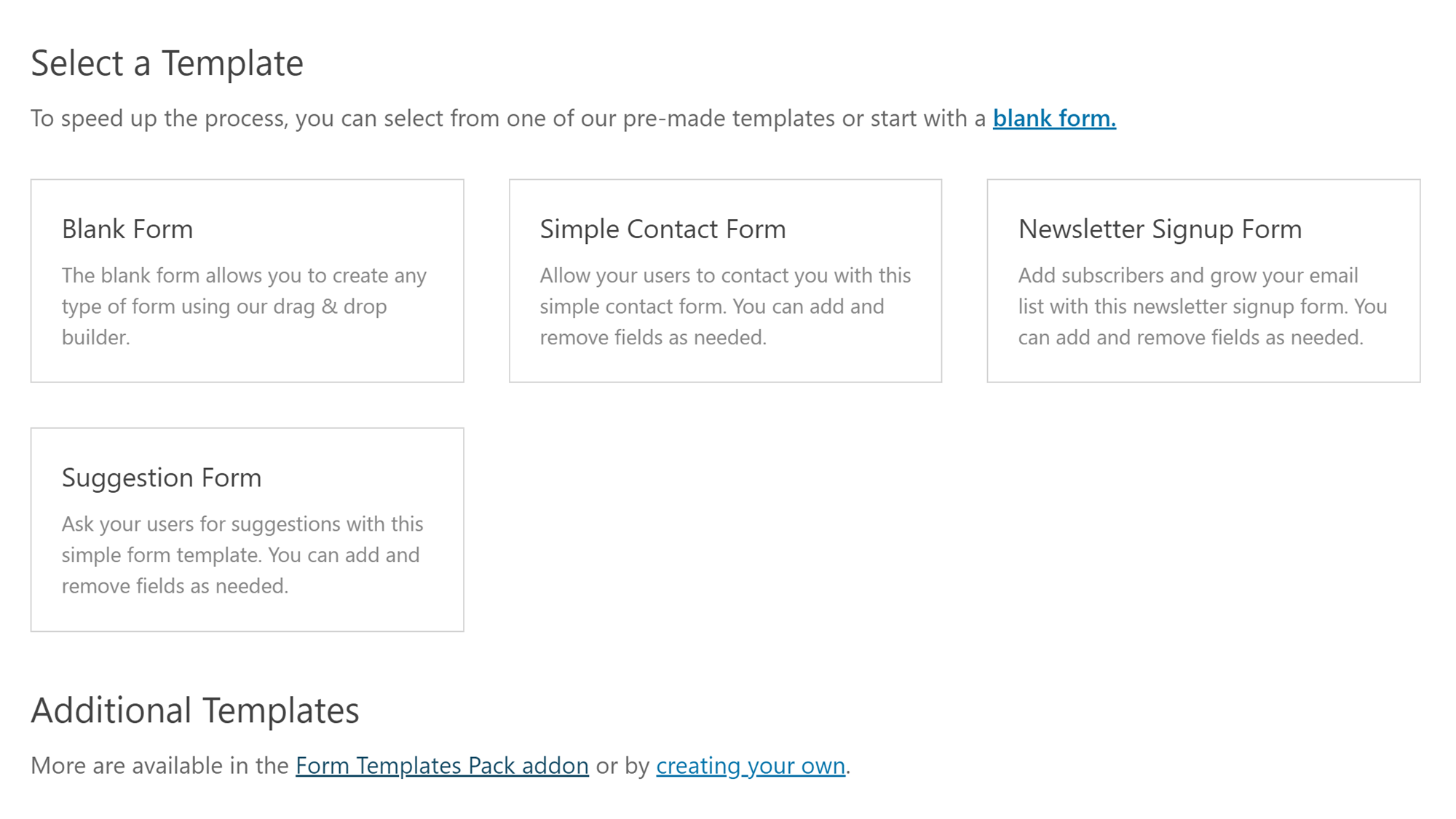 The forms are all fully mobile responsive to ensure they look great on any device, and are also built to load as quickly as possible to avoid slowing down your website and impacting SEO and user experience. There's also honeypot protection and optional captcha fields to help prevent spam form submissions.
WPForms Pro Features
The premium WPForms plugin is available on four different pricing plans — Basic, Plus, Pro and Elite — and each license level has its own set of features and benefits. However, before we get to the main differences, these are the shared features available to all users of the premium version of WPForms:
Ability to create an unlimited number of forms.
Six editable form templates (more templates available for Pro and Elite license holders).
Ability to use conditional logic to control field visibility.
Ability to create multipage forms.
Form spam protection features.
File upload field for accepting files via forms.
Advanced field types including date and time fields.
Ability to store, view and manage form entries in the WordPress Dashboard.
Multiple form entry submission confirmation options.
Ability to send form entry emails to multiple recipients.
Integration with Constant Contact email marketing service (more integration options available with Plus, Pro and Elite licenses).
The features that are only available to users with certain licenses include:
AWeber, Campaign Monitor, Drip, GetResponse and MailChimp integration (Plus, Pro and Elite licenses).
PayPal and Stripe integration for collecting online payments (Pro and Elite licenses).
Survey and poll form fields (Pro and Elite licenses).
WordPress user registration and login fields (Pro and Elite licenses).
Geolocation for detecting user's location (Pro and Elite licenses).
Zapier integration (Pro and Elite licenses).
Post submission forms (Pro and Elite licenses).
Signature fields to let users sign a form entry submission (Pro and Elite licenses).
Form abandonment feature to store partially completed form entries (Pro and Elite licenses).
As you can see, the entry-level Basic license does include many of the premium features of the plugin. However, choosing one of the other three licenses, such as the Plus, Pro or Elite options, unlocks lots of the additional features that we'll be covering in this WPForms review. So, while in many cases the $79 entry-level premium version of WPForms should suffice, you may have to pay extra for a higher tier, either now or in the future, depending on your requirements.
We'll cover exactly what's included with each of the four WPForms licenses in this review, but you can view the features grid on the pricing page to see the full breakdown of what's currently available with each purchase option.
Upgrade Process from Lite to Pro
Upgrading from the free WPForms Lite plugin to the premium version is very straightforward. Once you've chosen a pricing plan and purchased a license for WPForms, you can then upload the plugin to your WordPress dashboard. After deactivating the free version of the plugin, you can activate the premium version and continue using any of the forms you created with the free version.
WPForms Review: User Experience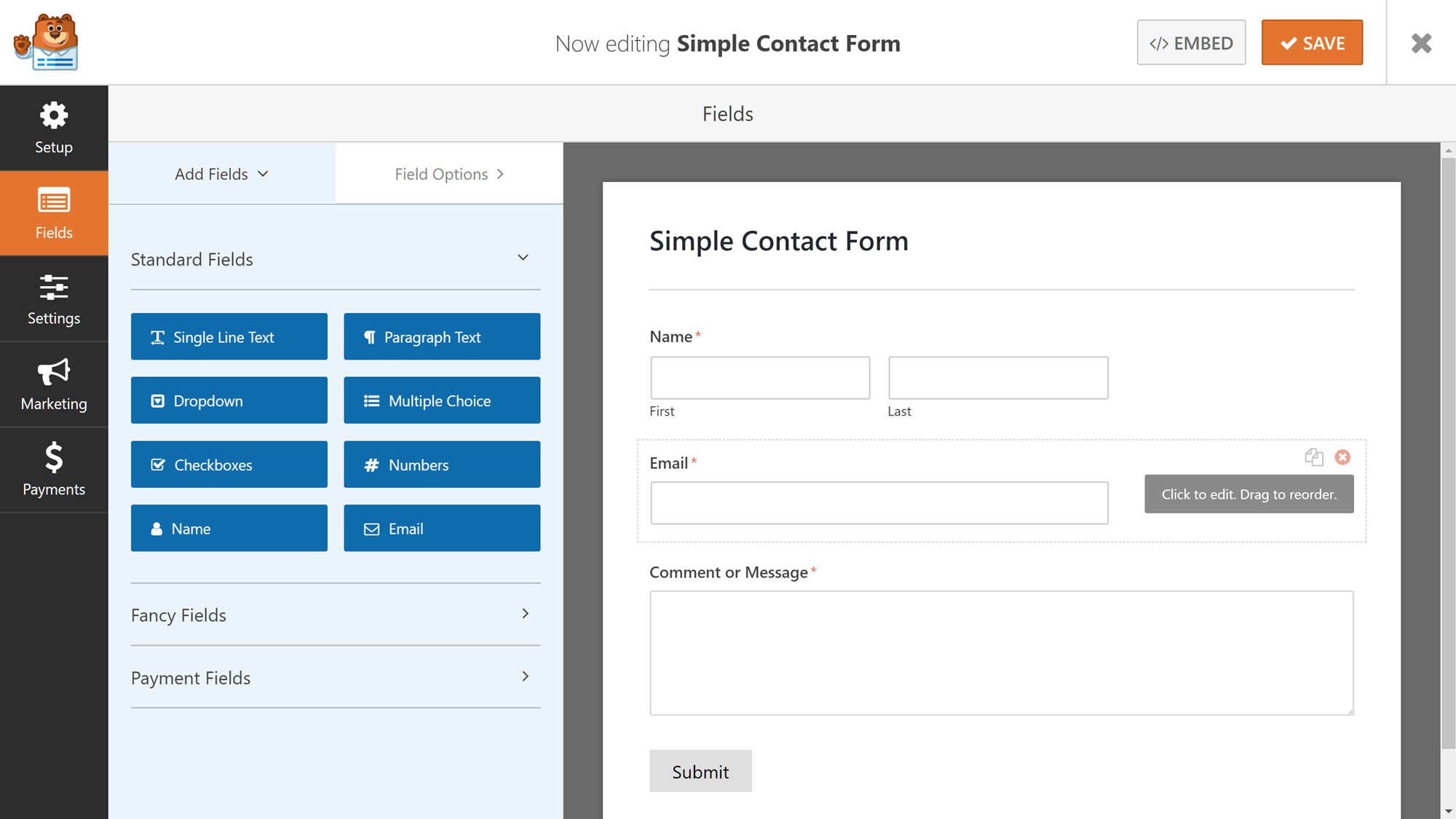 One of the key features of WPForms is the user-friendly drag-and-drop form builder. Both the free and premium versions of WPForms share this interface for creating forms, with the paid version offering more features and functionality.
To help you get a better understanding of how easy this plugin is to use, we'll walk you through the form creation process of the lite version before exploring the features of the paid versions in greater depth.
This will help you to decide if WPForms is the right choice for your project, and, if so, whether the lite version will suffice or if you'll need to upgrade to one of the premium licenses.
WPForms Lite: What Can You Do With the Free Version?
With the lite version of WPForms available in the WordPress Plugin Directory, it's in direct competition with the likes of Contact Form 7 and numerous other solutions. Therefore, to stand out, WPForms Lite needs to offer users a way to add contact forms to their WordPress website in a way that takes the least amount of time and effort. So, let's put that to the test.
Getting Started with WPForms Lite
As the goal of this plugin is to be the most user-friendly form plugin for WordPress, we'll walk through the process of adding a contact form to a WordPress website so you'll be able to quickly see whether WPForms lives up to its objective or not.
After activating the free WPForms Lite plugin on your WordPress website, you'll be greeted with a welcome screen. Here, you'll find links to the user documentation, an embedded walkthrough video, and a handy button to launch the form builder and get started on your first form.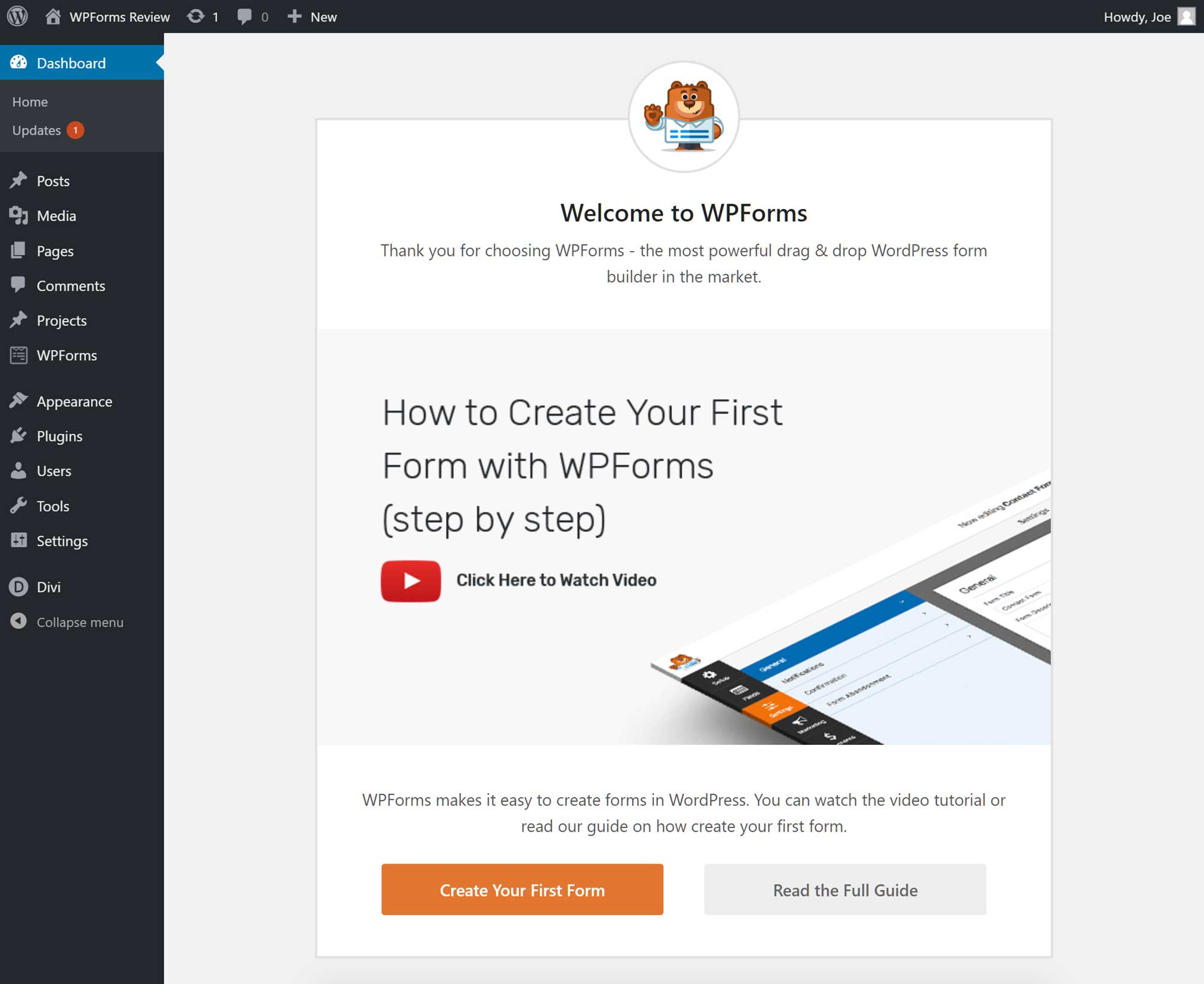 There's also a link on the welcome screen to the new WPForms challenge feature that aims to help you to create and publish your first form in under five minutes.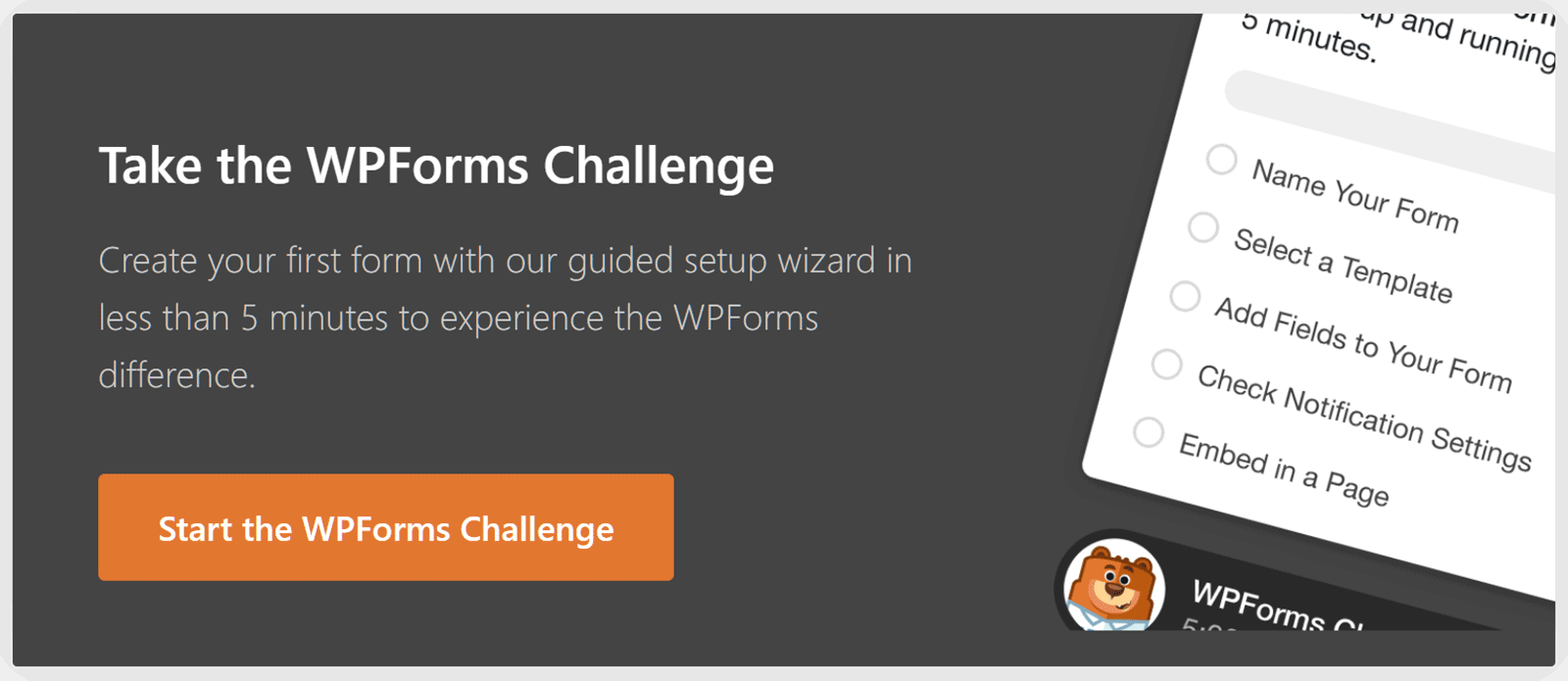 Thanks to an interactive checklist that's displayed on the form builder, the challenge mode does a good job of keeping you on track while walking you through the necessary steps of creating your first form.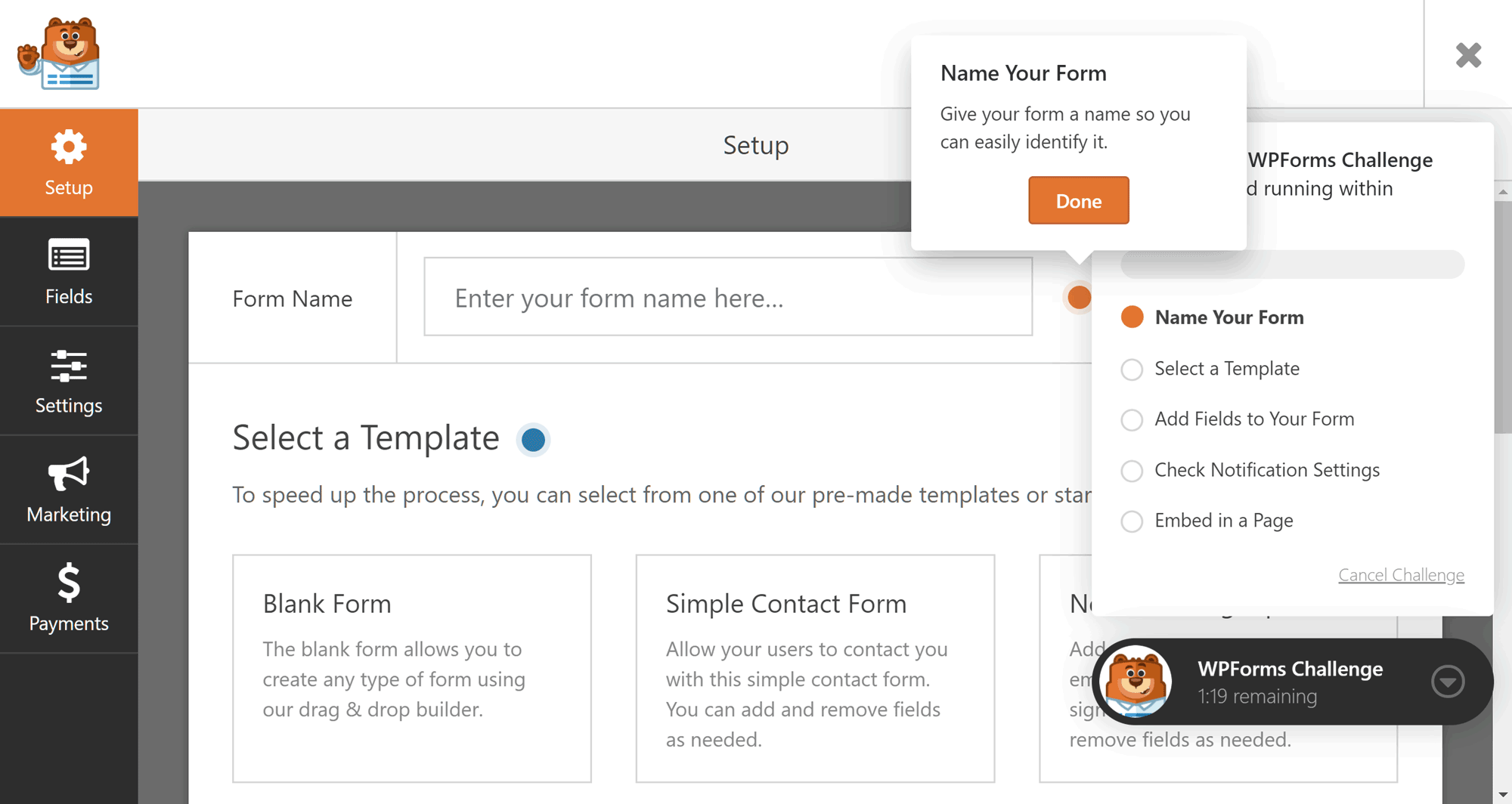 As you can see, the form creation process sees WPForms replace the familiar WordPress Dashboard with its own user interface.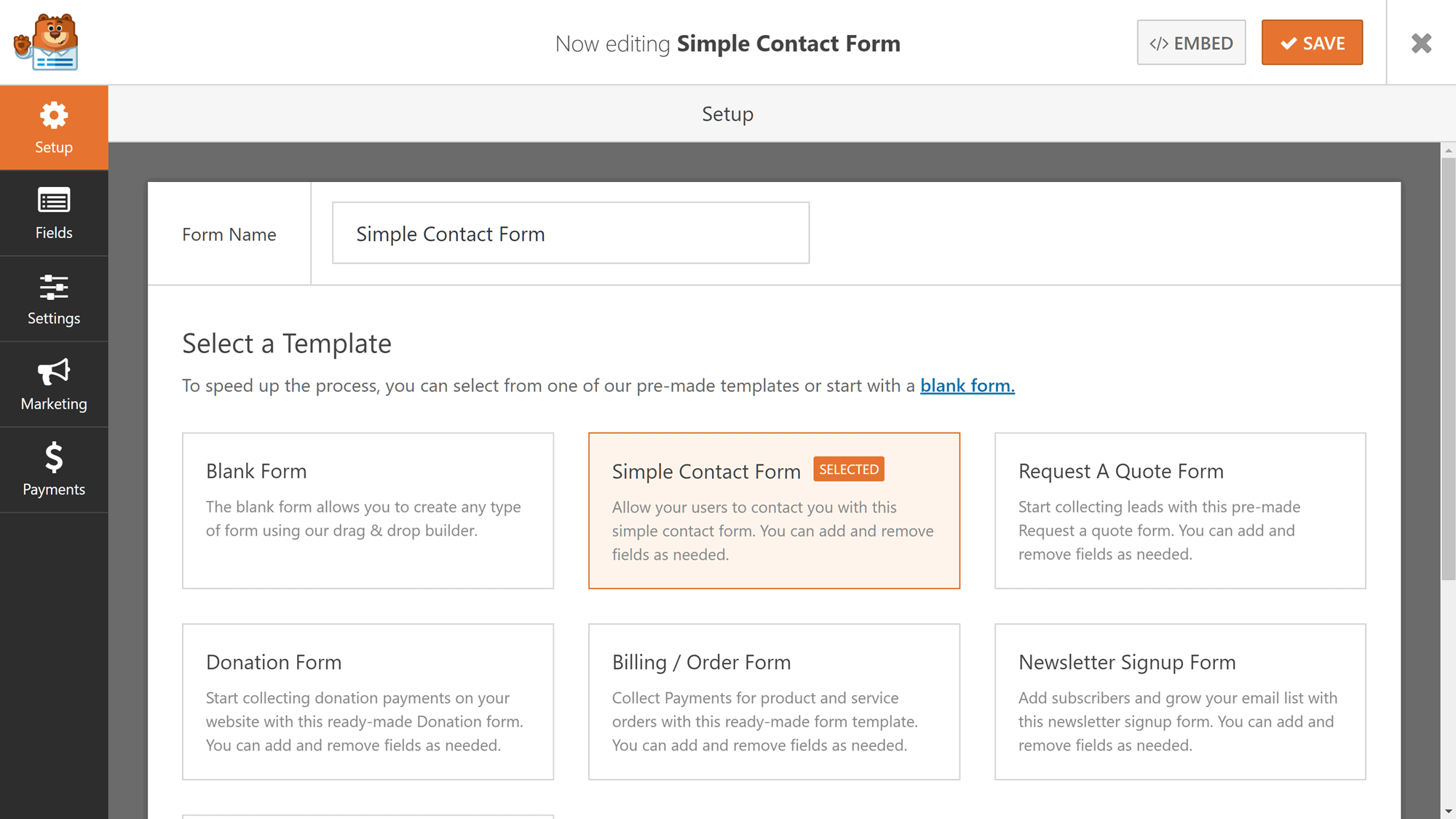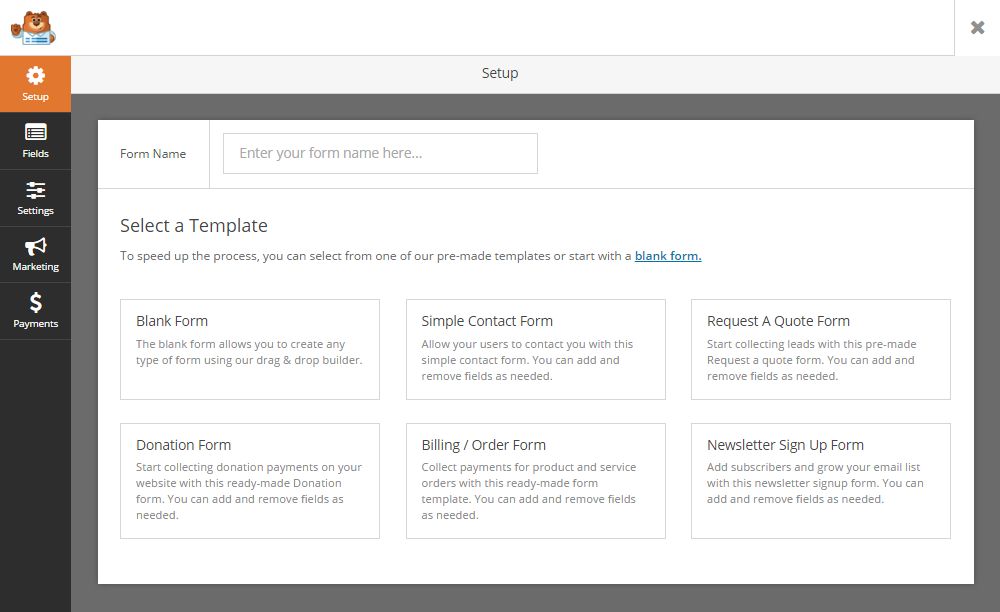 Typically, I'm not a fan of plugins and themes that override the native WordPress UI and try to reinvent the wheel by imposing their own interfaces on users. Fortunately, the WPForms interface is very well designed and does actually enhance the user experience.
Replacing the WordPress Dashboard with the WPForms interface gives you more room to work, which can only help to improve the process of creating forms. Another benefit is that distractions that often appear on a busy WordPress Dashboard, such as plugin update notifications and other alerts, are removed from sight.
Creating a Contact Form with WPForms Lite
Approaches to interfaces aside, creating a contact form with WPForms couldn't be easier. Simply give your form a name, and then choose the Simple Contact Form template. You also have the option of starting with a blank form. However, using the prebuilt template is the recommended option here.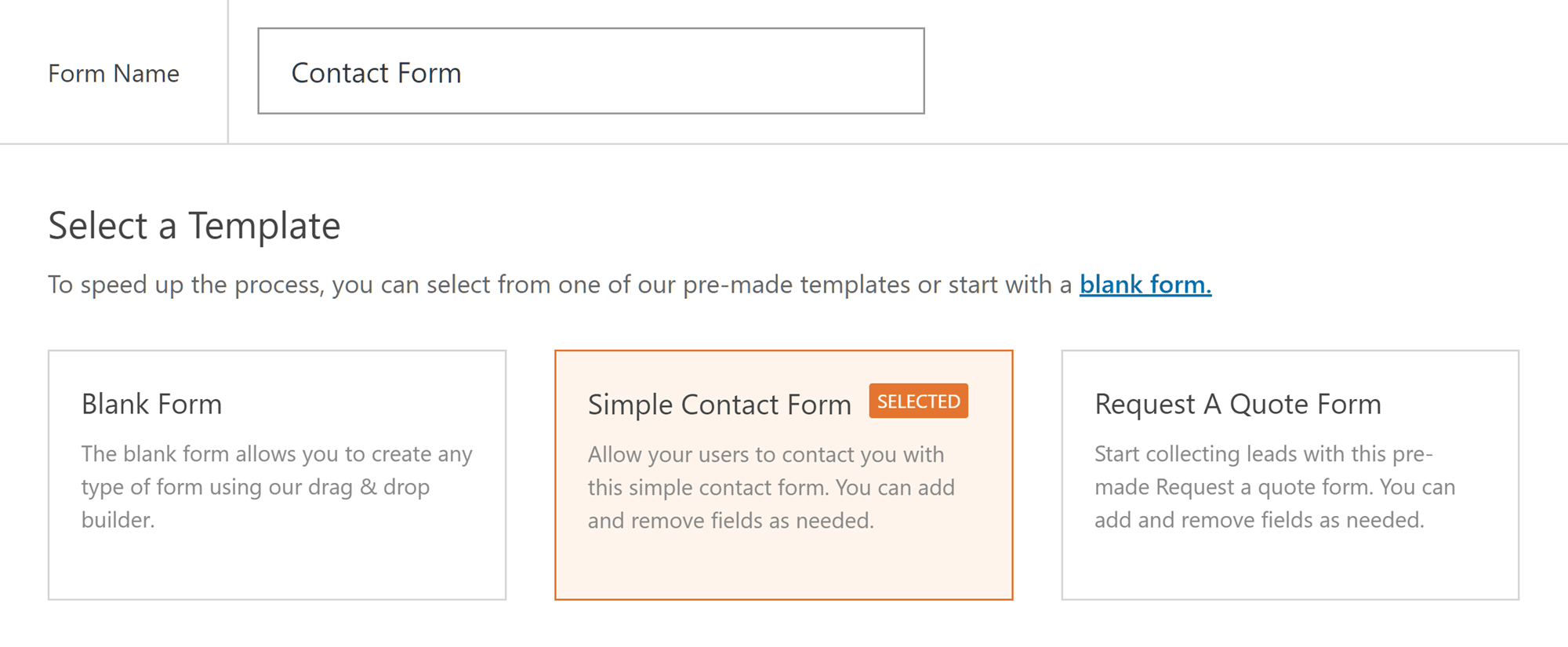 Once you've chosen a template, you'll be taken to the form builder screen. This is where WPForms pulls ahead of the competition. While Contact Form 7 does provide a basic prebuilt contact form, if you want to modify that form in any way, things start going downhill quickly — especially for non-technical users.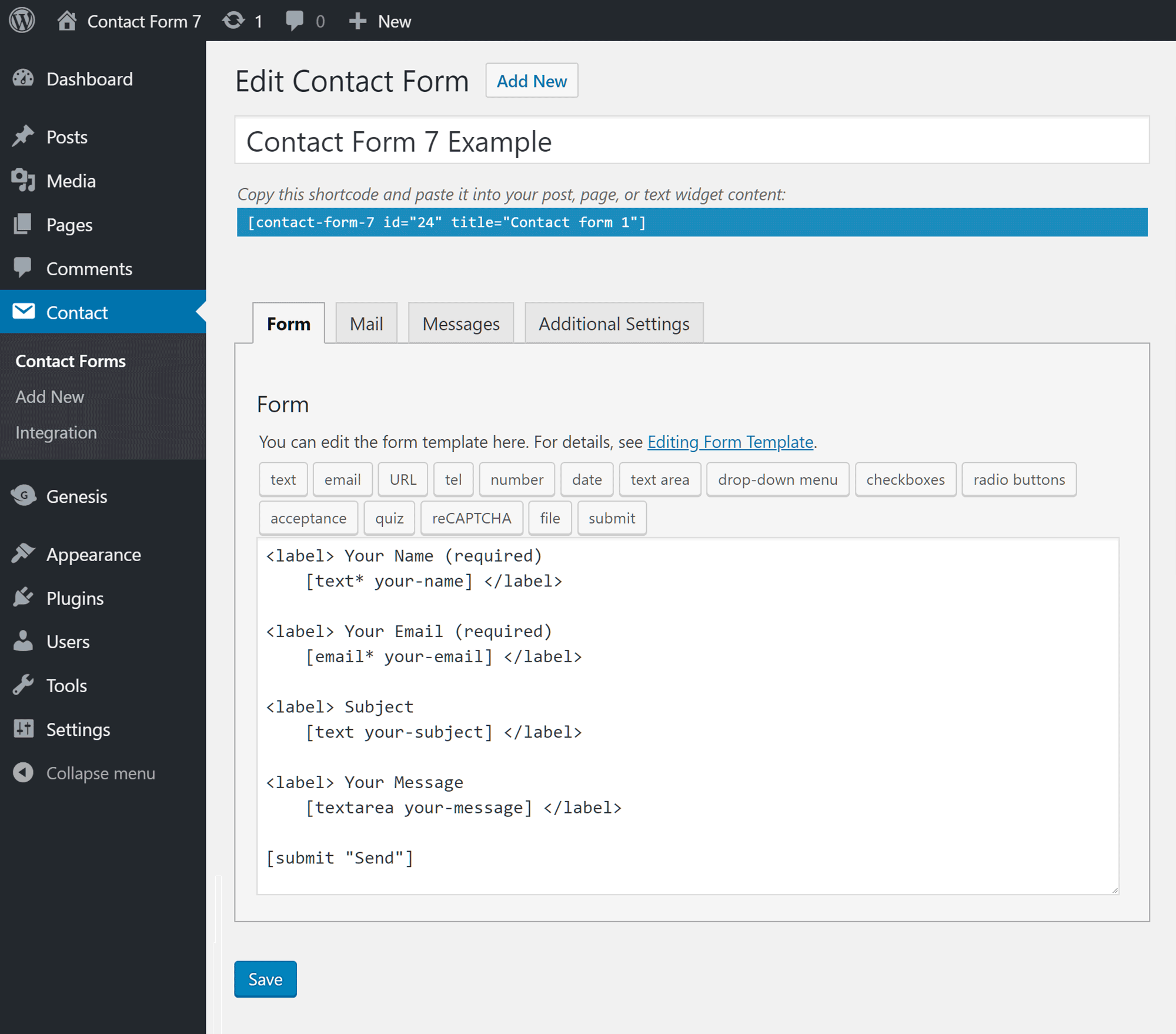 The above screenshot demonstrates the Contact Form 7 form builder interface. Adding new form fields requires you to click on the corresponding button. You must then add the field labels, along with any formatting. While adding new form fields isn't rocket science, there's definitely room for improvement on the user experience that Contact Form 7 offers.
This is where the creators of WPForms saw an opportunity, and, once you've experienced the user interface of their plugin, you can immediately see why they decided it was time for a better option.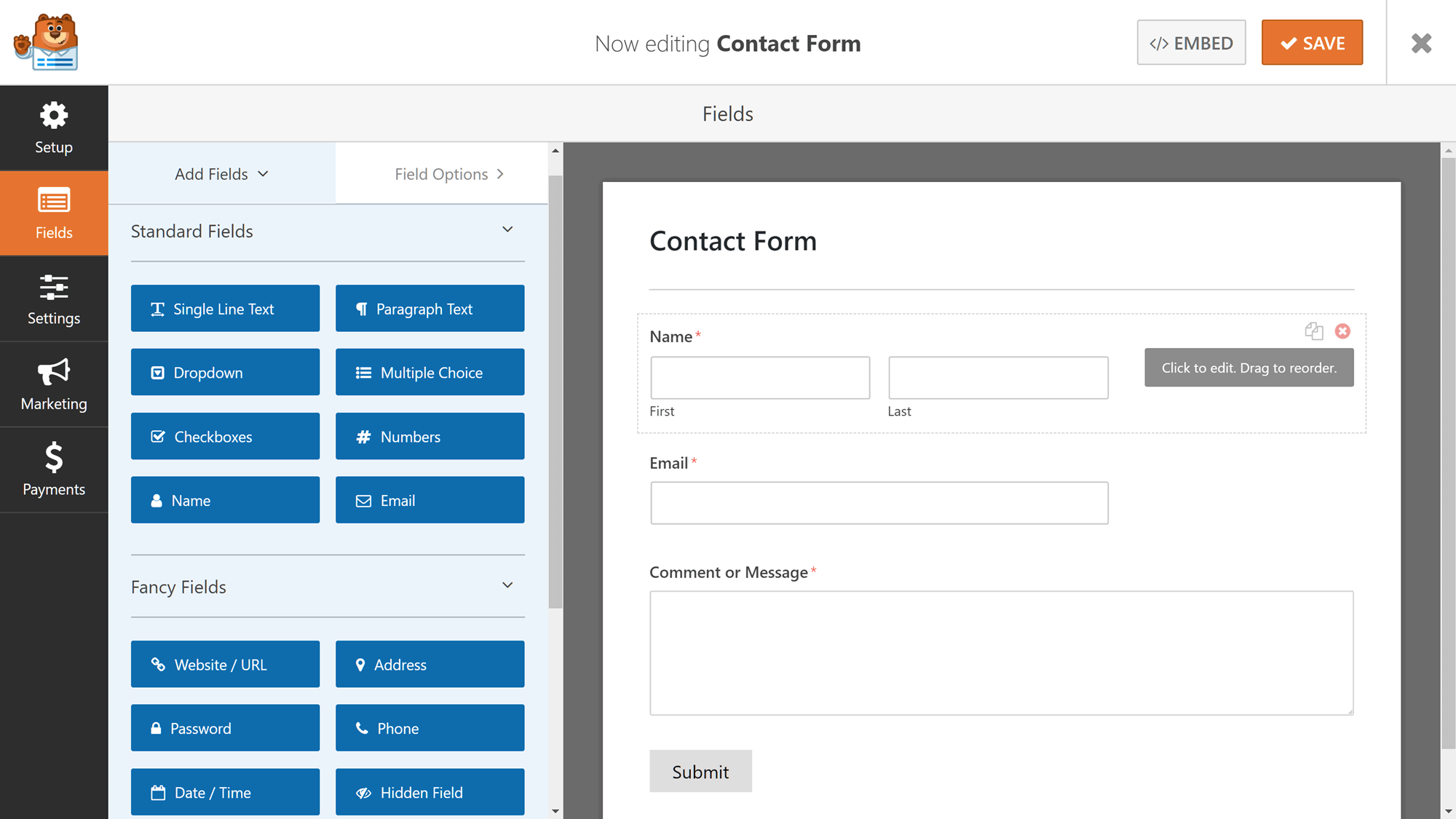 With WPForms, the contact form template includes name, email and message fields, as well as the submit button. This should be enough for most users. Although even with WPForms Lite you can add a few more fields to your forms, such as the dropdown and checkbox fields. When you've finished working on your form, you can hit the save button before moving on to the next step.
Publishing a WPForms Contact Form
The process of publishing the form requires you to hit the save button, exit the form builder, and either open an existing post or page for editing or create a new one.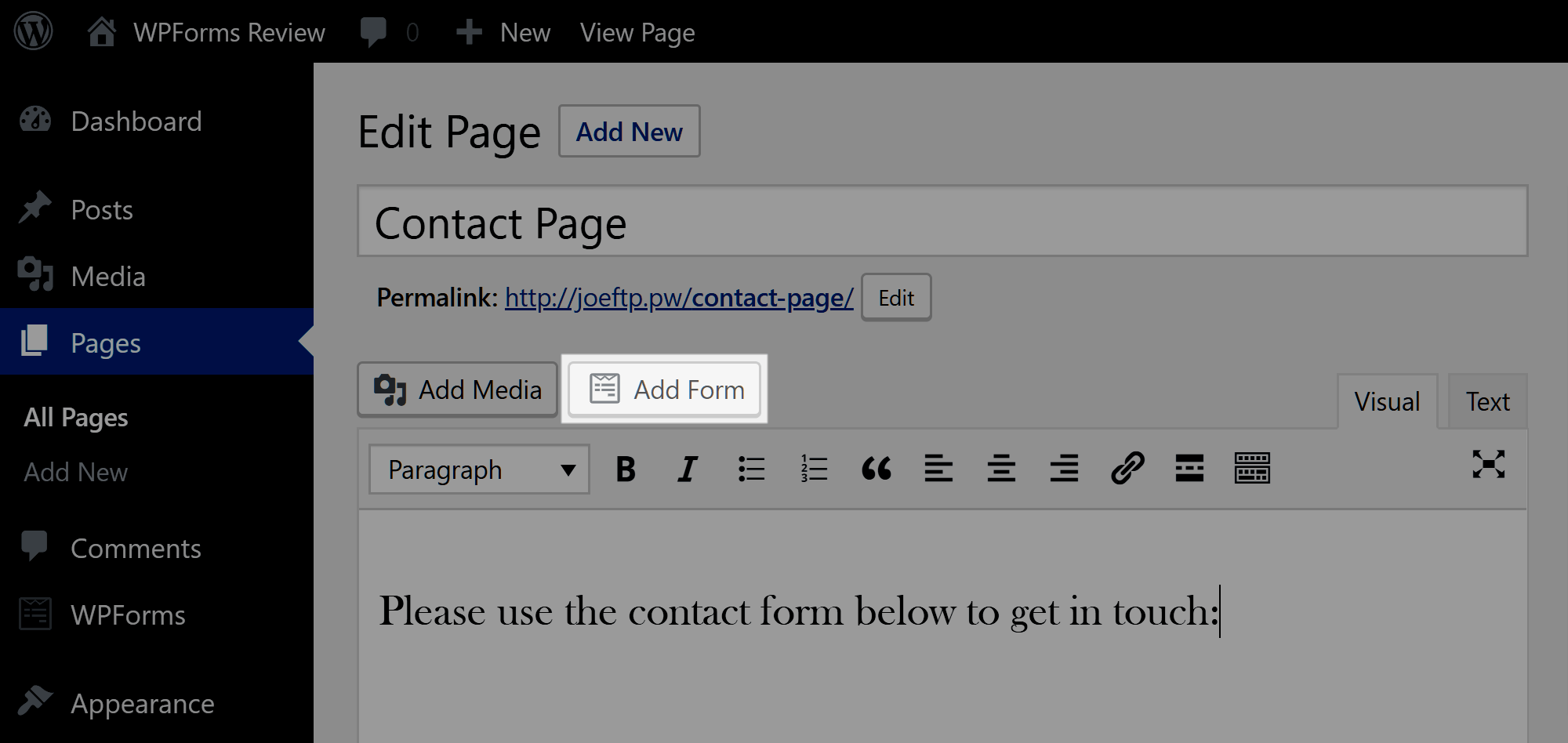 WPForms adds a handy button to the WordPress Editor that allows you to quickly insert an existing form into your content.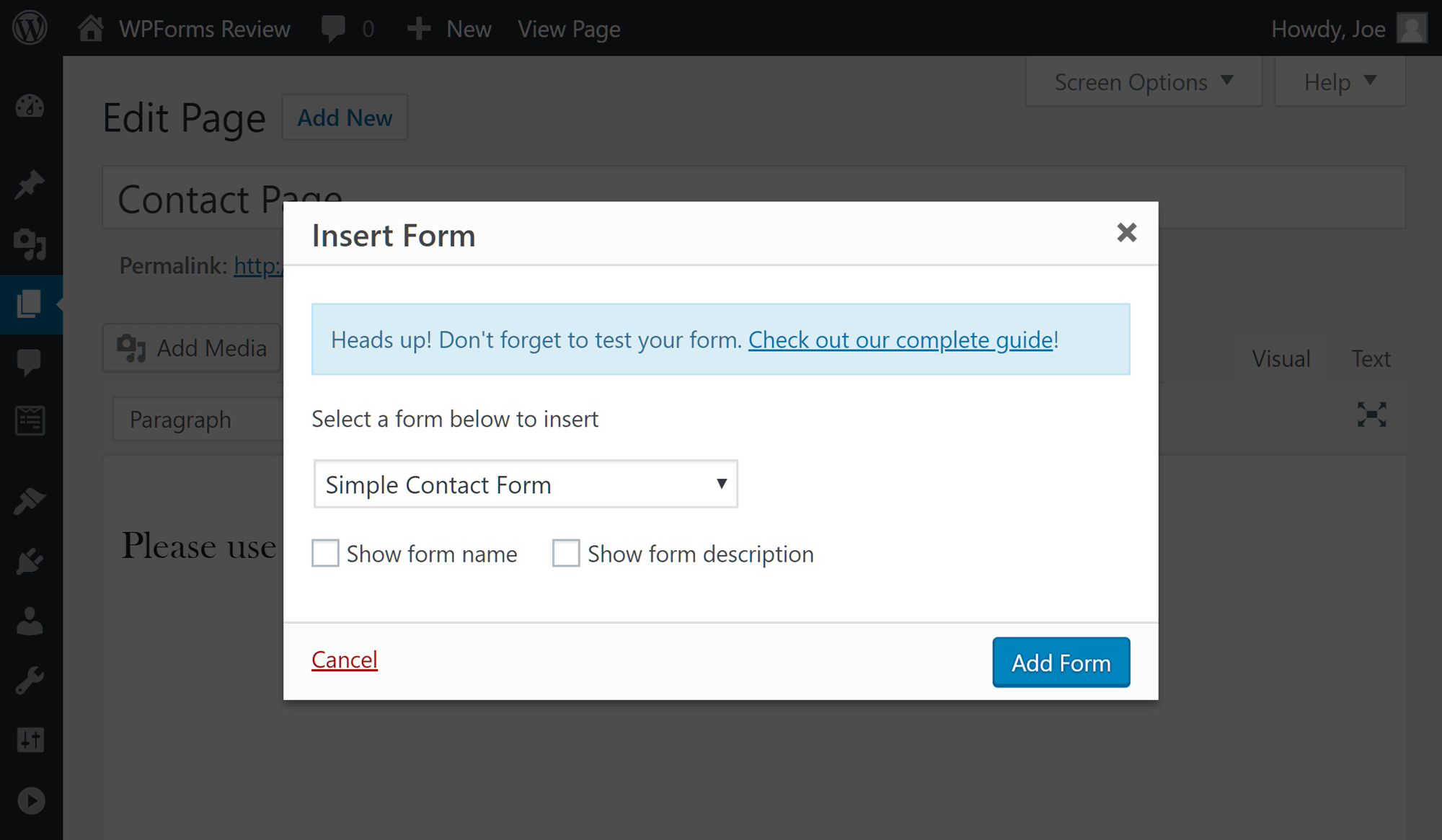 After you've chosen which form to insert, the relevant shortcode is added to your post or page.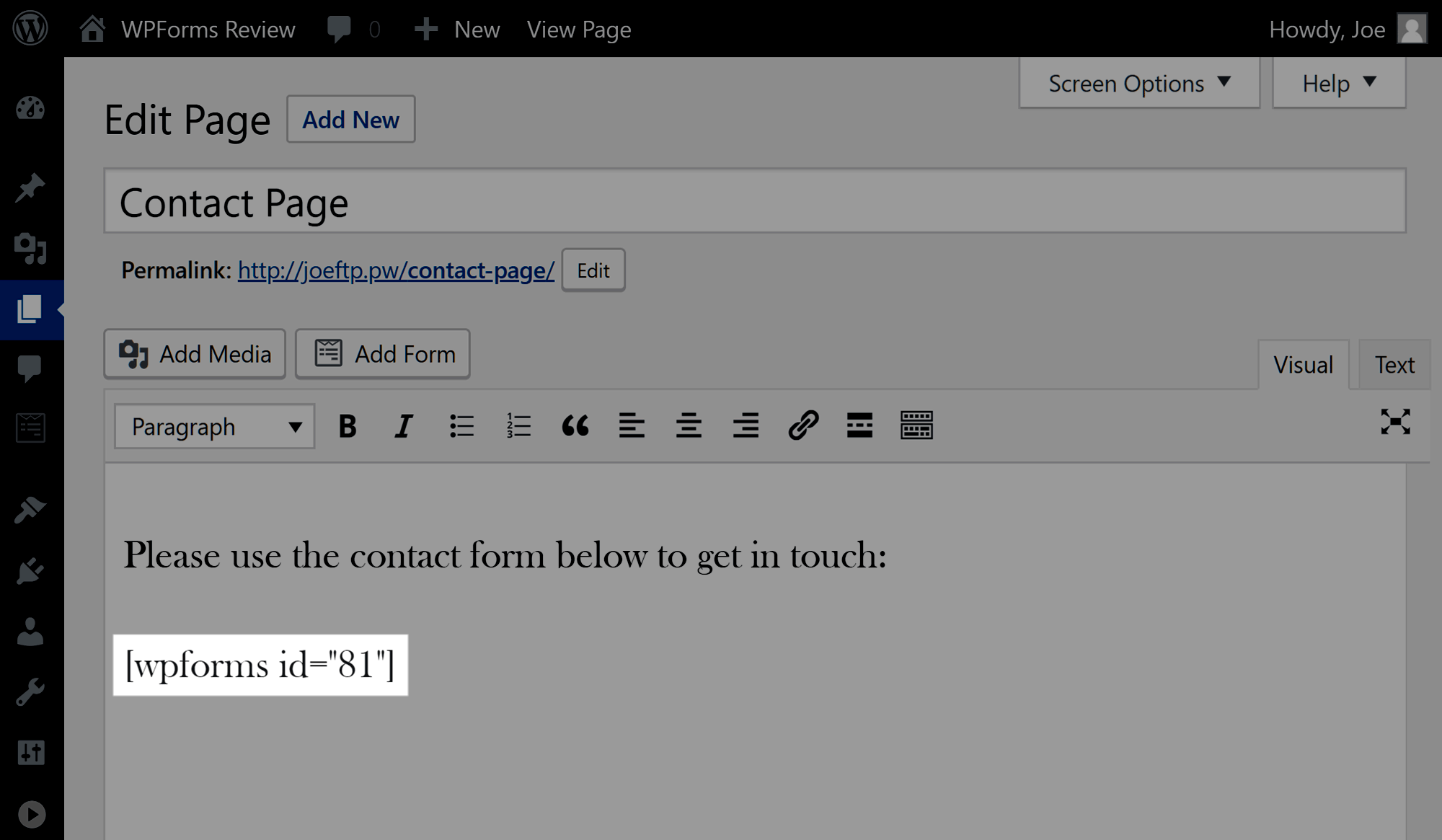 Then, upon publication, the shortcode is replaced with the contact form.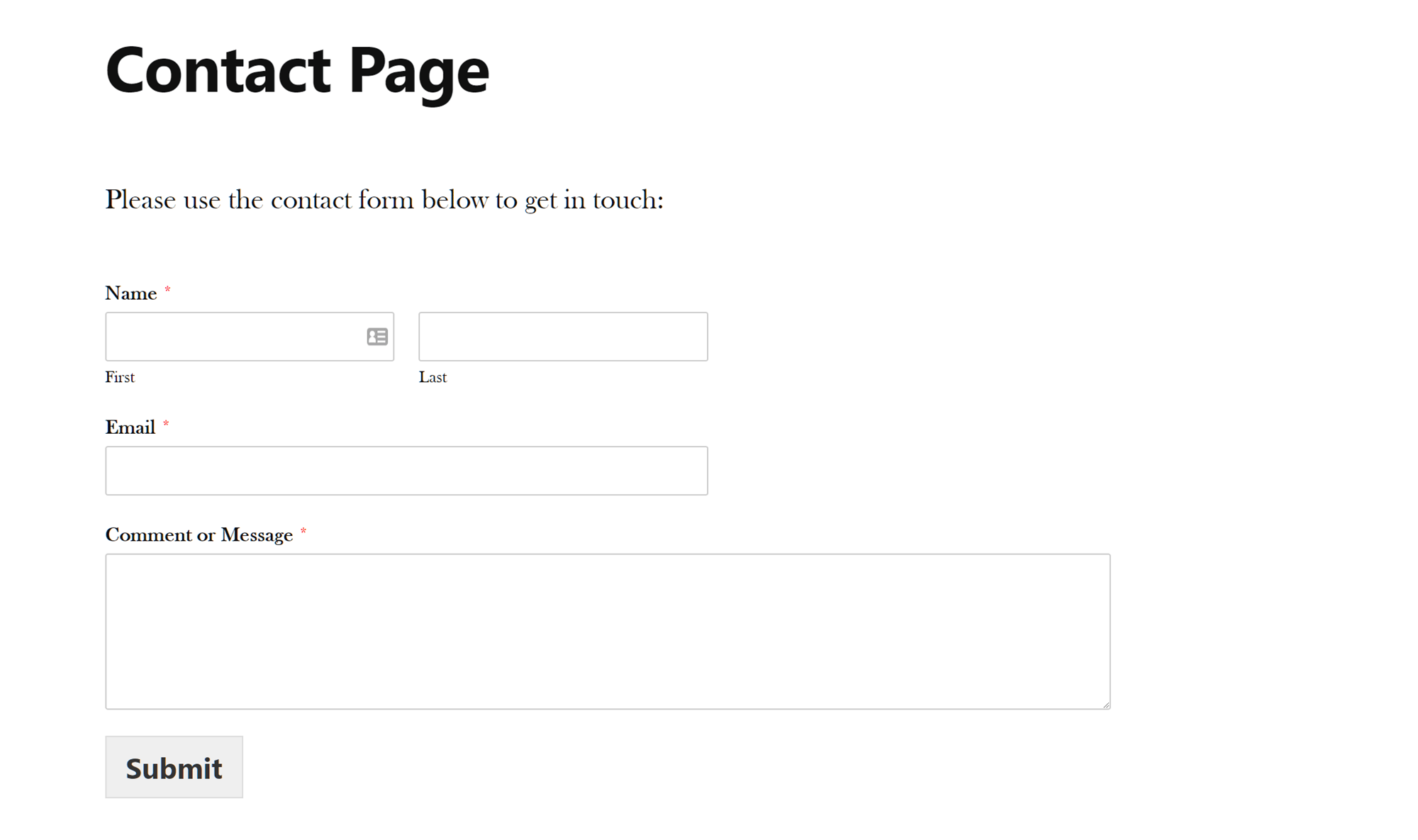 Each of the required fields is clearly marked, and the neutral design of the form should blend in well with your chosen WordPress theme. By default, a confirmation message is displayed to the user upon a successful form submission.

However, WPForms also gives you the option of redirecting the user to a specific URL or page of your site after a form submission.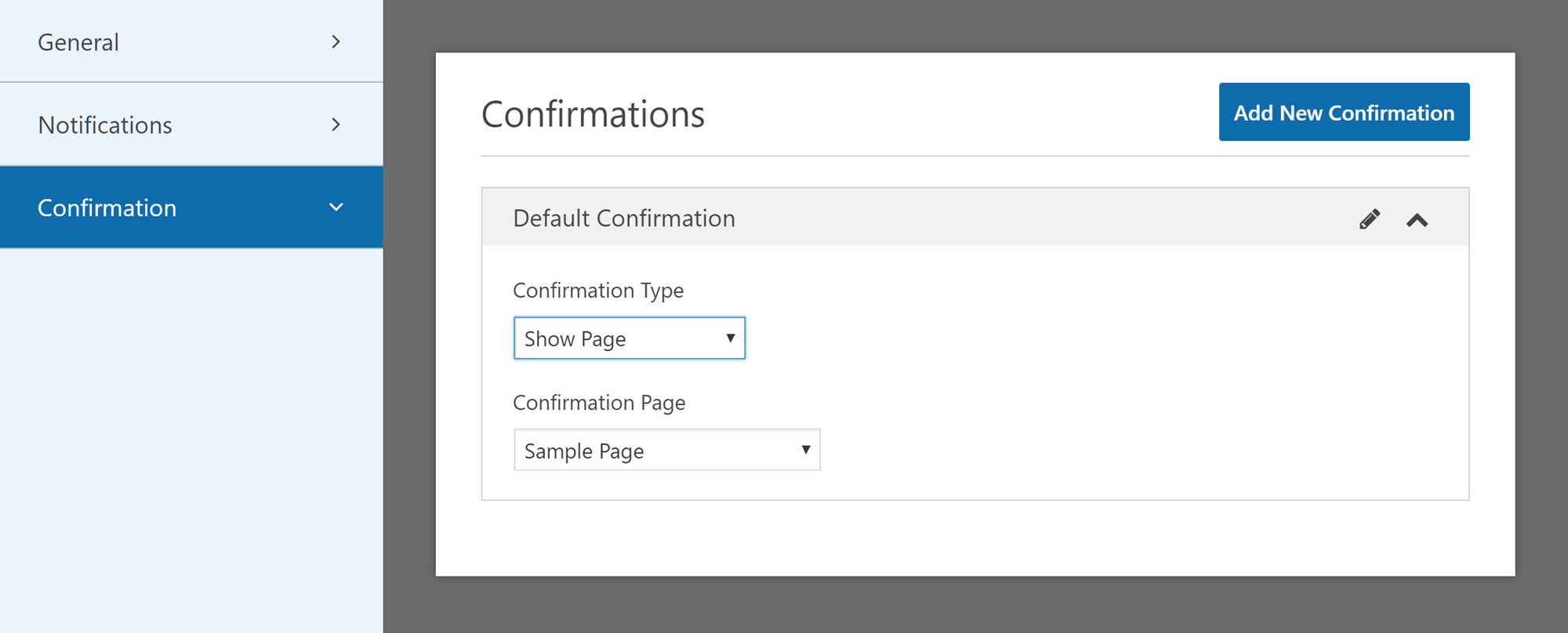 Form entries are sent to the email associated with the admin user account of your WordPress website, and should arrive in your inbox instantly. However, you are able to modify the recipients through the form settings.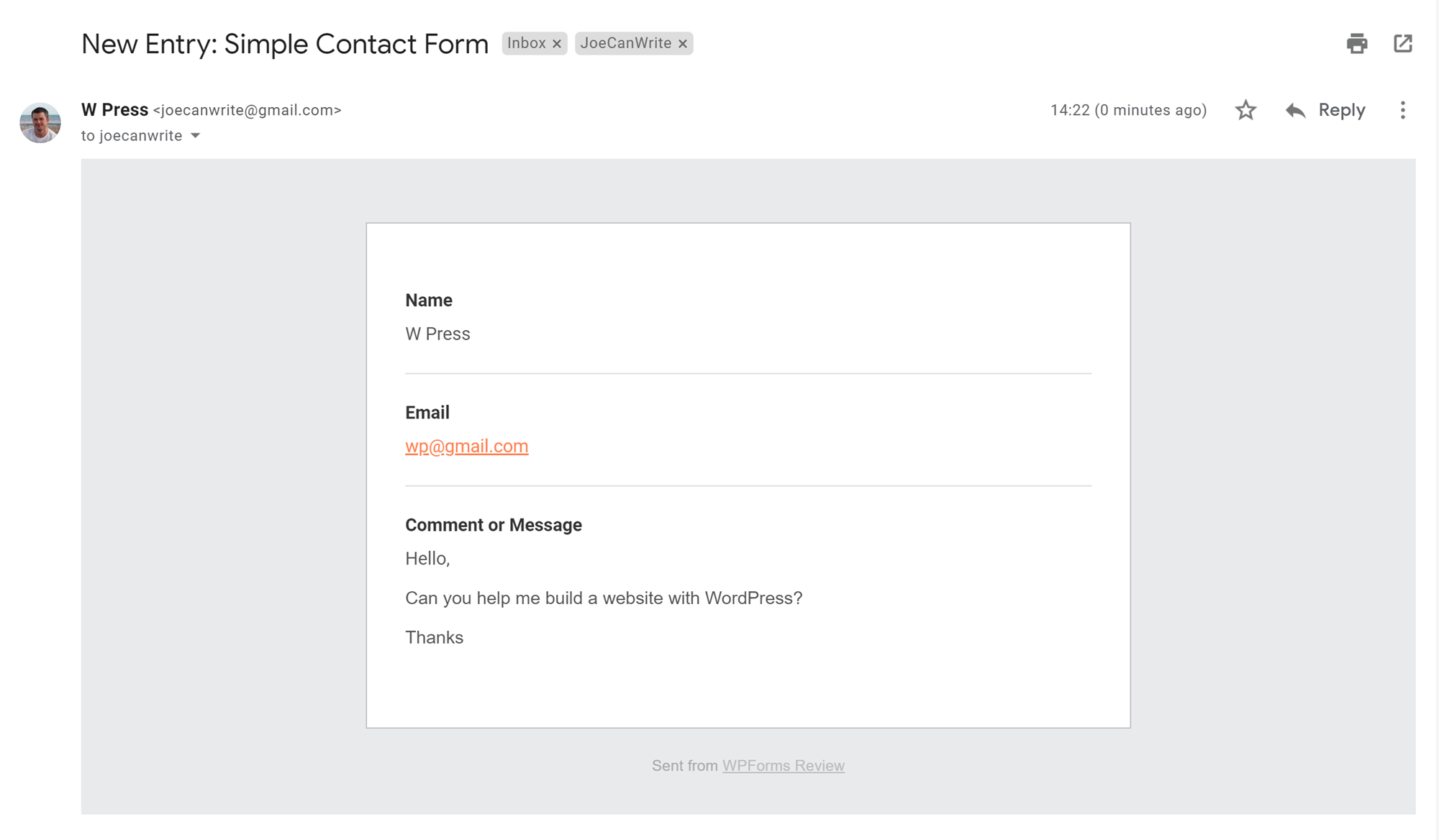 If your goal is to add a basic contact form to your WordPress website, then the above steps are all it takes, using the free WPForms Lite plugin.
If you plan to just use the default contact form, there isn't much to separate Contact Form 7 from WPForms Lite. However, should you ever need to make any changes to the form, you'll appreciate the improved ease of use of the WPForms form builder.
WPForms and Gutenberg
If you're using the latest version of WordPress and the updated WordPress Editor — Gutenberg — then you'll be pleased to learn that WPForms is fully compatible with the new editor. In fact, it's just as easy to add a form to your WordPress posts and pages using the new editor. To do so, simply click on the Add Block button and search for WPForms from the available blocks.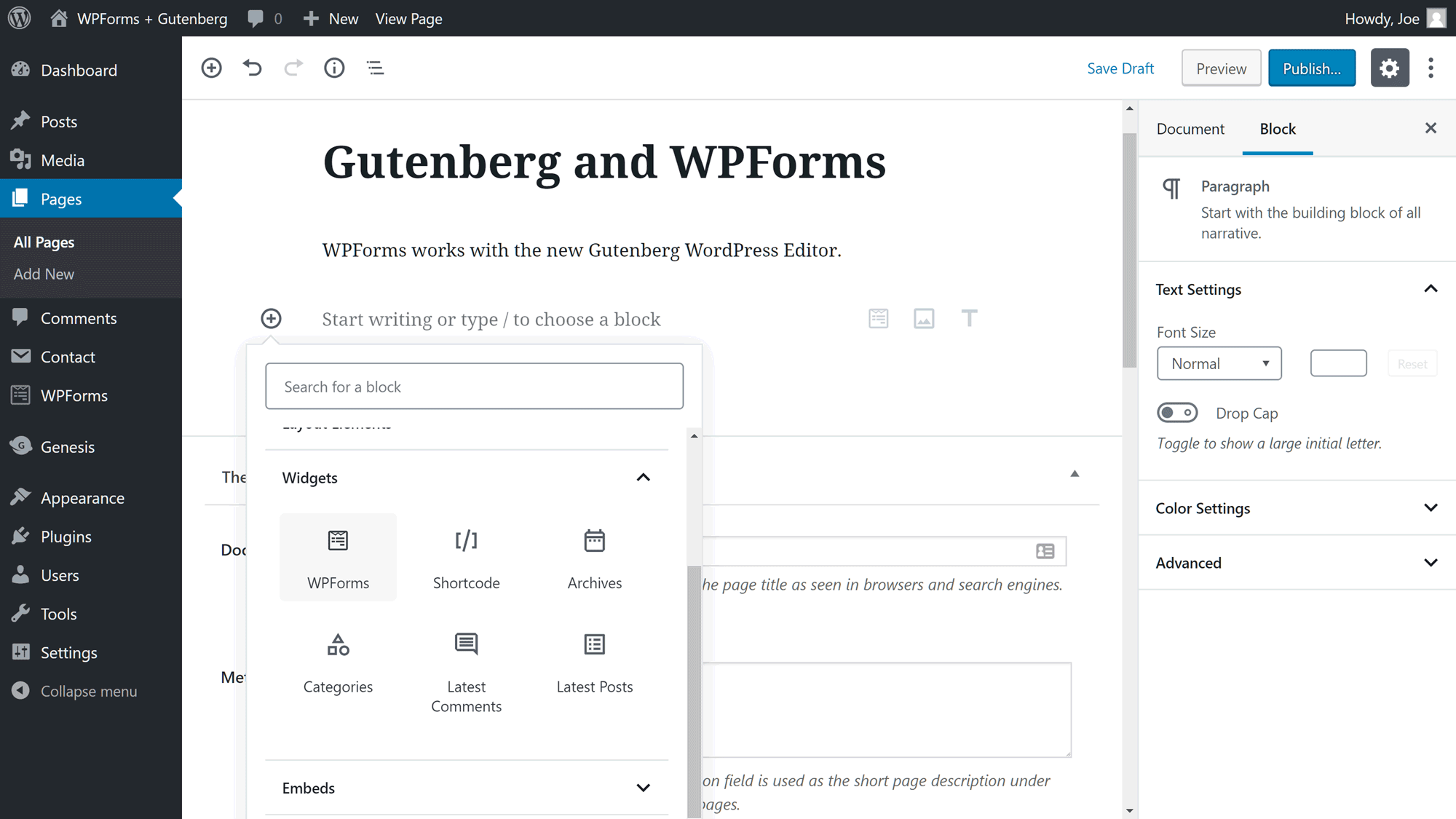 Once you've added the WPForms widget to the editor, you can then select which form you'd like to insert into your post or page.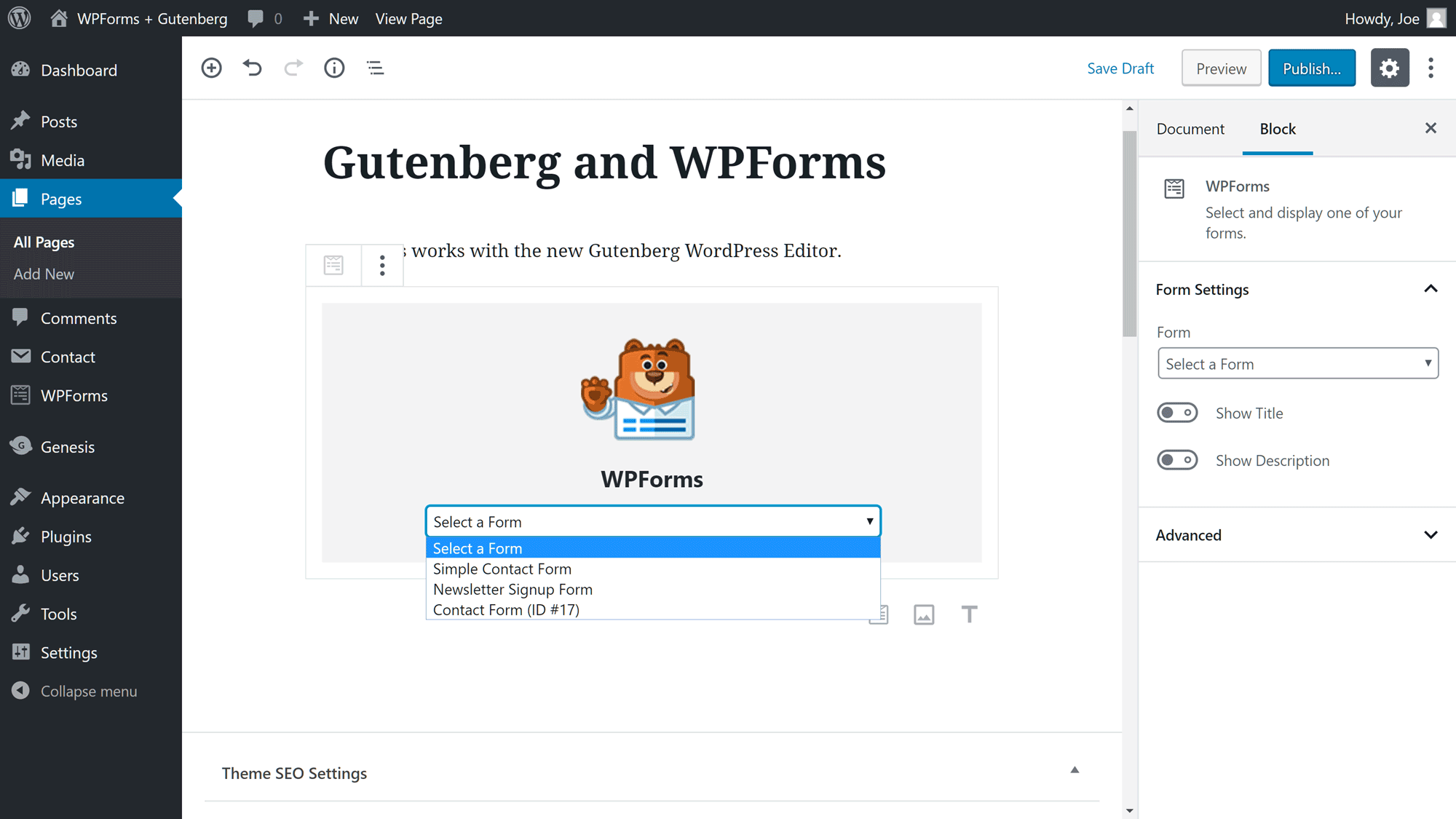 After you've made a selection, the form is added to your content. You can then access the form settings in the sidebar, with the ability to display the form title and description.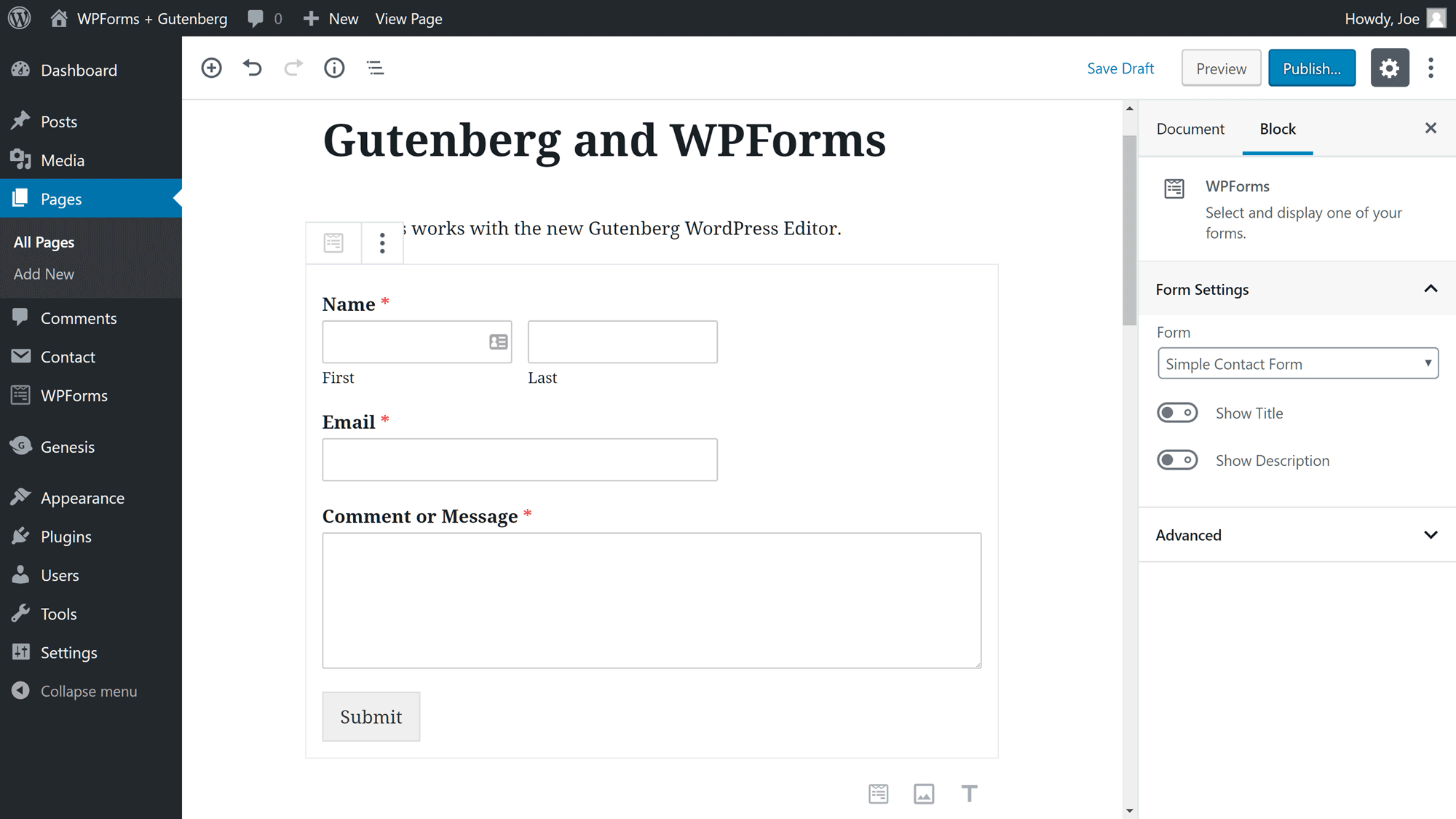 Creating a Custom Contact Form with WPForms
If you have more bespoke needs, then you can use the WPForms drag-and-drop form builder to create a custom form. This is where WPForms excels, and even users of the free lite version can choose from a small selection of useful fields to add to their forms.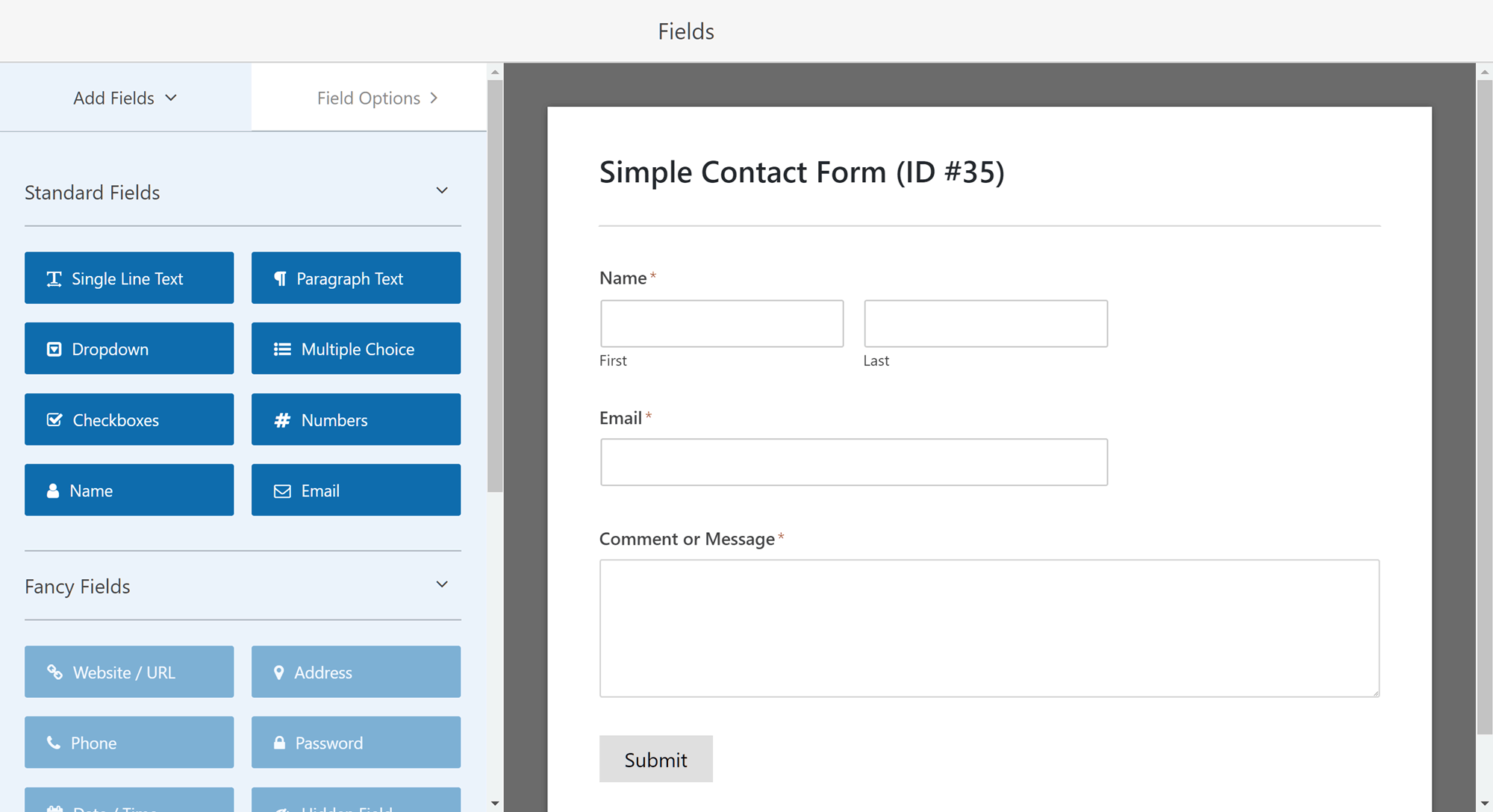 To include more fields, simply click on one to see it added to the form. You can then drag and drop the field into place.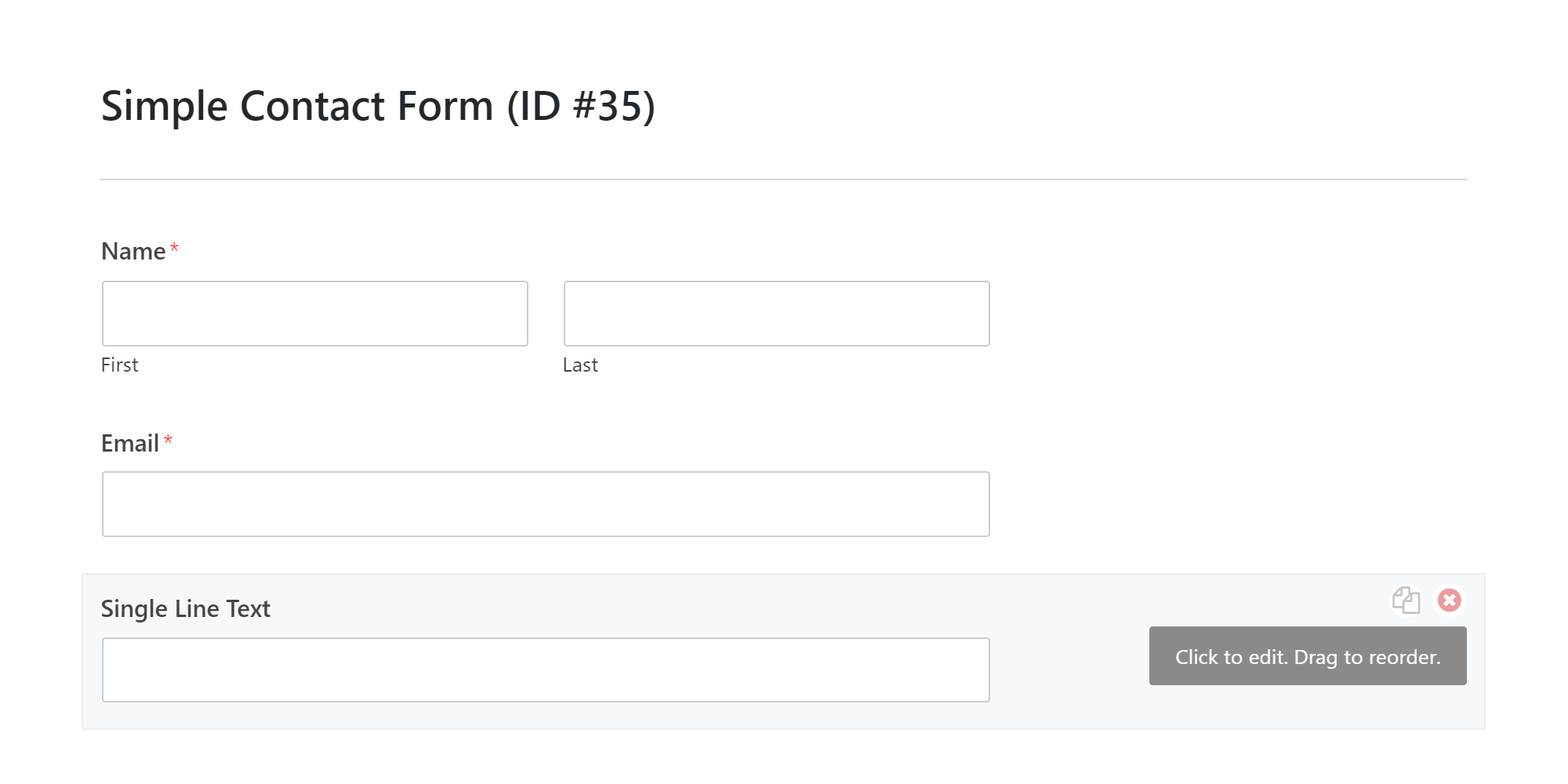 Clicking on any of the fields that make up your form allows you to edit them. Depending on the field type, this could include changing the title and description, as well as marking it as a required field. As you type into the field settings, the form view is instantly updated, making it very easy to see how your form is taking shape.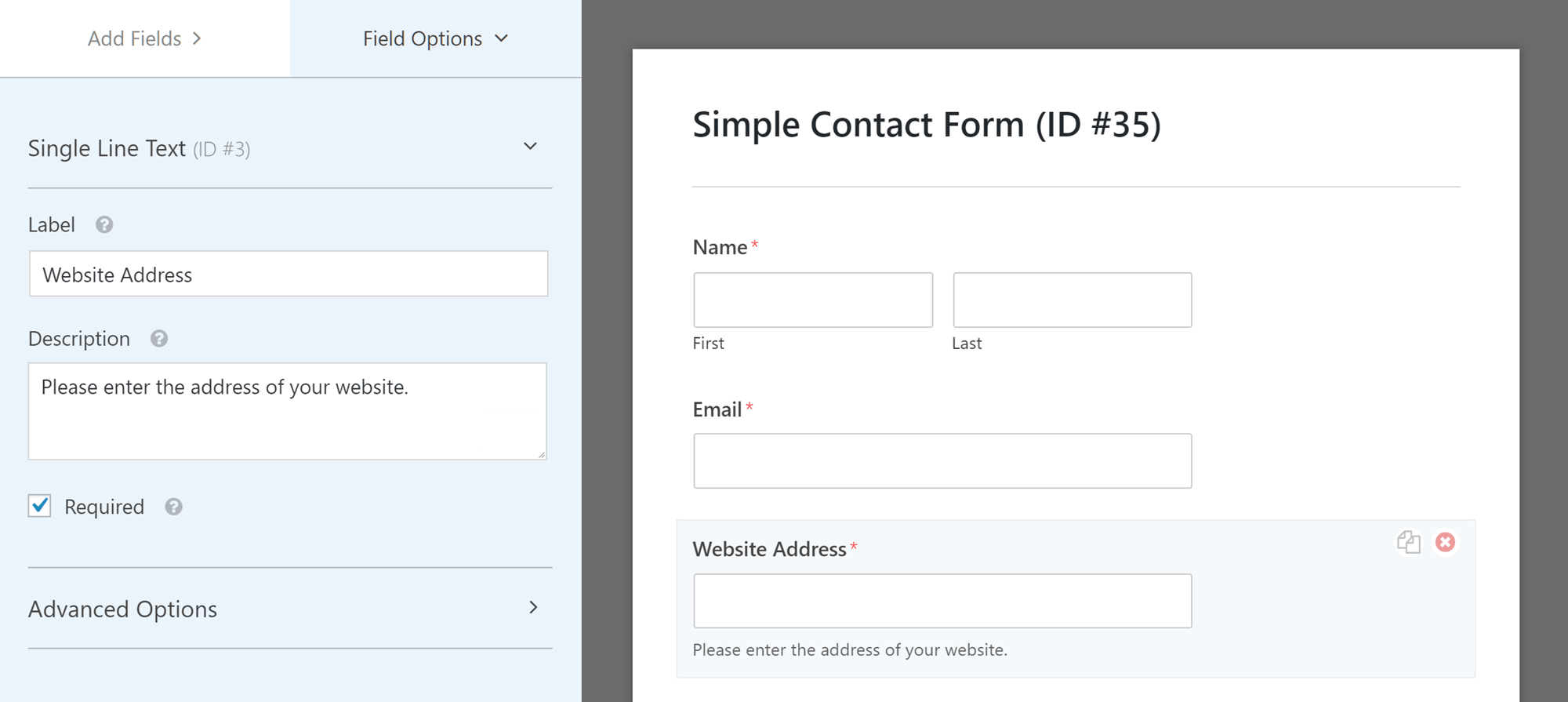 There are some advanced field options available, too. Depending on the type of field you're working on, these options could cover the field size, setting the placeholder text, hiding the label, and entering CSS class names. To help improve usability, each option has a handy tooltip to provide more information.
WPForms Lite Form Field Options
Optional fields, such as dropdowns, multiple choice options, and checkboxes, mean you should be able to collect some useful information from your visitors via your forms.
However, depending on your needs, you may have to upgrade to the premium version if you want access to the fields that will allow you to create more advanced forms (more on those later).
WPForms Premium Features
The above walkthrough demonstrates just how easily and quickly you can add a standard contact form to a WordPress website. However, WPForms doesn't want to simply be a basic contact form plugin for WordPress.
Through its premium version, WPForms has set its sights on high-end form plugins, such as Gravity Forms. So, let's explore the advanced features of the paid version of WPForms to find out what it can do.
Form Templates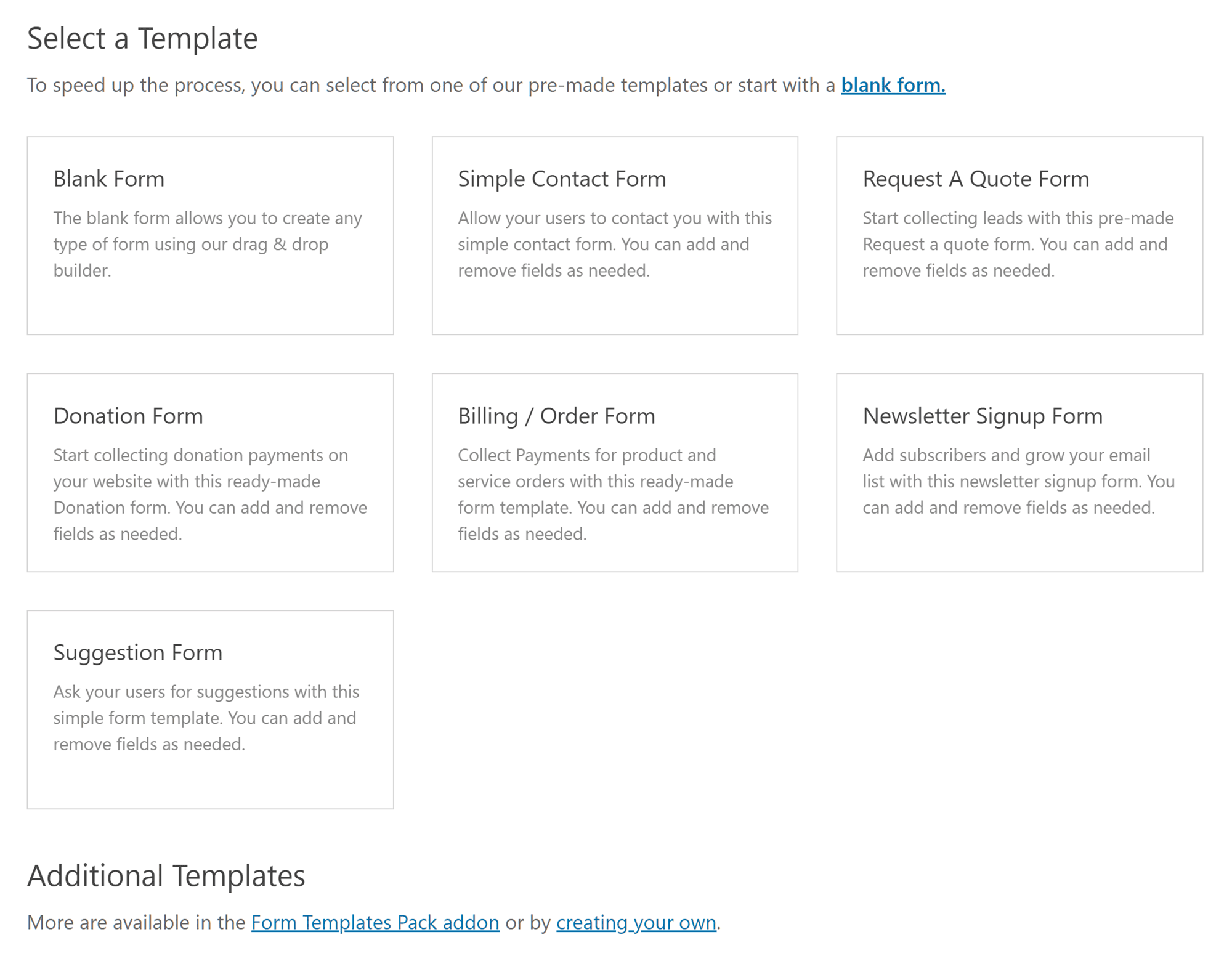 As mentioned, the free WPForms Lite plugin includes a contact form template and a few other options to help you get started. However, upgrading to the premium version of WPForms gives you access to three additional form templates, with more available via the Form Templates Pack add-on that Pro and Elite license holders get access to.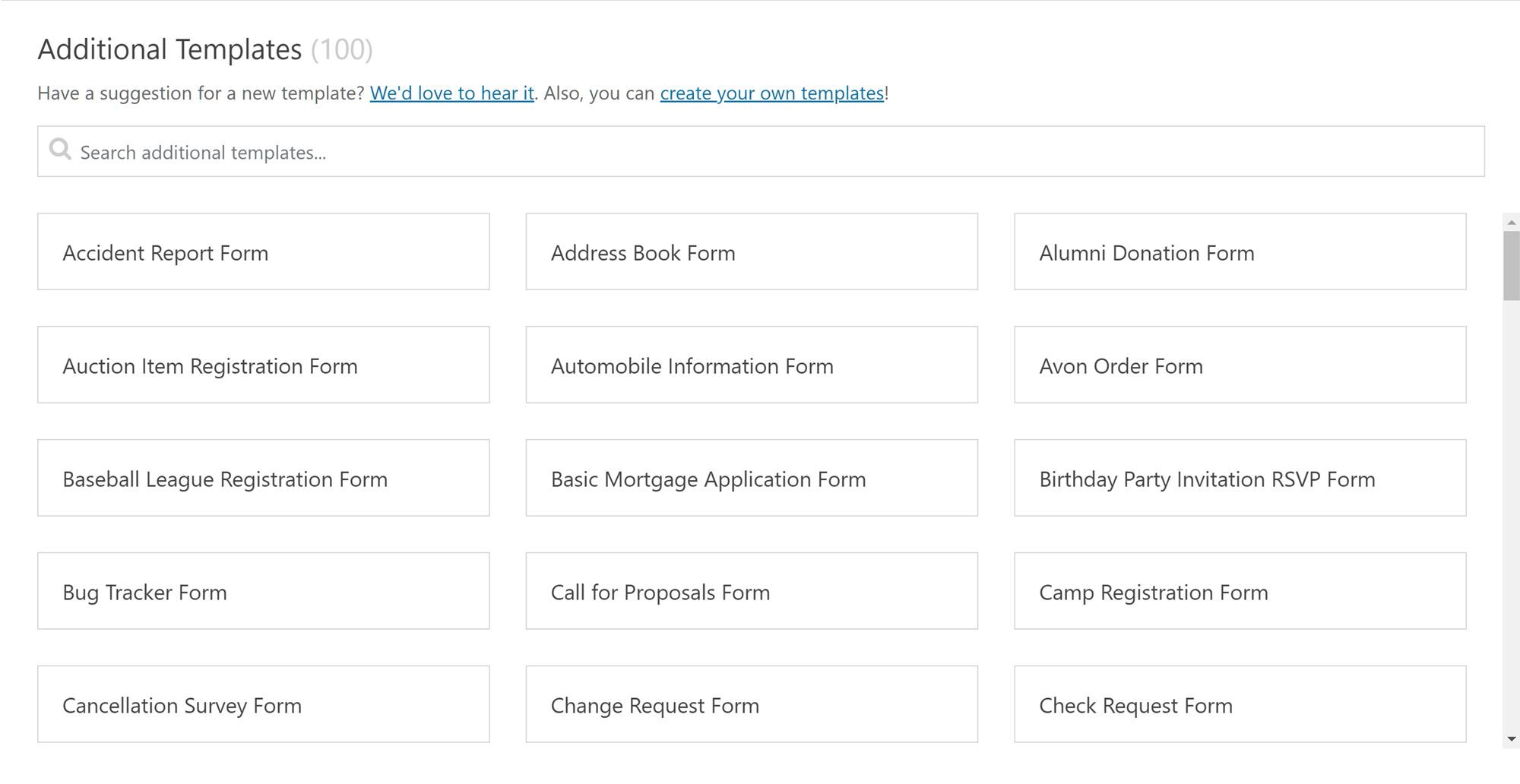 The core WPForms templates are all useful enough, whether you want to use them as they are or as a starting point for your own forms. Some are a bit lacklustre, such as the 'newsletter signup' form, which doesn't rival the functionality you'd find in a free newsletter form plugin such as Optin Forms.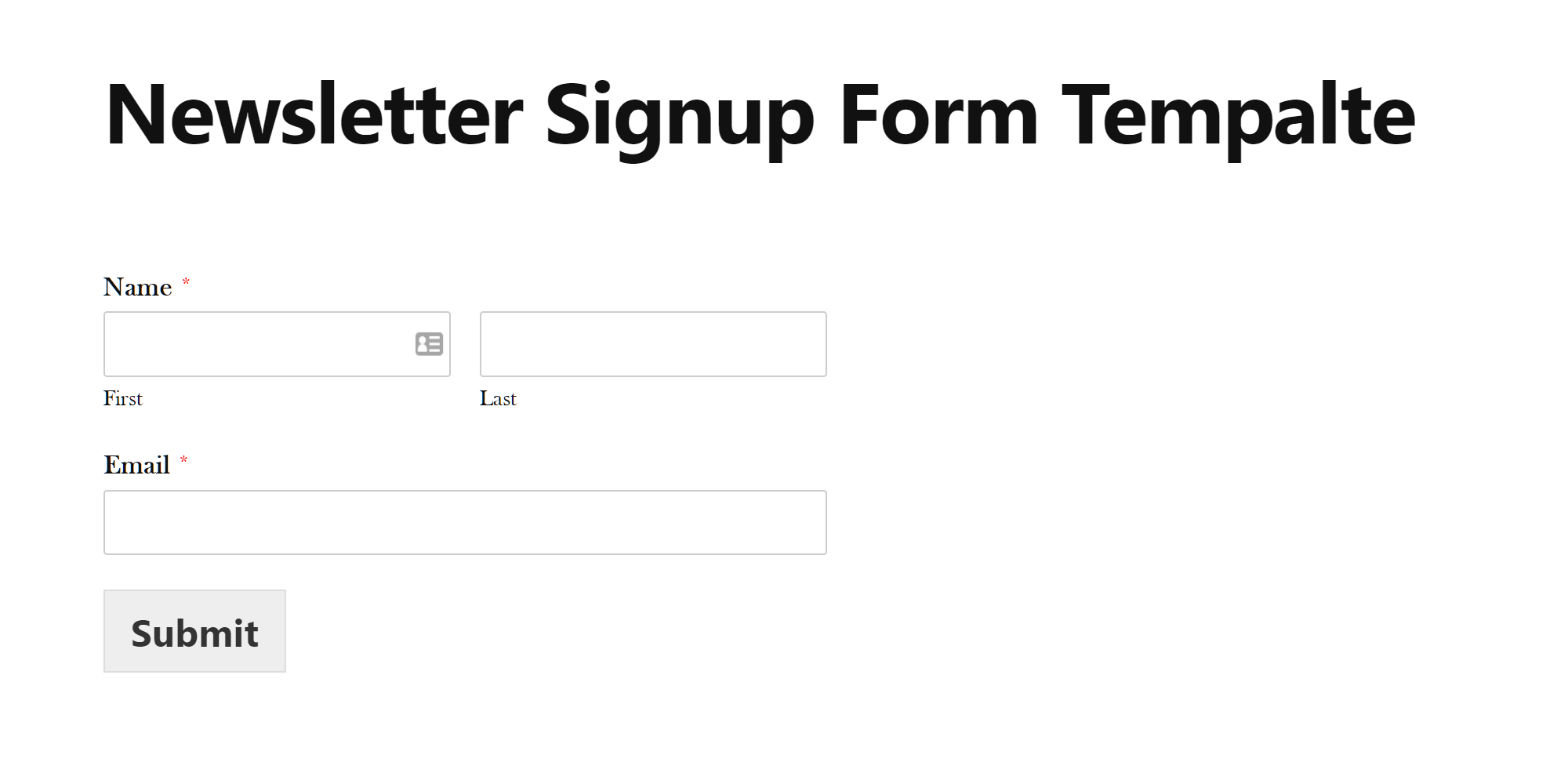 The 'request a quote' form isn't too exciting either, but it's a quick way to add this type of form to your website. The 'donation' form template could be useful, although you will need to purchase the Pro or Elite license to get access to the PayPal and Stripe add-ons to accept payments through your forms.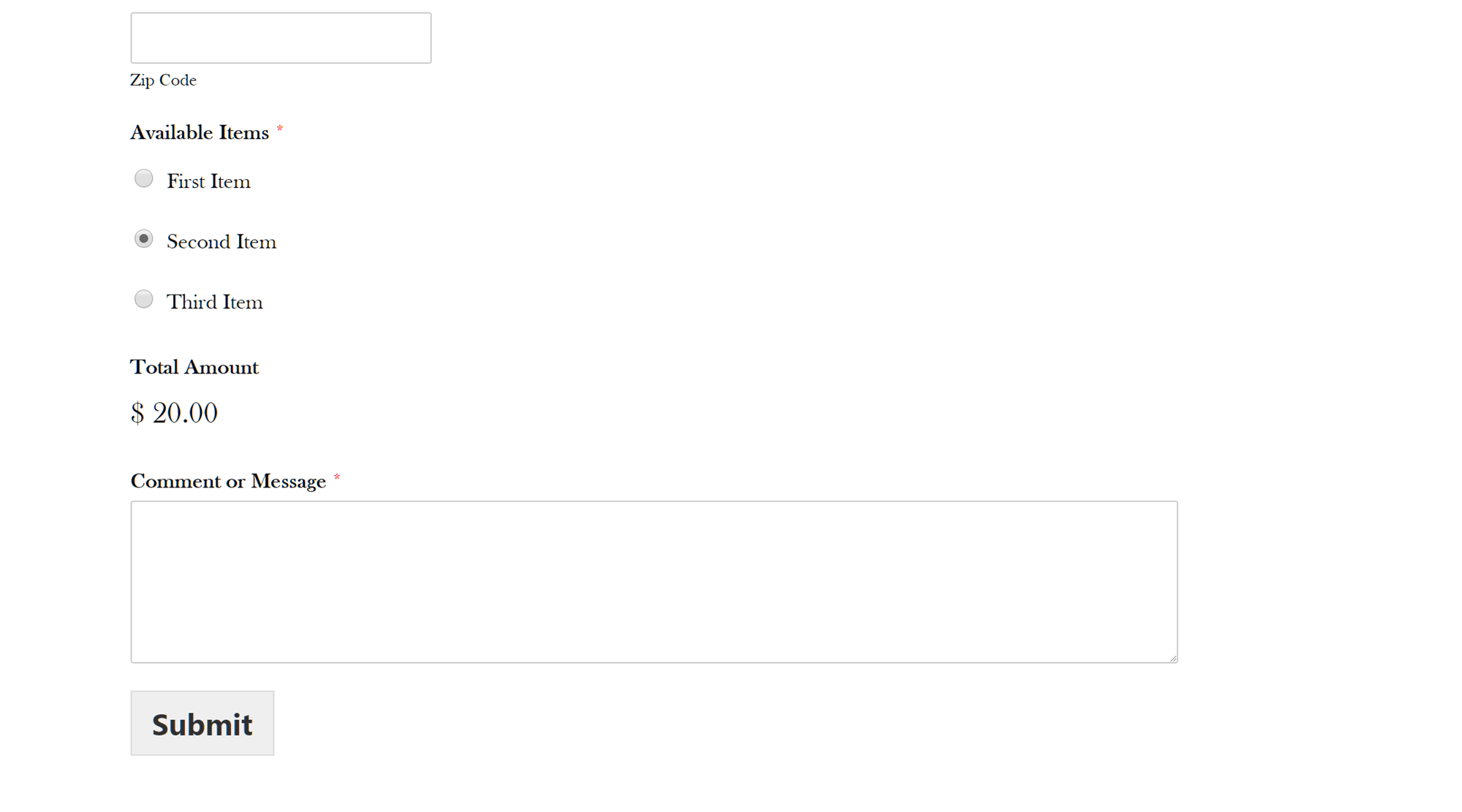 The 'billing/order' form template will be useful if you're selling products or services online, but you should compare the features available with those from eCommerce plugins such as WooCommerce or Easy Digital Downloads to see which option best meets your requirements.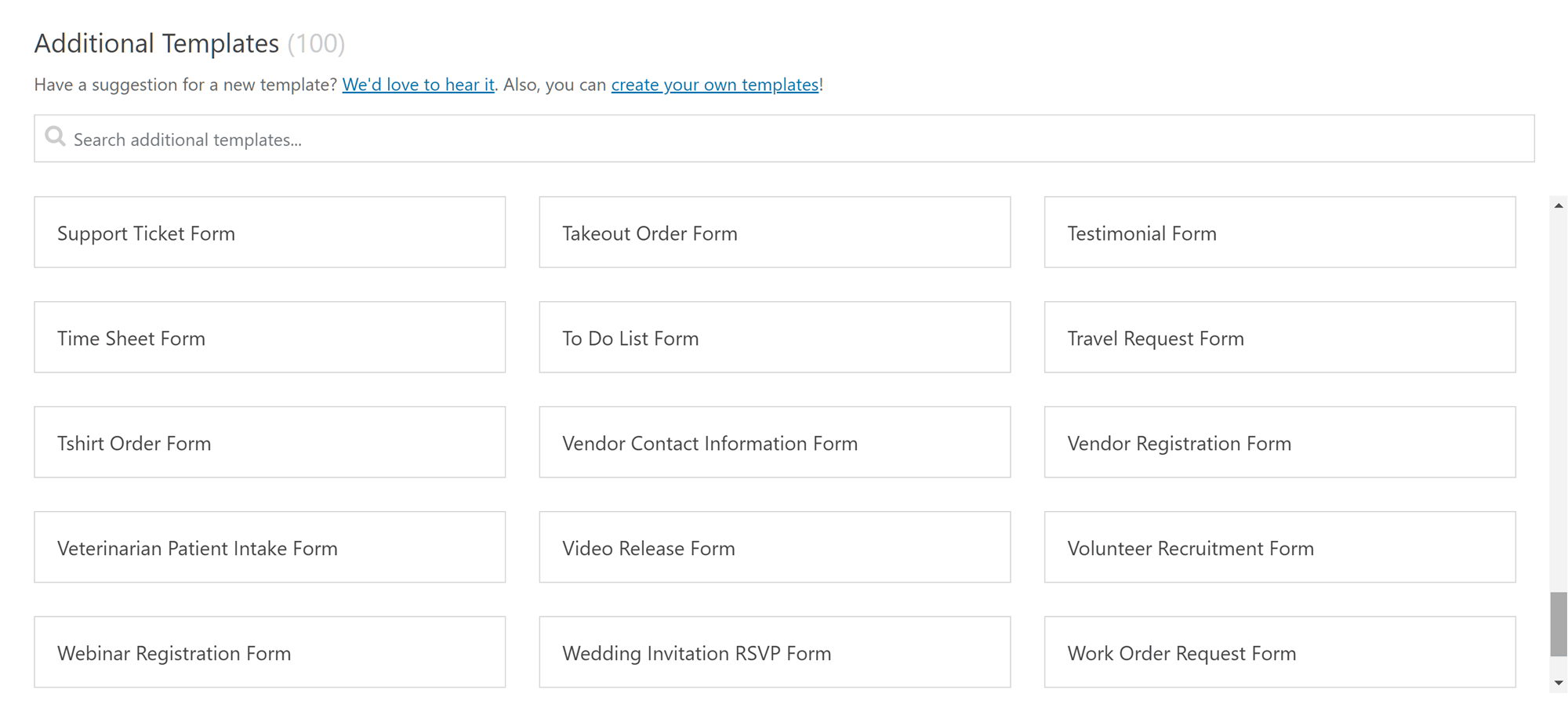 However, as mentioned, if you do choose the Pro or Elite license, you'll get access to the template add-on. This includes 100 prebuilt forms for a wide range of projects that could really help to save you a lot of time when creating your own forms.
WPForms Pro Form Fields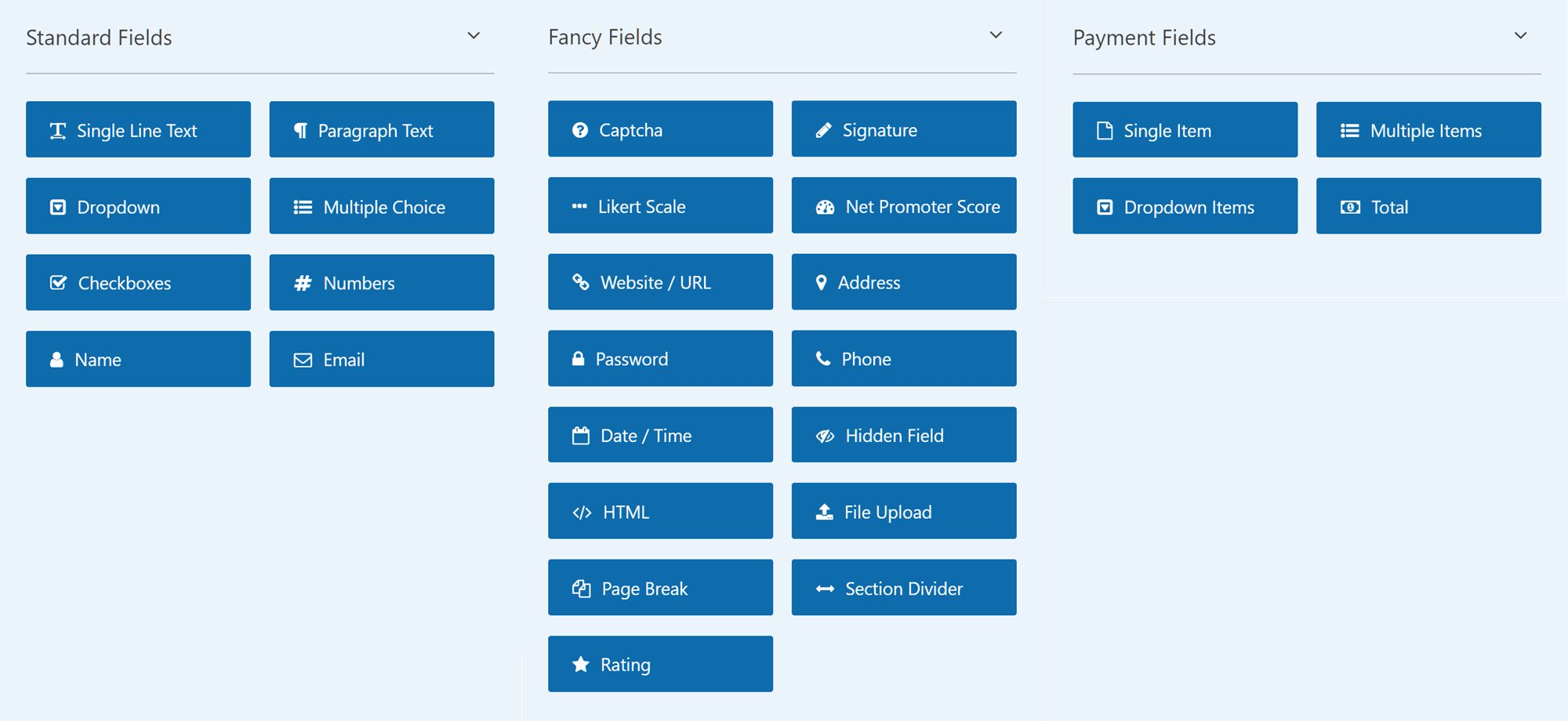 Upgrading to any of the premium versions of WPForms gives you access to a greater selection of form fields, including payment fields. There are also now some interesting fields for accepting ratings from your users.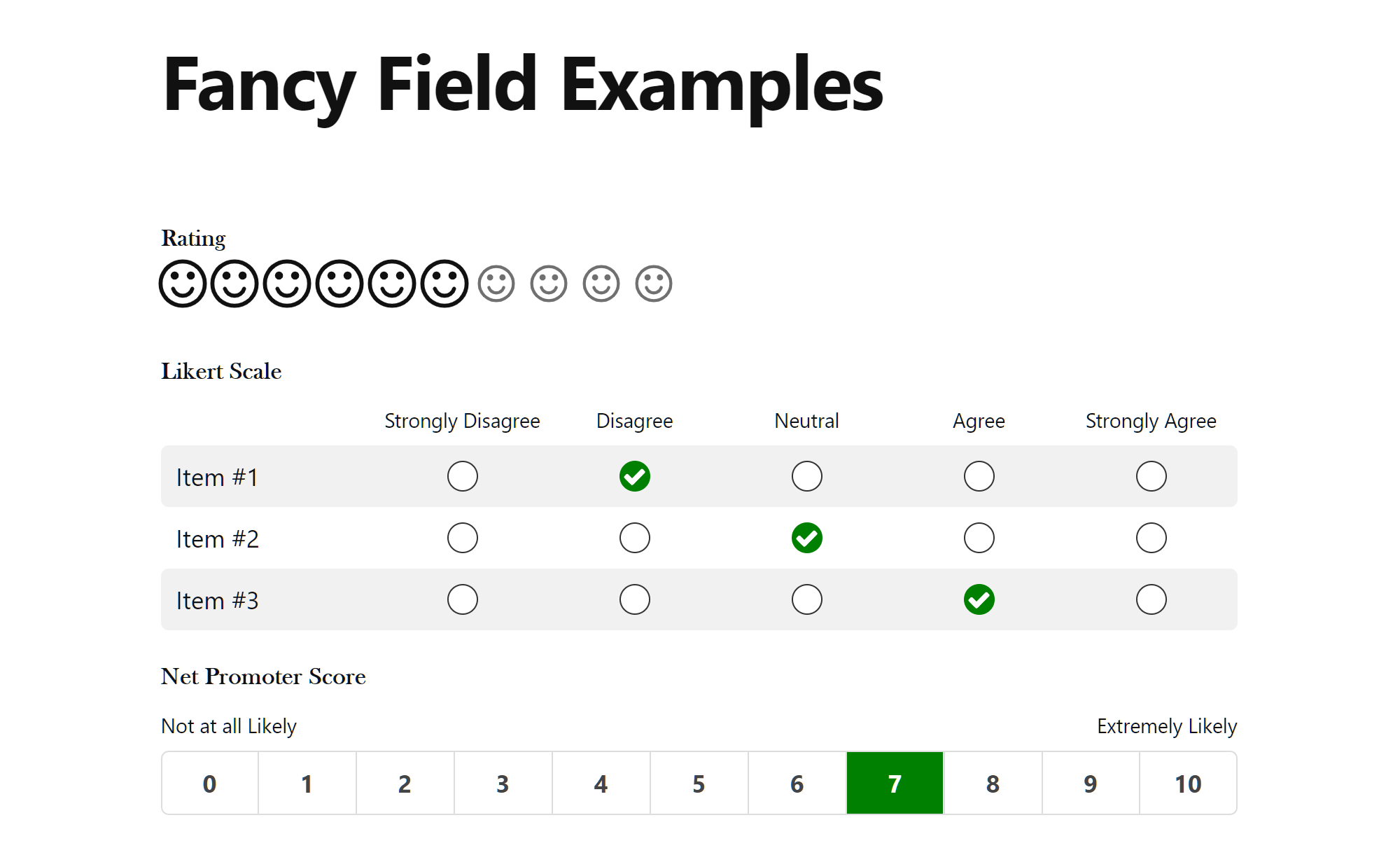 Other fields provided with the premium versions include selection lists, self-calculating total fields, file uploads, and date and time pickers, among others. There's now also a signature field that allows users to sign a form entry using a touchscreen or their mouse cursor.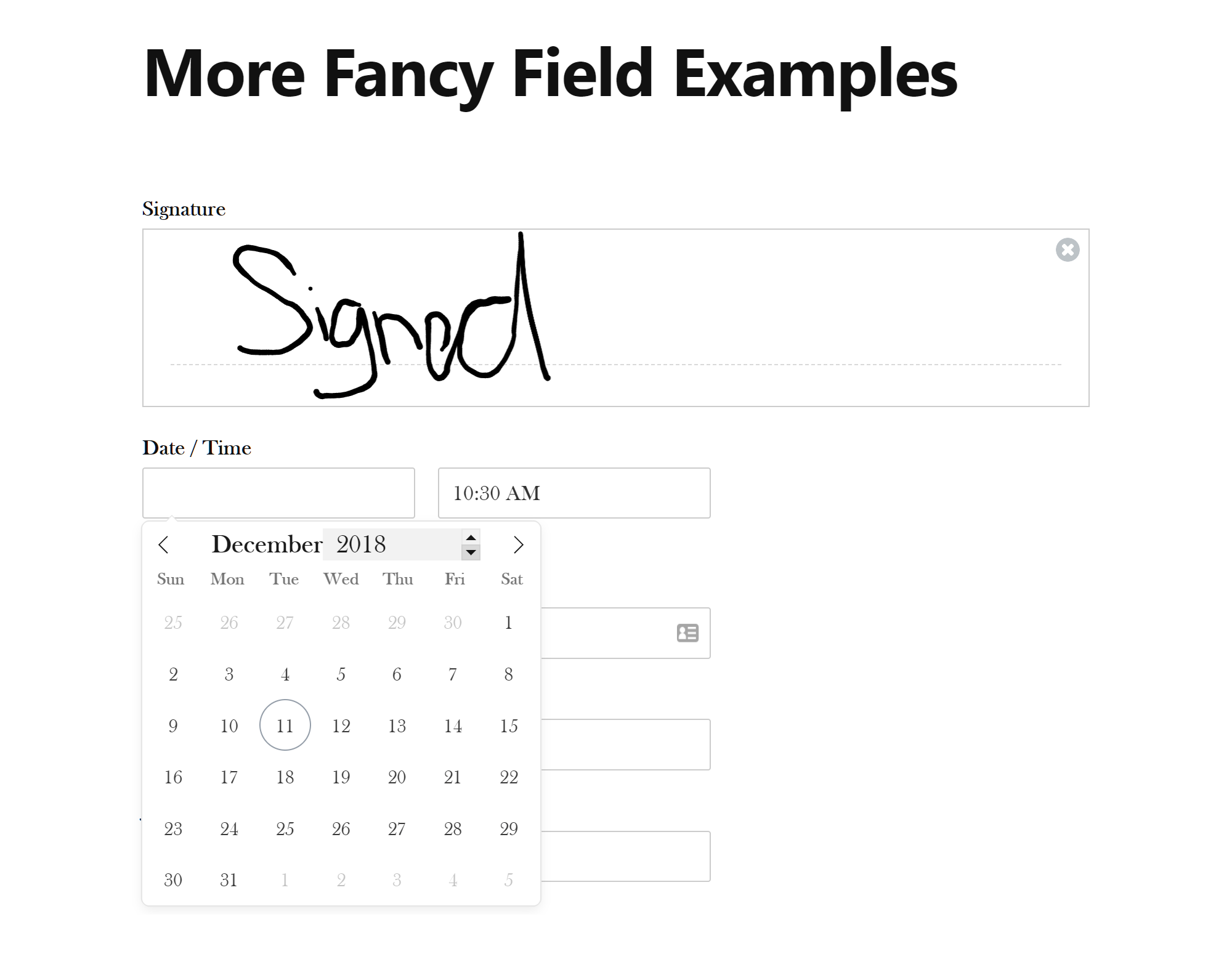 The self-calculating order fields are a little limited, as it's only possible to use radio buttons and dropdown fields, rather than checkboxes that support the selection of multiple items. Although you can add checkboxes to your forms, there isn't a way to connect them to the self-calculating order field.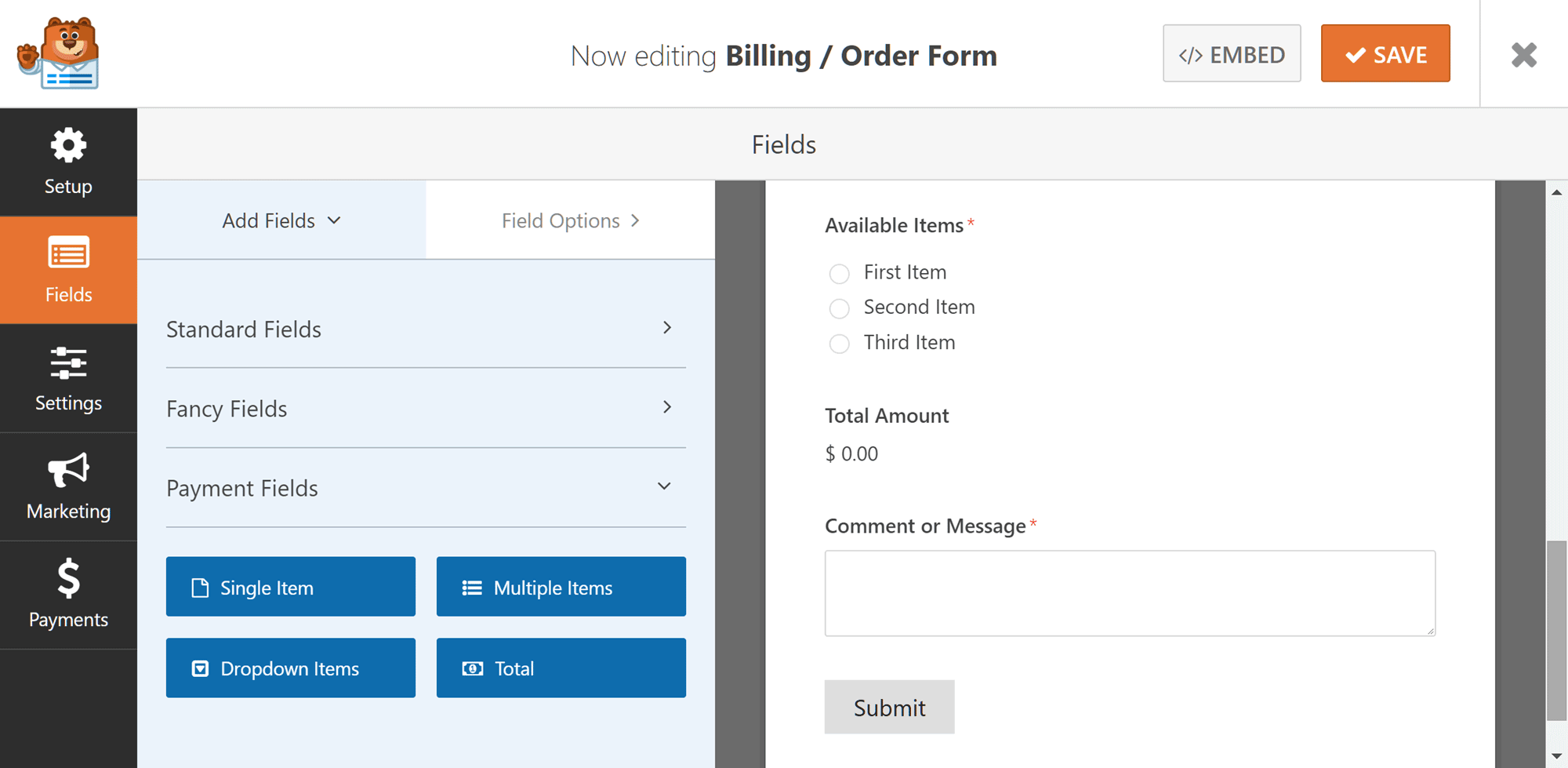 Conditional Logic
Conditional logic is another feature available in all paid versions of WPForms. By using conditional logic, you can control the visibility of a field, based on certain conditions.

By selecting a field and then expanding the conditionals panel, you can create rules that govern whether that field is visible or not. This is based on the contents of the other fields on the form. Multiple rules can be applied to a single field, allowing you to create complicated forms that enable you to request specific information from your visitors.
Form Entry Management
Unlike the free version of this plugin, the premium version of WPForms makes form entries available from within your WordPress Dashboard.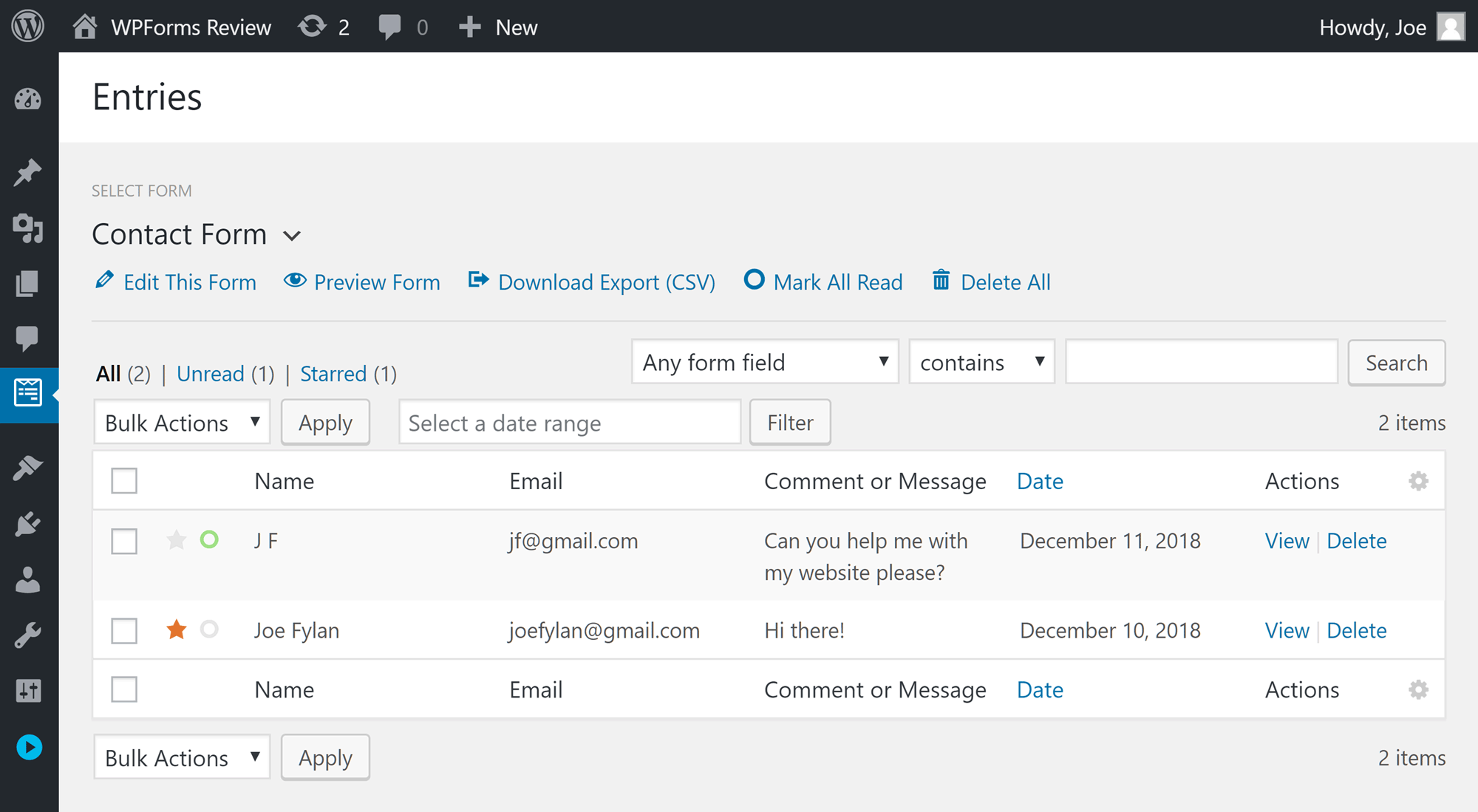 As emails can be deleted or find their way into spam folders, having a central location where you can view all form entry submissions can come in handy — and, after a recent update, you can now search the form entries in the WordPress Dashboard. You can also filter the form entries by date range, and also export the entries in CSV format for use in spreadsheet applications such as Excel and Google Sheets.
Other WPForms Features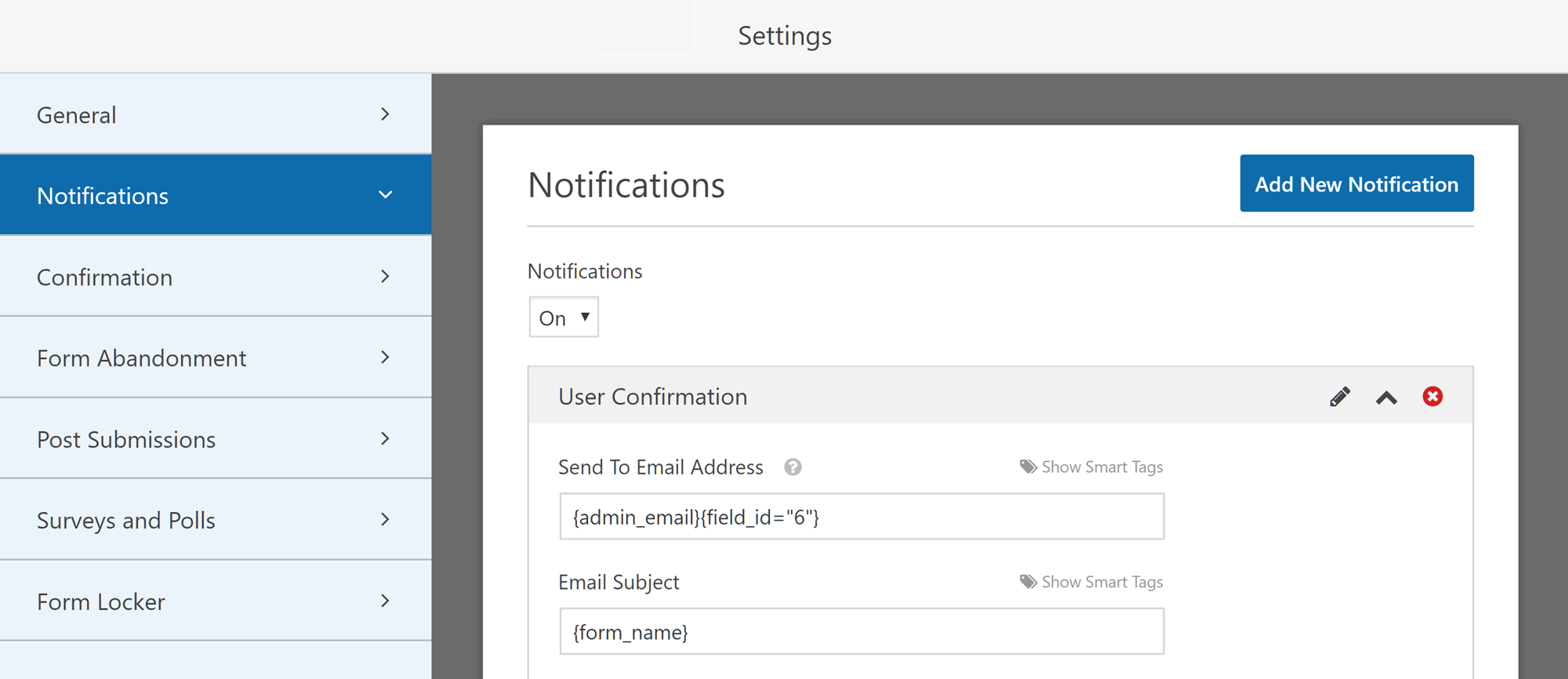 Other features in the premium version of WPForms include the option to send new form submission notifications to multiple email addresses, the ability to split long forms into multiple pages for an improved user experience, and file upload fields that allow users to include files in their form submissions. You also get access to the anti-spam features found in WPForms Lite, as well as an advanced custom captcha option that lets you create your own questions for users to answer to prove they're human, such as maths questions.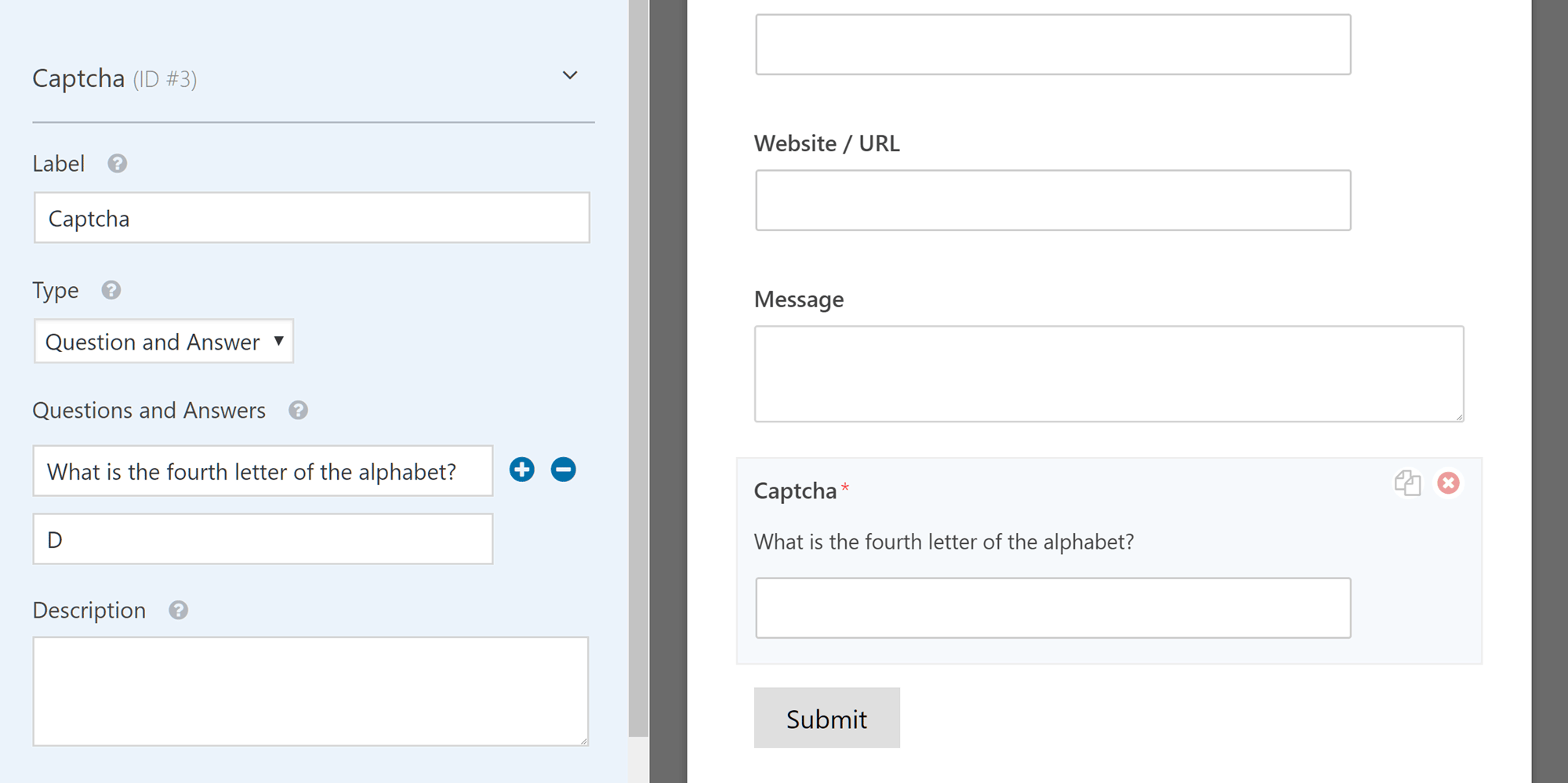 Pro and Elite license holders of WPForms now have access to the form abandonment feature that allows you to automatically save partial form entries if the user leaves the page before submitting the entry. Because of the way this feature works, WPForms can track the user's mouse cursor to detect when they're about to leave your website.
By using the form abandonment feature to save partial form entries, you'll have the ability to follow up with users who didn't complete their form entry — provided they got as far as entering their contact details before leaving.

Other features that Pro and Elite license holders get access to include the ability to create offline forms that save form data in the user's browser until they're back online, the functionality needed to create polls and surveys, and the ability to accept post submissions from users via a front-end form. Additionally, the user registration fields let you create forms that visitors can use to sign up and register an account for your WordPress website.
You can also use the form locker feature to limit the availability of a form between two dates, and also set the maximum number of entries a form will accept before becoming unavailable.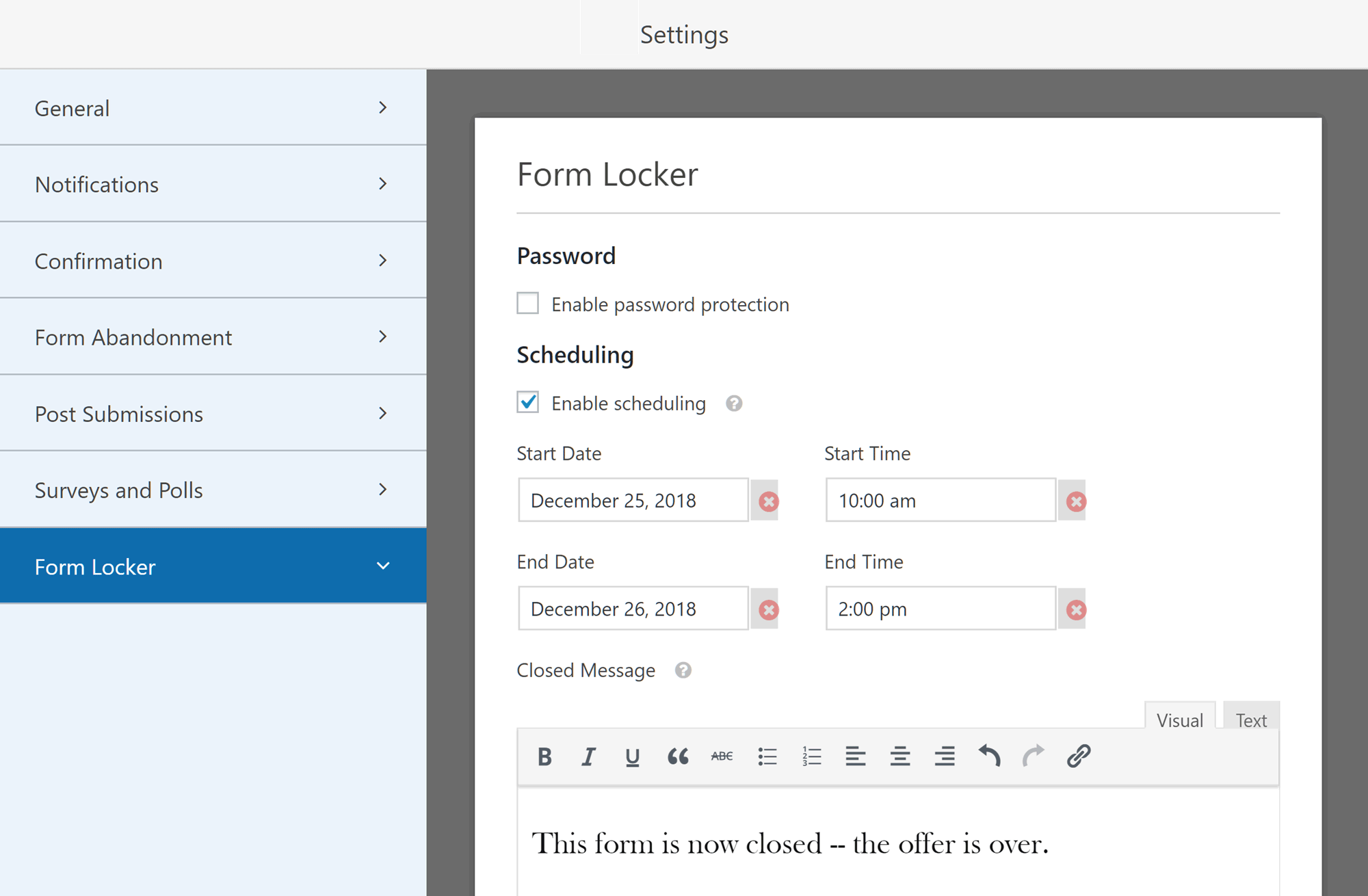 WPForms Premium Pricing Options
There are currently four options for purchasing WPForms:
Basic: $79 for use on one site.
Plus: $199 for use on three sites, plus extra email marketing integration features.
Pro: $399 for use on 20 sites, plus payment and other features.
Elite: $599 for use on unlimited sites, plus WordPress Multisite support.
As mentioned earlier in this WPForms review, the different license options provide access to different features — you can view the full details on the pricing plans page. Furthermore, each license is valid for one year, giving you access to the support service and plugin updates. After this period, you must renew your license to retain this access, although you can choose to continue using the plugin unsupported.
When it comes to support, Basic and Plus license holders get access to the standard support service, Pro users get access to Priority support, and Elite users get access to Premium support. What this means in practice is that support messages from Elite license holders will be dealt with before messages from Pro users, while messages from Basic and Plus license holders will be at the back of the queue.
Although there's no free trial for WPForms, there is a 14-day 100% money-back guarantee in place that allows you to try the plugin without risk.
WPForms Review Conclusion
Is WPForms the best forms plugin for WordPress? Well, that really depends on your needs.
If you want to add a standard contact form to your WordPress website, then the free WPForms Lite plugin comes highly recommended. Not only does this plugin make adding a contact form to your site very easy, but the intuitive drag-and-drop builder gives you a straightforward way to add additional fields to your form and rearrange how they're displayed.
If you need access to more fancy fields, such as the URL, date and time, file upload, and addresses fields, then the $79 Basic license is a relatively inexpensive way to get access to most of the premium features of WPForms.
When it comes to upgrading to the Plus ($199), Pro ($399) or Elite ($599) licenses to unlock features such as the email marketing service integrations, PayPal and Stripe support, form abandonment, and other features, recommending WPForms isn't as easy due to the relatively high prices. Depending on what you're looking for, it may be worth checking out a few other commercial form plugins, such as Gravity Forms, or even some of the free alternatives before deciding.
You can even check out our Gravity Forms vs WPForms comparison to see how it stacks up against its main rival. However, if you're looking for a form builder that's easy to use, with an intuitive user interface, then WPForms is a plugin that really stands out from the competition in this regard.
In short: For those who appreciate a well-designed user experience, combined with a varied set of features, WPForms is indeed a forms plugin that's hard to beat!
Using/tried WPForms yet? Thoughts?
All comments are held for moderation. We'll only publish comments that are on topic and adhere to our Commenting Policy.