WinningWP content is free to all. If you make a purchase through referral links on our site, we earn a commission (
learn more
).
Top 5 Best SiteGround Alternatives: For Either Better Or Cheaper WordPress Hosting?
Searching for the best SiteGround alternatives for your website(s)? SiteGround are a much-loved shared web host and the most popular independent hosting option outside of the EIG and GoDaddy empires.
However, multiple recent price increases, a new dashboard (and a goodbye to cPanel), and some limitations on support options have recently sent a lot of users searching for alternatives.
Thankfully, you have plenty of options, and I've collected them for you in this post, where I'll share five of what I think are the best alternatives to SiteGround. Two of these hosts are cheaper than SiteGround, while still offering similar quality and features; two hosts offer better quality hosting than SiteGround, but at a slightly higher price; and the fifth host can be both cheaper and better depending on your situation.
↪️ Note: for anyone looking specifically for WordPress-optimized hosting, take a look at this other post of ours comparing The Best Managed WordPress Hosting Services.
You can choose the alternative that best fits your needs, and I'll make some recommendations at the end of this post.
Why Consider SiteGround Alternatives?
Before talking about the bad parts of SiteGround, let's talk about what SiteGround do well, because I still think SiteGround are a great host and, in terms of shared hosting, they're one of the better options out there:
For shared hosting, SiteGround offer excellent performance. This is especially true on the GrowBig and GoGeek plans, which give you server-level caching. All plans also get access to the SG Optimizer plugin, which offers a lot of the same features you get in the premium WP Rocket plugin (our review).
Despite some recent hiccups (more on that below), SiteGround still have some of the best support in the shared hosting space.
SiteGround have done a good job of continuously improving their product. For example, moving to Google Cloud infrastructure, offering staging sites on more plans, launching a custom hosting dashboard, and so on. Whether or not you think those changes justify the price increases, you can't say the SiteGround team is just sitting around twiddling their thumbs.
However, while there's still a lot to like about SiteGround, there are also some downsides, which have become especially apparent as they make a lot of changes.
Price Increase (X2)
The biggest reason to look for an alternative to SiteGround is the price. Over the past few years, SiteGround have had two big price increases.
SiteGround used to be in the same price range as other shared hosts, such as Bluehost and GoDaddy. However, SiteGround are now definitely in a tier above those hosts. So, if you loved SiteGround for their low prices, that may have you searching for alternatives.
To make things worse, SiteGround no longer let you get the full promo price for three years if you pay for all three years upfront (which they used to allow). For example, the promo price for the StartUp plan is now $6.99, with the regular price at $14.99. In the past, if you were signing up for the first time, you could lock in that $6.99 price for all three years if you paid everything upfront.
Now, you can only pay $6.99 a month for one year. If you try to pay for two years, you'll pay $8.99 a month, and if you try to pay for all three years, you'll pay $10.49 a month. It's still better than paying full price ($14.99), but the deal is a lot less sweet than it was before.
No More cPanel
As of late 2019, SiteGround moved away from cPanel to their own custom hosting dashboard. Personally, I like the new Site Tools dashboard, so I don't see this as a con. However, I do know some users were frustrated by this switch and would rather have stuck with cPanel.
If you're someone who prefers cPanel to the new SiteGround Site Tools dashboard, you can find some good cPanel SiteGround alternatives that cost even less.
Hard-to-Understand Resource Limits
Unlike other shared hosts, SiteGround don't try to 'massage the truth' about offering unlimited resources. Personally, I think this is more honest because there really is no such thing as 'unlimited' hosting.
However, it's still tough to understand SiteGround's limits because SiteGround use some really technical concepts to limit you, such as CPU seconds. If you're a casual user, it can be hard to understand what the heck those limits mean or how to reduce your CPU seconds (SiteGround have some tips here).
Additionally, there are a lot of frustrated SiteGround users who keep getting told their 'CPU usage is too high' (along with a suggestion to upgrade to more expensive hosting!).
Support Throttling
Personally, I've always had great experiences with SiteGround support and think they have one of the better support services in the shared hosting space. However, over the past year, SiteGround have started throttling support for users who submit an 'above average' number of support requests.
Again, this is never something I've personally experienced (I've hosted at SiteGround for the past three years, but I've rarely needed any support). However, it's an issue I've seen pop up in the Facebook WordPress hosting groups.
If you like to reach out to support a lot, you can find other quality hosts that won't throttle support.
Three Best Alternatives That Are Cheaper Than SiteGround
In this first section, I'm going to cover alternatives that are cheaper than SiteGround, while still offering a product that's close to the same quality. Some of these hosts may not completely match SiteGround in terms of performance. However, they're pretty close and they're a lot cheaper.
In the next section, I'll cover SiteGround alternatives that I think are just plain better products while still being around the same price as SiteGround (maybe a little bit more).
DreamHost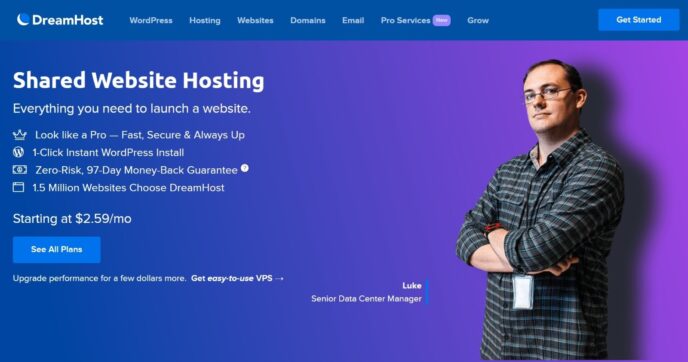 DreamHost are a well-established host that have been around since all the way back in 1996. They offer incredibly affordable shared hosting plans that are still 'pretty good', though they don't quite match SiteGround's performance.
All of their plans come with the following features:
Unlimited visits
Automatic WordPress updates
Automatic daily backups
Custom hosting dashboard
Free SSL certificates
24/7 live chat, phone and ticket support
DreamHost offer just two shared plans:
Starter — one website for $4.95 a month promo or $6.99 a month regular with month-to-month billing ($2.59 a month with three-year billing).
Unlimited — unlimited websites for $10.95 a month promo or $11.99 a month regular with month-to-month billing ($4.95 a month with three-year billing).
Pros and Cons
Pros:
DreamHost are a lot cheaper than SiteGround.
DreamHost's support quality is close to SiteGround's level, though maybe a tiny bit behind.
You can pay month-to-month for your hosting without a huge price increase.
Cons:
DreamHost's performance isn't quite as good as SiteGround. You'll be taking a step backward in terms of performance quality.
DreamHost also use a custom hosting dashboard, which is a con if you want a cPanel alternative.
A2 Hosting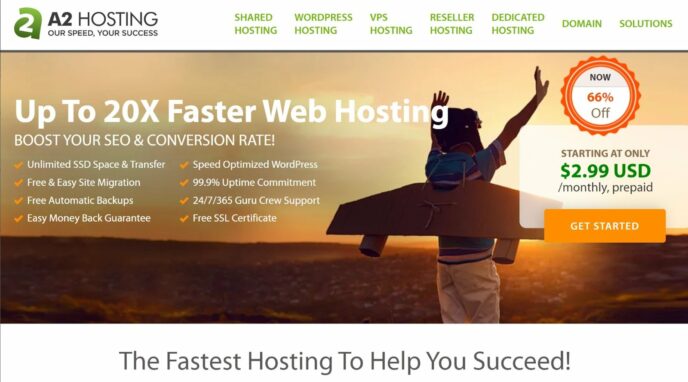 A2 Hosting are kind of like what SiteGround used to be — a cheap shared host that offer better performance than their prices suggest.
All* of A2 Hosting's plans offer the following features:
Unlimited resources (websites, storage, and bandwidth)
cPanel dashboard
Server rewind backups (you should still use a backup plugin though)
Free SSL certificates
Staging sites
24/7/365 support via phone, live chat or email/ticket
*The entry-level plan does have some resource limits.
A2 Hosting's plans start at just $2.99 a month promo ($8.99 a month regular) for a single site. However, if you care about performance, I'd recommend upgrading to the Turbo servers, which use LiteSpeed server/cache to offer much faster page load times. These plans start at $9.99 a month promo ($19.99 a month regular) for unlimited websites.
Pros and Cons
Pros:
A2 Hosting are a lot cheaper than SiteGround.
If you go with the Turbo servers (LiteSpeed), A2 Hosting's performance is quite good and can rival SiteGround's.
A2 Hosting give you staging sites on all plans, whereas SiteGround only give you staging sites on higher-tier plans.
A2 Hosting still use cPanel, which is nice if you were bummed by SiteGround's move away from cPanel.
Cons:
A2 Hosting's support doesn't have as good of a reputation as SiteGround's support.
A2 Hosting's cheapest two tiers won't perform as well as SiteGround — you need to go with the Turbo (LiteSpeed) servers if you want to see comparable performance.
Cloudways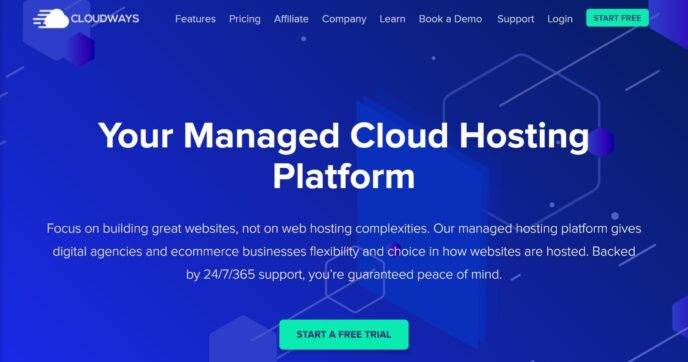 Cloudways are an interesting alternative that could've just as well fit in the 'better than SiteGround' category. However, they also may be cheaper than SiteGround, depending on your needs, which is why I put them in this category.
The most unique thing about Cloudways is they don't have their own hosting infrastructure. Instead, they let you choose your own cloud hosting VPS from providers such as DigitalOcean, Linode, Vultr, AWS and Google Cloud.
Once you make that choice, Cloudways set everything up and operate much like a traditional host. You'll also get lots of convenient features:
One-click WordPress install
Server-level caching for improved performance
Free SSL certificates
Automatic backups (extra fee)
Staging sites
24/7 support
Cloudways' prices depend on your underlying cloud hosting — the cheapest option is a DigitalOcean server at $10 a month. All the plans have no arbitrary website or traffic limits — you'll only be limited by what your VPS can actually handle.
For slightly better performance, I recommend the Vultr High-Frequency (HF) servers, which still start at just $13. Personally, I just migrated some of my own sites from SiteGround to Vultr HF and have been blown away by the performance.
Pros and Cons
Pros:
Cloudways offer excellent performance for a very low price. Even the cheapest plan will load blazingly fast — faster than SiteGround.
There are no arbitrary limits in terms of websites, visitors, etc.
You get lots of useful tools such as staging sites and automatic backups.
Cons:
Cloudways are a little more complicated than SiteGround. You certainly don't need to be a developer, but I wouldn't recommend them to beginners.
It can be hard to know which VPS best matches the resource needs of your website(s).
Cloudways' support is technically only for the hosting itself — help with WordPress is outside the scope of their support policy (though I've found they'll often help anyway, even if it's just a link to a relevant article).
Cloudways don't offer email hosting like SiteGround — you'll need a separate service to create your own [email protected] email address.
Two (+ One) Best Alternatives That Are Better Than SiteGround
WPX Hosting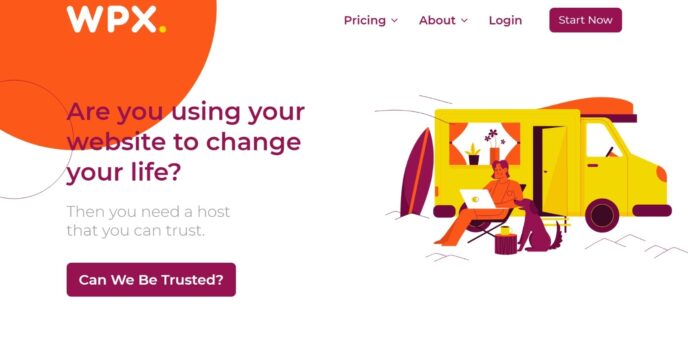 WPX Hosting are an affordable managed WordPress host that make a great option if you want excellent performance and you need to host multiple sites. Unlike a lot of 'premium' managed WordPress hosts that only let you have a single site on their entry-level plans, WPX Hosting's starter plan supports five websites and the following features:
Built-in CDN
Automatic and manual backups
Staging sites
Free SSL certificates
Firewalls, malware scans, and DDoS protection
24/7 support via live chat (or phone on higher-tier plans)
Their plans begin at $24.99 per month for the below:
Five websites
10 GB storage
100 GB bandwidth
Pros and Cons
Pros:
WPX Hosting offer excellent performance — even better than SiteGround.
WPX Hosting have excellent support, with 30-second average response times.
WPX Hosting are similar in price to SiteGround, as long as you don't need to host more than 15 websites.
Cons:
While WPX Hosting is similar in price to SiteGround's GrowBig and GoGeek plans, they don't offer a cheap entry-level plan like SiteGround's StartUp plan, nor do they have any unlimited website plans.
WPX Hosting count staging sites as websites for billing purposes. For example, one production site + one staging site = two sites for billing.
The WPX Hosting dashboard is a little basic compared with that of SiteGround and other managed WordPress hosts.
Flywheel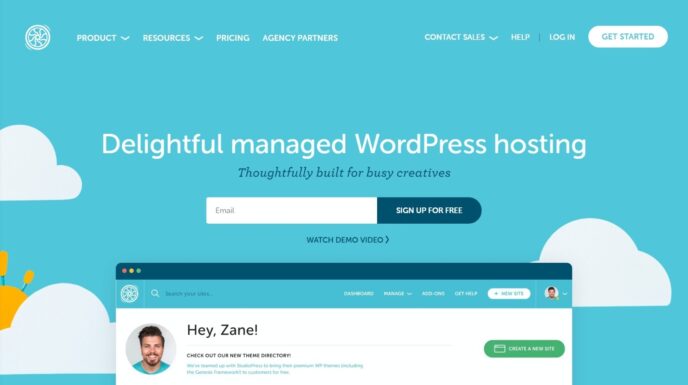 Flywheel are a premium managed WordPress host in the same vein as other hosts such as WP Engine or Kinsta. The reason I'm recommending Flywheel and not those other hosts has everything to do with price.
Despite being premium managed WordPress hosting, Flywheel still offer a plan for just $15 a month, though it only works for low-traffic sites because it has a 5,000-visit limit. The next tier up is $30 a month, which, if you're willing to pay that much, also makes WP Engine (our review) and Kinsta (our review) two other excellent options to consider.
In terms of the combination of features, performance, and ease of use, Flywheel are probably the best option on this list. All of the plans give you the following features:
A well-designed custom hosting dashboard, including a custom database management tool
Google Cloud infrastructure (same as SiteGround)
Server-level caching
A built-in CDN
Automatic daily off-site backups and an option for manual backups
Staging sites
Firewalls and malware scans
Free SSL certificates
Automatic WordPress updates
Pros and Cons
Pros:
Flywheel offer excellent performance thanks to Google Cloud infrastructure, server-level caching, the CDN, and other features. In my tests, they've been faster than SiteGround.
Flywheel have excellent support — even better than SiteGround.
The Flywheel dashboard is well-designed and gives you lots of useful tools, such as staging sites and secure off-site backups.
Cons:
Flywheel are more expensive than SiteGround. They also bill you based on visits, which SiteGround don't do, and don't have any unlimited website plans.
Flywheel ban some plugins, which SiteGround don't do.
Flywheel don't offer email hosting — you'll need a separate service to create your own [email protected] email address.
Cloudways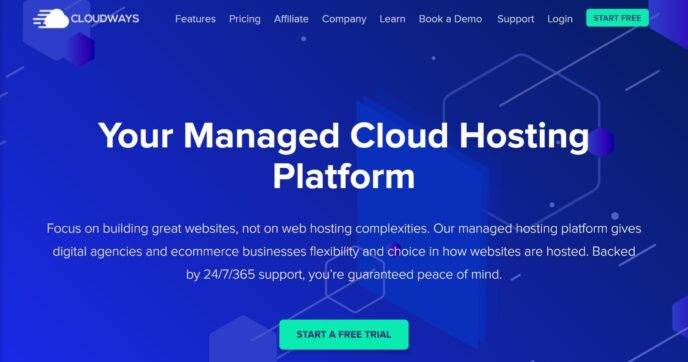 I just want to add Cloudways here again to reiterate that, in addition to being cheaper than SiteGround, Cloudways can also be better than SiteGround, especially if you purchase more powerful underlying cloud hosting.
For example, consider the $42-a-month DigitalOcean plan with the following:
4 GB RAM
2 processor cores
80 GB storage
This plan will give you a lot more power and performance than the comparatively priced $39.99 SiteGround GoGeek plan (at full price). These higher-resource Cloudways plans also make a good alternative to SiteGround's cloud hosting.
Which Is the Best SiteGround Alternative for Your Needs?
The best alternative obviously depends on your needs, knowledge level and what you're frustrated with SiteGround about. To that end, I'll run through a few different scenarios and you can pick the one that best fits your situation.
If you're a casual user and you want something that's easy to use and cheaper than SiteGround, then I'd recommend you go with either A2 Hosting or DreamHost. Both are cheap shared hosts that still offer solid performance, features and support (for what you're paying). Go with A2 Hosting for cPanel and the best performance, or DreamHost for affordable month-to-month billing.
If you're a more advanced user, I'd recommend you go with Cloudways instead. Cloudways are a little more technical, but still well within the abilities of a non-developer. The upside is you'll get very good performance at a price that can be lower than SiteGround. However, I think Cloudways can be overwhelming for total beginners, so I'd recommend beginners stick with A2 Hosting or DreamHost.
Finally, if you want something that's going to flat out offer better performance than SiteGround, WPX Hosting and Flywheel are also great options that have excellent performance and are very beginner-friendly (without being too much more expensive than SiteGround). I'd say go with Flywheel if you only have a single site, or WPX Hosting if you need to host multiple sites.
Used/using any of these SiteGround alternatives? Thoughts?
All comments are held for moderation. We'll only publish comments that are on topic and adhere to our Commenting Policy.