WinningWP content is free to all. If you make a purchase through referral links on our site, we earn a commission (
learn more
).
WP Rocket Review – By How Much Can It Speed Up WordPress?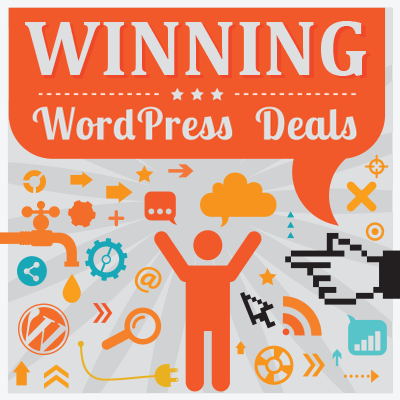 If you want to speed up your WordPress website, installing a caching plugin is one of the best ways to improve its loading times. Trimming even a few milliseconds off your loading times could have a positive impact on conversion rates and search engine rankings.
If you've been thinking about speeding up your WordPress website with a caching plugin, WP Rocket is one name you'll probably have come across. It's a plugin that reportedly delivers great results with very little effort. But is it the right caching plugin for your site?
That's the question we'll help you to answer in this review. By examining the features, exploring the user experience and sharing the results of installing this plugin on our test sites, we'll give you everything you need to make an informed decision on whether or not WP Rocket is the best way to enable caching on a WordPress website.
Let's get started…
What Is WordPress Caching?
If you've heard that WP Rocket can speed up your WordPress website, but you're not quite sure how, this part of our review will quickly get you up to speed. If you're already familiar with the concept of WordPress caching, or aren't interested in how it works, feel free to skip to the next section.
In short, each time someone visits a page on your website, lots of data is communicated back and forth between the server, the WordPress software and the WordPress database to dynamically generate the webpage being requested by the user. As you can probably imagine, this slows things down — especially if you're using low-cost budget hosting.
To speed things up, caching can be used to create a static version of your site and its content. Each time someone visits the site, the static content is displayed, rather than it being generated dynamically. As it takes less time to display the static version of the content, visitors should experience faster loading times.
Apart from improved site speed, visitors should notice no other differences between dynamic content and cached static content. If you make any changes to your website, such as publishing new content or editing the design, the best caching plugins will automatically refresh the cached files to ensure the static versions of the content are fully up to date.
If you'd like to know more, our guide to website caching explains this concept in more depth.
How Do You Enable Caching on a WordPress Website?
When it comes to using caching on your WordPress website, the two main options are choosing a web host that provides this feature as part of their hosting plans or installing a caching plugin. Depending on your choice of web host, you may be able to use your choice of caching plugin alongside their in-house caching technology for maximum site speed.
Caching is a popular and proven way to make WordPress faster, but is WP Rocket the right option for your site? Let's find out now…
About WP Rocket
WP Rocket is a plugin that enables caching on WordPress websites with the goal of improving their loading times. As well as caching, WP Rocket has some other features that can speed up websites, which we'll explore in this review.

While there are some great free WordPress caching plugins out there, WP Rocket is a paid option, with prices starting at $49. However, by the time you've finished reading this review, you'll know whether or not it's worth investing in WP Rocket.
Can WP Rocket Really Speed Up WordPress Websites?
Before we explore what this plugin can do and how it works, if all you're interested in is whether WP Rocket is likely to speed up your website, based on our experience, the short answer is yes.
After installing this plugin on three sites, all of them saw increases in speed, ranging from 480 milliseconds to 1.18 seconds, or an improvement of 27 to 69 percent. You can see the full details of the tests later in this review, but, for a quick overview, here are the results from one of our tests: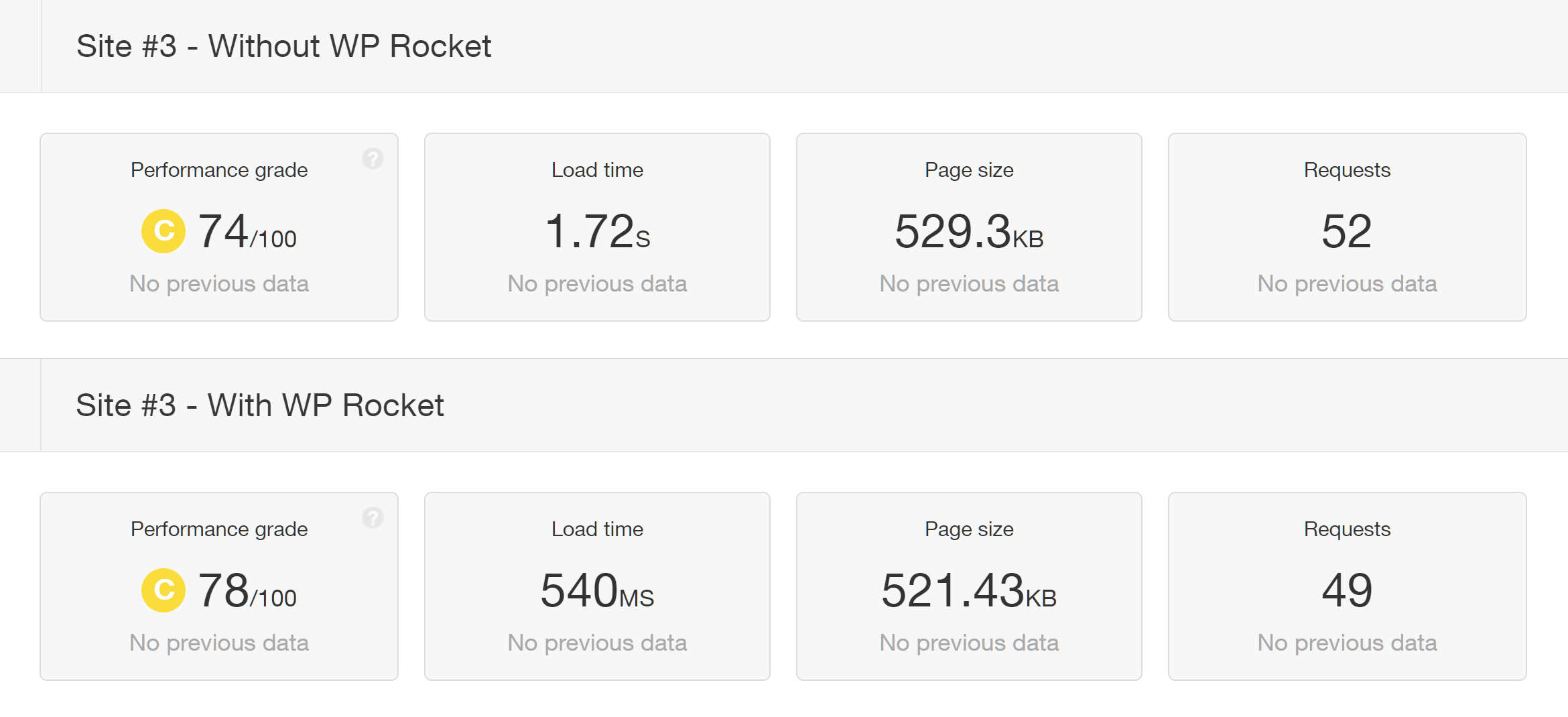 As mentioned, there are free caching plugins available. However, when we compared WP Rocket with WP Super Cache and W3 Total Cache — two of the most popular free WordPress caching plugins — based on the test data, WP Rocket delivered the best results.
Therefore, if money is no object, purchasing WP Rocket is probably the right choice. For everyone else, though, this review will help you to decide if purchasing this premium caching plugin is a good investment, or if you should save your money and look elsewhere.
To help you to make that decision, here are the best features of WP Rocket.
Best Features of WP Rocket
When it comes to choosing a caching plugin for your WordPress website, the deciding factor will probably be whether or not it reduces the loading times of your site.
However, as well as the potential improvements in site speed, it's also important to know if you'll actually be able to properly configure the plugin to get the best results from it.
So, with that in mind, let's start by taking a look at the WP Rocket user experience before we get to the exploration of its key features.
Ease of Use
To stand out from the crowd, WP Rocket has been built to make caching as foolproof as possible, so everyone can start speeding up their WordPress website, regardless of their technical abilities.
At the same time, WP Rocket also aims to appeal to power users by providing them with enough options and settings to enable caching on their website in exactly the way they want.
One way WP Rocket simplifies enabling and managing caching for WordPress websites is through its user-friendly dashboard. Furthermore, as soon as the plugin is activated, it will start caching your site to improve loading times.
If you're concerned about whether you have the technical skills to effectively speed up your WordPress website with caching, provided you can install and activate a plugin, you'll be able to start optimizing your site with WP Rocket.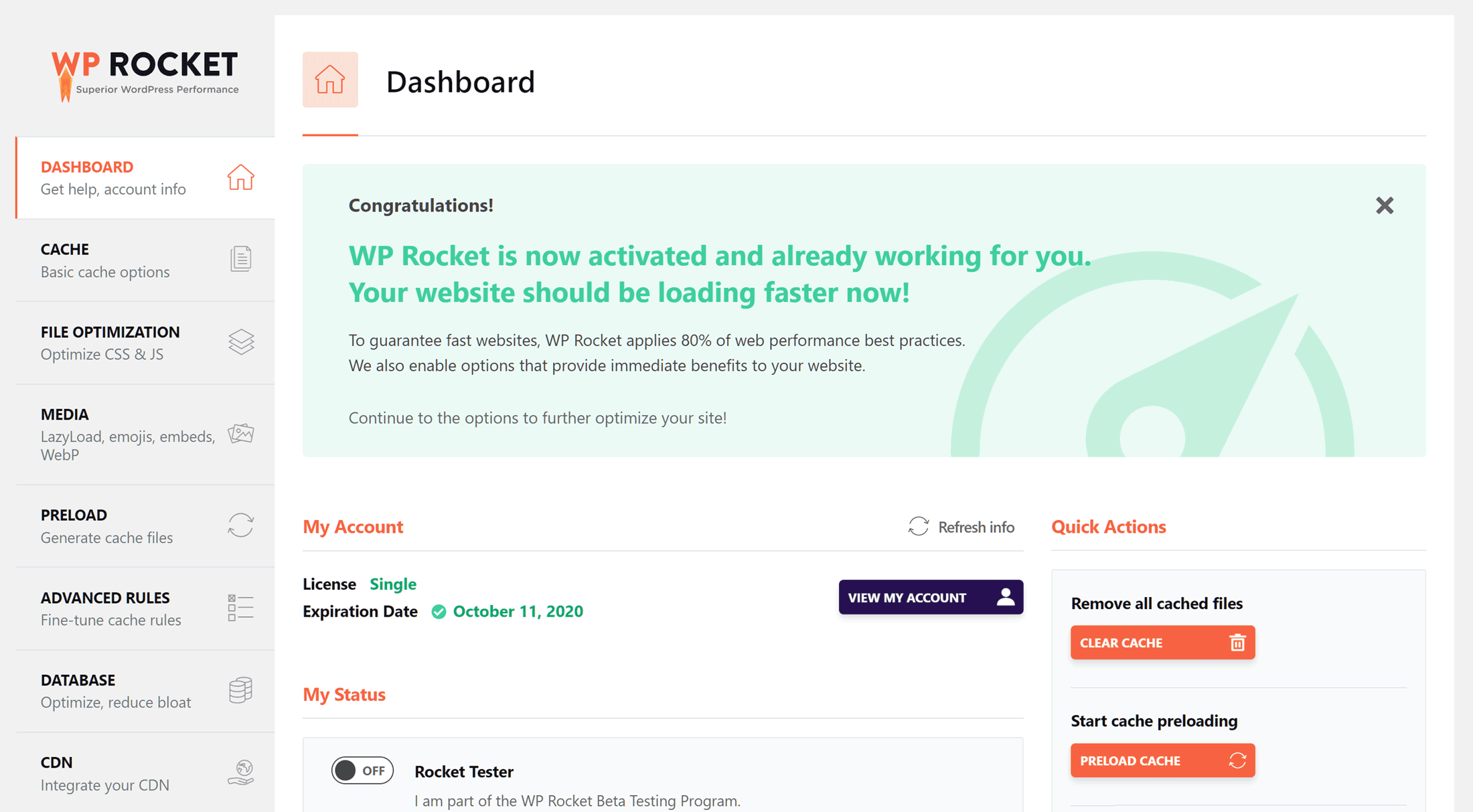 If and when you're ready to go beyond using WP Rocket in its default mode, there are video guides that cover all of the features of this plugin. These guides not only show you how to use these features, but should also give you a better understanding of how WP Rocket works and what this plugin can do.
These videos are accessible from within your WordPress dashboard, and do a great job of explaining what WP Rocket does by default and how best to configure the plugin for your site.
When it comes to taking a more hands-on approach to optimizing your website with WP Rocket, the settings and controls of the dashboard are nicely organized and accompanied by clear explanations that are displayed within the user interface of the plugin. Therefore, if you do want to enable additional features, such as mobile caching or HTML and CSS file minification, you can easily find out how to do so.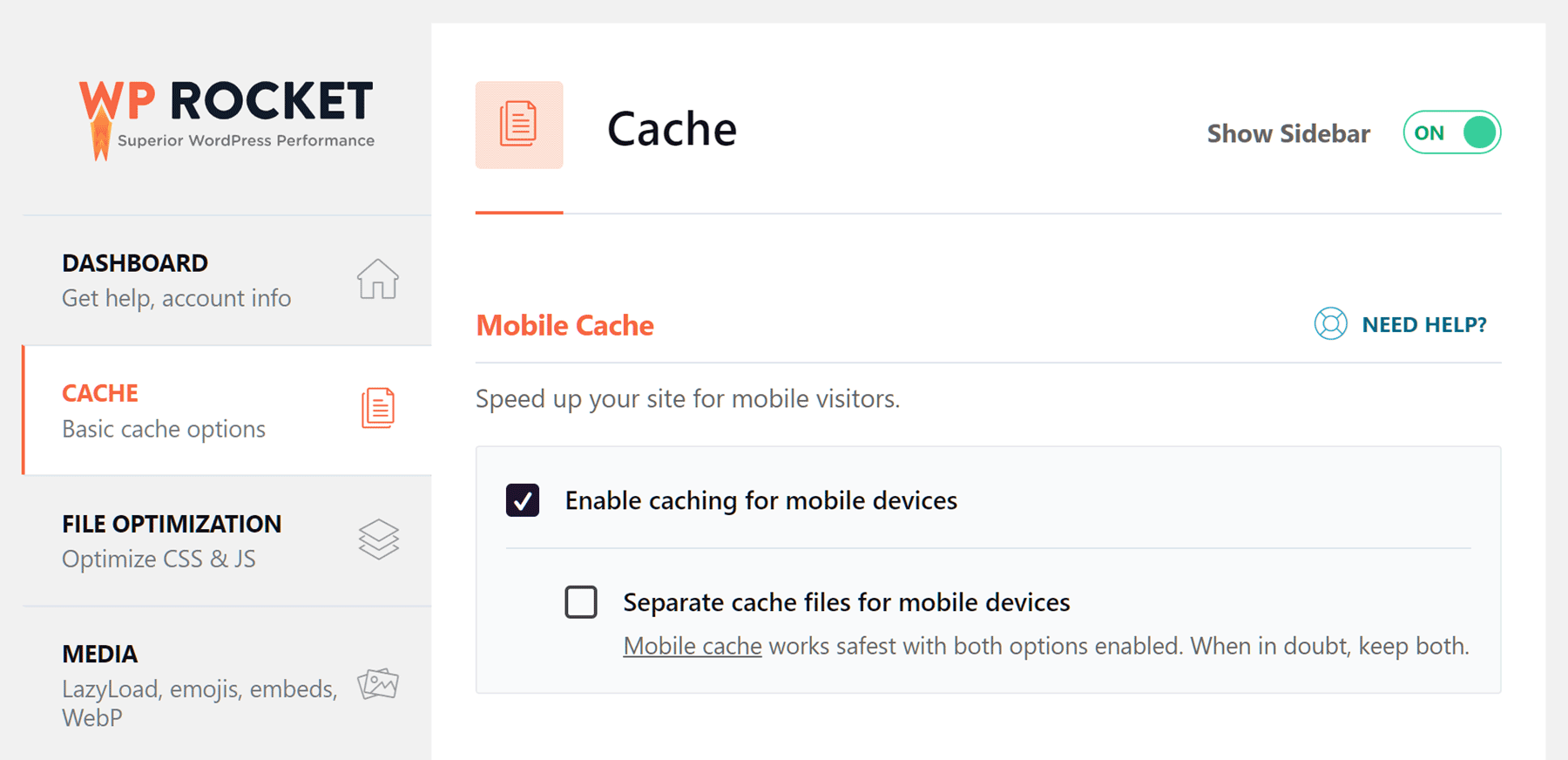 When exploring the WP Rocket settings and options, you'll notice that, as well as being accompanied by helpful text, there are also links that display relevant support content in the pop-up assistant panel. Thanks to this, finding out if using specific features or settings of WP Rocket is right for your site is straightforward.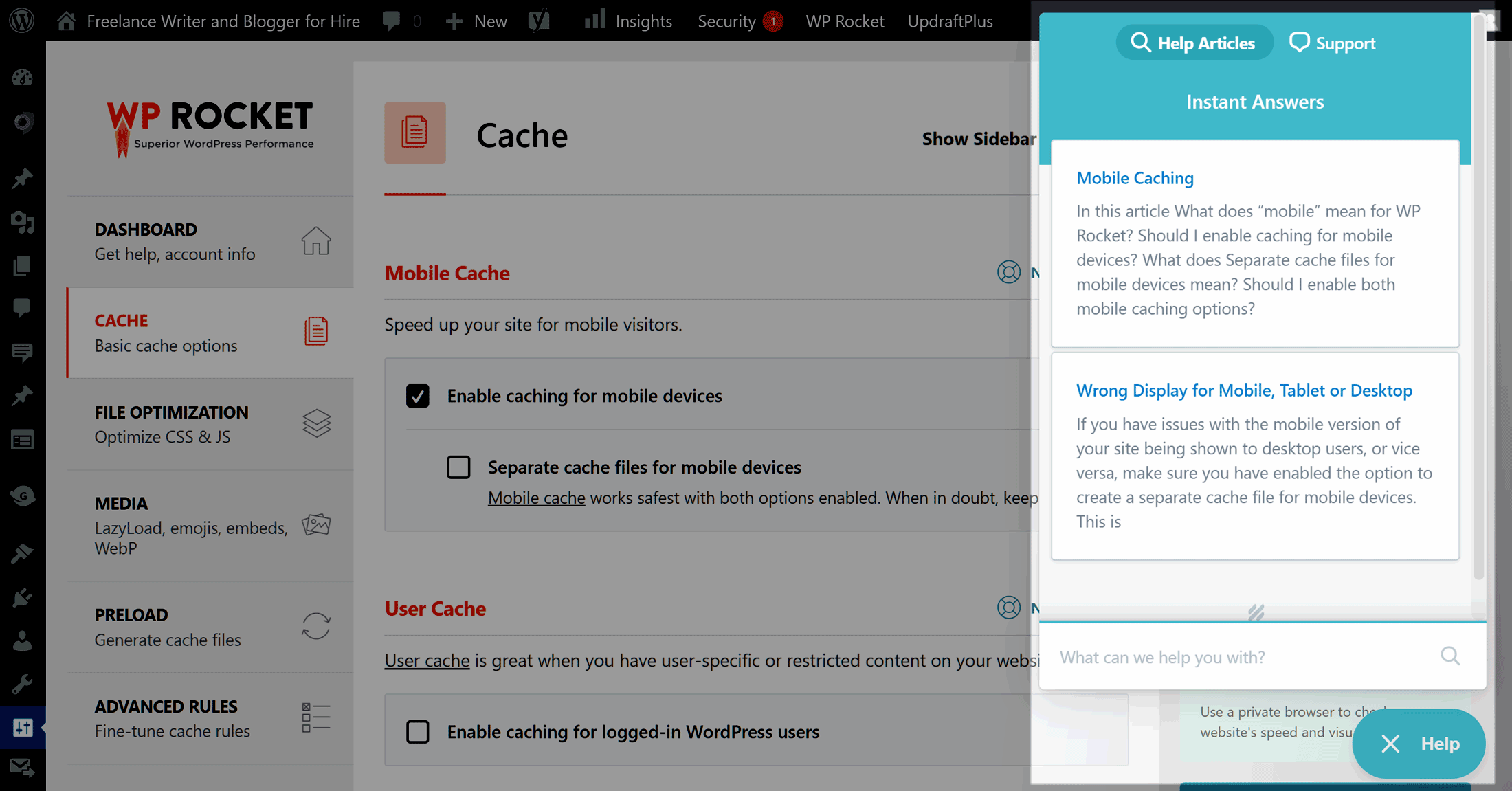 As premium support is another of the ways in which WP Rocket separates itself from the free WordPress caching plugins, it's good to see that you can send a message to the help desk staff from inside your WordPress dashboard, rather than having to visit the plugin website.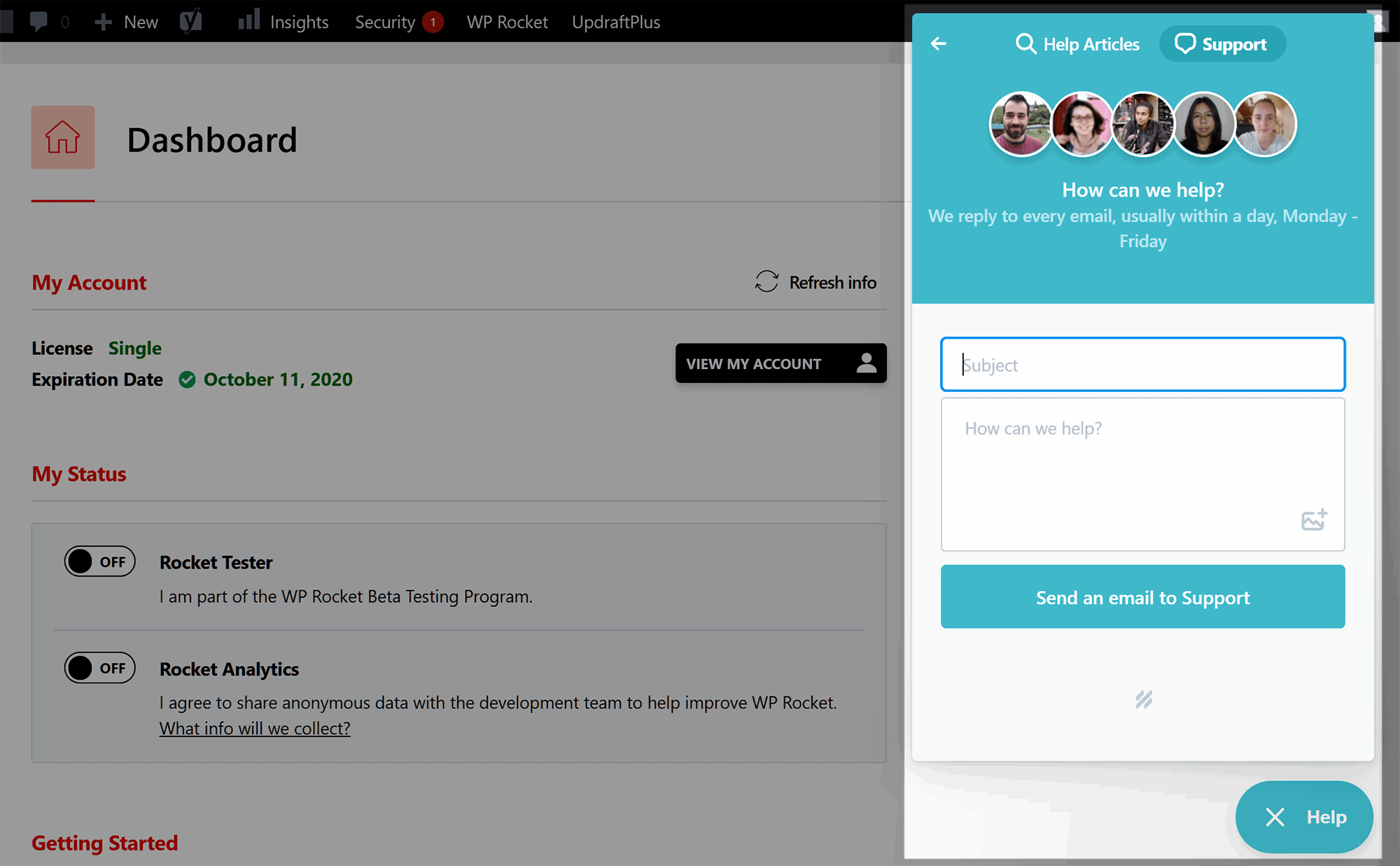 If you're looking for a plugin that'll start making your website faster as soon as it's activated, while also providing lots of assistance to help you to take a more proactive approach to speeding up your site, WP Rocket is hard to beat.
CDN Compatibility
Using a content delivery network (CDN) to distribute your website files around the world is another effective way to speed up your website. Because of this, it's good to see that WP Rocket is compatible with most CDN providers.
So, whether you're using the CDN service that's included as part of your hosting plan, or you've signed up with a CDN independently, you should be able to integrate it with WP Rocket to improve the performance of your site even more.
Media Optimization
As large image files can slow down your website, WP Rocket has some features to help with this potential problem.
Firstly, the plugin includes an optional LazyLoading feature to delay the loading and display of images and videos until the user has scrolled down to their position on the page. This is as opposed to automatically loading all of the media files as soon as the page is displayed in the browser.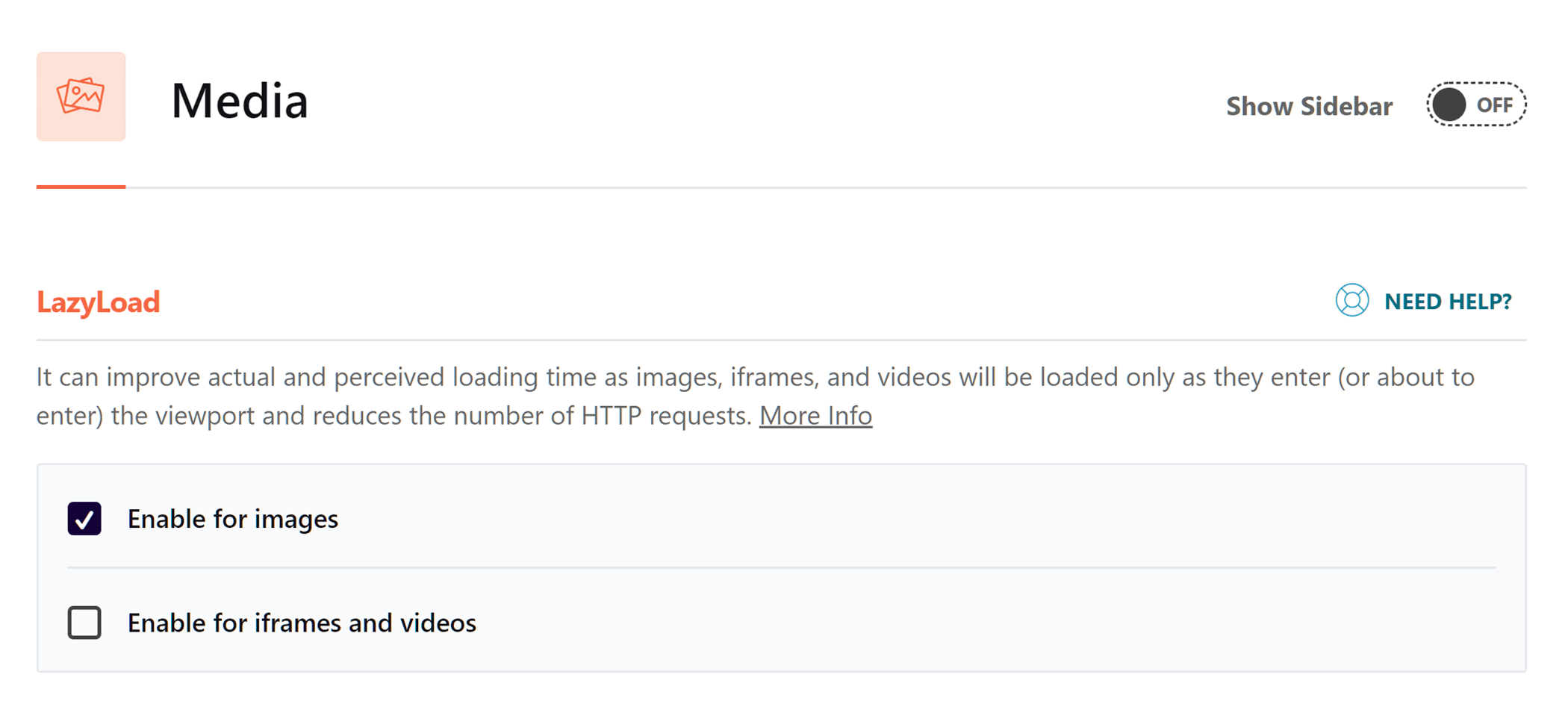 With WP Rocket, you have the option of loading the emojis in your content from the visitor's computer, rather than downloading them from WordPress.org. The WP Rocket team have also created Imagify, an image optimization plugin with a free plan that can compress your website images to reduce file sizes and improve loading times.
Database Optimization
Over time, your WordPress database will grow, with the potential to slow down your website. To help to combat this, WP Rocket has some database optimization features, including the ability to clear out old post revisions, drafts and trashed posts, as well as comments that have been deleted or marked as spam.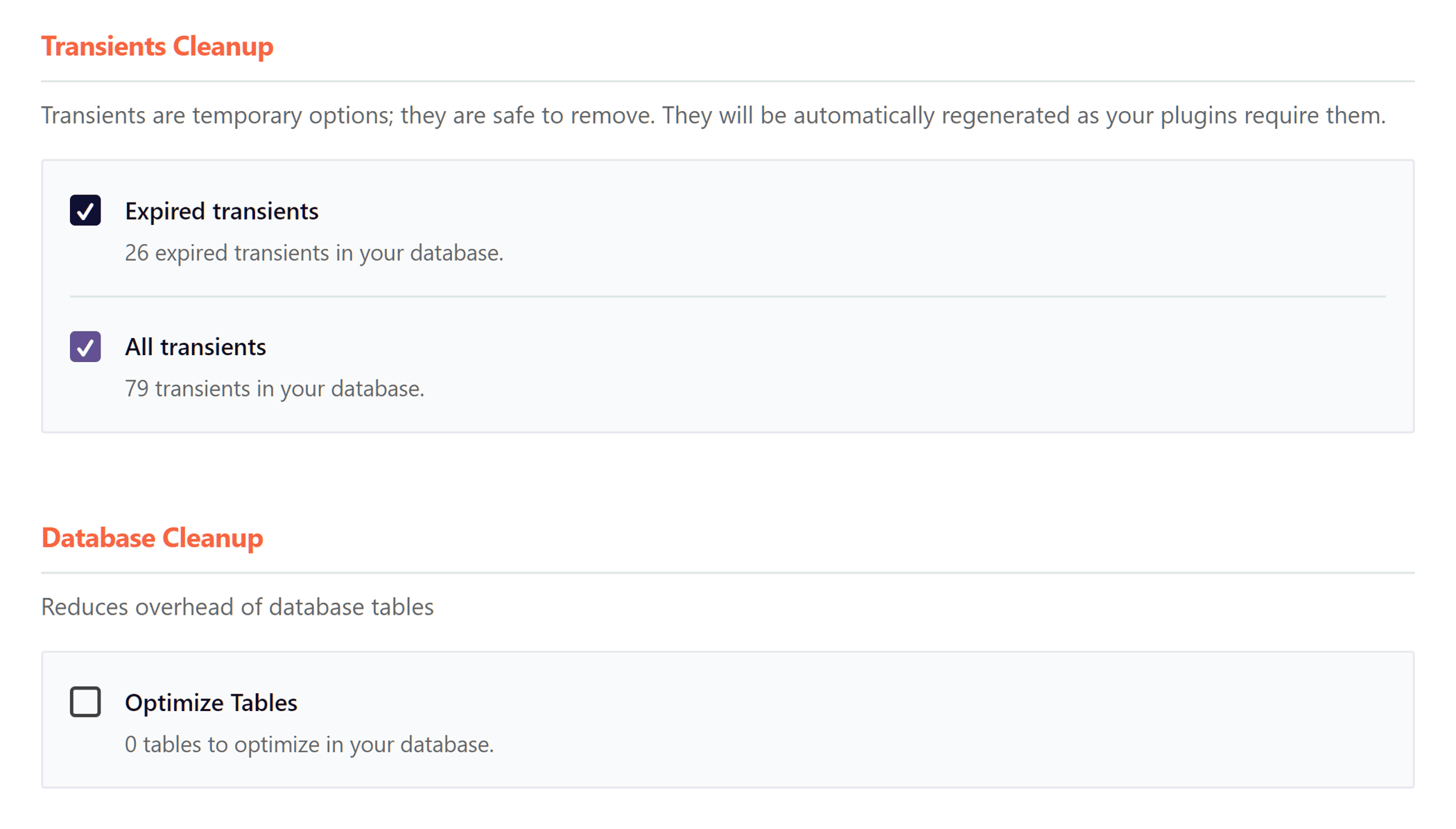 In addition to optimizing your database tables on command, WP Rocket can also be scheduled to automatically clean up the database on a daily, weekly or monthly basis. While there are dedicated WordPress database optimization tools out there, letting WP Rocket take care of this is more convenient and, hopefully, more efficient than installing an additional plugin.
Minification
Just as WP Rocket can help to reduce the size of image files, it can also decrease the size of other files, including JavaScript, CSS and HTML files.
Through the optional minification feature, WP Rocket can remove unnecessary whitespace, comments, line-breaks and extra characters from code in the files that make up your website.
Once these files have been reduced in size, they should consume less bandwidth and load faster when requested, giving you another way, alongside caching, to improve the speed of your website.
Mobile Detection and Caching
With more and more internet users accessing websites on smartphones and other mobile devices, it's good to see that WP Rocket can optimize your site for this segment of your audience.
Through these settings, you have the option of enabling caching for mobile devices and also creating separate cache files for mobile devices to help to speed up loading times for smartphone and tablet users.
Ecommerce Friendly
If you're running an online store or selling a few items from your WordPress website, WP Rocket should work with your chosen ecommerce plugin.
By automatically excluding the view cart and checkout pages of your site from the cache, WP Rocket ensures your customers shouldn't experience any problems when you're speeding up your site.
Custom Cache Lifespan
Although WP Rocket will clear the cache whenever new content is published on your website or you modify your site in some other way, to ensure your visitors always experience the most up-to-date version, you can also empty the cache yourself or set the plugin to delete the cache files at regular intervals.

By setting a cache lifespan of multiple minutes, hours or days, you can take action to make sure that the version of your website your visitors see is as fresh as possible.
Through the other cache settings, you can also enable or disable caching for logged-in users — something that may be useful if you're running a membership site or other type of project where logged-in users see different content from that seen by regular visitors.
Exclude Content From Cache
Some parts of a WordPress website shouldn't be cached, such as the login page or a shopping cart. While WP Rocket will automatically exclude these URLs from its cache, you can also specify any other URLs that you don't want to be cached.
Simply enter the address of posts, pages and other content that should never be cached in the appropriate section of the plugin dashboard, and WP Rocket will do the rest. You can also use regular expressions to exclude a group of pages from the cache at once.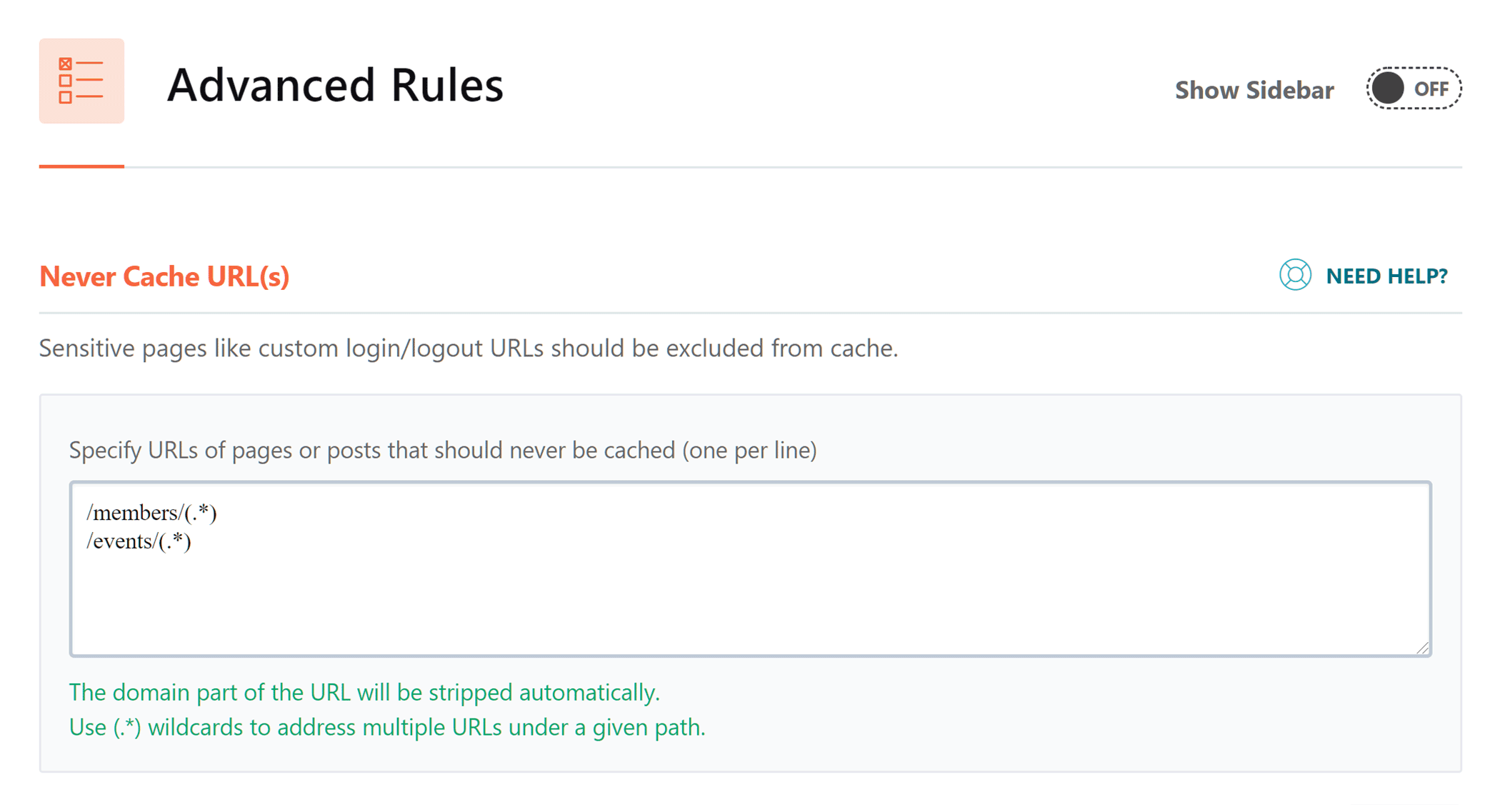 Alternatively, you can exclude a piece of content from the cache through the WP Rocket Options panel that the plugin adds to the WordPress editor screen.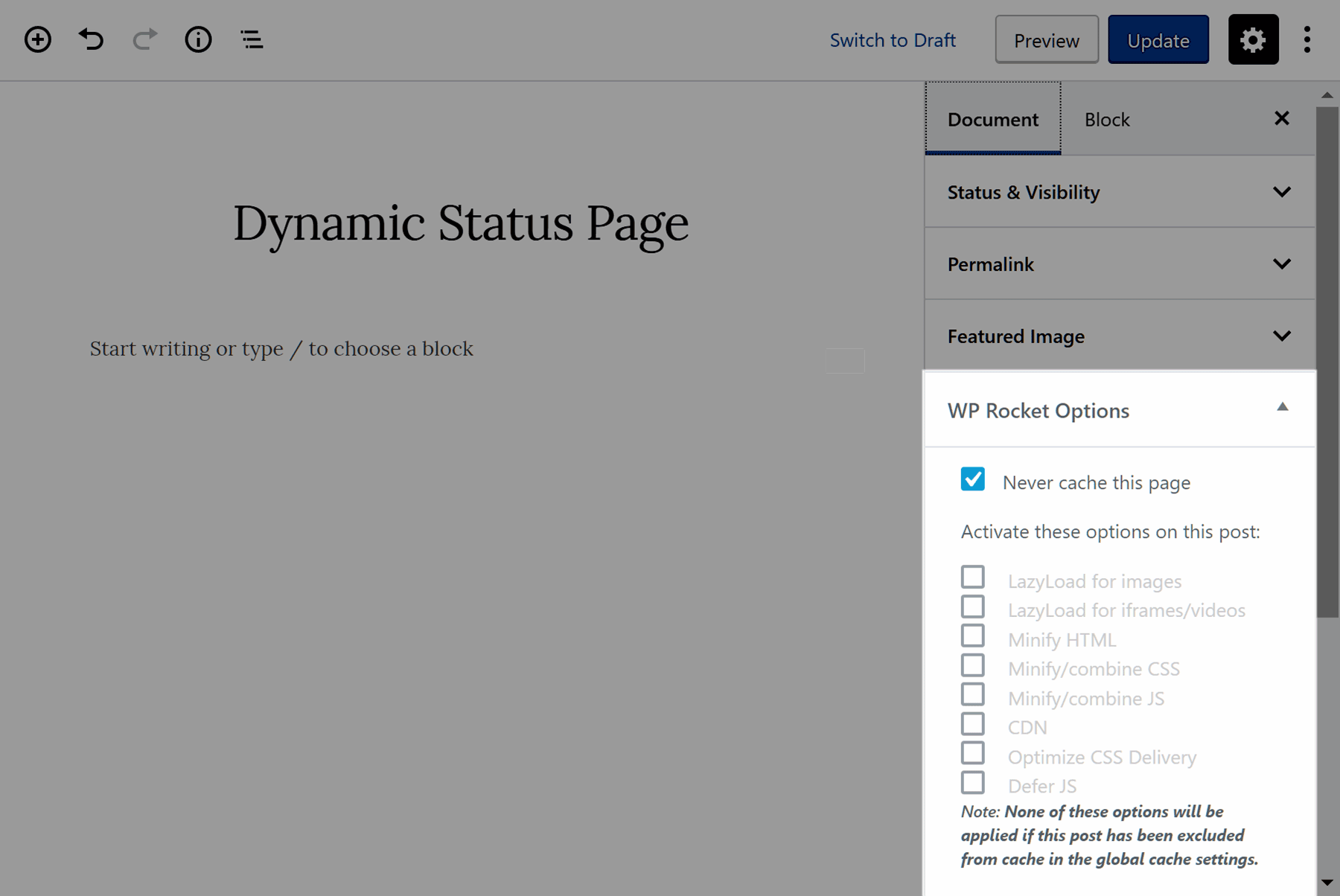 Excluding certain browsers or user agents from ever seeing cached content is possible, too, with WP Rocket.
Web Hosting Compatibility
How WP Rocket works on your website can depend on which web host you're using. As many hosts have their own in-house caching system, some features of WP Rocket may be automatically disabled to ensure compatibility with the way your host caches your website.
Interestingly, WP Rocket is the only caching plugin allowed by WP Engine, and in our tests, we found that there was a benefit to using WP Rocket with WP Engine. We also found this to be the case when using WP Rocket with GoDaddy and SiteGround.
So, even if your hosting plan includes caching, there could still be some benefits to using WP Rocket, such as taking advantage of lazy loading, database optimization, minification and the other features of the plugin.
If you want to see how the features of WP Rocket stack up against some of the other leading caching plugins for WordPress, there's an informative comparison table on the WP Rocket website. However, do bear in mind that, as this table has been created by the WP Rocket team, it may not tell the full story in terms of what the other plugins can do.
WP Rocket Speed Testing Results
To help you to decide if WP Rocket is the best caching plugin to speed up your site, we measured the performance of a few different WordPress websites to see if their loading times improved after activating this plugin.
While WP Rocket starts optimizing websites as soon as the plugin is activated, we also enabled a few of its additional features, such as file and image optimization through the user-friendly dashboard — something all WordPress users will be capable of. More advanced features, such as CDN integration and controlling Heartbeat API activity, weren't used.
Test Site #1
The first site WP Rocket was tested on was a new installation of WordPress. After installing WordPress, the best-selling Avada theme was activated on the site and its Agency demo was imported. The homepage of the site, which featured videos, animations and other elements, was monitored by Pingdom for 24 hours to establish its average load time, which was 1.78 seconds.
Once the average load time had been recorded, WP Rocket was installed and activated on the test site, and some of its features were enabled through the plugin control panel. The speed of the homepage was monitored for another 24 hours in Pingdom to see what impact WP Rocket had on the average load time.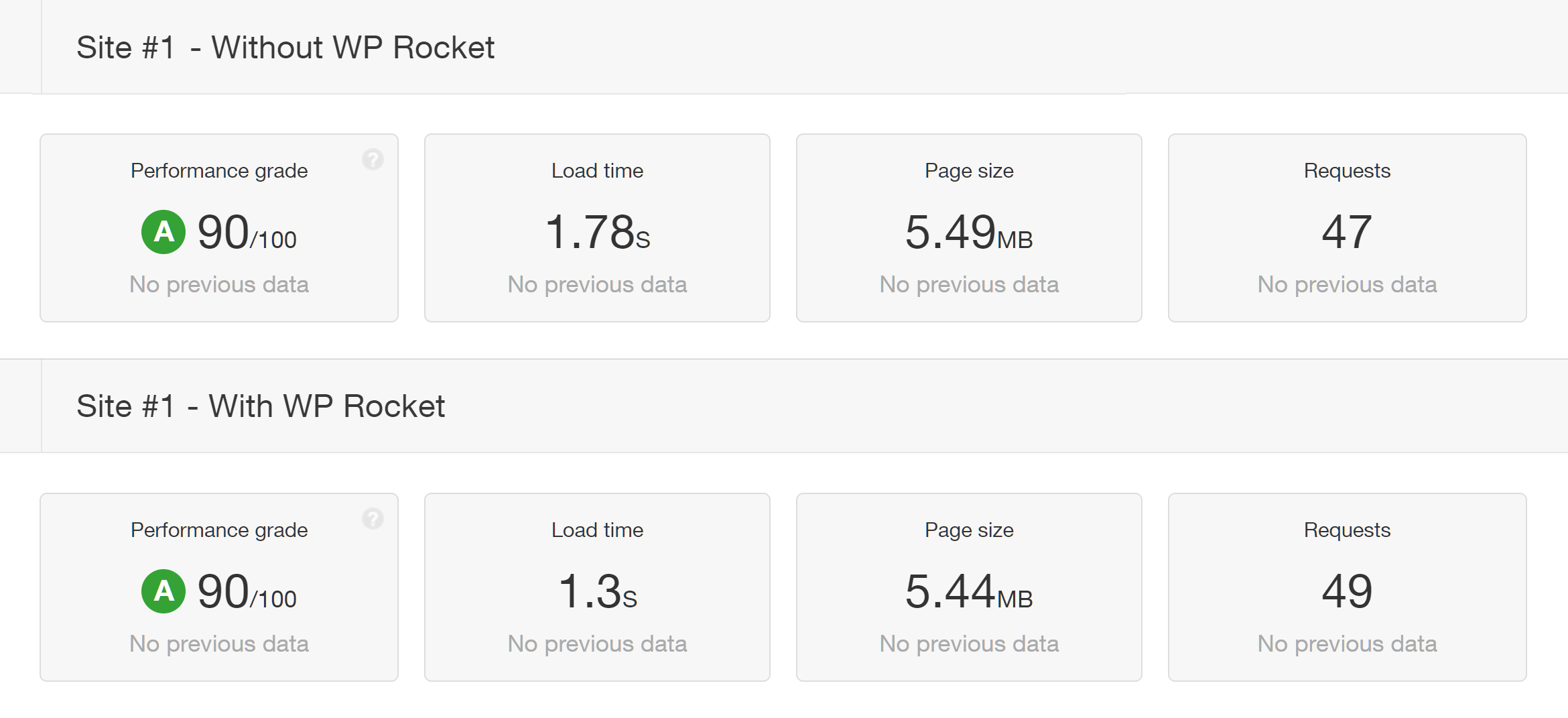 The average load time of test site #1 was 1.3 seconds after enabling WP Rocket and some of its features — an improvement of 0.48 seconds, or 27 percent.
Test Site #2
For the second test, a lightweight, small business WordPress website with just a few posts and pages was optimized and cached with WP Rocket. Before installing WP Rocket, the average loading time of the site after 24 hours of monitoring with Pingdom was 1.65 seconds.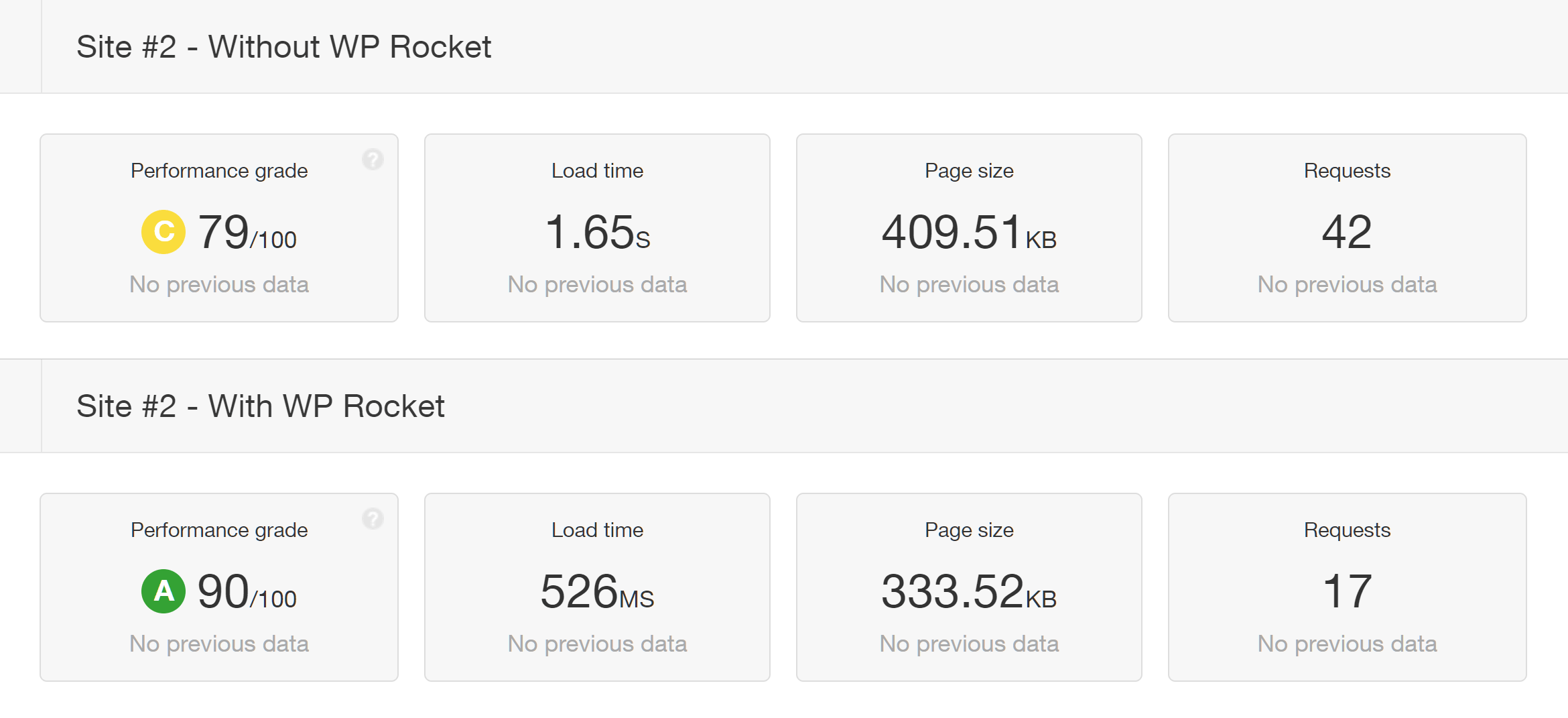 After activating WP Rocket and enabling some of its features, the new average loading time was 0.53 seconds — an improvement of 1.12 seconds, or 68 percent.
Test Site #3
After testing a new site using a heavyweight theme and a lightweight business website, the third test measured the performance of a five-year-old blog created with WordPress using a StudioPress theme.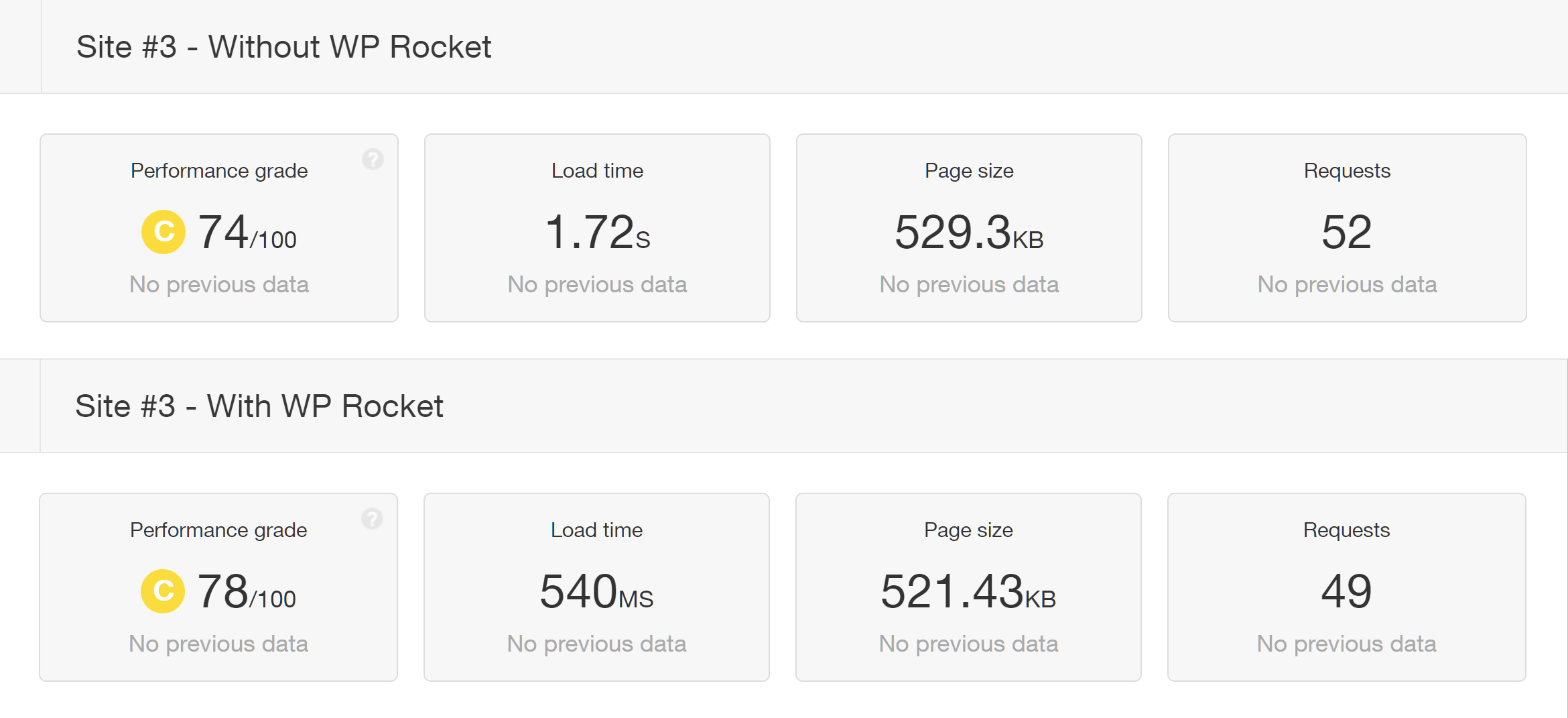 After monitoring the site for 24 hours, without WP Rocket installed, the average loading time was 1.72 seconds. Once WP Rocket was activated and some of its features enabled, including database and file optimization, the new average loading time was 0.54 seconds — an improvement of 1.18 seconds, or 69 percent.
Speed Test Summary
Here's a quick summary of the results from the three WordPress websites WP Rocket was tested on:
| Site # | Before | After | Time Improvement | % Improvement |
| --- | --- | --- | --- | --- |
| 1 | 1.78 s | 1.3 s | 480 ms | 27% |
| 2 | 1.65 s | 526 ms | 1.12 s | 68% |
| 3 | 1.72 s | 540 ms | 1.18 s | 69% |
As you can see, WP Rocket improved the loading times of all three of our test sites by varying amounts.
Part of the way WP Rocket optimizes WordPress websites involves reducing file sizes, through its optional features, such as HTML and CSS minification and image optimization. Therefore, as well as enabling caching on the test sites, the sizes of the pages being measured were reduced by the plugin — as can be seen in the screenshots of the Pingdom test results.
Although no two WordPress websites are identical, the above information should give you an idea of whether or not WP Rocket could improve the speed of your site.
WP Rocket Pricing
As mentioned, WP Rocket is a premium WordPress caching plugin, and there are three purchasing options: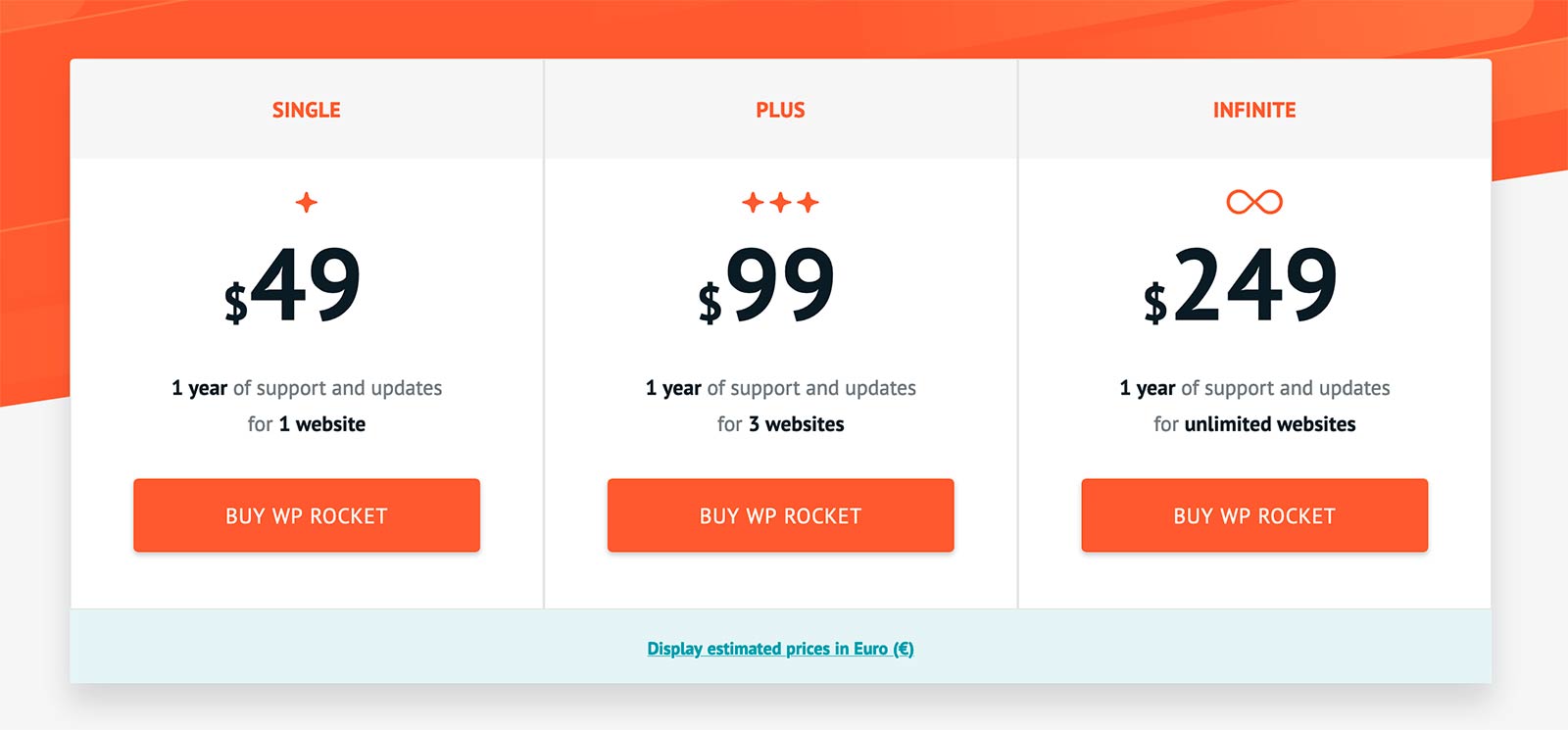 Single: $49 for one year of support and updates covering use on one website.
Plus: $99 for one year of support and updates covering use on three websites.
Infinite: $249 for one year of support and updates covering use on an unlimited number of websites.
By default, your license will automatically renew after one year, and a 30 percent discount will be applied to the price. However, you can easily disable the auto-renewal through your account area on the WP Rocket website if necessary.
As there's a 14-day 100 percent money-back refund policy in place, you can purchase WP Rocket and see what impact it has on the speed of your site without any financial risk.
Final Thoughts
This review has revealed that WP Rocket is not only easy to use, but can also measurably improve the speed of WordPress websites.
While there are other WordPress caching plugins out there, including some free options, for those who want a solution that can be used to speed up a website with no technical knowledge and very little effort required, WP Rocket is definitely worth investing in. Simply activate WP Rocket on your site, and you should start seeing improved loading times.
In addition to the plug-and-play factor, WP Rocket also comes with lots of helpful documentation, including video guides, to assist you in improving the loading times of your website further. By using the additional caching and optimization features of the plugin, you could get even better results from WP Rocket. The access to the responsive email support is another reason to consider a paid plugin such as WP Rocket over the free alternatives.
Regardless of what type of WordPress website you're managing, there's a good chance WP Rocket will help it to load faster. Thanks to the 14-day money-back guarantee, you can see what impact this plugin has on your site, risk-free.
Related Reading:
Using WP Rocket? Thoughts?
All comments are held for moderation. We'll only publish comments that are on topic and adhere to our Commenting Policy.