WinningWP content is free to all. If you make a purchase through referral links on our site, we earn a commission (
learn more
).
Detecting WordPress Themes with 'What WP Theme Is That'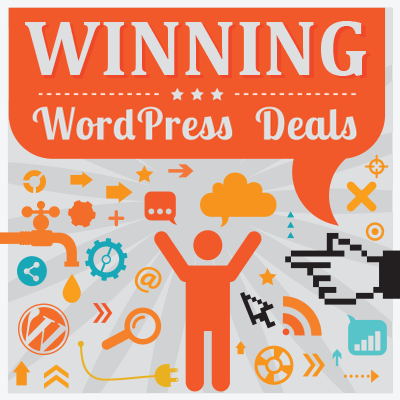 Have you ever stumbled upon a stunning website when browsing the internet, and, after you've picked your jaw up off the table, thought: What WordPress theme is this website using? Or: Wouldn't it be great if I could use that design on my site? Well, now you can — using WhatWPThemeIsThat (a free online service more commonly known as 'What WordPress Theme Is That?').
There are, of course, plenty of great WordPress theme marketplaces out there (and, if you're not sure where to start, simply hop onto a website such as ThemeForest, and you'll no doubt find loads of gorgeous designs).
However, nothing beats the thrill of running into the perfect design for a site that's already out there in the wild — and if you ever find yourself face to face with a website design you absolutely love, what then? Unfortunately, unlike when browsing a theme store, unless you're able to read the code behind the site, you have no immediate way of knowing what theme is being used…
In short: What WordPress Theme Is That is a website designed to do exactly what it says on the tin — i.e. detect the WordPress theme that any given website is using.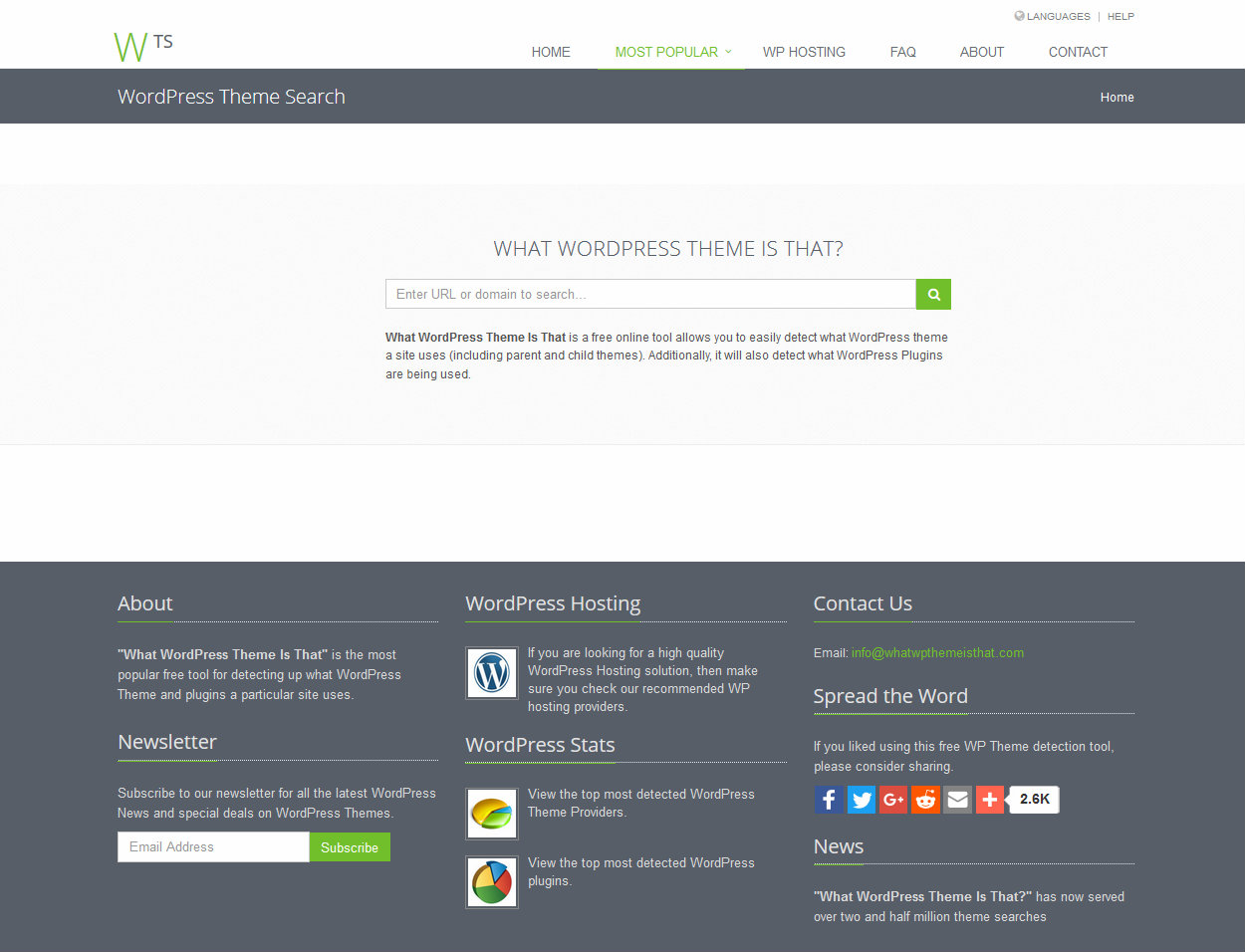 In this post, I'll be taking What WordPress Theme is That for a spin to show you what it does, how to use it, and, most importantly, whether it really works (and if so, how well?).
What Is 'What WordPress Theme Is That' and What Can it Do?
What WordPress Theme Is That is a free theme detection tool, found at WhatWPThemeIsThat.com. Developed by Ultimate Marketing Strategies, it was one of the first theme detection tools to market, having been launched way back in 2011.
Of course, first and foremost, a website has to be running WordPress to have any hope of you detecting its theme — here's a quick tutorial of ours on how to test whether a website is using WordPress for yourself.
If this first criterion is met, What WordPress Theme Is That can then dig into a website's code to look for tell-tale signs of the site's theme.
In addition to a site's theme, the tool is also capable of picking up which plugins a website is using. However, this is a far more difficult proposition, and it's unlikely that each and every plugin in use will be detected (more on this below).
So far, so good then — you probably now have a good idea of what to expect from the tool. However, there are a few limitations to its detective skills.
For starters, not all WordPress websites will produce results. For security purposes, some websites will actively hide that they're using WordPress, as well as the theme they're using.
Secondly, the WordPress website in question may be using a custom theme, developed from scratch. (It's also worth pointing out that if a commercial theme has been modified, What WordPress Theme Is That won't pick up on this fact.)
Going further, the tool's attempts to detect plugins will be hindered if the plugin isn't active on a particular page. If you're looking to find out the name of a specific plugin, make sure you find a URL that you're sure it's being used on.
How to Use the Site:
Simply access WhatWPThemeIsThat.com, then input the URL you want to check. Remember: Some websites will use different themes on different URLs — for example, they may have a separate theme for their blog. Similarly, if your focus is on plugins, make sure you choose a URL that you know the functionality is active on.
After inputting the URL simply hit Search.
If the website you've searched for isn't using WordPress, you'll see an error message such as this one: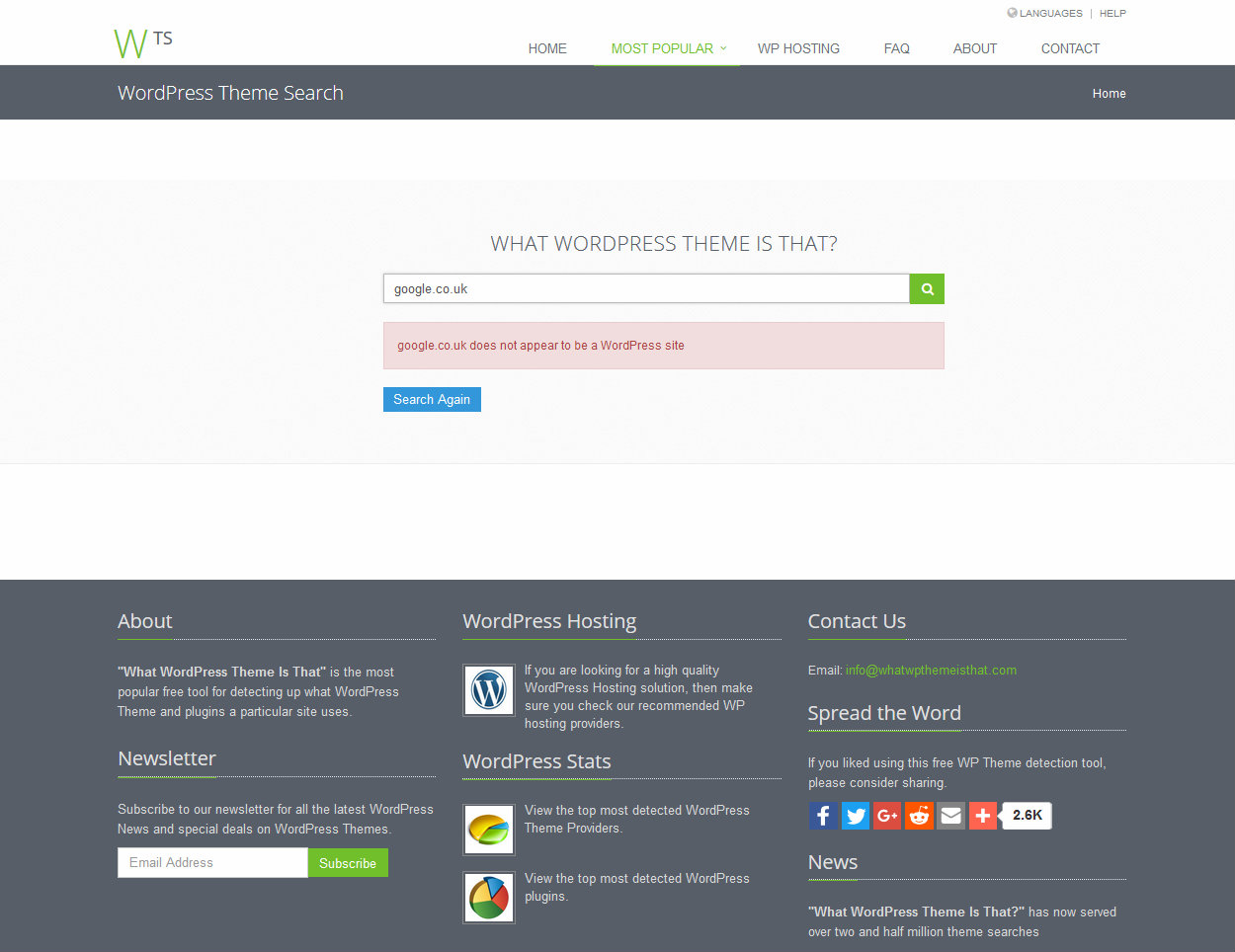 If, however, it is using WordPress, the tool will return as much information as it can. This information is split into two sections: Themes and plugins.
How Well Does it Actually Work?
To answer this, I've set up a testing environment specifically, with the free Twenty Sixteen theme installed.
I have also installed eight free plugins that are actively seen on the front end of the website. The plugins I've selected are:
Contact Form 7
WooCommerce
MailChimp for WordPress
Soliloquy Lite
WP Google Maps
Fancier Author Box
Easy Pricing Tables by Fatcat Apps
Related Posts
And, to make things a bit more challenging, I've also installed four behind-the-scenes WordPress plugins:
Yoast SEO
iThemes Security
WP Super Cache
Disable Comments
With that out of the way, let's see how What WordPress Theme Is That got on, shall we?
Results

So how did What WordPress Theme Is That do?
First up, it's worth noting that it got the theme — Twenty Sixteen — spot on.
Second, it also got a clean sweep on all eight of the front end plugins installed and activated on the site. That means that if you fall in love with a specific design element on a website — say, an opt-in form — you could hit up What WordPress Theme Is That and you have a good chance of finding the plugin responsible for it.
The plugin did slightly less impressively for the 'hidden' plugins. The tool only flagged WP Super Cache of the four plugins installed. This was to be expected, though, as these plugins are far more difficult to pick up. So, while the tool was super useful at detecting a website's front end plugin makeup, it was clearly less effective at uncovering the infrastructure at the back end.
Overall, I was certainly impressed with how the site performed. I was expecting it to get the theme correct, but I thought it to be far more hit-or-miss at detecting plugins. In this (admittedly one-off) test, it was 100% accurate with the plugins it detected.
Of course, this doesn't mean the results will be as accurate every time, and we've already outlined some of the tool's limitations. Some WordPress site owners may obscure their WordPress usage, use custom themes, or take security measures to mask their theme.
And, again, when it comes to detecting plugins, this one is more difficult to call. From the results of this test, we can conclude that any plugins actively deployed on the front end are likely to be detected. However, just because a plugin isn't detected, doesn't necessarily mean it isn't being used, so be sure to take the results with a pinch of salt.
Final Thoughts
All in all, WhatWPThemeIsThat performs pretty well (albeit with a few limitations). It's free to use, takes no more than a couple of seconds to run, and the results are relatively accurate.
Overall, I'm a big fan of What WordPress Theme Is That and I'll be sure to deploy it again the next time I encounter a website with a must-have design!
Using any other WordPress theme detection tools? Thoughts?
All comments are held for moderation. We'll only publish comments that are on topic and adhere to our Commenting Policy.