WinningWP content is free to all. If you make a purchase through referral links on our site, we earn a commission (
learn more
).
Top Three Best WooCommerce Hosting Services for WordPress eCommerce
Finding the right host for your WooCommerce store is very important. A host with slow loading times will frustrate your customers, reduce visibility in search engines and cost you sales. Not only that, but you also need to choose a host that takes eCommerce security issues seriously.
Almost every WordPress host will let you install WooCommerce on your website. However, using a generic hosting plan isn't the best approach.
Instead, I recommend choosing a WooCommerce-specific hosting plan. Doing so has many benefits that I'll cover in this article, not least a greater ability to process multiple orders, as well as providing you with tools that can help you to build and manage your store more effectively. In this guide, you'll also find paid load time testing results to give you an idea of what levels of performance you can expect from each host.
If you're about to start a WooCommerce store, or you want to find a new home for your existing one, this guide to the top three WooCommerce hosts will help you to find the right option, no matter your budget, store size or goals.
Let's begin…
About the Top Three WooCommerce Hosts
To help you to find the best WooCommerce host for your store and budget, this guide divides the options into three categories: WooCommerce hosting on a budget; the best option for mid-range stores; and powerful big-budget hosting for busy stores.
If you're in a hurry, here are the WooCommerce hosts I think are the best, depending on your requirements:
Best WooCommerce Hosting on a Budget: The Nexcess Starter plan is currently reduced to $9.50 a month and comes with some useful eCommerce extras. Even at the full price of $19 a month, it's still a great deal.
Best Mid-Range WooCommerce Hosting: WP Engine have a good selection of eCommerce plans for a range of stores. They come with some impressive eCommerce-focused features, too.
Best WooCommerce Host for Big and Busy Stores: Kinsta have a range of plans that are suitable for stores of all sizes, including very big and busy ones. They can also create custom plans for stores that need even more resources.
You'll find out more about all of these hosts in the rest of this guide, as well as some alternatives to the ones mentioned above.
Best WooCommerce Hosting on a Budget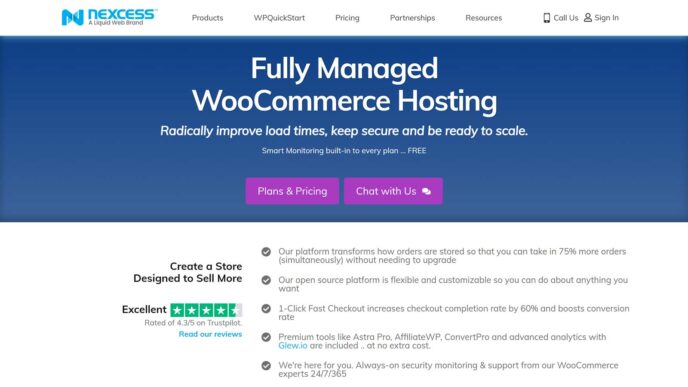 If you're on a budget, then the entry-level WooCommerce hosting plan from Nexcess is hard to beat.
At the time of writing, the entry-level Starter plan was reduced to $9.50 a month for the first six months, after which it would go back up to the regular yet still relatively budget-friendly $19 a month. However, even if you're not on a tight budget, there are plenty of reasons to choose Nexcess WooCommerce hosting:
Generous Storage and Bandwidth
As the entry-level Nexcess Starter plan includes 30 GB of storage, you're not getting any less web space than you would if you chose a more expensive entry-level plan from a company such as Kinsta or WP Engine (both come with 10 GB of storage). The 3 TB of bandwidth is also very generous.
Premium Extras
To help to make them even more appealing to the budget-conscious, the Nexcess plans come with the premium Astra Pro WordPress theme, worth $47. The premium WP101 video tutorials that can help you to learn WordPress are included at no extra cost as well. WooCommerce users will appreciate the inclusion of the premium Jilt tool that can help you to prevent abandoned shopping carts and recover lost revenue.
eCommerce StoreBuilder
Nexcess WooCommerce plans also come with their bespoke StoreBuilder tool, meaning you can create a custom eCommerce store without any code editing required. Simply work your way through the wizard to set up your store, and fine-tune the settings at any point to get it looking exactly how you want.
Useful Tools
To ensure your WooCommerce store is running as fast and smoothly as possible, Nexcess have two very useful tools.
One is the Plugin Performance Monitor, which records and compares the performance of a WordPress website before and after plugin or theme changes are made. The reports that are generated give you an insight into any issues as they arise.
Another Nexcess feature WooCommerce store owners will appreciate is the Sales Performance Monitor. This tool sends you alerts on sales trends, giving you a heads up if there's a drop in sales or a change in other important eCommerce-related metrics. This feature also connects site performance with revenue changes, so if you'd like to know how and which changes to your site affect your bottom line this is a feature you'll want access to.
While the best WooCommerce hosts will notify you if your store is down, Nexcess will let you know if sales have slowed, so you can start investigating right away.
Multiple WooCommerce Plans
To help you to decide which Nexcess plan to choose, the number of orders per hour each plan can handle is listed. If your store does or will receive less than 500 orders per hour, the entry-level Starter is the recommended option. If you take more orders than that, you'll need to look at the Creator plan or above. However, there's quite a big jump in price, so be sure to check out the upgrade options before committing to Nexcess.
All of the best WooCommerce hosts make it very easy to migrate your store to another company. Because of this, if your needs change, you can change your hosting to find a solution that better meets your requirements and your budget.
Free Trial and Money-Back Guarantee
If you'd like to try out the Nexcess WooCommerce hosting service, you can use their free 14-day no credit card required trial. They also have a 30-day money-back guarantee for use after you've signed up.
Nexcess Load Time Test Results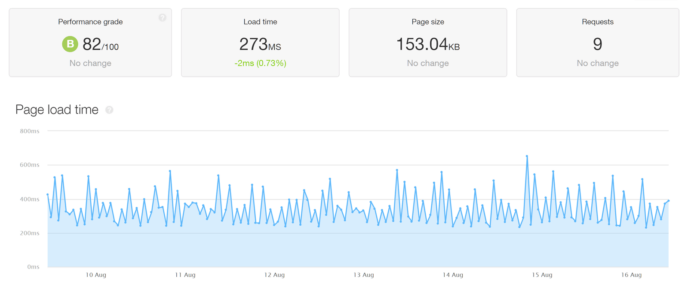 Nexcess were the second-fastest host I tested for this guide, coming in just one millisecond slower than first-placed WP Engine.
Nexcess WooCommerce Hosting Key Features
30 GB of storage, 3 TB of bandwidth and max 500 orders per hour (entry-level plan).
30-day money-back guarantee.
Automatic WordPress software updates.
Visual regression testing of updates.
Automatic daily website backups.
One-click staging tool.
Auto scaling for handling surges in traffic.
Manual migrations by WordPress experts.
StoreBuilder tool.
Jilt abandoned cart recovery tool.
Astra Pro premium WordPress theme.
WP101 premium WordPress tutorials.
24/7 support.
---
Budget-Friendly Alternative Option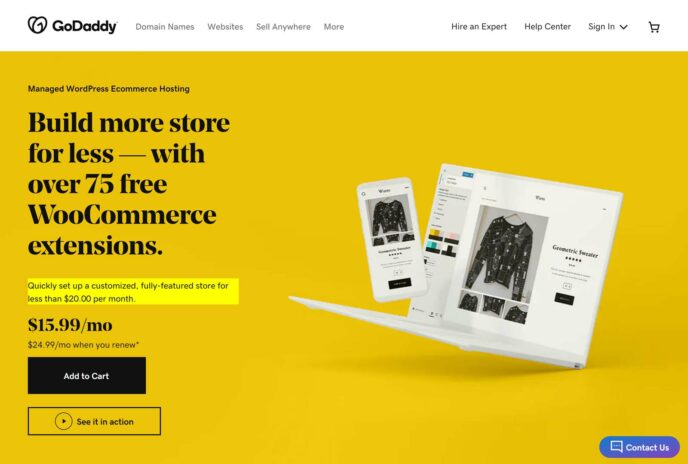 If Nexcess aren't for you, then the GoDaddy eCommerce hosting service is a good-value alternative. There's only one plan for this service and it starts at $15.99 — depending on how long you pay for upfront — before reverting to $24.99 a month when you renew. Free domain registration is included, too.
While the renewal rate is more expensive than the entry-level Nexcess plan, the GoDaddy service doesn't have any limits on storage or number of visitors your store can receive. In theory, this means you shouldn't need to upgrade (and pay more for hosting) as your store gets bigger or busier.
What really makes GoDaddy a WooCommerce host that should appeal to those on a budget is the fact it comes with nearly $6,000 worth of premium add-ons for WooCommerce. As most WooCommerce stores will probably need at least a few premium add-ons, the 75+ you get with GoDaddy could end up saving you a noticeable amount of money.
GoDaddy don't have the impressive Plugin Performance Monitor and Sales Performance Monitor tools of Nexcess, but they do have a virtual terminal feature that can help you to take payments over the phone and in person.
They're pretty fast, too, with an average load time of 415 milliseconds in our tests.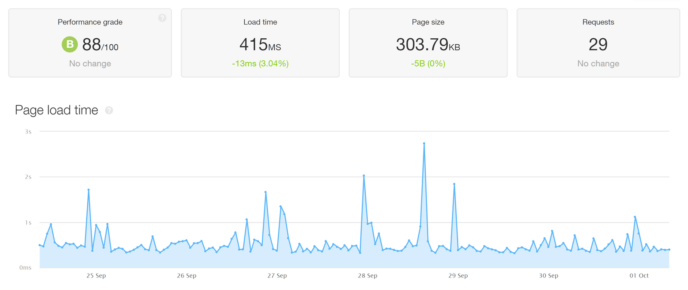 ---
Best Mid-Range WooCommerce Hosting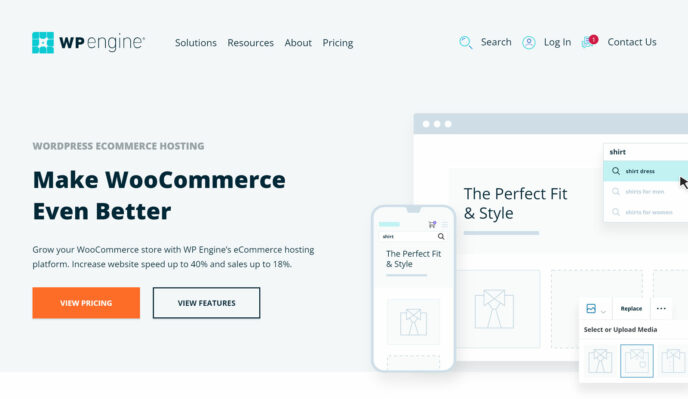 WP Engine are another premium managed WordPress host with WooCommerce-specific hosting plans. These plans start at $30 a month, so they're more expensive than Nexcess and GoDaddy.
However, if you're in the market for mid-range WooCommerce hosting, you may find the plans above the WP Engine entry-level Startup plan are a better match for your store.
The options above the entry-level Startup plan begin with the Professional plan, which is available from $62 a month, and go up to the Scale plan, which costs the equivalent of $291 a month if you pay for a year of hosting upfront.
Skipping the entry-level Startup plan gets you at least 15 GB of storage and monthly allowances that include at least 75,000 visits and 125 GB of bandwidth, depending on which plan you choose. The plans above the entry-level option also come with a tool that upgrades the default store search functionality of WordPress and WooCommerce.
Upgraded Store Search
Elasticsearch is included for free on the plans above the entry-level Startup plan, and is implemented via the ElasticPress plugin.
Having access to this makes it easier and faster for your customers to find the products they're looking for at your store. Not only is ElasticPress faster than the core WordPress search functionality, but it also includes fuzzy search, autosuggest and filtering.
Because of this, WP Engine estimate that using this feature could result in an 18 percent lift in conversion rates, making your store more profitable for very little effort on your part. Simply enable the feature and customize how it works where appropriate.
Premium WordPress Themes
To help you to build your store, the WP Engine plans come with ten premium StudioPress WordPress themes. While these aren't specifically eCommerce themes, they're all compatible with WooCommerce, and can be used for creating online shops. The WP Engine plans also come with a basic WooCommerce theme that you can use as the foundation for your own store design.
eCommerce Blocks
You also get a number of WooCommerce-optimized blocks for use in the WordPress Editor.
Because of this, you can quickly build landing pages and other eCommerce-infused content for your store by inserting dynamic elements powered by these eCommerce blocks. If you'd like to be able to drop a selection of products into a post or page on your site, you can easily do this using these blocks.
Also, as well as the StudioPress themes, WP Engine customers also get access to the Genesis Blocks Pro plugin from StudioPress. Enabling this plugin on your site gives you access to more blocks, which you can add to your store via the WordPress Editor.
Our WP Engine eCommerce hosting review includes lots more information on this service.
WP Engine Load Time Test Results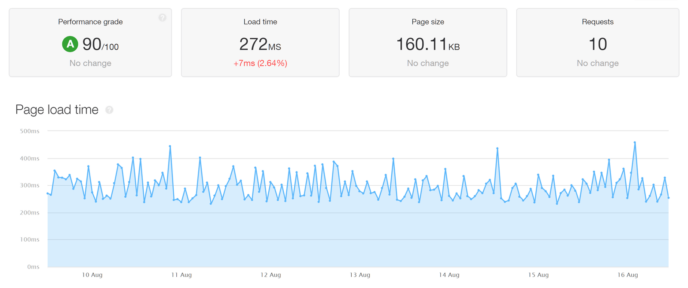 With an average load time of 272 milliseconds, WP Engine were the fastest host tested for this guide. However, Nexcess were only one millisecond slower.
WP Engine WooCommerce Hosting Key Features
---
Mid-Range WooCommerce Hosting Alternative Option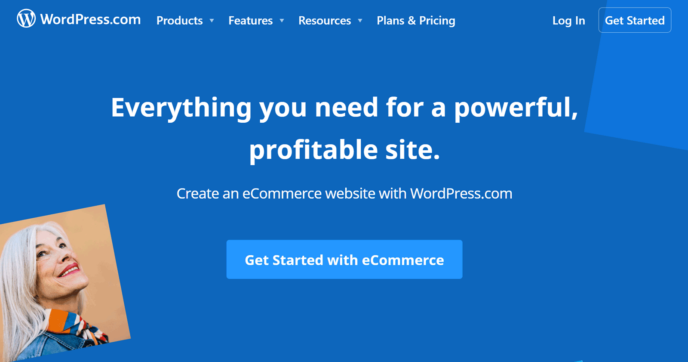 Another option that falls into the mid-range category is the eCommerce plan from WordPress.com. Starting at $45 a month, this plan includes 200 GB of storage and has no limits on visits or bandwidth. This all makes it ideal for busy stores with large inventories.
As WordPress.com only has one eCommerce plan, it should be able to handle your store as it grows and becomes larger and busier, without the need to upgrade.
Thanks to the user-friendly WordPress.com interface and experience, building and managing your store is very straightforward. Support is available via email and live chat 24/7.
A feature of the eCommerce plan that's not found elsewhere are the two 30-minute sessions with the WordPress.com support staff that are included. These screen share sessions can be used to help you to work on your store, whether that's creating it or fine-tuning its settings. The plan also comes with some eCommerce features, a selection of WordPress themes and three Storefront child themes.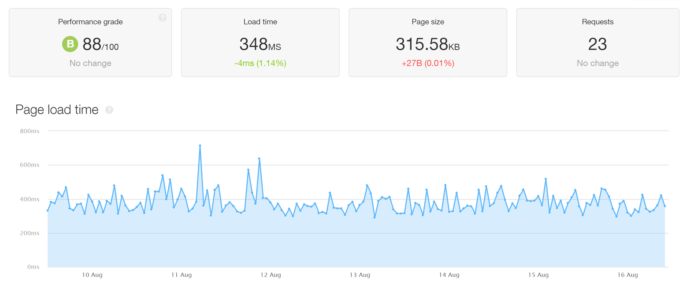 An average load time of 348 milliseconds makes the eCommerce plan from WordPress.com the third-fastest option in this guide.
---
Best WooCommerce Hosting for Big and Busy Stores
If your online store is already busy, or you think it will be soon, Kinsta could be the best WooCommerce host for you. They have plans that should cover stores of all sizes, including those that receive up to 3 million monthly visits and use up to 250 GB of storage. They also offer custom hosting services for stores busier than that.
When it comes to getting started, though, Kinsta recommend their powerful Business 1 plan and above for WooCommerce websites. This means their WooCommerce hosting starts at $1,000 a year (the equivalent of $83.33 a month).
Multiple WooCommerce-Friendly Plans
After the Business 1 plan, there are seven more plans you can work your way through as your eCommerce business grows. As mentioned, Kinsta can also create custom plans for anyone who needs more resources than their top-level Enterprise 4 plan provides.
Most of the best WooCommerce hosts have multiple plans for you to choose from. However, Kinsta have more plans than you'll find elsewhere. Because of this, you should find it easier to choose a plan that matches your requirements, without paying for resources you don't yet need.
Having multiple plans also gives you a way to more accurately predict how your hosting costs will increase over time as your needs grow. This is especially true when compared with other hosts that only have a few defined plans before you have to turn to their bespoke options that have custom pricing.
Free Premium Migration
Many hosts provide you with a migration tool, so you can transfer your website from another host to their servers.
However, Kinsta have a premium migration service where your site or store is manually moved to their service by the Kinsta engineers. If you don't want to risk the migration of your store on an automatic transfer tool, this is a feature you'll be pleased to see. If you'd rather do the migration yourself, that's not a problem either.
Multiple Global Server Locations
Kinsta use the Google Cloud Platform as part of their infrastructure.
One of the many benefits of this is you can choose to have your website hosted in 28 global locations. If most of your customers are based in Australia, for example, you can choose to have your website hosted in data centers in either Sydney or Melbourne. Being as close to your customers as possible helps to keep load times to a minimum, in turn helping to increase customer satisfaction and sales.
If your customers aren't restricted to one region, don't worry. The Kinsta plans use a CDN to store your website files in multiple locations around the world.
eCommerce Extras
One drawback of Kinsta from a WooCommerce hosting perspective is they don't have any eCommerce-related features or extras. As we've seen earlier, GoDaddy give you almost $6,000 worth of premium WooCommerce extensions, while Nexcess have their own useful performance reporting tools. ElasticSearch is included with most of the WP Engine eCommerce plans.
With Kinsta, it's just high-performance hosting and first-class customer support you're getting access to. However, if you don't need the extras, or you're happy to choose and pay for your own additional tools and features, this shouldn't be a problem.
Kinsta Load Time Test Results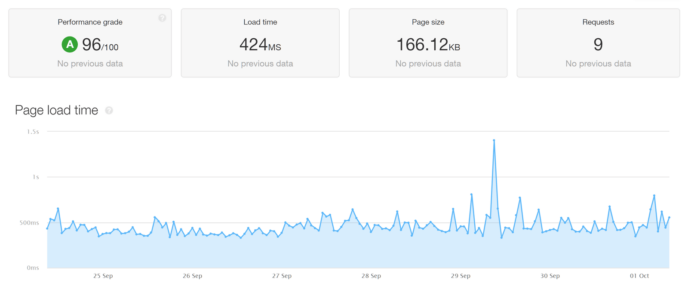 Kinsta WooCommerce Hosting Key Features
Range of WooCommerce plans from Business 1 to Enterprise 4.
Bespoke service available for larger stores.
Automatic WordPress software updates.
Automatic daily website backups.
One-click staging tool.
Manual migrations by WordPress experts.
24/7 support.
---
Big and Busy Store Alternative Option
As well as being our pick of the budget-friendly options for WooCommerce stores, Nexcess are also a great option for those with big-budget or busier stores.
For example, their top-level Enterprise plan includes 800 GB of storage and 10 TB of bandwidth. The Enterprise plan can also handle up to 10,000 orders per hour. The plan does start at $999 a month, so it's not a cheap option. However, you can currently get your first six months of hosting for half price, averaging it out to $749.25 a month for your first year. They have other lower price and lower spec plans, too.
All of the Nexcess WooCommerce plans include the Plugin Performance Monitor, Sales Performance Monitor, and Jilt abandoned cart recovery tool covered earlier in this guide. You also get access to the StoreBuilder tool, daily backups, automatic updates and visual regression testing. The two top WooCommerce plans include a subscription to the Glew eCommerce analytics and business intelligence service — something that could help you to gain valuable insights into your business.
All of the above means Nexcess are definitely worth considering for well-established WooCommerce stores that get lots of traffic and orders.
---
Before we get to my final thoughts on the best WooCommerce hosts, here's some information about the load time tests.
About the Load Tests
For all of the load time tests, a fresh installation of WordPress with the Twenty Twenty One theme activated was used.
A basic page made up of text and an image was monitored by Pingdom, with the load time recorded every 30 minutes. After seven days, an average load time was established, and was used for this hosting guide.
While WooCommerce wasn't installed on any of the sites, the fast load times recorded should indicate that all of these hosts were premium managed WordPress hosts, capable of delivering speedy stores.
As all WooCommerce stores are different, with a unique mix of products, extensions and audiences, it wouldn't be possible to set up an 'average' eCommerce store for testing.
So, while this guide gives you an idea of what sort of load times each host is capable of, you could experience different results once you set up your store and start taking orders. For example, a host that's slower in this guide may come into their own once your store starts handling multiple orders an hour.
However, as all of the services covered in this guide have been designed and optimized for WooCommerce stores, you should get fast load times no matter which one you choose, provided you sign up to a plan that's right for your store in terms of storage, visit, bandwidth and orders per hour requirements. If in doubt, you can contact all of these hosts via live chat to ask any questions before you sign up.
Final Thoughts
As you can see, there's now a wide range of high-quality hosting options aimed specifically at WooCommerce store owners.
From the high performance yet excellent value entry-level Nexcess Starter plan to the $1,500-a-month Enterprise 4 plan from Kinsta, and everything in between and beyond, regardless of your budget or requirements, there should be a plan for you.
Before you make a final decision, it's a good idea to use the live chat channel that each host makes available to potential new customers. Doing so allows you to ask questions that are specific to your unique eCommerce requirements to find out if a particular host would be a good choice for your store. Communicating with a host in this way will also give you an idea of what level of support you'll get if you sign up.
While all of the above options are good in their own ways, I personally really like the Nexcess WooCommerce service. The useful extra eCommerce features and transparent pricing that lets you know how many orders per hour each plan was built to handle are hard to beat. The other hosts are all good options, though, so, no matter which one you choose, I'm sure you won't be disappointed.
Used/using any of these three hosts? Thoughts and experiences?
All comments are held for moderation. We'll only publish comments that are on topic and adhere to our Commenting Policy.