Monarch Social Sharing Plugin Review – Is It as Good as Everyone Says?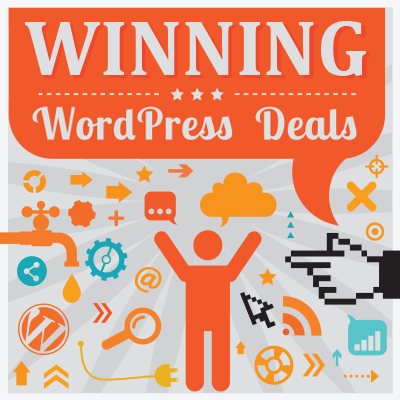 TL;DR: In this Monarch Social Sharing plugin review, I take an in-depth look into the plugin's features, pros and cons, and pricing, and even do performance tests to see what sort of toll the plugin takes on the website it's installed on.
Monarch Social Sharing plugin, from Elegant Themes, is one of the mainstays of the social media division of WordPress. So much so, if you do a quick Google search for 'top social media plugins for WordPress', you'll be hard pressed to find a list post that doesn't mention it.
Well, okay, maybe I'm exaggerating a bit, but the Monarch plugin has been getting a lot of praise on the web nonetheless!
Therefore, the question is this: Is Monarch really as good as everyone says?
Let's find out!
What Is Monarch Social Sharing Plugin?
First things first, what is Monarch exactly? What should and shouldn't you expect from it?
To put it simply, Monarch is a plugin that provides you with a set of social media share buttons and social media follow buttons.
Under the hood, Monarch is a standalone WordPress plugin. This means you just need to get it, install it and activate it, and you can start using it right away. It's not one of those SaaS solutions disguised as a plugin (cough, SumoMe, cough) that are very popular nowadays.
Like I said, there are two main components to Monarch:
social media share buttons
social media follow buttons.
Let's see what's in each:
1. Social Share Buttons
Setting up the share buttons is the first thing you'll be doing after installing the plugin. Monarch gives you a nice set of options, with five main locations for the buttons: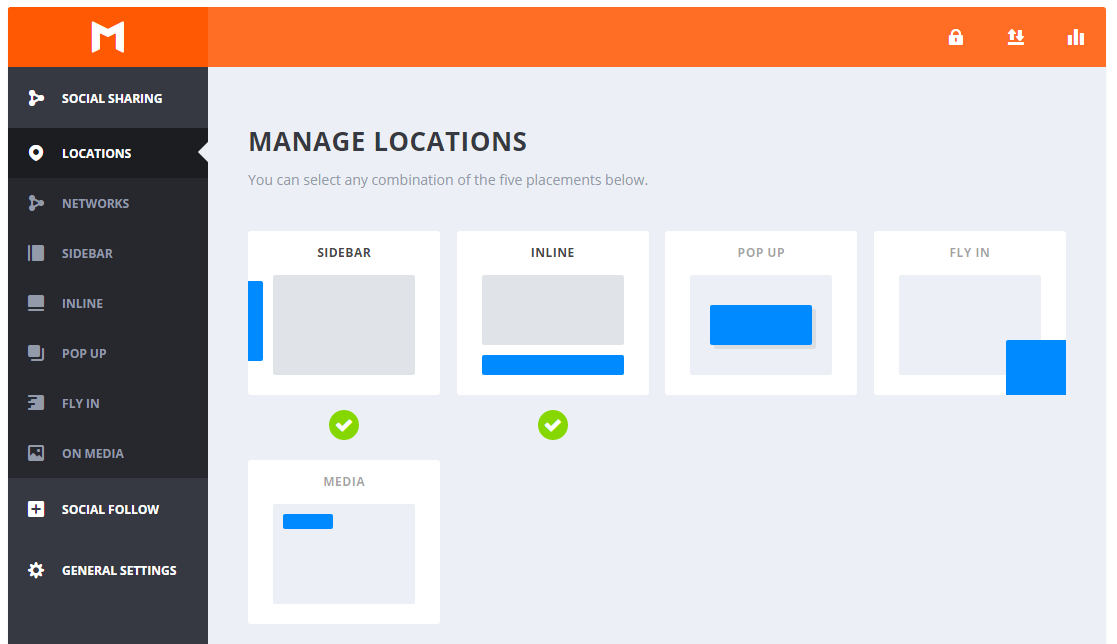 (This is also what the main dashboard of the plugin looks like.)
Sidebar, popup — pretty self-explanatory.
Fly-in — appears at the bottom once the user scrolls past a given point on the page.
Inline — goes below and/or above your content (in posts, pages).
Media — gets shown on your actual media files (images, videos), like so:

You can freely choose which locations you want to use just by clicking the corresponding 'tick' symbols. Apart from that, each location also has its own settings panel where you can tune up all the fine characteristics.
For instance, you get to select an icon style for the buttons — Monarch has a set of really nice predesigned icons that are unique to each location.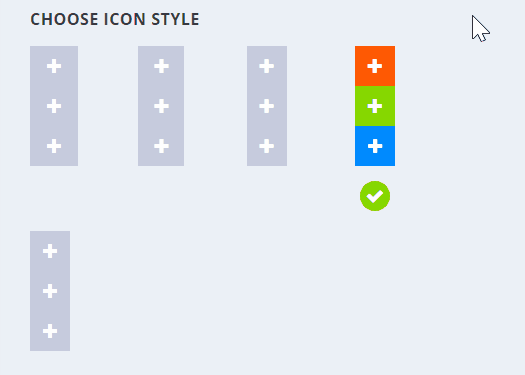 Also, every location has a number of parameters that can be adjusted, and this applies to the design/display and the behavior of the buttons.
For example, for the sidebar, you can set the orientation of the whole thing (left, right), intro animation, whether you want to display share counts or not, whether you want the total number of shares displayed, whether you want to hide the whole block on mobile devices and more.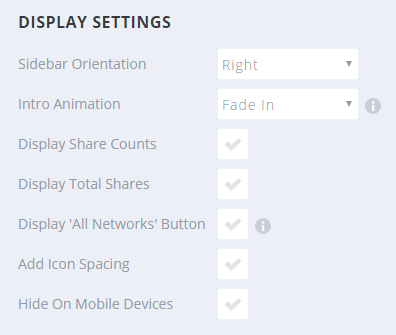 And, of course, you can choose where you want the buttons displayed:

Each location has a slightly different settings panel, but they all follow the same layout and general idea, so everything is quite easy to grasp. Here are the settings for inline and popup, just as an example: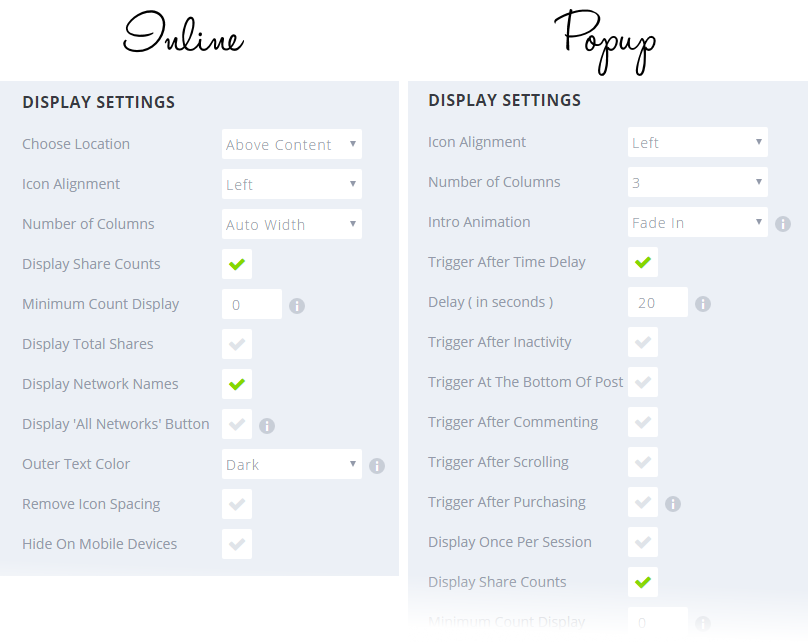 Okay, so locations are one thing, but what about the networks supported?
I'm glad you asked!
Monarch plugin's promo materials boast about its huge number of supported networks, and… I have to give it to it in this review, the list is rather impressive. There are actually more than 20 networks supported, some of which I'm seeing for the first time (which proves the Monarch guys have really been on top of what's out there).
Anyway, you probably only need three to five networks, so let me just assure you they're all there: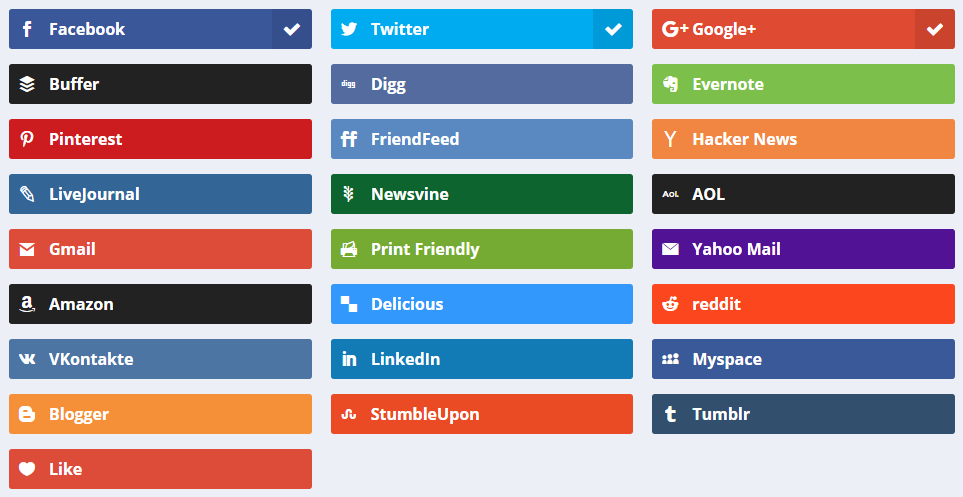 Enabling the networks is simple — just click Add Networks, then the 'tick' symbol next to the network you want, and then Apply. If you want to, you can change the network's label too.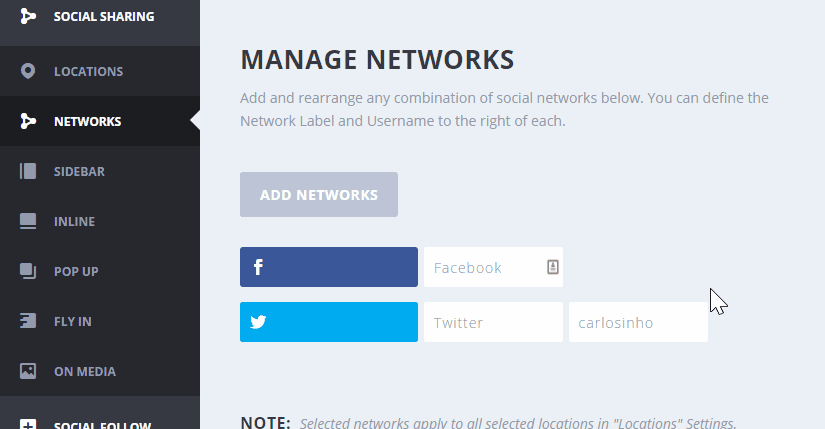 Lastly, how does it all look?
Very nice.
I mean, things like design often come down to your personal preference, but Monarch's mission is to give you buttons that just look good out of the box, with no need to adjust anything via CSS or whatever. You just jump in, pick the ones you like and you're done.
So the result, like I said, is nice and predictable — just like the plugin's website advertises. Here's what I got while working on this Monarch plugin review: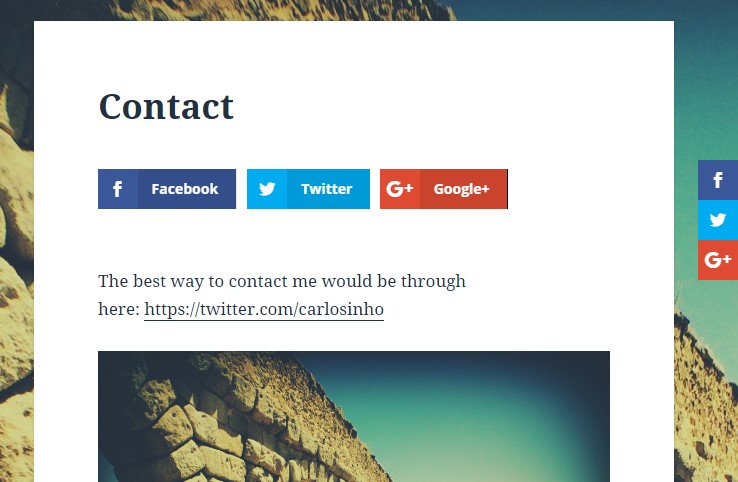 (Here, you can see the inline and sidebar buttons.)
2. Social Follow Buttons
The other component to Monarch is its social follow buttons.
In simple terms, those are the buttons your visitors can click to follow you right from your website.
Much like the share buttons, Monarch's follow buttons are very nice too: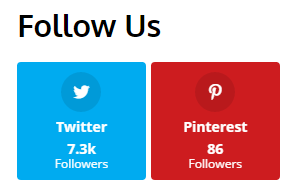 The configuration is also nearly the same.
I'm saying nearly because dealing with follow numbers these days is a major pain. Each network has its own API, and you need to sign up to most of them before they'll share your follower numbers with your WordPress website.
Everything starts in Monarch's settings, under Social Follow. The panel is very similar to what we saw under Social Share Buttons: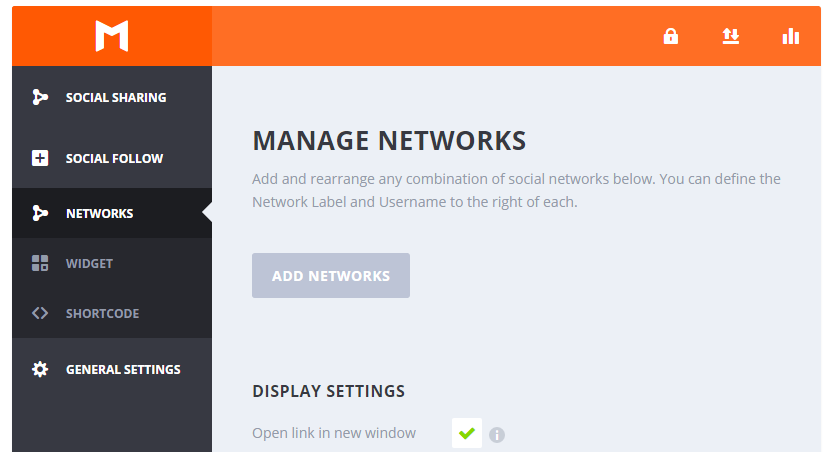 To enable a new social network, just click the big button and then select the network you want. The interesting thing here is that Monarch features even more social networks in its follow section than in its share section. In total, there are more than 35 possible network integrations.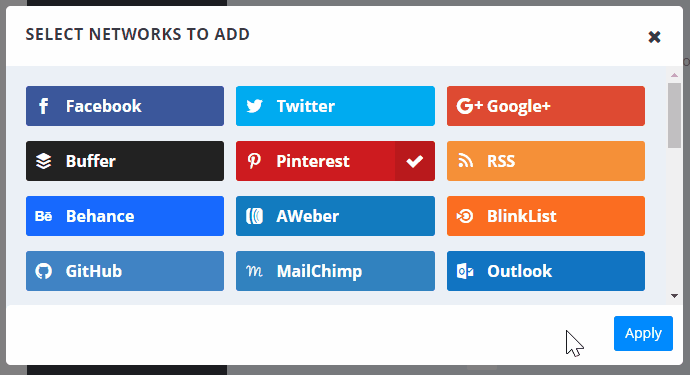 Now, depending on the network you choose, the integration process could be anything from very simple, to very painful. However, as I mentioned, the fault isn't on Monarch, but rather on the networks themselves. Monarch actually does whatever it can to make the process simpler, and even has a user guide to take you through the difficult parts.
Once you do manage to enable your networks of choice, you can display the follow buttons in one of two ways: Via a widget or via a shortcode.
The widget is the classic way to handle things, and probably the most useful.
Just like with share buttons, here too you can pick the icon styles you like, plus adjust some other details about the widget's appearance and behavior: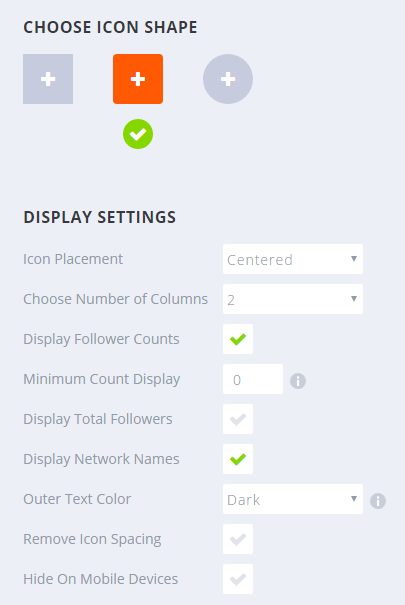 For the shortcode, you get basically the same set of customizations as for the widget, which is great. Once you have everything tuned, just click Generate Shortcode, and you can then take that shortcode wherever you wish (posts, pages, and so on).
The cool thing with the shortcode is the settings you're adjusting aren't global for all shortcodes, they just apply to the shortcode you're about to generate. This allows you to use multiple, slightly different shortcodes throughout the site.
Other Features of Monarch
Setting aside the share and follow buttons, Monarch also has some other very interesting features. Let's run through them quickly:
You can override the share button settings for individual posts and pages.

There's a stats module showing you the social share numbers for the whole site, and you can break them down into specific posts, locations, and types.
You can import and export your Monarch settings.
It's mobile-friendly: All buttons appear to be working just fine on mobile.
There are multiple triggers for popups and fly-ins. You can decide when you want your share buttons displayed specifically, like so: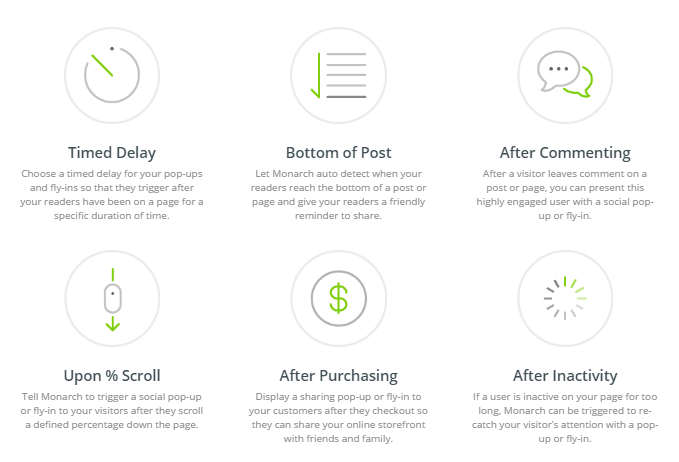 Does it impact your load time?
Okay, so with all those features, there has to be some toll on your site performance, right? Let's find out in this next part of this review.
My testing site is a rather basic one (Twenty Fifteen, Jetpack and a handful of plugins installed, no caching). In its default setup, here are the results I'm getting:

After activating and configuring Monarch:

The difference is around .5 of a second. Depending on your own standards, this could be a lot or not at all. However, those are just the realities of embedding social media elements on your site — getting them from the network in question always takes a while.
Overall, I'm happy with these numbers, and wouldn't worry about Monarch's server resource consumption.
Monarch Plugin Review: Pros and Cons
Here are a handful of things I like and dislike about the Monarch Social Sharing plugin.
Pros:
It gives you social share buttons that look great out of the box.
You get all of the social networks that matter.
There are multiple display options.
It's easy to use.
You can get stats on your content's social media popularity.
It fights against negative social proof by letting you hide your share numbers until they reach a given volume.
Cons:
The share counts aren't always accurate (when compared with other measuring tools).
The design of the buttons isn't always consistent for all WordPress themes. For instance, my experiment with the X theme has returned so-so results:

(Those were supposed to be standard colorful buttons.)
The Price
In short, to get the plugin, you need to shell out $89.
However, there's a little more to that story. What actually happens is you don't pay for the plugin itself directly, but for a whole Elegant Themes yearly membership. This gives you access to all of Elegant's themes (including the excellent Divi), plugins, all updates, and support for one year. You can also then use those themes and plugins on multiple websites.
Note: Remember to opt for the Developer membership. The Personal tier doesn't give you access to Elegant's plugins.
Should you get the Monarch Social Sharing plugin?
We know the price tag and what features we can expect from the plugin, so the question is this: Is it worth the money?
I have a two-part answer for you, and it may surprise you, considering all I said above:
If you already have an Elegant Themes membership, or you're thinking of subscribing because you've found some other awesome stuff in their plugins or themes library, then getting Monarch is a no-brainer. You basically get it for free, it has all the features you need, and it's fast and optimized. (We did a review of Elegant's entire offering lately.)
However, if you're not an Elegant Themes customer yet, joining the club for this plugin alone doesn't make much sense. There are equally good free solutions available, such as Social Share Buttons by GetSocial, or even the sharing module in Jetpack.
And, sorry for giving you the most contradictory answer of all, but I really feel the Monarch Social Sharing plugin is both great and unnecessary at the same time.
Used/using Monarch? Thoughts?
All comments are held for moderation. We'll only publish comments that are on topic and adhere to our Commenting Policy.
Our commenting form also supports the use of Markdown.