Instapage, Unbounce or LeadPages – Which Is The Best Landing Page Builder?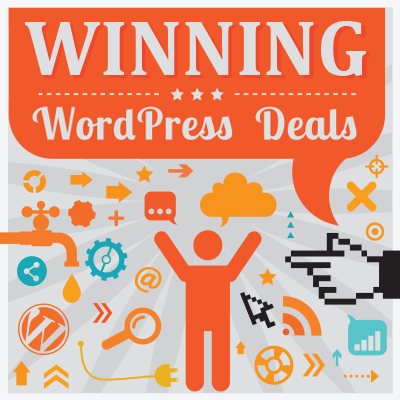 Conversions are the heartbeat of any successful website — and if you're looking to maximize them, no other web page can compete with the power of a carefully optimized landing page.
This is because landing pages are built with one goal and one goal only: To convert.
When you strip away the widgetized sidebar and navigation menu that compete for a visitor's attention, you're left with a page that's dedicated to getting your message across — that your website is the best in its class, and that the visitor would be making a huge mistake to look elsewhere.
Landing pages can be used for many purposes — selling a product, driving an opt-in, or promoting an upcoming launch, to name but a few. In other words, they're super relevant to almost all websites — whatever your goal.
Today, we'll be taking a look at three of the very best landing page tools on the market: Instapage, Unbounce, and LeadPages — if you're looking to potentially skyrocket conversions, read on.
In no particular order…
Instapage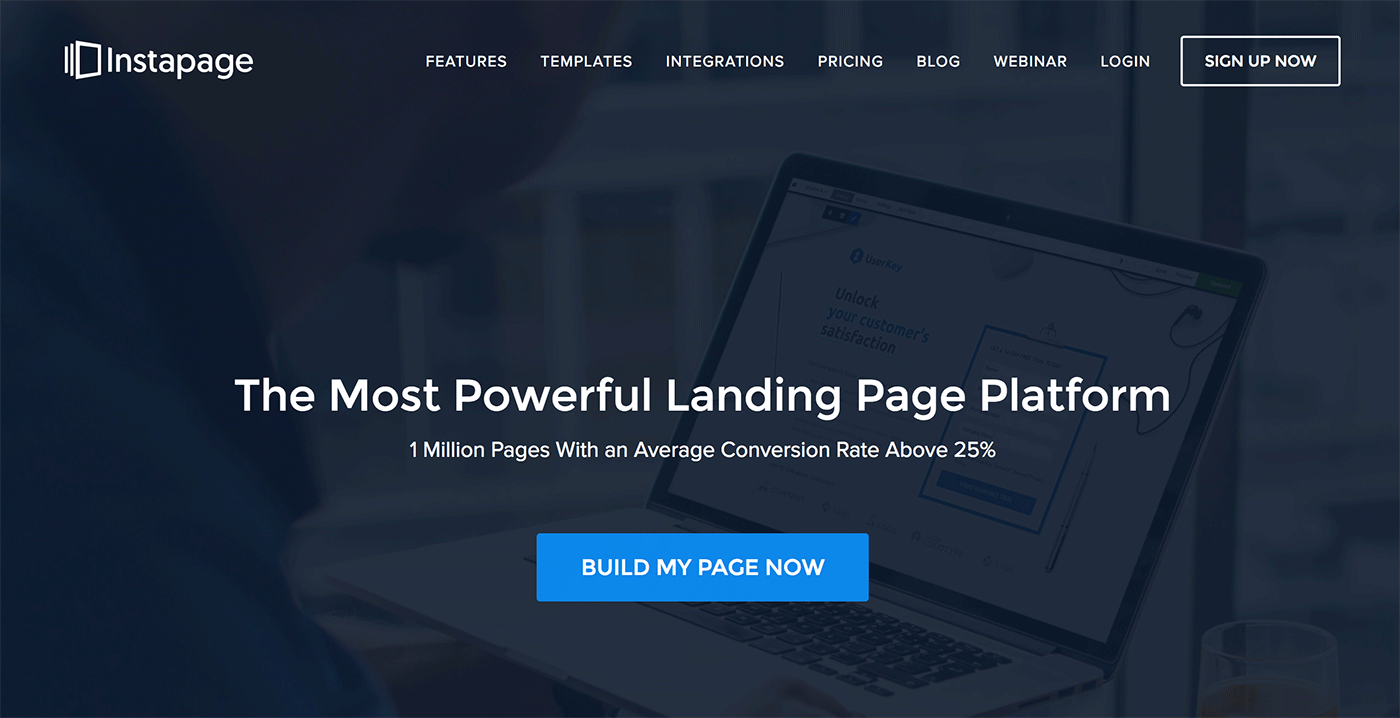 Instapage, launched in 2012 by founder Tyson Quick, is a powerful, yet affordable, landing page builder. The company's goal is simple: To "continually lower the cost of customer acquisition".
If you're in the landing page game, this is probably your goal, too. Of course, to achieve this you need a stylish, optimized landing page that converts like crazy — which is where Instapage steps in.
With Instapage at your disposal, you can have your landing page up and running in just three minutes. How can it take so little time to build such an important web page? Well, primarily because Instapage ships with a whopping 100-plus, infinitely customizable templates.
These templates look beautiful, they're fully responsive, and they come in a variety of flavors depending on your desired outcome (lead generation, click-through, webinar leads, mobile app downloads, and so on). There are even 'Thank You' page templates to whisk visitors to post-conversion.
Each template comes loaded with stylish design elements, all geared towards getting results. Every element is customizable, right down to the font face. Available elements include countdown clocks, parallax effects, call to action buttons, and opt-in forms. These opt-in forms can be tailored for conversions by adding custom fields using drag-and-drop, creating single or multi-page forms, and deciding between single and two-step opt-in.
Because many marketers use landing pages in conjunction with PPC, any Instapage license is valid on unlimited websites, giving you the opportunity to trial various domains for their impact on conversions.
And talking of testing, the plugin also comes equipped with comprehensive A/B testing functionality, with real-time analytics that let you track your campaigns' performance. Other important conversion-driving functionality includes dynamic text replacement and drop-in pixel tracking — all implemented with ease.
Integrations
To help you get the most out of Instapage, the developers have made their plugin compatible with a large number of useful marketing tools. Here's a quick rundown of some of the best integrations:
Email Marketing — including MailChimp, AWeber, and Constant Contact.
CRM — Zoho, Salesforce, and Lime Light.
Marketing Automation — Infusionsoft, ActiveCampaign, and Autopilot.
Analytics — Google Analytics, KISSmetrics, and Mixpanel.
There are also several more specific integrations:
GoToWebinar — integrate some of the industry's best webinar software.
Facebook — enhance social media sharing with Facebook.
Bigstock — access 35 million stock photos to use on your landing pages.
Prices
Let me start by saying that all Instapage licenses can be used to create an unlimited number of pages, be placed on an unlimited number of domains, and serve an unlimited number of visitors. In my opinion, this unrestricted access is an important feature for any landing page tool, as it avoids unexpected price hikes at the end of the month.
Prices, though, start at $68 a month for a Core license. This includes a number of great features, including over 20 out-of-the-box integrations, over 200 customizable templates, and embedded pop ups.
If you upgrade to the $113 a month Optimizer license, you can also benefit from unlimited number of A/B tests, heatmaps, and dynamick text replacement.
At the top end, Instapage offers a $203 a month Team & Agency license, which, in addition to the Optimizer license's benefits, also provides 15 private subaccounts, branded lead notifications, audit logs.
A 15-day free trial is available, and customers willing to pay the cost of a yearly subscription upfront receive a significant discount.
Unbounce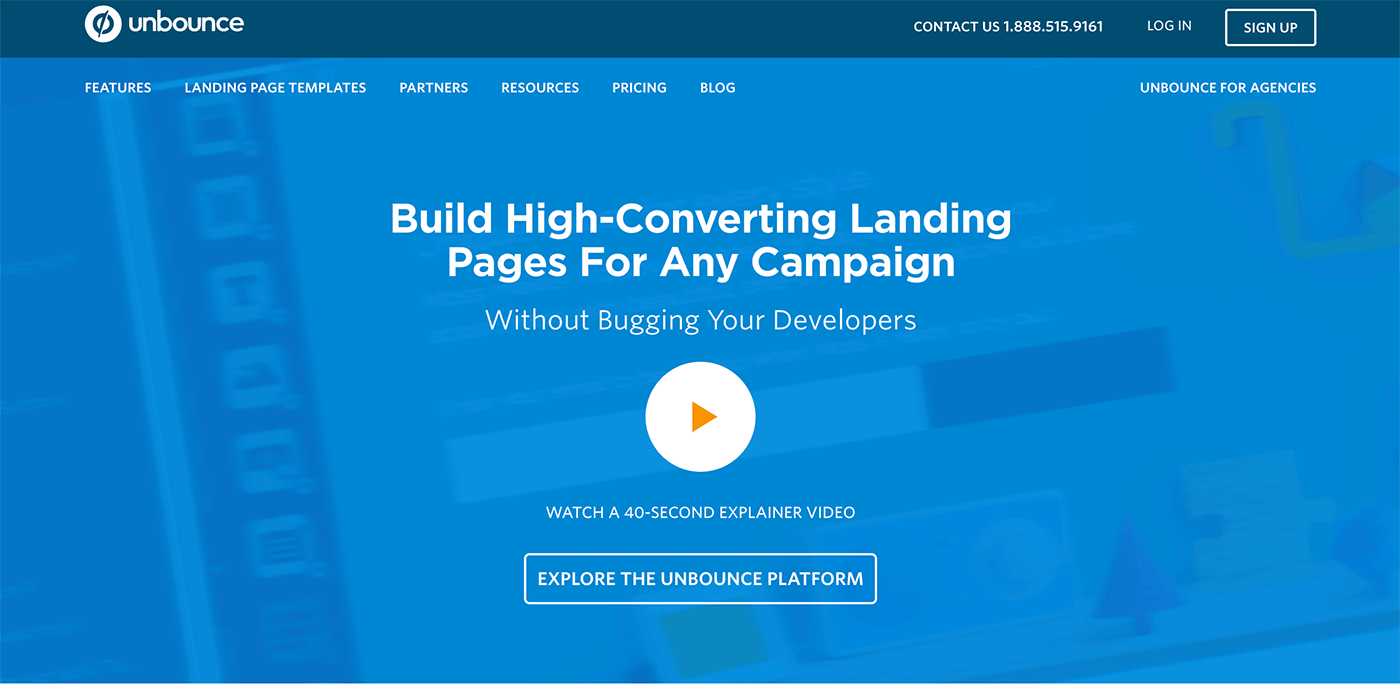 Next up, we have Unbounce. Unbounce are one of the biggest and best-established players in the market, despite starting life in 2009 as a small team of six. Today, they have a growing team of more than 100 — and a whopping 10,000 customers.
Like Instapage, they have a clear, if slightly more ambitious, goal: "To educate, connect and empower marketing teams and agencies to grow their businesses with the best conversion tools on Earth."
All Unbounce landing pages are built using their bespoke UI, which lets you create relatively complex designs with ease. This is done external to WordPress; when your design's complete, you can then sync it up with WordPress using the dedicated Unbounce plugin. Afterwards, you can publish your landing page on your preferred URL with just a single mouse click.
The intuitive UI uses drag-and-drop to customize any aspect of the 100 available templates. These templates come with several cool features, such as full-screen video backgrounds, parallax effects, and lightboxes. There are also templates for 11 industries (health, restaurant, travel, and so on) and nine campaign types (such as sales pages, events, product pages, and eCourses).
The drag-and-drop lets you coax these templates to match your vision; you can reorder, resize, and redesign any element on the page.
As nice as it is to have a great-looking landing page, the page's ultimate purpose is to convert. To assist, Unbounce is loaded with features that make this goal a reality.
For a start (and as you'd expect), the plugin is fully AdWords compliant. You can publish your landing pages on an unlimited number of custom domains, and you can use a dynamic text replacement feature to swap placeholder text with a visitor's PPC keywords — proven to encourage stronger conversion rates.
Beyond this, Unbounce supports A/B testing to max out your conversions, with visitor stats available to view in real time. Throw in automatic SSL encryption — a major trust symbol — and you've got, quite simply, one of the best landing page tools on the market.
Integrations
Like Instapages, Unbounce can't do it all by itself. As such, you can integrate loads of complementary tools that unlock Unbounce's full potential. (The exact number of these complementary tools is a little unclear because of the blurred lines between integrated tools and 'product partners' — read more about it here.)
To give you an idea of the integrations on offer, here are a few important ones:
Email Marketing — including MailChimp, AWeber, and Constant Contact.
CRM — including Hubspot Zoho, Zapier, and Salesforce.
Marketing Automation — including Infusionsoft, Hubspot, and Marketo.
Analytics — including Google Analytics and KISSmetrics.
Prices
I've compared Unbounce with Instapages a few times in this section, because the two are targeted at a similar audience: Marketers who want a user-friendly way to build their landing pages.
However, Unbounce is undoubtedly the more powerful tool, and that's reflected in the price, which is the higher of the two.
All licenses can be used on unlimited domains, and come with live chat, email, and telephone support. However, Unbounce caps the number of unique visitors allowed with each license, and this could force your hand in upgrading to a more expensive license.
The most affordable package is the starter license, at $49 a month. This comes without the dynamic text replacement feature and several of the professional integrations. It's also capped at 5,000 visitors per month.
The more expensive licenses unlock the full range of features, but differ by the number of unique visitors allowed. They are:
Pro 99 license ($99 a month) — up to 25,000 visitors.
Pro 199 license ($199 a month) — up to 100,000 visitors.
Enterprise license ($499 a month) — up to 500,000 visitors (also comes with a dedicated success coach).
LeadPages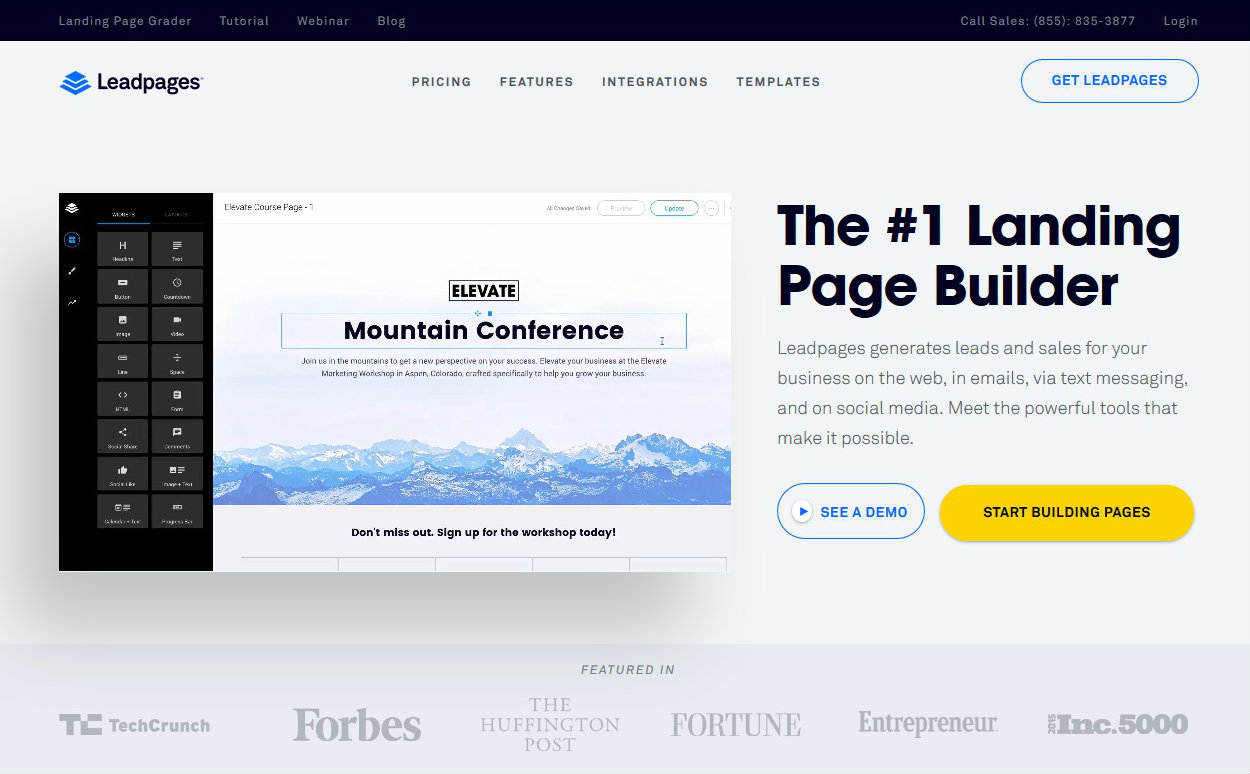 LeadPages is one of the best-known landing page builders on the planet. However, when you look at its full range of features, you'll realize that building landing pages is just the tip of the iceberg.
You can construct landing pages using the powerful drag-and-drop interface, which lets you create beautiful layouts with ease, or choose to customize one of the ready-made templates to your liking. There are plenty of advanced modules you can incorporate into your design, including call to action buttons, countdown timers (to create urgency), and video backgrounds, and you can even bring in other functionalities using widgets.
One of my favorite LeadPages features is the templates marketplace, which lets you purchase other marketers' landing pages. These landing pages are available from $7 all the way up to $45, though most are on the lower side of the price range.
As well as getting inspiration from other marketers' work, you can even sort based on conversion rate — in other words, you can buy a template that's proven to convert. Templates are available to purchase in categories such as sales, opt-in, upsell, and launch page.
Beyond the landing page, LeadPages lets you capture leads anywhere on your site with its built-in pop-up boxes, complete with exit intent. If you use lead magnets to lure visitors (highly recommended!), LeadPages is also equipped with a lead magnet delivery system. You can track performance — and improve it — using the quick-glance A/B testing and analytics feature.
LeadPages also offers another cool feature with its more premium plans — for example, 'leaddigits' allows you to drive leads using SMS text messaging.
Integrations
Continuing the trend, LeadPages integrates with loads of other marketing tools, letting you combine lots of specialist functionalities. Here are some of the most useful integrations:
Email Marketing — including MailChimp, AWeber, and Constant Contact.
CRM — including Zoho, Infusionsoft, and Salesforce.
Marketing Automation — including Hubspot, Ontraport, and Marketo.
Analytics — including Google Analytics and any JavaScript-based analytics platform.
There are also dedicated social integrations — Facebook, Google Plus, Twitter, and LinkedIn — and you can turn your landing pages into sales pages with PayPal and Stripe gateways. To help you get the most out of paid traffic, there's also dedicated integration with Google AdWords and Facebook Ads.
Pricing
LeadPages prices start at $17 a month* for the standard license. This is a relatively restricted version of the software, but it does allow you to build unlimited landing pages with unlimited pop-ups on unlimited URLs. Customers on this plan can also access email support.
If you want to unlock the full potential of LeadPages, you really need to upgrade to at least the pro license — prices start at $42 a month. This opens A/B testing (an absolute must, really), leadlinks, and leaddigits. It also offers live chat and priority email support.
LeadPages also offers a super premium plan, advanced, with prices from $159 a month. This also includes telephone support, one-on-one coaching and consultations, and several advanced integrations.
*The lowest prices are available to those willing to pay for two years' worth of membership upfront, and there are also discounts for one year's upfront payment.
Final Thoughts
If you need a little help making your mind up, I recommend keeping these three factors in mind when choosing your landing page builder:
Templates — to enjoy a healthy conversion rate, your landing page should look top notch. Of course, each landing page builder featured today includes a drag-and-drop builder so that you can create a custom design from scratch. However, let's not kid ourselves: It's much easier to build a stunning landing page when fine-tuning a ready-made template than it is to work from the ground up. Take a look at the templates on offer with each option to see if any catch your attention.
Modules and features — different marketers have different needs. If you absolutely must have a specific element on your landing page — say, full-screen video backgrounds, for example — then check through each option's feature list to make sure it's supported.
Integrations — serious marketers have a plethora of specialist tools they can turn to to optimize their campaigns. Every plugin featured today supports an extensive list of integrations. Remember to make sure your favorite tool is one of the supported options.
Of course, when comparing three of the top-of-the-range landing page builders, there's bound to be some overlap — after all, each option on this list supports all the fundamentals you could possibly need, as you'd expect. If you'd like more help making your decision, here's a quick summary of who each page builder is best-suited to:
Instapage — relatively inexpensive with a shallow learning curve. Ideal for less-technical users who want to put their landing pages together quickly and with minimal fuss.
Unbounce — for users who want to put together slightly more complex landing pages than Instapage, and who aren't afraid to spend a bit of time learning the ropes.
LeadPages — probably the most sophisticated marketers' suite out of all of today's options. A very capable landing page builder, with a feature set that extends way beyond landing pages.
Instapage, Unbounce, and LeadPages are really all great options though, so whichever one you opt for, choose with confidence!
Using or used Instapage, Unbounce or LeadPages? Thoughts?
All comments are held for moderation. We'll only publish comments that are on topic and adhere to our Commenting Policy.
Our commenting form also supports the use of Markdown.