WinningWP content is free to all. If you make a purchase through referral links on our site, we earn a commission (
learn more
).
Top Six Best Popular Post Plugins for WordPress
We all want our audiences to consume as much of our content as possible.
After all, the benefits are clear: The more articles a visitor reads, the more engaged with your website they become. This results in a more loyal readership, regular visitors, more social shares and, ultimately, more conversions — in other words, all of the stuff you really need.
This can put you in the search engine's good books too: Google's ranking algorithm analyzes on-site metrics — of which social shares, bounce rate, page views and time on-site are key considerations — and good performance can give your site a timely boost up the SERPs. More visibility and more visitors. Awesome, right?
Of course, there's more to it than ensuring your visitors won't physically leave your site. For example, a popup that appears when a visitor signals intent to leave can keep some visitors on site, but not in the way you want — it's a shady tactic (when used for this purpose). We want visitors to want to stay and genuinely enjoy their time on the site.
With this in mind, you need to 'guide' your audience towards areas of your website they'll enjoy, therefore encouraging them to remain on your website of their own accord. Internal linking is an obvious means to do this — as is the use of a related content widget placed below each article (something we covered a while back).
In this article, I want to help you to guide visitors towards the posts with built-in social proof: Your most popular posts. And, because these are the posts that are proven to resonate with your audience, they're also likely to be your best — in other words, your conversion drivers!
If you want to add a popular posts widget to your WordPress website (commonly/usually placed within the site's sidebar), here are six of the very best popular post plugins around:
WordPress Popular Posts (FREE)

With more than 300,000 active installs, the creatively named WordPress Popular Posts plugin is the most popular popular posts plugin at WordPress.org. (See what I did there?)
There's a lot to like here…
Beyond being super easy to use, WordPress Popular Posts lets you choose a custom time range for your popular posts.
Because you can create multiple separate lists, this lets you do some cool stuff, such as creating separate lists for your all-time most popular posts, as well as the most popular posts from the past however many days.
You can include post thumbnail images and excerpts in your list, and you can also set up custom sorting options to rank popularity by:
comments
views (total)
average views per day.
WordPress Popular Posts also works with any custom post types you're using.
To give you those sorting options, WordPress Popular Posts actually tracks the traffic to each post on your site. If you're worried about the performance hit, WordPress Popular Posts offers lots of performance tweaks to address this, such as pageview caching and data sampling. You can learn more at its GitHub page.
How It Works
To display popular posts, you can use either a WordPress widget, shortcode or PHP function.
For example, if you're working with the widget, you'll be able to configure important settings such as how many posts to use, what sorting to use and the time range: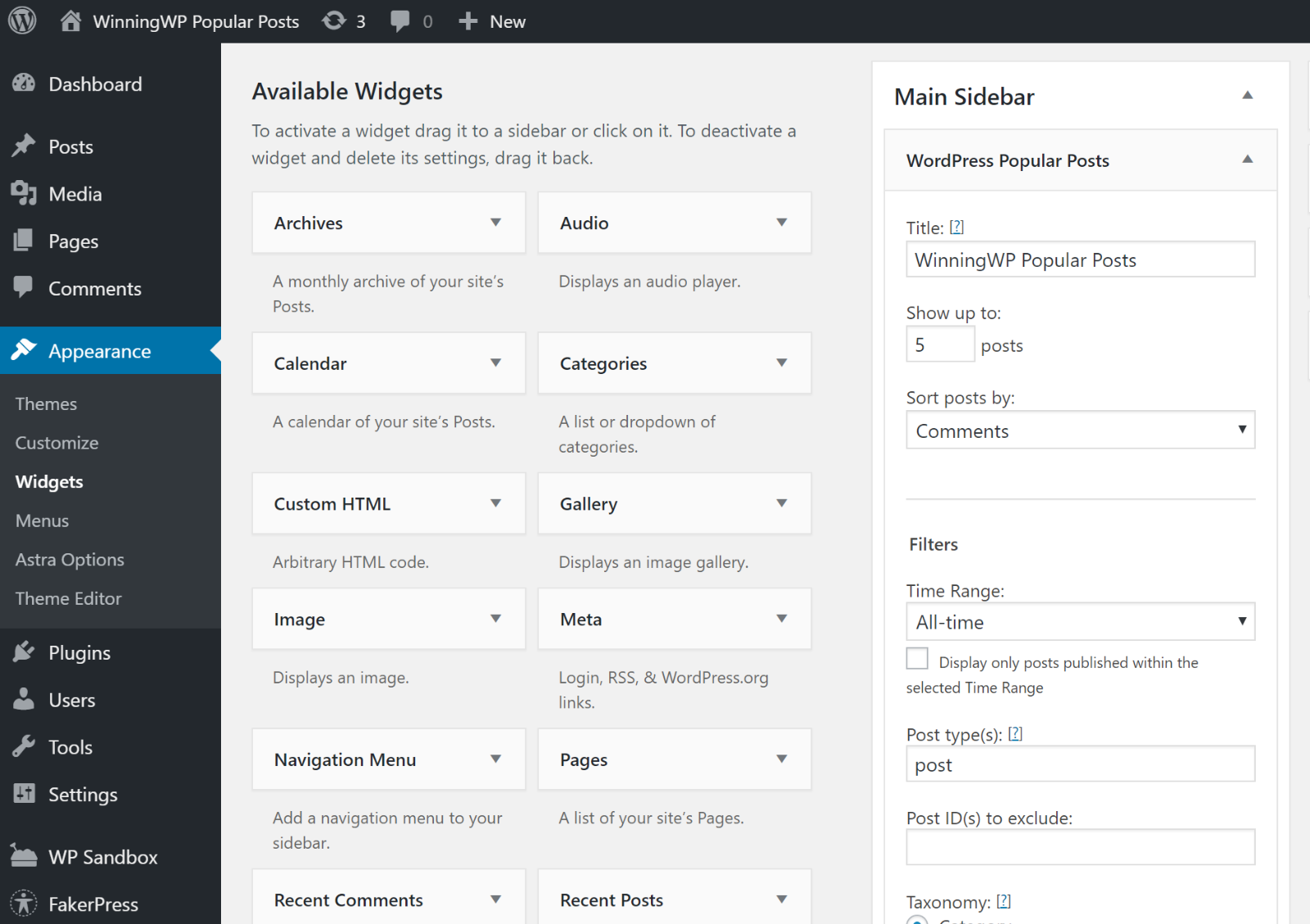 Here's an example of what the widget could look like: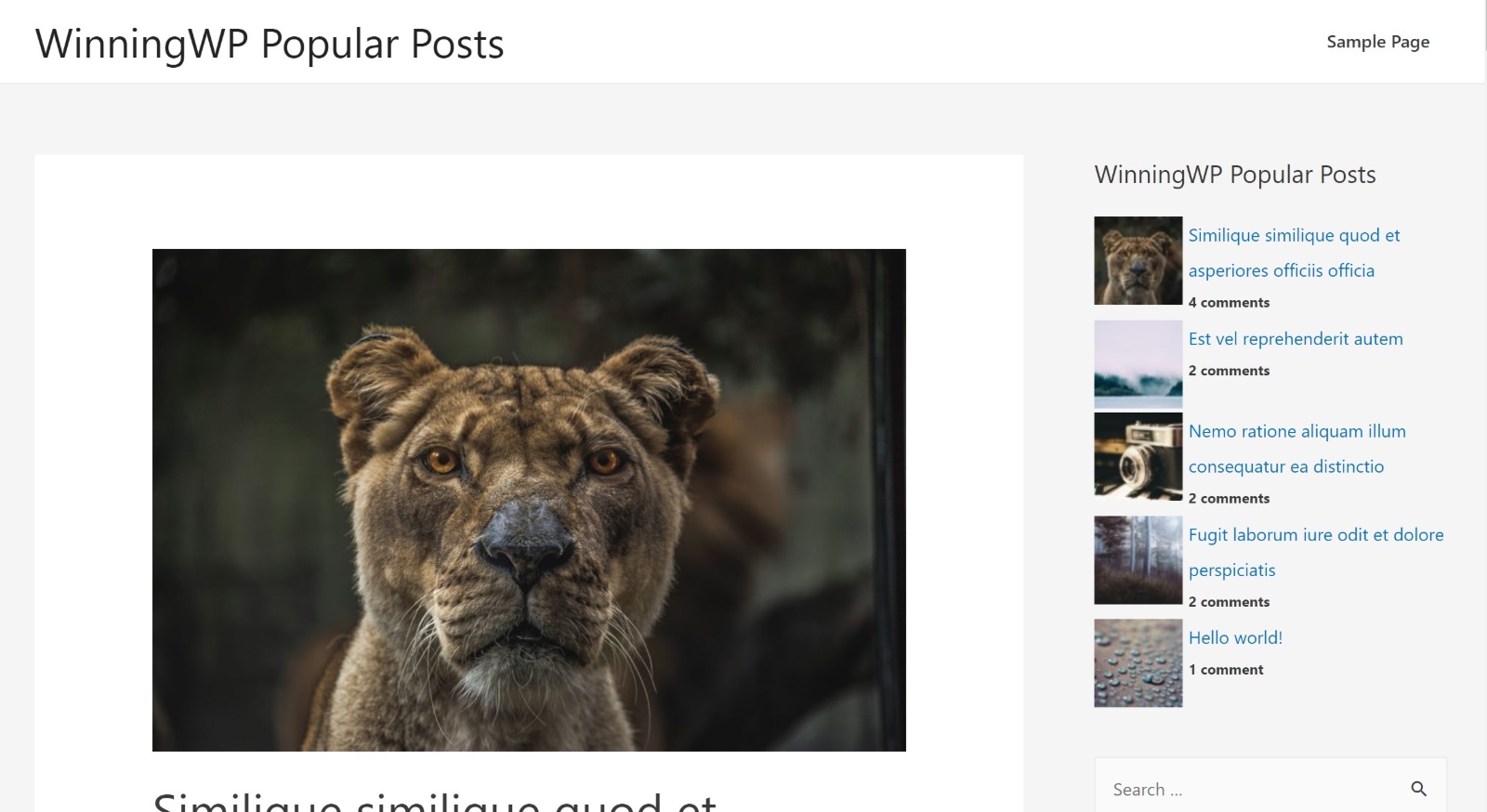 Beyond that, WordPress Popular Posts also gives you a dashboard where you can see your most popular content over certain time ranges, as well as a settings area where you can enable some more technical features that affect performance.
For example, if you have a high-traffic site, you can enable data sampling to reduce the amount of data the plugin stores on your site's database: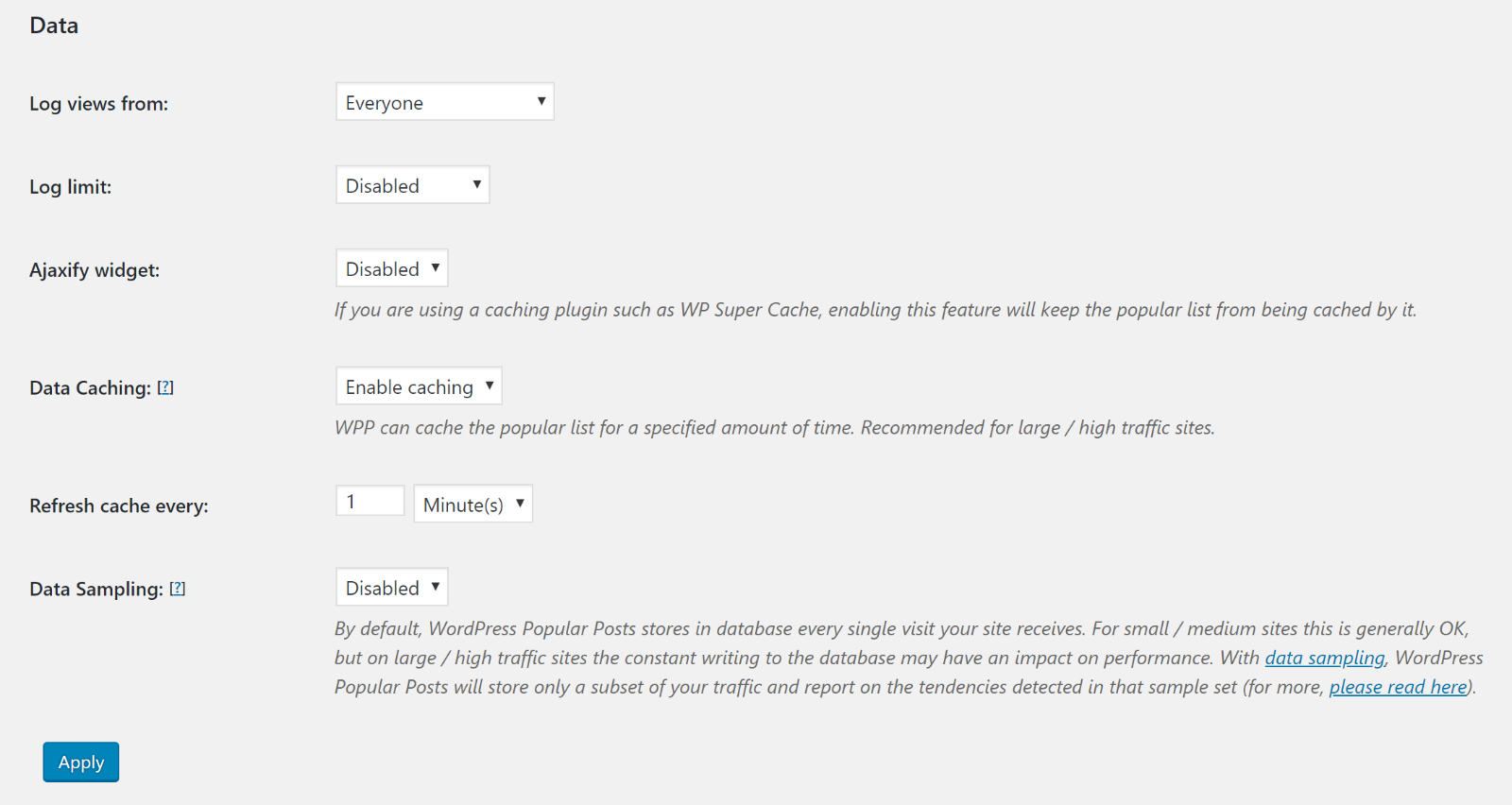 All in all, it's quite flexible and easy to use!
Top 10 (FREE)

After WordPress Popular Posts, Top 10 is the second most popular free option at WordPress.org.
It lets you display your most popular posts by daily traffic or overall traffic (there's no comment popularity option, though — you'll need a different plugin for that).
Top 10 works with regular blog posts, as well as any custom post types you're using.
You have a good amount of control over your popular posts list, with the option to choose whether or not to include:
thumbnails
excerpts
view counts
publish date
etc.
Finally, Top 10 also comes with some performance features, such as the ability to cache popular post output and periodically 'clean' your database by deleting database data that's more than 90 days old.
How It Works
Top 10 also lets you display popular posts anywhere on your site using either a widget or shortcode.
When you activate the plugin, you can use the new Top 10 area to configure important defaults: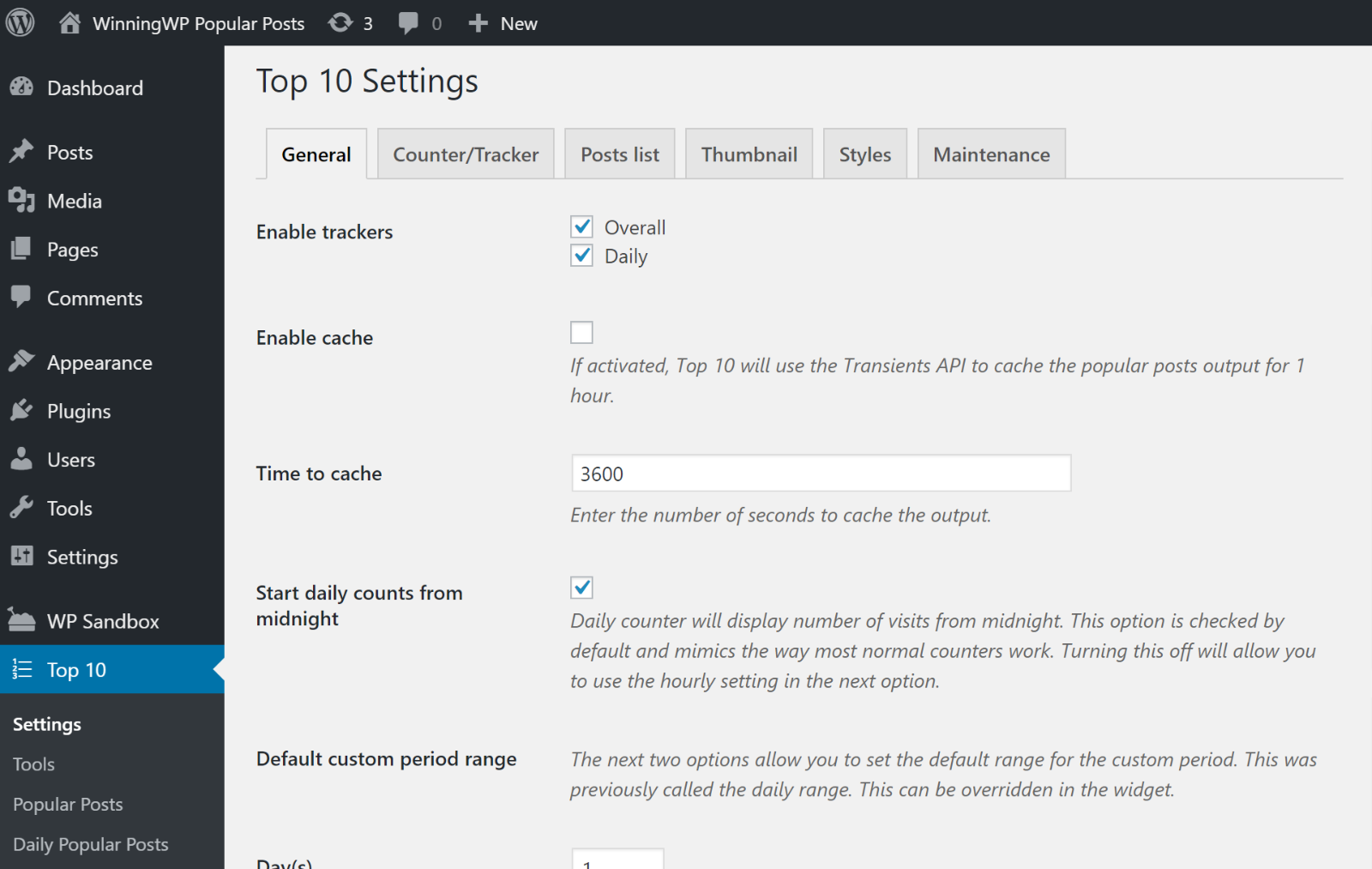 Next, you can add the shortcode or widget where you want your popular posts to appear. For example, here's what it looks like to configure the widget: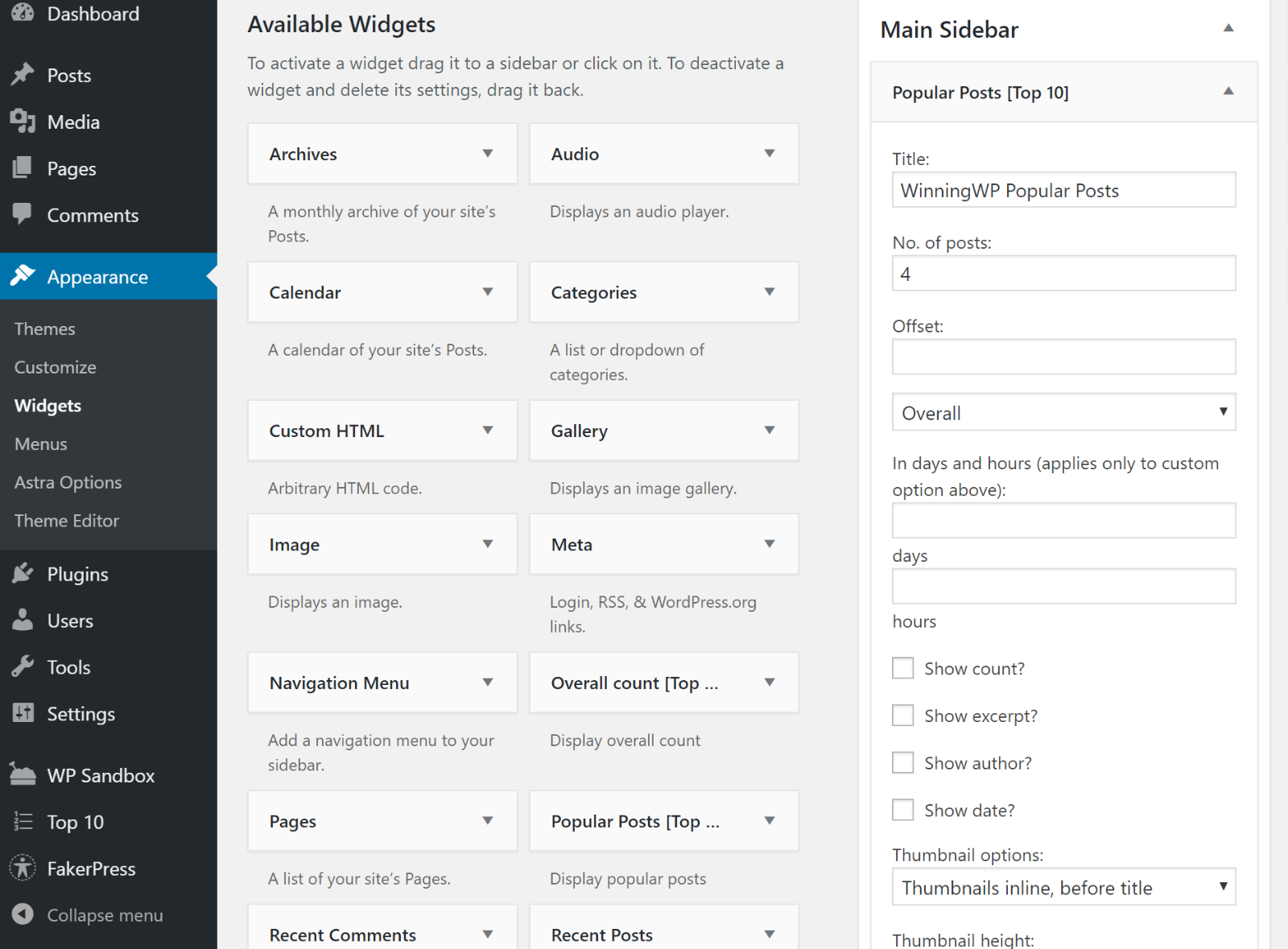 And here's an example of the popular posts list — it looks like you may need a little CSS to clean up the post list, though, as the default way the text wraps looks awkward in comparison to WordPress Popular Posts: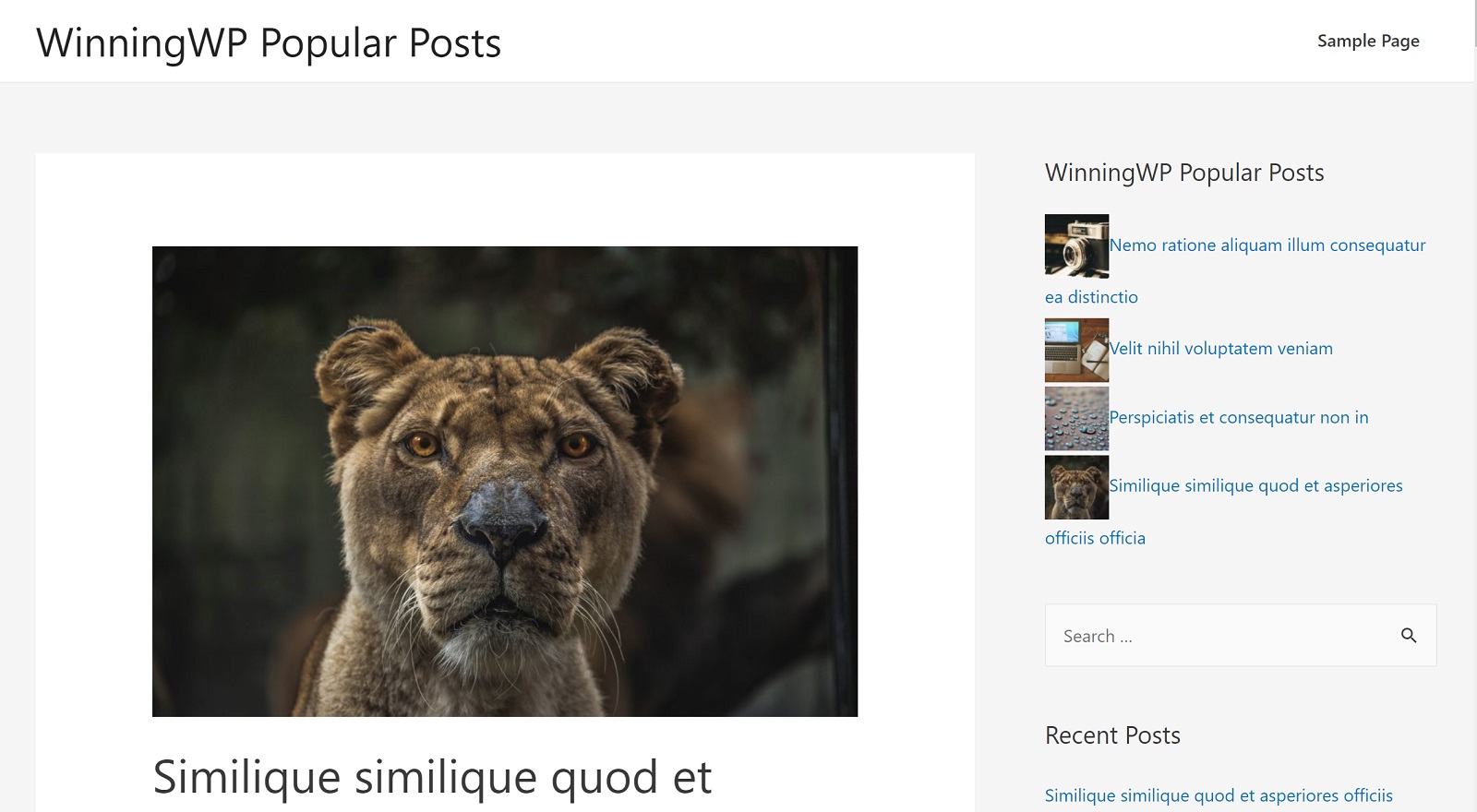 Jetpack (FREE)

Jetpack is a plugin from Automattic (makers of WordPress.com) that offers a whole suite of features. One of those features is… you guessed it: Popular posts.
I wouldn't recommend using it if all you want is popular posts, but if you like the other features in Jetpack, then the all-in-one approach may be convenient. Learn more in our Jetpack guide/review.
One downside of Jetpack is you have less flexibility for defining what a popular post is — it lets you display your most liked posts or the posts that have received the most traffic over the past 48 hours by default. If you have some tech chops, though, you can use a filter to define a custom date range.
Other than that, Jetpack is super easy to use and the output looks good right out of the box.
How It Works
To get started with Jetpack, you'll first need to run through the Jetpack setup process and connect it to your WordPress.com account (Jetpack will try to get you to sign up for a paid plan, but you just need the free plan for popular posts).
Once you get that out of the way, you can activate the popular posts functionality by using the new Top Posts & Pages (Jetpack) widget.
You can also configure some defaults for how to display your popular posts and what post types to include. The Visibility options let you go further and target specific posts, such as only including popular posts from a certain category or author: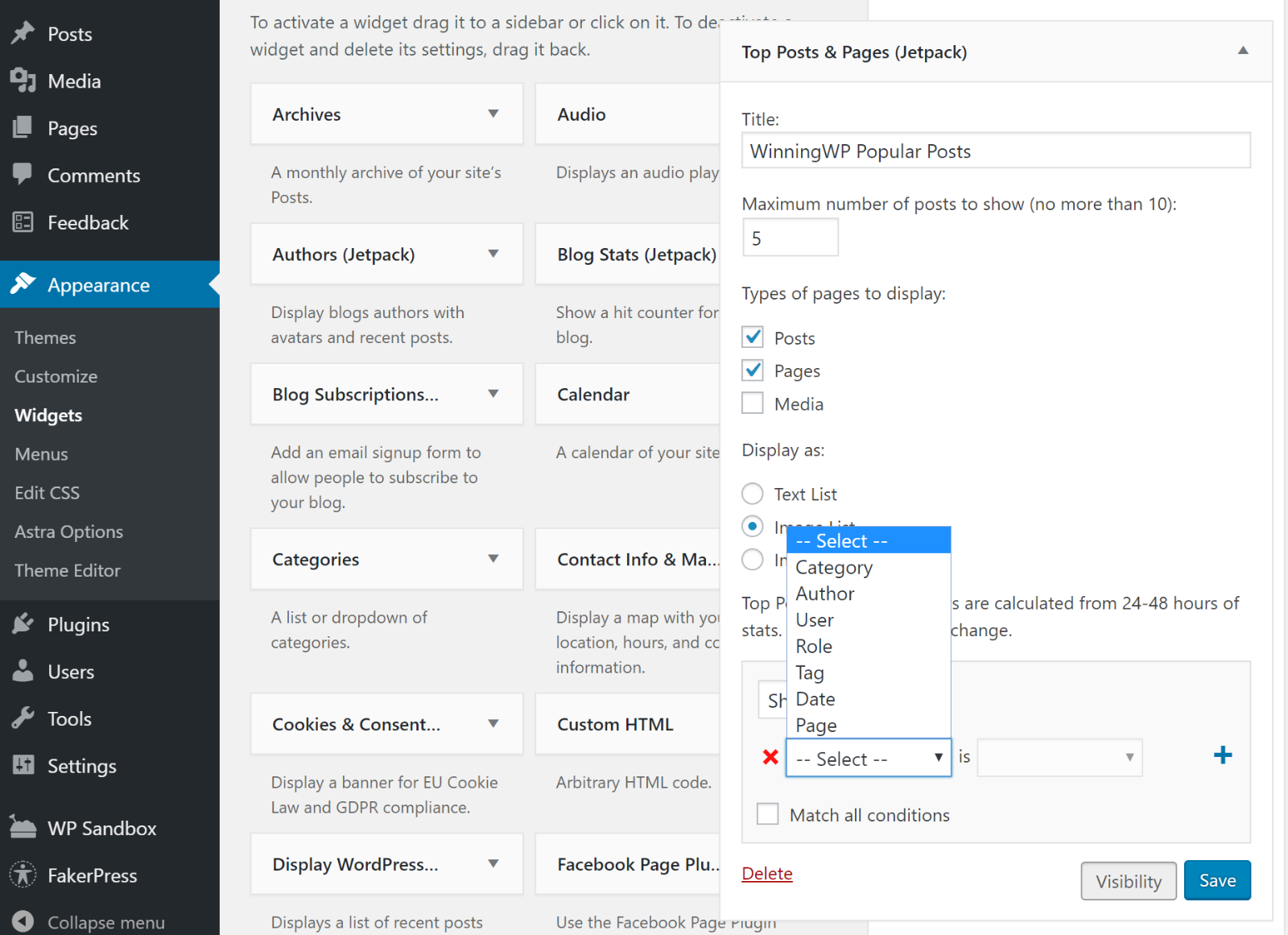 Here's an example of what your Jetpack popular post list looks like (there's only one item, but you get the idea):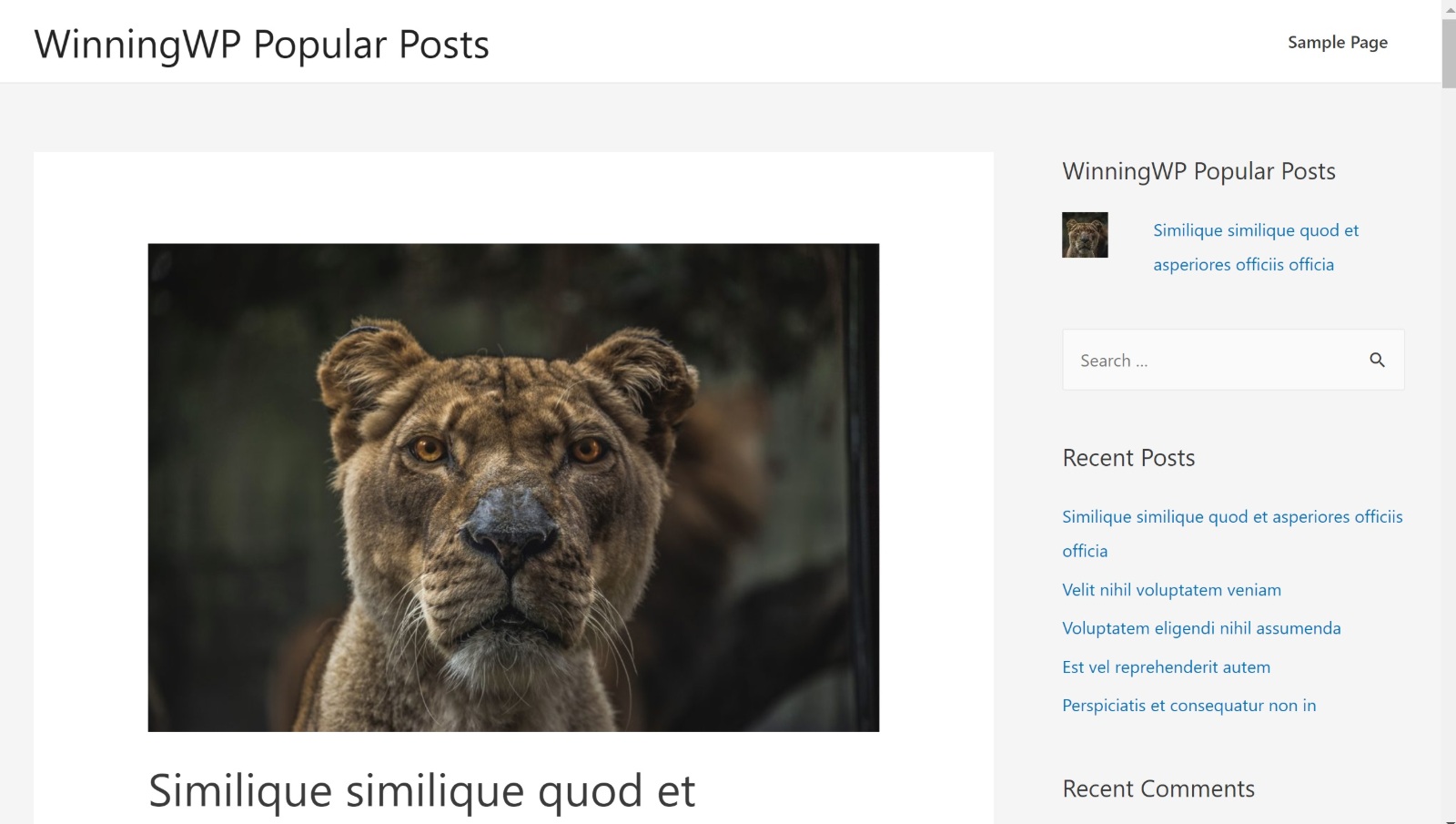 Stylish Popular Posts (FREE)

As the name suggests, Stylish Popular Posts helps you to display popular posts in a slightly more stylish manner than the previous plugins
Basically, instead of the simple thumbnail/title list you get with the other plugins, you'll be able to create nice overlays, as in this example: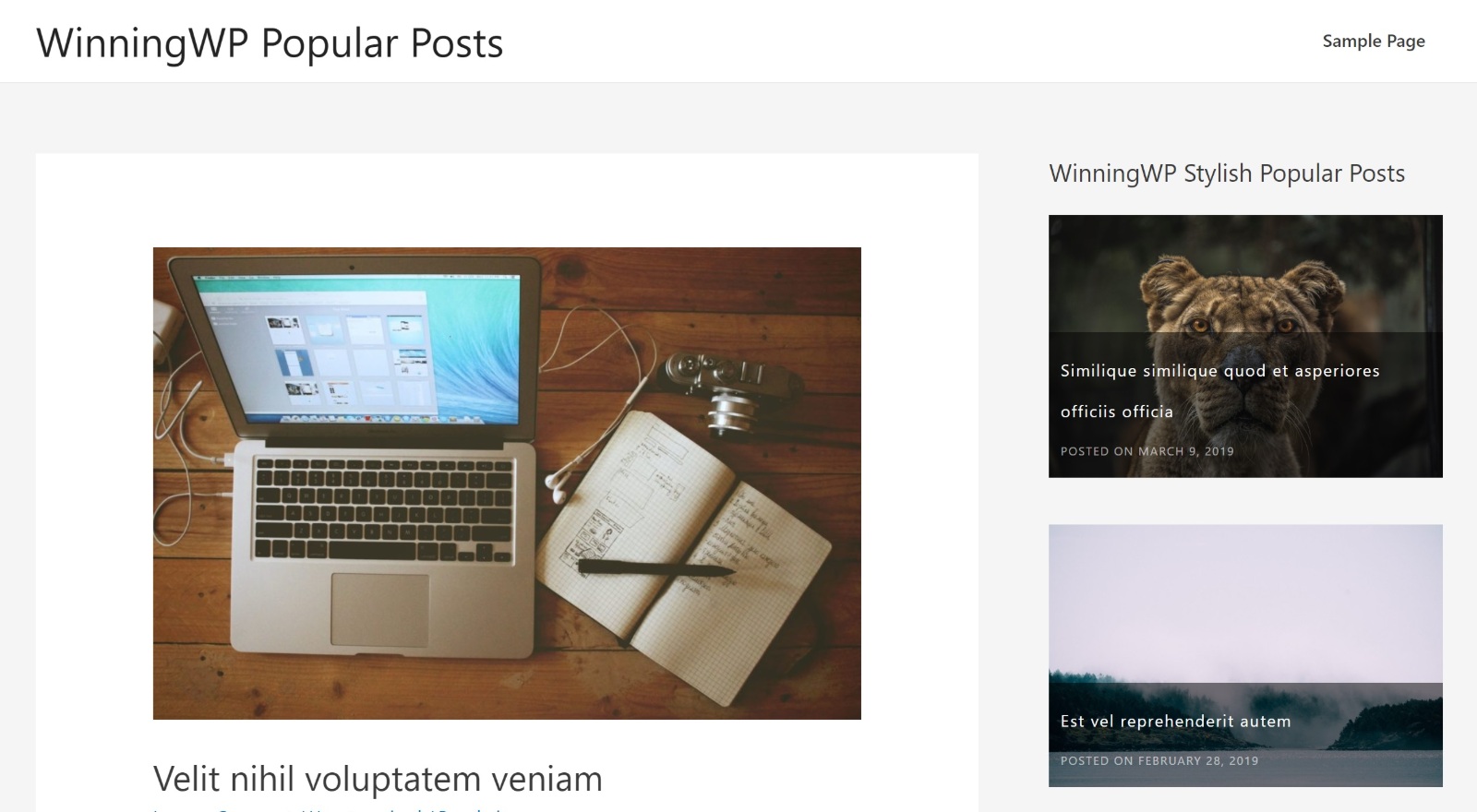 While you do get those nice looks, you lose a lot of the customization options you get with the other plugins. So, tradeoffs!
How It Works
Stylish Popular Posts is definitely the simplest option on this list.
Once you install and activate the plugin, all you have to do is add the widget where you want your popular posts to appear.
There's very little to configure — you pretty much just choose how many popular posts to display and whether or not to show each post's rank: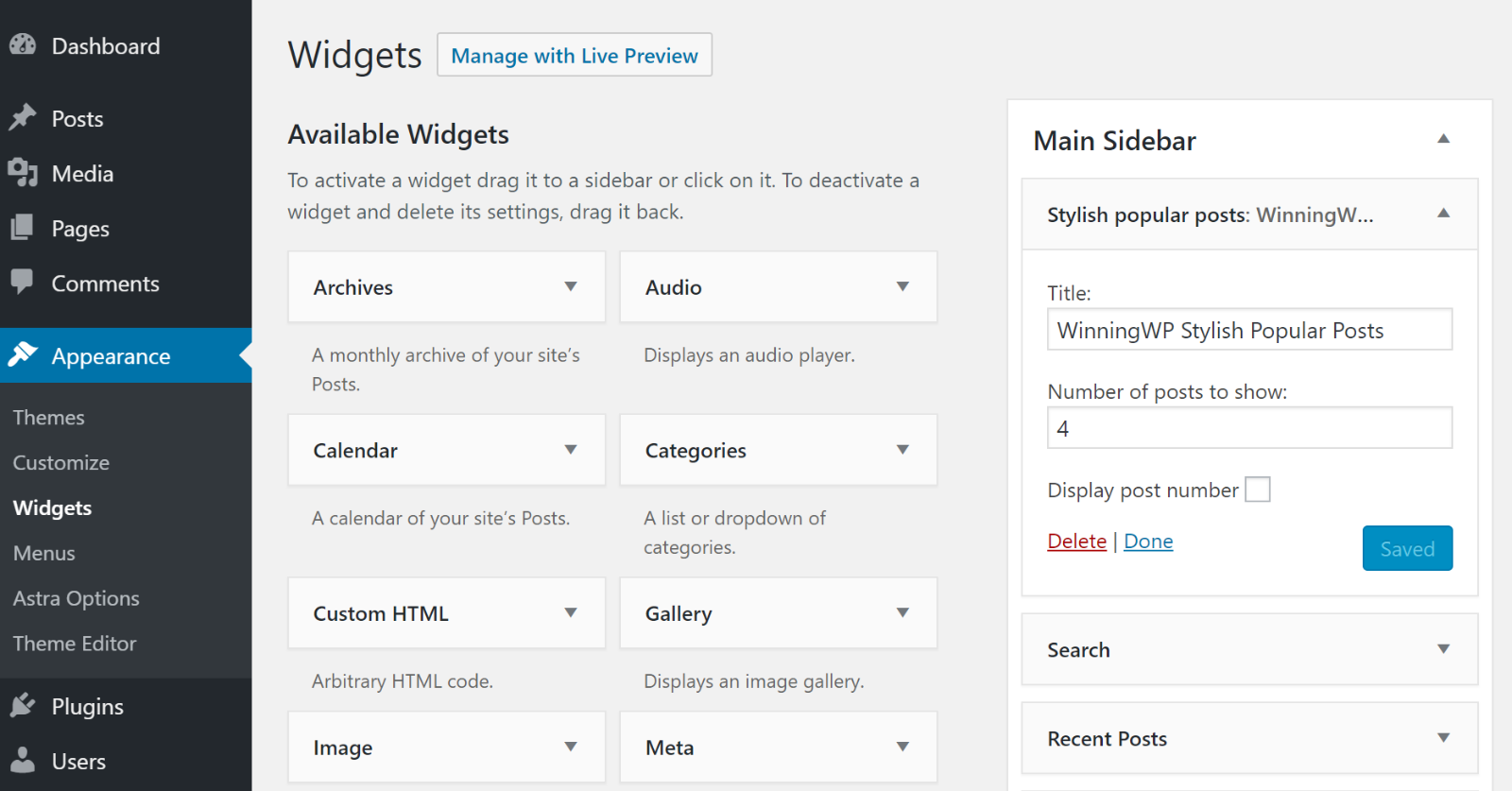 WP Tab Widget (FREE)

WP Tab Widget is unique in that it lets you display 'more' than just popular posts in a single widget. As you can see in the example above, visitors can click between different tabs to switch between:
popular content
recent content
comments
tags.
So, if you like that tabbed approach, that's a big reason to choose WP Tab Widget over the others.
You can choose exactly which tabs are available, and also configure other basic settings, such as:
whether or not to include thumbnails, post dates or excerpts
how many posts to show
the order of the tabs.
How It Works
There are no settings to configure — as soon as you activate the plugin, you'll go straight to adding the widget.
In the widget, you can control which tabs to include, as well as more advanced settings: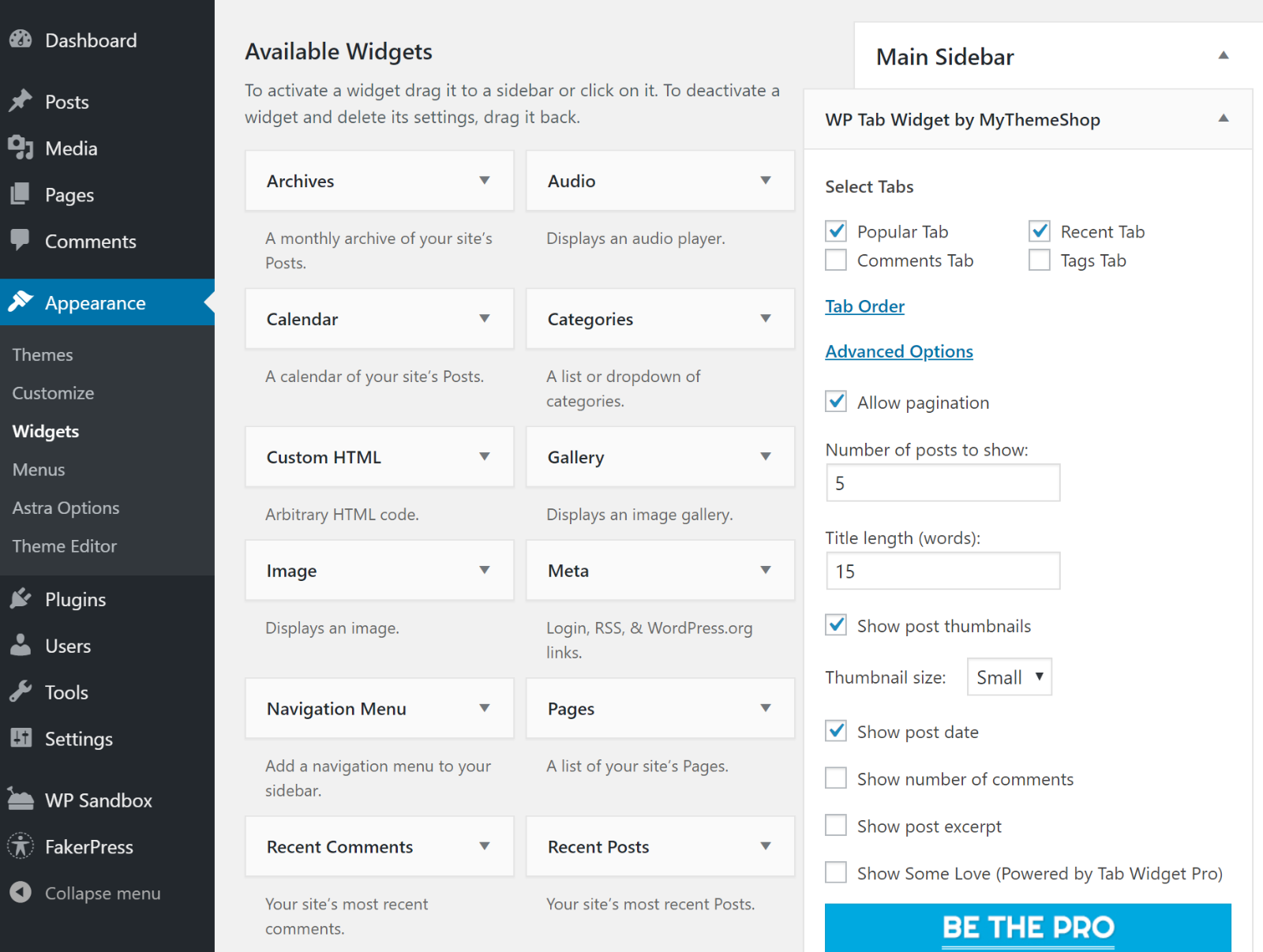 And here's an example of what it looks like: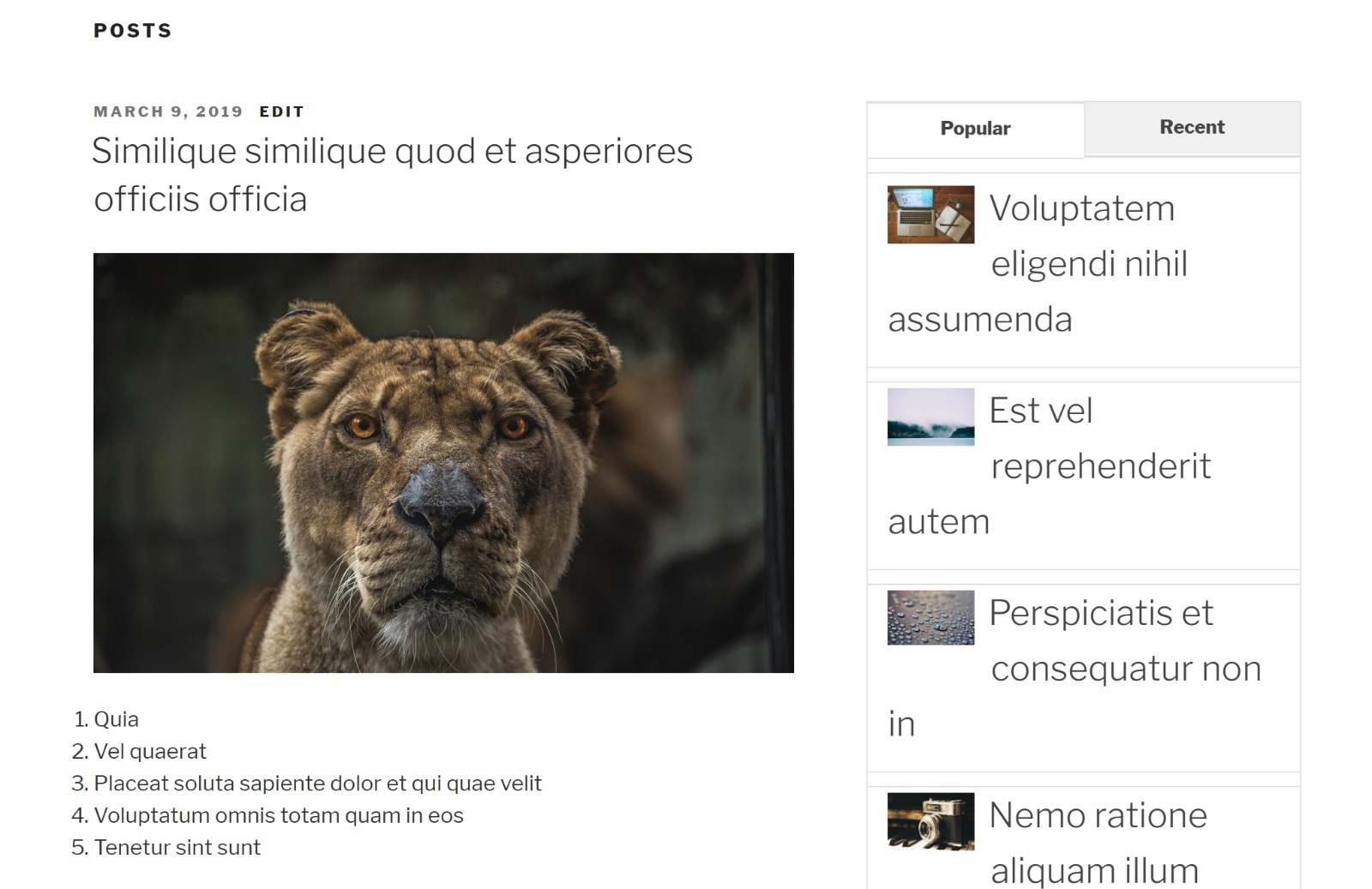 Note: WP Tab Widget wasn't working with the theme I used in the other screenshots — that may be something to consider. It worked fine once I went back to the Twenty Seventeen theme, though.
Display Posts (FREE)

Finally, there's Display Posts, a free plugin from Bill Erickson — a pretty well-known WordPress developer.
Display Posts isn't focused on just popular posts, but it does let you display your popular posts using two different criteria:
Comment count.
Social shares.
So, if that's how you want to define 'popular', this is a good option. Just be aware that there isn't an option to display posts by the actual traffic they receive.
Beyond that, the plugin comes with lots of shortcode parameters that you can use to target posts from specific categories, authors and so on. You can also choose whether or not to include thumbnails, excerpt summaries and other content.
How It Works
There's no settings area with Display Posts. Instead, you'll do everything by using the plugin's shortcode and many shortcode parameters.
You can then place this shortcode anywhere on your site, including a widget in your sidebar.
For example, if you wanted to show the five most popular posts by comment count, along with their thumbnails, you'd use this shortcode:
[display-posts orderby="comment_count" image_size="thumbnail" posts_per_page="5"]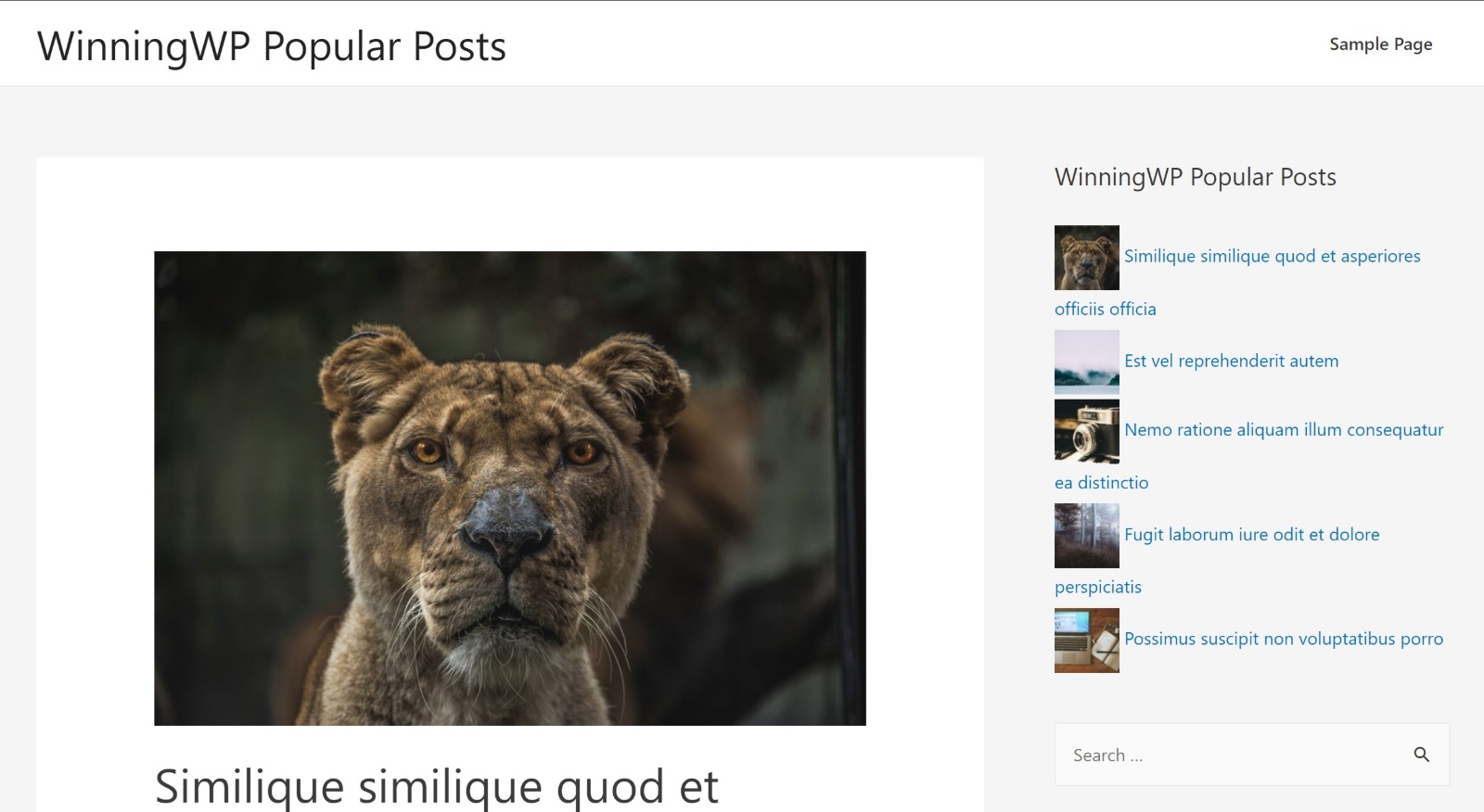 If you want to display posts by social shares, you can follow these instructions.
Final Thoughts
Displaying your popular content is a great way to get your best content in front of visitors and keep them on your site.
With the popular posts plugins on this list, you'll be able to do that for a variety of different 'popularity' metrics, including traffic, comments and social shares.
If you want the most flexibility, I'd say go with WordPress Popular Posts or Top 10. Stylish Popular Posts is good if you like its looks, while WP Tab Widget offers the unique tabbed approach.
Finally, Jetpack is great if you want the other Jetpack features, and Display Posts lets you order posts by social shares, which is helpful.
Used any of these popular posts plugins? Thoughts?
All comments are held for moderation. We'll only publish comments that are on topic and adhere to our Commenting Policy.