Six Best Popular Post Plugins for WordPress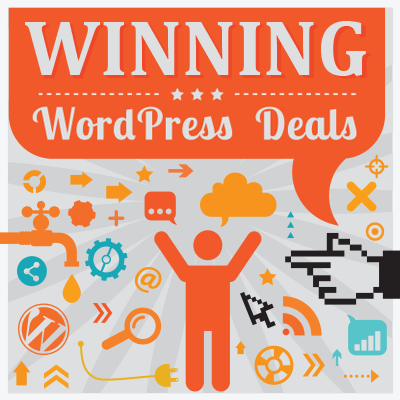 We all want our audiences to consume as much of our content as possible.
After all, the benefits are clear: the more articles a visitor reads, the more engaged with your website they become. This results in a more loyal readership, regular visitors, more social shares, and, ultimately, more conversions — in other words, all the stuff you really need.
This can put you in the search engine's good books too: Google's ranking algorithm analyzes on-site metrics — of which social shares, bounce rate, page views, and time on-site are key considerations — and good performance can give your site a timely boost up the SERPs. More visibility, more visitors. Awesome, right?
Of course, there is more to it than ensuring your visitors won't physically leave your site. For example, a popup that appears when a visitor signals intent to leave can keep some visitors on site, but not in the way you want — it's a shady tactic (when used for this purpose). We want visitors to want to stay and genuinely enjoy their time on the site.
With this in mind, you need to 'guide' your audience towards areas of your website they will enjoy, therefore encouraging them to remain on your website for longer of their own accord. Internal linking is an obvious means to do this — as is the use of a related content widget placed below each article (something we covered a few weeks back).
Today I want to help you guide visitors towards the posts with built-in social proof: your most popular posts. And, because these are the posts that are proven to resonate with your audience, they are also likely to be your best — in other words, your conversion drivers!
If you want to add a popular posts widget to your WordPress website (commonly/usually placed within the site's sidebar), here are six of the very best popular post plugins around:
WordPress Popular Posts (FREE)
With over 1,225,000 downloads to date, the WordPress Popular Posts plugin is the most popular, erm, popular posts plugin around.

Of course, popularity is subjective, and this plugin allows you to rank your post's popularity by either page views or number of comments. To avoid putting newer articles at an unfair disadvantage, you can also set a specific time period to be taken into consideration — from 24 hours, 7 days, 30 days, to all time. As well as supporting posts and pages, the WordPress Popular Posts plugin also considers custom post types, so no content is excluded.
The popular post section itself looks clean, although it is quite basic. You can set the title for the widget, as well as the number of posts to show. Alongside the post titles, you can also show a thumbnail of each post's featured image to add some color to the widget area, and you can also display the number of page views and comments directly below — great for additional social proof.
As an extra bonus, the plugin supports multiple popular post widgets on each blog, and you can customize the settings of each one to ensure no two are the same. You can add a popular post section to a sidebar using a dedicated widget, or you can choose to use a simple shortcode, giving you full control over where your popular posts are displayed.
Top 10 — Popular Posts Plugin for WordPress (FREE)
Top 10 is another impressive popular posts plugin that can be downloaded for free from the WordPress repository.

The plugin ranks your most popular posts based on daily page views or overall page views — it can rank posts, pages, and (thanks to a recent update) custom post types. You can also evaluate page views over a custom time period. Top 10 gives you complete control over the type of content you want to include in your popular post section, by allowing you to exclude entire categories from inclusion. If you're looking to manipulate the results to ensure a specific post is listed, you can check your posts' popularity rankings from the WordPress back-end and make exclusions accordingly.
The popular posts look clean and simple, and you have a number of customization options to ensure the style fits with the rest of your website. For a start, you can select to display a thumbnail next to the title of each post, with the thumbnail size being fully adjustable. You can select the title for the widget, as well as number of posts to be featured, and you can also choose whether you want to display the number of page views and the author of the piece underneath the title.
Adding a popular posts section using Top 10 is as easy as using a dedicated widget, or a simple shortcode.
Top Stories ($15)
If you buy into the benefits of pushing your best content using a popular posts widget, you may want to invest in some premium functionality. If so, Top Stories is one of the best premium popular post plugins, costing just $15 from CodeCanyon.

With plenty of viable free plugins available, why would you want to spend your hard-earned cash, though?
Well, Top Stories justifies its price tag by building some of the most stylish popular posts widgets around. You can use it to display popular posts, pages, and custom post types. You can also rank your widget by most views, comments, or date. There's also the possibility to filter your popular posts, either by category, custom post type, or by custom time period – for example, your most popular post in the last three months.
Without a doubt, though, the plugin's primary selling point is aesthetics. The plugin displays large thumbnails, lots of bright colors, and smart typography that really draws attention to your widget area.
There are plenty of customization options, too. You can quickly and easily create a new title for the widget, choose how many posts to feature, and also add a custom color to each post. To further enhance the coloring, you can also add a semi-transparent background tint to each thumbnail, with a choice of infinite colors. This can be consistent throughout the widget, or the plugin can add gradients if you'd prefer. This allows you to craft a popular post widget that's unique to your website.
If that's still not stylish enough for you, the plugin also supports 18 built-in hover animations, drawing extra attention to your most popular posts.
Top Stories will appeal to websites in all niches; however it's probably best-suited to websites in the tech niche.
Popular Widget (FREE)
Popular Widget offers something slightly different to the other plugins featured today: a tabbed popular posts widget.
This means you can display your most viewed articles and your most commented articles in the same widget, with visitors being able to click on a tab to switch between them. You can also display a tab for the articles most recently posted or most recently commented, as well as a separate tab for articles with specific tags attached. For the popularity tabs, you are able to specify a data range to be analyzed (by default this is set to one year).
The widget itself looks good, with a simple but effective design, and the addition of the tabs makes the widget look and feel more sophisticated. You are able to select how many posts will appear in each section, as well as whether you want to display a thumbnail and the number of page views. You can also choose to include an excerpt of each article — you can select how many characters to display — and, in the case of the most recent comments tab, an excerpt of the comment itself.
The popular posts can be displayed in any widget area of your website, and the plugin also gives you the option of excluding articles under certain categories from being included.
Stylish Popular Posts (FREE)
Stylish Popular Posts allows you to add the most stylish popular post sections of any free plugin to your website — the clue is in the name!

The plugin developers have opted for style over substance, as the plugin has a relatively simple process for determining a post's popularity: it only factors in the number of comments per post. Stylish Popular Posts will only consider all comments, rather than over a specified date range, too — this puts newer posts at an obvious disadvantage.
However, I'm more than willing to overlook the plugin's obvious shortcomings due to how great the popular content looks in the widget sections of your website. The popular posts section displays stylish, chunky thumbnails that fill the widget area, with the title and date published displayed over the thumbnail. There is also a small colored circle in the bottom corner of each thumbnail, displaying the popularity rank of each post — this can be switched off, though.
The only thing you have control over is how many posts the plugin displays. However, if you want your popular post section to look great rather than having a sophisticated algorithm for judging popularity, this plugin is definitely worth considering.
Coliris – Most Popular Recent Posts Widget ($15)
Finally, we have the Coliris Most Popular Recent Posts Widget — our second premium plugin featured today, available from CodeCanyon for $15.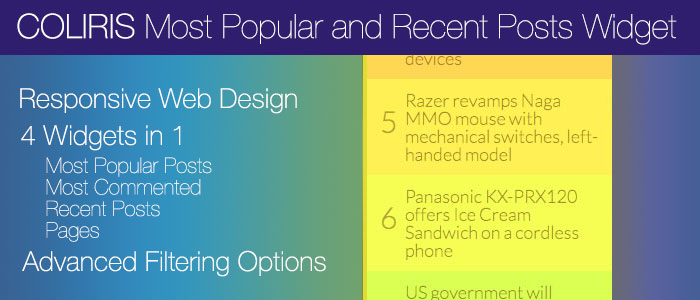 This plugin allows you to integrate a striking, brightly colored popular post widget for your website. This might look out of place on some websites, but for others it will look fantastic.
Coliris allows you to add the popular posts widget to any widget area, though it was clearly designed with a sidebar in mind. The plugin does not support a thumbnail image, but instead allows you to select your desired color from an unlimited selection. Based on your choice, the algorithm will then create a palette of color variations, each with a slightly different shade, which creates a beautiful blending effect — unfortunately, you aren't able to select just one color. When a visitor interacts with the widget, they will see an attractive CSS hover animation, which makes the site feel more interactive — a nice touch.
The plugin does give you control over the number of items to include in the popular posts section, though. It also supports a number of methods for calculating popularity, including page views, most commented, and recently commented.
You can have a number of different popular post widget areas, with each populated by a different ranking method of your choice. As an added bonus, the plugin supports pages as well as posts, and the plugin can be used to create a recent posts — or even random posts — section for your website.
Final Thoughts
If you want to build a loyal readership for your website, giving visitors an easy way to access your most popular articles — the articles that other audience members love — is a no-brainer. By showing them your best content, you are more likely to convert them into regular visitors, or better still, paid customers.
Your popular posts will also contain some of your best performance metrics — time on site, comments, and bounce rate. The more visitors you send to these pages, the better your site metrics will become, and the happier Google will be to send traffic your way. In other words, you could find yourself moving up the SERPs, and this will make your website more visible, which will be great for attracting new visitors and boosting overall traffic figures.
The six plugins featured today are all great solutions for adding a popular post section to your website. They all have different criteria for determining what makes a post popular, as well as a different appearance, but the end result is the same: users are always one click away from your best content. Try some of them out, find your favorite, and see how it impacts the performance of your website.
Used any of these popular posts plugins? Thoughts?