WinningWP content is free to all. If you make a purchase through referral links on our site, we earn a commission (
learn more
).
WPML, qTranslate X or Polylang – The Three Most Popular Multilingual WordPress Plugins Compared
If you want to publish your content in more than one language, the most common approach is to create a multilingual website. As you'd expect, WordPress boasts a number of excellent purpose-built multilingual/translation plugins to help with this.
In this article, we'll be exploring and comparing: WPML, qTranslate XT and Polylang — arguably the best, and certainly the most popular, WordPress translation/multilingual plugins on the market.
By the end of this comparison, you should have a good idea of what's involved in creating a WordPress website with content in various languages, as well as what each of these three plugins has to offer, how they differ and which one best meets your needs.
Let's get started…
The Three Most Popular WordPress Multilingual Plugins: WPML, qTranslate XT, and Polylang
Before we really get into the details, for those who aren't yet familiar with these plugins, here's an overview of each:
WPML
First up is WPML. Almost certainly the most popular commercial multilingual plugin available for WordPress, with more than 400,000 sites reportedly using it, WPML aims to simplify the task of managing the different language versions of your content without sacrificing either features or functionality.
WPML is an extremely powerful plugin that can be used to display almost all aspects of your WordPress website in different languages — from post and page content to text displayed as part of your WordPress theme. WPML can also display a multilingual version of plugin content, the WordPress admin area, widgets and much, much more. Depending on which licensing option you choose, you'll also be able to create and manage multilingual versions of your WooCommerce-powered ecommerce store.
When using WPML to create a multilingual WordPress website, you can either provide the translated versions yourself or use WPML to put you in touch with translation services or freelance translators. You can then hire these translators to convert your content for you — all from within your WordPress dashboard.
WPML is a premium option, but, with prices starting from $29, it's also an extremely affordable choice.
qTranslate XT

This free multilingual WordPress plugin started life as qTranslate before evolving into qTranslate X. However, qTranslate X has gone without an update for three years now, so is no longer fully compatible with the latest versions of WordPress. Because of this, a team of developers and qTranslate X users have created the qTranslate XT plugin. Having had an update to the code, qTranslate XT now works with the most recent versions of WordPress and is being actively maintained by the team.
This is great for anyone already using qTranslate X for their multilingual WordPress website. However, the current situation isn't ideal, especially for those who haven't started translating their site and its content. One problem is that qTranslate XT is not (yet) in the official WordPress Plugin Directory. Instead, it's available for download from the GitHub repository. The main drawback of this is you can't install the plugin directly from the WordPress Dashboard. However, as we cover later in this comparison, it's still relatively easy to install.
The now effectively abandoned qTranslate X plugin was definitely a popular option, with more than 100,000 active installs. However, it's not possible to say how many sites are using qTranslate XT. At its peak, qTranslate X had a user rating of 4.9 out of 5 stars, but now that score has dropped slightly to 4.6 stars out of 5.
Once activated on your WordPress website, qTranslate XT lets you create multiple versions of your content, each using a different language. After you've entered the translated versions of your posts, pages and other areas of your website, your visitors will experience your site in the language defined by their website browser. With qTranslate XT, you can also add switches to your site that allow your visitors to manually choose which language it's displayed in.
By installing a free add-on, you can also use qTranslate XT to create a multilingual ecommerce store using WooCommerce. However, that add-on hasn't been updated for three years either, making it something of an unknown quantity.
Polylang (Quick Overview)
Polylang is another popular free WordPress multilingual plugin that's being used on more than 400,000 WordPress websites. With a 4.7 out of 5-star user rating, Polylang is another popular choice for anyone seeking a free way to manage content in multiple languages on their WordPress website.
Much like WPML and qTranslate XT, Polylang makes it possible to translate your posts, pages, menus, widgets and more. It also has support for creating multilingual ecommerce stores with WooCommerce, and a premium add-on. Although there's also a free third-party plugin that lets you translate your WooCommerce store with Polylang.
There's a commercial version of Polylang available as well, which you can purchase for €99. Upgrading to Polylang Pro gets you access to some additional features, and, perhaps most importantly, the premium support service.
Available as both a free and premium plugin, Polylang could be the ideal choice for those who are starting on a budget, but who would like the option of upgrading to a premium plugin once their project takes off.
How does Polylang shape up against WPML and qTranslate XT? Let's find out.
Feature Comparison
These plugins are advanced tools. At their most basic, they can be used to publish blog content in multiple languages. However, as we'll show in this comparison, they can do a lot more than that.
Ease of Use
Let's begin by looking at ease of use — starting with the premium WPML plugin.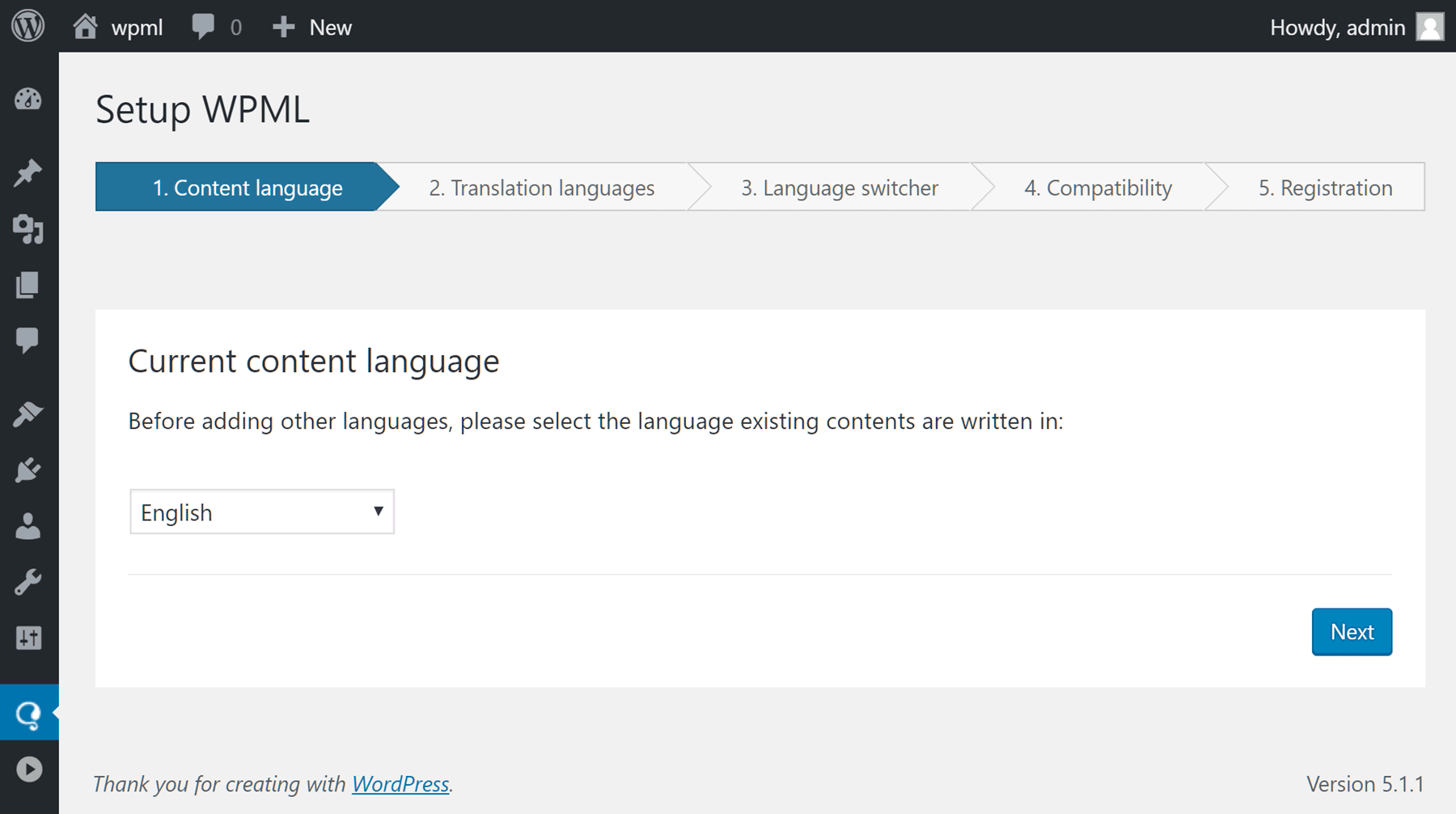 Thanks to the WPML setup wizard, it's easy to complete the process of making your single-language WordPress website multilingual. Through the wizard, you can set the default language of your site, before choosing the additional languages you'll be publishing in.
WPML makes it straightforward to define how your visitors can change the language, with options including footer, sidebar or menu widgets, and language switchers. You can also choose how the URLs for the different language versions of your content are constructed, including the use of subdomains, directories or URL parameters.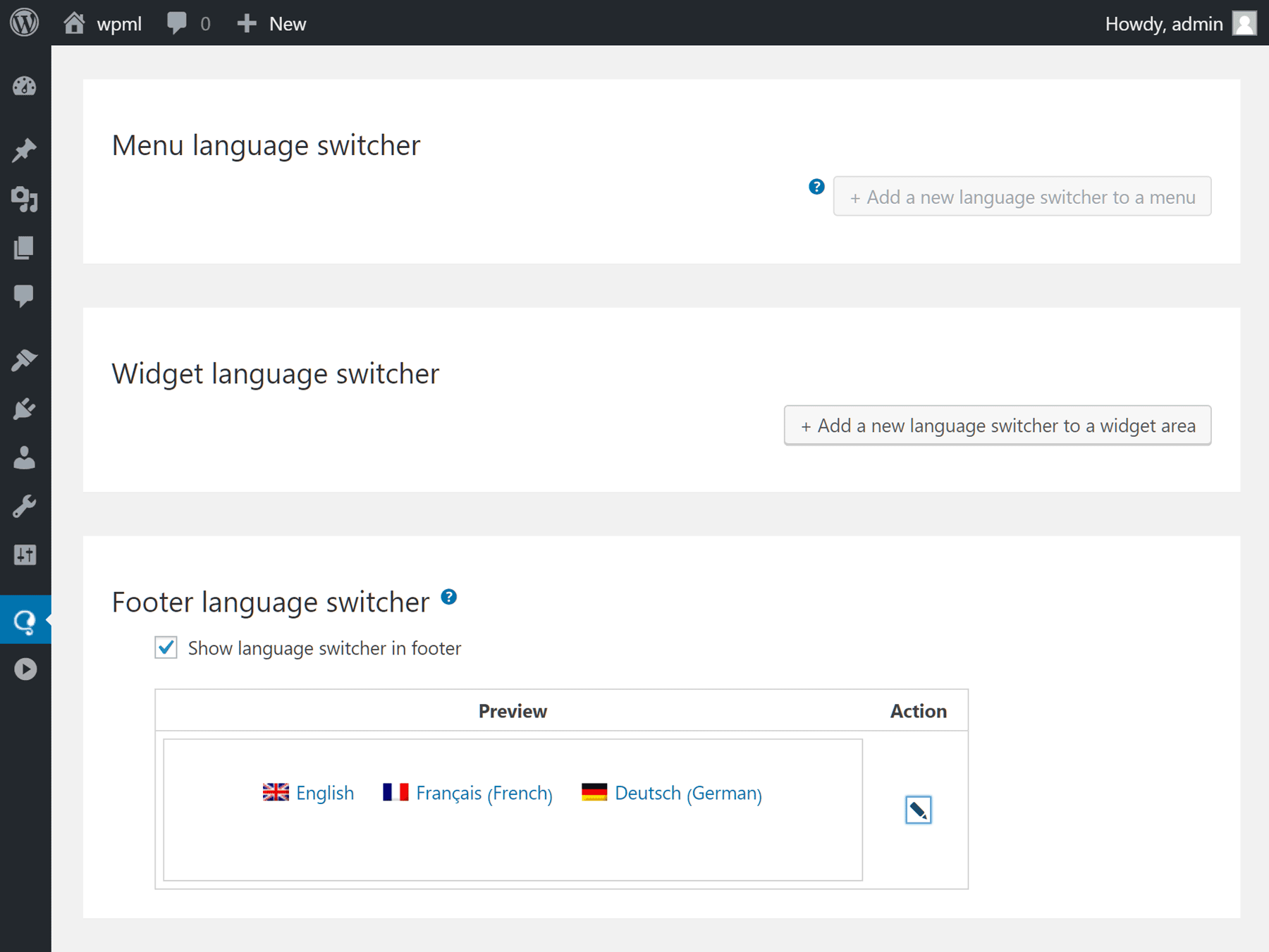 When it comes to adding and managing the different versions of your content, WPML adds some controls to the WordPress Editor screen that give you a quick way to switch languages and add translated content.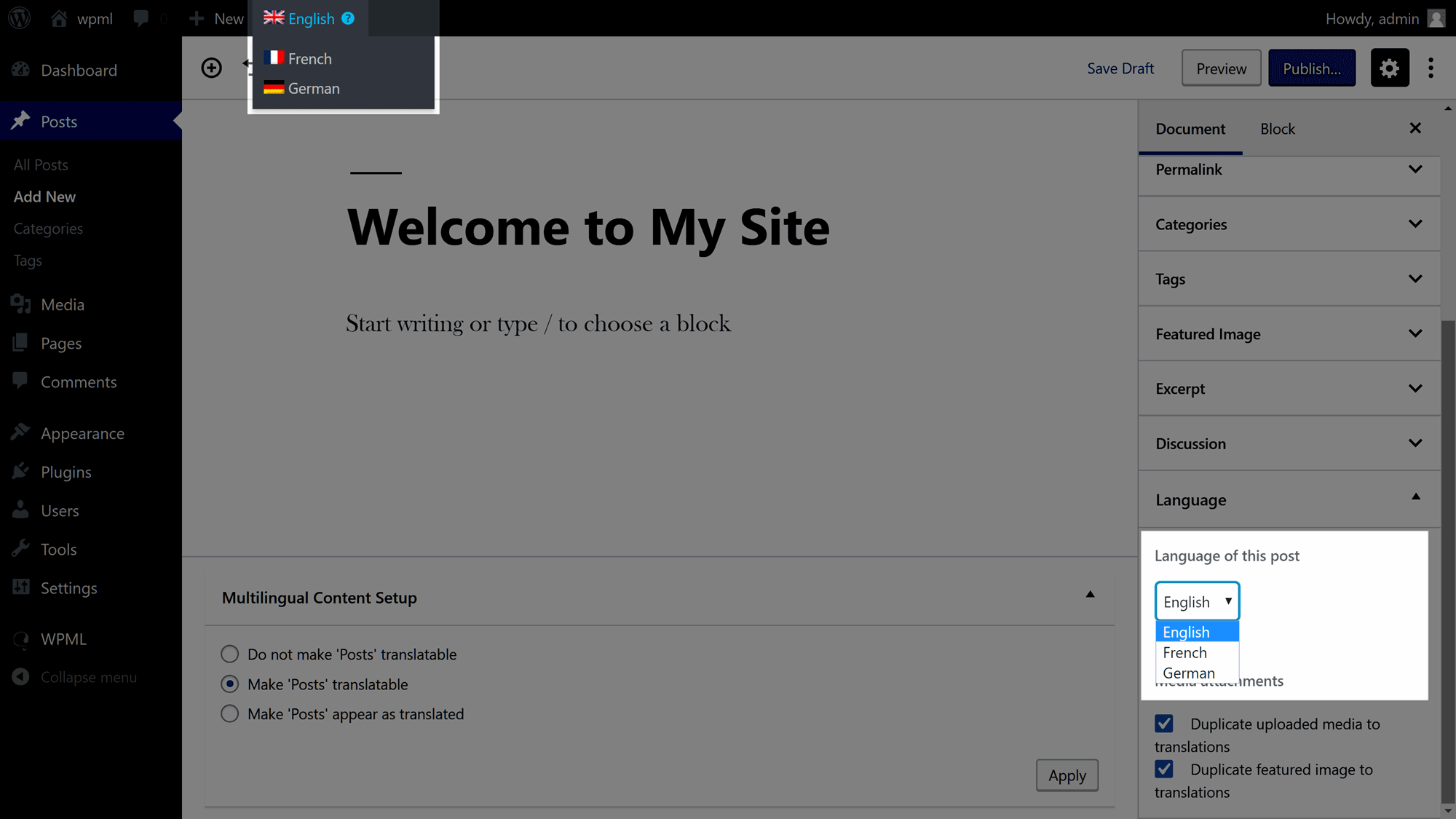 To make translating your website a little easier, WPML can quickly show you which areas of your site need translating. WPML also lets you add theme and plugin translations through your WordPress admin area, rather than having to upload the translated content in the widely used PO and MO file formats.
Moving on from WPML, let's look at how easy the free qTranslate XT plugin is to use.
As mentioned earlier, due to a lack of input from the developer, qTranslate X has now been superseded by qTranslate XT and is maintained by a new team. At present, qTranslate XT isn't in the WordPress Plugin Directory, and is available from the GitHub repository. This means you can't install the plugin directly from within your WordPress Dashboard. Instead, you must download the file from GitHub, then upload it to your website through the WordPress Dashboard. Despite a few extra steps, the process of adding this plugin to your site isn't too demanding.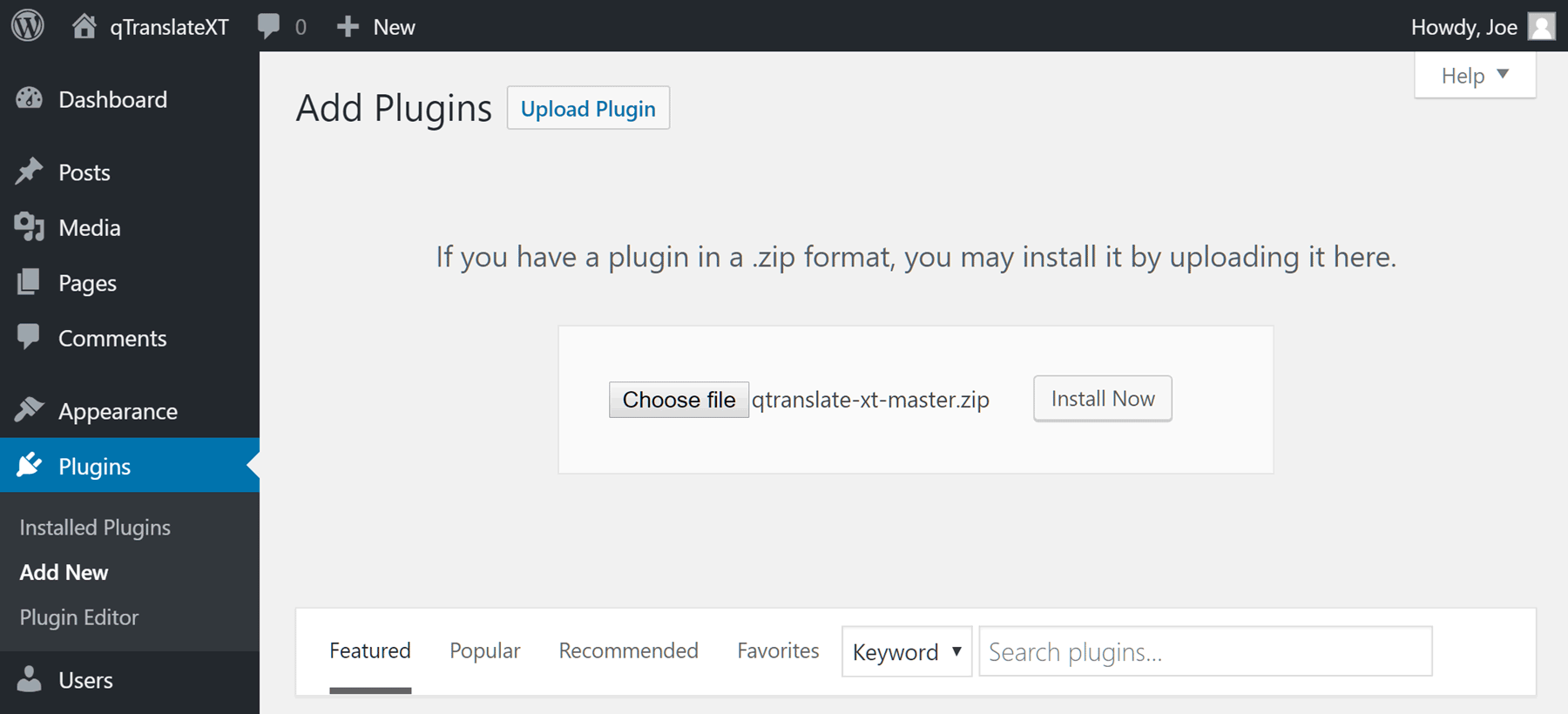 Unlike WPML, there's no setup wizard for the qTranslate XT plugin. However, after activating qTranslate X on your WordPress website, a link to the startup guide is displayed, giving you an easy way to familiarize yourself with how the plugin works.

As you can see from the above image, qTranslate XT doesn't support the current version of the WordPress Editor (also known as Gutenberg). Because of this, you'll need to revert to the previous version of the editor by installing the free Classic Editor plugin. Classic Editor is available from the WordPress Plugin Directory, so can be installed directly from your WordPress Dashboard. The downside of this lack of support is that you can't use the new WordPress Editor to create or publish multilingual content on your site with qTranslate XT.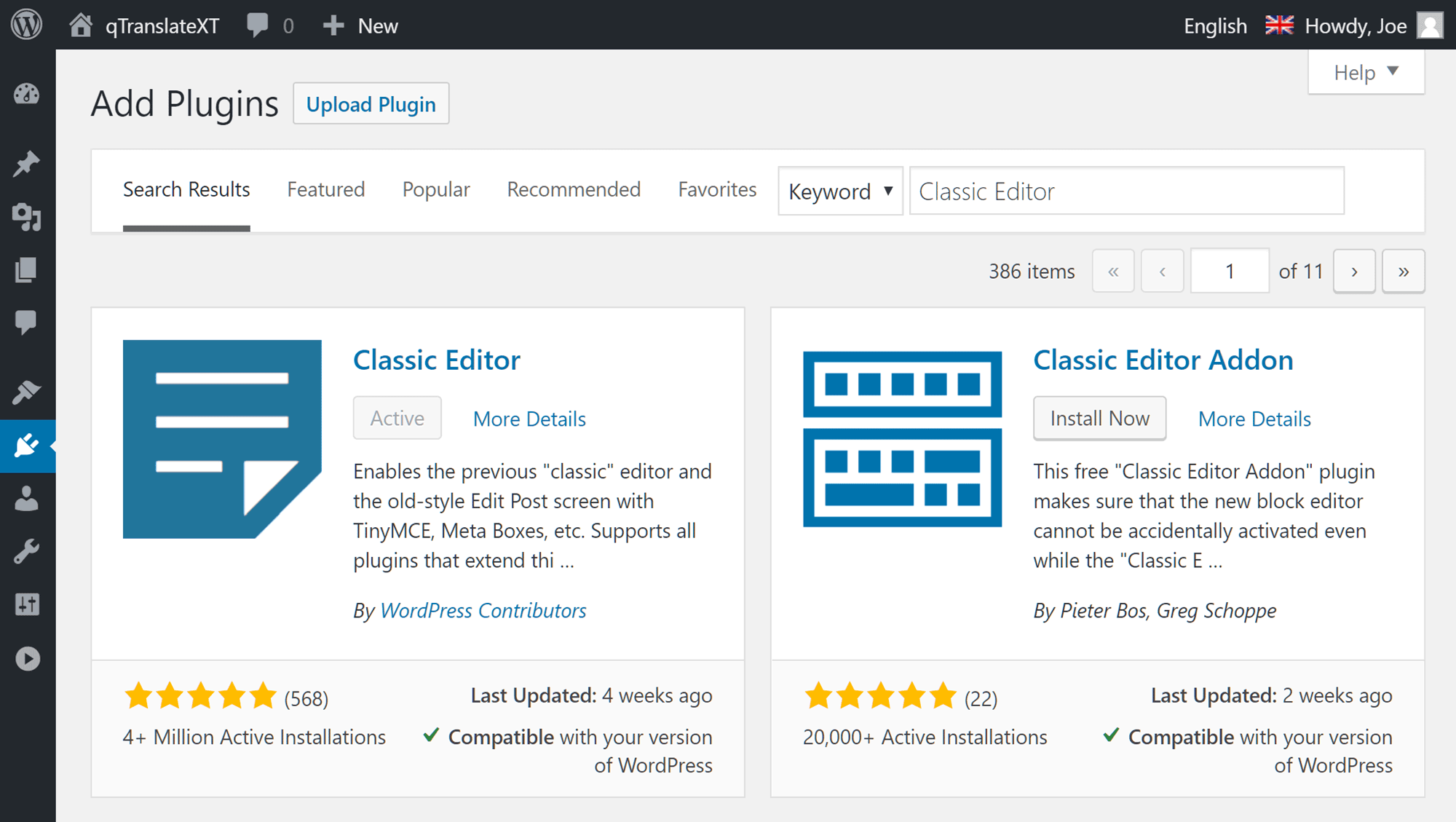 Getting started with qTranslate XT isn't quite as easy as it is with WPML — largely because there's no walkthrough of the key steps, and, unlike with WPML, the settings are tucked away under the top-level settings menu in your WordPress Dashboard.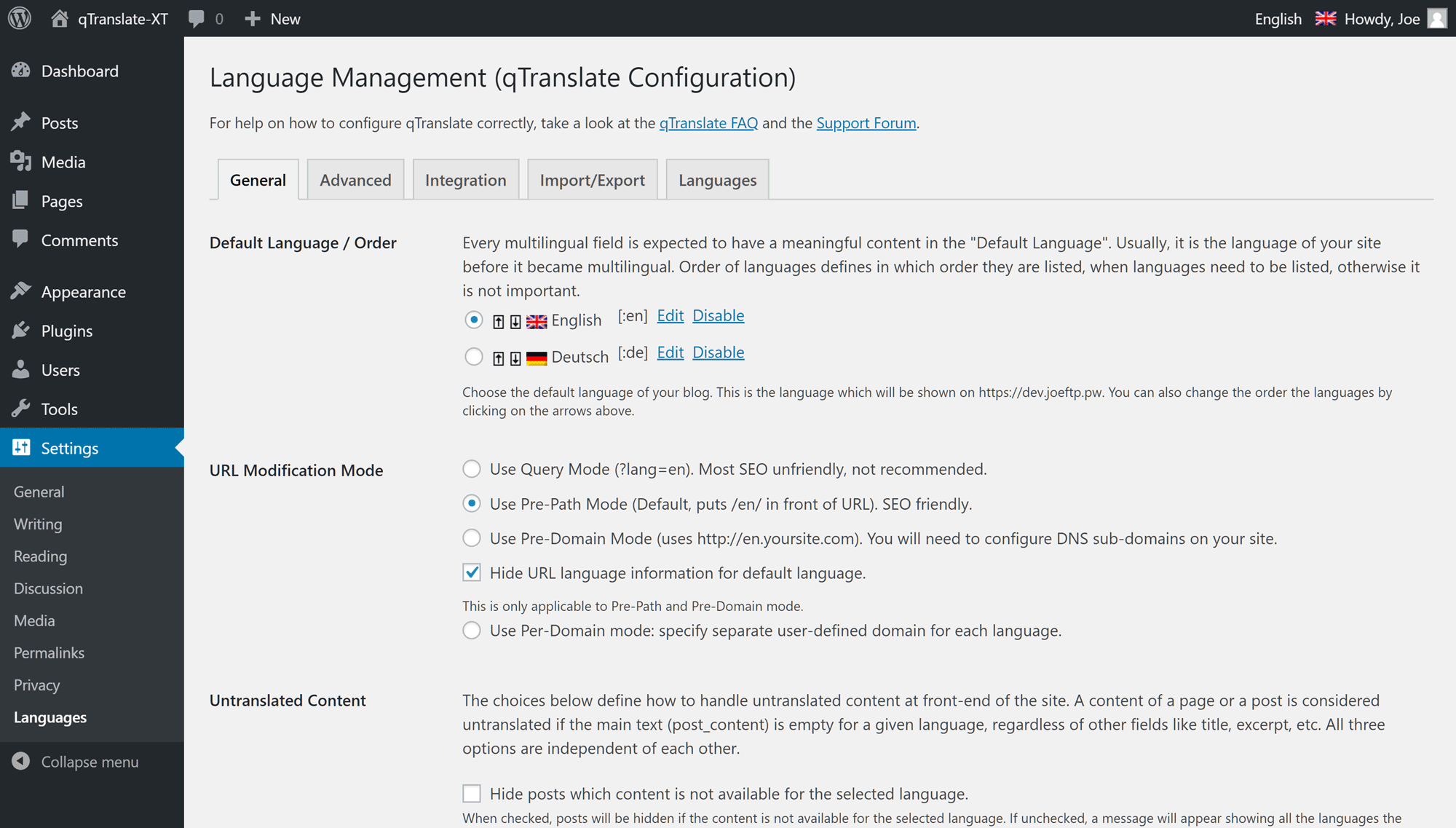 However, once you've located the qTranslate XT control panel, understanding the settings and options is straightforward.
The plugin also makes it very easy to enter the different language versions of your content. For example, on the General Settings page for your site, you can simply click on the language button and then enter the translated content for your Site Title and Tagline.

If this approach doesn't appeal, you also have the option of removing the language switcher buttons on the admin pages through the qTranslate XT settings. Doing so lets you enter multilingual content using language defining tags, but this method isn't as user-friendly.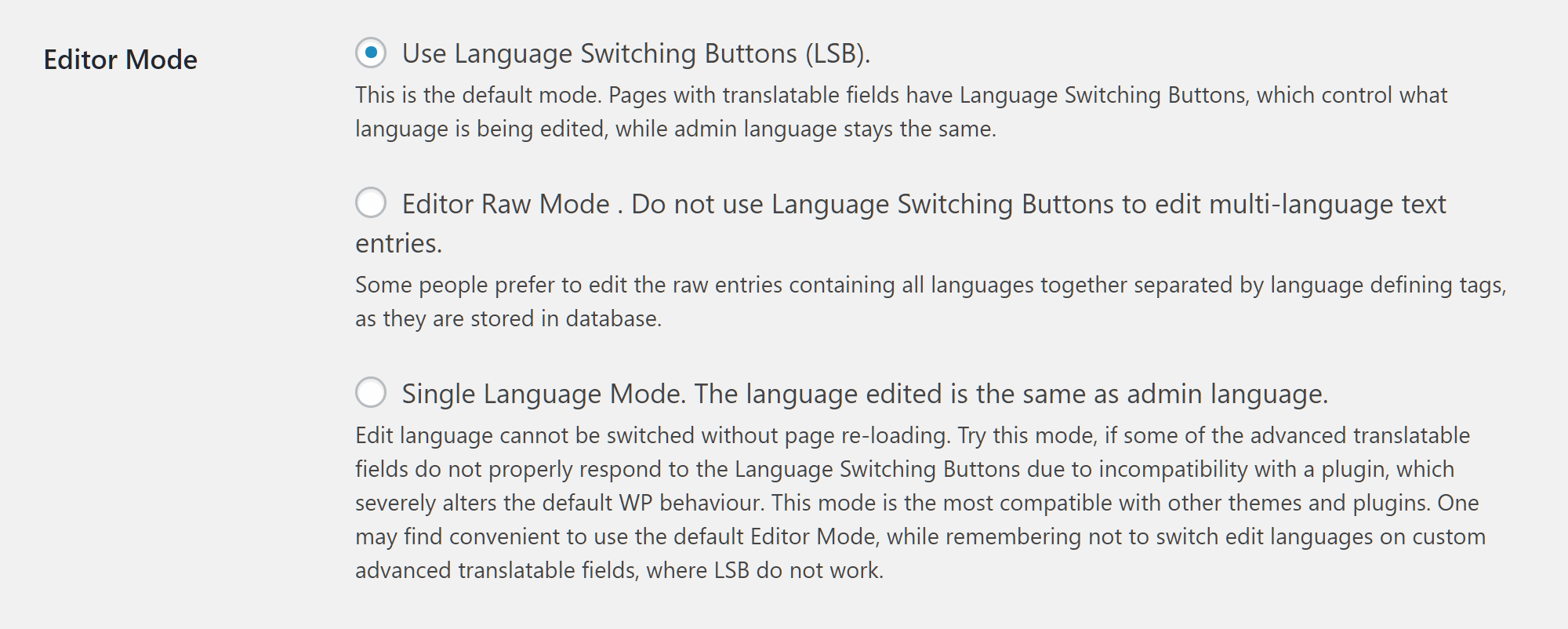 Thanks to an update, as with WPML, qTranslate XT now displays a button on the WordPress Editor that lets you copy the content from one language version of a post to another. This means you don't have to remember the original post content as you carry out the translation or copy and paste it over yourself.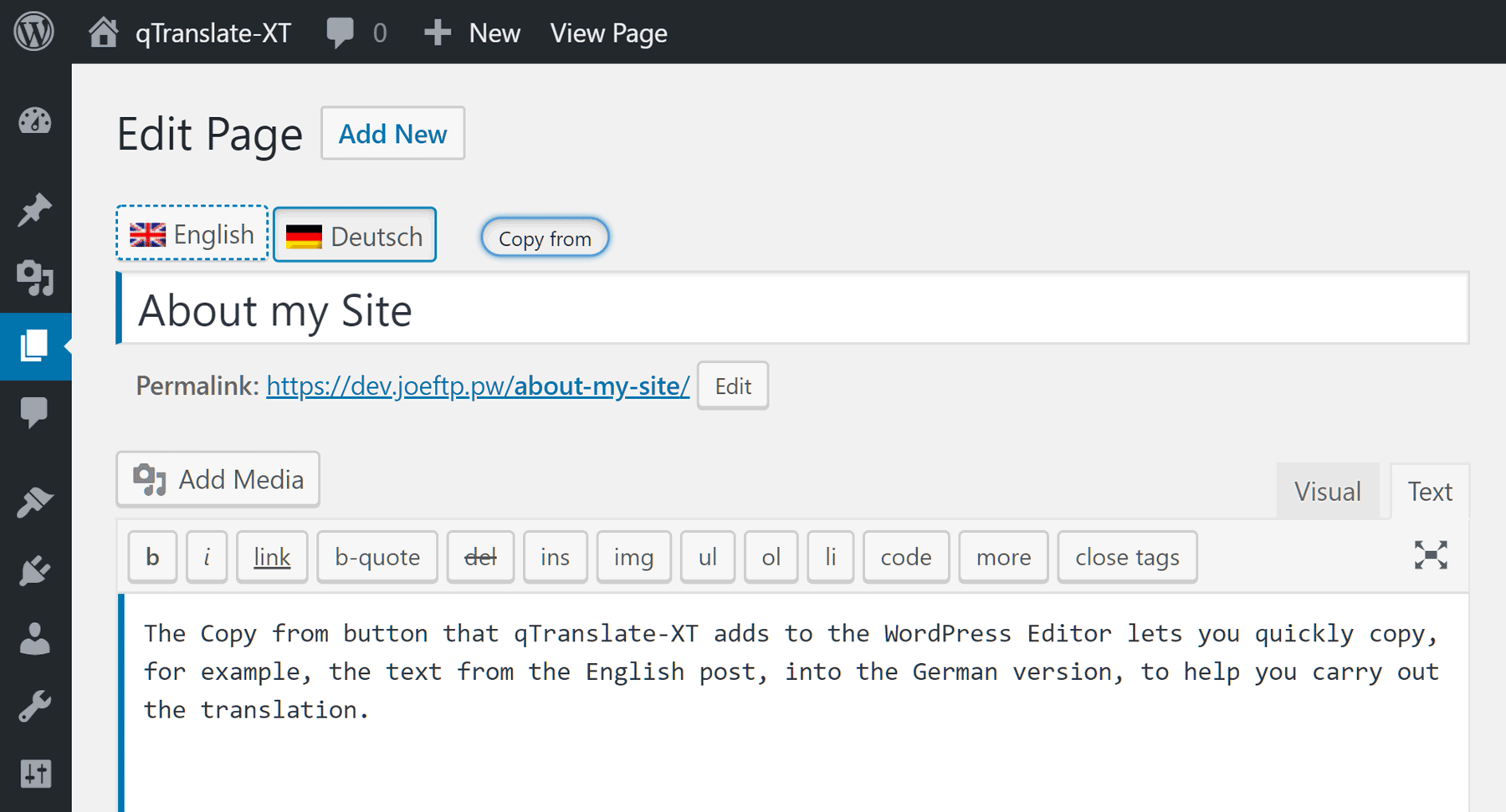 To make life easier when determining what needs to be translated, qTranslate XT displays blue lines to highlight the fields on a page that should have translated content.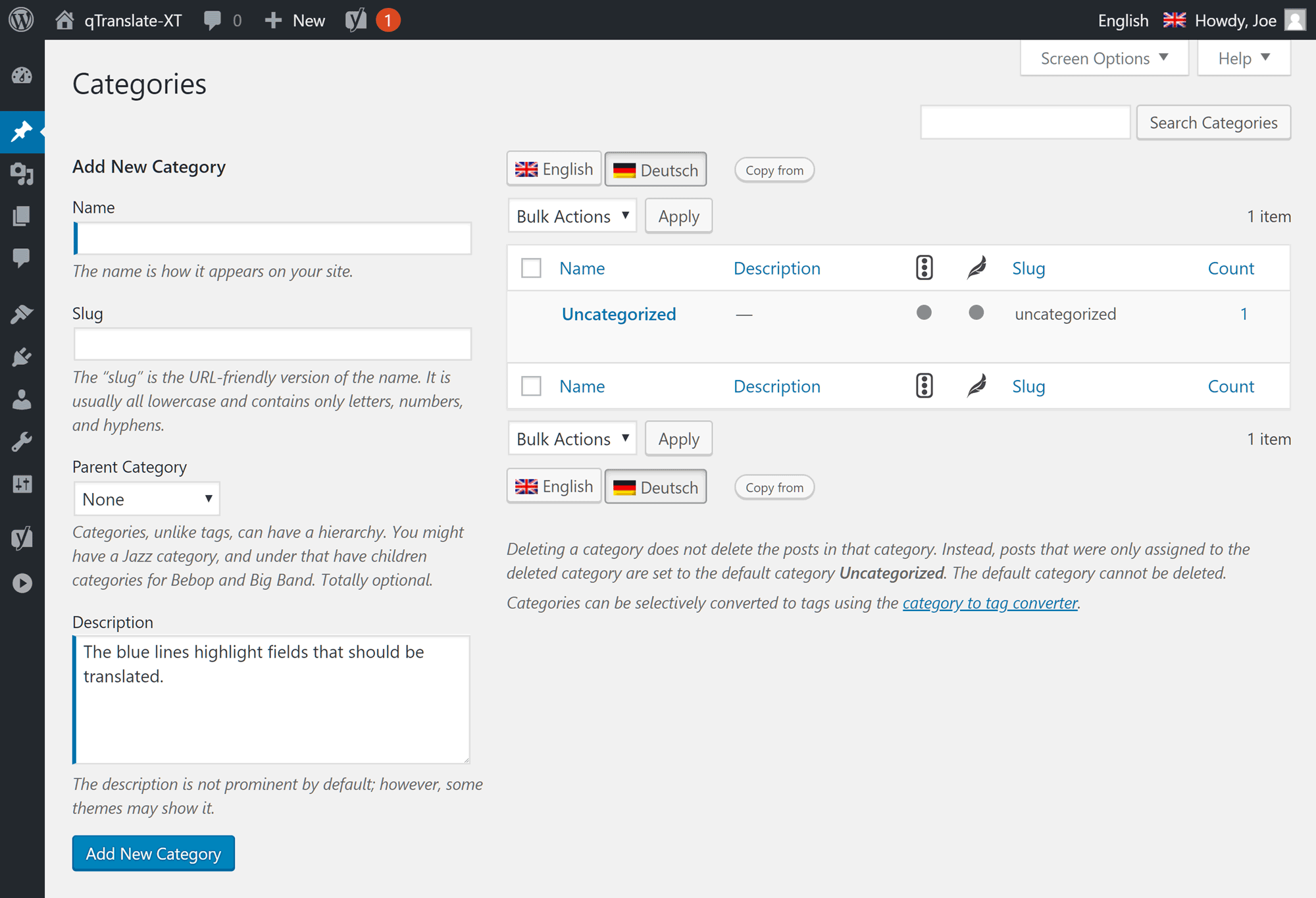 Unfortunately, qTranslate XT and its variants no longer work with the popular Yoast SEO plugin. The qTranslate XT team is working to restore support for Yoast SEO and a few other popular plugins, but, at the moment, adding multilingual content for the Yoast SEO plugin doesn't seem possible. This is a pretty big drawback as it could reduce the ability of your multilingual content to rank in search engines such as Google.

Like qTranslate XT, Polylang — the other free option in this multilingual WordPress plugin comparison — doesn't have a quick start guide or a walkthrough setup wizard. However, if you visit the Polylang website you'll find documentation to help you get started.
Like WPML, Polylang has a top-level menu item that makes it easy to find the plugin settings. From this screen, you can start defining the languages you'll be publishing content in.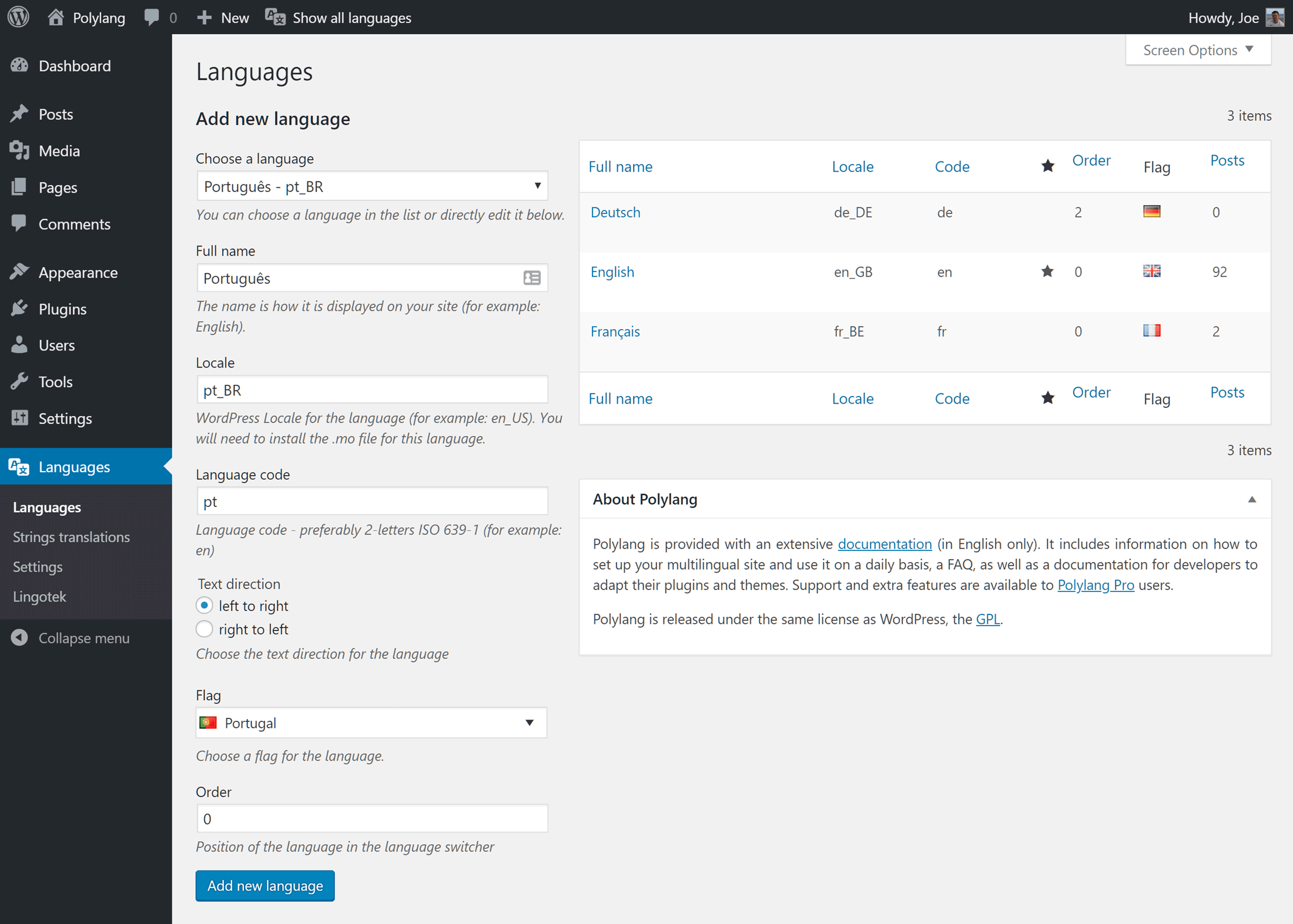 Once you've defined which languages you're going to be publishing content in, you can move on to translating the strings used by your theme and plugins. Strings refer to text displayed on your website that isn't part of post or page content, and includes the site title, site tagline, date formats and more.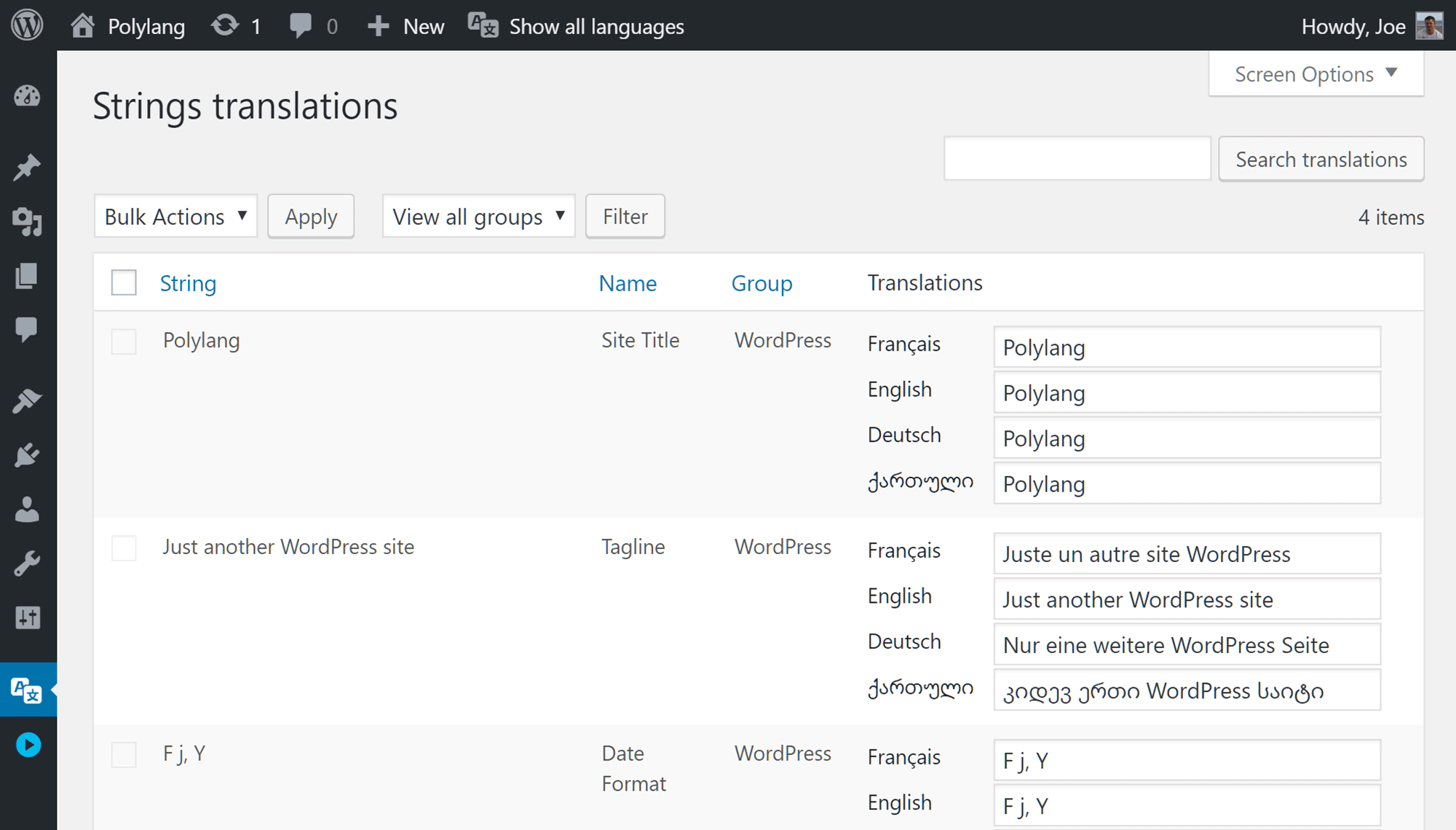 After you've added the translations for the text used by your website and its theme, including the widgets and menus, you can start translating your posts and pages. Creating additional language versions of a post is very straightforward.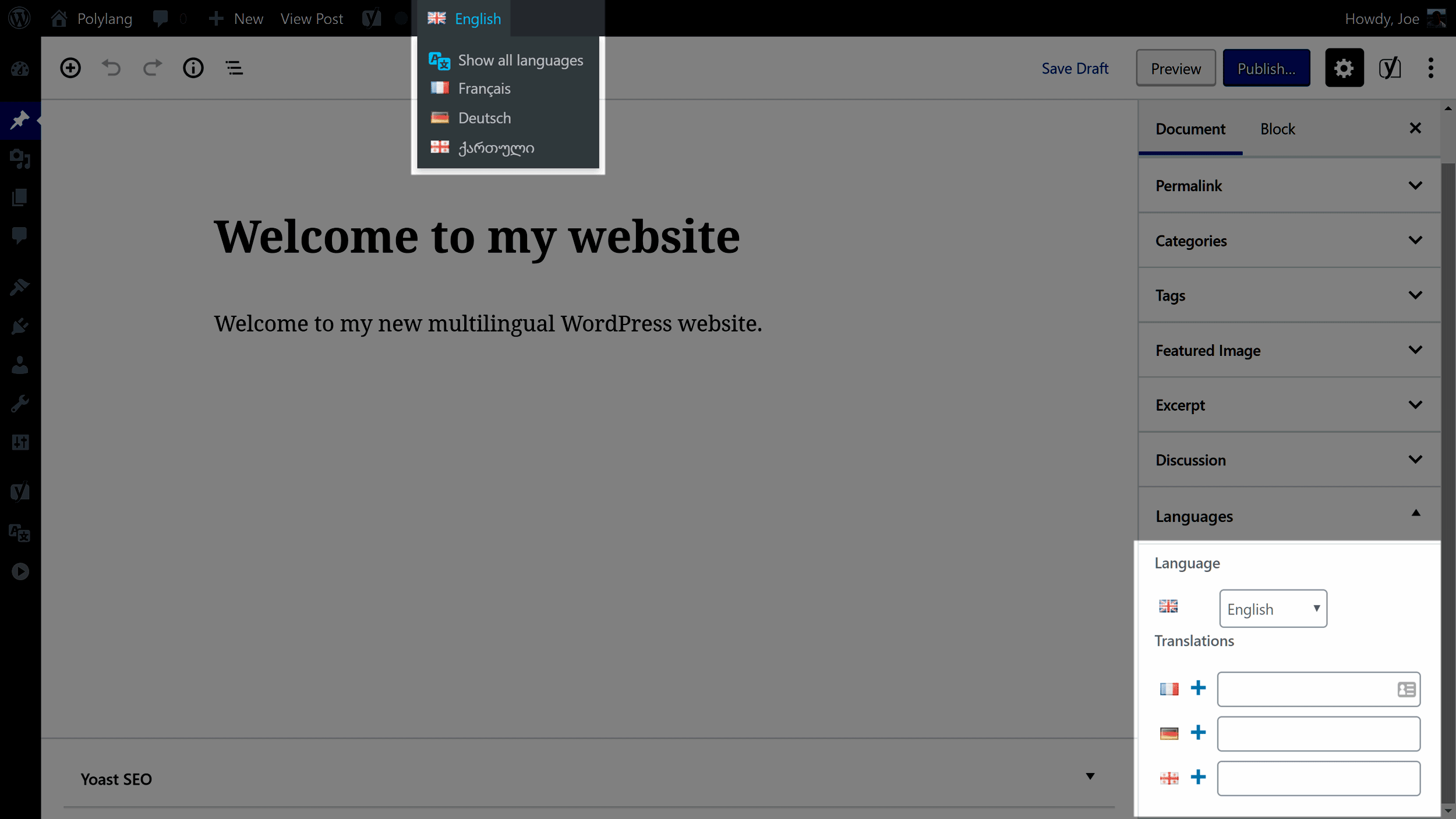 Click on the corresponding flag in the Languages box on the sidebar or from the dropdown menu on the admin bar, and you can access the other version of the post or pages. Unfortunately, there's no way to copy the content from one language version of a post to another — a timesaving feature that WPML and qTranslate XT both have.
Both WPML and qTranslate XT also add a language switcher to the WordPress Dashboard that changes the language used in the admin pages of your site. However, Polylang doesn't have this feature, so there's no quick way to switch the language via the plugin used on the admin area of your WordPress website.
Translation Management
Keeping track of which content on your site has been translated has the potential to become a major headache. Thankfully, the best multilingual WordPress plugins have features to help you manage your translations more effectively.
WPML has a sophisticated search tool that makes it easy to find content that needs attention. Through the WPML Translation Management screen, you can filter content according to its translation status and find documents in specific languages. Translation statuses, such as 'complete', 'in progress', 'needs updating', and 'not translated', mean you and your team can quickly see which content needs work.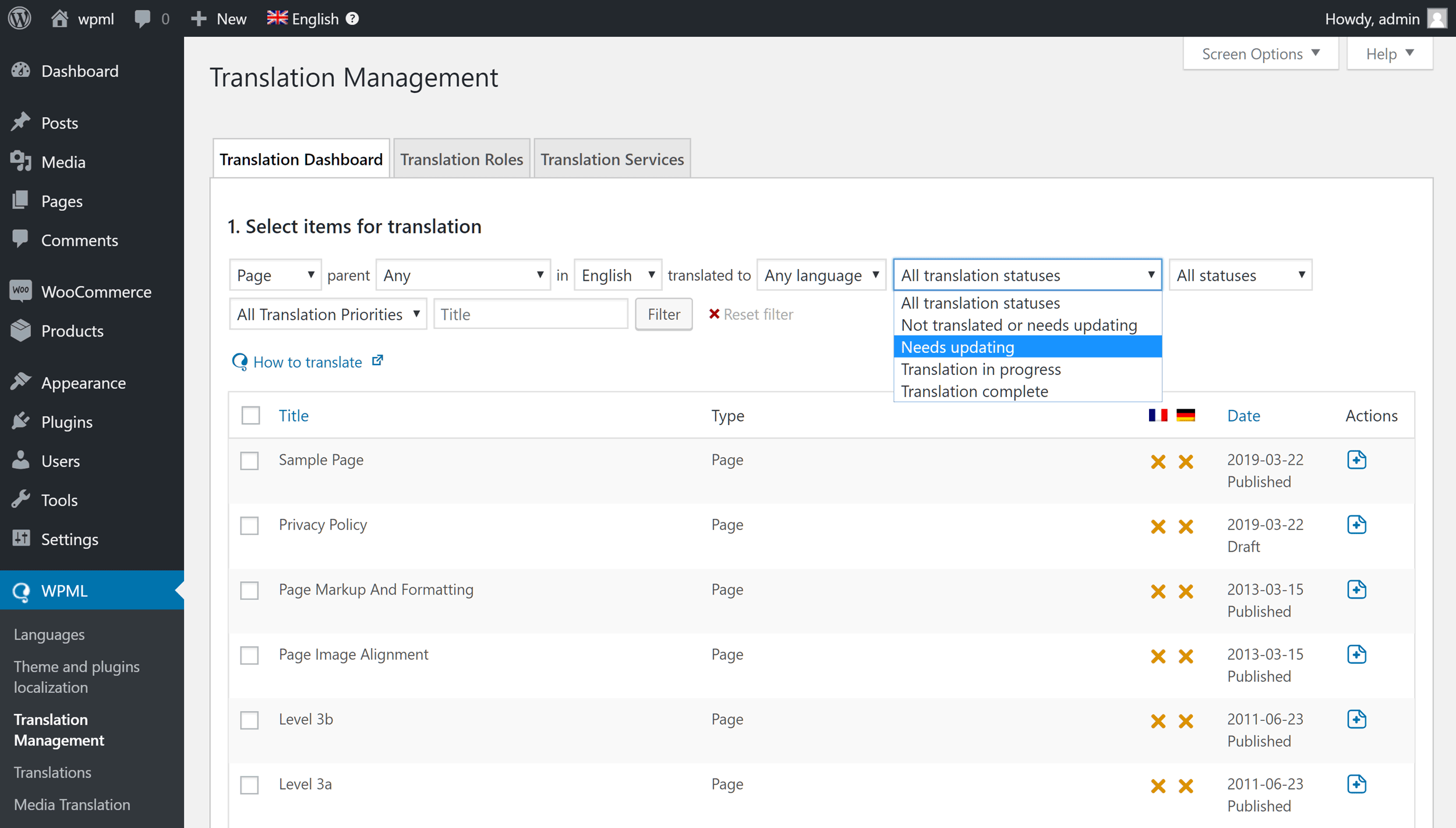 Polylang and qTranslate XT aren't quite as user-friendly when it comes to helping you keep track of the different language versions of your content. Unlike with WPML, your only real option is to check the Languages column that the plugins add to the Posts and Pages screens in your admin dashboard.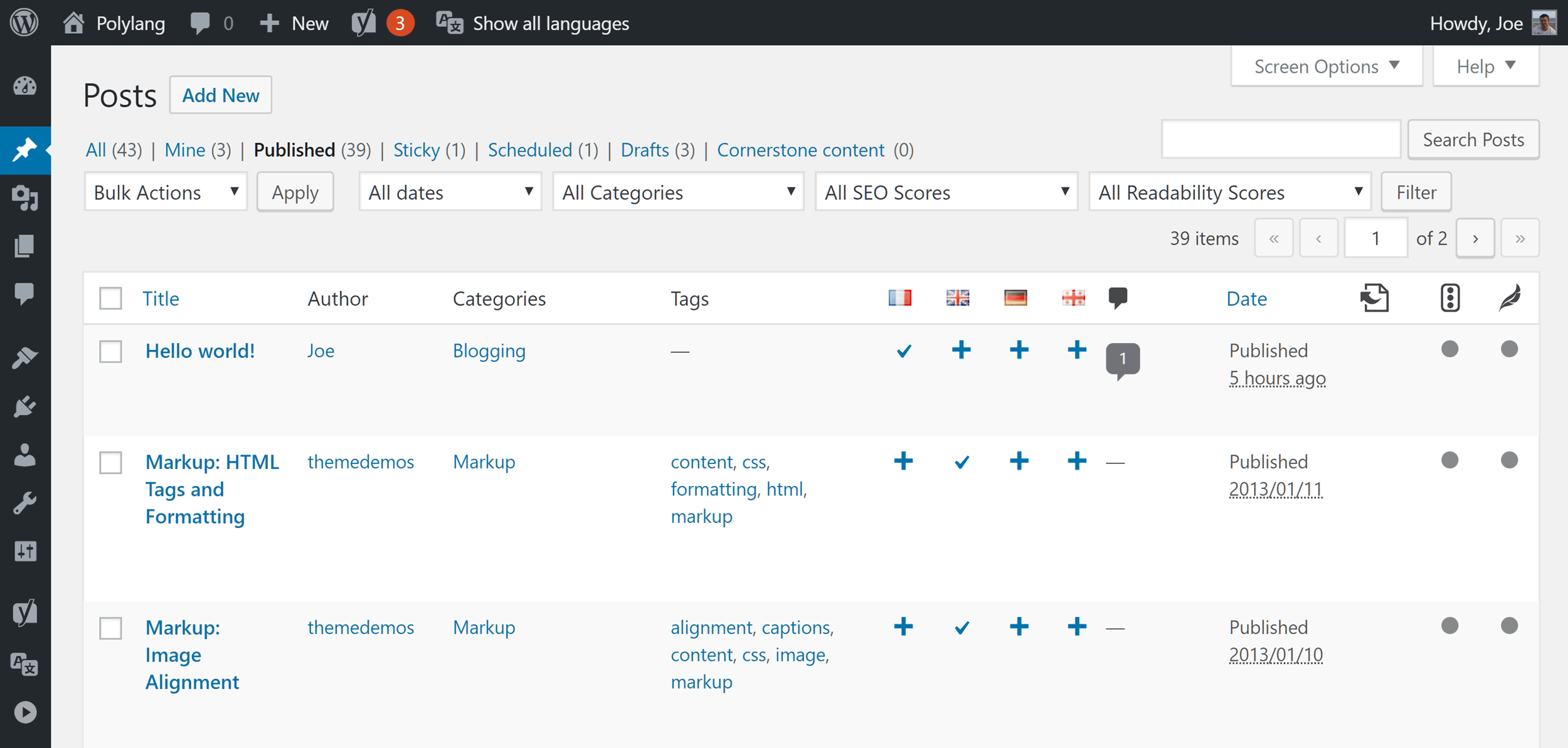 This approach does work, but, as your site grows, you may find it difficult to keep track of which content needs translating.
Each option in this multilingual plugin comparison gives you the ability to hide content from users that hasn't been translated into all of the different languages supported by your site. This can be a good way to avoid frustrating visitors who are expecting to find a post in their language when the translation hasn't been carried out yet.
These multilingual plugins also give you a range of options to determine how your site will handle links to the different language versions of your content. Language codes in your site's URLs, subdomains, separate domains or subdirectories are all available options.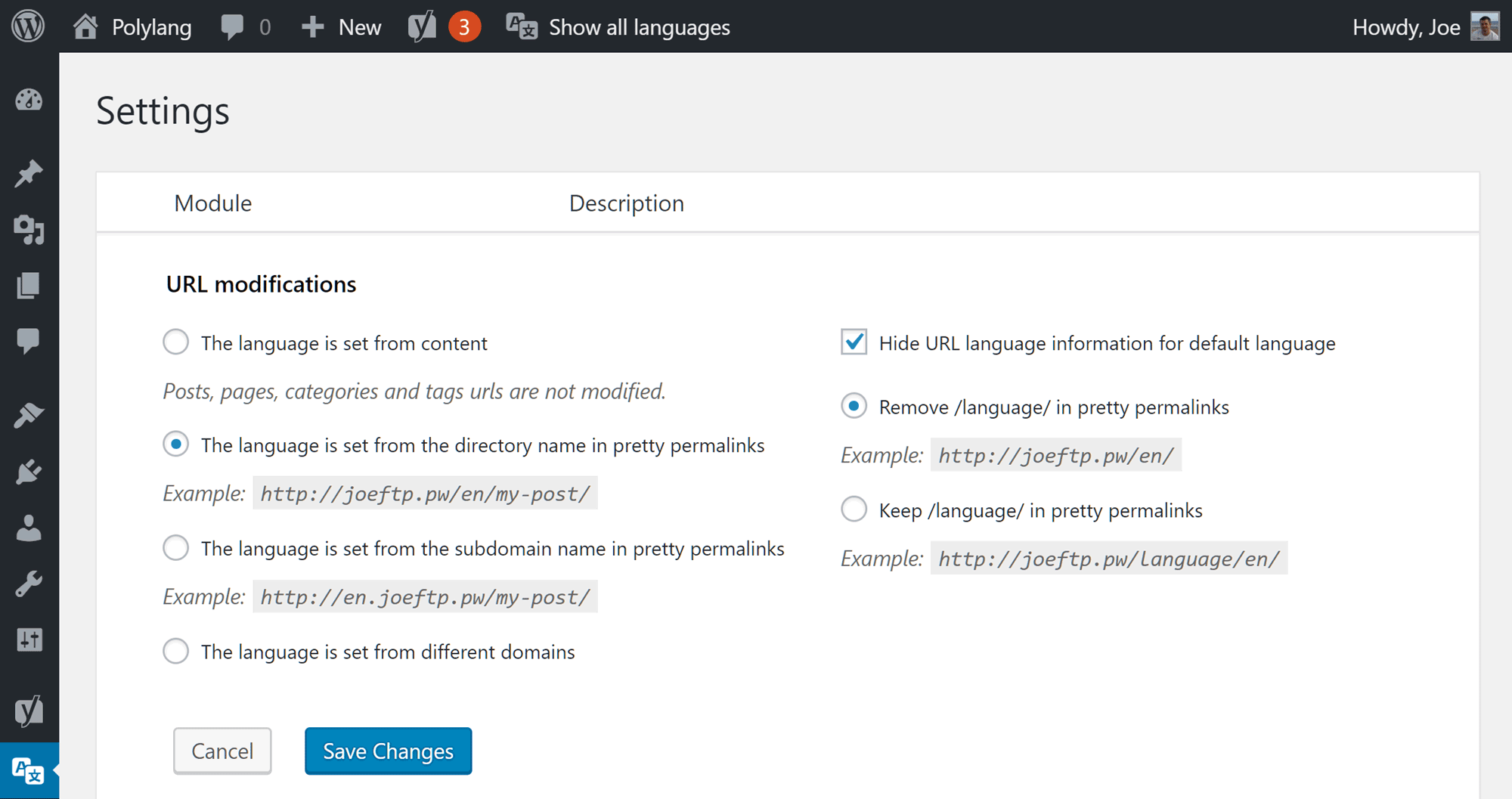 Translation Services
If you're not going to be translating the content yourself, you may want to use a translator. Some of the options in this comparison can assist you with finding translators and translation services.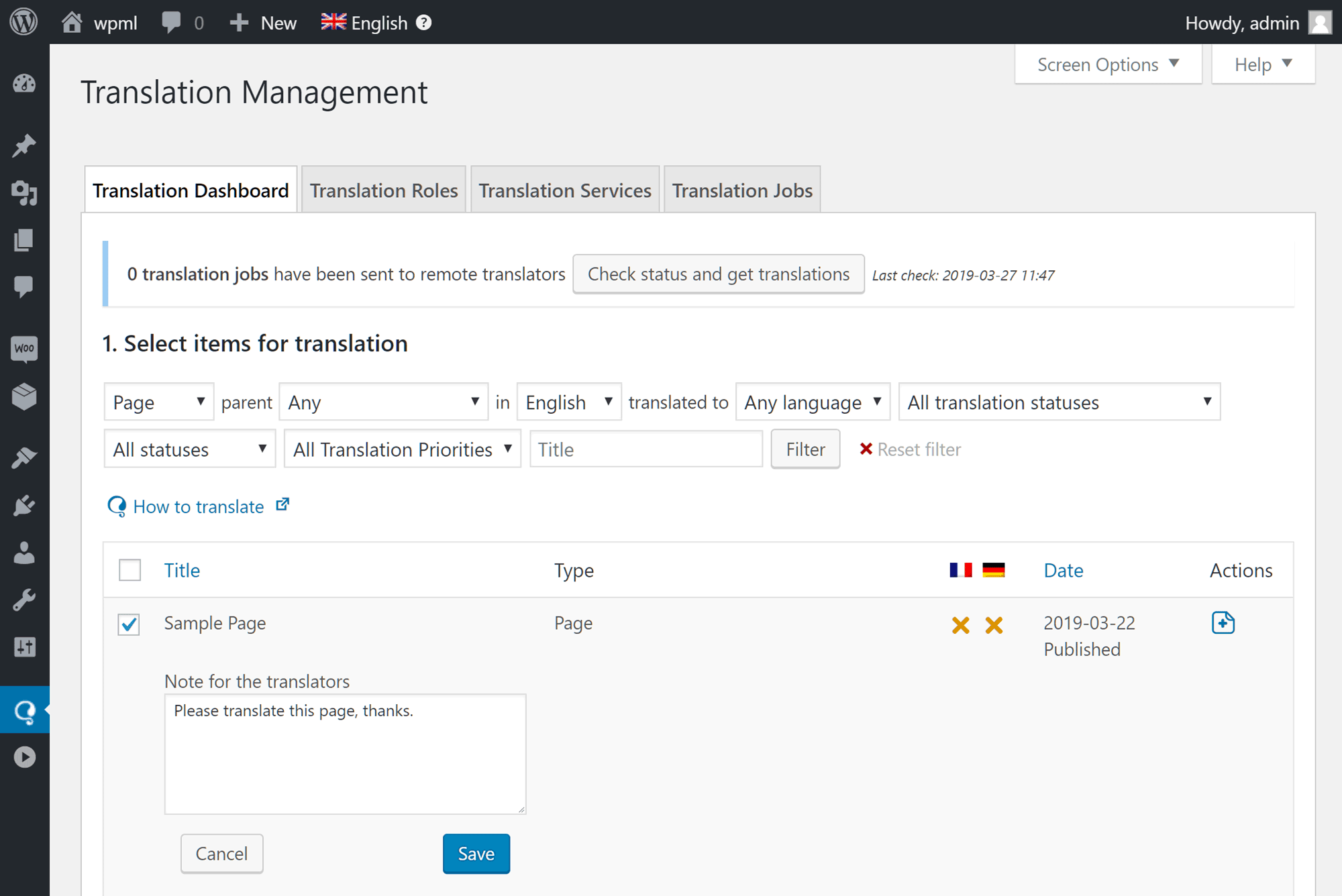 WPML lets you integrate your website with a number of translation services — all via your WordPress Dashboard. After you've created accounts with the supported translation services, you can begin marking content that you'd like to have translated. You can then send that content to be translated, as well as receive and pay for the completed work, all from within your WordPress Dashboard.
So far, the authors of qTranslate XT haven't added any support for working with translation service providers from within your website.
Polylang integrates with the free Lingotek Translation plugin to simplify the process of working with professional translators. The Lingotek plugin can also provide free machine translation for websites, giving you the option of automatically translating your content when using Polylang.
Working with Media Files
If you display image captions on your site or use other text to support your media files, such as alt and description tags, then choosing a multilingual plugin with good support for media files is essential.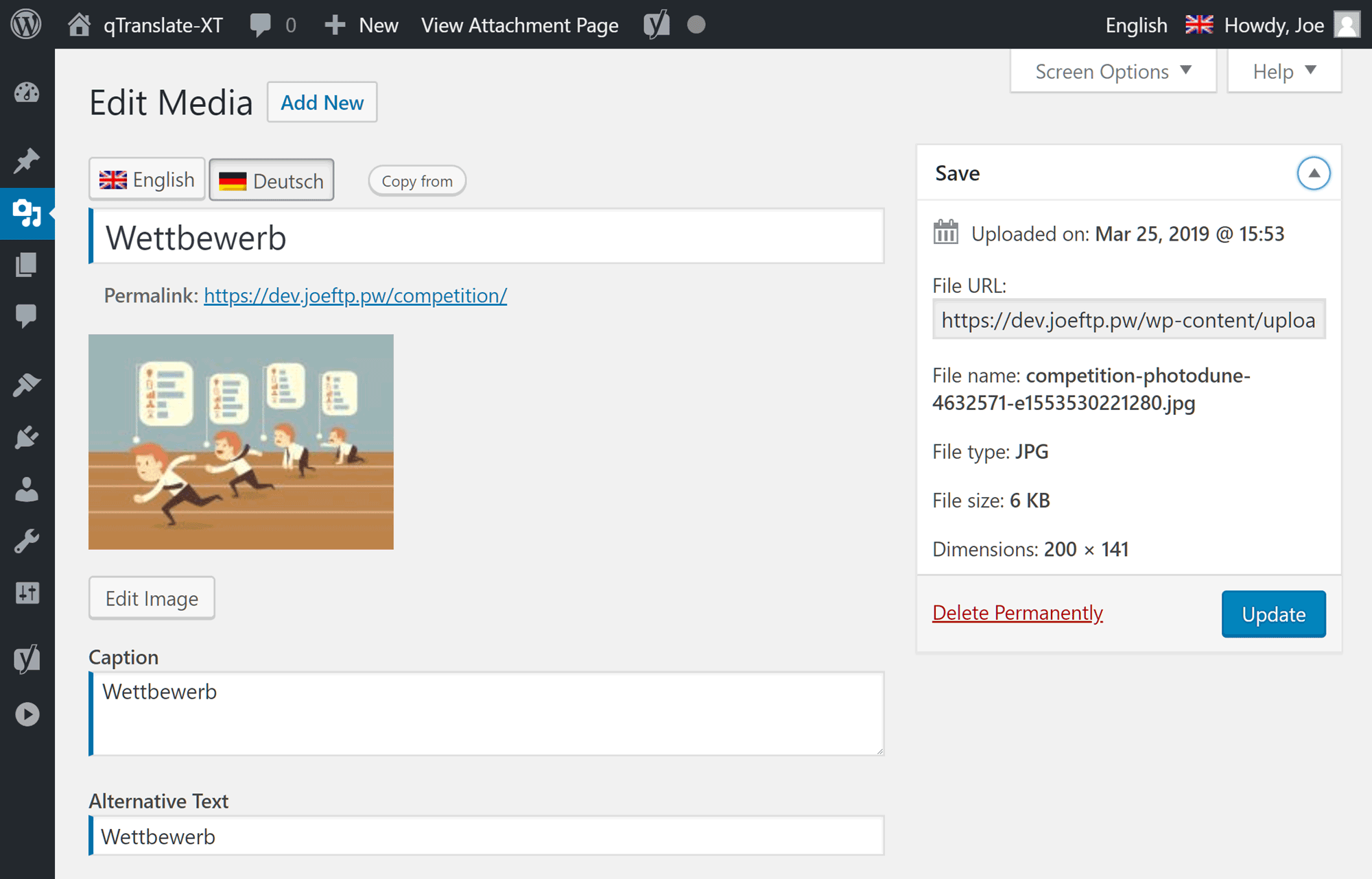 By activating the optional WPML Media Translation module, you can easily display the same media files, such as images, in all of the different language versions of a piece of content. You can then add image captions and other media file text in the same language as the rest of the article. This takes place without duplicating the media files. If you've already added media files to your site, activating the WPML Media Translation module gives you the option of duplicating the file information for existing content, saving you time and server space.
When it comes to handling the translation of media file information, qTranslate XT isn't quite as sophisticated in its approach. However, you can add the same image or another type of media file to the different language versions of a post, and then provide individual descriptions and other information each time it's used. As with WPML, this takes place without duplicating the files in your media library.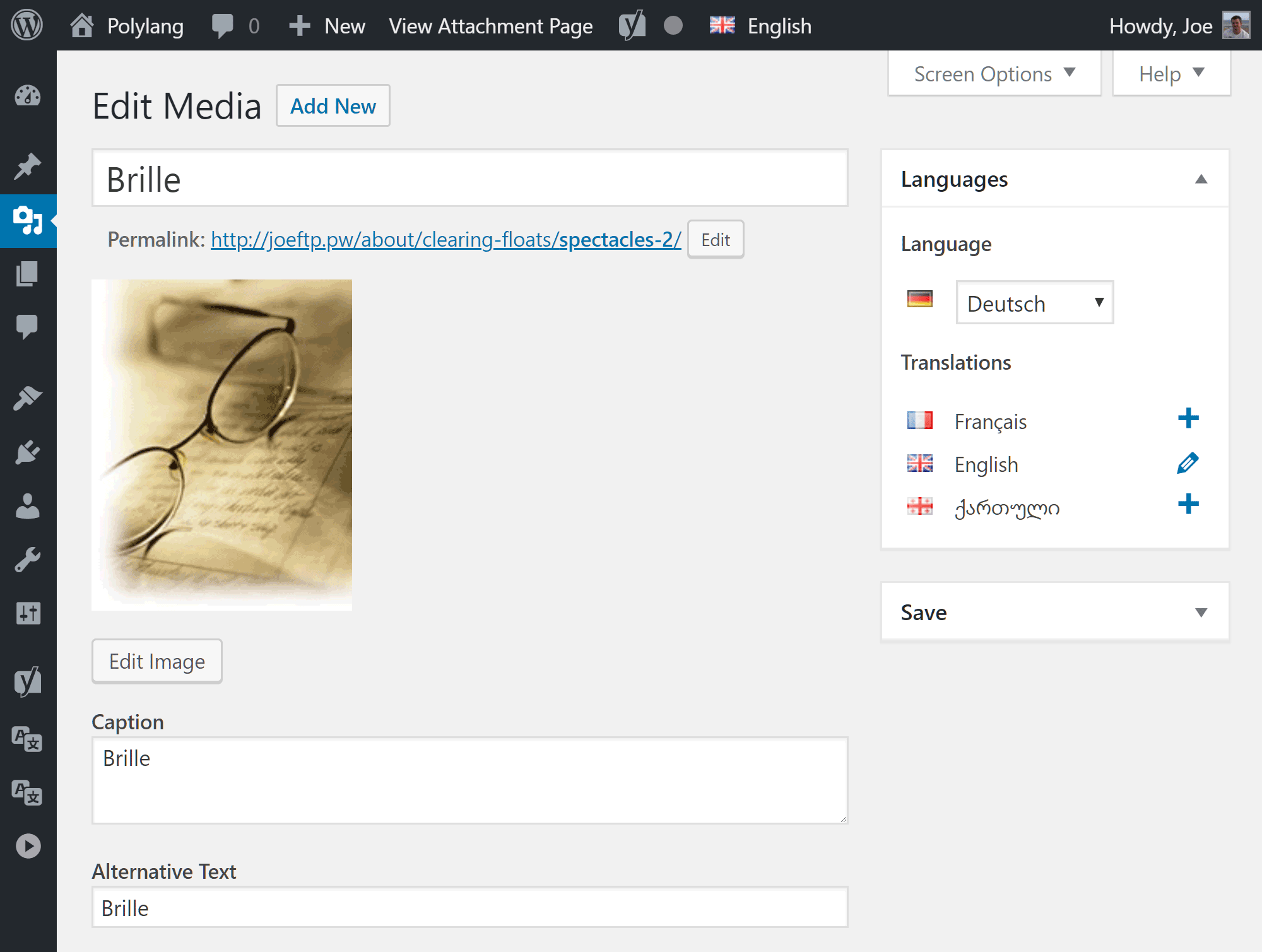 Polylang has an optional media module that can be enabled to give you more choices for handling images and other media files. Again, when translating media file information, the files aren't duplicated. Instead, the multilingual media file title, description, and alternative text are stored for each file, and then displayed on your site.
Number of Languages Supported
Out of the box, WPML includes support for 64 languages. However, thanks to the WPML language editor, adding extra languages or creating language variants such as Canadian French or Mexican Spanish is relatively straightforward
With qTranslate XT, you get 33 languages to work with by default, but you're free to add any extra languages to your site yourself.
Polylang includes support for more than a hundred languages, but, as is the case with WPML and qTranslate XT, you can install or create as many extra languages as you need.
Language Switching Options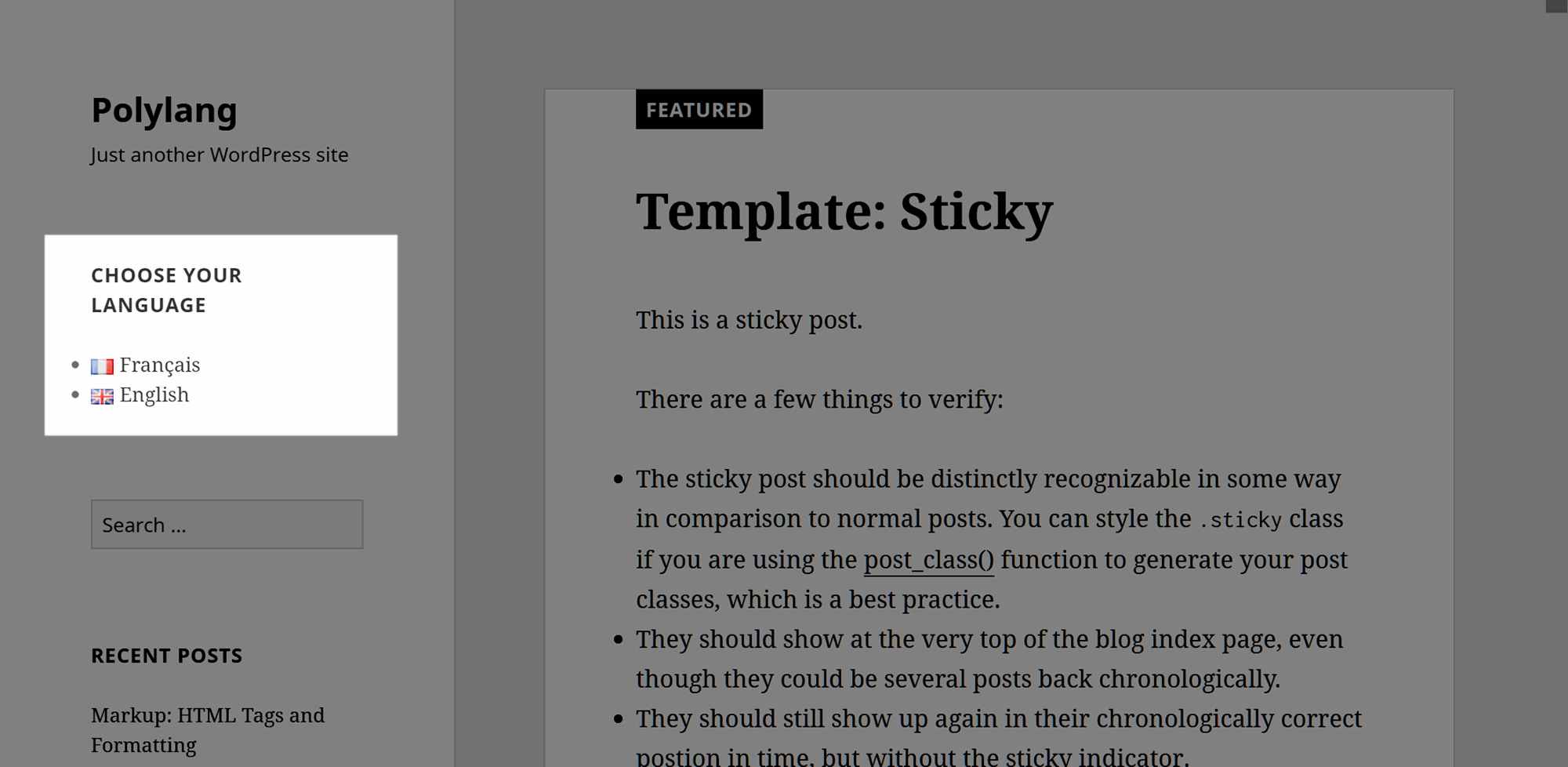 When it comes to displaying translated versions of your content to visitors, all three plugins give you the option of showing a language switcher on the front end of your site. These plugins can also detect the language of the visitor's browser, and then display your site's content in the corresponding language (if available).
Theme and Plugin Text Translation
If any of the themes or plugins you're using come with their own .MO files for the languages supported by your site, these translations will always be displayed with these plugins. If those files aren't present for the languages you're publishing in, WPML, Polylang and qTranslate XT give you the ability to provide your own translations for any themes or plugins you're using.
The qTranslate XT plugin also supports integration with third-party themes and plugins out of the box. However, if your site configuration isn't supported, the process for translating text displayed by your theme and plugins can be quite hands-on. To get a better idea of whether you'll be able to carry out this task on your site, you can find the full details in the integration guide.
Polylang supports the use of Poedit and the Loco Translate plugin to help you translate theme and plugin text.
With WPML, translating your website's theme and plugin text is taken care of by the String Translation feature. After searching for all of the translatable theme and plugin content on your website, WPML will display the results and allow you to add the alternative content.
Ecommerce Support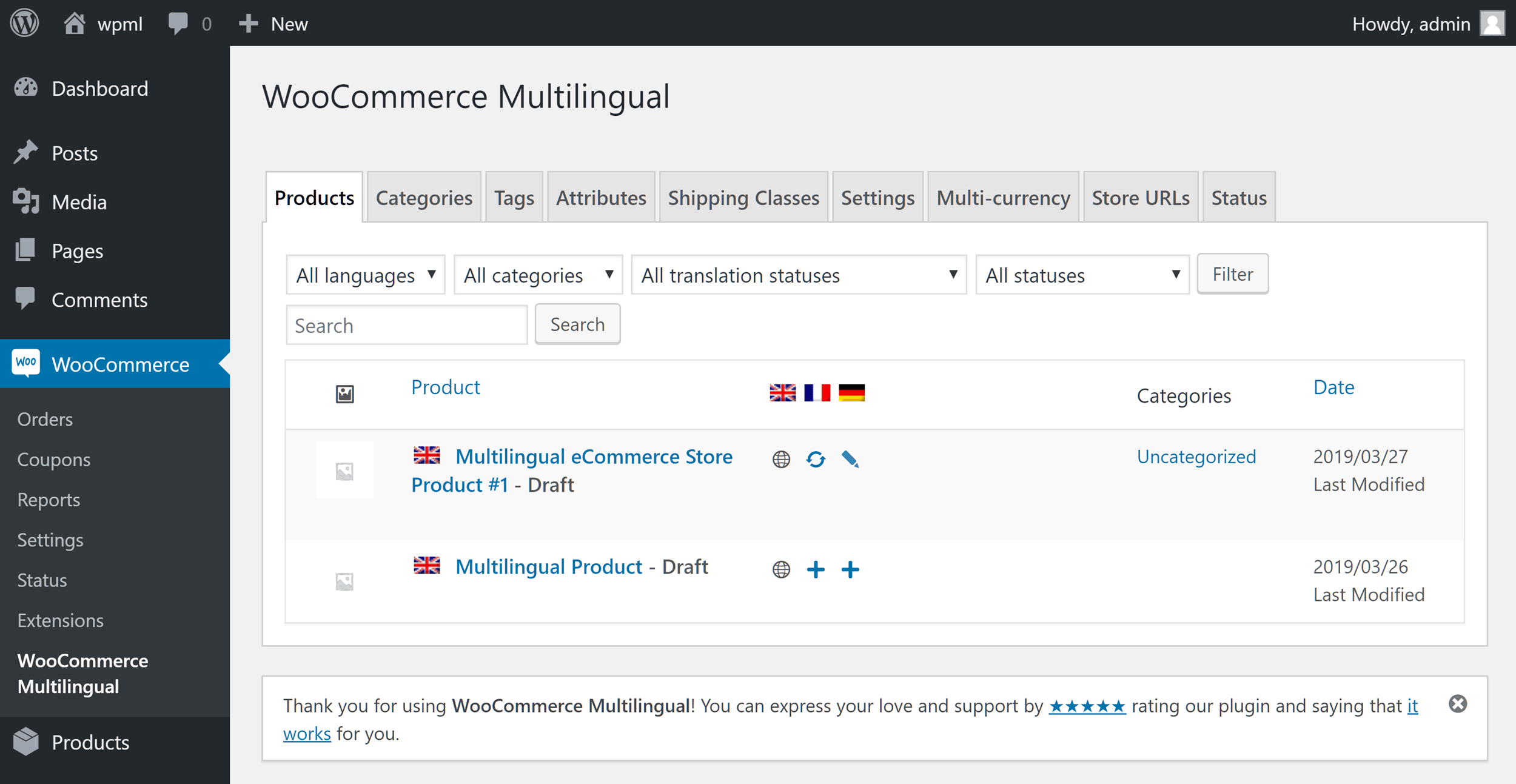 If you want to create a multilingual ecommerce store, these plugins can help. Although, there's a free plugin for integrating WooCommerce and qTranslate X, like the qTranslate X plugin itself, this extension hasn't been updated for three years.
If you want to use Polylang to create a multilingual ecommerce store, then you'll need to either upgrade to the premium Polylang Pro or purchase the Polylang for WooCommerce add-on.
The higher priced WPML CMS license includes full support for translating all aspects of your WooCommerce-powered online store for $79. There's also a free third-party WooCommerce multilingual plugin available for WPML, although it has mixed reviews from users.
Documentation and Support
One of the advantages of choosing a premium or commercial WordPress plugin over a free option is the higher level of user support you get access to — and WPML is no exception. Purchasing the plugin gives you access to its support desk, which is manned six days a week, 19 hours a day, with support provided in nine languages. The WPML online documentation is very detailed and clearly explains how to use the plugin.
You can find documentation for qTranslate XT on the plugin website, but it's not clear how much of this will remain relevant as qTranslate XT is further developed. Overall, this documentation isn't nearly as user-friendly and helpful as the WPML online documentation.
Also, as qTranslate X has been effectively abandoned, users will no longer receive support from the developers via the WordPress Plugin Directory forums. The team that has been working on the next version of the plugin, qTranslate XT, can be contacted via their presence on GitHub.
The free version of Polylang isn't supported by the developers through the forums in the WordPress Plugin Directory, although you can ask the user community questions there. For help from the plugin creators, you'll need to upgrade to the Pro version to qualify for support. Like WPML, there's a good amount of online documentation available for Polylang.
Final Thoughts
Overall, each of these three plugins does an excellent job of giving you the ability to create a multilingual WordPress website*.
In the past, WPML, qTranslate X and Polylang were all good options. However, due to the lack of updates to qTranslate X, even taking into account the new qTranslate XT, there are now really only two plugins to consider when creating a multilingual WordPress website, and those are WPML and Polylang.
It's great to see the qTranslate X community have been working on updating this plugin — especially for those who are already using it. However, if you've yet to start translating your WordPress website, it's probably best to hold off on installing qTranslate XT, especially if you want to take advantage of the recent upgrades to the WordPress Editor.
When it comes to choosing between WPML and Polylang, both plugins support a large number of languages and allow you to upload additional language files to expand your options. Each plugin can detect the language of your visitor's browser and automatically display your content in that language (provided you've already translated your content into that language). They also give you the option of displaying language switchers on the front end of your site.
These multilingual plugins work in slightly different ways and offer varying levels of functionality. However, overall, the end result is the same. If set up correctly, they will allow your visitors to view your content in the translated languages.
When it comes to recommending a plugin, WPML is generally easier to use than the competition, and is the most powerful option. The fact that you get access to email support as part of your purchase makes it the recommended choice for important sites, more complicated projects or those who prefer having someone to turn to should any problems arise. With prices starting at $29, it will be the preferred option for many readers.
Polylang is a good free option if you don't need the extra features and functionality or access to premium support. One appealing aspect of Polylang is that you can start translating your site for free, with the option of upgrading to the Pro version to unlock extra features and gain access to the support channels should your needs grow. However, at €99 (about $110), it's the most expensive way to go when compared with the fully featured WPML $79 Multilingual CMS option.
In short, if you have the budget, WPML will likely be your best bet. It has more features and the price includes access to the support team. However, if you're looking for a free multilingual plugin, Polylang is a good option. Unfortunately, it's not possible to recommend qTranslate X or XT right now, due to an uncertain future.
*Note: Because of the added footprint and potential weight any such plugin will add to a website with thousands of posts/pages, if you're looking to make a sizeable website multilingual, be sure to do a little additional research before jumping in.
Related Posts:
Using/used WPML, qTranslate or Polylang? Thoughts?
All comments are held for moderation. We'll only publish comments that are on topic and adhere to our Commenting Policy.