WinningWP content is free to all. If you make a purchase through referral links on our site, we earn a commission (
learn more
).
The History (and Meaning) of Alexa Rank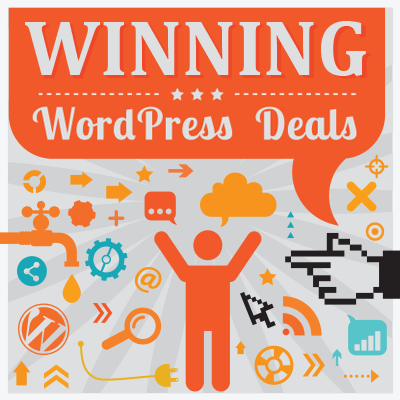 Alexa is an Amazon-owned marketing company that offers SEO, analytics, and marketing tools and services.
Their premium marketing stack plan will help you to do keyword research, check competitor keywords, optimise your web pages for SEO, check backlinks, improve SEO performance, and more.
The company is best known for their Alexa Rank metric, which ranks the popularity of websites over the previous three months. This metric was once the most popular way of gauging how important a website was against its competitors.
Today, metrics such as domain authority and page authority are given more weight. However, Alexa Rank shouldn't be dismissed, as it continues to be a useful tool for analysing competitors.
In this article, I'll show you how Alexa has evolved over the years, and explain how their popular Alexa Rank metric is determined.
What Is Alexa?
Alexa was founded in April 1996 by Brewster Kahle and Bruce Gilliat.
Initially, their website offered a toolbar that gave users suggestions as to what websites to visit next, together with analytical information about each website. For example, it would advise how many pages a website had and how many other websites linked to it.
Alexa later began archiving all internet websites and pages. This would go on to become the basis for the Internet Archive's popular Wayback Machine tool. Interestingly, Brewster Kahle founded the Internet Archive in the same year he launched Alexa with Bruce Gilliat.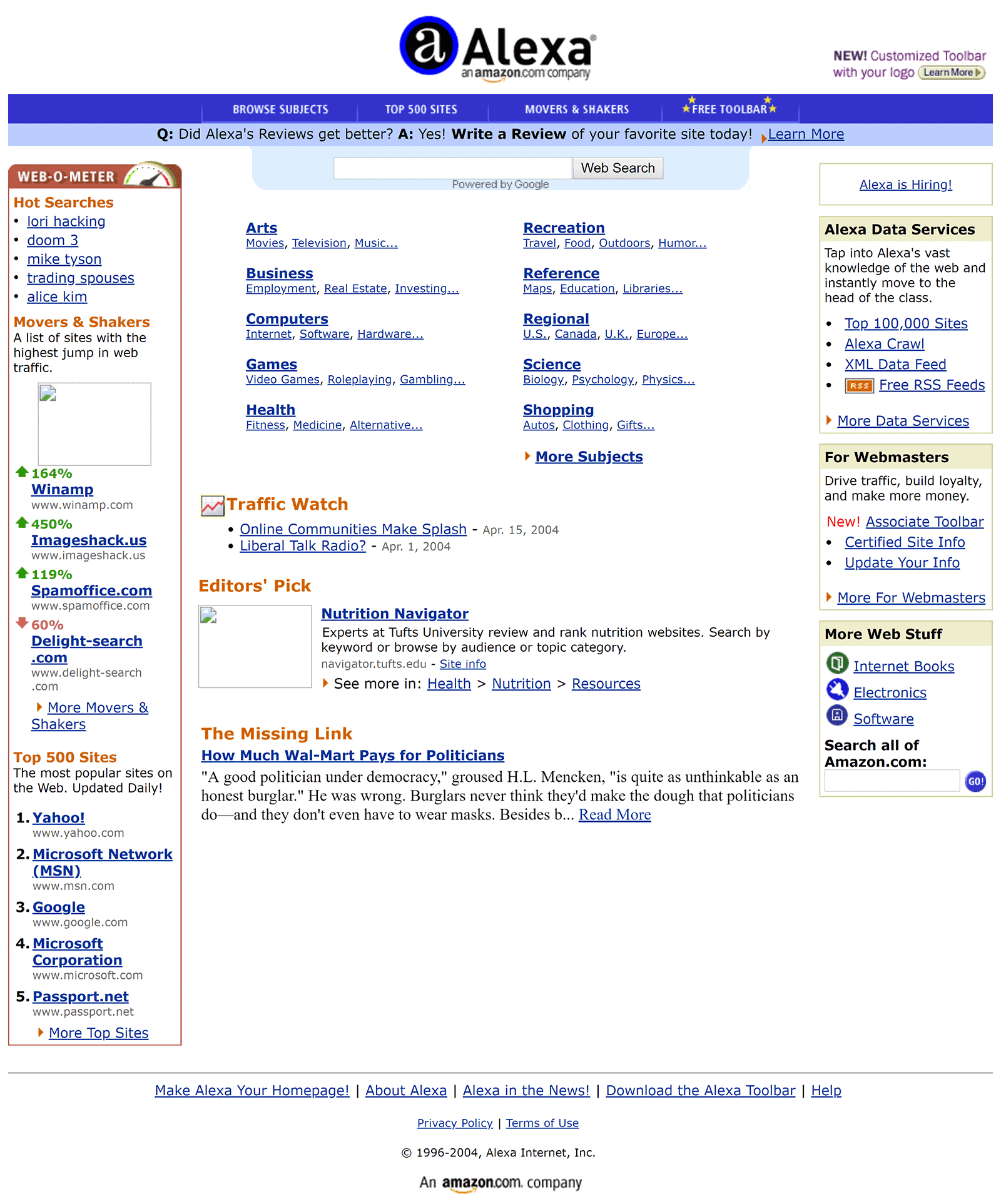 In 1999, Amazon acquired Alexa for a reported $250 million in Amazon stock.
The company continued to be involved in the search business, partnering with Google in 2002 and DMOZ in 2003, and it wasn't until 2009 that Alexa stopped supporting Alexa Web Search and gave all of its attention to analytics.
Without doubt, the thing Alexa has been known for over the past 20 years is website analytics. During the 2000s and early 2010s, website owners frequently referenced Alexa Rank alongside PageRank to demonstrate the importance of their website and show where it ranked globally.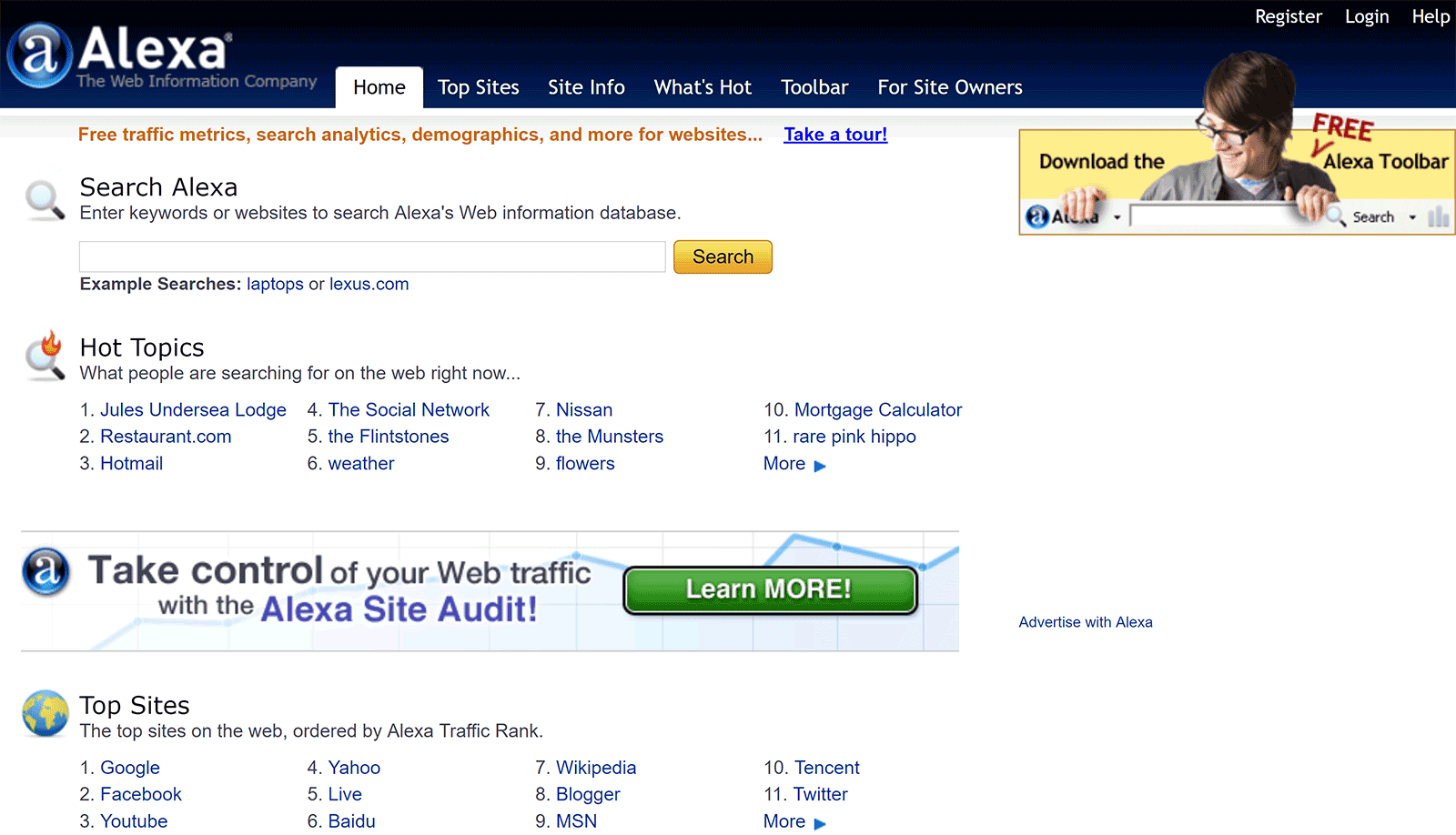 For many years, Alexa heavily promoted three website tools on its website: Top Sites, Website Analysis and its Alexa Toolbar.
Top Sites: Displays a list of the top websites on the internet that are ranked according to their Alexa Rank.
Website Analysis: A website analysis tool that shows a website's Alexa Rank, expected traffic levels, keywords and more.
Alexa Toolbar: Its popular browser extension.
The above tools continue to be available on Alexa. However, the company changed its focus in May 2014 and started emphasising its premium analytical plans, rather than its free website tools.
You can still see the top 50 websites online and install the Alexa Toolbar on your browser free of charge. Likewise, the Alexa Website Analysis tool continues to show the Alexa Rank of a website together with keywords, estimated traffic levels and other useful metrics.
While the website analysis tool is free to use, you now only get a preview of a website's analytical data. To access all metrics, you need to sign up to a monthly premium plan.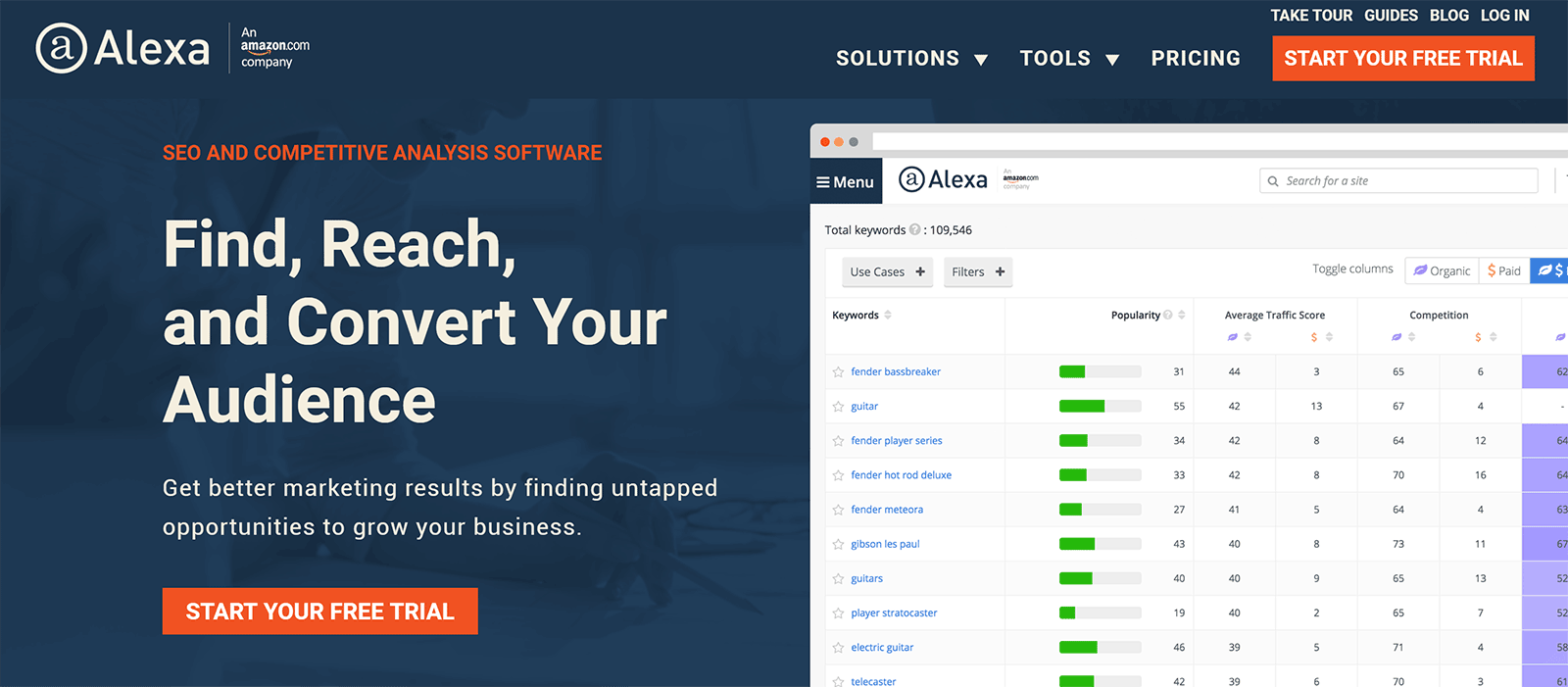 As you can see, Alexa has been many different things in its lifetime.
In the 1990s, Alexa was known for giving internet users suggestions on which websites they should visit. In the 2000s and early 2010s, it was known for its list of top websites and its popular Alexa Rank metric.
Today, the company has positioned itself as a website traffic analysis company that competes with large SEO software services, such as Moz, SEMrush and SimilarWeb.
How Does Alexa Measure the Rank of Websites?
In its 'What is Alexa Rank?' page, Alexa explains that it ranks websites in order of popularity, with a rank of one being the highest (a position currently held by Google).
It looks at a website's estimated traffic and visitor engagement over the past three months to determine the rank of a website.
It expands on this explanation in the article 'How are Alexa's traffic rankings determined?':
Alexa's Traffic Ranks are updated daily and are based on the traffic data provided by users in Alexa's global data panel over a rolling three-month period.
A site's ranking is based on a combined measure of unique visitors and pageviews.
Unique visitors are determined by the number of unique Alexa users who visit a site on a given day, and pageviews are the total number of Alexa user URL requests for a site.
Multiple requests for the same URL, on the same day, and by the same user, are counted as a single pageview.
The Alexa Rank metric has been criticised in the past for not being reliable, since figures were based on the traffic samples provided by internet users who installed the Alexa Toolbar on their browser. There may have been some truth in this at the beginning, as the sample size was so small, but today Alexa sources data from a number of different places.
Its global data panel incorporates data from more than 25,000 different browser extensions, together with data from third-party networks and websites who have paid for a certified Alexa Rank. This allows them to see the browsing habits of millions of internet users.
Alexa also crawls the web to 'identify and classify web content and to discover backlinks'. If you wish, you can stop Alexa from crawling your website by adding a small piece of code to your site's robots.txt file.
It's important to note that Alexa only ranks domains, and doesn't provide a ranking score for sub-domains or sub-pages. There are some exceptions to this rule. For example, Alexa can identify websites on hosting platforms such as WordPress.com and Typepad as unique entities.
One thing Alexa does not do well is accurately rank low-traffic websites. This can lead to situations where Alexa's website rankings are meaningless, which is one reason why Alexa Rank has fallen out of favour with website owners.
The more traffic a website receives, the more reliable its Alexa Rank will be.
In the article 'How are Alexa's traffic rankings determined?', Alexa notes that:
Websites with low traffic will not be accurately ranked.
It does not receive enough data to make rankings beyond 100,000 statistically meaningful.
Websites that are ranked over 100,000 may be subject to large ranking swings due to the scarcity of data.
I know firsthand about Alexa's ranking limitations, as my personal blog has a score above 100,000 and many websites in the same niche do as well. This makes it difficult for me to perform practical website comparisons.
Alexa Website Analysis
One of the simplest ways of checking the Alexa Rank of a website is to install the Alexa Toolbar on your browser.
When you click the Alexa icon on your browser, you'll see the website's global Alexa Rank, USA Alexa Rank, and the number of websites that are linking to it. There is a link to the website's search analytics and to the corresponding Internet Archive page too.
A short list of similar sites is displayed near the bottom. This information comes from the Alexa Similar Site tool.

If you want to quickly check the Alexa Rank of a website, I recommend installing the Alexa Toolbar, which will help you to see the rank of any website you're visiting.
All of the information from the toolbar is pulled from the Alexa Website Analysis tool, and you can look at the traffic and SEO metrics of any website by entering the URL on this page.

When website owners hear Alexa, they think of the Alexa Rank metric. In time, Alexa may be known more for its website reports.
The full report provides a lot of useful information about websites, and you can use this to analyse your own website or get a better understanding of how competitors are generating traffic.
Website Analysis is divided into four main categories: Keyword Opportunities, Competitive Analysis, Audience Analysis and Traffic Statistics.
At the top of the page is an overview area that shows essential information from each category. This helps you to see, at a glance, a website's potential keywords, traffic levels, top performing keywords, similar sites and Alexa Rank.
The Keyword Opportunities category lets you see what keywords are driving traffic to a website and where existing keywords could be optimised.
The metrics that are displayed are Keyword Gaps, Easy-to-Rank Keywords, Buyer Keywords and Optimization Opportunities.
Keyword gaps refer to keywords that are driving traffic to competitor websites, but not the website in question, whereas easy-to-rank keywords will highlight keywords the website does not rank for, but could if it wanted to.
Popular advertising keywords are shown in the next box. The optimisation opportunities box shows keywords that the website could generate more traffic from if it were optimised for them.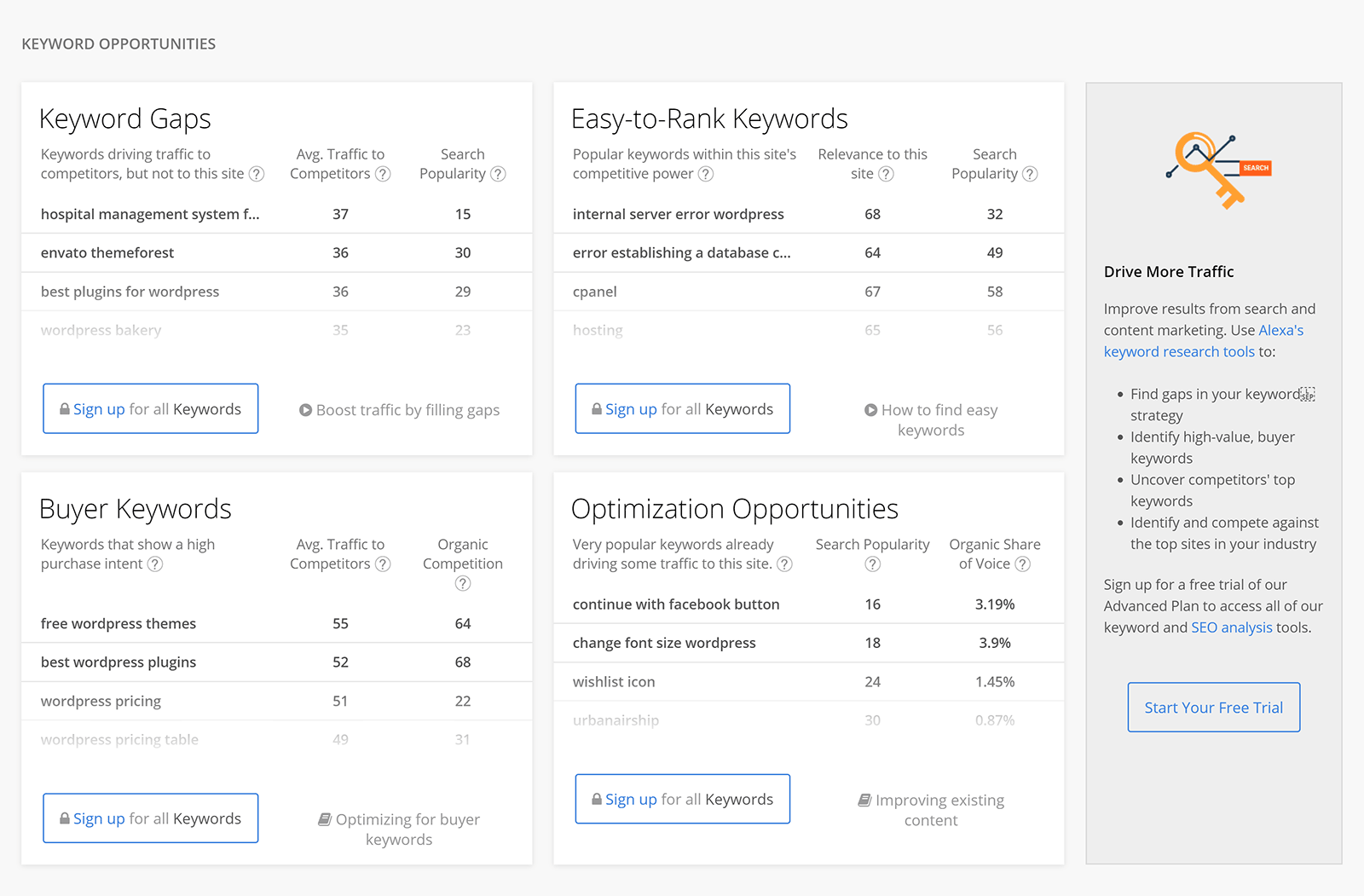 Competitive Analysis will show you how a website compares with its main competitors.
It shows the top traffic sources for a website, its top referring websites, and the top performing keywords for the website and its competitors.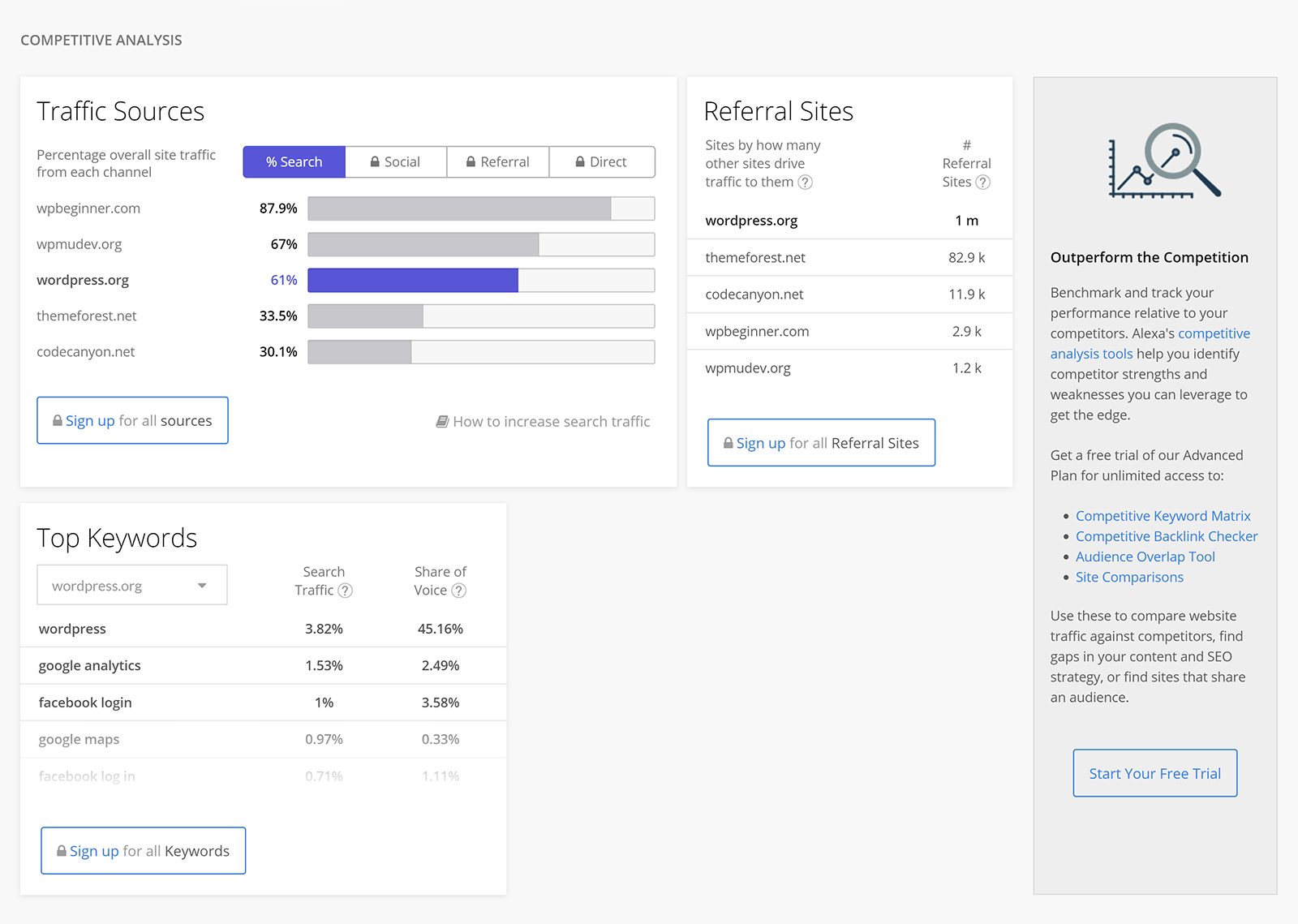 The Audience Analysis category will give you a better understanding of a website's audience.
Audience Overlap is an interesting metric. It shows a list of similar websites and ranks them according to their site overlap score. Alexa calculates the overlap score of two websites by looking at their traffic and keywords, and seeing how much they have in common. The Alexa Rank of each website is also shown for reference.
Site's Audience Interests shows what categories customers are interested in, and shows what percentage of visitors go to websites in that category.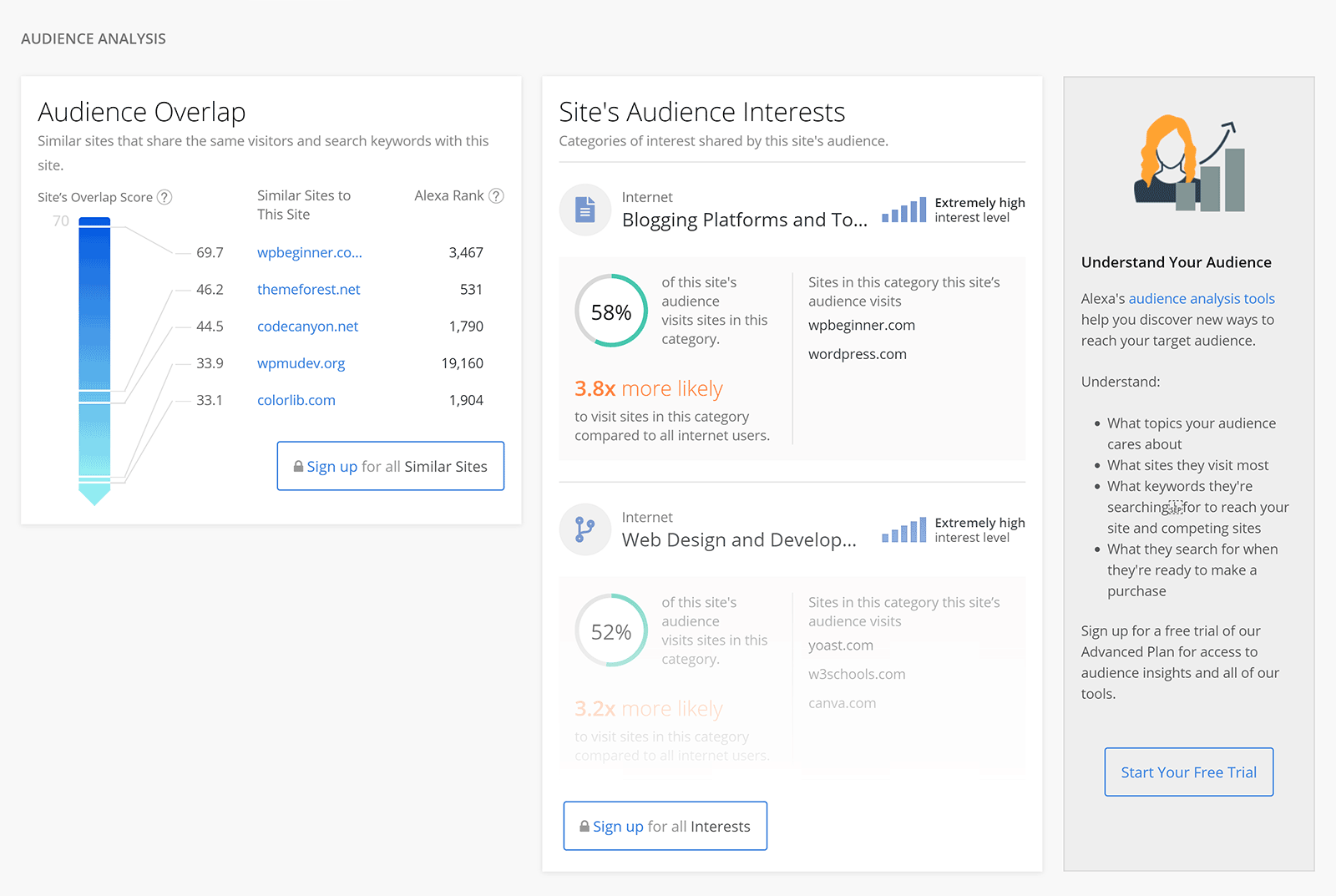 In the Traffic Statistics category you can see the Alexa Rank of a website globally and for individual countries.
You can also see an estimate of website traffic, which countries visitors are from, how much time visitors stay on the website, where traffic is coming from and more.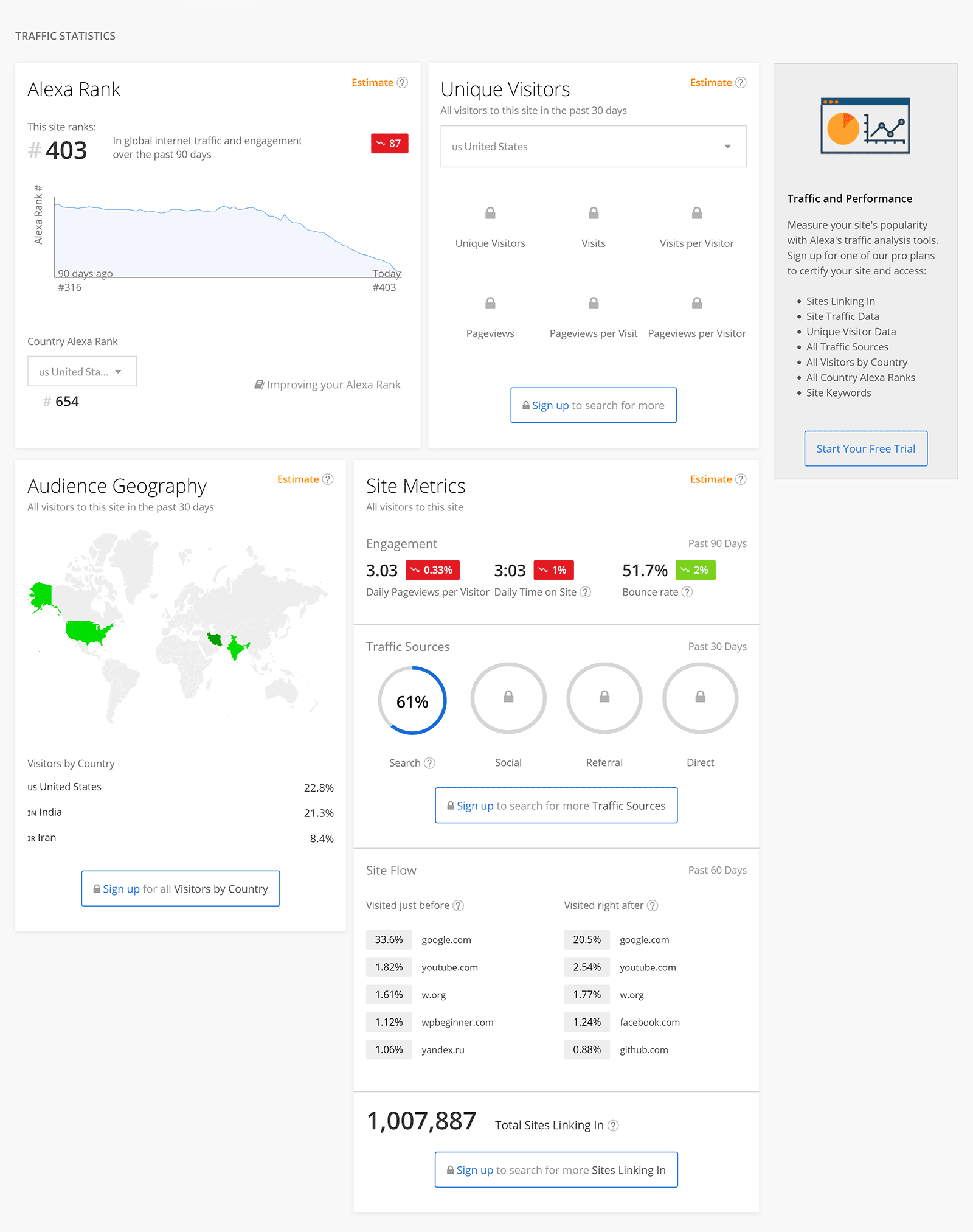 The free version of the Alexa Website Analysis tool gives a useful snapshot of a website, and helps you to see where it ranks globally and locally against competing websites.
To unlock all metrics, you need to upgrade to Alexa's Website Traffic Analysis plan for $79 a month. This plan also certifies your own website traffic with Alexa to ensure the measurements are more accurate. If you wish, you can purchase certification separately from $19.99 a month.
The more expensive Alexa Marketing Stack plan retails from $149 a month, and includes all Alexa SEO and marketing tools.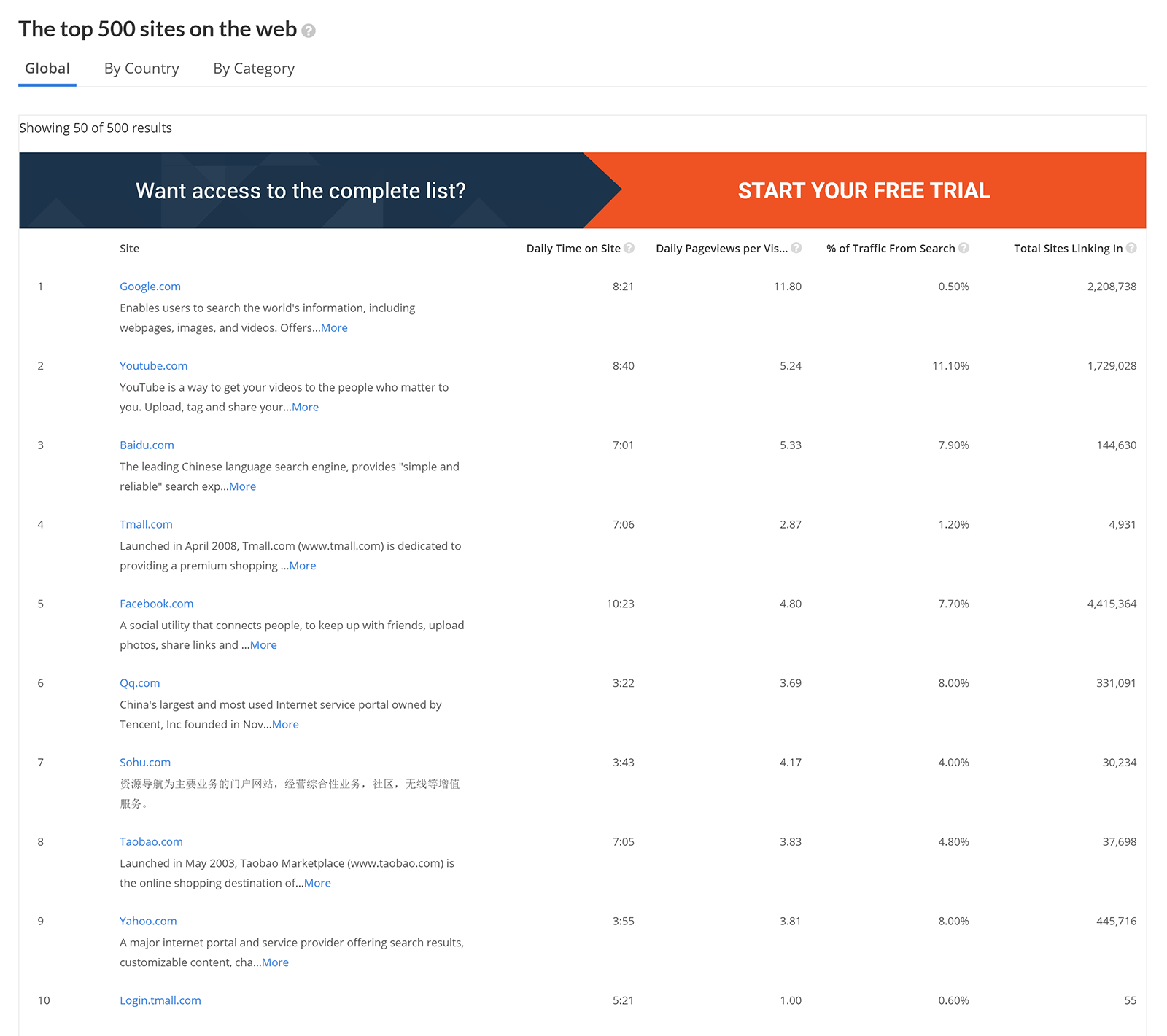 I encourage you to try out the Alexa Website Analysis tool yourself to get a full understanding of what it can show you.
You can also use the Alexa Top Sites list to see the metrics of popular websites.
The Future of Alexa
Ten years ago, most website owners checked their Alexa Rank regularly as it was frequently used by advertising companies to estimate website traffic and gauge the importance of a website.
Today, advertisers are more likely to look at a website's domain authority and the page authority of key pages on their website. Advertisers are increasingly looking at the social media presence of websites too, and many request confirmation of traffic levels through Google Analytics.
It's important to remember, however, that Alexa Rank is nothing more than a quick and easy way of ranking a website. For higher traffic websites that have Alexa scores under 100,000, I believe the Alexa Rank metric can be a useful way of analysing the position of a website alongside metrics such as domain authority.
If you truly want to get the full picture of a website, you need to look at keywords, search engine rankings, traffic sources and more. You can check these metrics in the Alexa Website Analysis tool, but you should also look at alternative SEO services on the market such as Moz.
Long-term, detailed analytics is where Alexa belongs.
Website owners such as myself may feel a little nostalgic about Alexa Rank as we checked it so frequently in the past, but I have no doubt it's made the right decision to leverage the brand name to focus on the higher end of the market.
Its analytic tools stand up well against the competition, and it will be interesting to see how it expands the service over the coming years.
Final Thoughts
Over the years, Alexa has expanded its operations and grown to be one of the biggest website analytics companies in the world.
I believe the Alexa Rank of a website can be a useful metric, despite other website metrics being more common now. The irony is that Alexa's ranking system is now more accurate than it has ever been, due to it using more data sources than it did in the past. If more website owners realised this, perhaps they'd give Alexa Rank another chance.
Of course, we should all be looking at what services Alexa offers today. If used properly, its services can help website owners and online businesses get ahead of the competition.
Thoughts on Alexa Rank?
All comments are held for moderation. We'll only publish comments that are on topic and adhere to our Commenting Policy.