WinningWP content is free to all. If you make a purchase through referral links on our site, we earn a commission (
learn more
).
Sendinblue or Moosend: Which is the Best Email Marketing Tool?
Email marketing is one of the best ways to nurture relationships with both potential and existing customers. With the right provider, it can also be one of the most cost-effective ways to market your business — and it can even be free. In this guide to Sendinblue vs Moosend, I'll compare two of the best free plans in the email marketing industry.
What Do Email Marketing Tools Do?
So, what's the point of these tools anyway? Can't you just gather contacts manually and send group blasts? Well, technically, yes — you can collect email addresses and send group emails. But there are several reasons why you'll want to use a tool such as Sendinblue or Moosend instead:
There are extensive privacy and anti-spam laws around the world. Keeping track of these on your own is extremely difficult. Email marketing tools such as Sendinblue have teams of professionals dedicated to keeping their software, and, in turn, their customers, in compliance with the law.
Quality email marketing tools use a variety of measures to keep your data, and the data of your subscribers, safe. This should include multilevel firewalls, anti-virus protection and encrypted data transmission.
Tools such as Moosend make it simple to create contact forms, collect email addresses, manage your contacts and send out attractive newsletters. Templates allow you to build everything you need to start growing a list in minutes.
Email marketing tools allow you to create automated customer journeys. These are a series of emails that build trust and engagement with your audience, with the end goal of getting them to purchase something from you. This simplifies customer relationship management.
Segmentation tools allow you to create targeted campaigns for specific groups within your audience. This is one of the most effective ways to improve your email marketing ROI, with marketers reporting a 760% increase in revenue after implementing segmentation.
The best email marketing services allow you to perform A/B testing. A/B testing is the practice of comparing two distinct versions of an email by sending them to different groups in your audience. You can then see how each is received by your audience and use that information to create future campaigns. This is one of the best ways to improve your email marketing over time.
The best email marketing services offer extensive analytics, so you can see the success of both individual campaigns and your email marketing as a whole. You should be able to track how many people are opening your emails, how many of those people are clicking on your links, and if any of your emails are bouncing.
An email marketing service makes it easy to store and manage lists of any size. You want to be able to use the same service at 100,000 subscribers as you did at a thousand subscribers. Cost tends to increase based on the number of subscribers, so you also want to make sure those increases happen at manageable intervals.
In short: A good email marketing tool makes every aspect of email marketing simple to manage, so you can focus on creating stellar content.
Why Sendinblue vs Moosend?
There are numerous email marketing service providers, several of which offer free plans, so why have I chosen to focus on Sendinblue vs Moosend?
The reality is that many of the free plans offered by these tools come with severe limitations. They limit access to many of the best features, as well as the number of subscribers you can have. Sendinblue and Moosend, on the other hand, both offer generous free plans with access to almost all of their best features.
Sendinblue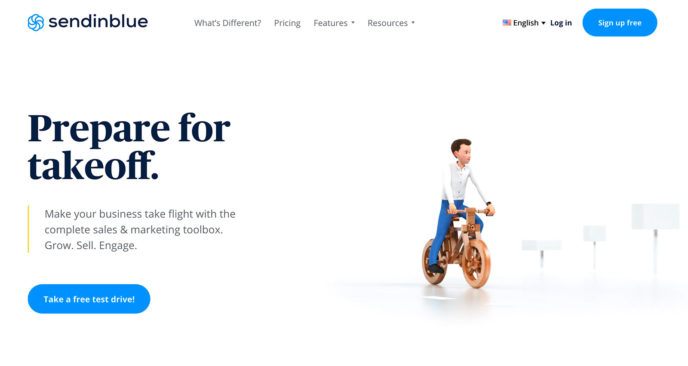 Key Features
Unlimited contacts and details
Mobile-friendly email builder
Extensive template collection
Personalization
Advanced segmentation
Customizable signup forms
Custom template creation
Workflow editor
Real-time analytics
Integrations with tools such as WordPress and Shopify
SMS marketing capabilities
Ability to connect with Sendinblue CRM tools
Automated workflows for up to 2,000 users
Daily sending limit of 300 emails
Overview
Sendinblue is a comprehensive email marketing solution that offers several apps and integrations to simplify your content marketing. This includes a variety of plugins that automatically import contacts from various places, such as your WordPress site, to your Sendinblue account.
In terms of design, Sendinblue offers a mobile-friendly email designer and a large collection of templates built for a variety of industries. This makes it easy for you to create attractive email campaigns yourself, with no design experience.
What Makes Sendinblue Stand Out?
What really makes Sendinblue stand out is the attractive, easy-to-use interface. When you log in to the service, you're immediately taken to a dashboard where you can add contacts to your list, see your most important stats or launch your next campaign.

Another standout feature of Sendinblue is the number of options for campaign design. When you create a new campaign, you can choose between three types of editor: Drag-and-drop, rich text and HTML. You can also use all three of these editors to design custom templates.
It also makes it easy for you to import templates from other Sendinblue accounts, allowing you to use one set of templates across multiple businesses.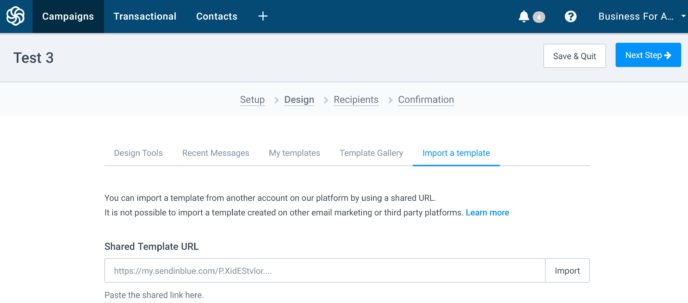 Drawbacks of Sendinblue
Sendinblue is a fantastic email marketing tool, but its free plan comes with a couple of major limitations that must be considered — most notably that the free plan doesn't allow you to perform A/B testing. This will make it more difficult to fine-tune your email marketing campaigns for maximum conversions.
The free plan also lacks access to Sendinblue's full analytic capabilities; to access data related to the geography, devices and behavior of your audience, you'll need to invest in one of the premium plans.
Another limitation is that it only allows automated workflows for up to 2,000 subscribers on the free plan. This greatly diminishes the value of being able to freely manage unlimited contacts. The limitation carries over to the first two premium plans as well, making it a significant investment to maintain a larger list on this platform.
Pricing
Along with the generous free plan, Sendinblue offers four premium plans:
Lite — This plan is available for $27 a month, or $24.30 a month when paid annually. There's no daily sending limit for users on this plan. Otherwise, it's identical to the free plan.
Essential — This plan is available for $42 a month, or $37.80 a month when paid annually. This tier gives you access to Sendinblue's full analytics capabilities and phone support. You can also remove the Sendinblue logo from your emails at this level.
Premium — This plan is available for $71 a month, or $63.90 a month when paid annually. At this level you gain access to several new features — including send time optimization and multi-user access for up to three users. You can also send automated workflows to unlimited contacts.
Enterprise — This plan is only available through custom consultation with Sendinblue. Enterprise users gain access to all features for an unlimited number of users.
Moosend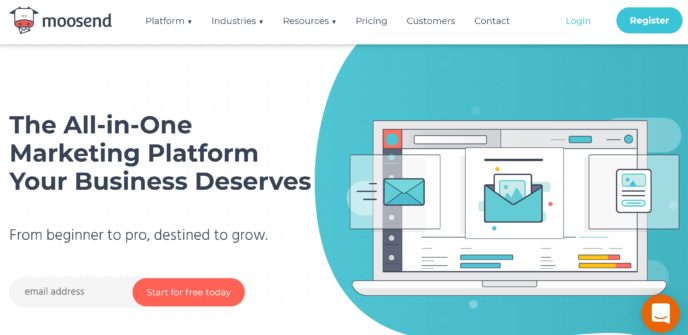 Key Features
Unlimited sending
Customizable signup forms — including popups and embeddable forms
Access to the template gallery
Ability to create custom-coded templates
Automation templates and workflows
Custom automation workflow creator
Extensive real-time reporting, fully integrated with Google Analytics
Spam analysis
Spam testing
A/B testing
More than a hundred integrations
API access
Overview
Moosend aims to provide comprehensive email marketing services for affordable prices. It's also committed to making sure everyone can use its service to the fullest, making almost all of its features available on the free plan.
When you sign up with Moosend, you gain access to its drag-and-drop email designer, numerous templates and pre-built automation workflows. These tools allow you to build complex email marketing campaigns quickly, with no previous design or coding experience required.
What Stands out about Moosend?
The first thing that stands out is its commitment to making sure your emails get past spam filters. It does this in two ways that are immediately apparent:
Required business email: Senders can't use free email services such as Gmail. These email addresses look unprofessional to both subscribers and spam filters.
Sender signature: This comprises two TXT files that you customize your DNS with. You should be able to do this easily through your website host's cPanel.
You must meet both of these requirements to create your first campaign. This is a bit arduous, but could significantly reduce your bounce rate.
Once you've created your sender signature, you'll discover another great thing about Moosend: The options for campaign creation. You can build regular campaigns, A/B test campaigns, repeatable HTML campaigns, automated campaigns and RSS campaigns. And the best part is all campaign types, including A/B test campaigns, are available to free users.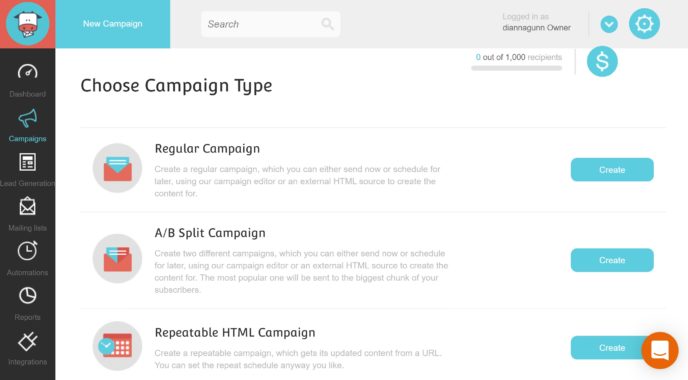 You'll then be able to choose between creating an HTML campaign or a plain text campaign. Choosing the HTML campaign gives you access to Moosend's email templates and drag-and-drop editor.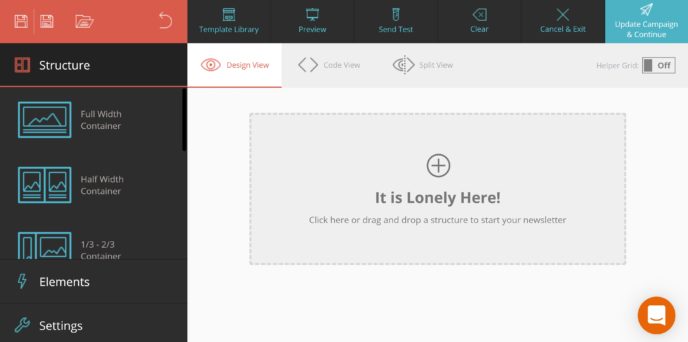 The drag-and-drop editor is one of the biggest factors to consider in the question of Sendinblue vs Moosend. The Moosend editor takes longer to load than the Sendinblue editor, but offers a greater number of tools for designing your emails. Before you place any content blocks, you'll be asked to choose the overall structure of your email. You can choose between a full-width container or one of several structures divided into columns. If you want more guidance, you can also activate the Help Grid, or choose a fully designed template.
Moosend also offers some content block options that aren't provided by Sendinblue. The most notable of these are embedded video blocks and product displays.
Last, but certainly not least, Moosend offers some of the most comprehensive tracking and analytics tools in the industry. On top of the usual statistics, such as opens and link clicks, Moosend also tracks:
page visits
product views, shopping carts and purchases
predicted location and demographics
devices used to access your emails.
The reporting is fully integrated with Google Analytics, allowing you to gain a more comprehensive understanding of how people interact with your business online. You can also integrate Moosend with tools such as Segment and ReportGarden for improved data collection.
Drawbacks of Moosend
Setting up Moosend is a little more complicated than setting up Sendinblue. Once you've verified your Sender account (the email account newsletters will be 'sent' from), you'll be required to create a Sender Signature. This is done by customizing your DNS with two TXT files supplied by Moosend.
DNS updates can take between 24 and 48 hours, so this means you won't be able to create campaigns right away. If your web host offers a DNS refresh, you'll still have to wait half an hour for it to take effect.
The only other drawback of Moosend is that its integration with other tools is currently limited. However, it's actively working to increase the number of integrations available.
Pricing
Moosend offers three plans:
Free forever: This plan is available to anyone with fewer than a thousand subscribers.
Pro: You can use the Pro plan at any number of subscribers, and will be forced to transition to it when your list grows past a thousand. This plan costs $8 a month per thousand subscribers, all the way up to $608 a month for 200,000 subscribers. At this level, you'll also gain access to the Moosend landing page creator, an SMTP server and phone support.
Enterprise: There are custom plans with advanced functionality, such as custom reporting and SSO & SAML security measures. To secure one of these plans, you must contact Moosend for a custom quote.
Sendinblue vs Moosend
With the basics established, it's time to make our final comparisons. I'll take a look at the similarities first, then clarify some of the differences.
Similarities
Easy import features for adding subscriber lists from other email marketing tools.
Drag-and-drop email builders.
Extensive template libraries.
Access to features such as advanced segmentation and automated workflows on the free plan.
Real-time reporting.
Integration with numerous tools, such as WordPress and Salesforce.
Custom template creation.
Access to both HTML and plain text newsletter options.
Differences
Sendinblue offers SMS marketing capabilities.
Moosend offers a wider variety of content blocks in the drag-and-drop email editor.
The Sendinblue email marketing service can be used in combination with its proprietary CRM software for better customer management; Moosend is only an email marketing tool.
Moosend offers access to A/B testing on the free plan.
Sendinblue users can access more than a hundred integrations.
Moosend provides comprehensive analytics to all users; the analytics available on the Sendinblue free plan are quite limited.
The cost of Moosend plans rises more slowly than the cost of Sendinblue plans and you can send automated campaigns to all of your subscribers on any plan.
Sendinblue vs Moosend: The Verdict
So, based on all of this information, what email marketing tool should you use?
Personally, I preferred Moosend. Updating my DNS to accommodate Moosend was a bit of a hassle, but this made me feel more confident that my emails would be seen. I also found the Moosend drag-and-drop editor significantly better in terms of both aesthetics and functionality. As a small-business owner with a limited marketing budget, I also appreciated the ability to run A/B tests on the free plan.
However, Sendinblue does have its advantages. One major advantage is the sheer number of integrations it has with other platforms. Another is the capability to set up SMS marketing, as well as email marketing. Considering the 90% open rate and 45% response rate enjoyed by SMS marketing, this provides businesses with a huge advantage.
Still not sure? Here's the quickest answer I can offer to the question of Sendinblue vs Moosend:
Choose Moosend if you want a dedicated email marketing tool that allows free users to enjoy all of its best features.
Choose Sendinblue if you want a tool that easily integrates email marketing with all of your other digital marketing strategies.
Used/using either Sendinblue or Moosend? Thoughts?
All comments are held for moderation. We'll only publish comments that are on topic and adhere to our Commenting Policy.