WinningWP content is free to all. If you make a purchase through referral links on our site, we earn a commission (
learn more
).
How to Use Shopify With WordPress – Using the New Official Shopify Plugin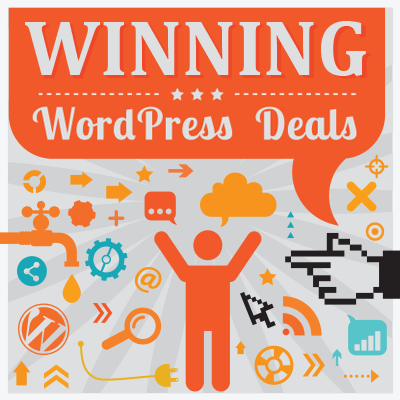 Update 28th April 2017: Unfortunately, Shopify have now removed the below-mentioned plugin from the official WordPress plugin directly and currently have no plans to reinstate it (read more)!
I was very excited to see Shopify finally coming out with an official plugin for WordPress! A free plugin, I should add, and a seemingly cool-looking one to boot.
But now the dust's settled and I've had some time to experiment with it, am I still as excited? Does that new Shopify for WordPress plugin still look as cool once you've lived with it for a while?
Let's find out with a review of the plugin and a quick guide on how to integrate Shopify with your WordPress website:
What's This All About Anyway?
Okay, so just to get you up to speed, on March 15 this year, Shopify announced the launch of their new free plugin for WordPress.
TL;DR:
The plugin helps you to integrate your WordPress site with your Shopify store.
You can display your products, and your customers can buy them right from your WordPress site.
Apart from developing the plugin, Shopify also partnered with a couple of WordPress theme firms to create three new (and free) WordPress themes that are optimized to work with the plugin.
By the looks of things, Shopify has finally made a move to acknowledge WordPress' massive community — and has possibly found a way to convince people with existing WordPress sites to launch their eCommerce stores on Shopify, instead of, say, WooCommerce.
Let's see how to do it…
How Easy Is it to Integrate Your WordPress Site with Shopify?
To get started, you need two things:
An existing Shopify store.
The plugin itself, which you can get either from here, or by searching for 'Shopify eCommerce Plugin' on the 'Add New' plugin page in your wp-admin.
Important note: The plugin doesn't provide you with a functional eCommerce store on its own (as with WooCommerce). It's only an interface to connect your existing Shopify store (and your products therein) with your WordPress site.
So, after you have the plugin installed and activated, just go to Shopify/Settings (in your wp-admin) and input your store name to establish the connection between the two.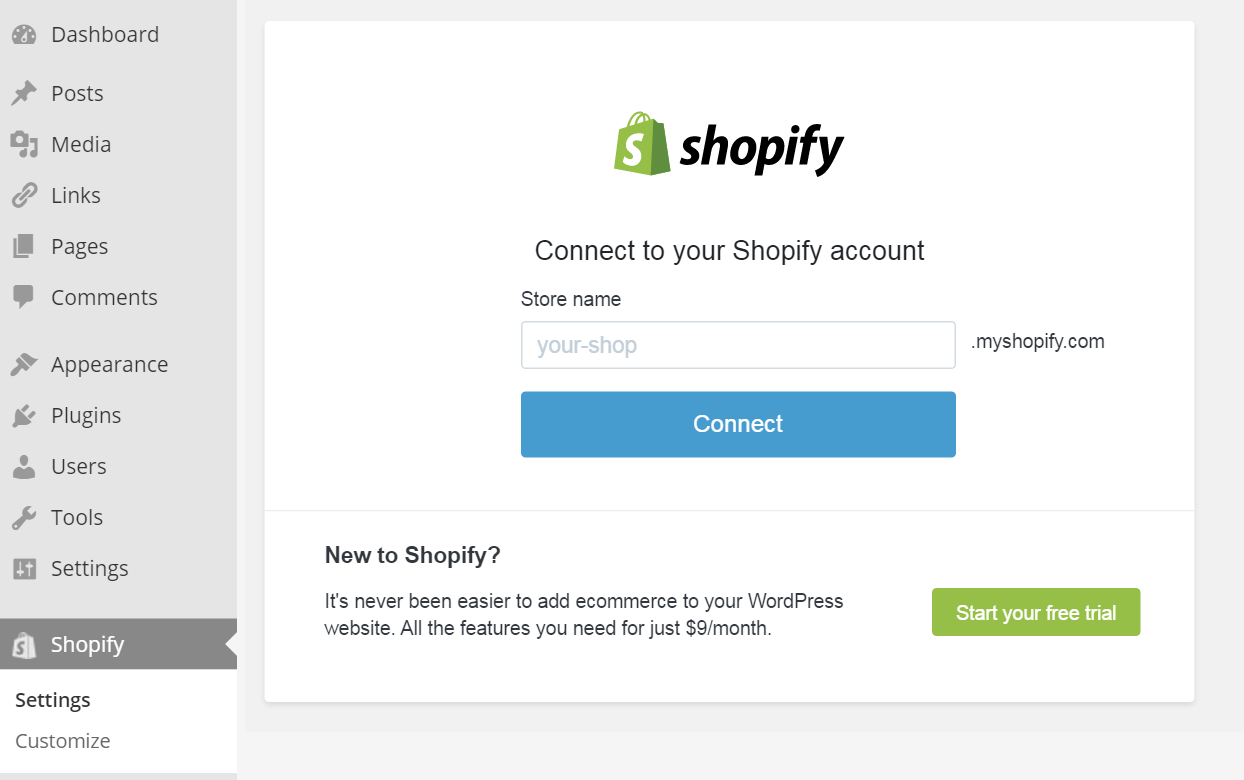 The authentication happens in the background, so you don't have to do anything other than click the 'Connect' button.
After a while, you'll have a new panel in your wp-admin, where you'll be able to kind of manage the basic things about your store.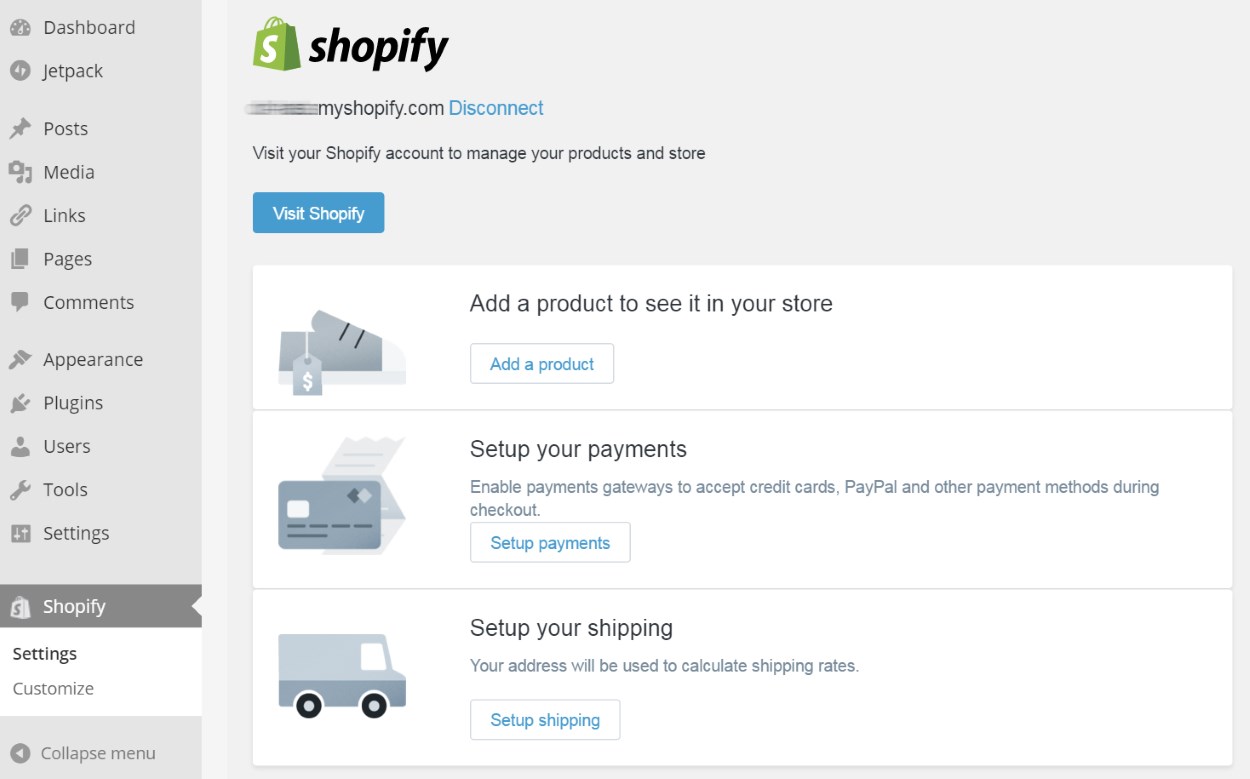 I'm saying 'kind of', because the buttons you see above are actually only shortcut links redirecting you to Shopify. All things considered, that's a handy panel to have, but you still have to hop over to Shopify to take care of any management tasks around your eCommerce store (such as product management, orders, payments, shipping and fulfillment, inventory, taxes, and so on).
That being said, this plugin is still very effective at one thing, and that's letting you list your products and product collections on any WordPress post or page.
Start by creating a new page as you normally would (or editing an existing one), and you'll notice a new 'Add Product' button next to 'Add Media.'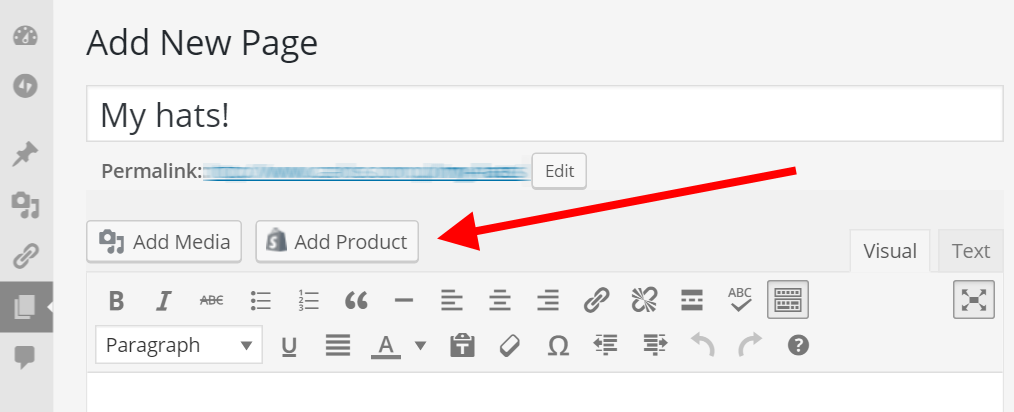 By clicking it, you can select any product — or collection of products — from your store.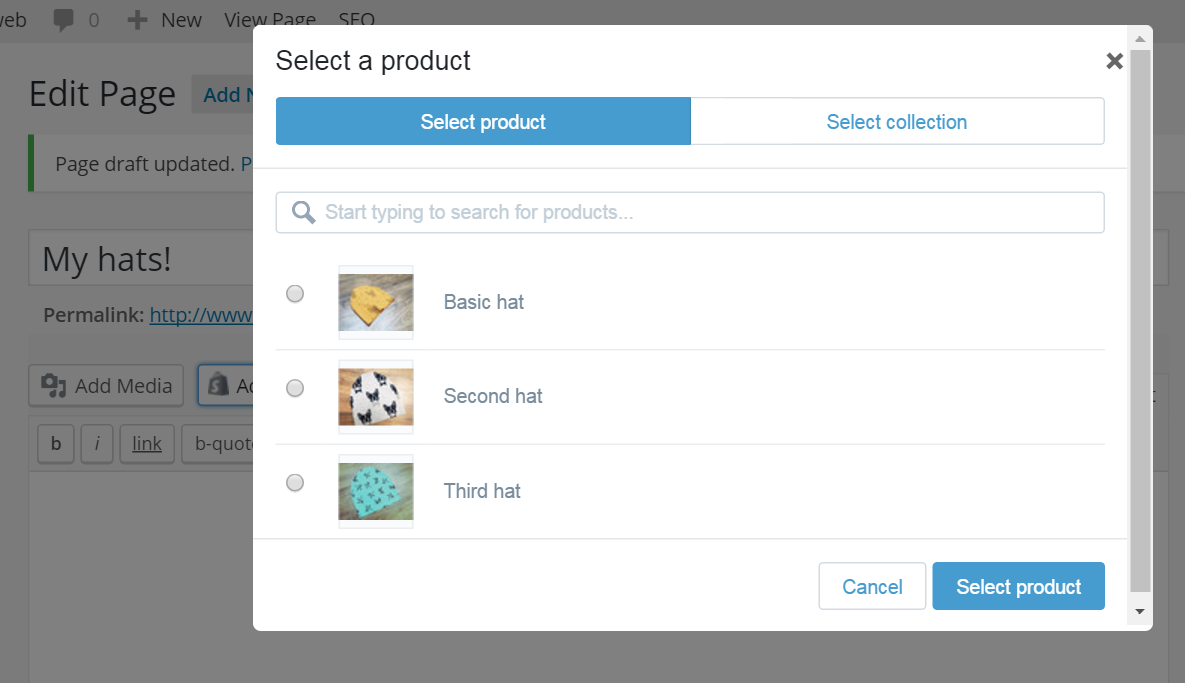 When you do so, Shopify will include that product/collection listing right on the page or post.
This very simple integration opens a range of possibilities. To name a few:
You can create a new page to list your whole catalog of products, effectively embedding your complete eCommerce store in your WordPress site.
You can go through your most popular posts/pages, and add some product listings there.
You can also go through your posts, and, based on the topic of a given post, list some well-suited product within the content of that post.
You can edit your AdWords landing pages, and, instead of sending people over to your Shopify store, you can send people to your WordPress site. That way, you're keeping the traffic and people can still buy your stuff easily.
You can feature your best-selling products right on the homepage of your WordPress site.
Last but not least, the great thing about this plugin is that this is basically where your work ends. You don't need to set up anything in relation to payments, shopping carts, or checkout — the plugin handles all of that for you.
Is Your Shopify WordPress Store Customer-Friendly?
In the front end, your WordPress site still works and looks the same — the only differences are the products added to certain pages/posts.
To buy anything, all a customer needs to do is click one of your 'Add to Cart' buttons.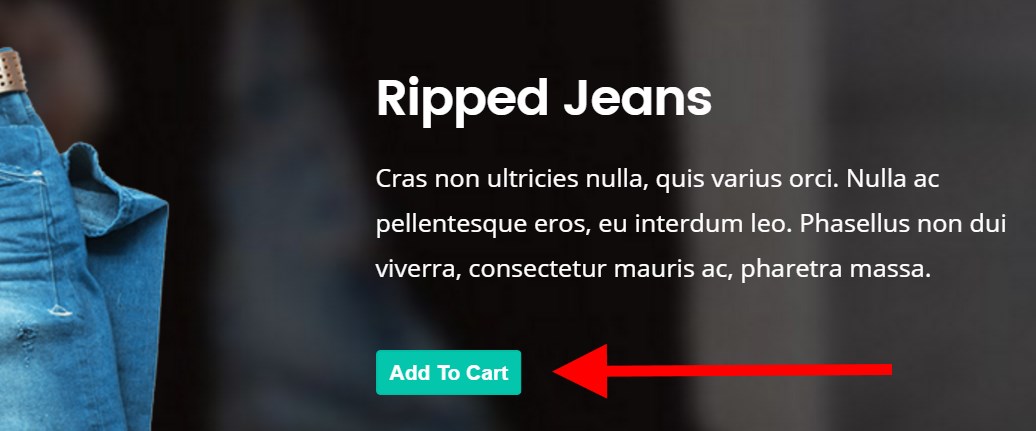 When they do so, they'll see a nice fly-in shopping cart:
From there, they can adjust the number of items, and then proceed to checkout once done.
Now, the important thing is that the checkout itself isn't hosted on your WordPress site. Instead, the customer gets redirected to Shopify.
If the customer ends up buying anything, you'll see their order in the Orders section of your Shopify store.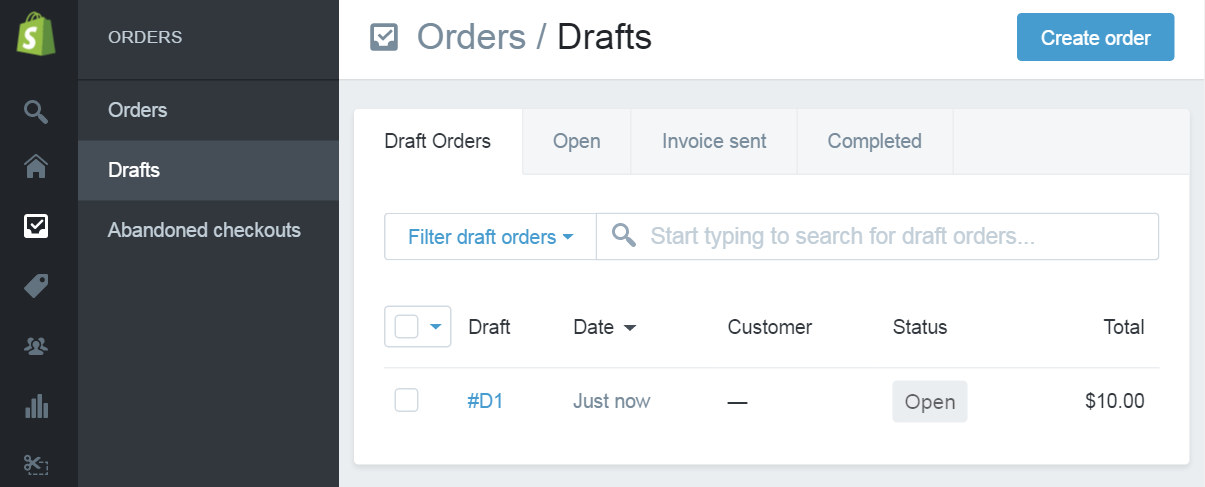 Pros and Cons
In the end, I have to give it to Shopify and admit that this solution is very user-friendly — especially if you don't want to deal with any coding or tough tech-related aspects of running an eCommerce store (such as making sure your site's secure, and so on).
But let's break things down one by one.
Pros:
Your customers get a very clear buyer's interface. There's no clutter, just simple product listings and 'Add to Cart' buttons.
It has an intuitive shopping cart and checkout — there's a simple slide-in panel, through which the customer can adjust their order and either minimize the cart to continue shopping or proceed to checkout.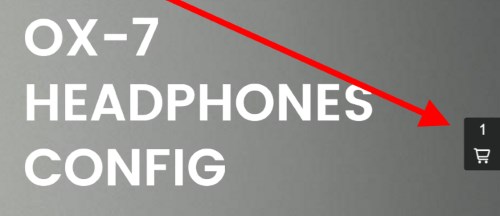 It saves you from having to deal with any security-related issues you may face when running an eCommerce store on your own domain. This all happens at Shopify, and the customer never needs to enter their vital credit card information on your site. Ultimately, you don't have to worry about this aspect of running an eCommerce store at all.
The integration is very easy, especially if you already have your store configured with Shopify.
Cons:
If you're starting from scratch (no website and no store), it'll require a lot of work to first launch and configure your WordPress website and then do the same with your Shopify store setup.
You can't manage your store from within WordPress — this can only be done at Shopify. The plugin is just an interface that lets you list your products on your WordPress website.
The plugin is still relatively new, so there may be a few hiccups. In my case, for example, the 'Add Product' box kept vanishing before letting me do anything. But, as they say, your mileage may vary.
Conclusion
In the end, using this new Shopify plugin for WordPress makes sense in a couple of cases:
It's a great solution if you already have your main business website built on WordPress, and you want to somehow showcase your Shopify products on that website (along with the shopping cart functionality).
It's great if you're a blogger who wants to add an eCommerce component to their WordPress website without having to deal with all the security-related stuff.
It's great for everyone who loves WordPress and doesn't want to move to Shopify entirely, but, instead, just wants Shopify's eCommerce capabilities (without the rest of their website platform).
That being said, if you don't have a WordPress website yet, nor a Shopify store, perhaps a better solution would be to go either for a WordPress and WooCommerce store (more info on choosing the right eCommerce platform), or a separate Shopify online store that can also serve as your standard website. In either case, you can take care of all your management duties in one place, instead of having to switch between two admin panels (in WordPress and Shopify).
What do you think? Excited about the new Shopify plugin for WordPress?
All comments are held for moderation. We'll only publish comments that are on topic and adhere to our Commenting Policy.