Choosing an eCommerce Theme and 15 of the Best eCommerce Themes for WordPress (2017)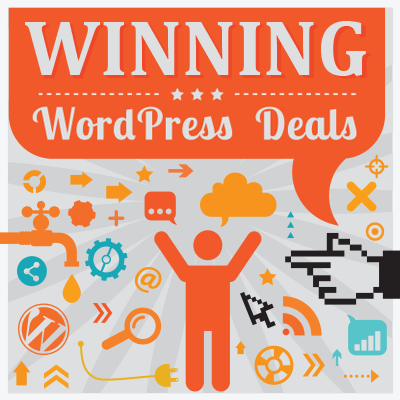 More and more businesses are opening stores on the internet. Not just brand-new businesses, but even old and well-established brick-and-mortar players are now feeling the importance of having an online presence.
Getting online customers to actually make a purchase on your website, however, requires a great deal of proper planning. In the few seconds a mouse hovers over your homepage, you've got to tempt the visitor to stay on longer, look around more and buy!
In this article, we'll cover a few of the most critical things to consider, how to choose an appropriate eCommerce theme for your site, and finish up with a brief look at fifteen of the best WordPress eCommerce themes on the market.
Let's get started…
Nailing eCommerce
Imagine yourself to be in a traditional brick and mortar store. The salesman would invite you in and persuade you to check out a product in ambient surroundings. The decor, the lighting, and the entire product presentation platform will all be designed to highlight the product. He'll likely try to get across to you why you should buy the product, and point out the great value proposition it presents. He'll also compare his product against other similar products, and why you should buy from him and not from the store further along the road.
Now, all that the salesman does in the few minutes you spend in his shop, the website's homepage must do in the first few seconds after a new visitor arrives.
It absolutely must do enough for the visitor to stick around — if not, all is lost!
How To Convince A Visitor
The short answer is Product Presentation. The product display on your store pages must be eye-catching enough to cause the mouse to linger. The images must be sharp, viewable from different angles and zoomable. The product description must be comprehensive, but concise. Product comparisons and prices must be readily available to a prospective buyer.
If you cannot convey value proposition well, you cannot begin to hope for a reasonable conversion rate. A good eCommerce thrives on displaying a product catalog in a manner that entices a buyer. Combining a smashing product display with top notch navigation within your website means you've given yourself a fighting chance of running a profitable eCommerce business. And this is where WordPress themes can excel.
Why WordPress for eCommerce?
Chances are you aren't going to build the next Amazon, in which case WordPress will almost certainly be your best bet (note: if you're still undecided on the exact platform to use: take a look at this earlier post of ours before continuing. If you have, or intend to start a small business that will cater to less than a few million every year, or if you already have a WordPress site for your business — adding an eCommerce component to the equation is remarkably easy.
Keep in mind that content marketing is an incredibly popular mechanism to increase conversion rates. And adding blog pages is a surefire way to improve customer connect. WordPress is a neat publishing platform and can handle these functions exceedingly well.
eCommerce Plugins for WordPress
If you're running an online store, you've almost certainly heard of WooCommerce. An incredible WordPress eCommerce plugin (which is by far the most dominant player — currently powering over 37% of all online stores!), WooCommerce is simply superb! What's more, as of last year, it's also now under management — and being actively developed — by the very same company behind WordPress.com: i.e. Automattic. Meaning it's not only super reliable, but also an absolutely solid bet long term!
In the interests of fairness however, it needs to be said that WooCommerce isn't the only WordPress eCommerce plugin around — and for some sites, may not even be the ideal one to use. Other WordPress eCommerce plugins to consider include iThemes Exchange, MarketPress eCommerce, WP eCommerce, Cart66 Cloud and Easy Digital Downloads (note: here's a handy article to read for more info on each).
Choosing an eCommerce Theme for WordPress
The choice of eCommerce themes is truly vast. On ThemeForest (by far the most popular place to buy WordPress themes) alone, you'll find close to a thousand different eCommerce WordPress themes to choose from. This can be both liberating and overwhelming, if not downright confusing.
So how do you pick the best eCommerce theme for your website?
The theme you pick should present your business — and in a manner that enhances your brand identity. In most cases, it will be better to keep the theme simple, retaining only features that are important to your website — remember: it's your product that must be in the spotlight, not the theme.
Four important things to keep in mind:
When in doubt remember – User Experience first, last and always.
Tailor your user's customer experience and personalize the theme you use to reflect your brand. Ensure that the theme is malleable enough to accommodate these changes.
Compatibility with the market standard eCommerce plugins is essential.
While many interesting layouts are possible, it's safer to stick with familiar layouts for stores. Shoppers have come to expect a certain kind of format for stores, and if you stray too far away from familiar presentations, shoppers may find it hard to browse. A simple test would be to see if a user can find his way, even if the site is in an unknown language. That is the degree of visual familiarity that is desired.
What Else to Look for in an eCommerce Theme?
The other must-haves to look for in an eCommerce theme:
Free or Paid: Competent free themes are available for eCommerce, but I would rather pick a premium theme any day over a free one for two reasons. (1) Premium themes are generally more secure as they are updated more often. Security holes and bugs are fixed regularly in the updates (2) Premium themes offer better support.
Responsive: The world is moving to mobiles. It is imperative that any theme looks good on mobile. In fact, you should go for a mobile-first approach as most of the browsing happens on a mobile. Don't ignore the larger screens, as most sales or conversions happen on them. A theme must be perfectly responsive, sizing down precisely to smaller devices. Touch optimization is an added welcome feature.
Navigation: The route from landing page to checkout must be clear and a visitor must find his way within the website without hesitation, wherever he lands on your site. Mega Menus do the task well enough. But sticky headers, arrows, call to action buttons can all help here. The shopper must move within the website intuitively, without having to figure out his next click.
Security: The theme must afford maximum security. Security is particularly important for cart functions. While a lot of this is dependent on hosting, SSL and plugins, the theme by itself can minimize security issues. Divi (an extremely popular multipurpose theme from Elegant Themes), for example, is a holder of the Safe Seal by Sucuri, and this is a matter of comfort for Divi users.
Speed: A speedy website is of utmost importance to online stores. Shoppers are impatient, and if they have to wait for a product to load, they will simply move their mouse away to a different website. Animations and scrollers are a drag on page speed and so you must use them sparingly. You can also speed up your website by making sure you're using an appropriate eCommerce hosting provider, a Content Delivery Network (more info), image optimization, and by generally tweaking it to include only what's really necessary (in order to lessen the amount of data required to load each page).
Support for plugins: The theme must support the plugins that you need for your site. Complete integration with WooCommerce or other eCommerce/ other plugins is important.
Social Sharing: Word of mouse translates into visits, and visits convert into sales. So social media integration is vital. If users can login from social media accounts, all the better.
Translation: If you want to sell the world over or to a varied demographic group, the theme must be ready for translation.
Fifteen of the Best WordPress eCommerce Themes on the Market:
Now that we've a fair idea what to look for in an eCommerce theme, let's take a take a look at some of the best WooCommerce/WordPress themes around:
Shopkeeper
With Shopkeeper, you can simply adopt a pre-built page from among the many that come with the theme. Or if you wish to be adventurous and start from scratch, the advanced theme options will help you create the page that best reflects your store's brand. The theme is a delight for developers too, as they can put together a website in no time at all for different clients using pre-built layouts, numerous design elements and customization options. The feature rich and multiple style header will prove handy here for sure.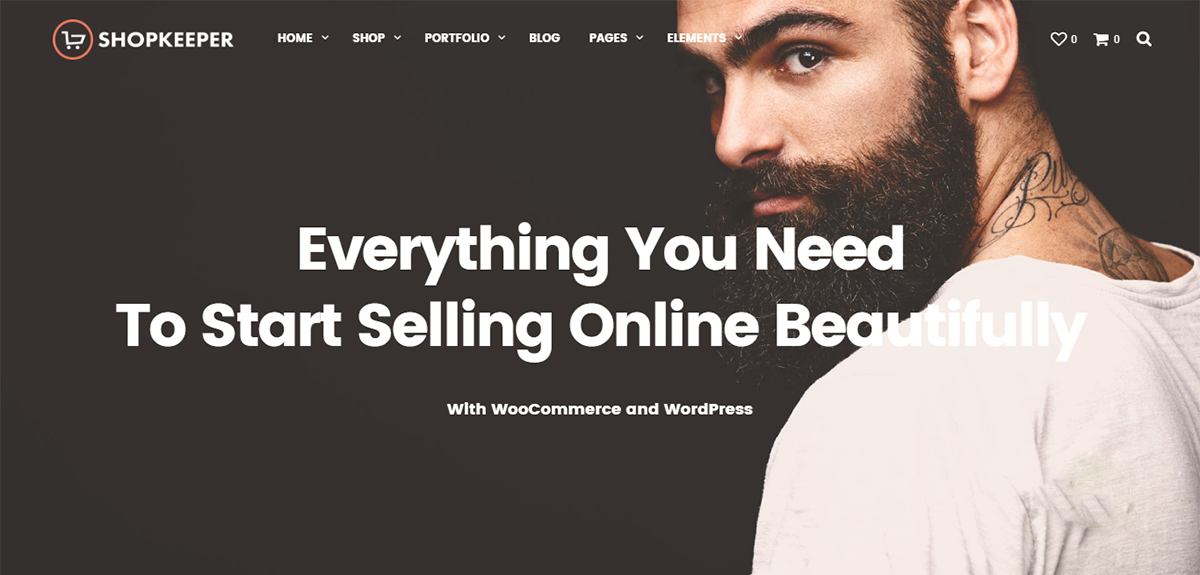 Almost every store function from product display to shipping is taken care of. Two premium plugins, Visual Composer, a plugin that helps in page building and Revolution Slider, a plugin for slideshow display, are bundled with the theme making it a good value proposition.
Price: $59
Atelier
Updated only in early June, Atelier is now better than ever before. With better WooCommerce and Visual Composer compatibility, users can set up shop without any hassle. The 12 demos can be imported easily and adopted for your store.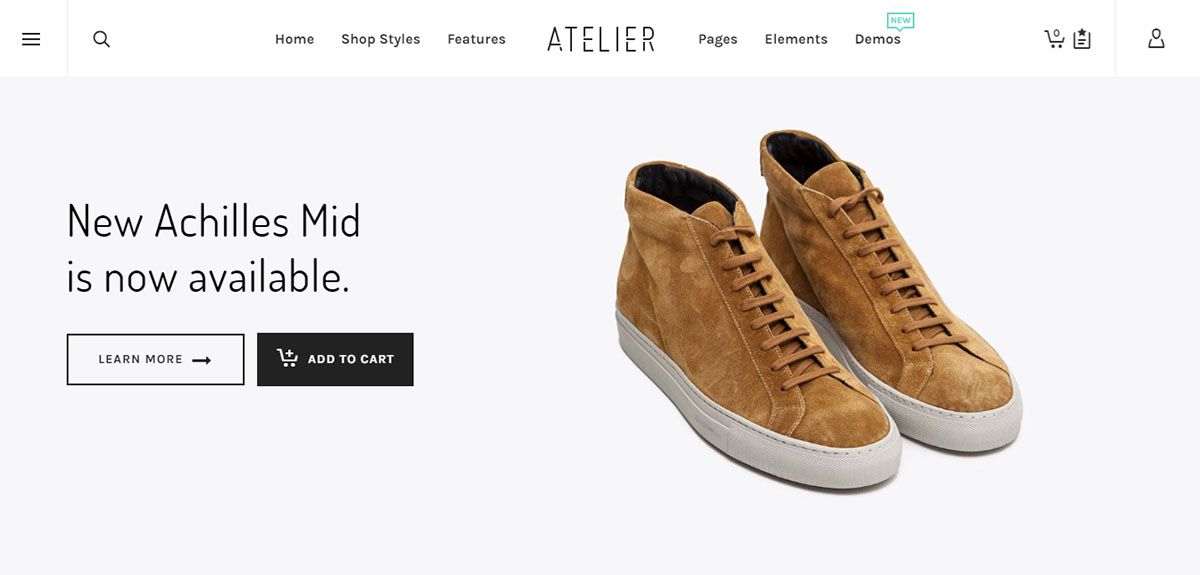 Ten types of header with animation options and four different product layout options (each with their own variations) can help to display your store's products to advantage. The cart experience for purchasers is smooth with visual cues leading them to checkout. The four cart styles can animate in 5 ways and takes away the tedium of making payments. The theme is quick loading and fully optimized for search engines.
Gravity Forms is styled to match the theme and you can add them almost anywhere on the website, so users can reach out at any stage of the shopping process. If it is a chain of shops or multiple brands you are looking at, don't fret. Atelier is multisite compatible, so if you wish, you can have a separate site for each brand or shop or chain or for each language.
Price: $64
Flatsome
With a sales figure touching 28,000, Flatsome is the best selling WooCommerce theme on Themeforest.
Searching for products on the website from any device is a delightful experience with this theme as it includes touch-optimized sliders and product carousels. Attractive display of products is possible with CSS animated banners, parallax banners, video banners & sliders, pre-defined & animated banners and built-in Quick View.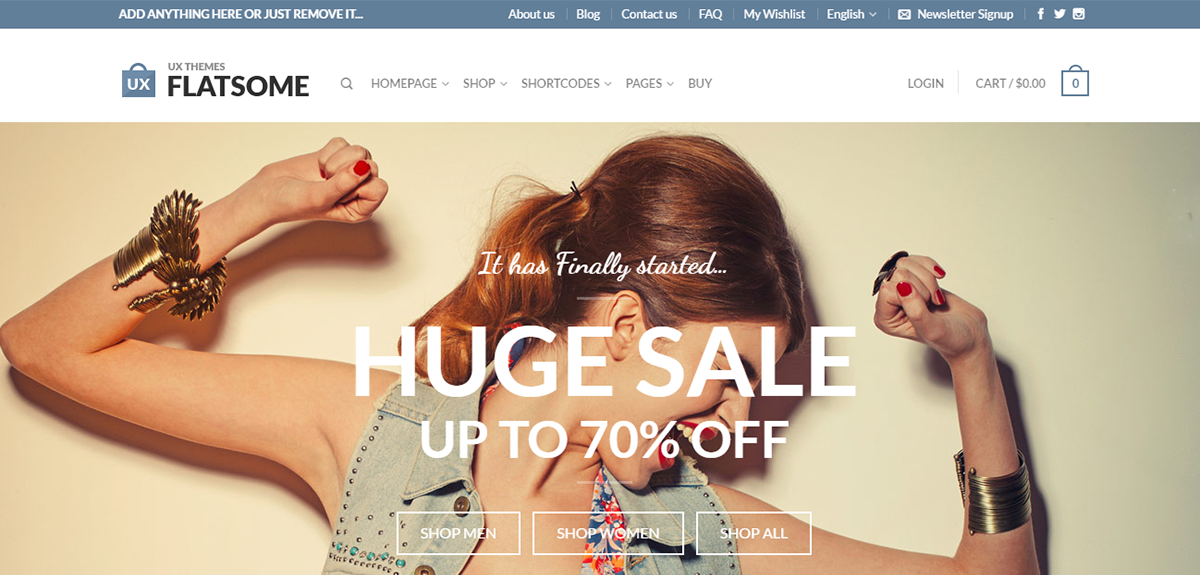 The theme offers a number of options which you can add according to requirement — Facebook login, quick zoom of product images, live search for products, sticky headers for easy navigation, unlimited forms and wish list or like feature. On offer is also a catalog display option which hides the prices and shopping functionality. An important requirement for eCommerce themes is unlimited sidebars and widget areas, and you will find that this is possible with Flatsome.
PSD files and child themes are included, and access to online documentation is allowed, so developers have a lot of added flexibility with the theme. The authors offer one on one email support.
Price: $59
Maya Shop
MayaShop uses a lot of white space to put the focus back on the product. Similar to the other themes discussed here, it comes with the pre-built layouts, sliders, and customization options. Eight homepage sliders are packed with the theme.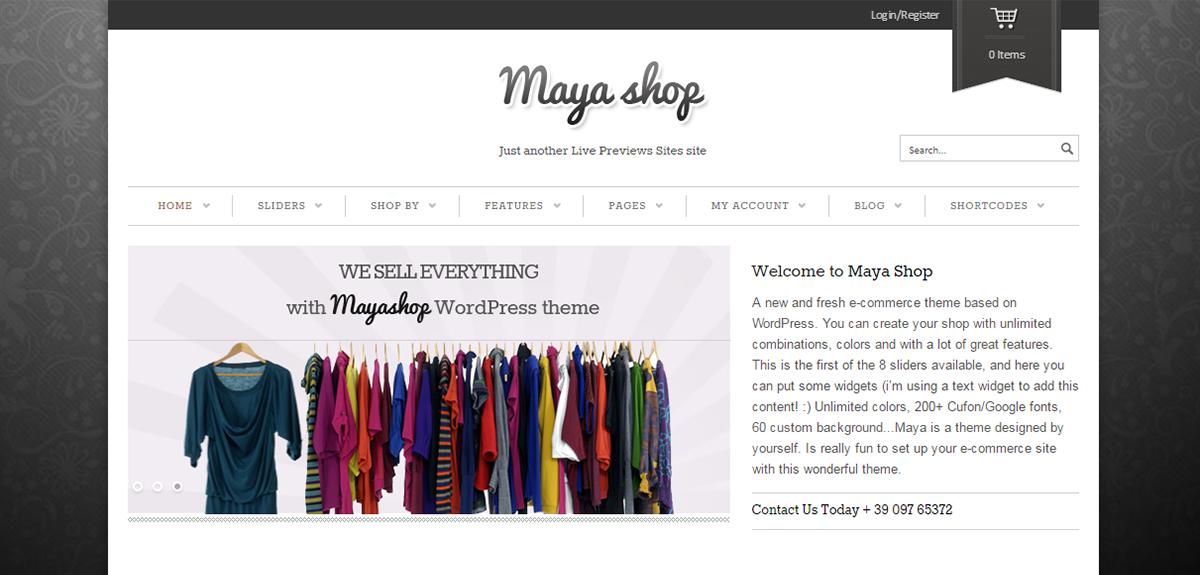 The cart is a bit oversized, and a shopper can always keep an eye on the items piling up in the cart. Each product can be tagged. When the mouse hovers over the product thumbnail, a small popout at the bottom shows what to do next — add to cart, pick a size or read more about an out of stock product. Shoppers can compare products before adding to cart. A search option can be turned on in the header.
Price: $64
The Retailer
The Retailer is a high-quality eCommerce theme that is quite a favorite with store owners. A good number of pre-built pages can help even a novice get started with building a website. And then go on to customize it from the powerful Theme Options Panel. You can refer to the step by step guides and video walkthroughs whenever you hit a hurdle. Visual Composer is included in the theme for free and that can lend a hand with visual page building.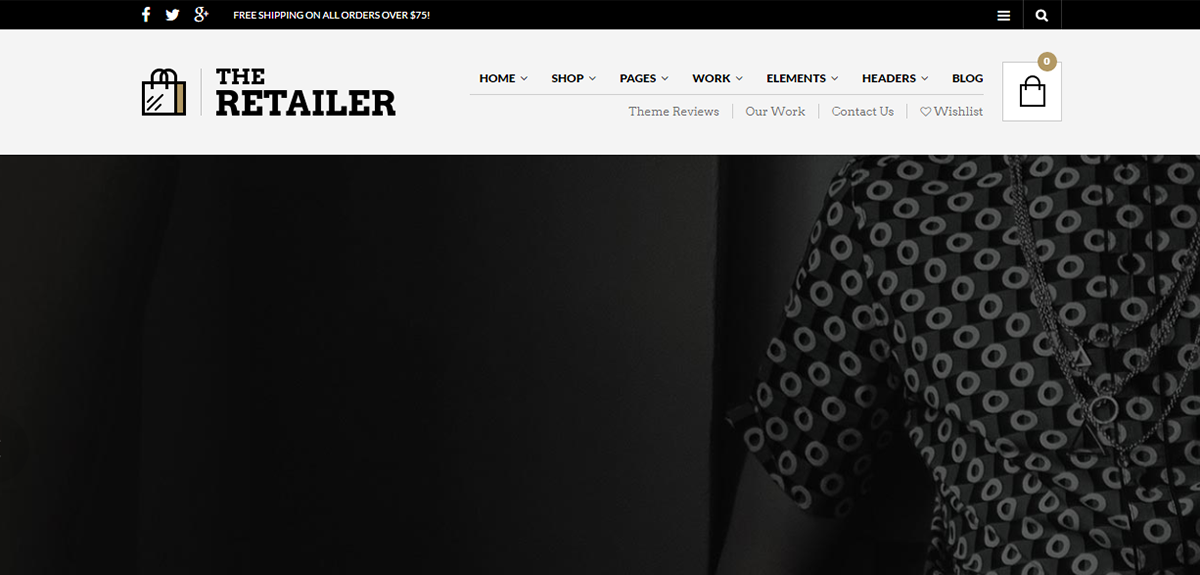 This theme helps you manage a store almost single-handedly, as it will help in collecting payments, managing inventory, tracking orders and customers, as well as be up to date with the store performance using the built-in reports. Under every listing, you can display related products.
The pre-built pages can be used for other websites as well, not necessarily only by eCommerce websites. In that case, you can opt to hide the eCommerce feature.
Price: $59
Kallyas
Kallyas is a multipurpose WordPress theme that you can use across multiple niches, including eCommerce. Visual Builder is included in the theme. Over 100 elements to suit any application are available and you can find just the one you want using the Live Search feature. After you have designed a page, you can save any part of it or the whole page for future use.
The shop specific features in this theme include homepages designed specially for shops, sliders and carousels for product display, category with sidebars, product pages, shopping cart, checkout process and customer accounts. Many features for use by online stores find a place among the drag and drop elements — Google Maps, pricing tables, contact forms, image boxes and more.
The new addition to layout, "Modern", can pretty much be adopted as such by shops. It provides for new product listings, product page layouts, and general WooCommerce layouts. Kallyas is SEO ready and with an eye on site speed, loads just the required resources.
Price: $59
Neighborhood
Neighborhood is a theme that comes packed with eCommerce inspired design features to help you build a trendy online store. It trains its focus on providing superlative customer experience. And so you will find that the theme, besides being responsive, is touch optimized. All the sliders incorporate swipe functionality, so browsing from any device is easy.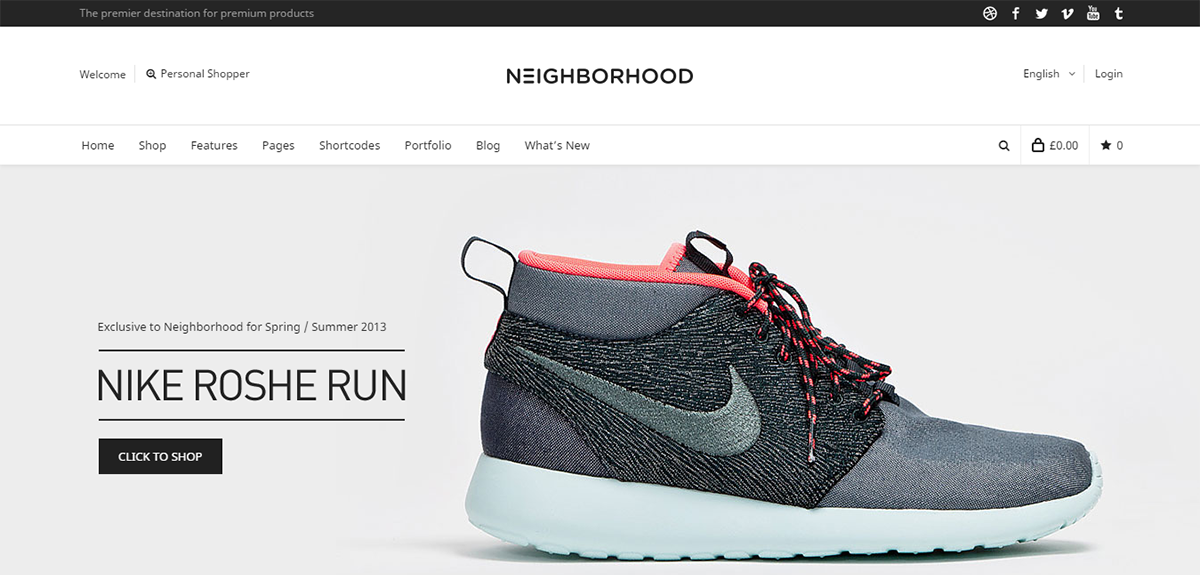 Neighborhood comes with the Swift Framework and Swift page builder, so if the 19 pre-built pages are not to your taste, you can easily change them. An optional Wishlist can be included on your store's website. Users can add products to the wishlist via the product page or using thumbnails and then access the wishlist from the header or through your account.
To merely display products without actually putting them on sale, you can opt to hide the cart and checkout features. One feature in particular that shoppers will find useful is the Super Search or Personal Shopper feature. This enables applying filters up to 6 different fields and then assigning attributes to these fields. Customers can then access Super Search to find the products using natural language form.
Price: $64
Divi
The 20 pre-made layouts and the Divi Builder included in Divi make it a favorite with WordPress users. The layouts can be customized. The Divi Builder and the 46 Content modules will help to build your website visually. The theme includes multiple header options — you can center your logo or create multiple menu areas and more. And you can check if you've got it right by making use of the Live Preview feature.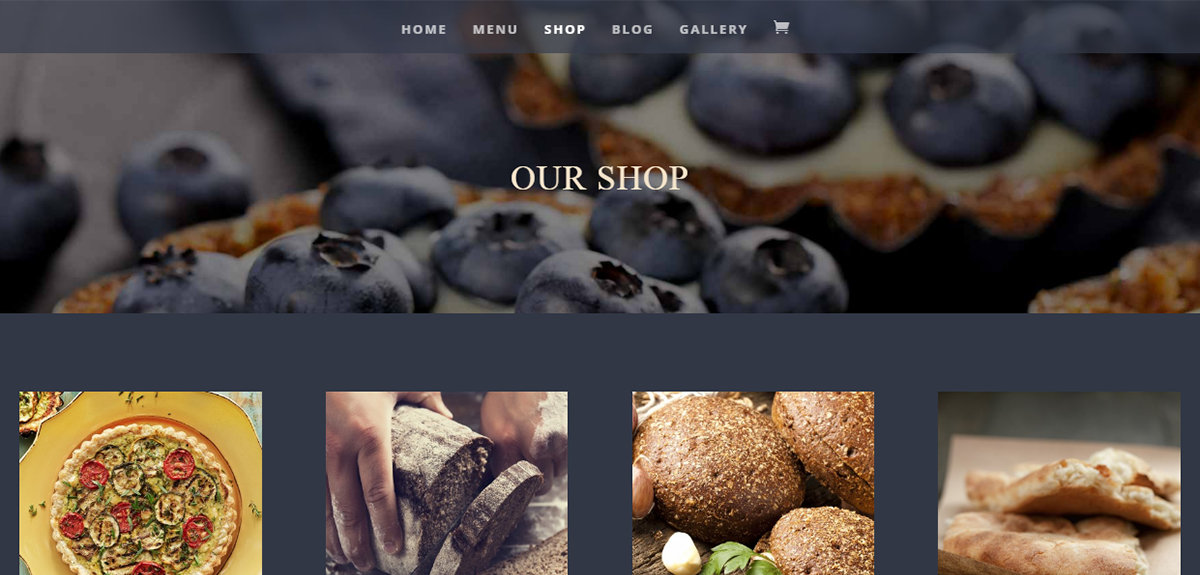 Among the 46 content modules, check out the Shop module in particular. This gives you the whole range of features to build a full-fledged online store. Divi is entirely translatable and has already been fully translated into 32 languages. The fully translated Divi Builder interface will make it easy for users, and readers can also access it in the available languages. The frontend and the builder interface can be RTL enabled.
The Divi Builder bundles an integrated Split Testing and Conversion Rate Optimization system from which you can obtain statistics that can offer valuable insights for your store. You can compare different versions of the same page to check out which works best for you. Split Testing can be applied to every aspect of your website building, so you can arrive at the best model.
The theme has been awarded the Safe Theme Seal by Sucuri.
Price: Divi can be purchased as part of membership packages from Elegant themes that cost between $69 (Personal Package) and $249 (Lifetime Access).
Store
Store is a multipurpose eCommerce Theme from Obox Themes. It is designed to be suitable for all online stores, however big or small. It comes stacked with features that are customer friendly — one-page checkout, rating by customers, shipping calculations (so there are no unpleasant surprises at checkout) and interlinking products for a better browsing experience and many more. The Hero Widget will allow you to show up to 5 different eCommerce categories on your homepage.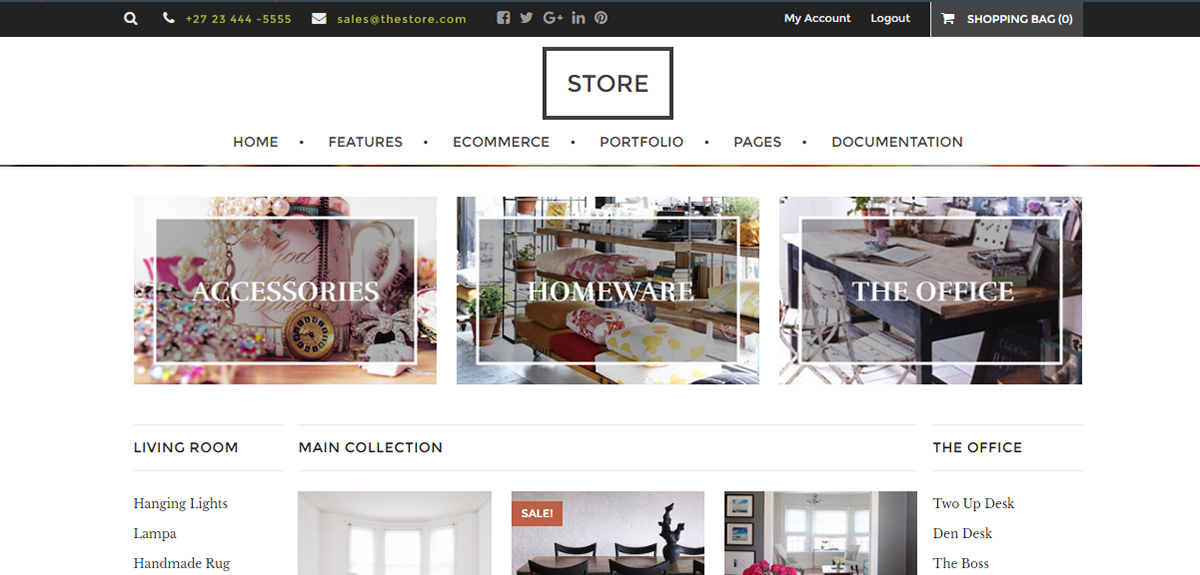 The theme is fully optimized for SEO, and the product page is designed to increase conversions. Featured products and categories, related products, product ratings, good social integration and the option to sell items through Facebook Fan Page with the addition of a plugin, make it easier to convert a search into a purchase.
Choice of fonts, the use of visual customization, uploading custom headers and changing options in the Theme Settings panel help in creating the look you want for your site. Embed videos easily and resize images using the WordPress image resizer, taking away the drudgery of having to resize images manually for your product pages and elsewhere on your website.
Price: $79, ($139 if you want to add priority support).
Bazar Shop
Bazar Shop theme pays a lot of attention to the product pages. You can post multiple images of your product with zoom effect. Besides the ratings and product description tab, you also have a product enquiry tab with a contact form. So a visitor can make enquiries about the product without leaving the page. Related products tab also finds a place in the product page, and the custom tab allows you to add custom content about the product.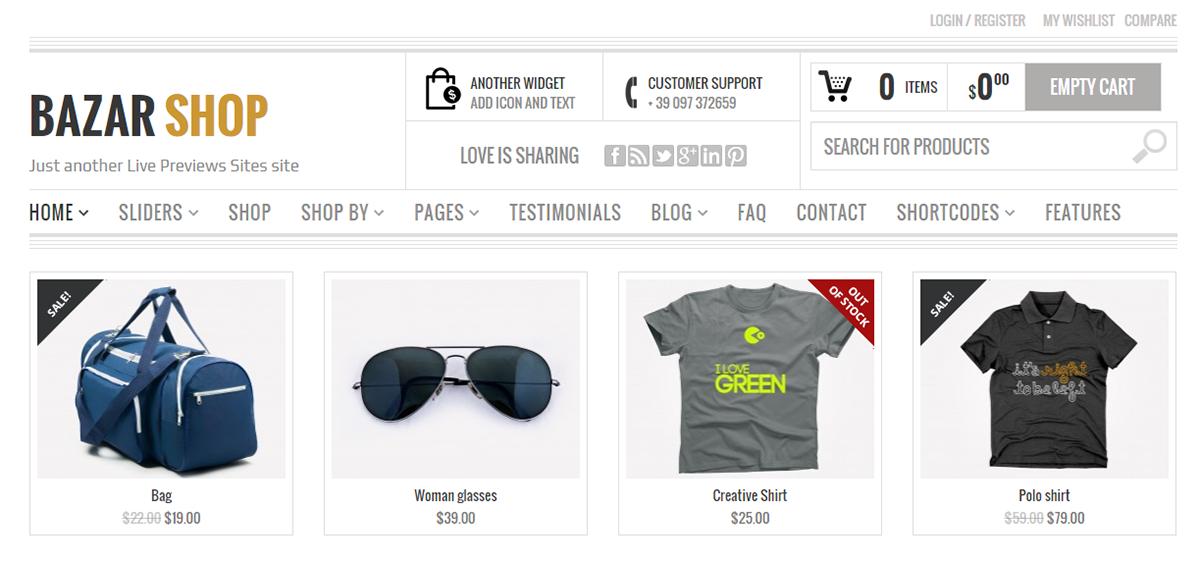 Eight slider types can be used, including the premium Revolutionary Slider. The width and height of each slider are customizable and they can be used in multiple locations such as the header and in individual pages. Any number of header images is possible and you can display offers or products as static images or on a slider within the header. The footer width can be adjusted as desired. The layout can be boxed or stretched, with or without sidebar. With all these options, it is possible to get your website layout to match your exact preference.
Two custom checkout pages are available and a pop out can be used to catch attention for any special offers, sales or news. Custom login page for customers and a Shortcode Manager (note: not sure what shortcodes are?) with 300+ shortcodes are bundled with the theme. Unlimited sidebars, easy navigation and efficient product display make Bazar an ideal theme for shops.
Price: $64
Aurum
Aurum is a minimalistic and fast loading theme for WordPress stores. Aurum has four demo versions that you can simply import and adopt — Online Bookstore, TechShop, Jewelry and Fashion. Other stores can adopt these templates as well. It makes use of high-quality images, fonts and text. A Welcome Page receives visitors and directs them to the regional store that's closest to them.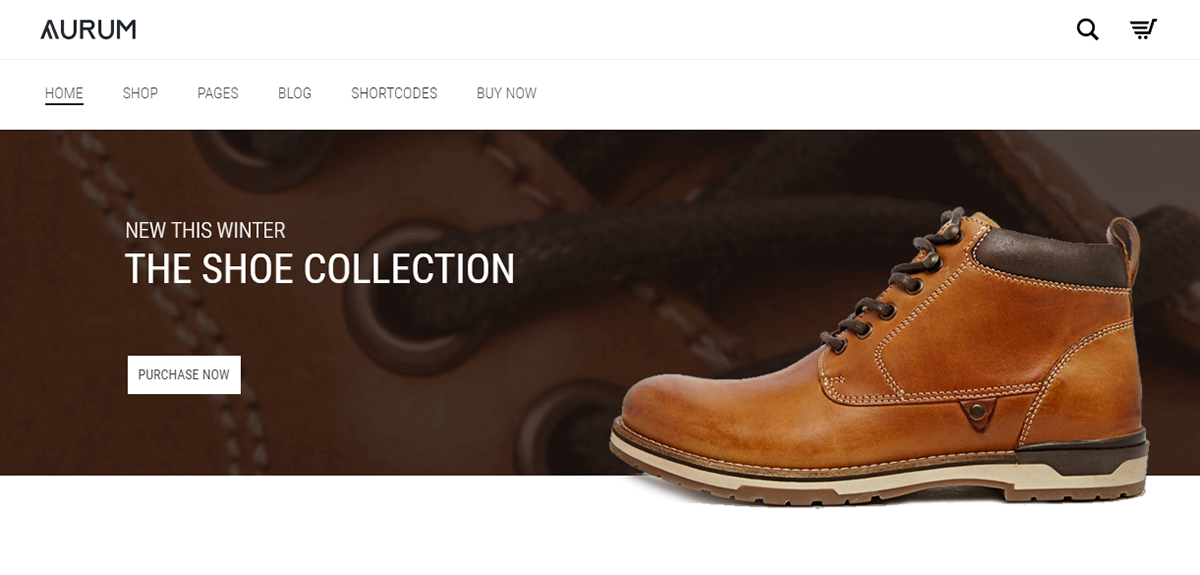 The header comes in many variants, including a transparent one. A transparent header will add effect to parallax backgrounds and stores can adopt this combination to advantage. Aurum is touch optimized and so viewing the products on a carousel is a pleasant experience. The YITH Wishlist, the custom search page with content filters and breadcrumb navigation are all shopper-friendly features present in the theme.
Using content blocks or sliders, you can display limited products right in the homepage. Latest products or popular products or special offers can be displayed prominently here. The homepage can also carry a few popular blog posts and this serves to draw attention to specific products or promotional offers or anything that is of topical interest.
Price: $59
GoodStore
GoodStore is another premium eCommerce theme that finds favor with stores on the internet. It allows you to choose from 6 different headers and 22 different layouts that you can simply import with a click. If nothing catches your fancy, you can try your hand at building a page with the Revo page builder that comes with the theme.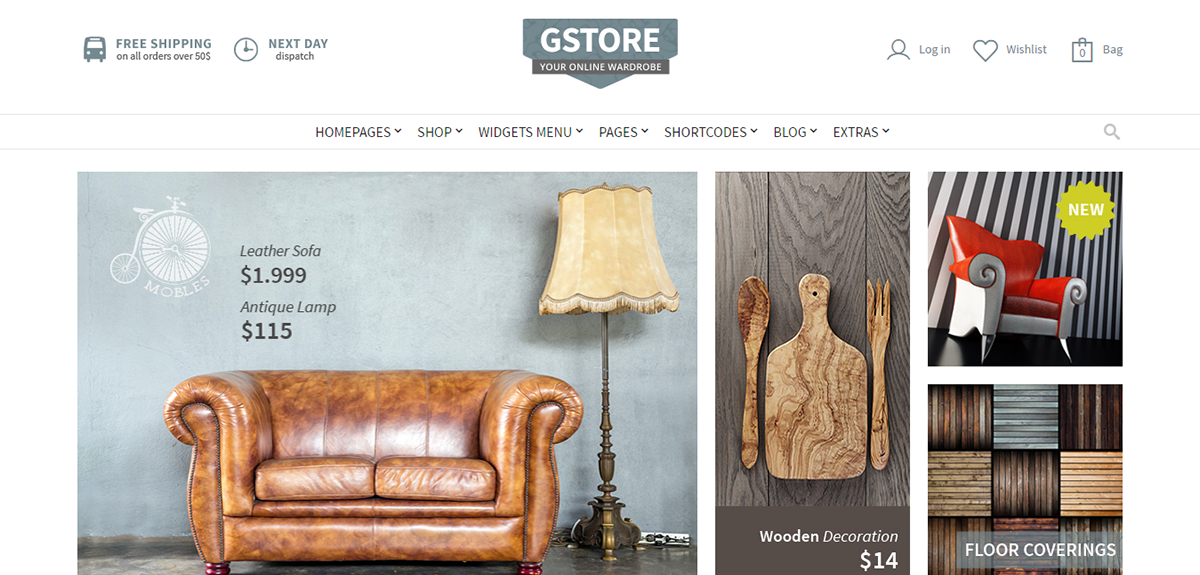 The theme is multisite compatible and is already translated into 14 languages, making it suitable for shops selling in multiple countries. It is easy to build a portfolio, manage inventory and display a portfolio with GoodStore. The Jaw slider will help you create simple sliders that can be used for display. 50+ shortcodes are included, and the shortcode editor will help to perfect the look of the website. Widgets and pictures can be added to the menu using the JAW plugin that is included. To manage content blocks for advertisement, you have the Advertisement Manager. You can even place a banner between posts.
It supports many plugins, and all the recommended plugins can be updated with a single click.
Price: $59
North
North is quite a complete eCommerce theme. The full page slider on the homepage combines with a few parallax elements for a stunning presentation. But North is not just about looks. It creates a wonderful online customer experience. The account pages for the customers are unique and includes a wishlist. The products, when featured on the full screen layout can tempt a customer to add to cart.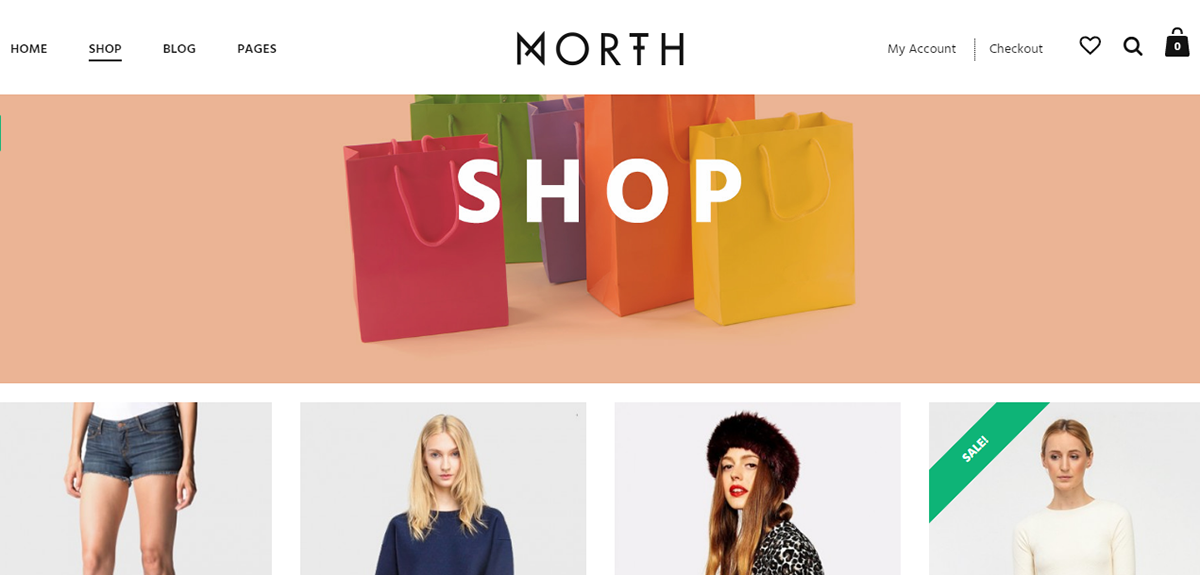 North is a good value purchase as it includes six super functional premium plugins worth $161 — Visual Composer, Slider Revolution, WooCommerce Product Filter, WooCommerce Dynamic Pricing and Discounts, WooCommerce PDF Invoice and WooCommerce Table Rate Shipping. So, there is deep integration with WooCommerce. The result is a super functional store.
Price: $64
Storefront
Storefront is a WooCommerce theme from WooThemes, and it comes to WordPress users absolutely free. It is designed by Automattic, the same folks who built the WordPress platform and the WooCommerce plugin. It offers an efficient platform for online shopping.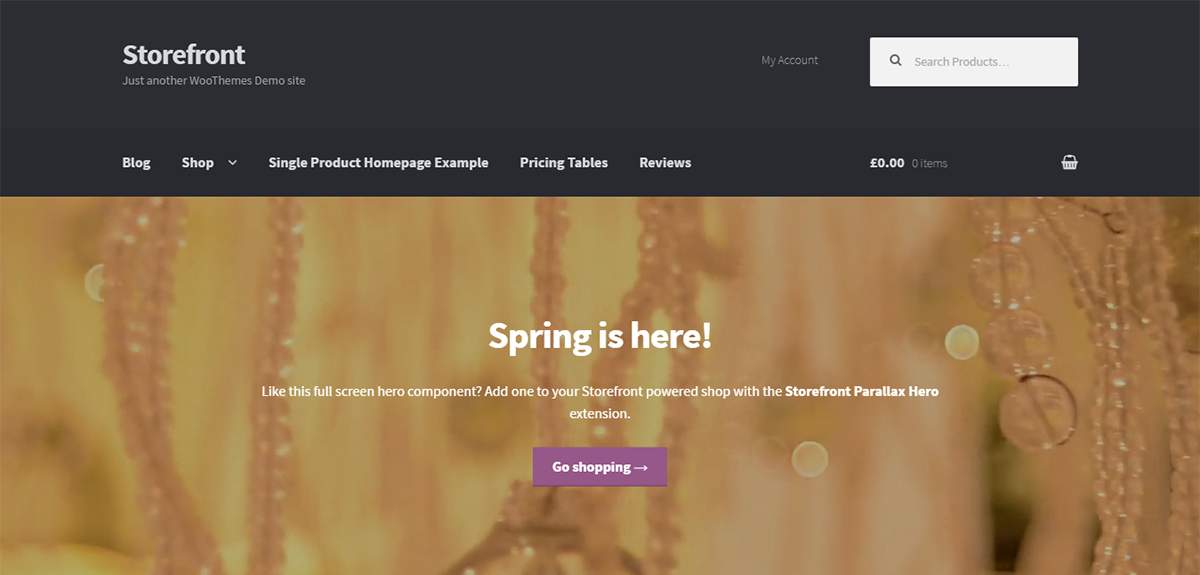 As on date, it has been downloaded 774,327 times, which gives you an idea of just how popular this theme is. Now, this a bit of a bare bones theme, meaning that it is kept intentionally light to perform core eCommerce functions with great efficiency. But it gives you the room to add on functions as you please to a rock solid platform. If you do want to add on functions, you simply have to look in the extensions offered by WooThemes.
Using the child themes, you can change the look of your website. This theme is ideal for store owners who would like to run a lean and efficient online store. It offers a base from which to start building their website and add on just the features they need specifically for their store. No excess baggage to slow down the store.
Price: Free
WooPress
WooPress is yet another impressive eCommerce theme. It shares many of the features discussed in the themes above like layouts, headers and footers with customization possibilities to help you build to help you get the look and feel you want for your website.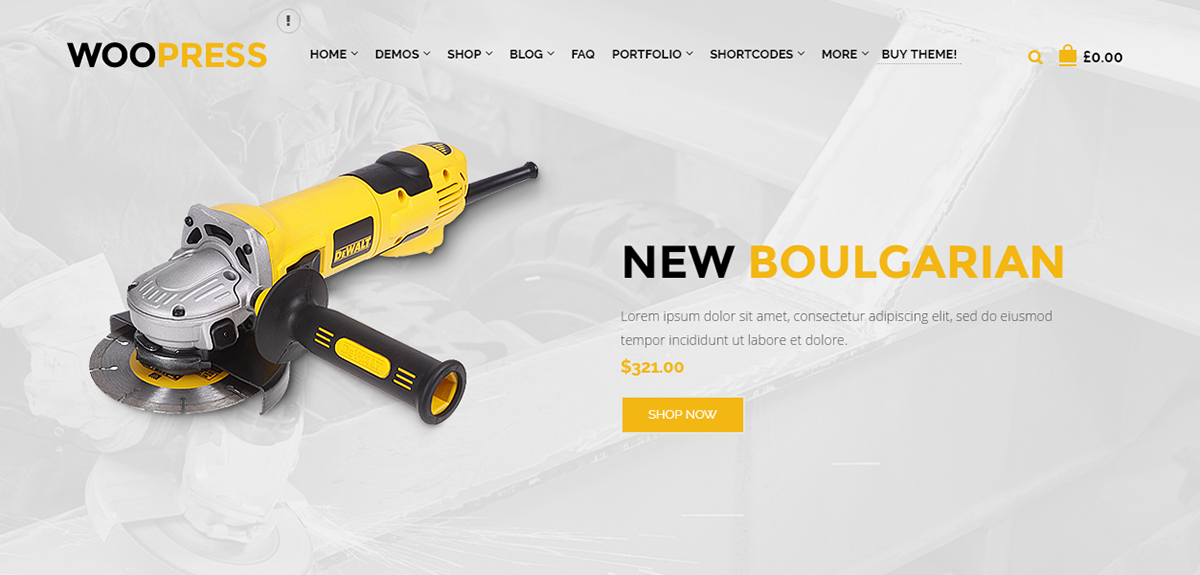 The theme is fast loading and is designed for attractive display of products. A number of premium plugins like Visual Composer, Master Slider, Slider Revolution, Essential Grid and Live Chat are bundled with the theme.
Price: $59
A Few Parting Tips
The themes listed here will hopefully have given you a fair idea on how to select the ideal theme for your store. While zeroing in on a theme however, always have the specific needs of your own website in mind.
If a theme you're looking at is very image intensive (i.e. displays a lot of images) and you don't yet have any top class images of your own to replace those in the demo, either a) get some asap, or b) consider a theme that works with lesser or smaller images and highlights other aspects — like text, videos or product features — instead.
Most importantly: don't rush into making a decision until you're sure! Keep in mind that a well thought out online presence can have a huge impact on the bottom line — so be sure to get everything just right before diving in!
Used/using any of these themes? Any other eCommerce tips?