WinningWP content is free to all. If you make a purchase through referral links on our site, we earn a commission (
learn more
).
Enfold Theme Review – A Closer Look at One of 2015's Top Selling WordPress Themes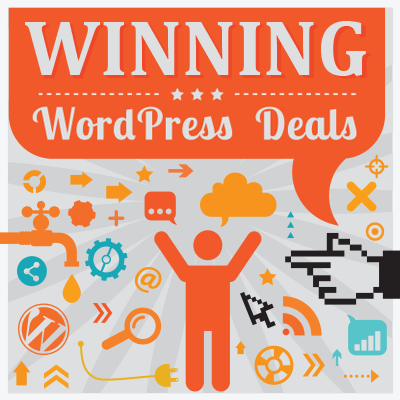 Currently boasting almost 75,000 sales on ThemeForest and a near perfect 5-star rating, Enfold is one of the most popular WordPress themes on the market.
Created by Kriesi (a theme provider that's already amassed over an absolutely whopping 140,000 total sales on ThemeForest), Enfold has a lot to like about it: it's fully responsive, completely compatible with WooCommerce, has a huge array of impressive theme demos — all with particularly easy to install predefined-content — and well: quite a bit more…
Let's take a detailed look at precisely what this top-selling theme has to offer:
Predefined Designs And Layouts
Enfold currently comes with sixteen ready-made demos/layouts that can each be used as a starting base for your own design and installed with just a few clicks.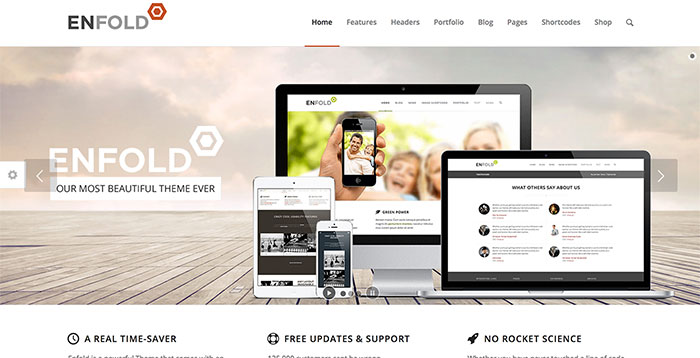 To install a demo, all you need to do is go to the theme's Demo Import section (located within the Theme Options panel) and click the demo you'd like to import. After a couple of minutes, the demo will then be installed and you'll be able to go through and edit the various pages it contains as you please — thereby saving you a ton of time in both a) coming up with your own design, and b) actually getting a brand new site up and running!
A Few Examples…
Here's a few basic examples of the ready-made demos/layouts that come packaged with the theme:
Example 1.

Example 2.

Example 3.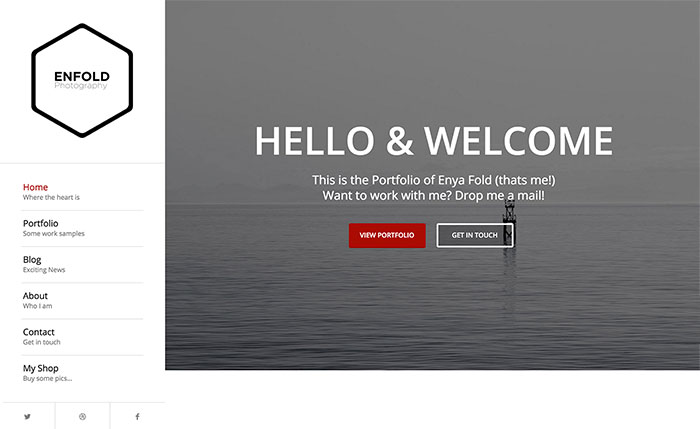 Not bad! However, these are of course only starting points, and after installing one you'll soon want to begin customizing things via various settings…
Key Features
Pretty designs, however, aren't all this theme has to offer — because Enfold comes jam-packed with features:
Responsive
You probably already know about Google's Mobilegeddon. If not, the basic rundown is that Google will effectively penalize your site (to a certain extent) unless it adjusts its layout to look good on mobile devices.
It's therefore imperative that your site be adjusts its layout and text size, etc, depending on the screen size — something enabled by having a responsive WordPress theme.
Luckily, the team behind Enfold have ensured their theme be both responsive, and as an added bonus, also retina-ready (thereby ensuring images etc will look crisp and sharp on both low and high-definition screens).
The Avia Layout Builder
One of the more intriguing features of Enfold is the page builder named, Avia.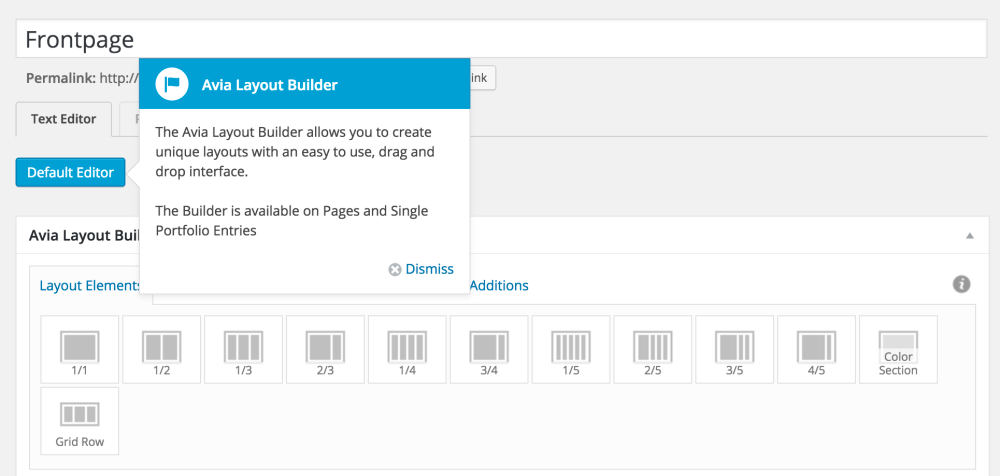 Though perhaps not as user-friendly as some other page builder plugins, the Avia Layout Builder is more than capable of helping you create your own unique design — all be it after a slight learning curve.
As an example: the entire front page of the Enfold One Page Restaurant demo (shown below) is actually built using this very page builder.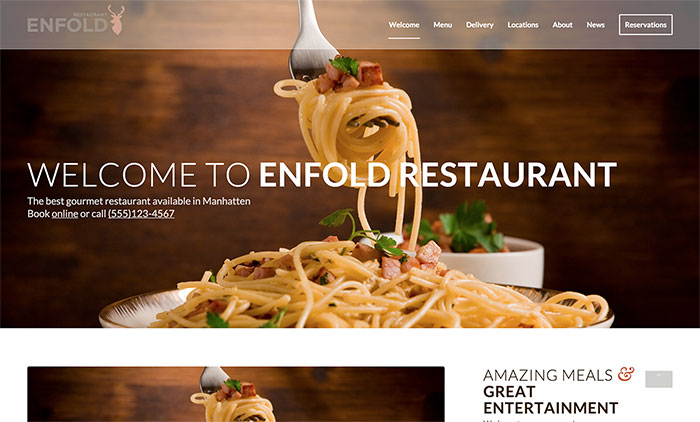 The list of elements that you can use here is also rather astounding. Here's a handful of examples you can choose from:
Columns of varying widths.
Buttons Gallery
Tabs
Toggles
Accordions
Pricing and Data Tables
Call to Action Buttons
Testimonials
Animated Countdowns
Video
Google Maps
The page builder is relatively easy to use, but it does take a little time to really get a feel for it. Your best bet here is probably to start by installing one of the demos in order to help figure out how each of the elements work before attempting to create your own design from scratch.
For a quick intro video overview of the Enfold Advanced Layout Builder (and also a few other handy videos), click here.
An Impressive Layer Slider
Layer sliders are a great way to add some personality to a website.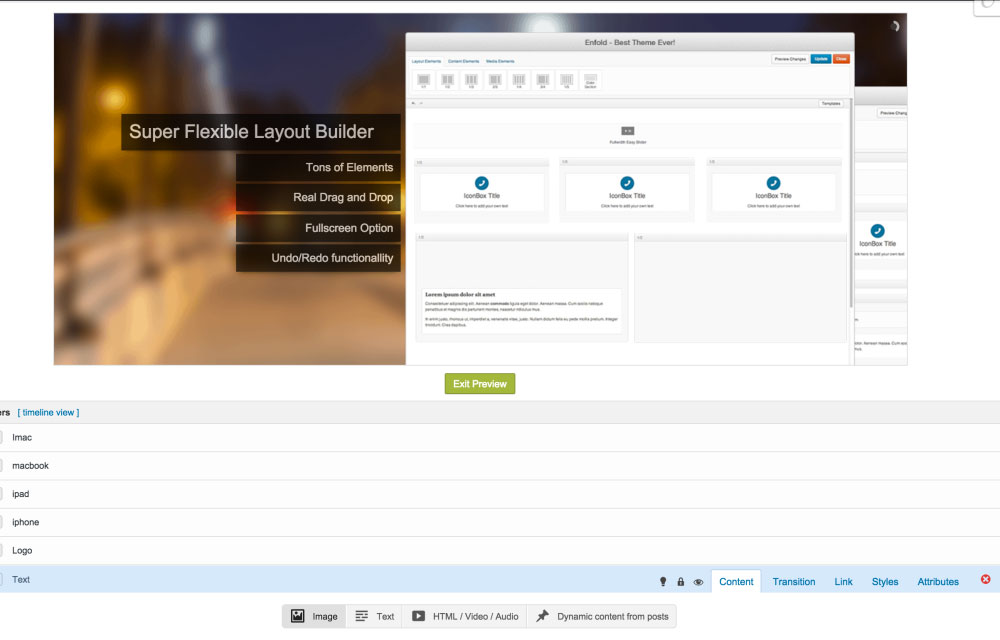 As far as Enfold goes, the one that comes with it (LayerSlider WP) is one of the better ones (i.e. less glitchy) I've personally tested — and allows you to create pretty stunning 2D and 3D animations that can be used within any page of your site.
Like the Layout Builder though, there is a bit of a learning curve here too — although to be honest, the same can be said for just about all such slider plugins on the market…
A big plus point: there's a wide array of different buttons and a lot of elements to choose from — all of should go a long way towards helping you create great-looking sliders: once you've got the hang of how to go about applying them all of course.
WooCommerce Ready
You never know when you might want or need to make the jump into starting an online store. Even if you're not planning on it now, it's often best to pick a theme that supports such possibilities.
Thankfully, Enfold is WooCommerce ready, so the option to start a store is there whenever you need it.
The Theme Options
Whether you know it or not, great theme options are really the foundations from which easy-to-use themes are built on.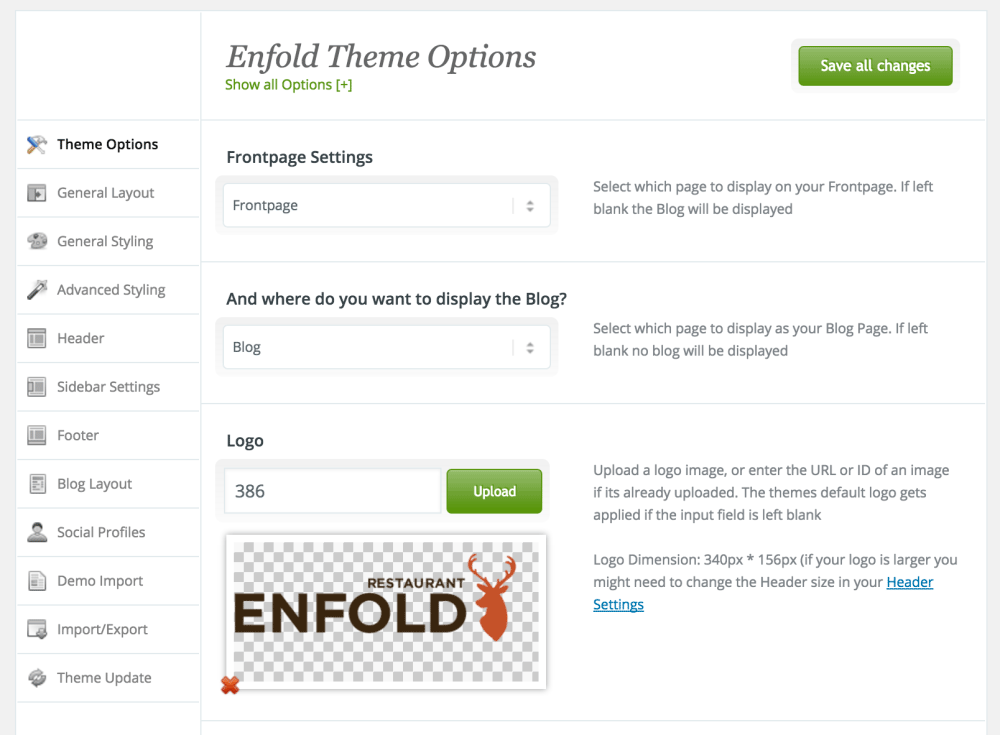 If you're not a seasoned designer or developer, then having options that make it easy to tweak your site's look and feel is going to make setting up your site much easier.
Enfold doesn't fall short here either, and actually boasts a number of attractive theme options that may well help clinch the deal, such as the ability to:
Choose from more than 20 predefined color schemes
Pick from an array of attractive different fonts
Edit elements like the heading font, size and color, etc.
Add between one and five different footer widget areas
The list goes on and on…
Great Documentation and Support
Often one of the important things to consider before purchasing a theme is the kind of support and documentation it comes with.
If you're not familiar with the theme you're about to purchase, the chances are you're going to run into something that requires a bit of help. Being able to access helpful information whenever you need it is therefore vital.
Enfold offers not only offers video walk-throughs to help you get going, but also a huge support forum full of folk asking (and answering) exactly the sorts of questions you're likely to have.
New Features Recently Added
It's been a while since Enfold had a major update, but as of November 5th 2015, there's been a relatively large one that brought about quite a few new features, including four brand new pre-made demos/layouts:
Another big feature released with this particular update is the ability for Enfold to now connect with MailChimp without the use of any plugins.
For a full list of new features, head here.
…and more!
For a complete list of features, take a look at the features page over on the official Enfold website.
Wrapping It Up
So: is Enfold the theme for you?
Well, I of course can't make the choice for you, but after testing it out for myself I can say for sure that Enfold certainly has a lot going for it. One thing to consider, however, is that because the theme builder creates pages using shortcodes, it may be a little more difficult than usual to change themes later down the line — since when you deactivate it, these shortcodes will create a bit of a mess on certain pages, which will each have to be tidied up manually before moving on.
That said, this isn't a problem unique to Enfold, indeed: many other popular multi-purpose themes (like Divi by Elegant Themes and the X Theme by Theme.co) are created in much the same way.
All in all, the theme itself is robust, powerful and easy to work with — and those pre-packaged designs and layouts all sure do look pretty good!
Oh, and as an added bonus: if you're interested in seeing what Enfold can really do, check out an earlier post of ours showcasing exactly that: "50+ Stunning Examples of Enfold – Kriesi's Top-Selling WordPress Theme – In Action".
Using Enfold? Thoughts?
All comments are held for moderation. We'll only publish comments that are on topic and adhere to our Commenting Policy.