Top Five Best Rich Snippets Plugins For WordPress (2017)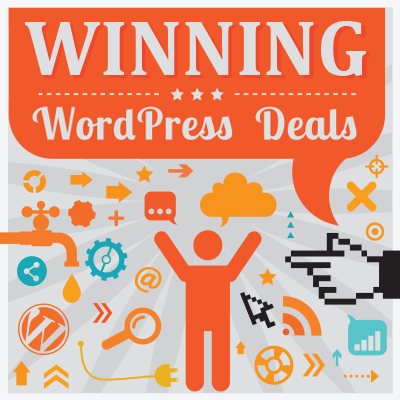 For quite a while in the SEO world, Rich Snippets have been an interesting and often talked about concept. According to Google, they don't actually have a direct impact on search rankings: nevertheless, they almost certainly help websites stand out from the crowd — and can therefore significantly increase the chances of someone clicking on your particular page!
So, what exactly are Rich Snippets? What are the benefits of adding Rich Snippets? And, perhaps most importantly: how can you go about using them with WordPress and which are the best plugins for the job?
Let's get started…
What are Rich Snippets?
The term "Rich Snippets" is an umbrella term that refers to a range of structured data markup created to help search engines better understand what kind of content webpages contain.
Let's take a look at an example. Say you're running a movie review website. Now, under normal conditions, your review of a particular movie will show the page title, page description, date and page URL in the search engine results. However, with the help of structured data markup, you can also add things like the name of the person/author writing the review and a number of "stars" (the kind of stars you see in most movie ratings).

Doing so will naturally help make your website stand out from the crowd in terms of search appearance. Put simply: a user keen on reading a review of say, Forrest Gump, will likely be instantly drawn to your site, rather than that of your competitor's.
Rich Snippets can support different types of markups, such as Schema.org, microformats, and even RDFa.
You can use Rich Snippets to show varied content types. Ever looked up a person in Google and, in addition to the normal search results, also their LinkedIn results? Yes, that's an example of data markup. Ever searched for a recipe and found details like preparation time? Or a particular event and found RSVP details too? Again, both examples of Rich Snippets!
Benefits of Rich Snippets
To reiterate, the existence Rich Snippets are not a major metric that Google takes into account directly. In others words, search engines will not outright punish your website simply because it does not make use of Rich Snippets. However, the indirect importance of Rich Snippets shouldn't be underestimated, since the go a long way towards serving many not-so-obvious benefits. For instance:
Rich Snippets can help users quickly determine the relevance of particular search results.
Rich Snippets can significantly help reduce a website's bounce rate. Which are you more likely to click? A result about an app or movie review that's pure text, or one that gives additional info, such as ratings and further details? This is where Rich Snippets can prove extremely useful!
Rich Snippets can help search engines better understand your content, and return additional useful results to particular users.
So, how do we add Rich Snippets to our WordPress websites? Well, for WordPress users, there are a number of helpful plugins to do almost all the hard work for us, thankfully!
The Best Rich Snippet Plugins for WordPress
Let's take a look at six of the very best WordPress Rich Snippet plugins (both free and premium) around…
WP Rich Snippets
WP Rich Snippets is an excellent premium offering that lets you add Rich Snippets to your site with ease — and for a diverse range of different content! You can add structured data for reviews, recipe, articles, video, and even author/editor ratings. It's also supported by various custom addons to help those who need things like WooCommerce integration, custom shortcodes, Snippets for locations and maps, etc.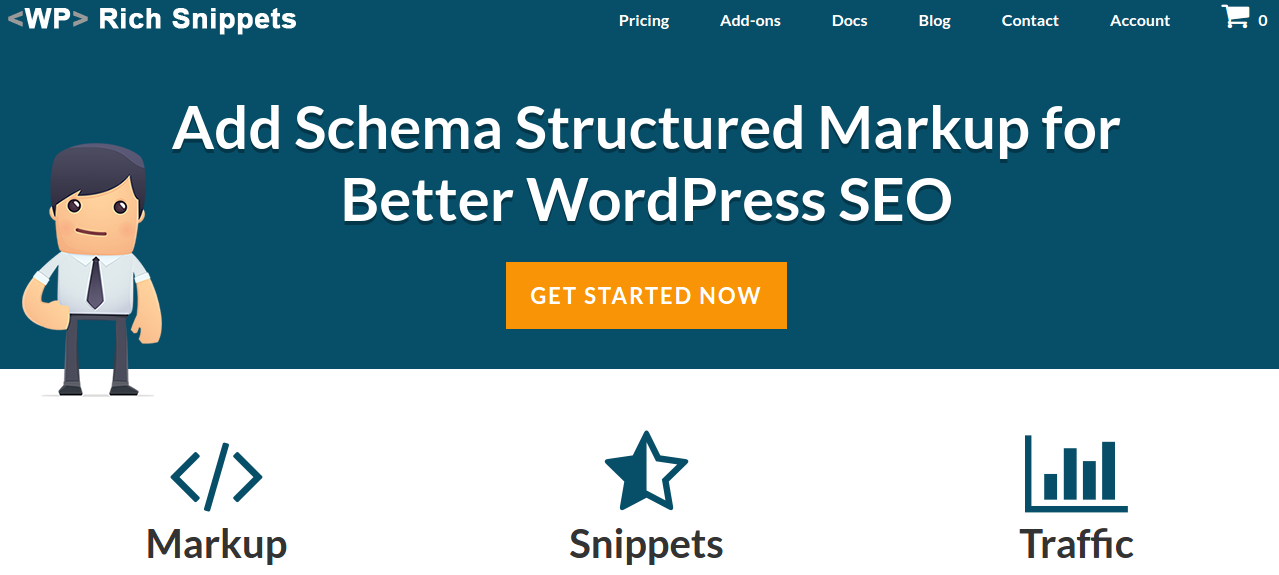 Key features:
Easy Setup – Easy to install, implement and configure.
Extensive Documentation – Extensive and detailed documentation available for all users.
Awesome Support – Easy to access, helpful support.
Translation Ready – WP Rich Snippets is ready to be translated into any language.
Extension Add-ons – A useful collection of add-ons to add additional functionality for users who need more than the norm.
Schema Types – Support for all popular schema.org markup types.
Editor/User Reviews – Numerous ways to rate and review content (including percentage, votes and user aggregate ratings).
The Personal Plan of WP Rich Snippets costs $69 per annum, which lets you use the plugin on one domain. For further plans, including plans for multiple domains and specific addons, check out the official pricing page.
WP Review Pro
WP Review Pro, by popular WordPress theme providers MyThemeShop, is billed as an all-in-one solution for creating reviews on a WordPress-powered site. It's fast, features a responsive design and features a number of different styles, including a point rating system, a circular rating system, a star rating system, and also a percentage rating system, as well as the ability to add pros and cons to a given review.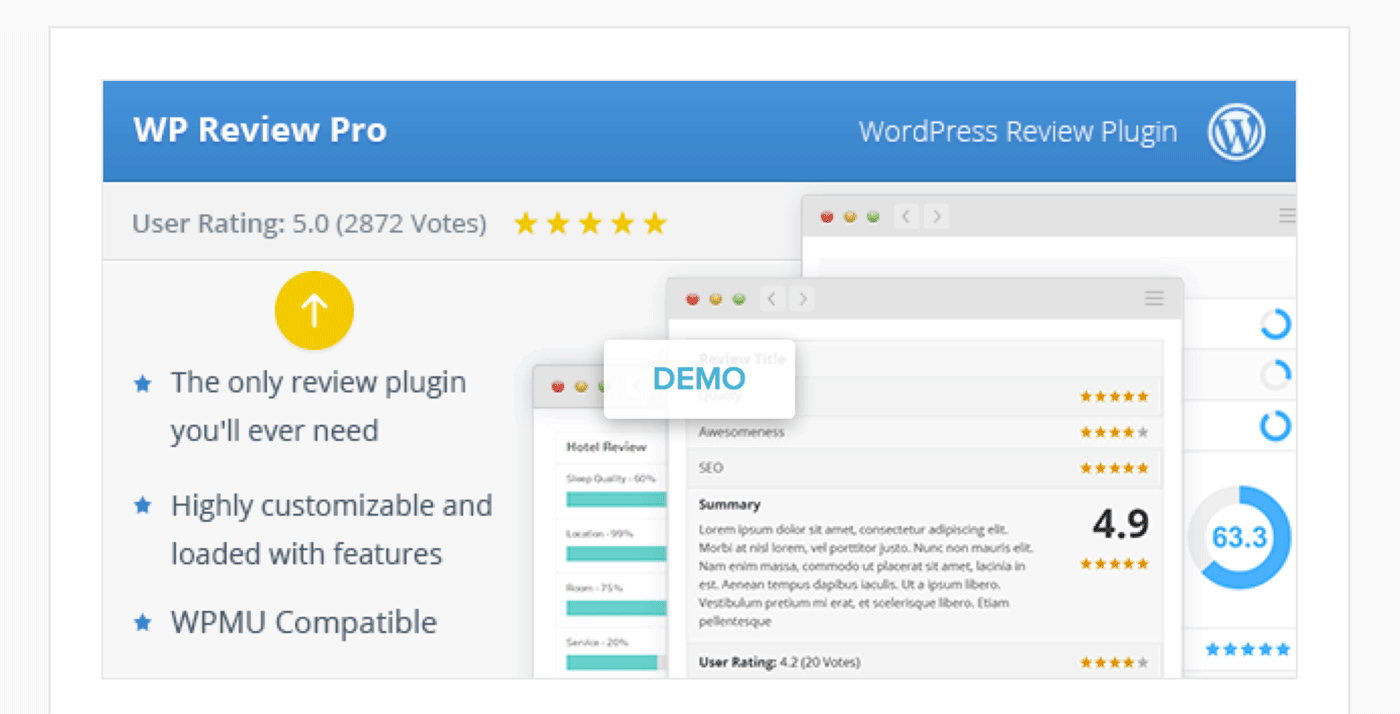 WP Review Pro can also be used to generate user-submitted ratings and reviews, and also comes with its own custom widgets and custom shortcodes.
Pricing starts at $39 for a single license, which, amazingly, allows you to use the plugin on unlimited websites!
All in One Schema.org Rich Snippets (free)
All in One Schema.org Rich Snippets is an excellent option for adding Rich Snippets to WordPress, especially if you're unwilling (or unable) to go for a premium option. Much like WP Rich Snippets (mentioned above), it's particularly good for adding specific Rich Snippets to a wide variety of different content, such as reviews, events, apps, people, products, recipe, video, articles, and so on.

What's more, All in One Schema.org Rich Snippets is also open source — with over a whopping 40,000 active installations!
Rich Reviews (free)
The focus of Rich Reviews is to let you add Rich Snippets to your pages in the form of user ratings and reviews: meaning users can submit their own reviews of your products and services, which you can then choose to moderate and display as you wish.

Done well, allowing users to submit their own reviews, which will then show up as Rich Snippets in the search results can be a real boon to your brand (assuming the reviews are all good of course), however, user-submitted reviews, as well as their moderation, won't be everyone's cup of tea: making this particular plugin slightly more niche than the others mentioned here.
WP Product Review (free)
If you're running a pure product-review type website, WP Product Review is one you'll definitely want to consider, since it lets you add details like the pros and cons of the product/s being reviewed, as well as the ability to rate it under different segments.

For example, let's say you're running a smartphone review site. You'll then have the ability to add specific pros (i.e. advantages) of the smartphone in question, as well as its cons or negative points. You could then rate it on different scales, such as battery life, processor and hardware, support as well as camera quality, and so on.
What's more, like Rich Reviews (mentioned above), WP Product Review also supports user-submitted reviews, and boasts over 50,000 active installations so far — making it the most popular on this list!
Bonus: Also Worth A Look…
The following (free) WordPress plugins will also help you add — and work with — Rich Snippets on your site. Their features and functionality are almost on a par with many of the plugins mentioned above, albeit they don't have that many active downloads yet.
Author hReview: Lets you add author or editor ratings, and shows them as Rich Snippets. Currently has over 4000 active installations.
Schema App Structured Data: Lets you add Schema.org structured data as Rich Snippets. Currently has over 2000 active installations.
WP SEO Structured Data Schema: Lets you add Rich Snippets for different types of content. Currently has over 3000 active installations.
Final Thoughts
Although you'll clearly not want to go using them on every single post and page of your website, when warranted (such as when writing reviews etc), Rich Snippets can be a great addition to your site — and luckily, using them with WordPress could hardly be easier! Just choose an appropriate Rich Snippet plugin (depending on your own particular requirements and budget) and you're pretty much good to go!
Oh, and finally: and whichever plugin you choose, be sure to check the results with Google's Official Structured Data Testing Tool to ensure you've implemented everything correctly!
Used/using Rich Snippets on your site? Thoughts?