WinningWP content is free to all. If you make a purchase through referral links on our site, we earn a commission (
learn more
).
WordPress: From Personal Blogs To Big Business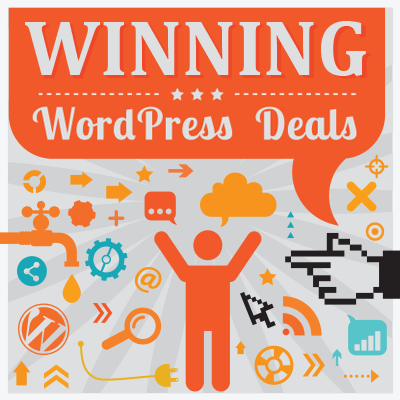 Matt Mullenweg* describes WordPress as "a part of who I am".
When he and Mike Little decided to fork a neglected and slowly dying weblog tool called B2 back in 2003, it's hard to imagine they could ever have foreseen just where WordPress would be today. WordPress — now the world's most popular content management system — currently powers nearly 25% of the entire internet!
Household names like Time.com, Mercedes-Benz, Sony Music, MTV, BBC America, Google Ventures & Blackberry — to name just a handful — all use WordPress. Furthermore, almost one after another, other major enterprises (both large and small) continue to move away from proprietary CMSs in favour of this incredible piece of software!
The rate at which WordPress has grown since its beginning has been both almost exponential and completely unprecedented. Over 40,000 plugins have now been contributed — for free — into the official WordPress plugin repository and, as of August 2015, there's now a combined total of over 1 billion downloads: over a quarter of which took place in 2014 alone! Huge businesses, even whole economies, have been built around WordPress: from freelancers to agencies and plugin developers to theme developers, all sorts of folk depend on WordPress for their livelihood.
And if you're wondering what some of these businesses can be worth, here's an example: earlier this year Automattic acquired theme and plugin developer WooThemes for an estimated $30 million. And then there's investments: with specialist WordPress-hosting provider WP Engine recently raising $23 million in a series C funding round.
"Much of its beauty is in its simplicity"
So why so successful? Especially considering its open source nature? Well, even when version 1.0 of WordPress was released in January 2004, it already had many of the 'simple' features we now take for granted (but were actually cutting-edge at the time), such as a particularly easy installation and setup process, built-in commenting, pretty permalink structures and straightforward post publishing. It was simple — and continue to be so. In fact, much of its beauty is in its simplicity. For both theme/plugin developers and end users with little technical knowledge, WordPress has always been easier to work with than just about all of its competitors. While WordPress has a 58.6% market share (of the CMS market), Joomla and Drupal sit in second and third place with only 6.6% and 5.0% market shares respectively.
Yet the real reason WordPress has grown so successfully is almost undoubtedly because of the extremely strong community behind it. Thousands of people around the world contribute to WordPress — and not just through writing code for the WordPress core; indeed, community members translate WordPress into over 120 languages, improve the user interface, release plugins, develop themes and, perhaps above all, continue to help each other and spread the, ahem, 'word'.
"Just remember, every contribution counts, no matter what it looks like. It takes every one of us to make WordPress better." – Matt Mullenweg
So what's next for WordPress? Well, right now the WordPress community is incredibly excited about the REST API that's soon to be shipped alongside WordPress version 4.4 — thereby unlocking the potential to use WordPress as an application development framework.
WordPress has been on quite a journey, but it's clear that exciting times still lie ahead.
..Oh, and before you go: if you're interested in taking a look back at all of the different versions of WordPress (from version 1.0 back in 2004 to present day) take a look at the WordPress Time Machine (developed by yours truly) — for an ultimate dose of WordPress nostalgia!
*Matt Mullenweg is one of the original founders of WordPress (read more).
Thoughts on the future (or past) of WordPress?
All comments are held for moderation. We'll only publish comments that are on topic and adhere to our Commenting Policy.