WinningWP content is free to all. If you make a purchase through referral links on our site, we earn a commission (
learn more
).
WordPress for Dummies Book – Get Started With WordPress (Book Review)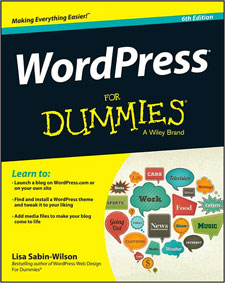 Written by WordPress-expert Lisa Sabin-Wilson — co-owner of WebDevStudios — WordPress for Dummies (now in its 6th edition) is an excellent introduction to WordPress for anyone looking for a written resource to help them get started creating and understanding the technicalities of their first WordPress-powered website.
Clearly aimed at WordPress beginners, WordPress for Dummies contains well in excess of 350 pages of expertly-written content — with topics ranging from the benefits of using WordPress (for anyone not yet convinced that WordPress is indeed an excellent tool with which to create their first website) to understanding many of the complexities of creating and customizing WordPress themes and functionality.
What's it about?
Beginning with a brief forward by Matt Mullenweg (none other than co-founder of WordPress, himself), WordPress for Dummies is divided into six main parts:
Part 1 covers the benefits of using WordPress to create websites, many of the fundamental principles of blogging in general, and the main differences between the hosted version of WordPress (i.e. WordPress.com) and the self-hosted version of WordPress (i.e. WordPress.org).
Part 2 focuses on using WordPress.com (i.e. the hosted version of WordPress) — covering how to get started, writing and managing your newly-created blog, and enhancing the look and feel of things with themes, widgets, and upgrades.
Part 3 then contrasts Part 2 by focusing on WordPress.org (i.e. the self-hosted version of WordPress) — covering essential topics such as how to register a domain name, how to choose appropriate WordPress hosting and how to go about actually installing WordPress (this is covered particularly well). It then goes on to talk about navigating the WordPress dashboard and establishing a blogging routine.
Part 4 of the book is all about making the most of — and extending — WordPress: with media, plugins, and themes.
Part 5 delves into the world of customizing WordPress — by gently introducing the reader to the WordPress file structure and how to make basic edits using HTML, CSS and the beginnings of PHP.
Part 6 then finishes up by simply suggesting ten popular WordPress plugins and ten free WordPress themes.
And finally, there are the appendices — which cover the essential topics of updating and backing up your site, migrating an existing blog to WordPress and moving your website to a new host. There are also two bonus chapters that attempt to cover a couple of more advanced subjects, namely: designing for WordPress as a content management system and hosting multiple sites with WordPress.
Is it any good?
Up-to-date, accurate and engaging, this is a book that covers the basics of both setting up and running a WordPress website with the kind of confidence you'd expect from an expert author.
Lisa writes with clarity and, in my opinion, gets the balance of providing beginners with enough information without overloading them about right.
That said, when it comes to the book's coverage of two of the biggest questions any newbie WordPress-user will no doubt be extremely interested in having answered — i.e. 1) How to navigate the world of choosing WordPress hosting? and 2) Where can I buy high-quality, reliable WordPress themes? — I can't help feeling the book comes up more than a little short. It essentially mentions only a handful of different WordPress hosts (Bluehost, HostGator, Kinsta, WP Engine and Pressable) and just two premium WordPress theme providers (iThemes and StudioPress). This is is a bit of shame really, since choosing which kind of hosting service (such as shared, VPS, managed, etc) on which to set up your site really deserves a bit more space than the book gives it — and, as far as premium-WordPress theme providers goes there are way more to choose from than just the two mentioned (such as Themify, Elegant Themes and, of course, WooThemes — to name but three of many)!
I can also imagine that some folk may perhaps find the book a bit overly focused on blogging. Granted, there is a bonus chapter that goes into using WordPress as a CMS, but it's really just that: a bonus chapter. The core of the book is still all about using WordPress for blogging as opposed to using it to set up a business, e-commerce or portfolio website.
The above slight criticism aside, WordPress for Dummies covers a number of topics outstandingly well, including where to register domain names, the installation process, and a topic almost all WordPress newbies (and occasionally even some more-advanced users) get confused about: differentiating between WordPress.com and WordPress.org!
Furthermore, it's also a pretty quick read and, dare I say it: relatively inexpensive — I picked up a copy on good old Amazon for just $15: a price that, when compared to many other WordPress-focused books on the market, seems more than reasonable!
Summing up:
Writing a book on WordPress for complete beginners (dummies?) is no easy task, largely because assuming exactly how much knowledge of such a complex subject the reader will already have is almost impossible to gauge. And with so many books on WordPress available, I can see how choosing the right one can often be a bit of a minefield. So, hats off to Lisa for rising to the challenge!
Is this the ideal book for complete beginners? Well, perhaps not, but it's certainly a strong contender — especially, in my humble opinion, if: a) the site you're looking to create is a blog, and b) you're the kind of person who likes to learn by actually doing things — as opposed to just sitting on the sidelines until you've got every bit of information available on a subject before getting your hands dirty!
In short, if you're one of those people who talks about starting their own WordPress blog but hasn't actually gotten around to setting it all up yet, WordPress for Dummies will both give you the confidence you need to actually get up-and-running with WordPress and ensure you've got a solid foundation from which to build on!
Bought it? Used it? Thoughts?
All comments are held for moderation. We'll only publish comments that are on topic and adhere to our Commenting Policy.