WinningWP content is free to all. If you make a purchase through referral links on our site, we earn a commission (
learn more
).
Top Six Best WordPress Booking Plugins to Manage Appointments & Reservations
A WordPress booking plugin is the most practical way to improve how your business handles appointments and reservations. Rather than using email or telephone calls to manage new bookings, a booking plugin can display your complete schedule on your website and highlight which appointment slots are available for reservation.
This provides a better user experience for customers and clients as they don't need to contact you to make a booking. It also greatly reduces your own administration time by organising your booking schedule.
Booking WordPress plugins allow users to pay for their booking directly through your website too and can synchronise your schedule with calendar solutions such as iCal and Google Calendar.
Table of Contents
Simply Schedule Appointments is a user-friendly WordPress booking solution that simplifies the process of managing appointments. An unlimited number of appointment types can be created through Simply Schedule Appointments and when you first activate the plugin, a setup wizard takes you through creating your first one.
You can define how long each appointment is for, what times bookings can be made and the amount of time to leave before and after appointments. To avoid scheduling conflicts, you can specify how many days in advance bookings can be made and the maximum number of bookings permitted.
Up to eight different types of personal information can be requested from customers and there are email templates for sending reservation emails and cancellation emails to admin and customers. When you have completed all steps, all you have to do to display your booking form on your website using a shortcode or using a WordPress booking form block. There's also a block for showing upcoming appointments on your website.
Don't worry if you are unsure about any information requested by the setup wizard as you can go back at any time and edit any appointment type you have created.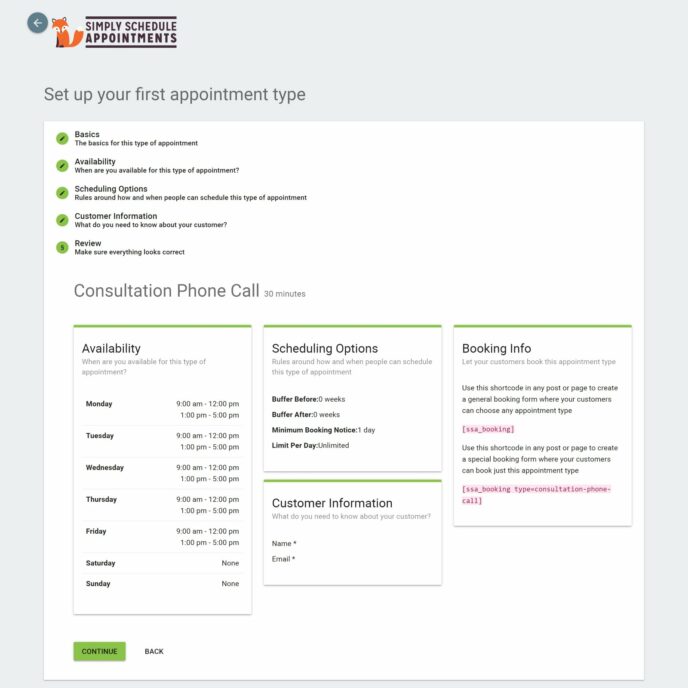 A dedicated appointments page shows all upcoming appointments. This list can be filtered by appointment type, by team member or by its booking status. There are statuses for active bookings, pending payments, pending form submissions, cancelled bookings and abandoned bookings. Bookings can be added manually from this page too.
In the plugin settings area, you can adjust general settings, modify email notification templates and change the colour and font used in your booking forms. A CSS box is available for advanced styling and language packs can also be downloaded and installed from WordPress.org from this area.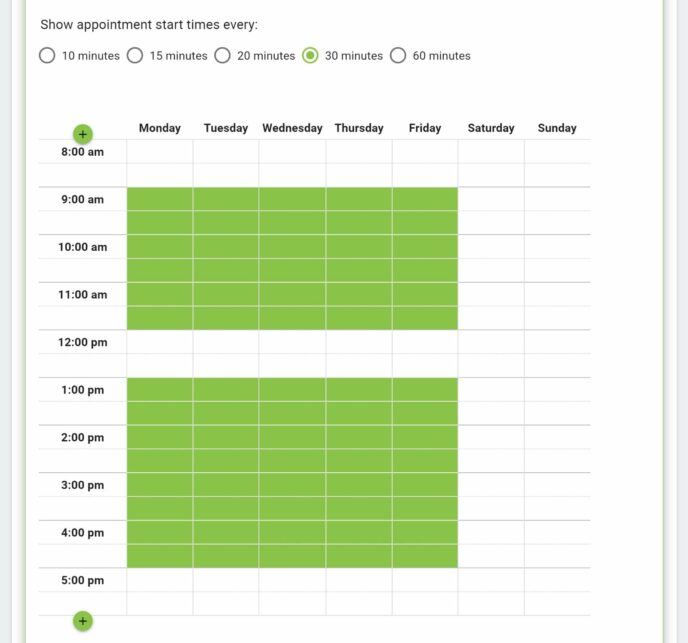 The full version of Simply Schedule Appointments unlocks many additional features. There are three plans available, with the more expensive plans offering more features.
The $99 per year plus plan adds support for custom booking fields and customisable styles. Classes and group events can be created under this plan too and you can add blackout dates to your calendar so that you don't take any bookings on holidays and birthdays etc. This plan also adds support for Google Calendar and MailChimp.
The professional plan retails at $199 per year. If you want to accept payments through booking forms using PayPal and Stripe, this is the plan you need to upgrade to. It also adds webhooks, email and SMS reminders, goal tracking and conversions and support for Zoom conferencing.
The $249 business plan currently only adds the ability to schedule your own team, though extra features such as custom booking views are planned for the future.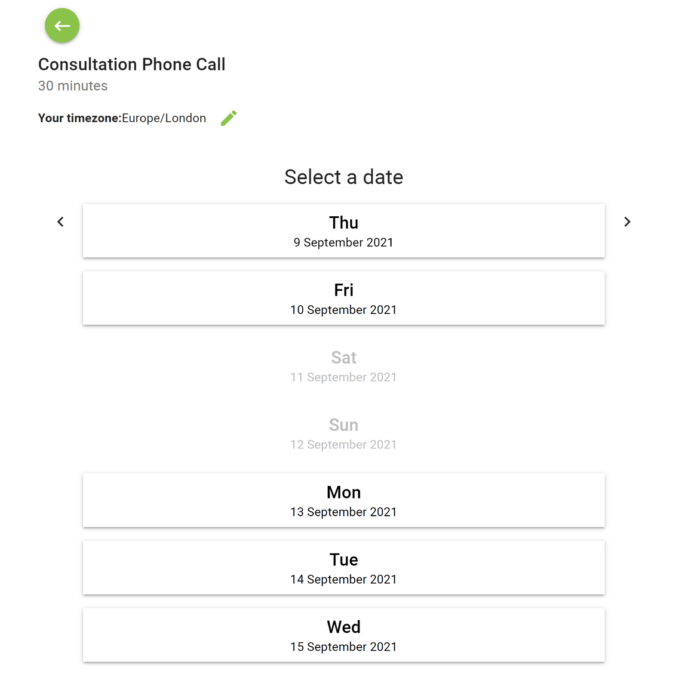 Simply Schedule Appointments is a wonderful booking solution that is easy to configure. It has some interesting features for avoiding booking conflicts and I appreciate the fact appointments can be filtered by their current status.
There are many useful features in the premium versions of Simply Schedule Appointments to encourage you to upgrade, but please remember that you need to upgrade to the $199 per year professional plan in order to accept payments through your website.
Simply Schedule Appointments: Official Website | Download From WordPress.org
With over 50,000 active installations, Bookly is one the most popular WordPress booking plugin on the market. It's a highly customisable solution with hundreds of cool features.
To get started, you should create the services you want to offer. For each service, you can set its duration, time slot length, price and category. Staff members can be created and assigned to one or more services as providers. In the free version of Bookly, however, you are restricted to one staff member and five services.
From the appointments page, you can see all bookings and add bookings manually. It's a useful page for finding bookings as you can filter results by date, service, staff member, custom or booking status. For a general overview of upcoming bookings, Bookly's calendar is a better option as you can see bookings in a list or by day, week or month. The calendar also allows you to filter results by a staff member, location and services.
You can also see how your business is performing from the plugin dashboard. It displays a graph with the total number of appointments and revenue over a given period.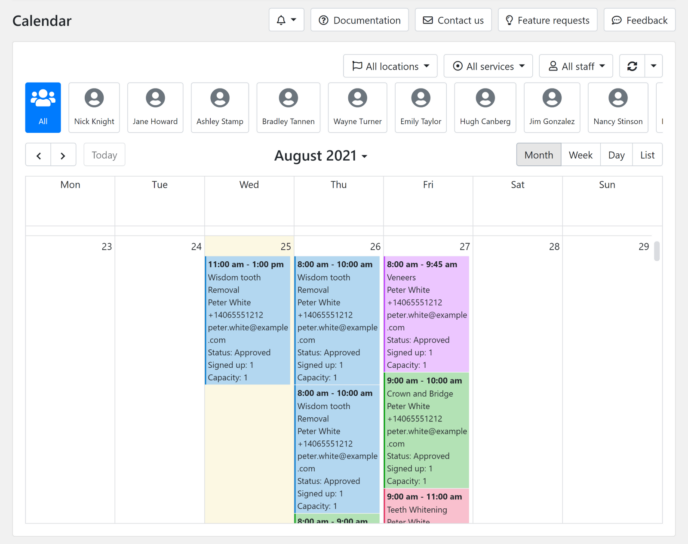 Bookly has a dedicated customers page that shows everyone who has made a booking through your website. There's also an email notification page that has several pre-configured email templates for notifying staff and customers.
For me, the standout feature of booking is its beautiful booking form. From the appearance page, you can modify your multi-step booking form by changing text and specifying whether additional fields are displayed or not. There isn't much flexibility as to where essential fields are displayed in the form, though the end result always looks fantastic. When you have customised your form, it can be inserted into your website using the Bookly WordPress block. The block lets you change default values and which fields are displayed.
Important settings can also be found on the plugin settings page. This includes company information, default settings for bookings, user permissions and business hours. There's also a calendar for adding holidays.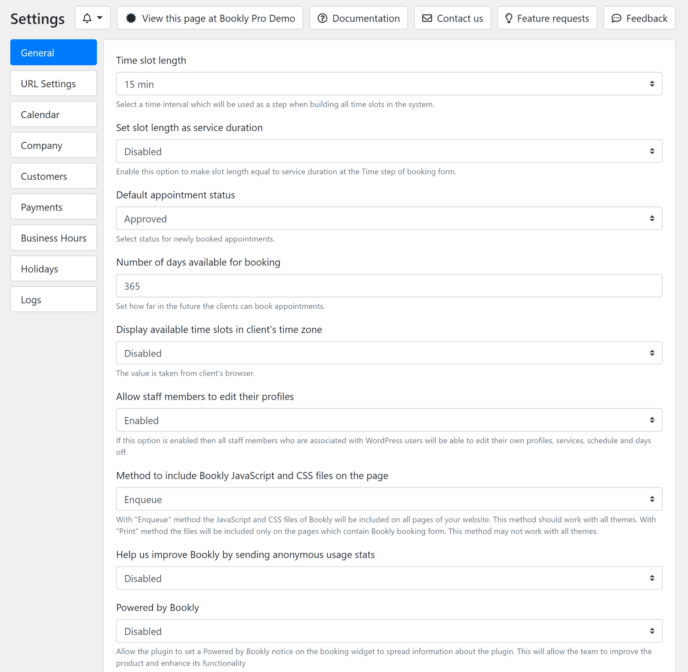 Bookly PRO is available from CodeCanyon with six months of support and lifetime updates for a one-off fee of $89. Upgrading allows you to add an unlimited number of services and staff together with many additional fields and options for services, forms, email notifications and more. It also adds analytics and support for Google Calendar and WooCommerce.
The developers have released over 40 premium plugin extensions for Bookly. This number should have been greatly reduced so that similar functionality was grouped together in plugins instead of each feature being released separately. This would also have prevented the ridiculous situation where over 40 WordPress plugins have to be activated on your website to unlock all features of Bookly.
Bookly plugin extensions retail from between $29 and $49 on CodeCanyon and in order to use them, you need to have Bookly Pro activated on your website. At the time of writing, no plugin bundles are available to reduce the cost of purchasing multiple plugin extensions.
There are plugin extensions for features such as discounts, taxes, ratings, group bookings and recurring appointments. Offline payments are supported in all versions of Bookly, but you will need to upgrade to Bookly Pro and purchase the relevant payment plugin extension to add payment support for PayPal, Stripe, 2Checkout, Authorize.net, Mollie, Payson, PayUBiz and PayU Latam.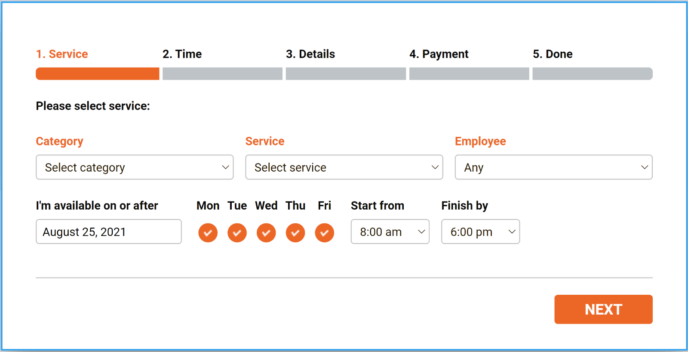 If you're looking for a great free WordPress plugin, I highly recommend Bookly. It gives you full control over every setting, has fantastic filtering options and boasts beautiful booking forms for the front-end of your website. The limit of one staff member and five services should not be too restrictive for small to medium businesses.
Bookly PRO adds many useful features and allows unlimited staff and services, so its easy to recommend. Please remember, however, that Bookly Pro does not add support for any payment processors, therefore you will have to factor in the cost of buying the plugin extensions for payment processors too.
I'm not a fan of Bookly's plugin extensions setup, but there are some good plugin extensions available so I encourage you to check them out and review which ones complement your booking setup.
Bookly: Official Website | Download From WordPress.org
Bookly may promote itself as the number one WordPress booking plugin, but there are actually more people using Booking Calendar.
Whilst the premium version of Booking Calendar has many advanced features, the core version of the plugin available on WordPress.org is quite a simple solution. Once Booking Calendar is activated, you will see a calendar page to see all bookings, a page to manually add bookings and a settings page.
The bookings page lets you see bookings in a list or in a calendar. In list mode, you can filter bookings by their appointment status, by date and by order ID. In calendar mode, you can view listings by day, week or month. When you hover over a booking, you can see booking details such as name, email, contact number and reservation details.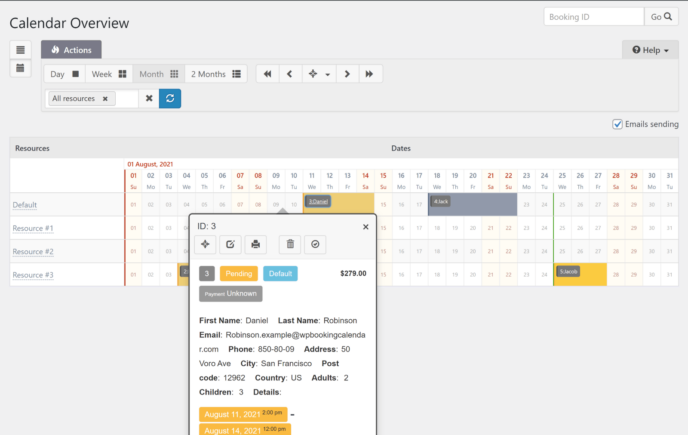 All configuration settings can be found on the Booking Calendar settings page. On the general settings page, you can select from ten calendar designs and define the default calendar layout. This is also where you manage your booking time slots, your availability and admin settings for the booking form such as the CAPTCHA field. The form settings page is where you specify which personal information you request in booking forms. Six fields are there for you already, but you can easily add additional custom fields as required.
One thing Booking Calendar does really well is email notifications. Emails can be sent to admin and visitors after a booking. You can also send emails when a booking is pending, approved, rejected or deleted. Dozens of shortcodes are available to help you create personalised emails with detailed information. On the last settings page, you can sync your bookings to Google Calendar. You can also import and export bookings to iCal if you install the plugin Booking Manager.
Once you have configured everything, you can drag and drop the Booking Calendar WordPress block into a post or page. This brings up a shortcode generator box that can be used to insert a booking form, a timeline or your booking calendar. The shortcodes will automatically change as and when you customise fields and settings.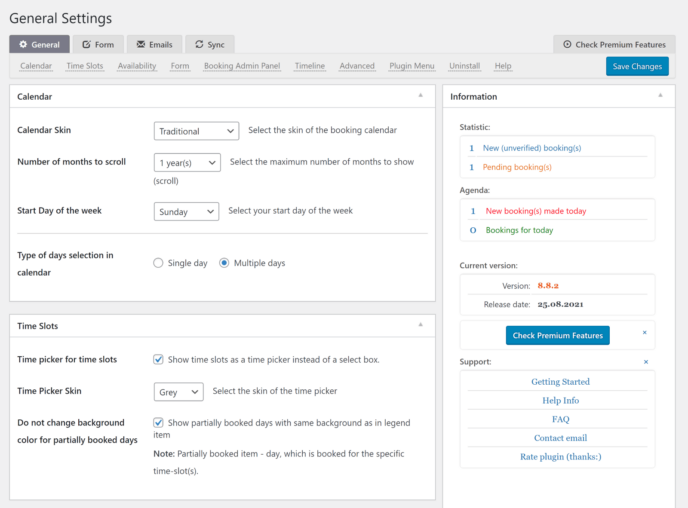 There are multiple versions of Booking Calendar Pro and the features you unlock will depend on which license you purchase. In total, there are five different licenses available and each is sold as a one-time cost with six months of support.
The personal license sells at $47.40 for a single website. It allows an unlimited number of services to be created and each service can have its own unique booking calendar. Additional templates are also provided for booking forms and email templates.
A Business Small license retails at $89.40 for a single license. It unlocks advanced hourly bookings, half booked days, range days selection and auto-cancellation and auto-approval. This is one of Booking Calendar's most significant licenses as it allows online payments for bookings. Supported payment methods include bank transfer, cash payments, Stripe, PayPal, Authorize.Net, Sage Pay, iDEAL and iPay88.
Next up is the Business Medium license for $149.40. It adds the option to add unavailable days, unique rates for different seasons and different costs depending on the number of days booked and which options are selected. Early and late booking discounts are also supported and you can accept deposits for bookings and create custom booking forms.
Finally, we have the Business large license for $209.40 and the MultiUser license for $389.40. Business large allows you to specify the capacity for bookings and lets visitors search availability using search parameters. It also adds discount coupons and the ability to automatically cancel pending bookings. If you upgrade to the MultiUser license, you can permit users to manage their own bookings and even accept payments through your website.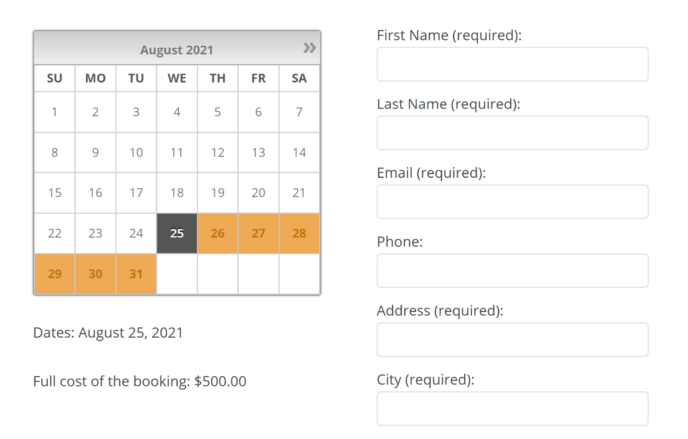 I can see the appeal of the free version of Booking Calendar as it's easy to set up and use. It has a fantastic email notification system and syncs with external calendars too, but some users may be frustrated by the omission of a customer list or the inability to offer multiple services to customers.
There are many amazing features in the premium versions of Booking Calendar that you will not find in other solutions. As the developers have needlessly complicated the upgrade process by splitting these features across five different licenses, it can be difficult to determine which version is best for you. For me, the most significant version is Business Small as it supports online payments using several different payment methods.
Booking Calendar: Official Website | Download From WordPress.org
One of the most stylish booking solutions available for WordPress is Amelia. It's a flexible solution that has dedicated pages in the WordPress admin area for appointments, events, services, locations and customers.
Whenever you select to add a new item, such as an appointment or service, a gorgeous settings box slides from the right-hand side of the page so that you can add information. All appointments can be viewed in a colourful booking calendar that has filters for services, locations and employees. The Amelia dashboard also shows upcoming appointments together with views, revenues and conversions.
Over 15 email notification templates are pre-configured to help you update customers and staff, but you can add as many as you wish and modify email templates using a visual editor and several email placeholders.
Amelia's beautiful styling is visible to customers too. Two blocks are available for the WordPress editor to help you display your multi-step booking form and upcoming events. Shortcodes can be used instead if you wish, though these dedicated blocks make it easier to customise what is displayed.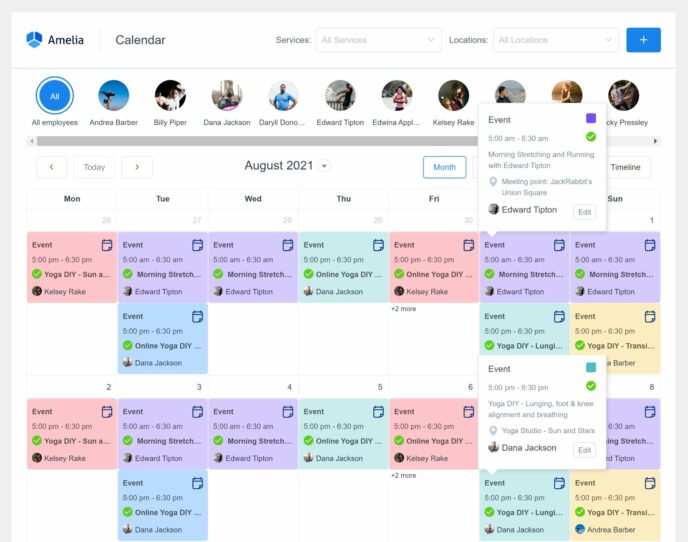 The main plugin settings page is divided into ten sections. Once again, when you select a section, the stylish settings box will slide in from the side of the page showing all options.
You'll find many miscellaneous settings here for notifications, services, time-slots and appointments. Whilst you can adjust currency settings, most settings for payments, integrations and staff roles, are unavailable in the free version of Amelia.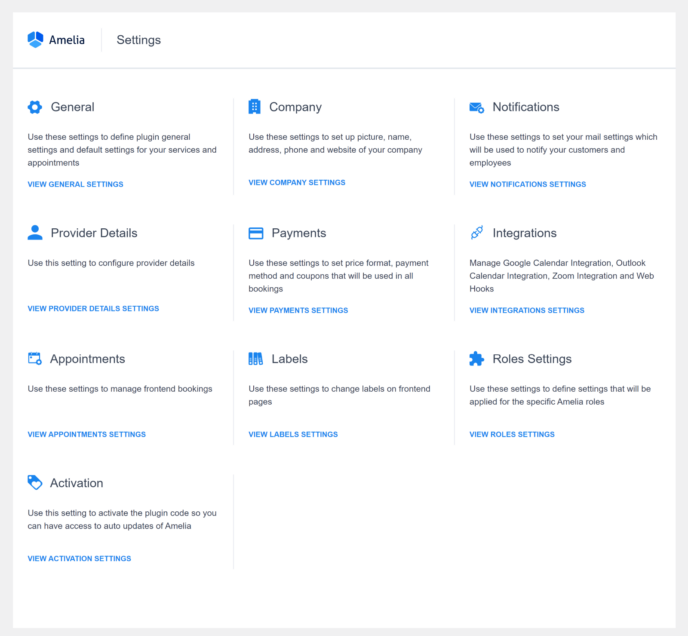 Amelia Pro unlocks dozens of useful features to help you improve your booking system. Everyone who upgrades gains access to SMS notifications, user role management, an employee panel, discount codes, deposit payments, calendar syncing with Google and Outlook, custom booking fields and conference call appointments through Google Meet and Zoom.
Booking forms are customisable and there's also payment support for PayPal, Stripe and Mollie. Further payment gateways can be added by integrating WooCommerce.
Whilst other WordPress plugins annoyingly separate pro features across multiple plans, the creators of Amelia Pro have adopted a sensible pricing policy and offered the same features in all of their plans. The only exception is a feature to create a package of multiple appointments, which is not available in the basic license.
A basic license for Amelia Pro costs £47 per year and comes with one year of support and updates. The £83 per year pro license increases usage up to three domains and the £197 per year developer license gives support and updates for an unlimited number of domains. Tax is added to the cost of licenses where applicable.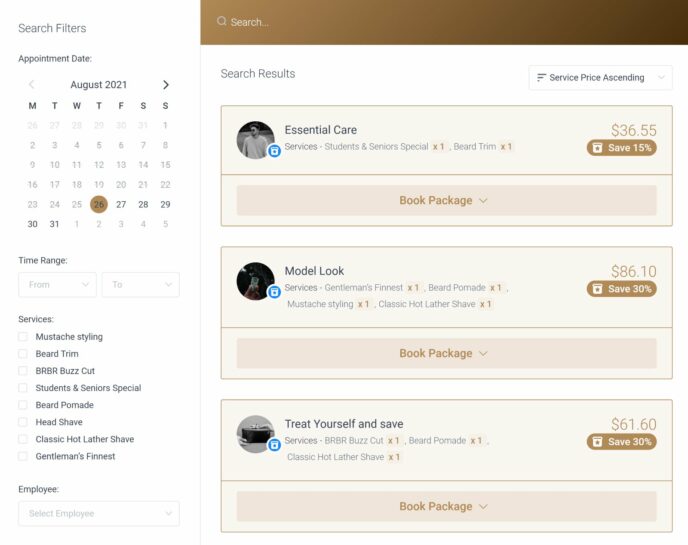 There's a lot to love in the free version of Amelia. It's a versatile booking plugin with gorgeous reservation forms that simplify the job of managing services, appointments, locations, events and customers. The plugin dashboard and booking calendar make viewing upcoming appointments a pleasure too.
It can be difficult to quantify value as every WordPress user has a different budget and different requirements for their website, though I believe Amelia Pro offers website owners the best bang for their buck. Few booking solutions can match the advanced features and tools that Amelia Pro offers in that price range.
Amelia: Official Website | Download From WordPress.org
StartBooking is a hosted booking and scheduling service that offers many advanced features. All data is stored on StartBooking's servers, though their WordPress plugin mirrors what you see in your StartBooking account.
In order to use their WordPress plugin, you will need to create an account on the StartBooking website and then connect your account within the WordPress admin area. The company has a limited account plan that is free to use forever, but a 14-day trial of the full service is automatically applied to your account upon creation to help you test all features. The only downside to this is the annoyingly large banner that is displayed within WordPress that advises when the trial expires.
Once you're connected, you can create a service and specify its duration, recovery period and price. You can also adjust your available hours, sync your bookings to Google Calendar and view recent booking activity from the main dashboard.
To help you integrate your forms into your website, StartBooking adds four WordPress blocks: Services, Single Service, Call to Action and Classes. In the settings area, you will also see shortcodes and multiple parameters for changing how services and classes are displayed in posts and pages.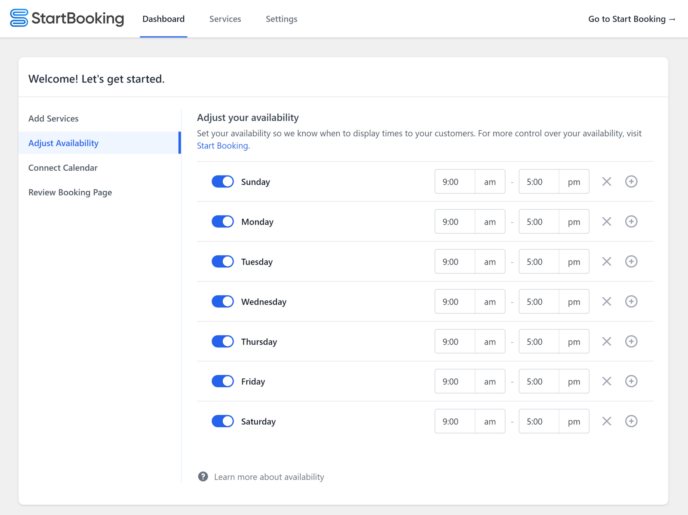 A StartBooking free plan only allows you to offer one service and doesn't give you any way to manage customers, though it does allow you to accept online payments through Stripe. This is a feature that most other WordPress booking plugins charge for.
The dashboard, services and settings pages that are available in the WordPress admin area can be viewed on the official StartBooking website too. I generally like to manage everything from inside WordPress, though in this case, it may be better to manage everything from StartBooking.com so that you can view everything in full screen.
You can manage all aspects of your booking forms from here, but be aware that most settings in this area are for premium members and will not be accessible to free users once their free trial has expired.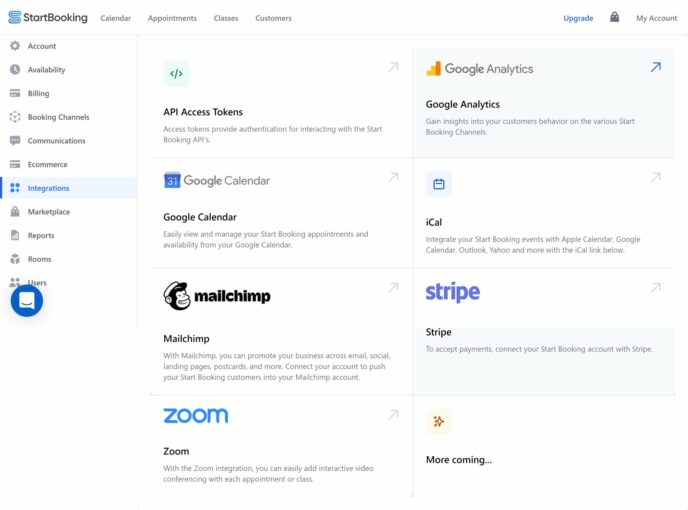 Should you choose to upgrade, StartBooking offers a basic plan for $240 per year and a business plan for $720 per year. You can choose to pay these monthly for $25 per month and $75 per month, respectively. This represents an cost increase of 20% annually.
The basic plan lets you offer an unlimited number of services and gives you access to a booking calendar, classes and group management, discount coupons, custom form fields, Zoom conference call appointments, advanced availability tools, basic reporting and statistics, Google Analytics support and customisable email notifications.
This plan also unlocks vital tools for managing customers. You will be able to store all customer details, send SMS messages and send emails to customers through MailChimp. These are features that are sorely missing from the free plan.
The more expensive plan allows you to assign other users to manage bookings through StartBooking and view advanced reporting statistics. It also allows you to offer designated booking rooms.
The only thing missing from the basic and business plans is support for additional payment gateways such as PayPal and Authorize.net. Stripe is a great service for accepting payments, though it's always good to have more choices.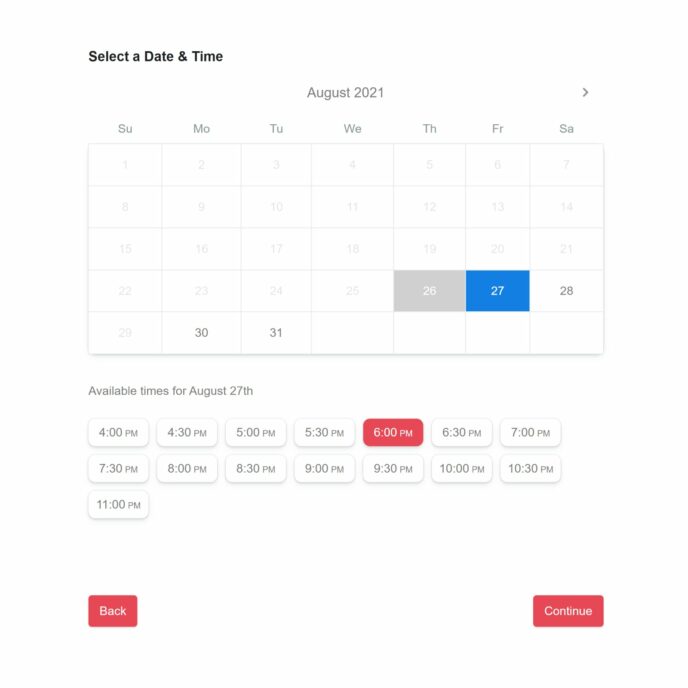 The free version of StartBooking is not for everyone as it restricts you to one service and doesn't let you store customer information. It may still be an attractive option as it allows bookings to be paid online using Stripe and doesn't charge you for the privilege. Upgrading to a StartBooking basic license gives you everything you need to run an effective booking system together with advanced reporting tools, MailChimp support and Zoom conference call appointments.
Please remember that as StartBooking is a hosted solution, all booking data is stored on their own servers. This may raise privacy concerns for some businesses and those of you that want full control over data.
StartBooking: Official Website | Download From WordPress.org
My final recommendation is the premium booking solution WooCommerce Bookings. Developed by the creators of WooCommerce, the plugin extends WooCoommerce by adding functionality for appointments and reservations.
An unlimited number of services and bookable events can be created. Referred to as Bookable Products, you can define the minimum and maximum number of people who can book, the cost of the product and what days and times it can be booked.
The booking calendar helps you see upcoming bookings in the admin area and there's also an option to automatically sync all bookings to Google Calendar.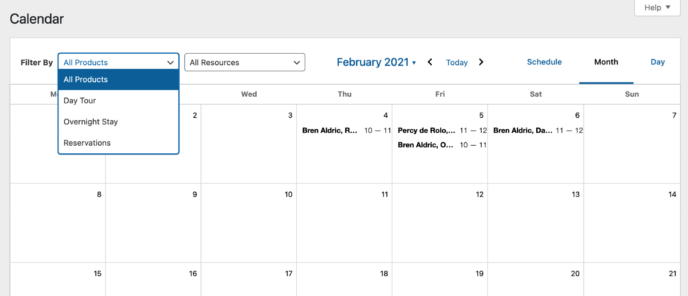 WooCommerce Bookings lets you be flexible with your booking schedule. You can mark particular time slots and days as unbookable, allow customers to mark their preferred times and ensure that double bookings are not made. Discounts can be offered in a number of scenarios too, such as booking early or making multiple reservations. Email notifications can also be automatically sent to confirm new bookings and remind customers of upcoming bookings.
As its a WooCommerce plugin extension, there's obviously amazing support for payment gateways. Free payment plugins are available for popular payment services such as Stripe, PayPal and Amazon Pay. There's also strong support for subscription payments using plugins such as World Pay and WooCommerce Subscriptions.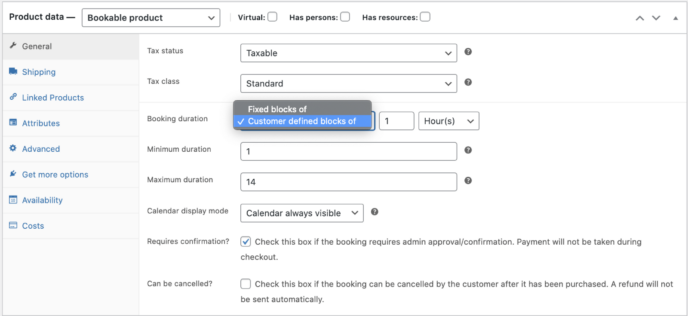 Whilst many other WordPress booking plugins have support for WooCommerce, they do not offer the same level of integration that WooCommerce Bookings has or allow you to expand booking functionality using official WooCommerce plugins. That is the real strength of WooCommerce Bookings, however, it does come at a cost.
WooCommerce Bookings retails for $249 per year and can be used on an unlimited number of domains. No free version of the plugin is available, though there is a live demo online and all plugin purchases come with a 30 day money back guarantee.
There are many useful settings and features in WooCommerce Bookings, but there is no hiding the fact that other WordPress booking plugins in this price range offer more advanced features and more control over emails and booking form designs.
Advanced features can be unlocked by installing other official WooCommerce plugin extensions. To accept deposits for reservations, you need to purchase the WooCommerce Deposits plugin extension for $179 per year. You can also upsell customers other products using the $99 per year AutomateWoo plugin and show your booking calendar to customers using the $49 per year WooCommerce Bookings Availability plugin .
Additional items can be added to bookings using the $49 per year Product Add Ons plugin and the $99 per year Follow-Ups plugin can be used to send follow-up marketing emails to customers.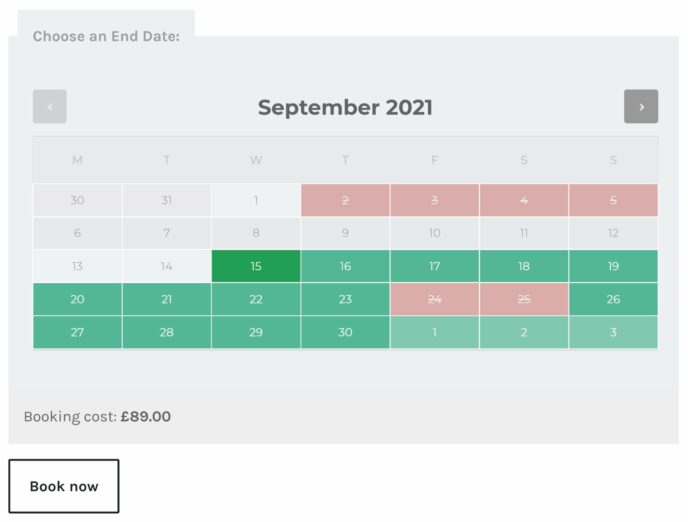 WooCommerce Bookings gives you full control over your booking schedule and allows payments to be made through all major payment services. It handles booking cancellations well and has support for tax and local time zones too.
The main plugin does lack some useful booking functionality that can only be unlocked through plugin extensions. This increases the cost of using WooCommerce Bookings, though it also makes it one of the most powerful booking solutions available to WordPress users, especially if you sell other products and services through your website.
WooCommerce Bookings: Official Website
Honourable Mentions
In order to determine the best booking plugins available to WordPress users, I tested over a dozen different solutions. Unfortunately, many good WordPress booking plugins did not make the final list, though I would like to give an honourable mention to three solutions I recommend checking out.
My first honourable mention is Easy Appointments. It allows you to create an unlimited number of services, locations, connections and employees. The full version of the plugin is available for only $39 per year. It adds support for PayPal payments and integration support for WooCommerce, Twilio, Google Calendar and iCalendar.
If you're looking for a simple booking solution, I recommend checking out Appointment Hour Booking. Multiple booking forms can be created and for each one, you can specify the service that is offered and your availability. The premium version that retails at €53.88 per year supports several payment gateways and features Zoom conference calls, MailChimp and SalesForce integration and much more.
My final honourable mention is Booking Calendar Appointment Booking System. The free version of the plugin is useful for creating simple reservation forms for small businesses and clubs. You can upgrade to the premium version for $60 in order to accept payments, edit reservations and offer customer discounts.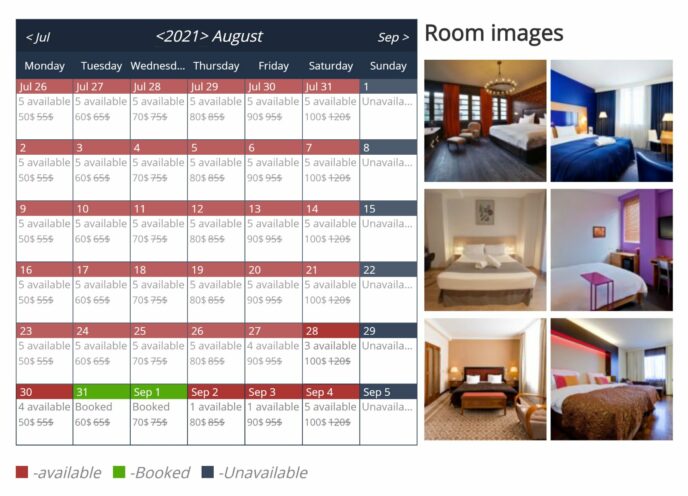 Final Thoughts
Booking plugins can be used to integrate a professional booking system into WordPress in just a few minutes. I was thoroughly impressed with every booking solution I tested, though they were pros and cons to using each one.
Generally speaking, booking plugins with fewer options were easier to set up and manage, whilst those that offer more control over the booking system take a little longer to set up and maintain. You will also find that the free version of each booking WordPress plugin is restricted in different ways. For example, most booking solutions only offer online payments if you upgrade and some plugins restrict the number of services you can offer customers.
Be sure to pay attention to what is included with any upgrade you purchase too. Amelia and StartBooking offer the vast majority of features in their lowest-priced plan, but with Simply Schedule Appointments, Bookly and Booking Calendar, you will need to upgrade to a suitable plan based upon the features you require.
Most WordPress booking solutions also charge extra for usage, support and updates, with multiple domains. One of the few exceptions to this is WooCommerce Bookings, though with that solution, you may have to factor in the cost of buying additional WooCommerce plugin extensions to unlock its full potential.
Here's a brief summary of the six booking WordPress plugins that were featured in this article:
| Booking Plugin | Summary | Free Version | Premium Version |
| --- | --- | --- | --- |
| Simply Schedule Appointments | A user-friendly solution that helps you set appointments up in minutes | YES | From $99 Per Year |
| Bookly | A versatile solution that features hundreds of useful features for managing bookings | YES | $89+Plugin Extensions |
| Booking Calendar | The core version is a little limited, though the premium version of Booking Calendar unlocks many fantastic features | YES | From $47.40 |
| Amelia | A gorgeous booking WordPress plugin with a sensible pricing model for those that upgrade | YES | From £47 Per Year |
| StartBooking | A feature-rich hosted booking service that uses Stripe for payments | YES | From $240 Per Year |
| WooCommerce Bookings | A premium booking solution that works in harmony with the WooCommerce eCommerce plugin | NO | $249 Per Year |
A summary of WordPress booking plugins.
As always, I encourage you to test each booking WordPress plugin on a test WordPress website or staging area before activating it on a live website. This will help you see what each solution offers and help avoid any compatibility problems.
All comments are held for moderation. We'll only publish comments that are on topic and adhere to our Commenting Policy.