WinningWP content is free to all. If you make a purchase through referral links on our site, we earn a commission (
learn more
).
Skillshare vs Teachable: Which is the Best Online Teaching Platform?
There are numerous platforms available to help you to build and sell online courses — in this guide to Skillshare vs Teachable, I'll review and compare two of the most popular options.
Skillshare is an educational network that emphasizes short video courses teaching creative skills. It operates on a subscription basis, giving paid members access to all courses. At the time of writing, it had more than 5 million users. Skillshare courses can't be sold on other platforms.
Teachable is a website and software platform that allows you to create Schools devoted to specific types of courses. You can then use Teachable to build mixed media courses and sell them to your audience.
In this article, I'll settle the debate of Skillshare vs Teachable by analyzing the following:
What to look for in a teaching platform
How Skillshare works
How Teachable works
Similarities between the two platforms
Differences between the two platforms
An evaluation of the purposes each platform is most suited to
By the time you finish this guide, you should know which teaching platform is the best option for you.
What to Look for in a Teaching Platform
Moving courses from one platform to another is a time-consuming process, so you want to make sure you choose the right one the first time. Pay close attention to the features and payment structures they offer.
The Course Builder
The most important thing to consider is the course builder itself. You want something easy to use for both the initial course building process and edits later on. You may also want to look for a platform that accepts multimedia lessons, not just video content.
Finally, you want to consider additional course materials. Some platforms allow you to create quizzes, assignments and/or other types of course content.
How Courses Are Sold
If your goal is to make money, you need to understand how sales work on the platform you want to use. Are you wholly responsible for marketing courses, or does the platform provide some level of marketing? Do people pay you directly, or do they pay for a membership on the site to access your content? Are payments made on a one-time basis, through a subscription model or some combination of the two?
You also want to consider how the platform itself makes money. Some platforms take all of the money from courses, then redistribute it based on how popular individual courses are. Others charge transaction fees when you sell a course. Still others make their money by charging you a monthly fee, allowing you to keep everything you earn from course fees.
How You Get Paid
There are two things to consider here:
How revenue is calculated: Some platforms calculate your revenue based on the amount of time people spend on your courses. Others let you set the pricing of your courses and keep some or all of the money earned from course purchases and subscriptions.
How payment is delivered: You want to make sure the platform is compatible with a payment method that's currently available in your country. You should also know how often you'll be paid. Some platforms do monthly payments based on your overall earnings, while others allow you to access money you make immediately.
Skillshare Review

Features
Visual course builder with drag-and-drop capability
Payment through PayPal
Inclusion in the Skillshare marketplace
How to Become a Skillshare Teacher
To become a Skillshare teacher, you must first be a Skillshare member. To sign up, go to Skillshare and press 'Get Started for Free'. This will take you to a page where you can sign up using Google, Facebook, Apple or email.
On the next page, you'll be asked to set permissions and specify a payment method. However, you don't need to pay for a premium membership to teach. You can simply scroll to the bottom of the page and click 'Become a Teacher'. This will take you to a page with more information about teaching on Skillshare. Click on the green 'Start a Class' button in the top right corner.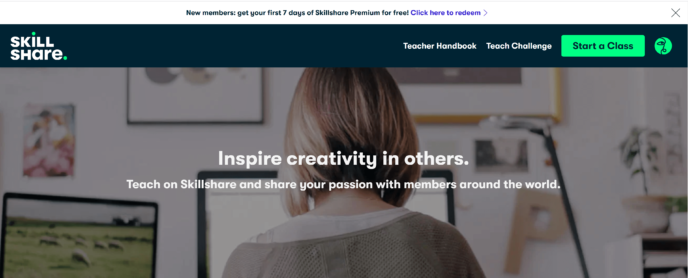 Next, specify the category and primary goal for your course. Skillshare allows for courses in the following categories: Creative, lifestyle, business and technology.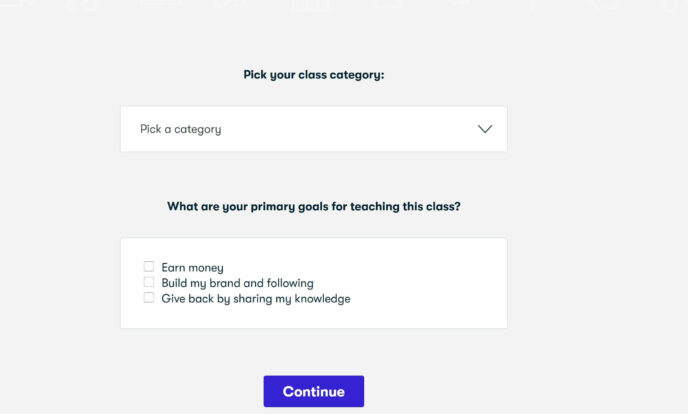 Selecting the course and goal for your course will take you directly to the course editor.
How to Create a Skillshare Course
The Skillshare course builder is efficient and easy to use. You can upload videos directly into the main area of this page. There's also a sidebar containing various resources for people who haven't built an online course before.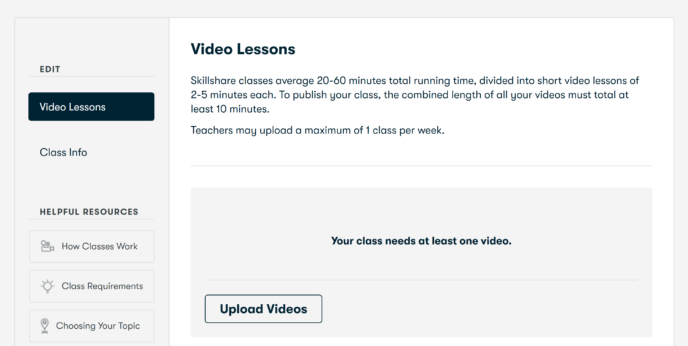 Videos can be reordered at any time using Skillshare's drag-and-drop functionality.
However, video lessons are the only type of content you can use in Skillshare courses. There's no way to build quizzes, give assignments or add multimedia content. This significantly limits the scope of courses published on the platform, and is one of the most notable points in the debate of Skillshare vs Teachable.
Class Info
The other area of the Skillshare course builder is 'Class Info', which can be accessed through the sidebar. This is where you can enter a course description, category, subcategory and class level. There's also a place to specify the skills the course focuses on.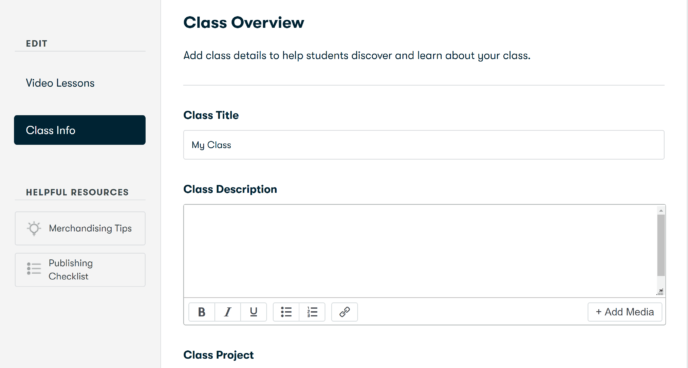 The 'Class Project' area lets you enter a project students can do to better understand what the class is teaching. There is, however, no way to ensure students do the project — or to evaluate it if they do.
How to Get Paid with Skillshare
Skillshare operates on a subscription model. People pay for a monthly or annual membership on the site that grants them access to all Skillshare courses. Teachers' revenue is based on the amount of time premium users spend on their courses. Payments are made monthly.
You can also earn a flat fee of $10 for every person you refer who purchases a premium membership.
Overall Thoughts
Skillshare is a great place to publish short courses that are more skill-based than academic. The platform is easy to use and provides access to a huge community of eager learners. However, the limitations of Skillshare make it impossible to run academic courses or to provide certifications to students.
Teachable Review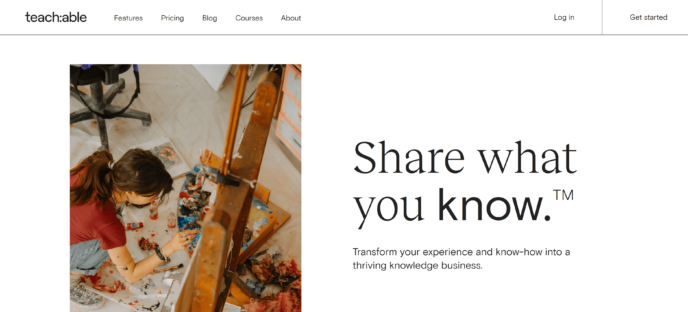 Features
The following features are available on Teachable's Basic plan:
Unlimited students
Course creation
Content dripping
Coaching program creation
Members-only community
Instant payouts (through Teachable Payments; PayPal users receive payments monthly)
Two admin-level users
Integrated email marketing
Third-party integrations
Product support
Custom domain support
Access to course creator training
Ability to create coupon codes
5% Transaction fees
Take a look at the full list of Teachable plans for more information.
How to Get Started with Teachable
To set up your Teachable account, go to the Teachable home page and click 'Get Started' in the top right corner. This will take you to a page where you can enter your name, email address and account password. Note that you can create free courses without a paid plan, but you must purchase a plan to be able to charge for your courses.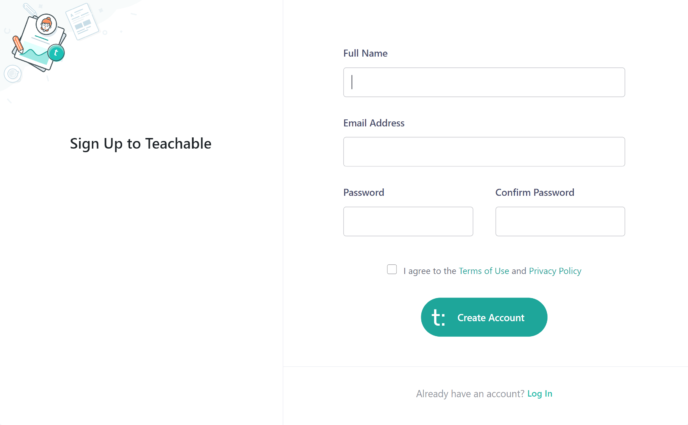 From here, you'll be taken to a profile dashboard. This is where you can view the schools you own and/or administrate. You can also view Teachable courses you've enrolled in and schools you're an affiliate with here.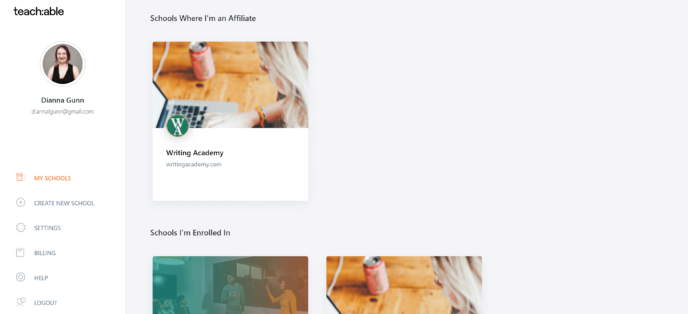 Select 'Create New School' from the sidebar. This will take you to a page where you can enter a school name. If you don't have one yet, you can skip this step for now.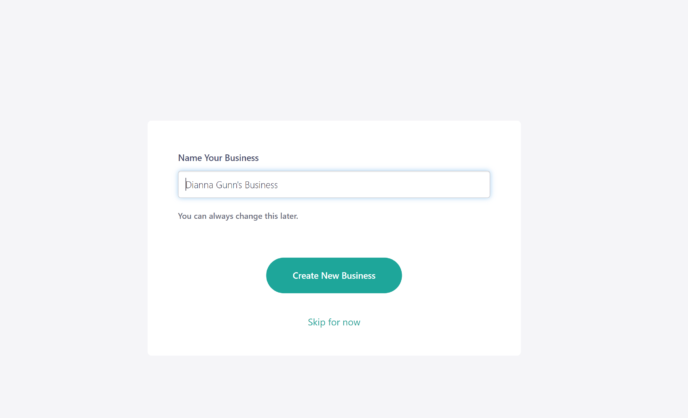 You'll then be asked a series of questions about your business and your previous teaching experience.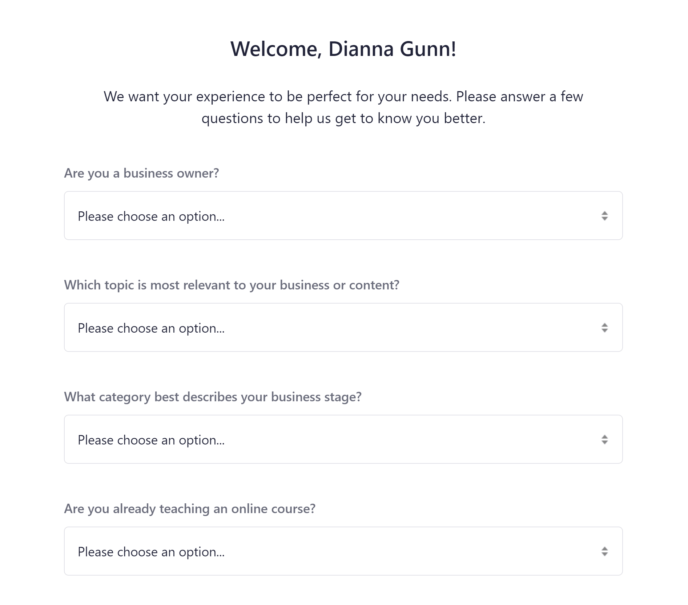 Next, you'll be taken to the school dashboard. The center of this page features a checklist containing everything you need to do to launch your school, along with the option to sign up for a training webinar. This is one of my favorite things about Teachable, as it makes it less intimidating to people who have never built an online course before.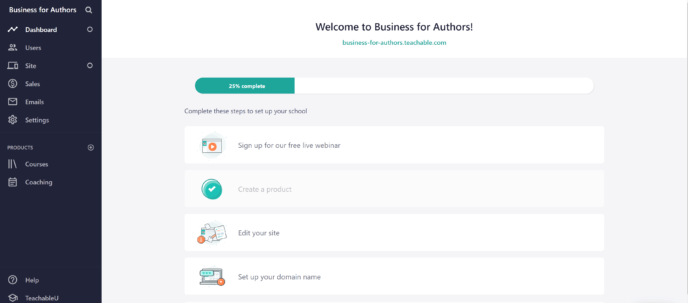 How to Create a Teachable Course
To build your first course, click on the '+' icon next to 'Products' in the sidebar. You'll be taken to a page where you can choose to create either a course or a coaching program. This is one of the most notable factors in the debate of Skillshare vs Teachable, as Skillshare only allows for course creation.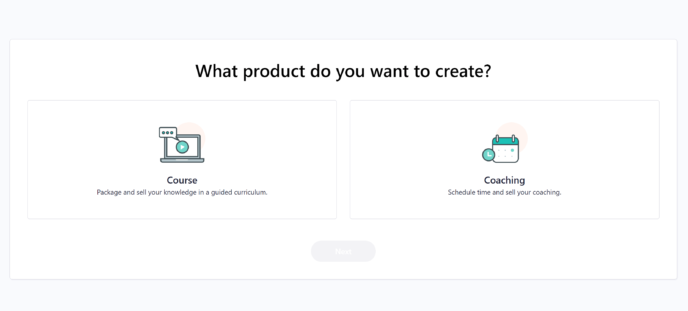 When you choose 'Course', you'll be directed to a page where you can choose a title and subtitle for your course. Note that you can change the course title at any point during the process.
At the bottom of the page, you'll be asked to choose a template for your course. You can also choose to build a course from scratch.

Next, you'll be taken to the 'Curriculum' area of Teachable, which is the main area of the course builder, where you can add, update, reorder and/or delete content from the course.

To edit a section or lesson title, click on the pencil icon next to it. You can create new lessons by clicking the '+Add Lesson' link. Once created, lessons can be reorganized at any time using drag-and-drop functionality.
How to Edit Lessons and Quizzes
To start adding lesson content to your Teachable course, click on the first lecture in your template. This will take you to a page where you can add content to the lecture. You'll note that Teachable supports a variety of content types, including video, text and custom code. This is an important consideration in the debate of Skillshare vs Teachable, since Skillshare only supports video content.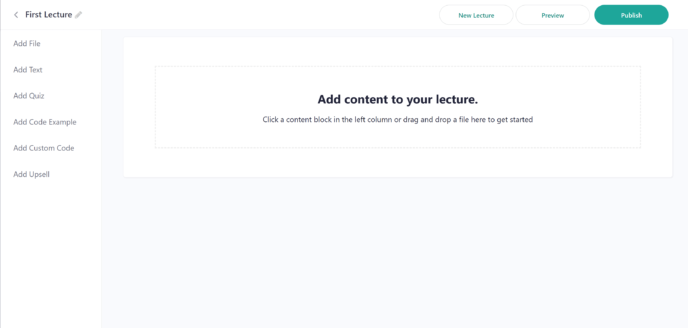 To create a quiz, go to the lecture editor and choose 'Add Quiz' from the sidebar. This will take you to a page where you can enter multiple-choice questions. There's no support for other question types at this time.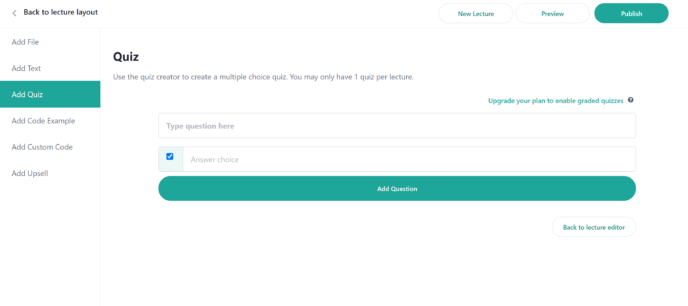 You can combine as many types of content as you want in a single lecture, and, once they've been added, you can also reorder them using drag-and-drop functionality.
Content Dripping
Content dripping is the act of sending content out at specified intervals — for example, you may send out one lesson per week.
To use this feature of Teachable, click 'Drip' in the sidebar of your course builder and you'll be taken to a page where you can set the schedule for individual sections of your course. You can choose to base these intervals on when a student enrolls in your course, or to send them out on specific dates.

Pricing Your Course
Next, click on 'Pricing' in the sidebar of your course editor, which will take you to a page where you can choose to create a pricing plan.

Teachable lets you create four types of pricing plans: Free, one-time purchase, subscription and payment plan. You can add as many different pricing plans as you want.
How to Get Paid by Teachable
Teachable allows you to create prices and payment plans for your courses. On the basic plan, it charges a 5% fee for every transaction; higher-tier Teachable plans waive these transaction fees.
Users in the US, UK and Canada can use Teachable Payments. This program is provided through a partnership with Stripe and allows you to receive your money instantly.
Teachable users outside of these countries must use Monthly Payment Gateway, which connects to PayPal. As one might expect, this also only pays out once a month.
What You Pay
Teachable lets you create courses for free, but, if you want to sell those courses, you need to sign up for one of its paid plans:
Basic: Available for $29 a month, billed annually. Provides all features discussed in this article.
Pro: Available for $99 a month, billed annually. Provides all features of the Basic plan with no transaction fees. Also offers course completion certificates, graded quizzes, integrated affiliate marketing and the option for up to five admin-level users.
Business: Available for $249 a month, billed annually. Provides all features of the Pro plan, plus bulk student enrollments, group coaching calls, advanced theme customization and up to 20 admin-level users.
You can find out more by looking at the Teachable pricing page. This is important to consider when making the choice between Teachable and Skillshare, as Skillshare doesn't require any payment from teachers.
Overall Thoughts
Teachable is an easy-to-use course builder that still manages to be flexible. You have the opportunity to create multiple schools for different topics, add multimedia content to your courses and implement quizzes. There's also the ability to create coaching programs, which can be a great way to expand your business.
Similarities
Unlimited course creation.
Unlimited students.
Online course builder with drag-and-drop functionality.
Differences
Skillshare gives you access to a network of more than 5 million eager learners; with Teachable, you must rely entirely on your audience and your own marketing skills.
Teachable offers greater flexibility in terms of course materials, including the ability to create quizzes.
Skillshare uses a membership model that gives members access to all courses; payment is determined by how much time premium users spend viewing your content.
Teachable makes its money by charging you a monthly fee. It also charges transaction fees at the Basic level.
You don't have to pay anything to teach on Skillshare.
The Verdict
While I have a personal preference for Teachable, the best choice for you in the debate of Skillshare vs Teachable depends on your goals and business model.
To create simple video courses focused on creative skills, choose Skillshare.
To build complex multimedia courses, choose Teachable.
If you don't have an existing audience and you want to focus on course creation, not marketing, Skillshare is the best choice for you.
If you have an existing audience or you're confident in your ability to market your course once it's set up, choose Teachable to fully leverage that audience.
Used/using either of these two platforms? Thoughts?
All comments are held for moderation. We'll only publish comments that are on topic and adhere to our Commenting Policy.