SearchWP Review: A Plugin to Upgrade WordPress Search with Ease!
It's no secret that the search functionality of WordPress isn't all that it could be, and, without the ability to index custom post types, custom fields, shortcode content and PDF documents, visitors will find it difficult to find what they're looking for. WordPress rarely places relevant content at the top of search results either.
If you want to give your visitors what they're looking for, it's time to upgrade the WordPress search tool by installing a dedicated plugin, such as SearchWP.
SearchWP is a premium search solution for WordPress that greatly enhances search functionality. It gives you complete control over what users can search and what weight is given to different attributes, taxonomies and fields. SearchWP also integrates with all major WordPress eCommerce plugins and lets you index text files such as PDFs.
In this review, I'll show you how you can use SearchWP to improve searching on your WordPress website.
What Does SearchWP Offer?
Every update of WordPress adds new features and refines essential functionality, so the platform grows.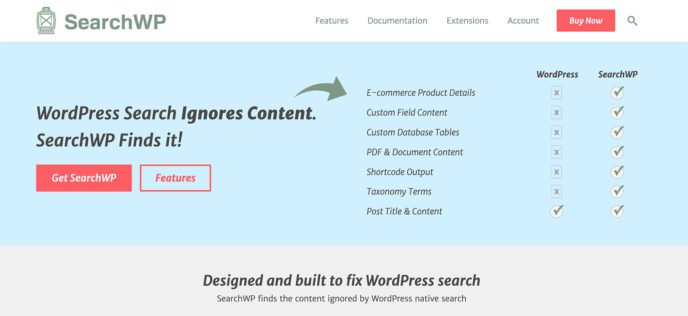 Despite this, the default search engine in WordPress has largely been forgotten: searching is slow, and results are frequently irrelevant and in no particular order. You can create your own search template in WordPress to customise how results are displayed, but you're severely limited with what you can do with it.
SearchWP addresses all of these issues at the click of a button.
The core version of WordPress only allows users to search within the title and content of your post types. In contrast, SearchWP lets users search custom fields, custom databases, text documents, product details, shortcodes, taxonomies and more.
There are a few features that stand out for me in SearchWP.
One is customisability: SearchWP allows you to define what's important in searches and lets you restrict searches by applying rules. For example, you can only show search results if they're within a specific time period or if they match a specific tag or category.
These settings don't need to be applied to your whole website: you can set up an infinite number of search engines for different areas of your site and different content types. You can, for example, restrict search results in your blog to the last two years, but ensure no time restriction is placed on your frequently asked questions page.
Analytics are incredibly useful too. In the core version of WordPress, you're completely blind as to what users are actually searching for, but SearchWP tracks all search queries, which is essential when planning articles.
A number of extensions have been developed for SearchWP to allow the plugin to integrate better with other WordPress products. There's support for WooCommerce, BigCommerce, WPML, Xpdf, WP Job Manager, bbPress, Polylang, Give, EasyDigitalDownloads, PrivateContent, Co-Authors and more.
When you start using SearchWP, you quickly realise how limited and restrictive it is to perform searches in the core version of WordPress.
Using the Core Version of SearchWP
Once you've purchased a license for SearchWP, you can log in to your account and download it. Be sure to add the URLs for all of the websites you're planning to use it on.
SearchWP can be configured from the main WordPress settings area, and there are five sections: Engines, settings, advanced, statistics and support.
The engines page is where you define how your search engines will operate. As noted earlier, you can create multiple search engines and cater each one to different areas of your website. For each post type, you can define the weight of attributes, for example, you can make the post title more relevant than the post slug.
For each search engine, you can select which post types are searchable. Therefore, if you wanted to create a search engine specifically for blog posts, you'd only select posts.
There are also options to disregard keyword suffixes for searches and use the admin engine.
SearchWP not only allows you to select which post type attributes are searchable, but you can also select custom fields and taxonomies, such as categories, tags and post formats.
One of my favourite features in SearchWP is rules. You can use rules to only show search results if they match a particular publication date, ID or taxonomy, which is particularly useful on my own blog as I have content dating back to 2007 and, annoyingly, the default search engine in WordPress frequently shows articles that are now irrelevant.
In the settings page, you can see a list of stopwords that SearchWP ignores when performing searches: any words you add here will be ignored when a user searches, and you can also add synonyms for those words. By adding word substitutions, you can reduce the risk of users being directed to the wrong page.
SearchWP indexes all of your content to help to produce faster search results.
The advanced settings page contains many options for customising the indexer, troubleshooting indexing problems and changing the look of search results. For example, you can add support for exact match searching and highlight the search terms in search results.
There's also an option to remove all data once the plugin has been uninstalled, which ensures SearchWP doesn't leave any unwanted data in your WordPress database if you decide to use another search solution.
All of these settings can be exported, which is useful as a backup, and when setting up SearchWP on your other websites.
The statistics page highlights what visitors have been searching for today, this week and this month, and also shows whether any search queries aren't providing any results.
If you use this information wisely, you should be able to increase website traffic by publishing more content on popular topics and improving navigation to key areas of your website. You can also reduce the number of queries that don't generate any results by adding synonyms for them.
In the support page, you can add your license key and open support tickets, and system information is also displayed on this page. This can help the SearchWP support team to resolve any problems you experience with the plugin.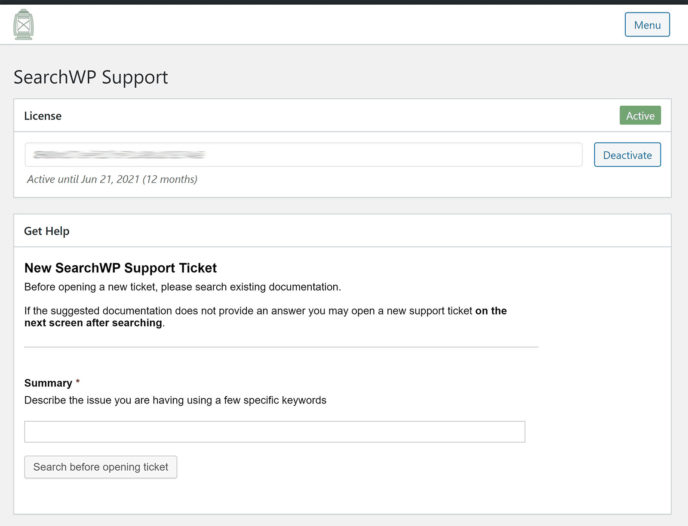 I was impressed with how easy it was to set up and use SearchWP. For my blog, I left most settings at their default value, but I did restrict results by publication date, so older blog posts didn't show up.
Improving SearchWP with Extensions
What you've seen so far is the core version of SearchWP. To release its full potential, you need to install one of the many plugin extensions that are available.
At the time of writing, a total of 31 plugin extensions were available for SearchWP: 23 were included with a standard license and five additional extensions were available to those who purchased one of the pro licenses. Three additional plugins were available from third-parties.
Apart from WooCommerce, all integration extensions for third-party WordPress plugins and services are included in the standard license, and it also offers extensions for live Ajax searching, boolean searching, a lightweight modal form, shortcodes for embedding search forms, diagnostics and more.
Using the pro extensions, you can add support for WooCommerce, display related content on your website and redirect users to a certain page when they perform certain searches. The Custom Results Order extension can be used to hand-curate search results, so your preferred search results are displayed at the top.
Unfortunately, with a SearchWP standard license, statistics are only shown for the last 30 days. There's no option to see statistics over a longer period of time, set a custom time period or export data.
All of this functionality is available when you install the metrics extension, and it gives you greater control over what statistics you see and how much data is stored. My main disappointment with this extension is since it acts as a standalone plugin, you need to start collecting data from scratch. In other words, the previous statistics you gathered aren't transferred to metrics.
SearchWP's plugin extensions greatly expand what you can do with the plugin.
I believe the developers have made the right decision to offer integration support for other WordPress products via plugin extensions, but I wish that certain features, such as live search and search form shortcodes, were available in the core version of SearchWP. As it stands, to unlock the full potential of SearchWP, you may need to activate around a dozen WordPress plugins on your website.
Pricing
Three plans are available for SearchWP. Each plan comes with a 14-day money-back guarantee, and gives you one year of support and updates.
The standard license costs $99 and grants support and updates for one website, the $149 pro license increases this to five websites and the $299 pro plus license removes the website restriction completely.
Most plugin extensions are available to those who purchase a standard license, but if you upgrade to any of the pro licenses, you'll gain access to the five pro plugin extensions that are available. SearchWP works with WordPress multisite too, but be aware that each multisite website counts towards your total number of supported websites.
Final Thoughts
If you're looking to address the limitations of searching in WordPress, I recommend checking SearchWP out. It's a versatile solution that's highly customisable, and you'll provide visitors with faster and more relevant search results.
While a standard license for SearchWP is available for $99, I believe most website owners will benefit from upgrading to the $149 pro license, as it will increase the number of supported websites and give them access to five great plugin extensions.
To learn more about SearchWP, please check out the official website.
Used/using SearchWP? Considering it? Thoughts?