WinningWP content is free to all. If you make a purchase through referral links on our site, we earn a commission (
learn more
).
Htaccess Made Easy – Book Review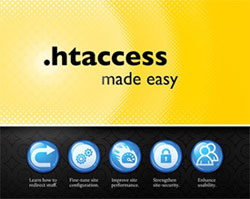 Despite the fact the majority of WordPress users probably don't know of its existence, the htaccess file is a tool that behooves anyone-and-everyone who manages their own WordPress install to know about. Granted .htaccess made easy, written by WordPress-guru Jeff Starr (co-author of Digging into WordPress), may not be a book specifically about using htaccess with WordPress (although it does have an entire 22-page chapter dedicated to exactly that*), however, when it comes to finding a solid resource to better understand (and implement) this particularly handy tool (for websites powered by WordPress or otherwise – basically any type of website running on Apache) there's probably no better, more-comprehensive beginner's resource out there. Let's take a look…
What's it about?
Starting with the basics (what the htaccess file is, how it works and how to implement it), .htaccess made easy aims to be a one-stop go-to guide on all things htaccess for anyone looking to implement a massive range of htaccess functionality – from optimizing performance (enabling compression, cache control, etc) to improving SEO (redirecting broken links, cleaning up malicious links, etc) and tightening up security (disabling directory views, preventing hotlinking, controlling IP access, etc, etc)**.
Is it any good?
Trying to take someone from the basics of htaccess (a subject that many WordPress newbies think of as somehow mystical and even many industry experts often tend to shy away from) right through to a level where they feel comfortable working with relatively advanced htaccess maneuvers is a massive undertaking – one which, I'm happy to say, Jeff seems to have really put his heart and soul into! Well written and relatively thorough, right from the get-go the book appears to have been painstakingly put together (not to mention highly accurate) and contains absolutely heaps of links and references to all kinds of additional htaccess-relevant resources (for anyone looking to expand their knowledge even further).
The only one piece of 'criticism' I'd attempt to argue is I personally think it comes up more-than-a-little short in its coverage of how exactly to download, upload and view (dot) files (such as the .htaccess file itself, which, as many will know, are almost always hidden by default) on your computer – that said, this kind of simple (although sometimes a bit tricky to implement) information can, of course, be readily found online without too much effort (and many people reading the book will no doubt already be fully aware how to do all this of course anyway).
Who should read it?
As the introduction to the book states, '.htaccess made easy is a book for admins, designers and developers out there in the trenches: people making/editing awesome websites on a daily basis'.
…to which I'd also add anybody interested in learning more about htaccess files and what they can do in general.
Conclusion
Containing over 100 handpicked htaccess recipes ranging from the practical to the extraordinary, this is a book for anyone interested in both learning more about htaccess and/or actually using it for a giant range of different things, including redirecting traffic, password protecting specific directories, optimizing for search engines, improving usability, and securing their sites against malicious scripts.
As already mentioned, .htaccess made easy aims to be the go-to resources for all things htaccess – and, in short, I'd have to say a big 'mission accomplished'! It really is an all-round fantastic resource that I'd bet my bottom dollar just about anybody who works with websites (WordPress or otherwise) can benefit from in one way or another. Throughout reading the book, I for one found myself stopping at various points to go back and take a second look (sometimes a first 'proper' look) at some of my own htaccess files – on various websites – to both better understand what was already there and, perhaps more importantly, make various .htaccess-made-easy-inspired edits and improvements!
Download a free chapter?
*including a downloadable htaccess starter template created specifically for use with WordPress.
**…view a table of contents?
Bought it? Used it? Thoughts?
All comments are held for moderation. We'll only publish comments that are on topic and adhere to our Commenting Policy.