WinningWP content is free to all. If you make a purchase through referral links on our site, we earn a commission (
learn more
).
GoDaddy vs Namecheap – Which is the Best Domain Name Registrar?
Welcome to our in-depth comparison of GoDaddy vs Namecheap!
'Why these two?' you ask. Well, GoDaddy are the biggest domain registrar of them all (those Super Bowl ads have clearly paid off in terms of building up GoDaddy's brand), while Namecheap are more of a niche registrar that have earned their spot on the radar through very attractive pricing and good quality of service.
↪️ Note: looking to make a website with WordPress and still undecided which hosting to choose? Check out this post of ours comparing three of the most popular choices: Bluehost, GoDaddy and SiteGround.
So let's have a look at which of the companies comes out on top, and which is going to be better for you when it comes to registering a new domain name.
1. Which Is More Popular?
Let's start with some data, just to give you a handle on where both companies stand and how many domains they each have under their umbrellas.
Here's data as of January 2023:
GoDaddy: 63,138,399 total domain names registered.
Namecheap: 12,372,408 total domain names registered.
GoDaddy clearly win the popularity contest, having registered nearly ten more domain names than Namecheap. In fact, GoDaddy lead the domain market as a whole, with all the other players quite far behind (for example, they have registered roughly six times more domains than the company that's second on the list).
With the overall number of domain names registered worldwide estimated at around 330 million, this gives GoDaddy a market share of around 18%. To compare, Namecheap's is only around 2%.
That being said, those are just numbers, and they don't necessarily mean that one company is better than the other. And you certainly shouldn't base your decision solely on these market share values.
Here's a better way to think about this: The fact that both GoDaddy and Namecheap take care of millions of domain names only proves that they're both reputable companies with sound foundations, and that they're trustworthy enough for you to consider working with either of them.
2. Which Top-Level Domains (TLDs) Can You Register with GoDaddy vs Namecheap?
If you're not sure what a TLD is, please hop over to our guide — it's where we talk in-depth about domain names, what they are and how they work.
When it comes to TLDs, both GoDaddy and Namecheap can provide you with nearly exactly the same product. And 'nearly' is the keyword here.
Here's what I mean:
Classic, traditional TLDs, such as .com, .net, .org, .biz, .info, .co and .mobi can all be registered with both GoDaddy and Namecheap.
Then, there are country code TLDs — these are the ones created to represent various countries around the globe, and are traditionally used for websites that want to cater to audiences in those countries.
Some of the more popular TLDs in this category are: .ru for Russia (used for 5.1% of all domains), .de for Germany, .jp for Japan, .uk for the UK, and so on. In total, there are more than 250 of those country code TLDs available.
The caveat here is that you can't register some of them with one or either of the companies we're comparing today. So, if you happen to be interested in a particular country code TLD, then the best way forward is to visit both GoDaddy and Namecheap, and use their domain search tools to make sure your TLD is available in the first place.
For example, .pl domains are not available with Namecheap, but they are with GoDaddy. Same for .it domains.
To check this for yourself, go to GoDaddy's domain search and Namecheap's domain search.
Lastly, there's the new set of generic TLDs that go above the standard set of .com, .net and so on. These days, you can even get the likes of .pizza, .love, .club, .website, .design, and more. Both GoDaddy and Namecheap offer a wide range of those TLDs, but the devil is in the details… Or, more accurately, in the pricing. Depending on the TLD you're interested in and the registrar you're getting it from, your bill will vary. Which brings me to:
3. Which Is Cheaper: GoDaddy or Namecheap?
To be totally honest with you, domain name registrars don't have the clearest pricing models out there.
First off, different TLDs usually have different price tags. Secondly, the price also depends on whether it's a new domain registration that we're talking about, a renewal or a domain transfer (moving a domain from one registrar to another).
So, instead of me trying to explain all of this somehow, let's just look at a direct comparison between GoDaddy and Namecheap for some of the more popular TLDs.
| TLD | GoDaddy new | GoDaddy renewal | Namecheap new | Namecheap renewal |
| --- | --- | --- | --- | --- |
| .com | $11.99 | $14.99 | $10.69 | $10.69 |
| .net | $11.99 | $16.99 | $12.88 | $12.88 |
| .biz | $7.99 | $19.99 | $12.88 | $12.88 |
| .org | $7.99 | $19.99 | $12.48 | $12.48 |
| .info | $2.99 | $16.99 | $0.88 | $10.47 |
| .mobi | $4.99 | $17.99 | $10.88 | $10.88 |
| .co | $11.99 | $29.99 | $6.88 | $22.99 |
| .ru | $14.99 | $14.99 | – | – |
| .de | $7.99 | $7.99 | $9.85 | ? |
| .jp | $34.99 | $34.99 | – | – |
| .uk | $6.99 | $10.99 | $7.58 | $7.58 |
| .it | $12.99 | $12.99 | – | – |
| .pl | $9.99 | $29.99 | – | – |
| .xyz | $0.99 | $14.99 | – | – |
| .top | – | – | $0.88 | $10.88 |
| .win | $27.99 | $39.99 | $0.88 | $0.88 |
| .club | $9.99 | $14.99 | $0.88 | $10.88 |
| .site | $2.99 | $39.99 | $2.88 | $14.88 |
| .vip | $19.99 | ? | $12.88 | ? |
| .design | $29.99 | $69.99 | $6.88 | $42.88 |
As you can see, the prices are very, very different. You can overpay seriously if you pick the wrong registrar for your desired domain. Some of the most significant examples:
.club is more than $9 cheaper with Namecheap.
.mobi is nearly $6 cheaper with GoDaddy.
.design is $23 cheaper with Namecheap, and .win is $27 cheaper.
All domain renewals are cheaper with Namecheap.
Lastly, when it comes to domain transfers, it appears (based on my tests) that the price you pay with Namecheap is their standard domain renewal price, while the price you pay with GoDaddy is their new domain registration price. This means you can often score a promo price with GoDaddy on your transfer.
Another thing to consider here is that the price may vary somewhat depending on the period of time you want to register the domain for. Basically, the longer the registration period, the cheaper the per-year price.
Usually, however, registering a domain name for just one year is the right path to take. This gives you some space to pivot the project after a while if needed, so you're not stuck with a domain name you no longer need for five or ten years.
4. Additional Things You Can Buy/Get for Free
Setting the standard pricing aside, let's also have a look at what you can get with either registrar as part of the bundle:
GoDaddy
Namecheap

WHOIS privacy package — $7.99 a year.
Email accounts — from $4.49 a month.
Managed WordPress hosting — from $6.99 a month. Standard hosting — from $4.99 a month.
SSL certificate — from $55.99 a year.
GoCentral Website Builder — free for the first month, then $14.99 a month.
GoCentral Online Store — free for the first month, then $29 a month.

'WhoisGuard' enabled free of charge. This is a WHOIS privacy package — protecting your personal information when someone tries to look up your domain name registration details.
One email account for free. Every additional one at $0.25 a month.
Hosting — from $9.88 for the first year.
PositiveSSL — $1.99 for the first year.
PremiumDNS — $4.88 a year. This gives you additional DNS uptime and DDoS protection. DNSSEC is also included in PremiumDNS.
Depending on what your plans are for the domain, one of these offers may be more appealing. For example, if you just want to test out a concept website and want to do so quickly and at a low cost, Namecheap may be better. But if you want to get started with a WordPress project on a managed hosting account, then it may be GoDaddy.
5. Which Has the Better User Panel
Traditionally, domain names and hosting seem like rather complicated and highly technical topics. Hence, a good registrar will do whatever they can to make things more approachable and easy to grasp, even for the beginner user.
Therefore, the customer or user panel needs to be as simple and understandable as possible. Let's see how GoDaddy and Namecheap compare here.
Here's what the domain management panel looks like at Namecheap: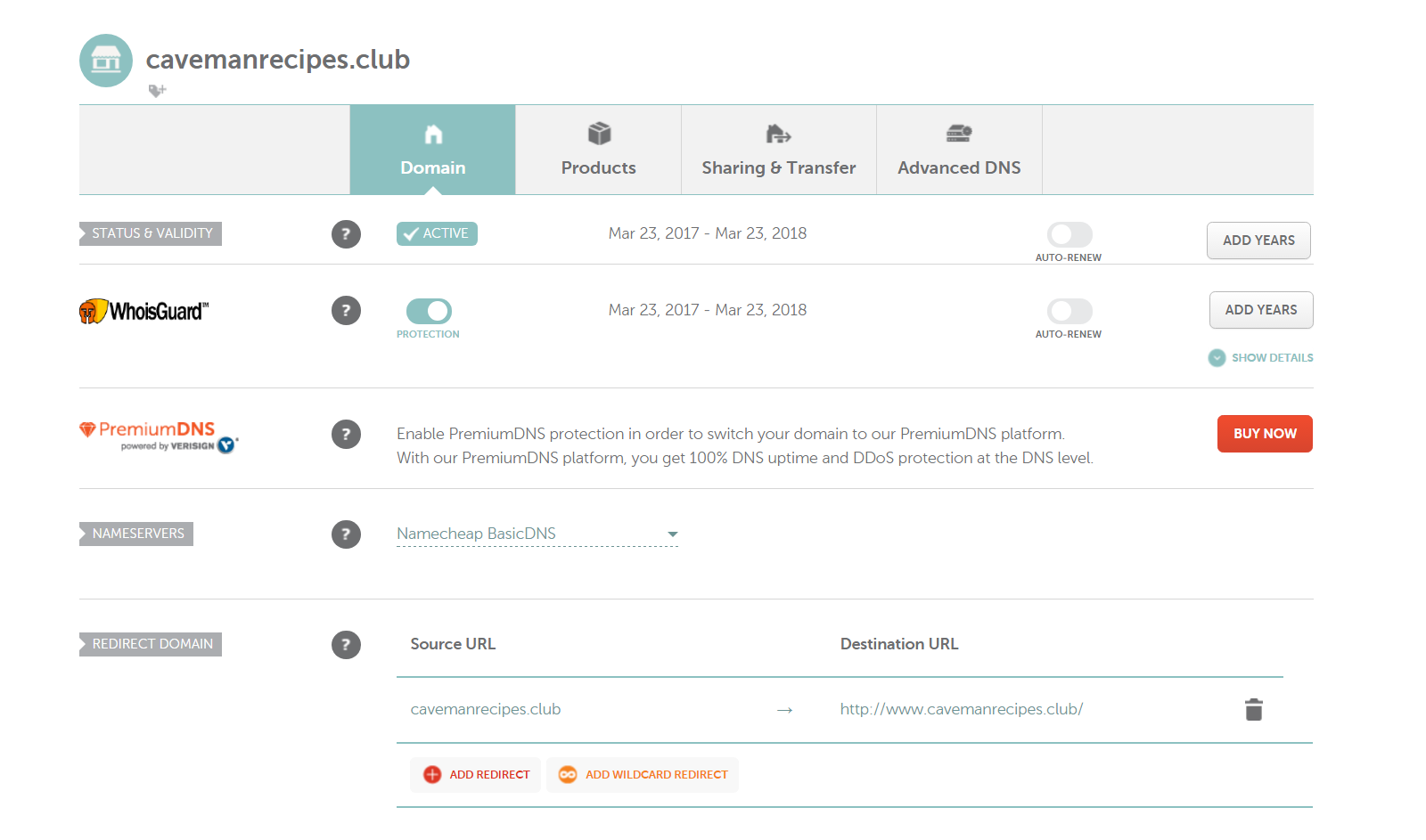 And here's GoDaddy's:

As you can see, GoDaddy use a much more 'casualized' panel. Instead of displaying most of the available options on one screen, as Namecheap do, GoDaddy take the other route and try to guide the user through what's possible with their domain names.
For instance, when you click on Use My Domain, you'll see this: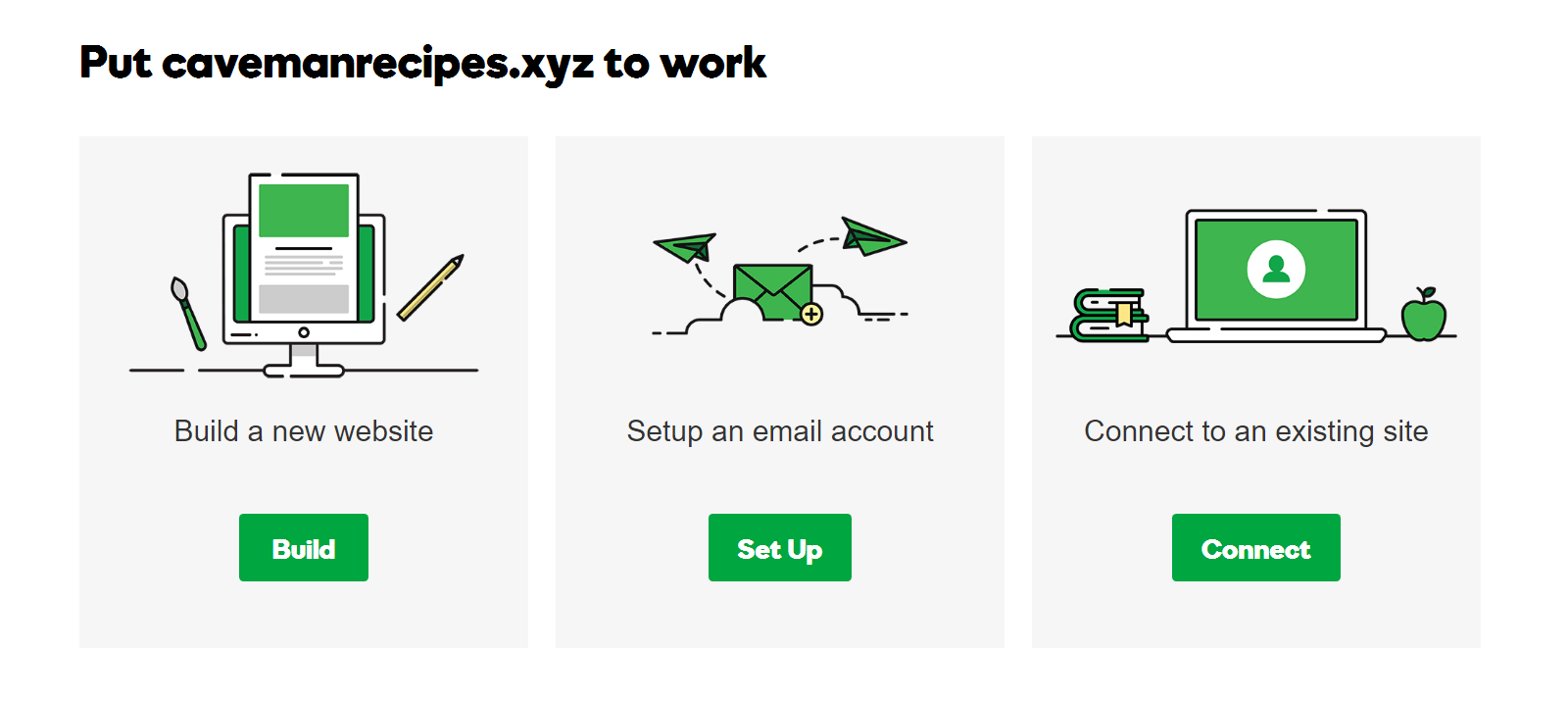 This is your entry point to building a new WordPress site using GoDaddy's page builders, and so on.
If you're a more advanced user, you can click the small gear icon visible next to the original GoDaddy domain panel:

As I mentioned, Namecheap are a little different here. They choose to display everything on a couple of screens and let you switch between the options using tabs. But, at the same time, they manage to keep the interface surprisingly understandable.
For me, personally, I like Namecheap's interface better. Maybe it's just me, but I prefer to see all the available options right away. It just speeds up my work.
6. Customer Support
I really don't want to discuss this in terms of who has better support based on a couple of interactions with each support team, so let's just talk facts instead:
GoDaddy
Namecheap

24/7 phone support
Live chat support
Knowledge base
Tutorial videos
Community forum

Live chat support
Support tickets
Knowledge base
Status updates blog — you can see what's going on with Namecheap's servers, scheduled maintenance, and so on
API docs
In the end, both companies offer sensible support options and a lot of resources for you to look into if you prefer figuring things out on your own.
7. GoDaddy vs Namecheap: Final Verdict
Let's start with the pros and cons of each company:
Pros
Cons

The biggest domain registrar on the web — 16% market share.
A very user-friendly customer panel — especially for beginners.
Good site building tools, including WordPress tools.
Good discounts on new domain registrations from time to time. If you're lucky, you can get a .com for as low as $1.
Multiple country code TLDs available.

Higher renewal prices.
Some entry level domain prices are very expensive. Especially some of the new generic TLDs, such as .design, .win.
A lot of upsells overall during the checkout process, which are enabled by default.
Pros
Cons

The cheapest domains available at just $0.88 for the first year.
Lower renewal prices across the board.
Free WHOIS privacy package for one year.
Cheap SSL, just $1.99 for the first year.
The cheapest hosting plan on the web (probably). Just $9.88 for the first year.

You can experience problems signing up if you're not in the US. They have IP checks and sometimes restrict access from perfectly good countries (as they did for me, even though I'm in the EU).
Many country code TLDs are not available.
Long story short, and taking all that's been said above into account, here's what I would recommend you do:
If you just want a cheap domain name to test out a project/website, or for any other purpose, and you're comfortable dealing with standard web forms and settings, use Namecheap.
If you're a beginner and you'd rather use some friendly builder tools (tools where you're taken by the hand through each step), and you don't mind paying a bit more for that, use GoDaddy.
If you don't care for either of the above scenarios, probably use Namecheap anyway.
Not sure you quite understand any of this domain stuff? Feel free to hop over to our other guides:
Related Reading:
Using/used either GoDaddy or Namecheap? Thoughts?
All comments are held for moderation. We'll only publish comments that are on topic and adhere to our Commenting Policy.