Five of the best FTP clients around – for both Macs and Windows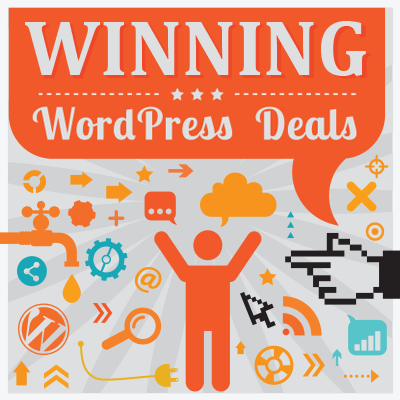 When it comes to managing your own WordPress install, sooner or later you'll almost certainly need to directly access the files on your server — for which you'll most likely want to use some kind of FTP (File Transfer Protocol) client.
What's an FTP client? Basically, it's a relatively small and simple piece of software that allows you to view, edit, download, and upload files located or stored elsewhere on the internet (i.e. on a server — which can be thought of as a kind of permanently switched-on remote computer) via your own personal computer.
But which FTP client should you choose? That's why we're here. Let's take a look at five of the best FTP clients around right now — both free and premium — for Mac and Windows:
Free FTP Clients
In terms of FTP clients, "free" by no means equates to "not very good" — in fact, for probably all but the most professional of users (who could likely benefit from some of the more advanced features found in some of the premium clients), a free FTP client will almost certainly get the job done. Starting with one of the most popular FTP clients in existence, here are a few of the best free FTP clients available…
FileZilla (for Windows, Mac, and Linux)
As one of the most popular open-source FTP clients of all time, FileZilla runs on all three major platforms (Windows, Mac and Linux). It's got particularly good documentation (which makes it great for beginners) and is largely regarded as a kind of de-facto industry standard FTP client. It's also completely free.
On the downside, it's a bit fiddly to use (a common complaint seems to involve misplacing folders/files when using the drag and drop interface). It also has a far-from-pretty interface, especially when compared to some of the other FTP clients mentioned below.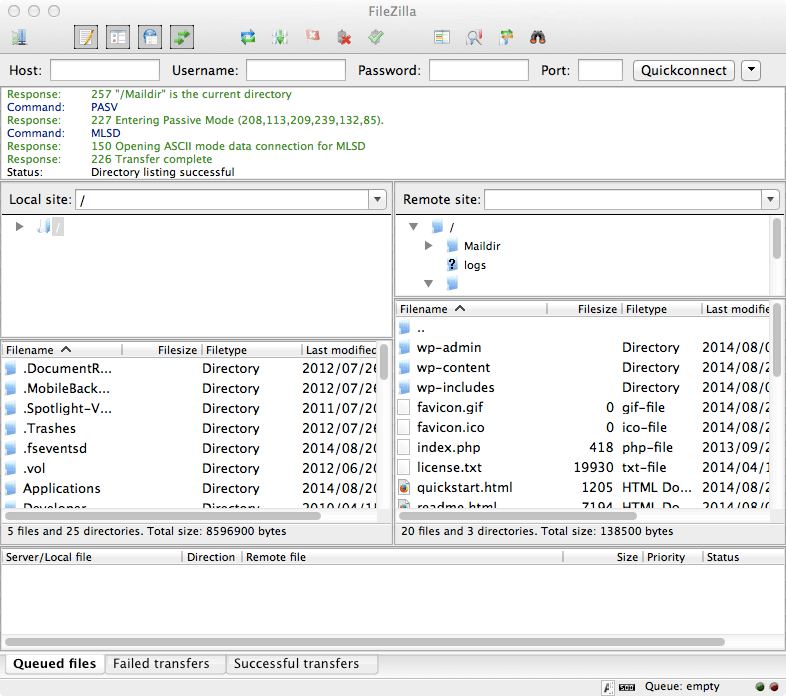 Nevertheless, FileZilla is a more than capable FTP client with a range of great features including: supports for FTP, FTP over SSL/TLS and SSH File Transfer Protocol; bookmarking, remote file searching, and more.
If you haven't already, by all means give it a shot and see for yourself. Just don't be too daunted when you first use it; it really isn't as complicated as it seems!
Update (Feb 2015): According to many of this post's commenters, it seems that there currently are several malware concerns when downloading and/or installing FileZilla from certain sources — see the comments section below for more information!
Cyberduck (for Windows and Mac)
Another extremely well-known free (and open-source) FTP client, Cyberduck is an incredibly user-friendly FTP client with a simple interface, first-class bookmarking, and advanced SSH features. On top of all that, it has a range of other handy features — including a nifty feature that allows you to edit files with a seamless integration between any external editor application of your choice while they're still on the server.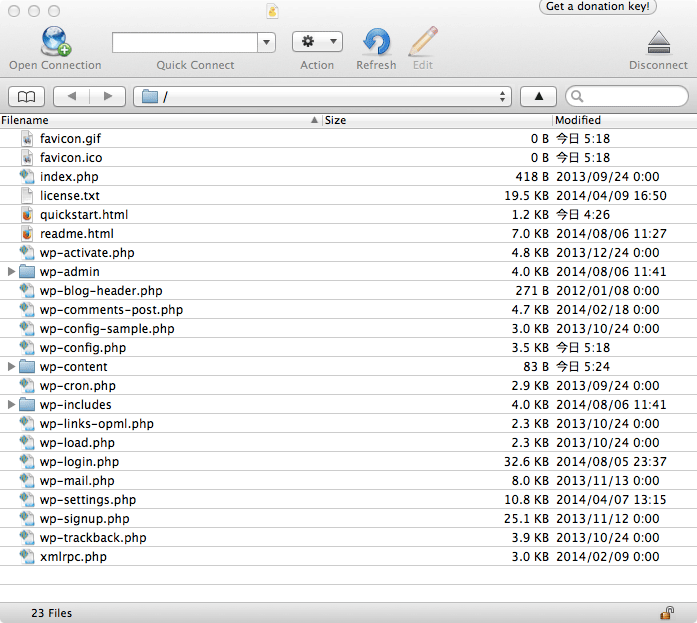 WinSCP (for Windows)
A popular free, open-source FTP client for Windows, WinSCP features support for SFTP and SCP protocols over SSH-1 and SSH-2, an integrated text editor (enabling it to function as a remote editor) and a choice of interfaces.
Premium FTP Clients:
Need a little more FTP power than the average user? Perhaps it's time to spend a little cash to invest in the best…
CuteFTP (for Windows and Mac)
At $59, CuteFTP is far from cheap. However, it does have a distinct advantage over other clients, like Transmit (see below) — it works on both Mac and Windows. Oddly enough, the Windows version of CuteFTP actually has a considerable number of features that the Mac version of CuteFTP doesn't. The Windows version includes Unicode and WebDAV Support, compressed transfers, and an advanced search feature. For a full run-down of features on both the Windows and Mac versions, take a look at the information here.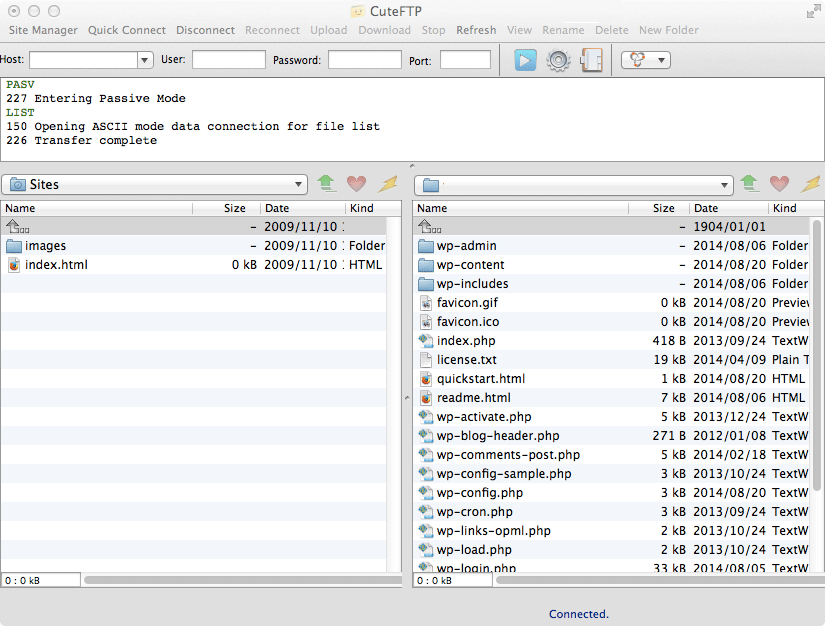 Price: $59 (30-day free trial available)
Transmit (for Mac)
Created by Panic (the same company that produces the popular all-in-one web editor Coda), Transmit is one of the (if not the) fastest FTP clients around. It's simple to use, boasts all the usual features you'd expect of a professional FTP client (multi-connection transfers, SSH and Amazon S3 support, etc) and it's very, very reliable. If the others listed above just aren't cutting it for you for whatever reason, check this one out!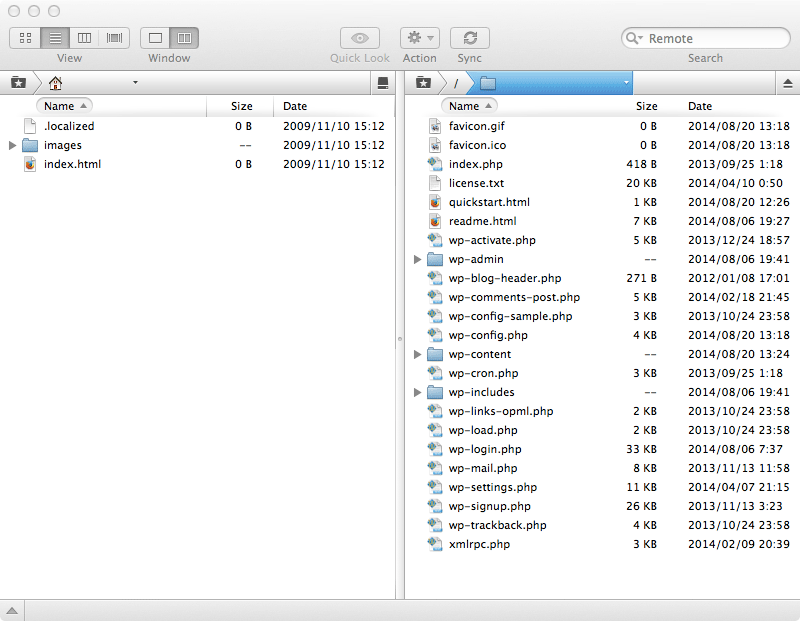 Price: $34 (7-day free-trial available)
Wrap Up: How to Choose? Which is Best?
Well, as usual, it really depends on your own personal preferences and platform — and of course, your budget. Professional users will no doubt appreciate all that Transmit has to offer; however, if all you're looking for is a solid FTP client for casual use, then FileZilla or Cyberduck will more than likely suffice. Download a few for yourself, give each a whirl and decide which you prefer — it's that simple!
Note: For a comprehensive list of nearly all the different FTP clients currently available (and a huge comparison table) check out this handy Wikipedia article.
Know of any other top FTP clients for Mac and/or Windows? Any preferences? Let us know in the comments!