Five Best Drop-Down Announcement/Notification Bar Plugins for WordPress (2018)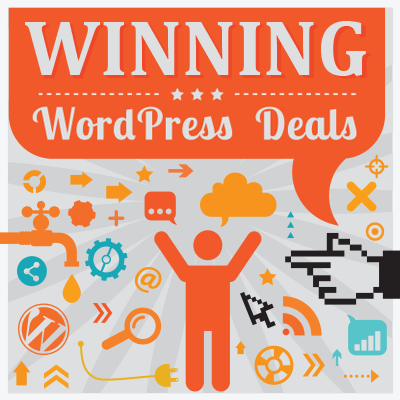 Successful webmasters understand the importance of leveraging all of the high-visibility areas of a website: These spaces need to be used for maximum effect if you and your visitors are going to get the most out of your site. In this post, I'll be focusing on one area of impact: The very top of the screen.
A notification bar is one of the best ways to target this valuable top-of-the-screen space. If you're unfamiliar with them, notification bars are used to display short, but important, messages via small, brightly colored strips that anchor to the top of the screen.
Notification bars are the ideal alternative to popups. Their position at the top of the screen ensures maximum visibility without disrupting a visitor's flow, making them far less intrusive. For many webmasters, this is the perfect compromise, and, because of this, notification bars have surged in popularity.
Another reason for their popularity is their versatility — notification bars can perform a number of functions, such as displaying important announcements, recruiting new subscribers to a mailing list or linking to important content.
They're particularly great for driving conversions and for displaying effective calls to action.
Today, I'll be introducing you to six of the best WordPress notification bar plugins available. Let's get started…
Themify Announcement Bar ($19)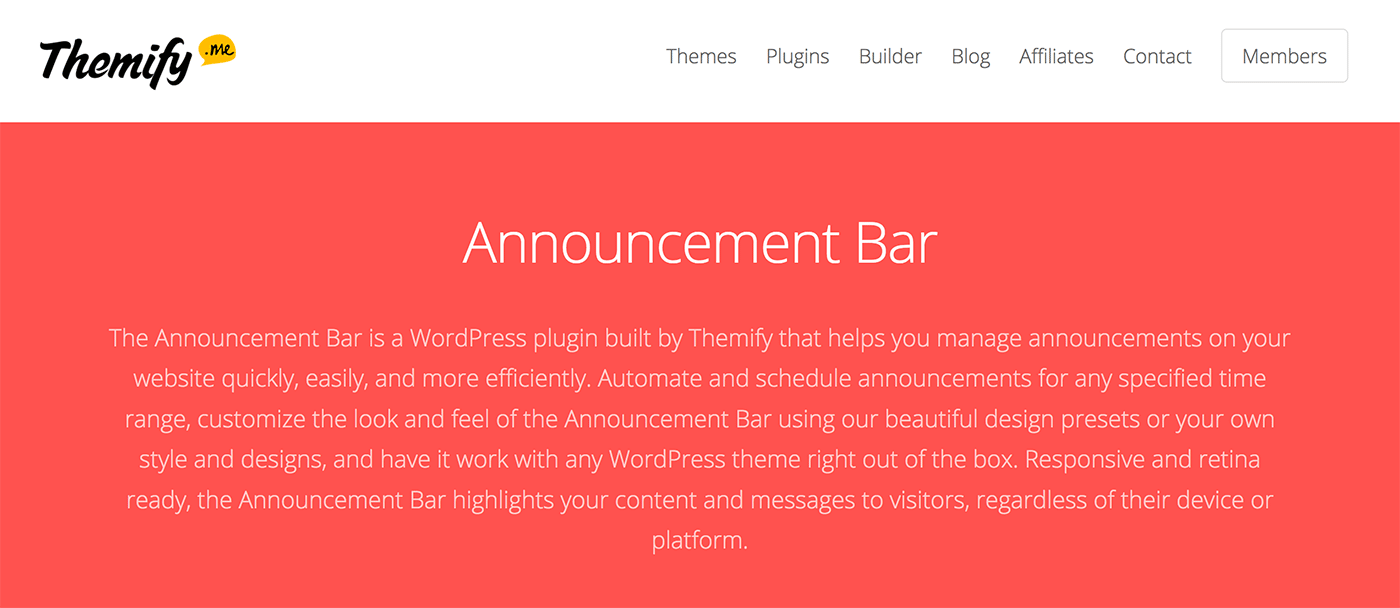 Let's kick things off with Themify's Announcement Bar plugin, available from the Themify website for $19.
This plugin lets you build stunning notification bars for your website that are among the most beautiful you'll find. The bars are clean and professional, and they seem to have just a little more style than some of the alternatives.
This is — for the most part — a result of the plugin's comprehensive list of customization capabilities. It includes a choice of ten colors, five font families, and three text alignments. There are also four awesome-looking, prebuilt styles: paper, notes, clips, and bookmark; you can position your notification bars at the top or bottom of the screen, in line with content, and in any widget area.

These customization options are just the tip of the iceberg, since the Announcement Bar plugin supports many advanced features, too. For a start, you can add multiple messages to one notification bar. These messages will automatically scroll at preconfigured intervals, allowing you to make all your important announcements in one place.
There's also the 'schedule announcements' feature — Announcement Bar is the only plugin in this list to offer it. Announcements are inherently time-sensitive, and this plugin lets you schedule messages for specified times and dates, so if you're considering running a flash sale, you'll find this functionality particularly useful.
My personal favorite, however, is the 'more content' feature. This lets you create hidden content that can be toggled by clicking a 'more content' button. You can add maps, image sliders, videos, and a whole range of other elements to your notification bar using another Themify plugin: The Themify Builder. It's also got WooCommerce compatibility, so you can use this feature to promote products from the notification bar — great for boosting conversions.
You can use the plugin to grow your mailing list, too, with the Announcement Bar-compatible MailPoet Newsletters plugin. The plugin is fully responsive and retina-ready, ensuring your notification bars look great on all devices.
Hello Bar (FREE)

If you want a free notification bar plugin, Hello Bar is a popular option. You'll need a Hello Bar account to use it, but it's free to set one up.
As you may expect, the free version of Hello Bar is relatively basic when compared with feature-rich premium plugins.
Hello Bar produces nice-looking notification bars that you can use for three purposes, including:
driving traffic to a specific URL
growing your email list (nine autoresponder services supported)
displaying social sharing buttons (six social networks supported).
Your notification bar is built using a web app on the Hello Bar website, rather than inside the WordPress dashboard. The interface is really easy to work with, and there's a preview of your notification bar visible at all times.
For a free plugin, Hello Bar supports a good amount of customization options. There are infinite options for configuring the color scheme, and you can pick from five fonts.

Now here comes the cool part. With the notification bar to your liking, WordPress users can download a 'zero-configuration custom plugin'. In other words, you can simply upload and activate your custom plugin, and the notification bar you've already built will appear on your website.
All the tracking and management is done from the Hello Bar web app: After logging in, you'll see a quick snapshot of your headline metrics — views, conversions, and conversion rate. You can also configure simple A/B tests using the Hello Bar interface.
Although originally a dedicated notification bar solution, these days Hello Bar allows you to build slide-in windows, popups, and full-page notifications, too — all built using the web app.
It's worth pointing out that Hello Bar has one main drawback: All notification bars built using the free version feature Hello Bar branding. If this is a dealbreaker, you can upgrade to the pro version, which costs $12 a month (making it one of the most expensive options). The pro version removes the Hello Bar branding, lets you create unlimited bars, and supports custom targeting.
BugMeBar ($11)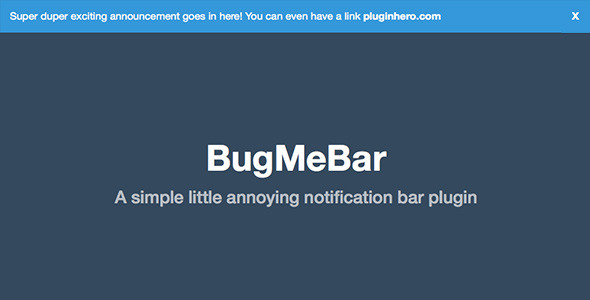 BugMeBar is a brilliant, minimal notification bar plugin. You won't find any bells and whistles here. It was developed to do one job, and do it well — display notifications. If you want to use your notification bar to grow your email list, this probably isn't the plugin for you.
That said, BugMeBar is still a really good plugin — it's lightweight, so it won't add much load-time, and it lets you create really stylish notification bars.
You can customize the color of your bar, text alignment, and, of course, your notification bar's content. You can add a link to your message, too, so you can still use the plugin to drive traffic to important URLs.

There is one feature you won't find elsewhere on this list: transition colors. You can configure your notification bar to transition between multiple colors so that it looks dynamic and commands maximum attention.
Despite the name, BugMeBar was actually developed to avoid bugging your visitors too often. This is done using a cookie — added to a visitor's browser when they close the notification bar — which ensures the notification bar is not displayed again for a set period of time.
If you're looking for a stylish way to display simple notifications, you'd be hard-pressed to find a better plugin. BugMeBar is available from CodeCanyon for just $11.
WP Notification Bar ($25)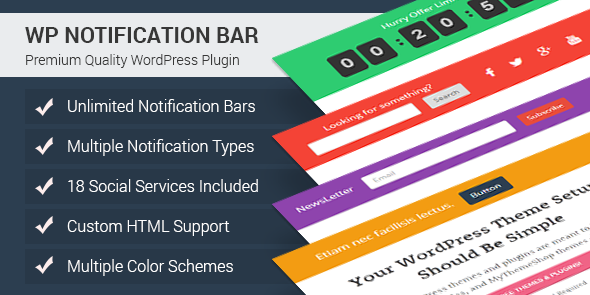 WordPress notification bars aren't exclusively for announcements and email optin forms — let's think outside the box, people!
WP Notification Bar is a great example of just how versatile a notification bar plugin can be. Of course, you can use it for all the usual reasons, but this powerful plugin's major strength is all the other stuff you can do with it.
Want to see what this plugin can do? Here you go:
Text notifications
Newsletter optin forms (supports five autoresponder services)
Direct link to any post
Link to related posts
Countdown clock
Search bar
Social media sharing buttons (18 social networks)
Twitter feeds
Facebook feeds
Trigger a video in a popup (YouTube or Vimeo embed)
Custom HTML
That's an impressive list; WP Notification Bar really helps you get the most from the valuable space at the top of your website.
The plugin gives you plenty of scope to customize your notification bar, too: There's a choice of unlimited colors, content width (in pixels), custom padding (in pixels), and hide/close buttons. To make things easier, 14 stylish color presets are included right out of the box.

What's more, you can create as many notification bars as you want — which brings me to WP Notification Bar's other major strength: Control.
The plugin gives you comprehensive control over where your notification bars will appear. This includes targeting specific posts, pages, or categories, and users on desktop or mobile devices. You can also restrict the number of times a notification bar is displayed to each visitor.
Best of all, you can configure referral notification bars — notification bars triggered by referrals from a specific website.
I think this is a fantastic feature that has a lot of potential. For example, you could use it to offer exclusive discounts to visitors coming from a specific website — a great way to build relationships with other site owners.
A fantastic notification bar plugin, it's currently available from MyThemeShop for $25 — a discount from its usual price of $39.
Foobar ($16)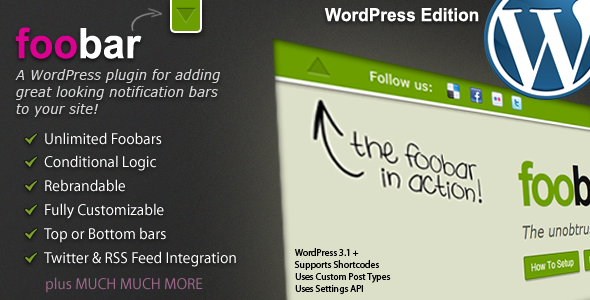 Next up we have Foobar, available from CodeCanyon for just $16.
Foobar allows you to build clean, bold notification bars that can be placed at the top or bottom of your website.
With unlimited colors to choose from, there's plenty of scope to customize your notification bar to fit in with your website's color scheme. You can also customize the font family and size of your text.

In addition to text, you can also add social media sharing buttons, an RSS feed, and a Twitter feed to your notification bar, and it also supports custom HTML, which lets you embed newsletter optin forms.
The Foobar plugin allows you to build as many notification bars as you want. This is ideal for anyone wanting to use custom notifications that depend on a page's content — you can allocate notification bars to individual pages, plus you can specify the default bar.
For those of you with lots of announcements to make, Foobar also supports multiple messages that you can reorder with ease, thanks to an intuitive drag-and-drop interface.
My favorite thing about this plugin, though, is the inline admin demo feature. This allows you to preview your notification bar at the top of the WordPress back end, so you can view any changes as you make them.
Final Thoughts
Notification bars are a great way to target the high-visibility space at the top of your website — space that very few plugins target.
Because of their nature, notification bars are eye-catching, yet unimposing, so they can get your message across without annoying your visitors.
They're effective, user-friendly, a great way to boost conversions and can have a big impact on your bottom line. You can use them for signing up subscribers for an email list directly, announcing a big sale you're running, or pushing visitors towards high-converting content.
Every plugin featured in this post includes the option to customize the color of your notification bar. For most website elements, you want to create something that not only looks nice, but also fits your branding. Notification bars are, however, designed to stand out, so if your website is predominantly blue, a blue notification bar will be ineffective — try playing around with a yellow, red, or green bar.
All the notification bar plugins featured here are easy to use and produce great results. They can be used in lots of different ways, so think about what you would like to include in your notification bar, and pick your plugin based on that.
Used any of these WordPress notification bar plugins? Which do you think is best?
All comments are held for moderation. We'll only publish comments that are on topic and adhere to our Commenting Policy.
Our commenting form also supports the use of Markdown.