WinningWP content is free to all. If you make a purchase through referral links on our site, we earn a commission (
learn more
).
A Brief History Of WordPress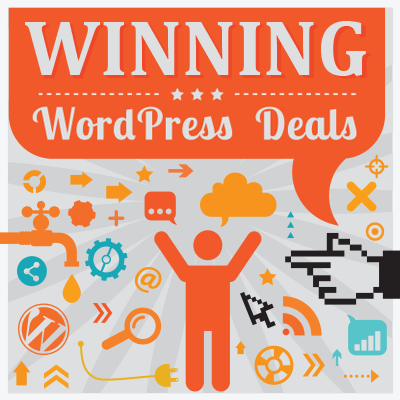 Used on millions of sites worldwide, WordPress is now the world's most popular self-hosted blogging tool. Over the years, hundreds (if not thousands) of people from all over the world have collaborated to develop this wonderful piece of free and open source software (meaning people are free to use it for all kinds of different things with a relatively high degree of freedom) into a fully fledged Content Management System that not only excels in the world of blogging, but also as a system capable of powering all sorts of ventures – from sites with only a few pages to huge media and ecommerce sites with thousands of pages.
The early years. . .
According to the official WordPress Codex, WordPress is the official successor to a blogging tool developed by French programmer Michel Valdrighi named b2/cafelog, which launched in 2001. In 2002 Valdrighi stopped developing b2, which in another world could have been where the story ends, however in January 2003 Matt Mullenweg, a university freshman who was using the b2 blogging software to post photos he was taking on a trip to Washington D.C., wrote on his blog that he'd be willing to create a fork of the project, which, together with a guy named Mike Little (who now runs a web development company named Zed1), is exactly what he did.
Mullenweg and Little released the first version of WordPress in May 2003.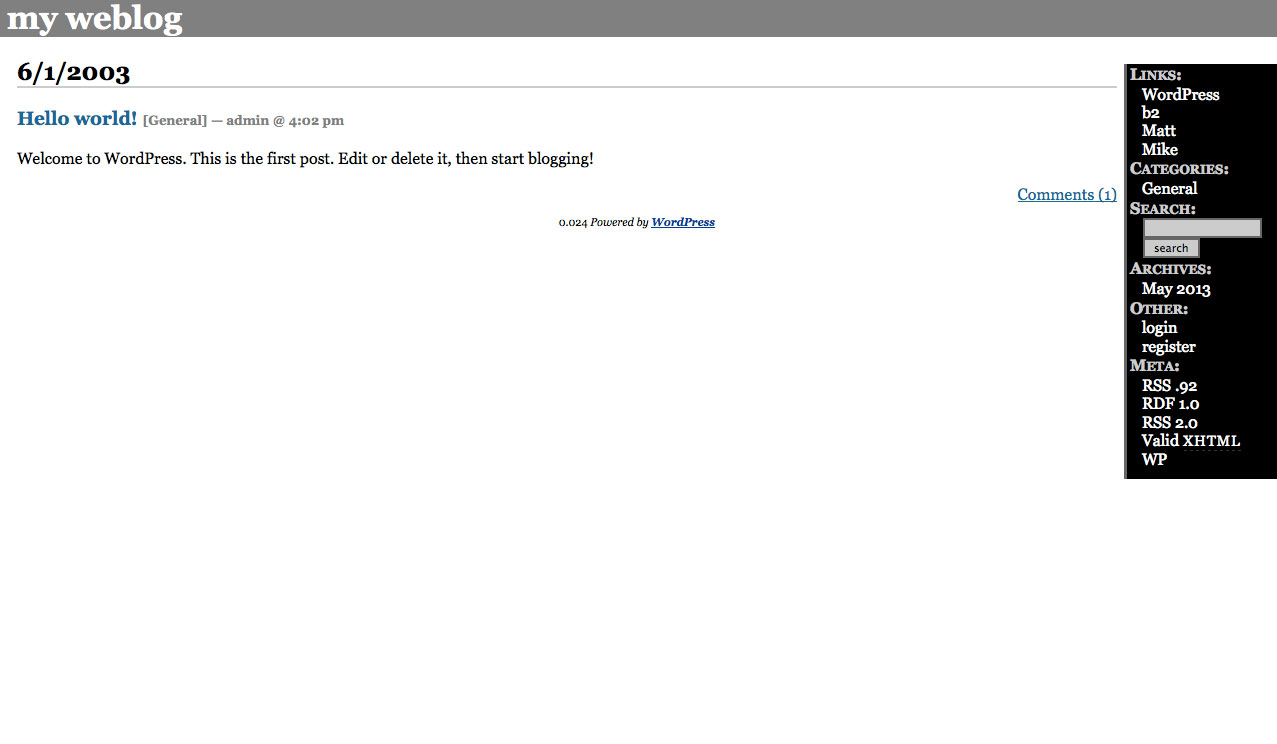 Others soon joined Mullenweg and Little, including the originator of b2, Valdrighi. In April 2004, along with fellow developer Dougal Campbell, the then WordPress team launched a hub for notifying blog search engines of new blog posts/updates, named Ping-O-Matic. The following month, a principal competitor of WordPress, named Movable Type, announced a radical change to their pricing structure, thereby adding significant fuel to the WordPress fire by driving thousands of Moveable Type customers their way.
Plugins, themes, widgets and more
The first version of WordPress to support plugins (independently developed programs through which new functions/capabilities can be added) was version 1.2, released in May 2004, and in February 2005 they added themes (a set of files that draw upon the functions/capabilities of the WordPress back-end to essentially create the visible front-end layout and design of the site), many of which were (and still are) created by WordPress users.
According to Mullenweg's Wikipedia page, version 1.5, released in February 2005, received over 900,000 downloads.
Released in 2007, version 2.1 brought a new user interface, auto save and spell checking. Widgets, improved atom feed various speed optimizations were soon to follow and by 2009 WordPress boasted automatic upgrades, built-in plugin installation, sticky posts, comment threading/paging/replies, as well as a new API, bulk management, and inline documentation.
Custom post types, additional custom menu management, new API's for custom headers and custom backgrounds, were introduced in 2010, as well as the ability to manage multiple sites (a feature called MultiSite).
Since then we've seen posts formats, the admin bar, introductory welcome messages, feature pointers, a new theme customizer and theme previewer, a completely revamped media manager and more…
The future of WordPress?
WordPress now powers well over 17% of the top million sites, which according to All Things D, equates to over 70 million sites. So where is WordPress heading? Well, with over 13000 plugins, WordPress is already more than just a basic CMS – it's a system capable of powering a vast array of different projects!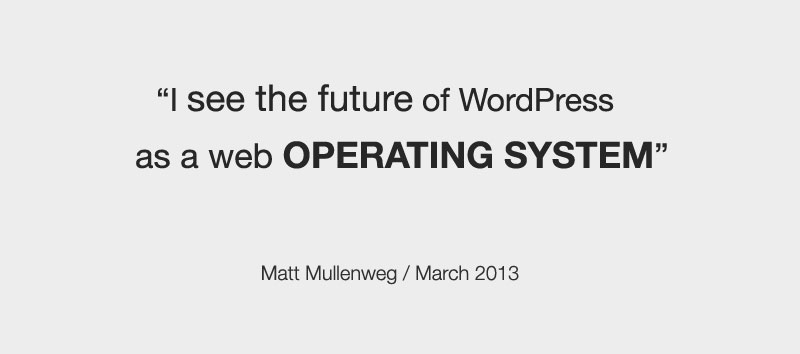 The future of WordPress? Well, the best way of trying to answer this question is perhaps by listening to Matt Mullenweg himself: "I see the future of WordPress as a web operating system".
Limited only by the imagination of the people who use and develop it, WordPress presumably has a very, very bright future!
All comments are held for moderation. We'll only publish comments that are on topic and adhere to our Commenting Policy.