Recommended WooCommerce Hosting
Three superb WooCommerce hosting companies/providers for 2017:
When it comes to websites running WooCommerce, the hosting requirements are a little different from those of regular WordPress-powered sites. Not only is WooCommerce considerably more resource-intensive, there are also a number of other critical things you'll need to take into account in order to get the best possible hosting for your site — such as additional layers of security (like SSL certificates), eCommerce-specific site speed considerations (such as which parts of the website can be cached and which cannot), and the increased need for readily accessible, reliable support that knows exactly what it is they're doing!
Luckily, we've put together a list of three superb WooCommerce-capable web hosting providers (catering to three very different types of users) who both completely understand and accommodate for the various added demands and intricacies of running a well-oiled, WooCommerce-powered webstore!
Here are our top WooCommerce hosting picks for 2017: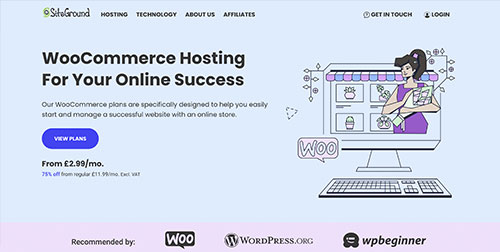 … Great value-for-money WooCommerce hosting plans laden with extras!
Offering superb value WooCommerce hosting for small to medium-sized sites, SiteGround is an excellent choice for both folk just starting out with their first WooCommerce-powered store and more experienced users alike. Officially recommended by the makers of WooCommerce themselves, SiteGround's WooCommerce hosting plans are properly isolated for additional security, come with WooCommerce pre-installed, and include all the necessary caching — as well as daily backups, free access to a Content Delivery Network (CDN), a choice of multiple server locations (in both the US and Europe) and highly capable 24/7 support. What's more, they also offer free assistance with transferring your website to one of their plans.
Ideal users/sites: Small to medium-sized sites operated by users with limited technical expertise who are keen to find a low-cost — yet highly capable — WooCommerce hosting provider.
WooCommerce-specific hosting plans from $9.95/month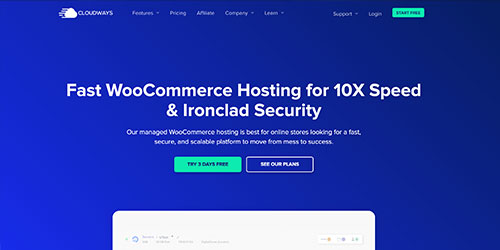 … Fast, powerful and highly scalable managed cloud hosting.
One of the fastest WooCommerce-compatible hosts in town, Cloudways provides easy access to the power of Digital Ocean servers in a choice of different worldwide locations (London, San Francisco, Singapore, New York, Amsterdam and Frankfurt). They offer 1-click pre-installed WooCommerce with active W3 Total Cache setups, a super-fast stack (running both NginX and Varnish), easy SSL integrations, server monitoring as standard and a very generous, completely free 14-day trial for new users!
On top of which, they also provide a built-in MySQL database manager, the ability to run multiple applications on a single server, automated backups, and 24/7 live-chat support.
Ideal users/sites: anything from small to large sized WooCommerce-powered sites with moderately technically minded operators.
WooCommerce-specific hosting plans from $5/month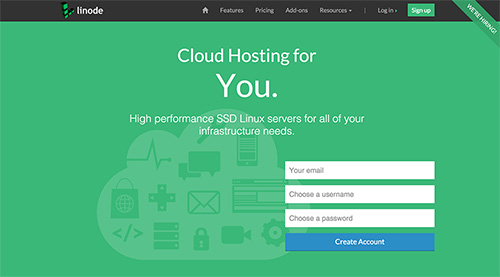 … Superb cloud hosting for tech-savvy developers.
If you're already a more than capable web developer with some pretty extensive knowledge of all things server-side, and you want a level of freedom and control over your WooCommerce/WordPress installation that none of the other hosts on this list can handle — then Linode is both a rock-solid and very economical choice, providing you have the required level of developer knowledge. From setting up a custom software stack and/or caching, making extreme customizations, or installing whatever other applications you want among other high-level customization support, Linode gives you the chance to make your installation truly your own.
Ideal users/sites: Very large, custom websites with bespoke hosting requirements and/or someone on the team capable of looking after their own hosting/server and an excellent knowledge of all things sys-admin.
WooCommerce-capable hosting services from $10/month
Looking for a more general set of WordPress hosting recommendations? For those who don't need to bother with the intricacies of hosting WooCommerce, check out our more general Beginner's Guide To Choosing the Best WordPress Hosting instead!
***Last updated 1st January 2017***